When it came to tourism, 2020 was slated to be Pakistan's year. However, in the wake of Covid-19, all that changed in almost an instant. With flights being grounded and airports having taken on a deserted look, it became impossible for foreign travellers to make it into the country. On the bright side, this was an opportunity for many locals to finally make that oft-planned trip to the mountainous north for a much-needed break.
As tourism slowly opens up, now more than ever there is a need to shift the focus to responsible, sustainable and respectful solutions within the industry.
Here's highlighting three women-led travel initiatives in Gilgit Baltistan and Khyber-Pakhtunkhwa that are changing the discourse of tourism in Pakistan.
Meet Karishma Ali, Baneen Mirza and Aneeqa Ali – the fabulous women who move mountains.
Karishma Ali
At just 21, Karishma Ali is already a powerhouse. This young footballer from Chitral was recently named one of Forbes Asia 30 under 30 listing for 2019. A member of the PM's National Youth Council, Karishma runs the Chitral Sports Club that aims empower young girls in her hometown. Her other project is the Chitral Women's Handicraft Centre, which collaborated with Italian designer Stella Jean last year for her Spring/Summer 2020 collection that showcased at Milan Fashion Week and was featured in Vogue.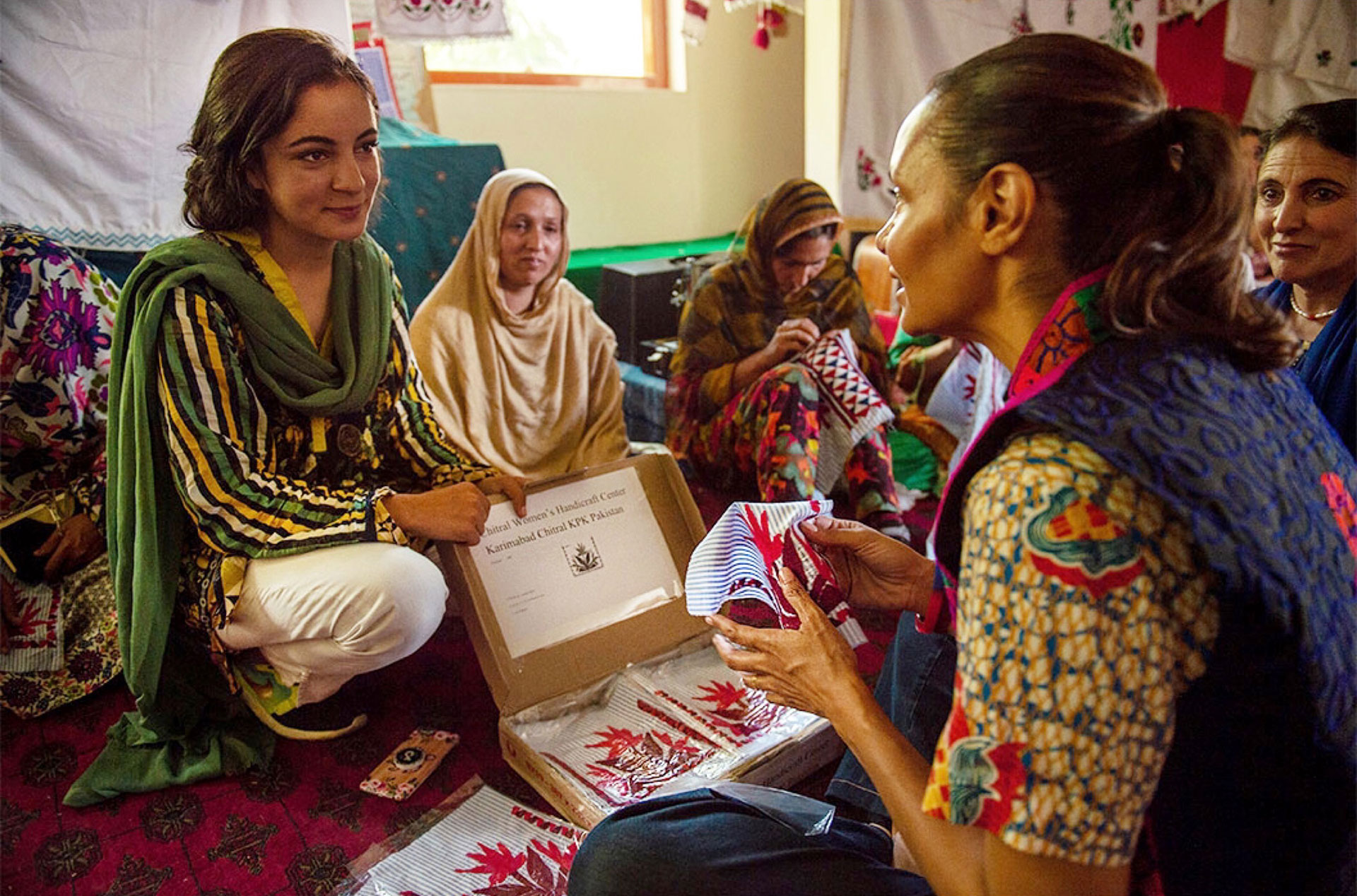 How did you develop a passion for football?
My passion for football began with my father's love for the game. As a child, I would kick the ball around with him since there were no opportunities in Chitral otherwise for girls to play any kind of sport. In 2006, I remember watching the FIFA World Cup and knowing straight away that I wanted to become a footballer, which at the time was a bizarre dream for a young girl in the valley. But I've always been a crazy kid, dreaming of making the impossible, possible. However, it wasn't until I moved to Islamabad that I got to play football dedicatedly under the tutelage of a coach and on an actual ground.
What is the ideology behind the Chitral Sports Club? What kind of impact has it had?
It was in 2018 that I established the Chitral Women's Sports Club with the aim of providing a safe environment for young girls aspiring to engage in sporting activities in a bid to empower them and foster their talent and skill. Initially, the primary aim was to encourage physical health among the girls, but I soon realized that sports could also be used as a tool to enhance mental health. Today, two years later we have 151 under-16 year olds associated with the club.
How did your collaboration with well-acclaimed designer Stella Jean come about and what was it aimed at?
In January 2019, I started the Chitral Women's Handicraft Centre – a small business venture focused on creating an exclusive product line that highlights the cultural heritage of the terrain in a contemporary way. The project was aimed at helping local women who are amazingly talented, but aren't able to generate an income using their skill. I initially wanted the CWHC to function as an NGO, but with time and experience, I realized that a business model would be far more sustainable and would make for increased impact.
Barely 5 months after the project's inception, post the first quarter of our production; Stella Jean, a designer who is based out of Rome, was introduced to us by a mutual friend, Zahir Rahimtoola. Stella's collections always narrate a story – they aren't just exquisitely designed ensembles but are also an ode to talented women from around the world.
For her Spring/Summer 2020 collection, Stella wanted to highlight the culture of the Kalashas and Chitral. I am very grateful to Stella for having trusted me with executing one part of what she had envisioned without having met me personally. Within a month of our first ever conversation, the artisans at CWHC had produced over 400 meters of embroideries for Stella Jean's designs and the rest as they say is history.
What do you feel the project attained for local communities, in terms of empowerment of artisans and tourism in the area?
I think international collaborations of this nature and scale help in various ways. When you empower local artisans, be it women or men, and give them the international exposure and global recognition that they deserve, the remuneration that they receive also multiplies manifold. This changes the life of not only the artisan as an individual, but also their entire household.
Alongside her collection, as part of the project, Stella and her team also worked on a documentary showcasing not only the breathtaking terrain of Chitral but also its glorious culture, hospitability and hardworking people. The montage was played ahead of the fashion shows in Milan and Karachi and people were stunned to see a glimpse of Pakistan that doesn't often make the news. Projects of this nature not only empower local communities but also send a strong message globally.
Tell us about the experience of taking a little bit of Chitral to the ramp in Milan and Karachi?
To me, it all feels like a dream. Stella invited me to Italy to attend the showcase of her collection inspired by Chitral. Upon reaching Milan, she gave me the surprise of my life by asking me to close the fashion show with her. Never in my wildest dreams did I think I would get the opportunity to walk the ramp at Milan Fashion Week and later at Fashion Pakistan Week. I was overcome with emotion and my tears could not be contained. I am and will always be extremely proud of my people and the beautiful work of our artisans. I put my heart, sweat and soul into the project with Stella, and the joy of seeing our work and people being appreciated both internationally and at home was all I ever wanted.
How do you propose to further tourism in Chitral?
Like the rest of Pakistan's mountainous north; Chitral's tourism potential is unmatched. However, I do think that with the rise in visitor footfall, comes the risk of the valley's natural habitat being adversely impacted. I therefore think it is important for the government to develop frameworks to prevent this from happening. I believe eco-friendly tourism should be encouraged across the northern areas of the country including Chitral – a region that has tremendous potential and where the development of a comprehensive infrastructure to bring in travellers is long overdue.
Baneen Mirza
A graduate of the Indus Valley School of Art and Architecture, Karachi and the Royal College of Art, London, Baneen Mirza gave up her life in the city and moved to the mountains with her husband Ahmad to set up Khanabadosh Baithak, a travelling campsite that gives its visitors a chance to connect with their surroundings and recharge away from the madness of every day city life.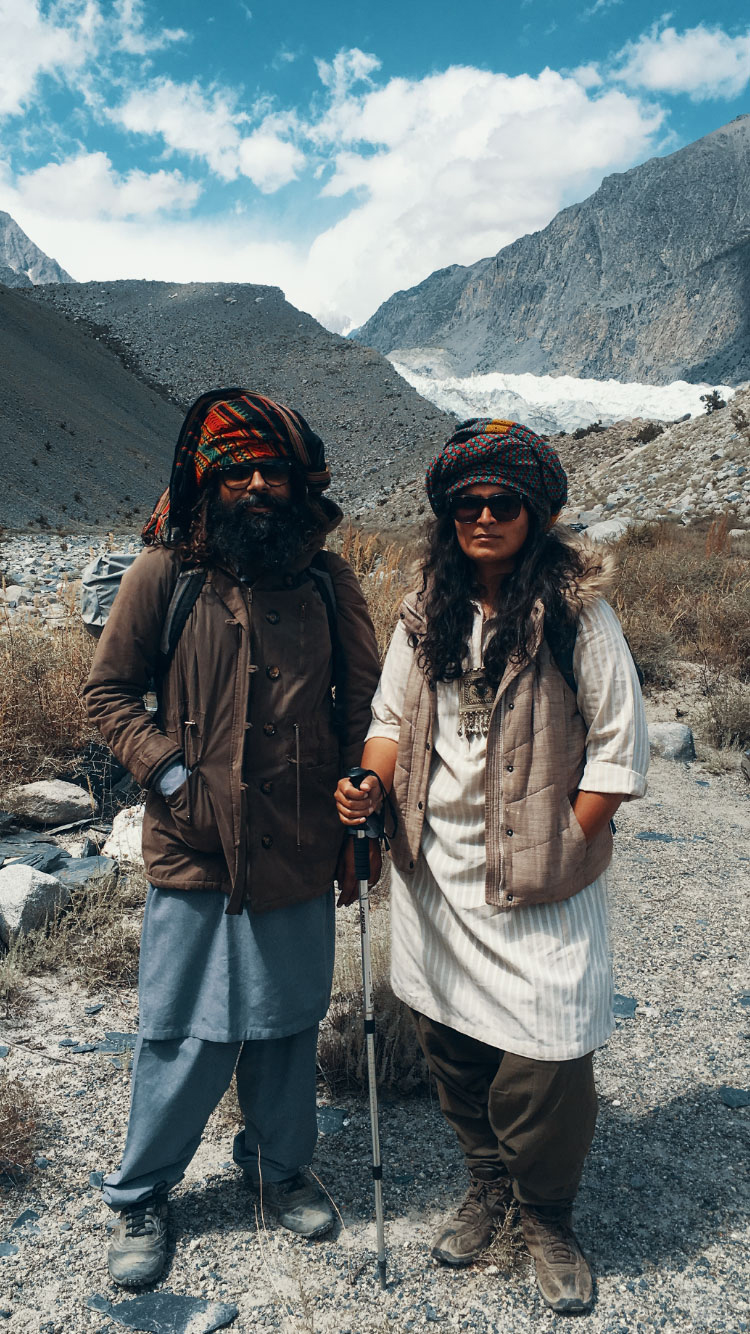 From an art school degree to curating experiences for travellers – what prompted the transition and why?
There is no one thing in particular that prompted this transition for me. I had never imagined doing something like this. Courtesy my husband Ahmed and his ideas, what is today recognized as Khanabadosh Baithak came across as an opportunity, one I thought I could and should explore – an experience that made me realize what I was missing in life.
For me, the transition has become a lifestyle more than an occupation. Having academically pursued a theoretical body of work for 2 years, I felt the need to live it rather than writing about it. I am the kind of a person who enjoys being hands on.
How would you describe the KBB experience and the philosophy behind it?
The Khanabadosh Baithak experience is one that enables people to live in a natural environment with minimum interference of man-made elements of any kind. A journey that allows for you to disconnect from the world in a bid to reconnect with one's self – be it in a spiritual sense, be it physically living off grid for a while.
We basically started doing this because we wanted to live a simple life, breathe fresh air and be able to see a clear sky and the stars that isn't possible in cities where pollution takes away that experience. So we chose to move away and migrate so to speak to find that for ourselves and share it with others.
When travelling to different parts of the country, we're very interested in our identity – our heritage, various cultures, different types of people, music, food and little nuances that make up that identity or those identities. What it means to be a Pakistani? What is indigenous? What is being Pakistani and South Asian at the same time? I sometimes feel we're schooling ourselves all over again with things that we never learnt through conventional education systems.
How did the project come to be coined the Khanabadosh Baithak?
I guess this was the one name that really reflected how we wanted to live our life, as well our way of thinking in terms of the curiosity that we had for what else is out there in a place that we call our home. We kind of knew that even if we settled in one place, movement even if it's mental is not going to go away and it was probably very evident at the time we thought of starting this. Khanabadosh was the name that came up and stuck. Khanabadosh is the just the way we are, and baithak is the place people come and stay.
What is your view is Khanabadosh Baithak's USP? 
Doing the basics right, with honesty and integrity! At KBB, our hospitality is aimed at nourishing the mind, body and soul. When setting up our baithak we don't build any temporary or permanent structures, because neither is the land ours and we are very conscious of the carbon footprint we leave behind. It's a bare minimum, naked experience, one where people are forced to shed their pretences if there any, to really enjoy your time at Khanabadosh Baithak. A lot of people find it difficult, but when they do let down their guard, you can see that they enjoy it.
How do you feel KBB in specific, and other such projects in general, have impacted tourism in Pakistan?
We are a very small set up with very limited reach. I doubt we have any impact on tourism so far, except in terms of sparking conversations – that is the extent of our impact on tourism. On individual lives, perhaps it has. We encourage people to walk more, to slow down. To not seek the same comforts they do back home and to try and be travellers not tourists. Those who have stayed at KBB, take back a little bit of the experience to their homes and their respective environments. 
The KBB kitchen is well acclaimed for using the best local ingredients to create a signature take of well-known global delicacies – is food an integral component of the KBB experience? 
Food is an integral part of the Khanabadosh Baithak experience, I have developed an avid interest in cooking as well as local and seasonal ingredients and we can best utilize what is available. My kitchen is my food lab, my design studio, and available ingredients are my tools and materials. 
The meals we prepare aren't local to the region, but the ingredients we use certainly are and we try our best to serve fresh and organic fulfilling meals. We engage with the locals to learn more about their diet as it plays a very important role in staying healthy in accordance with the climate. In my view, our food appeals to people because people don't expect to be presented good well-plated meals in an environment that is so remote where you are living in a tent.
You currently call Ghulkin home; staying true to its name which part of the country does the Khanabadosh Baithak intend to travel to next?
Where we go next, only time will tell – on our part, we have to make sure that we continue giving the same kind of experience. We endeavour to stay true our values and work in a way so as not damage the environment, not interfere with the natural habitat and just learn to work with them. If that quest takes us further up Hunza, to Chitral or to some part of interior Punjab, I don't know.
Aneeqa Ali
Lahore School of Economics graduate Aneeqa Ali gave up her corporate career to pursue her passion for travel. Her projects, The Mad Hatters, an experiential travel company, and Root Network, an NGO aimed at developing sustainable and equitable tourism solutions for local communities, are rarities if not firsts of their kind in Pakistan.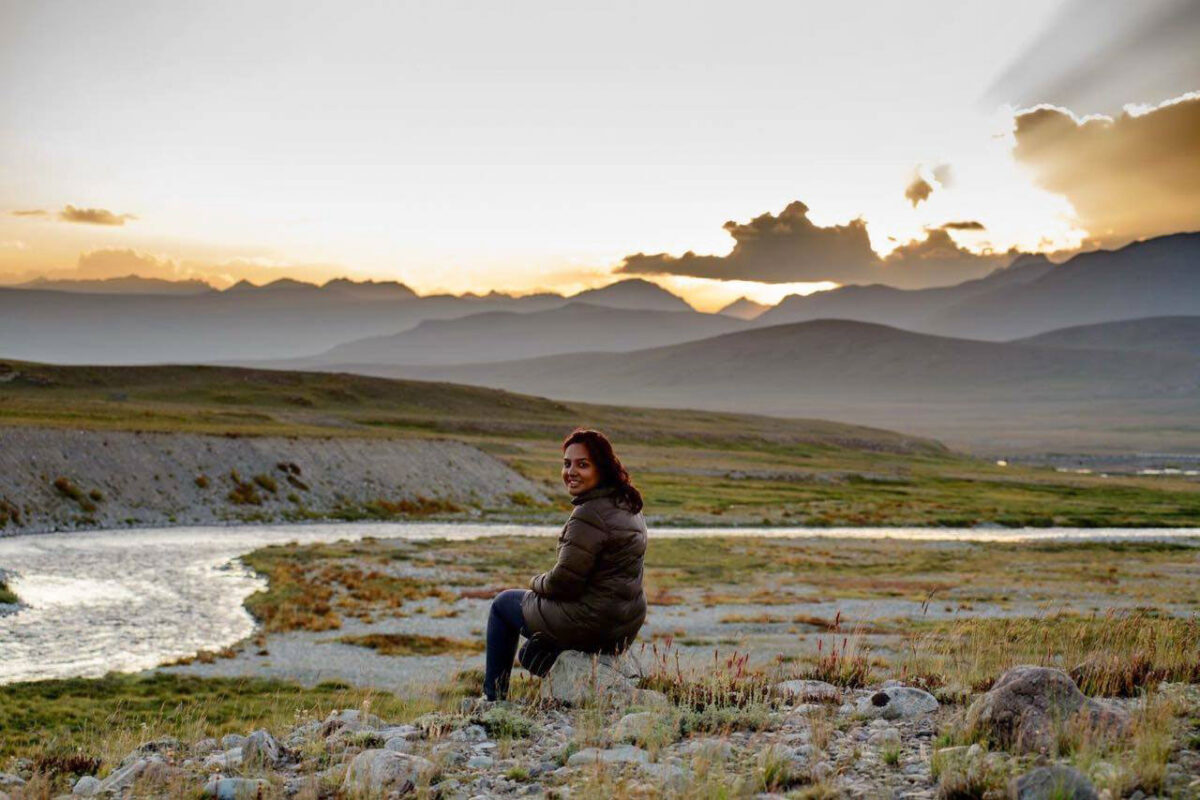 From an MBA to The Mad Hatters and more recently the Root Network – what prompted the transition and why?
I am an avid traveller and cyclist; my passion for travelling took me to the remotest corners of the country, and made me fall in love with the beauty, heritage, and diversity of Pakistan. Professionally, I have an MBA degree in Finance from the Lahore School of Economics, and the experience of working in the corporate sector for a span of 10 years.
Whenever I got tired of the madness of the city life, I decided to find refuge in the mountains. Exploring nature and interacting with people from different cultures always helped in finding a new perspective and direction in life. This habit of running away to the wilderness became a hobby, and with the passage of time turned into a passion.
Travelling around Pakistan both solo as well as with different tour companies made me realize a few very important things:
Firstly, Pakistan is a very difficult country to travel as a woman. Even after the long struggle for women's empowerment, it is still a rare sight to see women in public spaces. Hence, the freedom of travelling is not as easily enjoyed by women as it is by men. Plus, the tourism industry of Pakistan is completely dominated by men.
Also, Pakistan's tourism sector is not an entirely formal industry; it is largely composed of unregulated/unregistered organizations providing substandard services. The tremendous increase in demand for tourism-related activities in recent years resulted in explosive growth of new service providers in different tourism fields. A lack of regulatory frameworks allow for unethical and irresponsible practices, posing an imminent threat to the long-term sustainability of Pakistan's current tourism industry.
We must acknowledge that there is a huge disconnect between travellers and local communities of the touristic areas of Pakistan. Most of the tour operators as well as travellers just focus on low cost sightseeing tours that do not cover the experiential aspect of tourism through engagement with local communities, to learn about their stories, cuisines, arts & crafts and more.
You turned your passion for travelling into a career – how would you define the ideology and purpose behind The Mad Hatters and Root Network?
In March 2017, I finally decided to leave my corporate job, and gave in to my love for travelling by launching The Mad Hatters; an experiential travel company for adventure seekers, risk takers and avid explorers looking for opportunities to get out of the daily grind, and journey into some of the less explored areas of Pakistan. Through this platform, we aim to educate people about the beautiful landscapes, culture, lifestyle, crafts, and cuisines of the country – the side of Pakistan that generally does not get the deserved limelight. We are also focused on making the travel industry of Pakistan more inclusive for females, by providing them a platform to travel, as well as helping them pursue a career in tourism.
In July 2020, I co-founded Root Network with a group of female travellers and development professionals drawn together by a shared belief in the importance of responsible travel. Our aim is to create an equitable and inclusive tourism industry in Pakistan by increasing access to meaningful economic opportunities for indigenous communities, promoting local culture and heritage, and advocating for sustainable development and responsible travel practices.
Since their inception, how do you feel the two ventures have redefined tourism and the tourism industry in the region?
The Mad Hatters and Root Network are both focused on developing sustainable and equitable tourism solutions by working with local communities.
What sets The Mad Hatters apart from numerous other travel operators in the market is the focus on providing a safe space to female travellers, quality services, culturally rich experiences, exploring unseen locations, and an eco-friendly approach to promote sustainable tourism by working with local communities.
Root Network is focused on increasing accessibility of local communities to economic opportunities, in the wake of the recent boom in tourism. Local communities in these regions are often strained by mass tourism, but see little benefit. It's essential to listen to local communities and support them with the resources and tools they need. It's equally important to educate travellers and tourism professionals about responsible and respectful travel.
Did being an outsider allow for you to be more objective about tourism and related concerns in the region? Did not being local have its own setbacks?
Yes, being an outsider definitely helps you make objective decisions about various things. But accessibility becomes an issue for outsiders at times, as they do not have access to all the information about an area due to limited exposure. We always make sure that we partner with local tourism organizations to solve this problem.
On the tours of The Mad Hatters, we always hire local tour guides to ensure that the local communities benefit economically. By engaging local tour guides our travellers also get access to places, experiences and information that we as outsiders cannot provide.
For Root Network's pilot project in Gilgit Baltistan that was focused on providing training to tourism professionals in the region about COVID-19 related SOPs, we partnered with Agha Khan Rural Support Programme, Karakoram Area Development Organization, Gilgit Baltistan Association of Tour Operators and relevant hotel associations from different regions to ensure that we developed a solution that was locally relevant/needed.