From model to online entrepreneur and now a movie star in the making, Kiran Malik embodies style and individuality in all her various professional personas. Add to that her role as a hands-on mom, a constant traveller and one of the industry's most well-dressed women, and you have a true style icon. In a candid conversation with DESTINATIONS, the model-turned-actress discusses her upcoming big screen debut opposite Shaan, what makes her a typical Lahori at heart and which trends to embrace this summer.
You're known and admired for your distinct sense of style. Who/what are your inspirations when it comes to fashion?
My mom remains one of my biggest inspirations and I remember watching her as a child as she would sit on her dressing table and apply lipstick. That's one of my first coherent fashion-related memories. My stint as a stylist for asos.com, the online store, also honed my taste in fashion, as it introduced me to edgy style. I like to stand out with my sartorial choices; you will never see me wearing designer brands head to toe. It shouldn't be the label that does the talking; but your individuality.
Whose style do you admire?
I've grown up looking up to Queen Rania; she epitomises classic style. I also admire how Victoria Beckam has evolved herself from a pop star into a true fashionista. From our part of the world, I'd pick Zeenat Aman – sexy yet elegant.
Your online store Styleberri is an extension of your own quirky sense of fashion. How and when did you launch it?
It's a recent venture that I started when I moved to Dubai. People would always admire my wardrobe choices and often asked me to pick out stuff for them. I realized I was spending my time and effort selecting clothes for others and I thought, why do it for free? Having worked for Asos, I knew the ins and outs of online retailing and I had a Korean friend whose dad worked in the garment industry. Just like that, Styleberri was born – from an Instagram account that I created from my sofa. The idea worked so well because of the affordable pricing and the exclusivity, as I only keep 30 pieces per item.
You currently live in Dubai, but you've grown up in Lahore and worked in London. Has the exposure to multiple cities helped shape/inspire you?
I think the international exposure has shaped me into the woman I am today – strong, confident and ambitious. I grew up in Lahore and went to school here, and if my childhood friends saw me today they wouldn't recognize me as the shy and quiet Kiran they knew back then! I moved to London for my higher studies and started work at JP Morgan and that's when I really came into my own. I travelled across Europe as a single girl and met so many amazing people from all over the world. Those experiences and friendships have stayed with me. Dubai is yet another multicultural city and my job as an HR consultant at Oracle exposes me to amazing talent not just across the region but around the world.
How do you juggle your corporate life with your career as a model?
I started modelling while in London as a hobby. My first gig was completely unexpected – my family is closely associated with the LRBT Foundation as my grandfather is blind and we work a lot with the organization. I was helping them during a fundraiser that Sheru (HSY) was choreographing and he asked me why wasn't I one of the models! In fact I ended up walking for him for that very show. Once I realized how much fun it would be, I registered myself with a modelling agency in London and landed some fabulous assignments. I was the face of British Airways and also did a campaign for Emirates. In Pakistan, it was Ather Shahzad that I began work with and I also did the first few seasons of PFDC. I've left modelling now because my focus is needed elsewhere; I only do the odd assignment if a close friend like Faraz Manan or Umar Sayeed asks.
You're making your big screen debut with the action thriller Zarrar, alongside a superstar like Shaan. Tell us about the experience.
Never ever in my life did I think I would be in a film! When Shaan first offered me the role, I took a good 6 months to make up my mind. But I finally overcame my apprehensions and took the plunge and I must say, I enjoyed it tremendously. I read a lot and follow current affairs and politics closely; my role of a journalist in the film is a reflection of that. It's a big-budget, slick production; not your typical masala film but quite edgy.
As a first-time actress, what was the most challenging aspect of being on set?
For someone as organized as I am, and who is used to a 9 to 5 corporate life, the long hours and waiting on set were frustrating to say the least! Plus the pressure to perform with hundreds of people watching you can be unnerving.
Top 3 places on your bucket list.
L.A.   2. Cape Town   3. Brazil
You're also a mom; how do you maintain a work/life balance?
My daughter Imaan is 9 years old and turning into the biggest diva on earth! It's freaking me out that my baby is suddenly interested in fashion and girly things. Honestly, I have a great equation with Imaan; even though I travel a lot for work, we are very connected. I'm lucky that my husband Farooq is a hands-on parent. We are very organized as a family and plan everything well in advance so that everyone's needs are taken care of.
Top 3 travel essentials
Sunscreen in the summer / moisturizer in winter
Lip balm
Wipes
Not many people know Dubai beyond its glitzy malls. As someone who resides there, what experiences would you recommend to visitors who want to enjoy a truly local flavour?
There is so much to Dubai beyond the malls and beyond Zuma, to which I feel most Pakistanis limit themselves. The old city and the port make for a great outing; there's the gold souk, you don't have to buy gold but traversing the streets is an experience. I always take my visitors there. Dubai has a thriving local theatre scene, with performances every Wednesday. There are so many art fairs; wonderful parks, gorgeous beaches and now we have our very own opera house. Honestly, it's all about your mind-set and thinking out of the box. You can do so much here.
How often do you travel together as a family?
At least twice a year. My in-laws live in Oxford, so we spend every summer with them. Apart from that, Farooq, Imaan and I try and fit in an annual family vacation. We like our space too, so we also do separate trips. My husband went on a boys' trip to Cape Town earlier this year and I'm just off on my girly trip to St. Tropez.
What's your favourite city in the world?
Paris, because it has so much to offer – history, culture, art and oh, the fashion! One can just sit at a roadside café and people-watch for hours. And then, of course, there's Lahore, my first love.
What's the most Lahori thing about you?
That I'm an out and out foodie.
The style trend that you're loving this season?
A lot of colour. I'm currently in London and I see people have rediscovered their love for yellow. I'm incorporating a lot of lemon, coral and green into my summer wardrobe. Also, headbands are having a moment.
And the one trend you never want to see again?
Culottes. I just don't understand the point. They're a style no-no for me. Also, head to toe designer wear, and then tagging the brands on social media! Just, NO!
Describe your perfect vacation.
Good food, vibrant culture and lots of sunshine. I'm not a winter person. Also, the destination should be off the tourist track.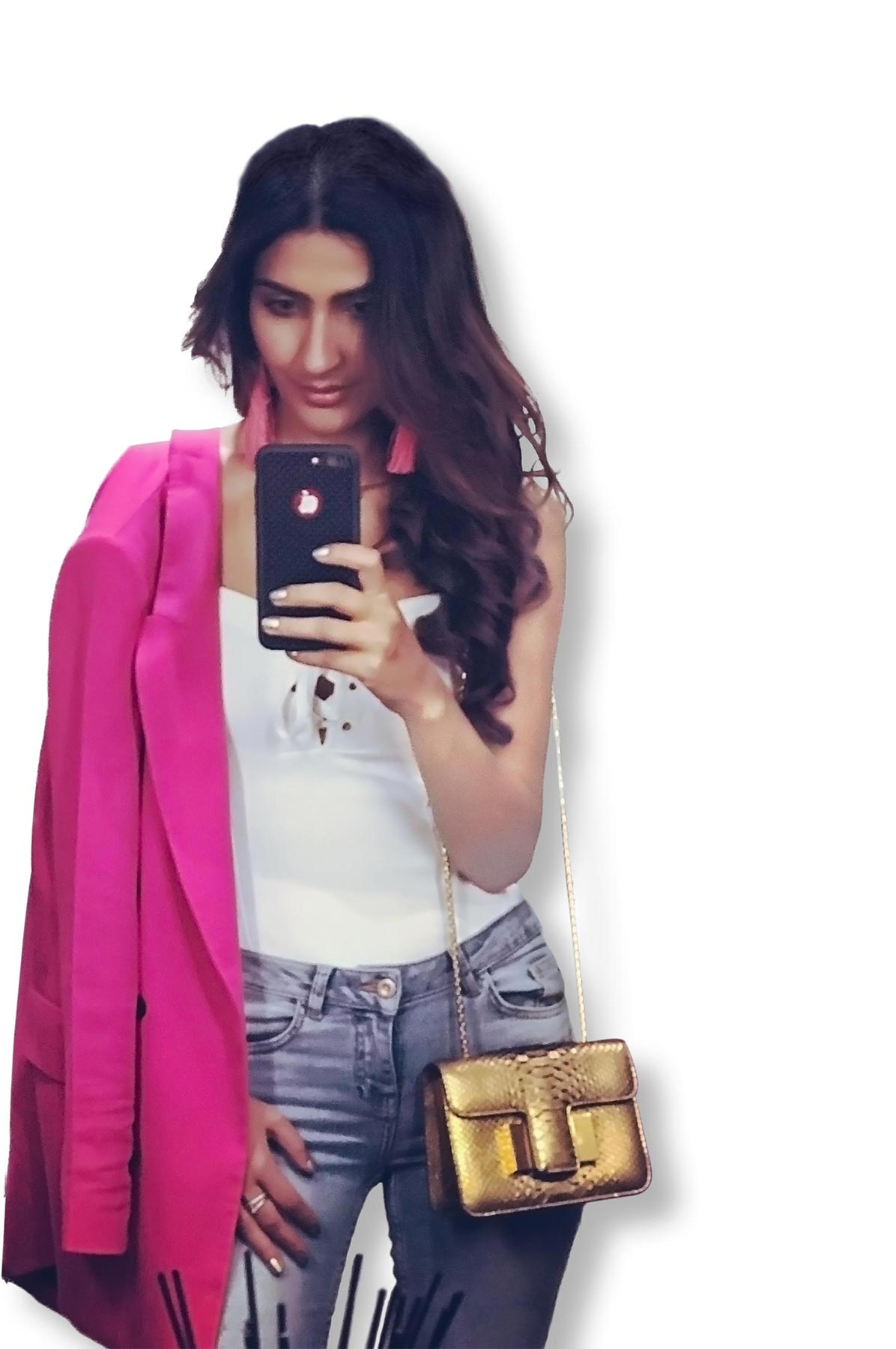 Kiran's Style Must-haves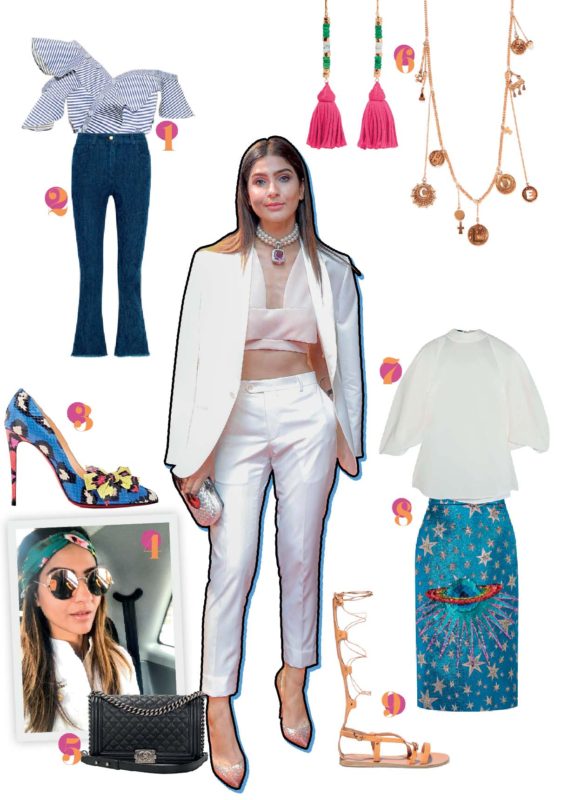 My wardrobe choices range from classic to quirky – there's no middle ground. I believe in investing in timeless pieces, such as a Chanel bag or a white silk shirt that will stay on trend for seasons. When it comes to having fun with fashion, my go-to brand is Styleberri.
This ruffled Styleberri top can be dressed down for the beach or dressed up for a night out with the girls.
I love me a good pair of denims no matter what the season.
This beauty from Christian Louboutin is one of my most favourite summer buys.
Headbands and oversized sunnies make the perfect summer accessories.
I'm a Chanel kind of girl when it comes to handbags.
A little bit of bling can add oomph to any outfit.
A classic white shirt never goes out of style…
… Especially when paired with a slinky pencil skirt
When in Greece, don't forget to splurge on a pair of handmade leather gladiator sandals, which is exactly what I did.
UK Diaries
Whether it's spending time with family in Oxford or chilling out with all my Pakistani friends who make London their annual summer destination, my UK holiday is always a blast.
Time Out in GREECE
This summer I visited Athens and Mykonos. Athens, one of the world's oldest cities, packs a lot of history and ancient culture yet it's small and manageable, hence easy to navigate. It's also one of the friendliest places I've ever been to; my first taxi driver became my guide throughout the trip and showed me around the whole city. Mykonos has an amazing vibe and is a great place to hang out with friends. Again, it's small – there are only 24 cabs on the island! That's what gives it an authentic, local flavour.