With great travel comes great responsibility – one that ensures the preservation and protection of the natural environment and wildlife of the region one visits. Given the rapid climate change and its negative impact, mindfulness is an important aspect if one is to explore the world. Journalist and travel enthusiast, Madeeha Syed pens an informed and useful guide on how to go about discovering new places without leaving a trace.
Travel is fatal to prejudice, bigotry, and narrow-mindedness, and many of our people need it sorely on these accounts. Broad, wholesome, charitable views of men and things cannot be acquired by vegetating in one little corner of the earth all one's lifetime.
This is one of my all-time favourite quotes by American author Mark Twain from his book, The Innocents Abroad. It's important to remember this in our increasingly polarised world. It's also important to remember that as human beings, we are the sum total of our experiences, and not of the things that we own. The world is waking up to the importance of a good adventure outside of your home – travel and tourism is one of the fastest growing industries in the world.
That definitely holds true for Pakistan. Thanks to the internet for spreading awareness about our natural and heritage sites, greater individual purchasing power, greater difficulty in travelling abroad (visa and currency issues) domestic tourism is on a rapid rise.
But with great travel comes great responsibility – we have to respect the places we go to. Popular tourist sites are currently suffering from littering, pollution and other social ills, which if it continues, will be at a scale that will be difficult to contain. Hence, it is imperative to be conscious of the environment – for the sake of preservation, not to leave a mark when we visit – precisely because we are visitors, not residents.
Here are a few ways you can come and go without leaving a trace:
Keep a dustbin or a litter bag handy:
Popular tourist buses in Turkey do this. The guide will tell you to dispose of your trash in the bin on the bus or keep it with you until you can dispose it off safely away from the site. Any tourist caught littering will be expelled from the site, fined and the guide risks losing his/her license. That's an idea to follow.
Carry reusable cloth bags:
These can also be bags with waterproof lining. They fold and fit into pockets and handbags quite easily and they come in handy when you are buying something from local markets. You can get these bags by looking online – there are several local environment-conscious businesses that are happy to sell these to you.
Carry reusable water bottles and a travel mug:
Fill up water from larger containers or natural sources such as rivers or streams whose water is considered safe for human consumption. One way you can take precautions is by carrying small one litre per tablet iodine pills to purify the water or a steri pen – the light from this pen kills most water-borne bacteria making your water safe to consume after one minute of exposure.
Carrying a travel mug will greatly reduce your need to take away plastic cups for items such as tea, coffee and the occasional soup. EcoPal (look them up on Facebook or Instagram, they don't have a website yet) sells really cute reusable cups online.
If you can, forgo using a plastic straw. If you absolutely have to, try buying a steel straw online. Code Green sells them for around PKR 250 per straw. You can also buy steel straws from Trashit.pk
Use shampoo bars instead of bottles:
I cannot stress the importance of this one enough. Plastic bottles are some of the biggest pollutants on the planet. A shampoo usually comes in a tin/aluminium container and each bar is equal to roughly around three bottles of shampoo – so they last very long.
They're compact, easy to carry and you don't need to use much even if you have long hair. Most local businesses that sell shampoo bars are happy to have you return the containers to them so they can be reused. You can also use a container to carry soap.
Pakistan-made shampoo bars are available online at Calm & Balm, Code Green and KoalaTree.co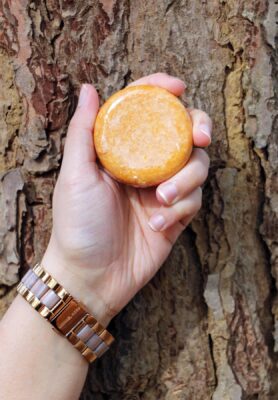 Bamboo toothbrushes instead of plastic:
We don't realise how much this contributes to waste that will never go away. Thankfully local conscientious businesses have a solution – bamboo brushes. If you bury a brush in the soil, it will decompose completely within six months.
You can buy yours from Code Green, Recircle and Trashit.pk
For 'that' time of the month:
We don't talk about this enough, but one of the biggest, usually unavoidable pollutants specific to women are our one-time use sanitary products. They're also very difficult to dispose off when travelling, especially when you're in the wild.
I cannot describe to you the desperation I've felt while on a trek, using the toilet (usually a hole in the ground) and being unable to find a dustbin or any place to dispose a used sanitary product. It's not something you can carry with you for long in a litter bag because some of the contents literally rot very rapidly.
The solutions: one of them is to use reusable sanitary napkins. The newer ones are comfortable, have waterproof lining, can be clipped off and washed when you're done with your adventure for the day.
The other one, my favourite, is to use a menstrual cup. These can be a little frustrating to get the hang of at first – it took me till the second cycle to figure it out and be completely comfortable. But the great thing about menstrual cups is, one cup lasts for years, there is no litter at all and no washing up to do afterwards as well.
You tip and empty a full cup, wash it with available water and pop it right back in. It's just as easy and I've used it in all kinds of toilets on the road and on trails. It's liberating.
You can get a Pakistan-made, very good quality menstrual cup from Recircle.
With a little bit of an extra effort, you can come and go without leaving a mark on the places whose pristine beauty fills your soul. The earth nourishes not only our soul, but our very existence, and it's very important that we do our part to take care of her.