The first thing that strikes you when you walk into Polly & Other Stories, is the aroma – a delightful mix of artisanal candles and scented organic soap. Winter sunshine streams through the oversized windows, illuminating a treasure trove of colourful finds in pristine white surroundings. Indigenous yet contemporary, quirky yet meaningful, the variety of products is painstakingly curated. Whether its tableware, postcards, bracelets, cushions, hoodies, fabrics, or framed art, there's an array on offer to the discerning contemporary shopper.
Amneh Shaikh-Farooqui and Angela 'Ange' Braid are the innovative duo behind this social enterprise which primarily exists as an online business in addition to this concept store, along with pop-ups in Karachi and Islamabad. The two first met as development professionals on a large USAID project in rural Sindh while working with producers in the fabrics and textiles arena. "We became good friends," recalls Amneh. "Later when the project ended, we got talking. The market players stopped sourcing from the 75,000 artisans and they got in touch with us. We set up e-commerce as a cost effective tool and set them up to look like brands." Hence, Polly & Other Stories was born. "There was nowhere for them to sell," recalls Ange. "We were the first ones to really try and create a platform and connect artisans direct with consumers in Pakistan."
Ange is no stranger to working with marginalized communities. In the last decade, she set up the Polly & Me handbag brand with her sister Cath, where they employed artisans from Chitral and created a niche for traditionally handcrafted embroidery fashioned as contemporary accessories. Ange grew up in Australia and graduated from the University of New South Wales with a degree in Fine Art. In addition to Pakistan, where she's lived for several years, she consults on livelihood projects in Afghanistan, Mongolia and Iraq. When I spoke with her, she was visiting her sister in Tunisia.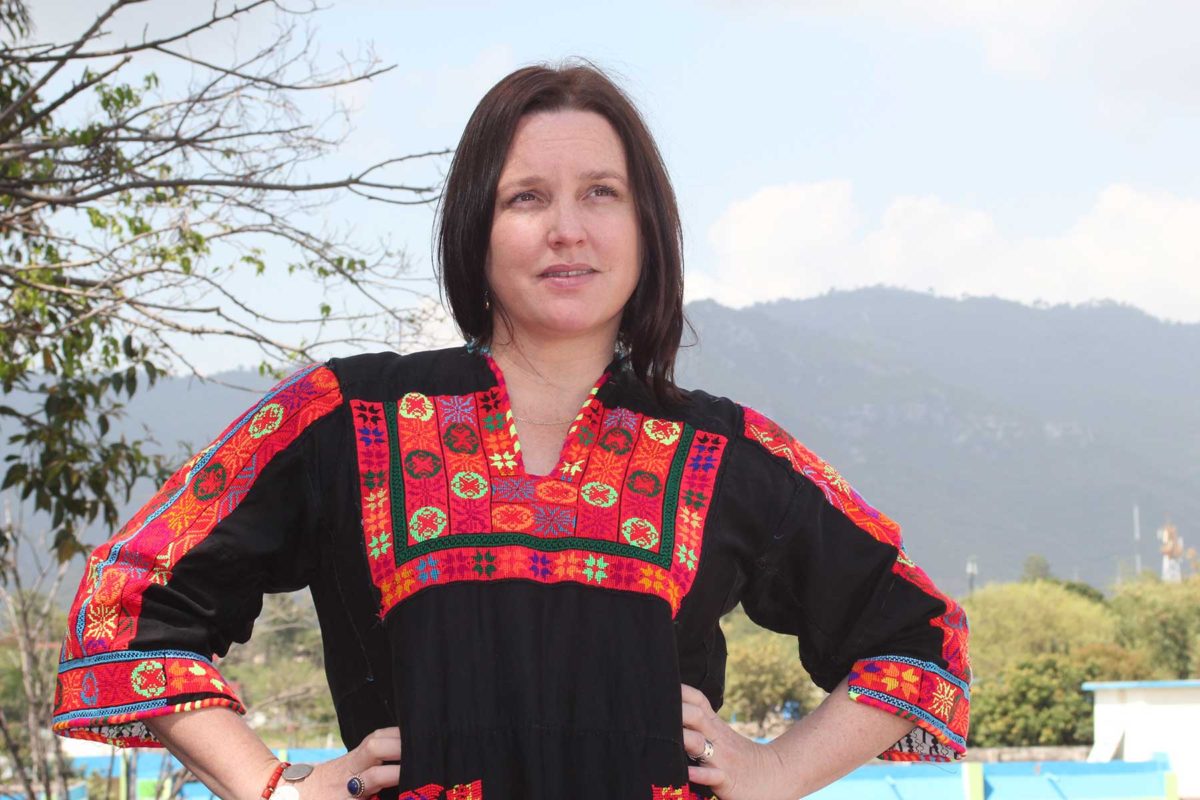 Amneh grew up in the Middle East and Karachi, where she lives. She graduated with Masters degrees in Public Policy from the Australian National University and International Relations from Karachi University. Prior to her extensive career in economic empowerment projects with American, Canadian and UN donor organisations, she's worked on gender issues, environmental impact assessment, and sexual health in the development sector as well as public policy development for the government.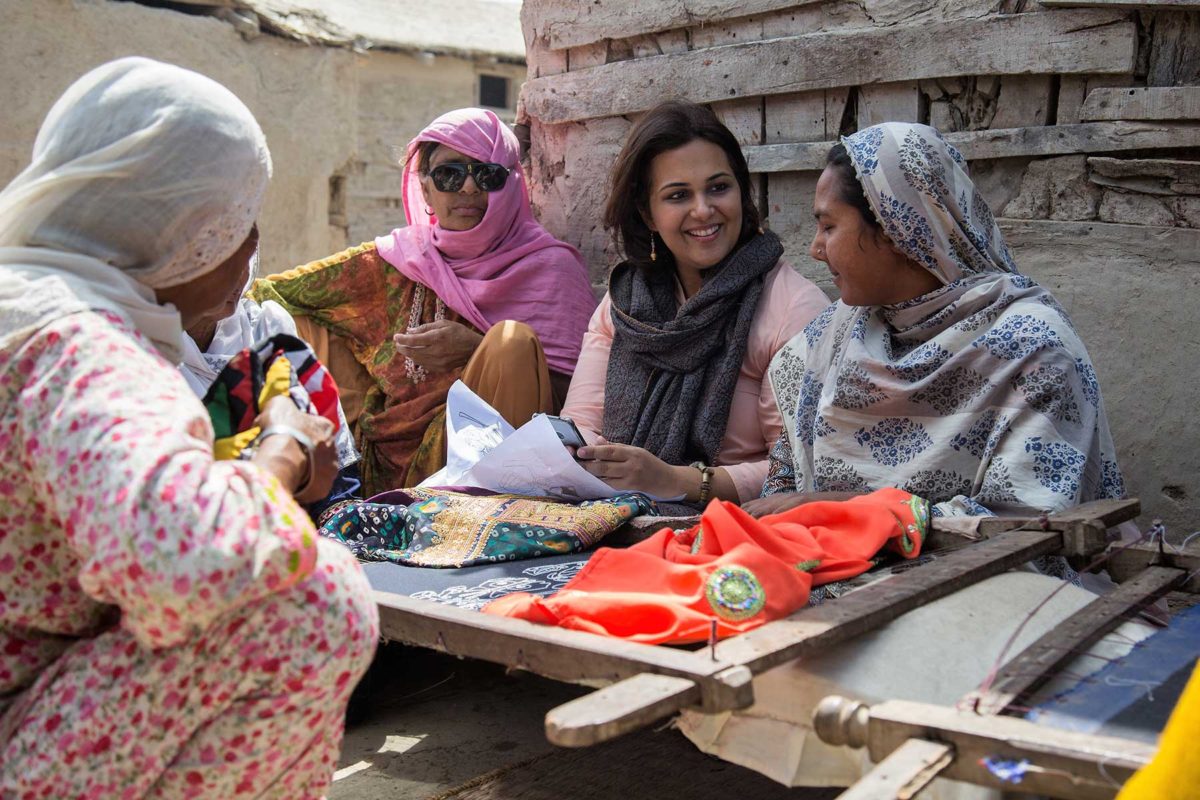 "A lot of not-for-profits have struggled over the years because people do limited guilt-induced buying, like trinkets, or they rely on a volunteer force which is commendable. Neither are sustainable. In Pakistan there's nothing like Good Earth or Fab India or Ogaan because we expect craft to be this low value product…We do share stories and you are supporting livelihoods and education with purchases, but the products are gorgeous and it isn't a poverty pitch." She explains how training is all part of it along with branding and content for the smaller producers and artisans. "We're currently working on documenting and highlighting capacity development and training work."
Initially, the duo sought their first 22 producers themselves. They reached peak capacity at 80 and have now scaled back to 50. "We don't have partnerships with hobbyists from the urban elite who can't commit to production," says Amneh. "We want to make sure artisans have fair wages, there are no exploitations and there is originality and innovation. Polly & Other Stories is a brand from the future. There's a global movement reclaiming tradition craftsmanship and 'slow' fashion, reusing and re-loving handmade things where the creator leaves their imprint on the object. Disposable fast fashion results in unemployment, crime and industrial pollution. We want to change that."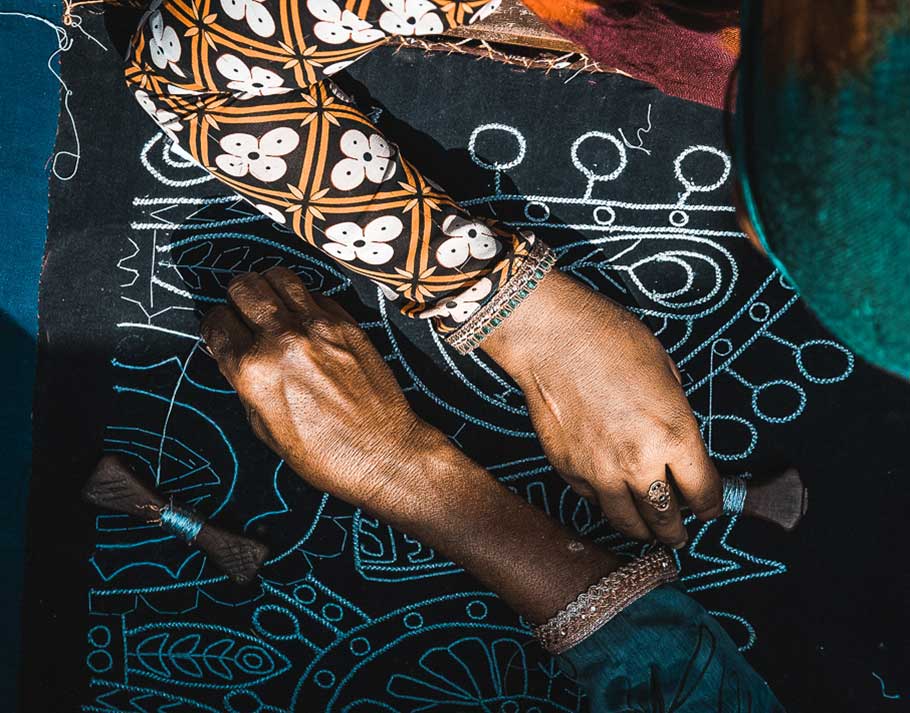 "We're a curated marketplace selling unique, beautiful things," says Ange. "We try and make traditional crafts into contemporary products. We might advise them on different fabrics and different colours and then we also make Polly And Other Stories products. Our tagline is to 'change the narrative'. We'd really like to change the way people see craft in Pakistan, not something at fairs but something that is well presented and promoted properly.'
"In Pakistan, we just want to buy the latest mass produced print," says Amneh, turning somber. "How often do we think of the living breathing people who make these objects? Entire towns and villages can't afford to send their kids to a good school or provide for a health emergency, there's no social security net. CPEC scares me. Are we going to lose our soul, are we going to celebrate 'Made In Pakistan'?"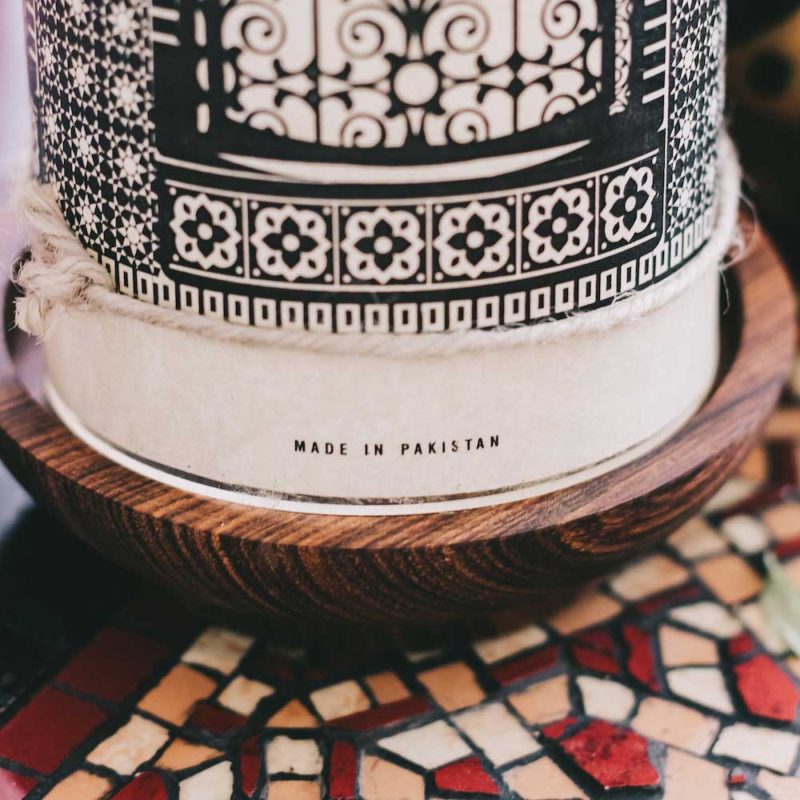 The shop hosts Polly Talks, an event series where young makers talk about the process, their stories and inspiration in boutique craft. "We don't have a maker-artisan cultural space in Pakistan," says Amneh. "We want to explore this whole dichotomy in our conversations about whether you're modern or traditional. I don't think anything you do is apolitical, it is value driven so for us that's a big part of how we are differentiated."
"Our consumers have been women aged 25 to 55 who are willing to embrace new concepts," says Ange. "And there's a large expat community who want to buy things and take them back. One of our bestsellers is a dishcloth covered in beeswax to reduce plastic use. Our customers care about where it came from and who made it and the story." Amneh adds, "They're well travelled, educated professionals seeking value in their purchases. We give consumers that elusive connection they're looking for between product and maker with their stories. Men took longer to discover us, from 2% of our sales mostly around Valentine's Day or Mother's Day to 25% now."

Polly & Other Stories is, after all, a business itself, albeit a social enterprise. The duo invested their own money when they started. Last year, they received a significant investment after a competitive process from Karandaaz, funded by DFID in the UK and the Bill & Melinda Gates Foundation. "E-commerce is going to be a much bigger part of this economy and we're excited to be at the forefront of this change," says Amneh. "I do most of my own shopping online from groceries to tailoring. It's interesting to see if we can take a lot of people traditionally left out of the development processes with us."
"It's our development and activist backgrounds that drive our work," she continues. "We want to spend a lot more time developing and training traditional artisans in remote communities as well as small urban businesses that are women owned. We don't want to be reverse elitist, there's a massive gap in small businesses struggling and we have the expertise to help."
"We want to expand our stories."