The recently held XY Art Show was created to defy the notion that architects in Pakistan are only capable of designing superstructures; they are, in fact, artists as well. Primarily architects, but also entrepreneurs, academicians, artists and product designers, the 22 participants of XY aimed to stretch their architectural imaginations, freed from conventional constraints and contexts. XY core team member Fizza Haroon gives us an insider's view of the show that blurred the boundaries between product design, architecture and art.
By Fizza Haroon
Architectural expression exists in its purest form only in the mind of the architect. Any architectural object that finds itself realized in materiality is already a compromise. Someone clever said this, I can't remember who.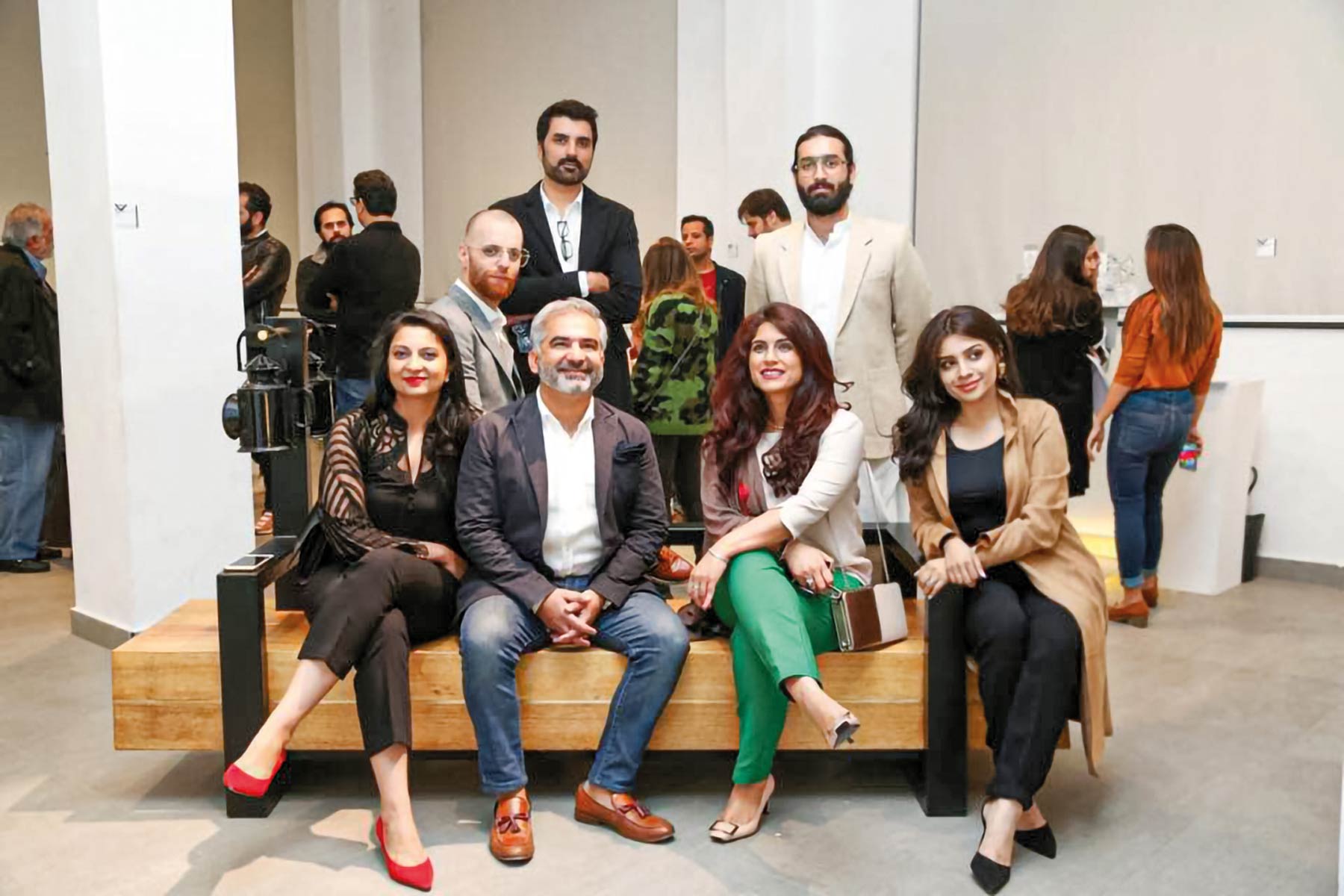 A group of friends, while talking about their frustrations with the architectural profession, and how all of us are artists at heart, arrived at XY. An art show by architects, XY set out to add a bit of a tangent to the horizontal and vertical planes that we work with.
The premise for the show came from the desire to design and realize architectural objects that may be freed from their context. The elements that define architectural space, light, enclosure, aperture, and the components that create it, were taken, toyed with, lovingly mixed up with our own personalities and manufactured as architectural art.
The architects brave enough to put themselves out there for this first show were a diverse group of practitioners, educators, artists and designers, coming together to give expression to artistic whims and fancies that we cannot always express in our built work. Some of us are already product designers. All of us are artists. We created drawings, objects and sculptures that don't necessarily belong anywhere in a building. We had fun while we did it, and we smiled to ourselves and at each other when it all came together.
There was some seating on display. Playful, imaginative, defined by the beauty of its material or movement. Stools, tables, lighting fixtures, seating surfaces, even a film! A sculptural form, an enclosure, a free-standing structural component, holding itself up in dignified beauty.
Rashid Rasheed's bench was our home for the duration of the show. The warmth and generous expanse of the smooth wooden seat welcomed and contained us, we worked and rested on it, it became the heart of the whole space. Thank you, Rashid, for 'Muntazir'.
Omar Hassan, RISD graduate and celebrated teacher, contributed an untitled installation which was a free-standing arch made of wooden blocks fitting into each other, reflected off a mirrored, octagonal platform. It was, hands down, the most photographed piece in the show.
Raza Zahid's work experience with the likes of Zaha Hadid, Norman Foster and Peter Merino is reflected in his cutting edge design philosophy where he uses geometry occurring in nature and combines it with algorithms to create organic, parametric patterns in his award-winning pieces made from local materials using modern technology. The 'Levitate' tables and 'Mi-552' lamp were quite the conversation pieces.
Saad A Kureshi's slimy and brightly coloured 'Org'nizm' was hard to miss as it melted and slid, Dali-esque, from its place on a roughly hewn table, rigid and fluid at the same time. I really thought it was so representative of his personality – warm and flamboyant, overflowing with energy and creativity. The logistics and the amazing turnout at the event was managed by this wonderful, powerhouse of a person.
Sameera Effindi, the motivating force behind the show, shut herself off from the world while she created her 'Fossil' lights, experimenting with resin and her idea of preserving organic life. We got regular updates on the frustrating fails as well as the Eureka moments as she simultaneously coordinated the participants and pulled the show together from four different cities. The end result was mesmerizing, as anyone who saw and fell for her amber lamps would testify.
Sumair Tarar, the architecture department's golden boy, was returning from the world of government service to find the artist in him. Not a hint of his Masters in Public Policy from Cornell to be seen anywhere, as one walked around the brass sculptures and saw his jewel of a caged spirit struggling to break free. 
Fizza Haroon, who is part of the No.9 Design team with Fatima Hassan, and author of this narrative accompanying the show, displayed two pieces from their Divine Geometry collection, featuring the infinite circle inscribed in a square on hand-hewn marble discs and hand-painted terracotta tiles. 'The Horizontal Plane' and 'Levels of Ascension' seemed to exude the same earthy feel that characterizes these designers' personalities. 
Maryam Shahid Khan, the graphics and photography whiz who made the XY show and its participants look attractive on social media, suspended a scroll from the ceiling featuring backlit drawings of surreal architectural spaces created by herself and Junaid Khan. Another wow piece!
Salman Javed of Coalese from Karachi brought his 'Lattoo' stools that have travelled the world and delighted audiences at art and design shows. I had the most fun with them, spinning on one till I was dizzy. Brilliant product design, fitting our fun philosophy perfectly. 
Arshad Faruqui's wood and brass stools from Copper and Steel in Karachi were one of the first pieces to be sold! Salman Basharat's statement was the rock sitting atop his immaculately designed and finely manufactured solid aluminum, sleek black table.  
Farooq Usman Shahid, Danyal Rasheed and Sheheryar Khan's short films screened at intervals intrigued the audience and lent XY the diversity we were looking for.
Mohammad Saifullah Siddiqui's '8 Hours' and Ali Rahman Khan's 'Dubbay' team brought experiential and imaginative displays that were created with the help of visitors to the show. These Banjaiga boys are talented and refreshingly original.
Fawwad Hussain and Leena Hassan's interactive pieces prompted many enthusiastic photo shoots with their laser cut sunglasses.
And what's an art show without a political statement? The lota chair by Attiq Ahmed of Turning Tables drew smirks and smiles, and a whole lot of attention.
We invited some imaginative architects to participate in this process, thinking we would guide and steer, curate something tangibly coherent. It turned out to have a life and a language of its own!
The people, the pieces, the beautiful space by COLABS, all contributed to the making of a show that was vibrant and exciting, and very, very unique. It did, however, retain the original sentiment that we had started out with. Quite like the team that pulled it together, it was 'sometimes irreverent and light-hearted, at others, seriously focused and precise.' But always, blurring the boundaries between architecture, product design and art. 
Special thanks is due to RM Naeem who in his inimitably gentle way, kept us on track, and mentored and advised us throughout the journey. Until next time, looking forward to an infinitely improved, bigger and better XY 2020.