This year's TEDxLahore brought together seven distinct changemakers from the fields of healthcare, education, tourism, transgender activism and more to discuss issues that truly require our attention as a society.
Photography: M-Theory Films
In a packed auditorium, boasting over 300 attendees, TEDxLahore 2017 kicked off on the 22nd of October, featuring seven distinct changemakers from the fields of healthcare, education, tourism, transgender activism and more.
Held at the Beaconhouse School System's sprawling, red-brick Liberty campus, TED enthusiasts got a chance to be a part of an event that featured talks that acted as an impetus to inspire and encourage a proactive mindset vis-à-vis subjects that truly require our attention as a society.
Curated and licensed to Irteza Ubaid, a bright young 20-something Lahori, who was recently named the TEDx Ambassador for Pakistan, TEDxLahore brought to stage the dynamic Kamran Lashari (Director General of the Walled City of Lahore Authority – WCLA), Nadia Naviwala (a Wilson Centre Global Fellow and an independent American writer and researcher), Dr. Noreen Zafar (a well-known healthcare specialist in Pakistan), Usama Khilji (a rights activist, writer, and researcher), Zohaib Kazi (the musician behind Patari's popular Fanoos music series), Jannat Ali (a transgender rights activist and kathak performer) and Yusra Amjad (a poet, writer and stand-up comedian).
With a theme titled 'moving forward', Iretza says that he and his team wanted to adopt a progressive approach to this year's series of talks. "Right now, Pakistan is at a very important juncture," he states, "There's so much happening in our country at the moment – from a socio-political standpoint, there's little equilibrium and there seems to be this air of general discomfort and fear for the way ahead. This is why with our theme, we wanted to discuss subjects and ideas – most importantly – that were and are pertinent to Pakistan. And with our featured speakers, we hope to urge Pakistani citizens to take a more proactive stance within their country to not only make society a more wholesome place to live in, but to also pave the way for the future generations to come."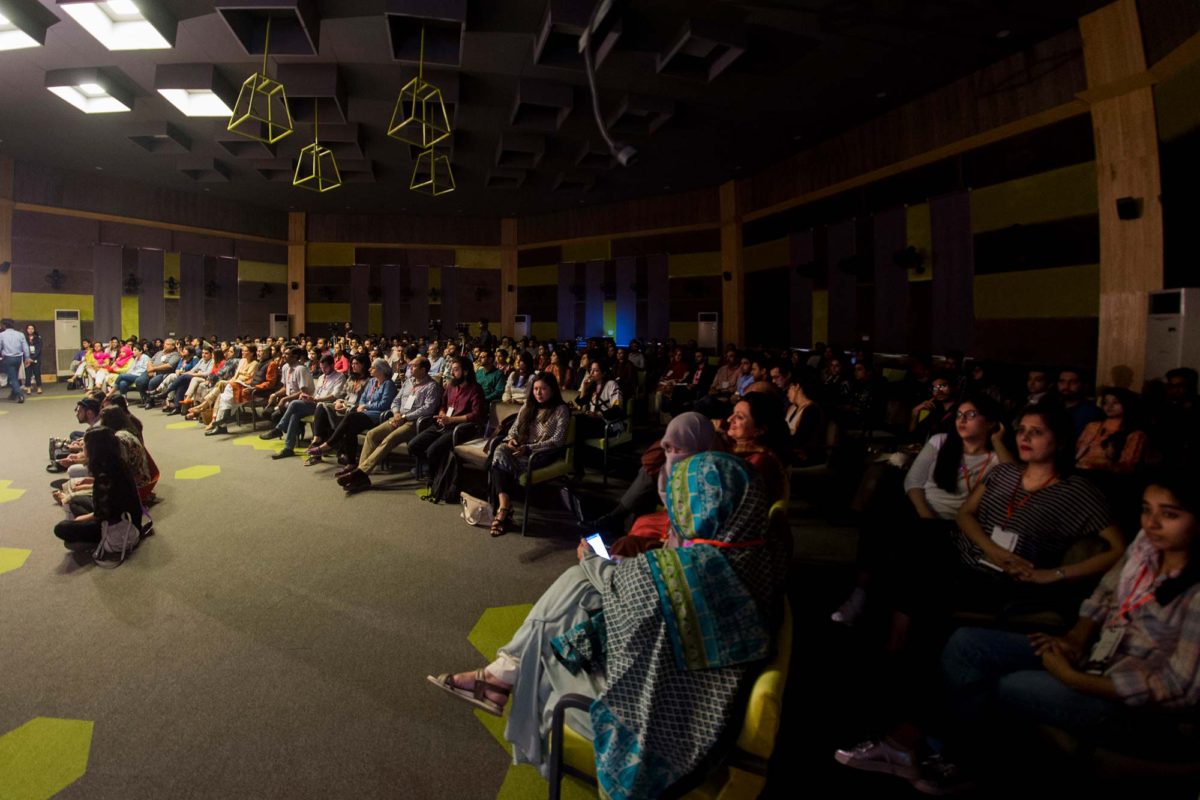 Standing as the man who has been instrumental in spearheading the restoration of heritage sites and rehabilitating Lahore's Old City, in collaboration with the Aga Khan Cultural Services (AKCS), Kamran Lashari spoke at length about the WCLA's conservation projects in the city. The before and after images that he showed to the audience during his talk were rather incredible, proving that Lahore – Pakistan's cultural capital – can truly be restored to her former glory.
In an insightful talk about the state of education in Pakistan, Nadia Naviwala spoke about her years of research in the field on education and brought to light her alarming findings.
"If you care about education, you've probably heard one thing: that Pakistan spends 2% on education, and that we need to double the budget to solve the education crisis," Nadia stated during her talk, "For English speakers, the conversation on public education pretty much starts and ends there. But while we've been stuck on this talking point, Pakistan has doubled the budget. We spend as much on education today as we do on the military. We spend 13% of our budget on education – the US and UK spend 14%. The people who have been telling you it's 2% were not counting provincial spending. Half of at least two governments consist of education employees. 40% of students are in private schools. Parents in Pakistan spend as much as the government does on private education. If you include private spending, Pakistan spends more than 4% of its GDP on education."
Interestingly, two speakers, Zohaib Kazi and Jannat Ali, incorporated performances into their talks. Jannat, a well-known transgender activist and formally trained kathak dancer, added another layer to her moving talk (about growing up in a society that has – for far too long – treated the Pakistani transgender community like social outcasts) with a poignant kathak performance.
Zohaib, on the other hand, spoke at length about his incredible Fanoos project under the local music streaming website, Patari. Kazi's Fanoos journey took him across Pakistan, unearthing talent and recording music with some of Pakistan's most diverse, undiscovered musicians and singers. But prior to his talk, Zohaib showed the audience how easy it was to make super cool beats at the palm of one's hand – all through a cell phone.
In her important and rather heart-breaking talk about women and healthcare in Pakistan, Dr. Noreen Zafar stressed the importance of educating Pakistani women about their health and to encourage them seek help at the hands of credible and reliable medical professionals.
"Throughout history, more women have died in childbirth than men have died in wars. But even more unfortunate is the fact that is still a high occurrence, " she stated in her talk at TEDxLahore, this year, "Even in the year 2017, one female is losing her life to complications of pregnancy or childbirth every single second, somewhere across the world. And in the local context it translates into one death every 40 minutes, every single day, 365 days a year. As a society we bury them quietly, no questions asked, no media frenzy, no political statements bombarding the TV and no actions taken, except that it was Allah's will, and business continues as usual."
"To make a real difference in someone's life, we need passion and empathy more than money," Dr. Noreen Zafar had said. "People's lives can be made better by communicating and talking to each other. You don't need to leave your surroundings to create impact. Just look around in your family, relatives and friends, your domestic staff. A little effort can go a long way to make this world a much better place to live. We as a privileged group owe it to help them."
While Yusra Amjad, a talented Pakistani poetess, narrated two of her poems, gently weaving them into the subject of female emancipation amidst societal pressure and demands, the impassioned rights activist, Usama Khilji, gave the audience a run-down on their rights as Pakistani citizens, calling for a greater sense of proactivity and doing away with dull complacency. For Usama, change could only be brought about if there was greater awareness of one's rights, in addition to demanding for social change on a consistent basis.
Amidst a number of stalls for food and entertainment, TEDxLahore 2017 ended on a positive and empowering note. And with the onset of the new year, one looks forward to the team's next big offering.