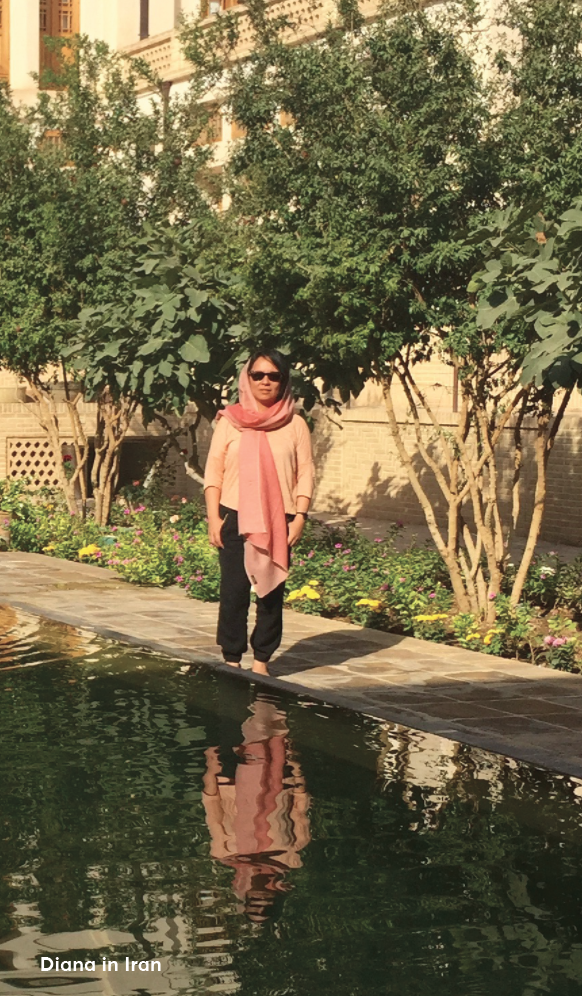 What motivated you to travel to Iran when many remain reluctant?
I'd heard about the thriving Iranian contemporary art scene and found myself excited to explore this mysterious land, where few have dared to tread since the late 1970s. After months of careful planning, I accompanied a group from Hong Kong to visit Tehran, Isfahan and Kashan. We were thrilled to discover a young and vibrant contemporary art scene that extends from Iran to the Iranian diaspora. Despite the challenges of arranging the trip, we were pleasantly surprised to find much more than just art in Iran.
What were your overall impressions of the country?
This was a trip that began with a cloak of mystery and now my eyes are open to media and political agendas propagating needless fear. I saw a country that had been on 'pause' for decades and was re-booted and started up in recent years. I noticed the stark contrast between public and private in the way people behave; the freedoms within and without. What struck me most was the warmth of Persian hospitality which was present everywhere. People opened their doors to us and there was no shortage of fresh ripe fruit, sweets, dried fruit and nuts, along with tea and coffee served by our various hosts in the art community and beyond.
Tehran has a vibrant art scene – what were the highlights for you?
Tehran Museum of Contemporary Art has a valuable collection of Western modern art and sculptures set in its gardens by the likes of Giacometti and Moore. The Carpet Museum is also nearby in Laleh Park. We visited many impressive art galleries including Shirin Gallery, Assar Gallery and O Gallery. One was Aaran Gallery. Housed in a refurbished old building, it has a typical long, shallow pool fountain in its courtyard, and an art installation of a bus shelter. At Arianna Art Gallery, in a prime residential neighbourhood, we feasted on Iranian canapés as we mingled with the young artists exhibiting there – surrounded by gardens and a defunct pool!
Serendipitously, we walked into a doll exhibition made by an elderly lady in her 90s at the Iranian Artists Forum depicting Iranian children's stories. The Lejevardi Foundation is a non-profit art space and cultural institution started by a young collector and art book publisher. My favourite work here was a haunting black robe-cloaked umbrella installation by Mahmoud Bakhshi.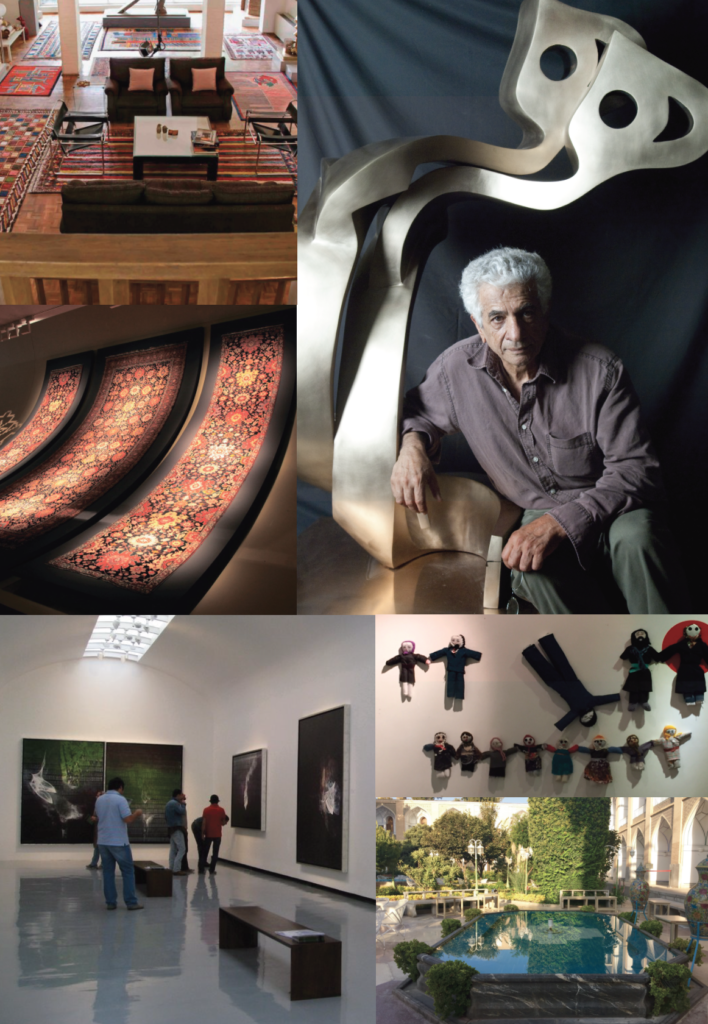 We also visited Vancouver-based Iranian artist Parviz Tanavoli's home, which is in the process of being declared a museum. It was exciting to see his many works, especially sculptures of heech ("nothing" in Farsi) and the collection of locks that inspired his art.
One memorable evening, we were invited into the home of Aun Gallery's owners. In a garden of walnut, silver maple and mulberry trees surrounding a glistening pool and bonfire, we experienced true Persian hospitality. As we were guided through the hosts' art collection, we sampled pistachios, walnuts and dried white mulberries from the garden, jujubes, fresh pomegranate and Persian sweets. We mixed and mingled with our new friends from the Iranian art community well into the cool Tehran night!
Did Isfahan offer a different vibe?
A more ancient vibe! Isfahan is a six-hours drive from Tehran, with rocky mountain ranges on either side of the highway. It was a zen-like road trip through arid terrain with anthill-like openings and crumbling ancient caravan-serai at regular intervals. The holes served as points to investigate blockages in ancient underground water channels (qanat) which are a marvel of ancient wisdom and engineering.
We stayed at Hotel Abbasi, in balconied rooms overlooking a courtyard paradise. East and west merge in a kaleidoscope of flora – quince, orange, fig, jujube, mulberry, mandarin, loquat, persimmon, willow trees, roses, pine, begonia, dahlia and many other plant varieties. From early to late evening, families and friends gather in this garden, over chit-chat and glasses of tea or a bowl of thick, green soup. The restaurant overlooks the turquoise dome of an adjacent mosque.
One of Isfahan's many UNESCO heritage sites is Naqsh-e-Jahan Square, the world's largest after Beijing's Tiananmen Square. In ancient times, polo matches were played in the courtyard as foreign dignitaries looked on from the second floor arcade of the covered bazaar. The remaining goal posts can still be seen at either ends of the square. At the impressive Iman mosque and Sheikh Lotfollah mosque we admired cobalt-blue and buttercup-yellow mosaics, and heard a reverberating call to prayer while standing beneath the dome. There, our guide demonstrated how a clap can echo seven times due to the double-dome design. The adjacent Aliqapu Palace gave us more thrilling architecture; its music room is an ornate marvel of plasterwork and geometric motifs.
Nearby, the shops of the Grand Bazaar boast arts and crafts for which Isfahan is world renowned. Intricate inlaid camel-bone frames, boxes with miniature drawings, printed fabrics all demonstrate craftsmanship passed down through generations. Copper pots and Persian enamelware feature in amazing displays. Most entertaining is the drama of visiting a carpet gallery and watching rugs and kilims of all shapes and sizes being pulled out, as negotiations take place over endless cups of hot tea.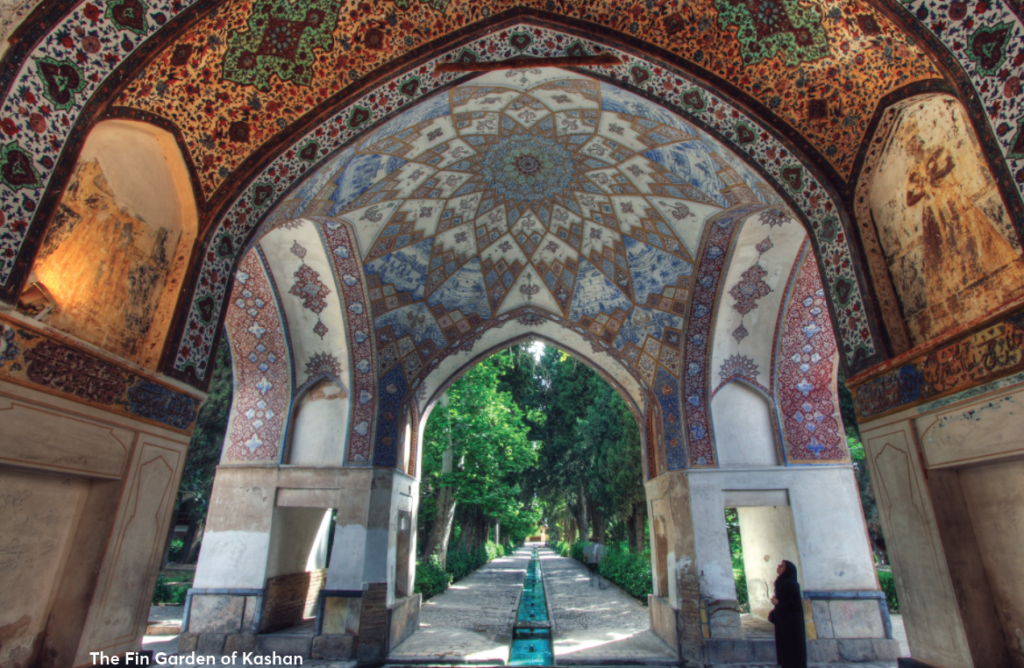 Kashan is less famous – what did you find there?
The Fin Garden of Kashan was a relaxing diversion on our drive back to Tehran from Isfahan. Besides its interesting history and an irrigation system that feeds its fountains and pools, there is a teahouse to refresh oneself with a cup while seated on rugs. For lunch, we visited Manouchehrie House, a historic house transformed into a hidden gem of a boutique hotel. It houses tasteful chandeliers assembled from antique French glass.
What souvenirs did you bring back home?
I brought home flavoured raw-sugar discs for tea, pistachios and mixed nuts, kermani gaz nougat, honeycomb, rose water, rose-petal tea, dried fruit such as white mulberries and Isfahani sohan habeh pistachio squares.
What other cities would you recommend visiting?
Don't miss out on visiting the beautiful cities of Shiraz and Yazd, if your time allows!