Fashion designer, critic-at-large and everyone's favourite flâneur Mohsin Sayeed attended #ThinkFest in Lahore and had a whale of a time! He shares some witty observations.
Asma and Shaheryar Chishty of Daewoo Pakistan and Destinations Magazine hosted the opening ceremony of Afkar-e-Taza, #ThinkFest in collaboration with the Walled City of Lahore Authority.
So what was so special about it?
The venue. But before we got to the special venue, the splendour began to unfold at the Delhi Gate where the famed Walled City was ready to shower its charms and vibrancy on the guests of the night. Wildly colourful open rickshaws – reverberating with Madam Noor Jehan's salacious songs like Munda Sheher Lahore Da, Sun Ve Billori Akh Waliya – zigzagged us through the hustle bustle and madness of the winding lanes.
The mag ical night featured qawwali in the recently restored courtyard of the historic Masjid Wazir Khan; the original purpose one assumes it was created for. Rizwan and Muazzam serenaded the guests, in what was a revival of the beautiful tradition of marking auspicious occasions in the city with a mehfil-e-qawwali.
Against the backdrop of a glittering Wazir Khan Mosque, a smattering of glitterati, literati, art powerhouses, government high-ups and Lahore's cultural movers and shakers all came together to witness the historic moment and to support the much-needed #ThinkFest. The whole ambience and experience whisked me back to the days when a nippy, dazzling Lahore became a riot of colours and joyous crowds during Basant. If the past were so beautiful, who wouldn't want to recreate it and return to it over and over again?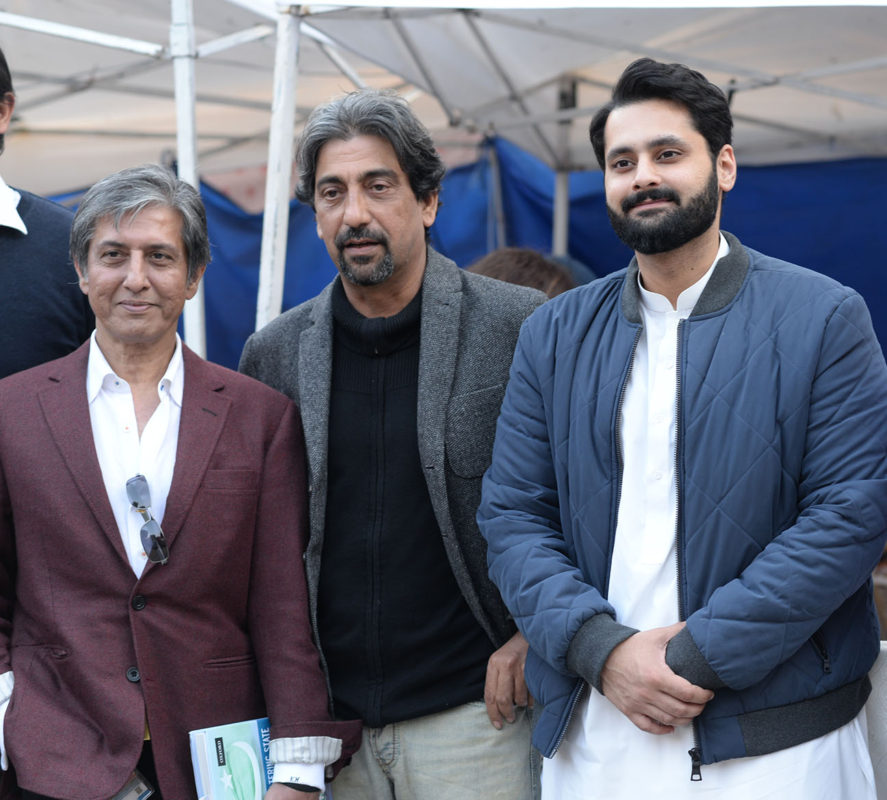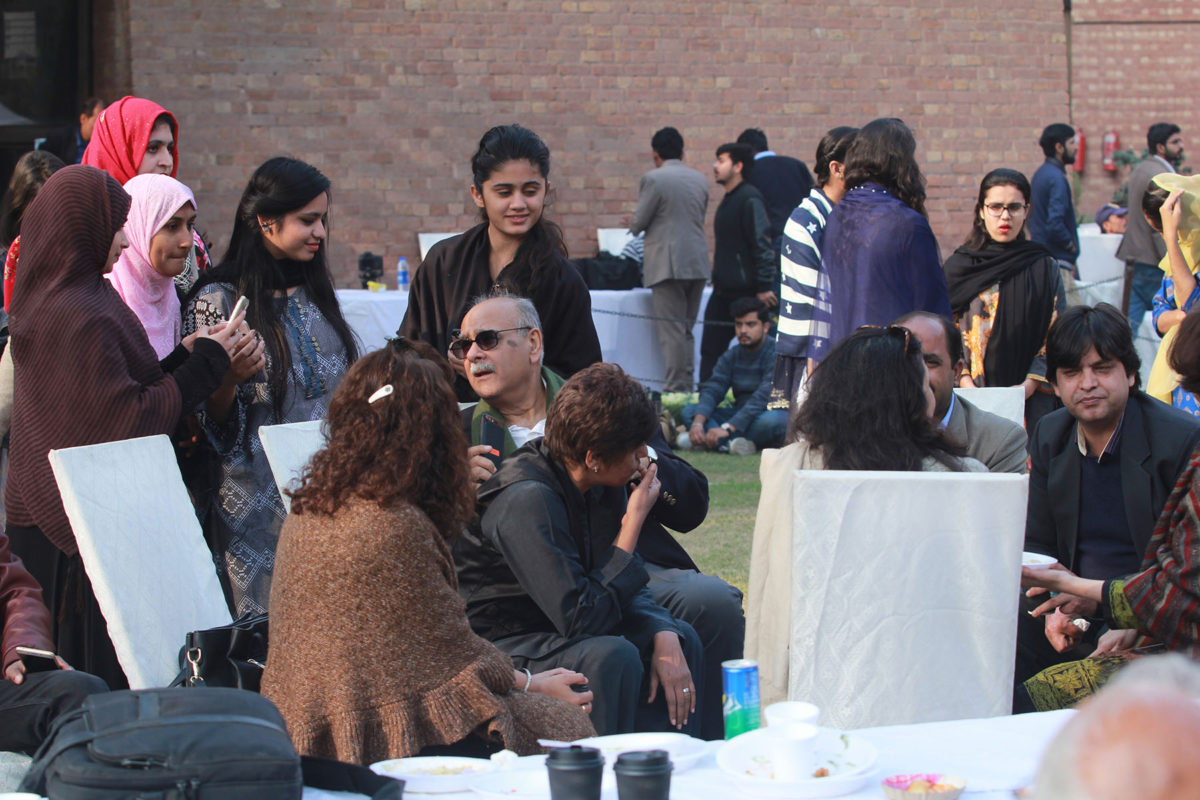 It was truly a night to remember, one of its kind, revivalist in nature, not to be missed.
The next morning, I only had one thing ringing in my ears: "Jab raat hai aisi matwali tou subh ka alam kya hoga." The song from Mughal-e-Azam aptly captured the essence and the anticipation of the #ThinkFest.
The mesmerizing night at the  forecourt of Masjid Wazir Khan gave way to an intellectually stimulating day at Alhamra Art Centre. The air was filled with anticipation and energy. And why wouldn't it have been? Just the presence of young students from universities and colleges all over Pakistan injected much-wanted passion and curiosity into the environment. Special credit and kudos for this youthful presence goes to Asma Chishty. She organized Daewoo transport to bring in these students so they could experience the power of an intellectually stimulating event such as the ThinkFest. Yaqoob Bangash and his team deserve high praise not just for the wonderful organization but also a line-up of extremely accomplished and brilliant academics and experts. (Of course, barring a few. But then it takes all sorts to make a ThinkFest so long as they can think!)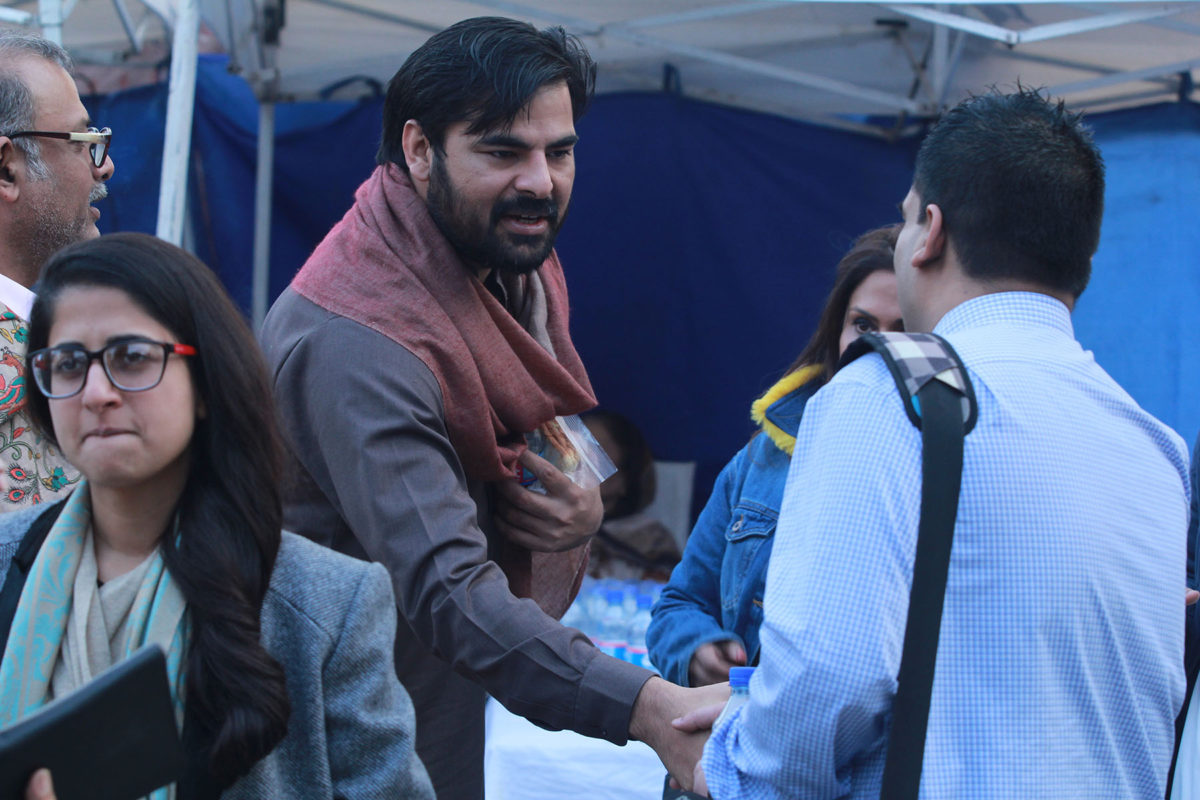 While I was enjoying the sights and sounds of the ThinkFest outside the Alhamra halls, I noticed the excitement of the crowds had reached another level, especially amongst the younger set. Turns out they found Nadeem Farooq Paracha, commonly known as NFP, in their amidst. I was happier to see his lovely wife Amber Paracha who, in turn, was happy to meet Asma. It was a reunion of two friends after about two decades. Bombarded by requests for selfies from students and his fans, NFP smilingly obliged them all and chatted with them. He is rarely in public, as he believes his by-line should be enough. I saw similar enthusiasm when Mubashir Zaidi of Dawn's wildly popular news show Zara Hutt Ke walked in. Selfies galore! Mubashir enlightened and entertained with witty comments in conversation with my dear friend Owais Tohid who affectionately admonished Yusra Askari and me for not writing. I feel just to make him, Nazish Brohi and Naushaba Brohi happy, I will have to start writing again. Just can't afford to disappoint these three belonging to a minuscular minority who love me unconditionally.  Nuzhat Saadia was flitting in and out of sessions and didn't give us any company. But her friendly husband Khurram, who was taking care of their little daughter, compensated for Nuzhat ignoring me.
In the food area, Moni Mohsin with her daughter Laila Ghaffar was seen having tea and aaloo paratha in between sessions. She highly recommended it while talking about her new book, which she is in the process of writing. Naseem Zehra had just returned from Kasur and informally shared details of the recent devastating case with us. Journalists and students suddenly surrounded her. Farahnaz Ispahani diligently attended sessions along with Nuscie Jamil, but I managed to take memorable photos with both dynamic women. My favourite Rafay Alam looked dapper and, in his signature charming manner, was seen talking to Azeem Ibrahim and Sheela Reddy before his session on water.
And what was I doing? Absorbing all the excitement, having lively discussions, meeting friends and reconnecting with colleagues whom one doesn't get to see often. And that's exactly what I love about events like #ThinkFest. More than the sessions, I like the charged environment pulsating with new ideas, discussions, debates and getting to know people whom you only hear or read about. The open access to great minds and good speakers makes a festival worth its name.
In an anti-thinking country, to see such a huge turn-out was not just surprising, it was a unique pleasure too. The usual suspects aside, Alhamra was teeming with youth and a different kind of people who are absent at events like LLF. I must say it felt like being at KLF – people of all ages and from all walks of life lending an air of openness and equality to the proceedings.
On Day Two of #ThinkFest, when Jibran Nasir arrived, a new wave of excitement and energy ran amongst the youth. They surrounded him for discussion and, of course, selfies. In the session on minorities, Jibran was his usual self: bold, honest and passionate. But one thing new I noticed in his style: humour. Focusing on Aitchison College students present in the audience, he made an epic comment: "Jaun Elia said: 'Pakistan yeh sab Aligarh ke laundon ki shararat thi.' Naya Pakistan Aitchison ke laundon ki shararat hai.'' (Pakistan was the mischievous trickery of the boys of Aligarh. And 'New Pakistan' is the mischievous trickery of the boys of Aitchison!)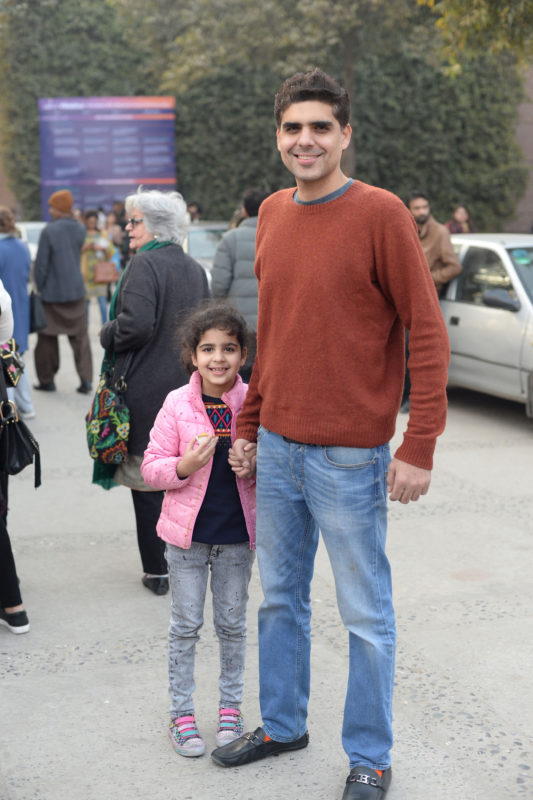 Arafat Mazhar brilliantly talked about the concept of blasphemy. His confidence comes from his knowledge gained at reaching out to different madrassas and studying the wafaq-ul-madaris curriculum. However, at this session, it was Farahnaz Ispahani who stole the show when a man in the audience got up and accused Bhutto and PPP for anti-Ahmadi bigotry and law. She stood up and in her soft but firm voice reminded him and the rest of the audience that all parties unanimously agreed and signed the bill.
She said: "My husband was jailed by him. But today, I stand with Mian Mohammad Nawaz Sharif and PML-N because he is standing up for democracy. I say as Pakistanis we have to work together."
The whole hall burst into applause praising her stance.
And then came the most awaited talk of the ThinkFest. Jugnu Mohsin's conversation with Sheela Reddy about her book "Mr. And Mrs. Jinnah: The Marriage that Shook India" was next. Before the session, Sheela just couldn't believe that her book was so popular that almost everybody in the audience had read it. The soft-spoken Sheela highlighted facts and realities about the marriage and Jinnah's personal life.
Outside it was even better than the first day. I got to meet the bold and brilliant lawyer and columnist Saroop Ijaz. Ejaz Haider was really friendly and enlightening. I liked him even more as we evidently shared a passion for bright and colourful socks. I don't trust men who wear dull and drab socks.
Ejaz Haider, Owais Tohid and Jibran NasirSavail M HussainWaqas KhanNajam Sethi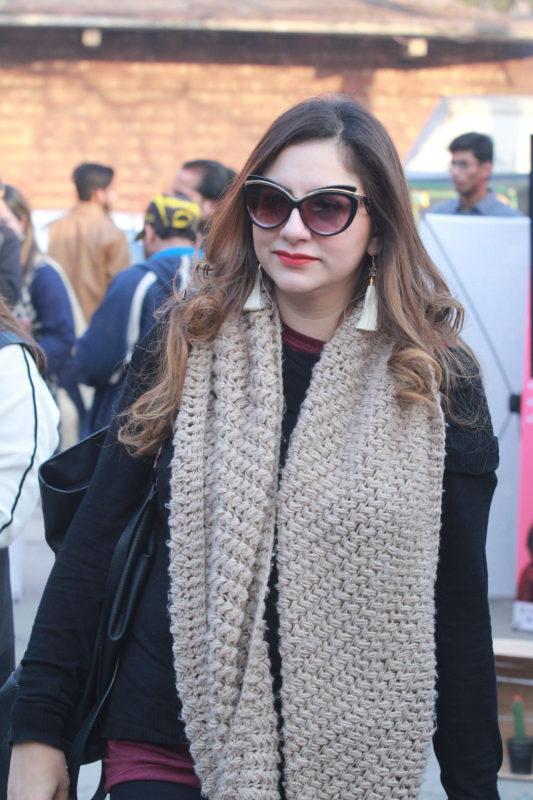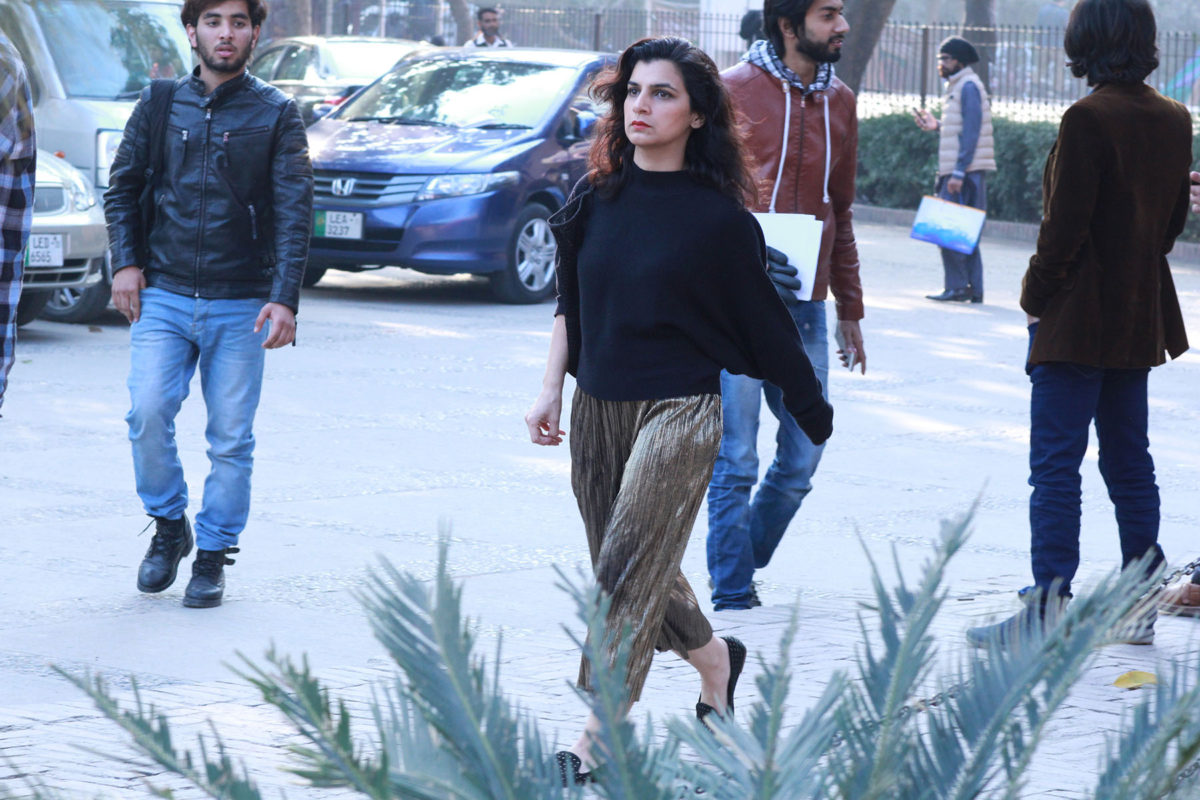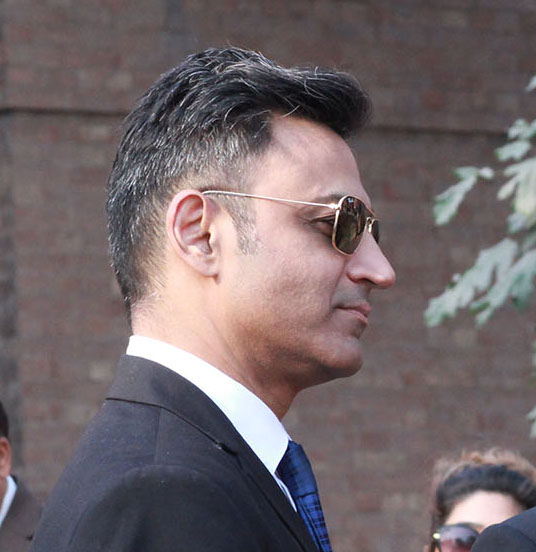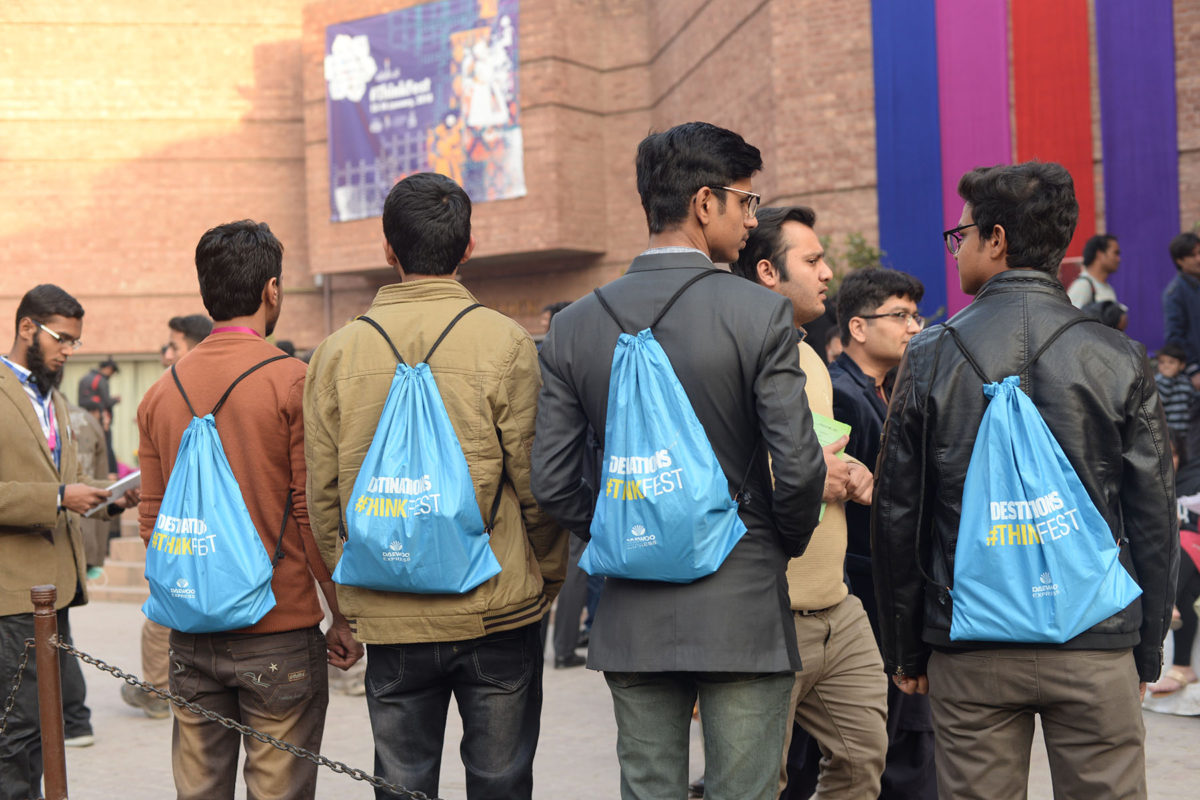 Lahore's life and my darling friend, the boisterous Tamkinet Karim, fondly known as Tammo, was adding her charm and wit wherever she was going. Owais Tohid, Jibran Nasir, Saroop Ijaz, Ejaz Haider and Khurram Husain were having a lively discussion peppered with inside media news and banter.
My spine automatically straightened when I saw Asma Chishty with Musadik Malik coming towards where I was sitting with Farahnaz. The day before, when Musadik was leaving after his talk on China and Pakistan's economic relations, I called him and said Madiha Latif of the fashion house Zuria Dor wanted to have a word with him. He stopped and there was a verbal spat as an enraged Madiha attacked him with facts and figures and accused the government for selling Pakistan out for 50 billion dollars and chopping off the limbs of Pakistani manufacturers. Heavens! Musadik stormed out in a huff while Madiha shivered in rage. So, when I saw him coming, I knew he'd be upset. But he surprised me by jokingly accusing me of putting him up to it. Despite my clarification that I didn't, he laughingly insisted. But then when I saw Madiha walking towards me, I nearly had a fainting spell. I mouthed Musadik's name to her and signalled her to go away. She didn't understand and came near us. Musadik was sitting with his back towards her so he didn't see her approach. When Madiha finally reached us, I thought damn it and introduced them and waited for fireworks. It was a day of surprises! Musadik got up to offer Madiha his seat and said he should have listened to her grievances. It was big of him. They had a civil discussion and parted with promises of more in-depth meetings. But he still kept repeating that I was the troublemaker… all in jest.
Now this is the beauty of festivals like #ThinkFest. Their purpose is to serve as a public forum providing people access to movers and shakers in media, literature, government, the state, arts and academia. A civilized public forum where we fight, argue, discuss, form synergies, reconnect with old friends and make new ones.
Till the next #ThinkFest…
PS: Declan Walsh, Nimra Bucha, Mohammed Hanif, Nazish Brohi, Framji Minwalla and Aliya Iqbal-Naqvi, you were all sorely missed.