One of the perks of living in London is the innumerable shopping options it affords. Many Pakistanis consider the city their summer home; yet very few do it justice in terms of exploring its real retail potential. If you are an avid fashionista like me, you'll understand that when it comes to retail therapy, it's not just size (of where you shop) that matters! I mean, if you are content to limit yourself to V.A.T. refund receipts from Harrods (or shhhh… Biscester Village), then you're really not cashing in on the city's reputation as the fashion capital of the world, home to names like Alexander McQueen, Paul Smith and Stella McCartney. A reference to these names is not to encourage you to buy the labels but instead, to spur you to really explore the city that gave birth to these fashion giants. Shop only at Harrods and you run the risk of being cloned at the next GT you attend back home.
So here's a little help from the Lahori in London, who loves to dish out fashion advice you might not hear elsewhere. It may not be a "Time Out"-style comprehensive guide to London shopping but it's a peek inside some of my favourite boutiques in the city. This is where I go to pick up the perfect outfit for a night out with (always) fashionable friends from back home or a girl's lunch where I want to impress the school mums. My go-to stores are accessible, fun-to-browse and eclectic. Most importantly, shopping at these will ensure that the next time you attend a big bash, you'll be the ONLY one wearing THAT outfit.
---
Iris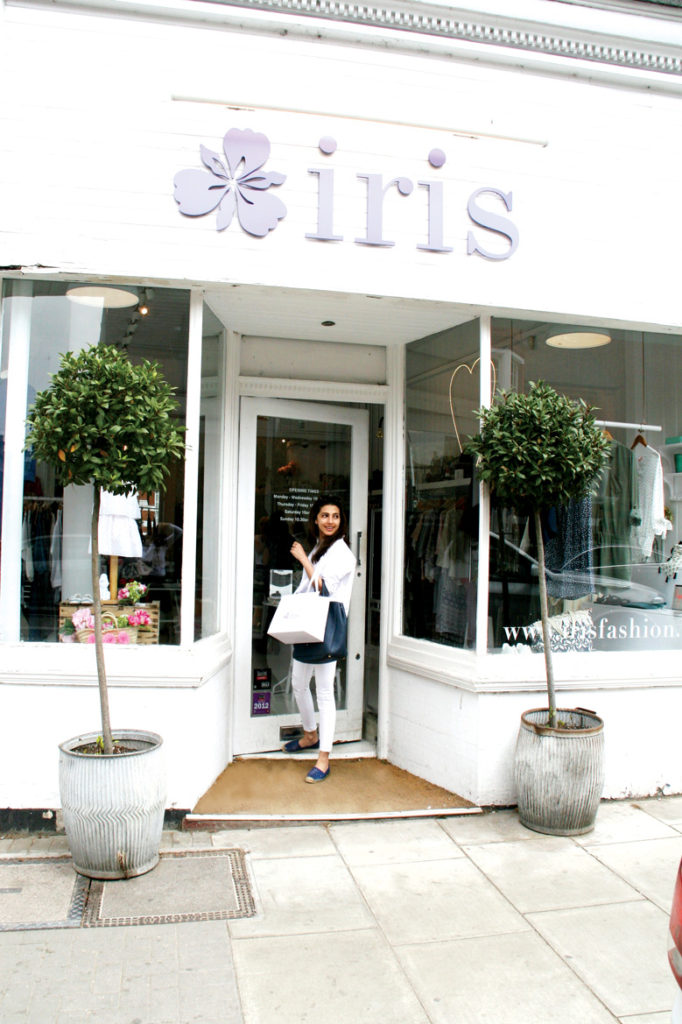 Iris is my neighborhood boutique. I discovered it not too long ago when I had my daughter and would find solace and much-needed inspiration in its window displays. The façade has a lovely village-y feel to it and the store itself gives off a very homey, comfortable vibe, much like the (mostly) casual clothes it carries. Think cotton tunics, long flowing kaftans, twill jackets, summer maxi dresses, boyfriend cashmere jumpers, comfy yet oh-so-sexy lingerie. The (wish) list is endless.
There's undoubtedly a little something for everyone (and their daughters!). Not a typical mum and baby store, it caries some very impressive brands like Malene Birger, Etoile by Isabel Marant, Duffy, American Vintage, Customade and Penelope Chilvers to name a few. With Gail's right across the road for fuel should you tire from shopping, how can you resist a visit on your next trip to London?
Locations: Queen's Park, Northcote Road, Chiswick and Amersham.

Brands: My favourites are Etoile by Isabel Marant, Duffy, BA&SH and Little IRIS.

Why shop here: For cool casuals that look as good at a girl's lunch at Barrafina as they do on a park play date.

Latest Purchase: Customade tribal print twill jacket in navy and white.
---
Trilogy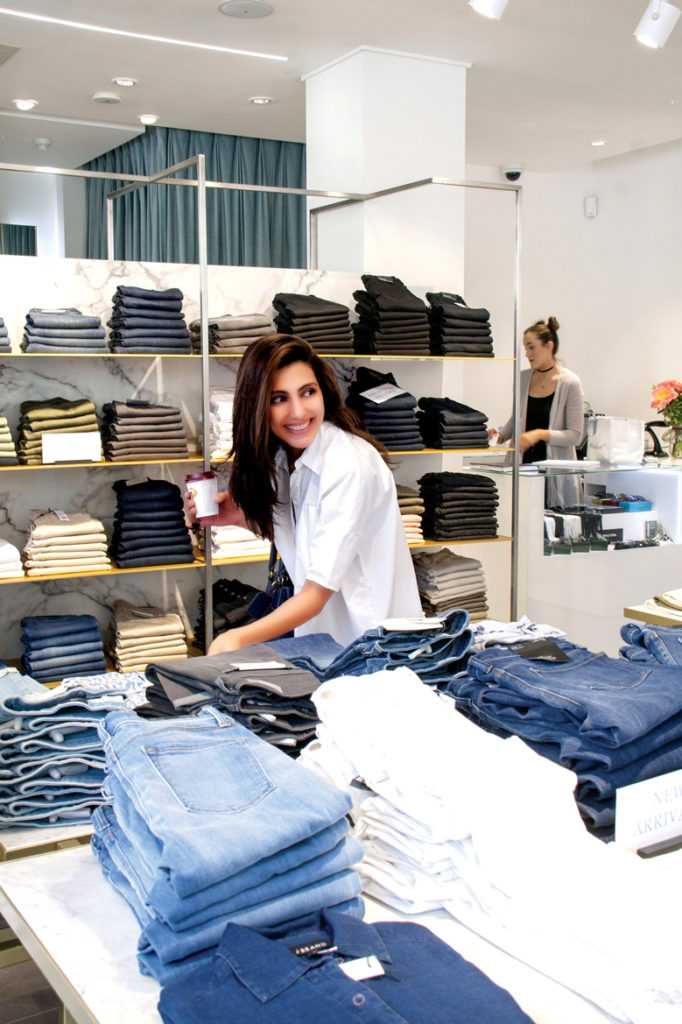 The thing about Trilogy is that for me, it is THE only store you should go to should you want to treat yourself to the perfect pair of jeans. There is never an occasion, backstage or during fashion week rehearsals or even when I'm at home hosting a casual lunch, that I am not complimented on my jeans and I give due credit to Trilogy for it! Trust me on this one, the sales advisors are nothing short of denim geniuses and they will make sure you get the perfect pair in the right shade of blue (or white or black) in the right style.
Although its stock isn't limited to denim only, it is famed to be the store you CANNOT walk out of without having bought at least a few pairs of jeans (yes! That's how good their customer service is). From the perfect pair of ripped skinnies to the on-trend flares, they have a style for every body type and a team of sales assistants who will keep handing you whatever you need – whether it's a different size or style, a pair of heels (should you want to see how the jeans will look on a night out) or even a bottle of water, because finding the right pair requires patience and perseverance.
Locations: Duke of York Square, Marylebone High Street, Wimbledon, Hampstead and Kensington Church Street.

Brands: JBrand, Paige, Frame, 7 for All Mankind and AG (to name a few).

Why shop here: For the perfect pair of jeans of course!

Latest Purchase: JBrand cropped jeans in Demented.
---
Matches Fashion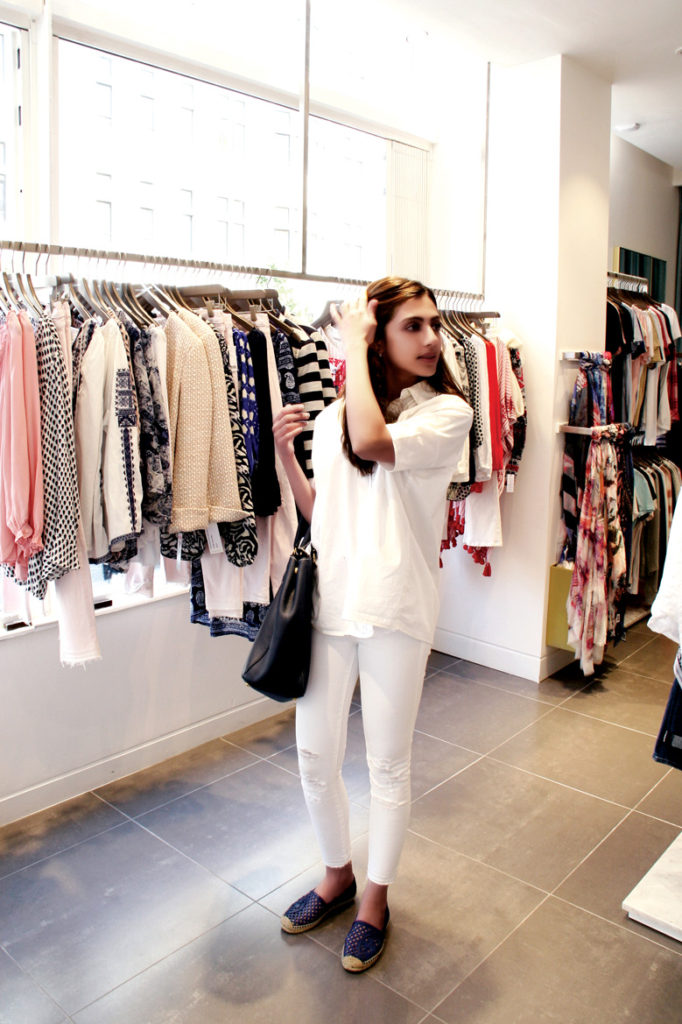 Browsing the online Matches store is part of my daily morning fix, along with my coffee. I cannot kick off the day without a quick peek.
It has all my favorite brands under one roof and then some! Don't be put off by the sales assistants because sometimes (read most of the time), they're not entirely helpful but the product selection is impeccable. Think Ascot races, sunny day in Wimbledon, a match at Lords or just cocktails at Park Chinois. A big recommendation to all my red-carpet-ready friends who may feel they don't have enough options back home.
Locations: Marylebone High Street, Notting Hill, Richmond and Wimbledon.

Brands: DVF, Charlotte Olympia, Self-Portrait, The Row and Mother of Pearl.

Why shop here: For fashion that truly inspires.

Latest Purchase: Charlotte Olympia Pandora clutch.
---
Liberty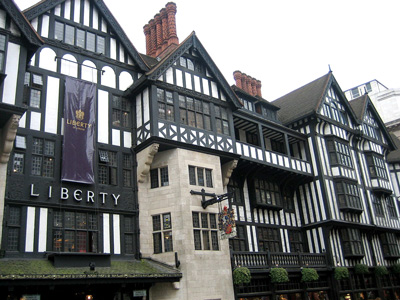 I stay away from big department stores no matter how awesome they are famed to be (not as a rule of course, just as a philosophy). Don't get me wrong; I don't have anything against department stores. They're super convenient and great to spend a rainy day in but since everyone who visits or lives in London shops there, there is little you can buy that won't already be hanging in someone's wardrobe. I would advice shopping with caution when you visit the so-called big guns of high-end department stores.
When it comes to Liberty however, I make an exception. Of all the department stores, Liberty is my ultimate favourite (followed closely by Harvey Nichols). From luxurious fabrics for a designing project to funky accessories and fashion finds, this iconic brown and white building is a testament to unique fashion. Being in Liberty is like being in a fashion wonderland and I rarely ever leave without having spent an entire day browsing through its wonderfully displayed merchandise.
Locations: Regent Street.

Brands: Nicholas Kirkwood, Acne, Peter Pilotto and Kenzo.

Why shop here: Because there is no place quite like it in London

Latest Purchase: Orange cat-eye sunglasses by Stella McCartney.
---
La Portegna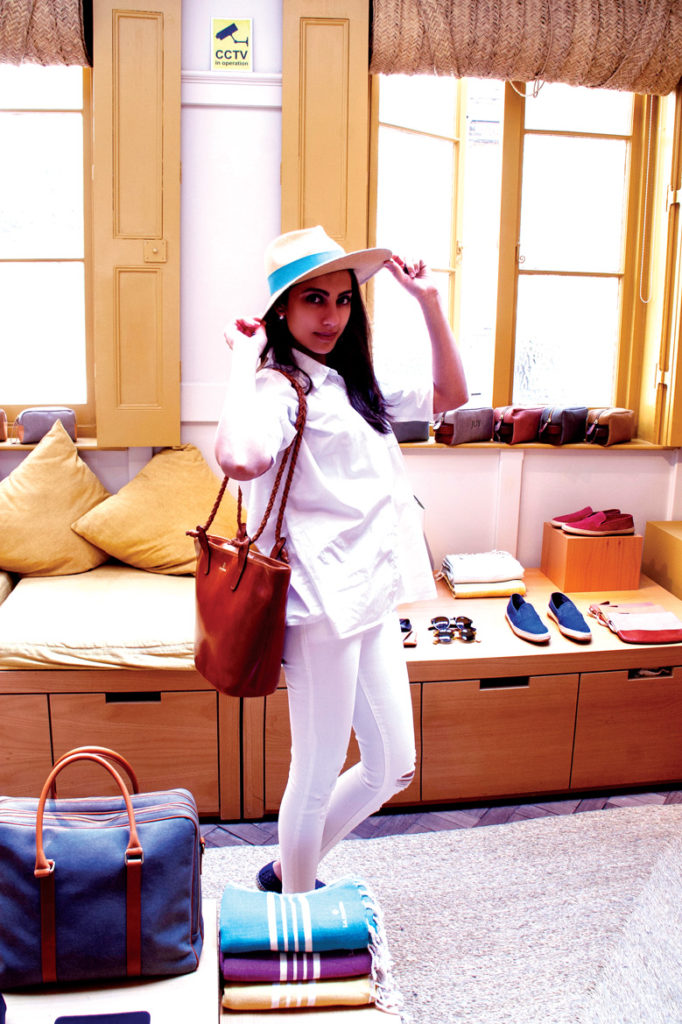 If it's pure leather, functional items you want without the designer price tag (or simply because you're tiring of being the bag clone at all the summer events!), head to Marylebone High Street where La Portegna (a Spanish brand) houses some of the simplest yet sleekest bags/sandals and other small leather goods. Bright, colourful and fun, you'll always find a little something for yourself or a friend. Great place to buy your male partner those espadrilles as well. Oh so handy and fashionable while shopping in London on a summer day!
Locations: Marylebone High Street.

Why shop here: For the purest leather that'secologically treated.

Latest Purchase: Snakeskin beige coin purse
---
Dover Street Market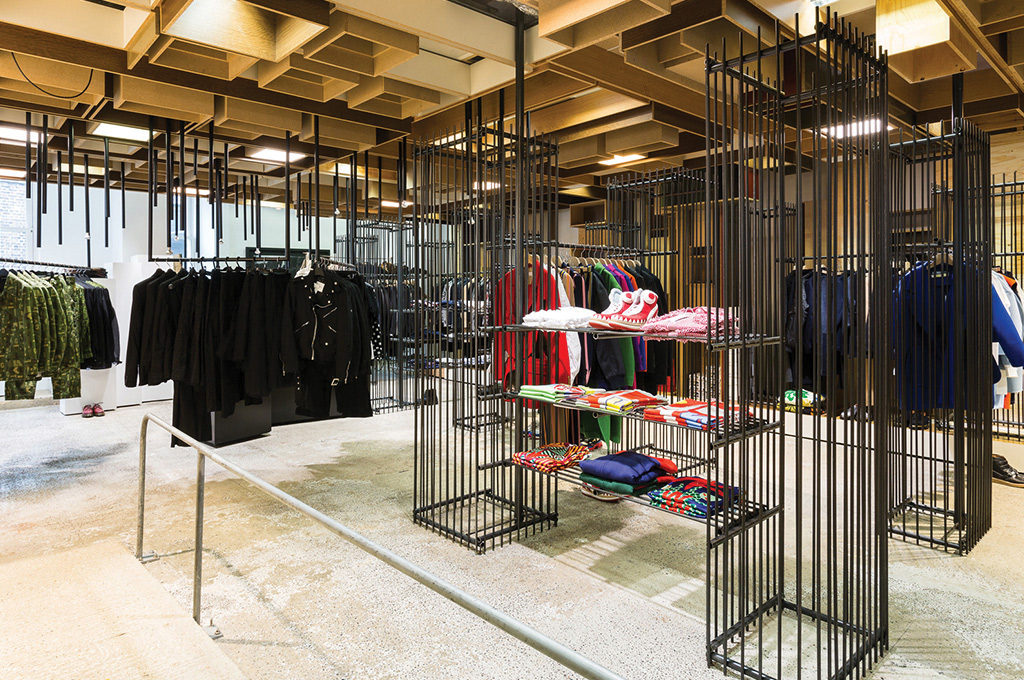 Contrary to what its name suggests, it's not a weekend market with canopy-covered stalls. With outposts in Ginza and New York, this London design boutique stretches over an impressive six floors and is peppered with design-led pieces from Delfina Dellatrex, CdG and Husam el Odeh. It's fashion with tons of spunk!
Locations: Dover Street.

Why shop here: Because no one you know does.
---
Feathers Fashion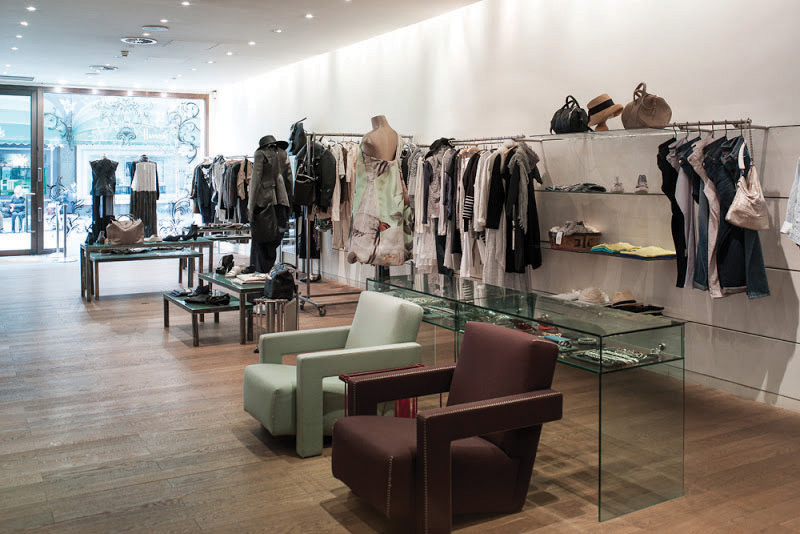 A family-run business, this Knightsbridge boutique houses a curated collectionof pieces by the brightest young British talent and is a good one for spotting the next big thing in fashion. From beautifully merchandised mannequins and staff that speaks (literally) nine languages, you'll not want to leave without using your credit card.
Locations: Hans Crescent.

Why shop here: Because the store prides itself on offering fashion finds you'll not see anywhere else.
---
Space.NK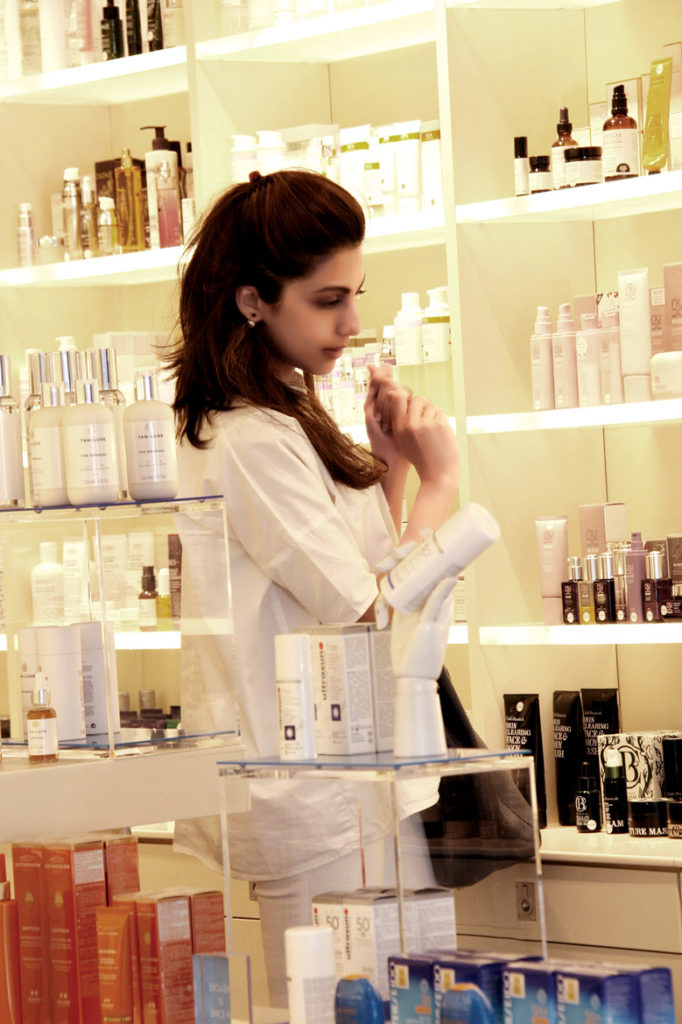 Space.NK is to skincare and make-up what Trilogy is to denim. Need I say more? Never make another skincare blunder because the team at Space.NK knows the answer to all your skincare worries and woes. Houses cherry-picked brands by the founder Nicky Kinnaird and a sales team that promises (and delivers) your skin's best potential.
Locations: Westbourne Grove, Kensington Church Street, Northcote Road, Duke of York Square and several more.

Why shop here: There is a plethora of skincare/make-up products to choose from without any of the pushing and shoving from the tourist crowd.

Latest Purchase: Genius anti-ageing eye cream by Algenist.
Larizia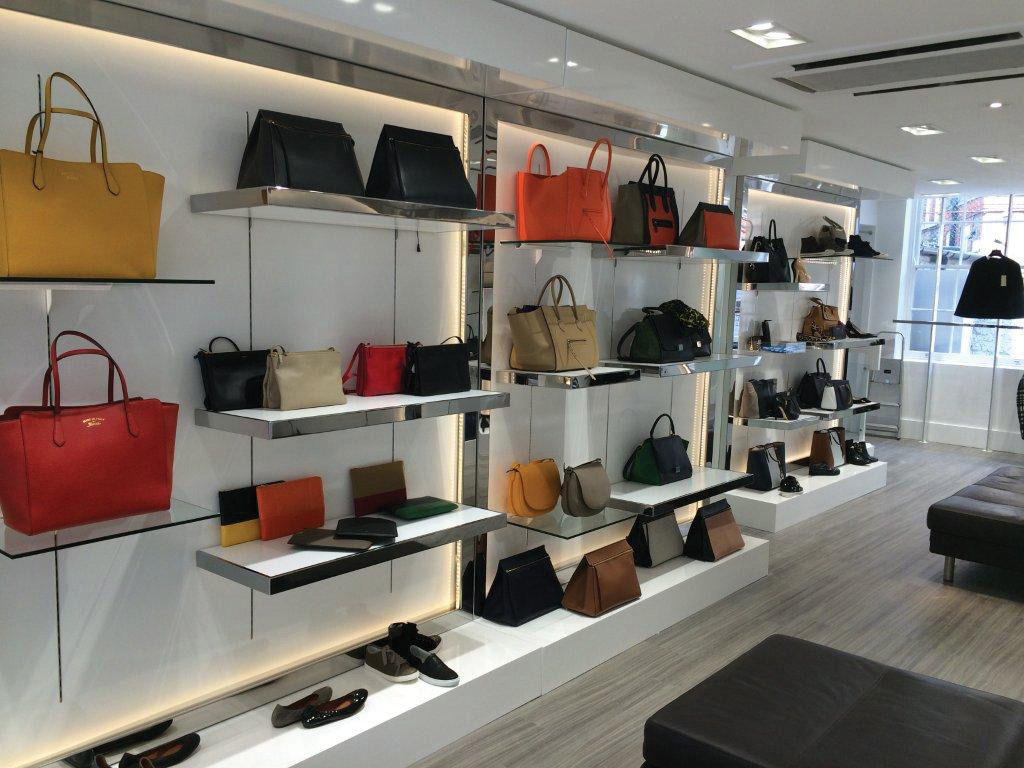 For a quick round-up of trending designer shoes and bags, check out Larizia. Having been around for nearly three decades, it's a great place to find curated pieces by Saint Laurent, Givenchy, Stella McCartney, Valentino and Alexander McQueen.
Locations: St. John's Wood and Golders Green.

Why shop here: With a price match promise and an eclectic selection, the flagship store in St. John's Wood is far more accessible than most other stores carrying similar brands of shoes and bags.

Latest Purchase: Rock stud espadrilles by Valentino.