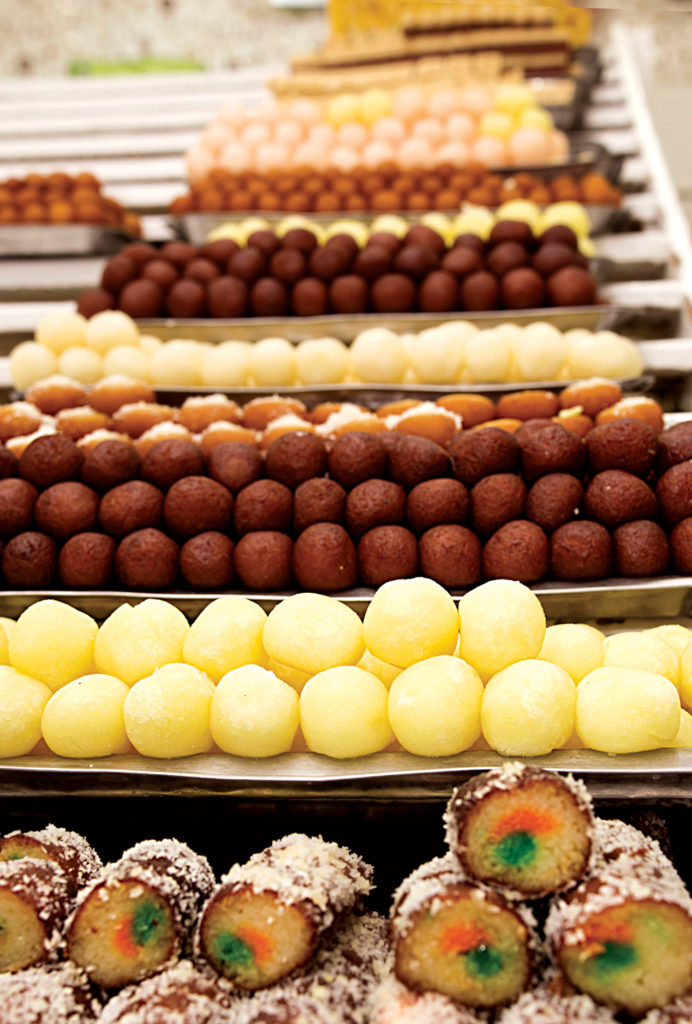 There's nothing more soul-satisfying than slicing your spoon through a perfectly round, wobbly-soft gulab jamun set in a sizzling little katori (bowl) filled with sweet syrup, piping hot. Scrumptious. Decadent. The combination of powdered milk, ghee, sugar, love and heat gives rise to little bites of heaven, and if it were up to you, seconds and thirds would be immediately summoned. Gulab jamuns: the food of kings, the sweet nasha, the…okay, I'm overdoing it, but you get the drift – the power of the gulab jamun is a compelling force.
The birth of these delicious golf ball-sized treats can be attributed to the Persian- speaking invaders of India; little wonder then that the word 'gulab' is derived from the Persian words 'gol' (flower) and 'ab' (water). 'Jamun' on the other hand, is the sub-continental name for Syzgium jambolanum – the purple summer fruit. Legend goes that the gulab jamun was accidently whipped up by the Mughal Emperor Shah Jehan's personal chef.
But wait…my obsession with gulab jamuns has made me digress, for this piece is not just about 'one' particular desi sweet, rather, the whole caboodle of mithai and its variations as a whole. Whether it's celebrating the birth of a baby, a new job, straight A's in school, clean-sweeps for political parties during elections or fostering a feeling of goodwill between nations, mithai is synonymous with joy and victory, signifying a new path and happier days to come.
Last year, according to the newspaper Dawn, Pakistani border troops, despite ongoing political tensions with India, gifted mithai to their Indian counterparts at the Wagah Border in celebration of the Hindu festival of lights, Diwali. Heartwarming. Talk about weapons of mass sweetness.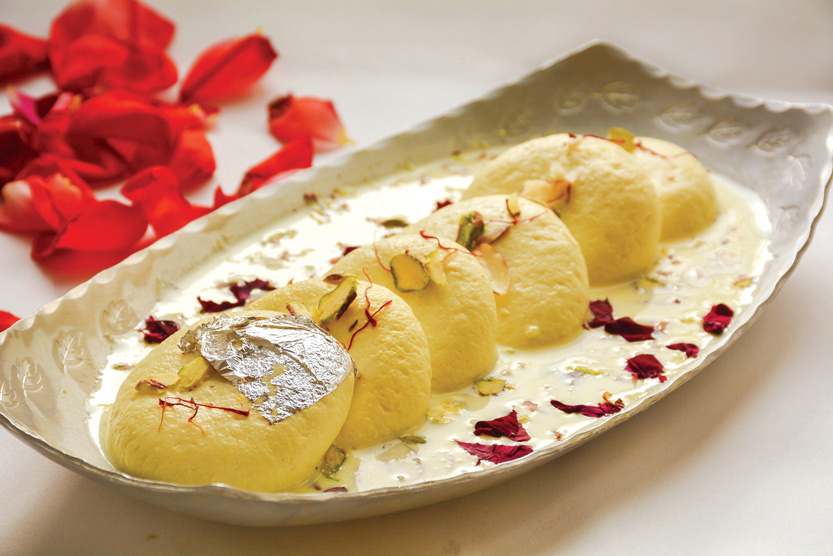 In his 2011 book, 'Sweet Invention: A History of Dessert' , food historian Michael Krondl traces the history of desserts from the subcontinent, the Middle East and beyond. An incredible book that attempts to map out the birth and evolution of desserts through the decades, it states that the first mention of rice pudding (known as payasam) was discovered in a Jain- Buddhist text dating back to 400 BCE.
On the other hand, jalebi – still immensely popular and much-loved in the subcontinent – was first written about in 1450 in India. According to Krondl, a British author and administrator in the Indian Civil Service, Horace Arthur Rose, wrote extensively (in the late 19th century) about the importance of sweets in Indian Muslim culture in the Punjab, where he was based on assignment. "Rose detailed, for example, the elaborate offer and counteroffer involved in Muslim engagement rituals and weddings," Krondl writes.
The customs involving mithai that Rose wrote about have been set in stone for decades; still carried out in a majority of traditional Muslim homes across the world.
"In one district," Krondl writes, "The sweets were always a mixture of patasha and nuqul (both candies) along with cardamom. The details of the ceremonies and the specific sweetmeats varied from region to region, but they were always there. They might be khajars, fritters shaped like dates made of wheat flour and coarse sugar, or chobba, a dish of sweet rice. In one district, 101 laddus were presented to a bride's family once the engagement was confirmed." Sound familiar?
For Raza Abbas, a young Pakistani food consultant and restaurateur based in Dubai, doodh rabri remains his childhood favourite go-to desi sweet treat. "I get it from one of the most underrated sweet shops in Lahore, Mahmood Sweets," he says, "The shop is an absolute gem in disguise. The velvety smooth texture of the rich rabri is scrumptious enough to satisfy the most refined of palates."
On the other hand, Hareem Sumbul, a finance professional from Lahore (currently based in Karachi), is a die-hard fan of badaayun ke paerray, a moderately sweet mithai made out of khoya.
"One of my fondest memories from childhood was summer guests bearing gifts", Sumbul states, "Badaayun ke paerray would make an appearance whether it was family visiting from Karachi or returning home. The dark brown, sweetened discs of luscious goodness would melt in your mouth with the hint of salt giving away its association with the city by the sea. To this day, the thought of that silver foil-wrapped box makes me try to remember what it tastes like, though it is an experience akin to a trip to Anarkali in Lahore. A nostalgic labyrinth of taste dementia is what I call it, though it's always such a pleasure to rediscover it each time."
From the rich desi doughnut – the deep fried, glazed balushahi (popular not just in Pakistan, but India and Nepal as well), to multi-coloured, squishy coconut-y cham cham (a traditional Bengali sweet), gajar ka halwa, kheer, skinny, crunchy jalebi, soft kalakand, barfi, pera, flaky patisa, chilled, creamy rasmalai set in cold clay pots, the popular desi version of ice cream – kulfi (set long on sticks or cut up in thick, chunky blocks), the mouth-wateringly sticky-sweet sohan halwa (squeezed into round tin boxes from Multan) and more…the list of South Asian desserts are endless, diverse and thoroughly unique vis-à-vis their flavours, textures and colours. Each piece has a story that is fused with culture, religion, heritage and above all, identity.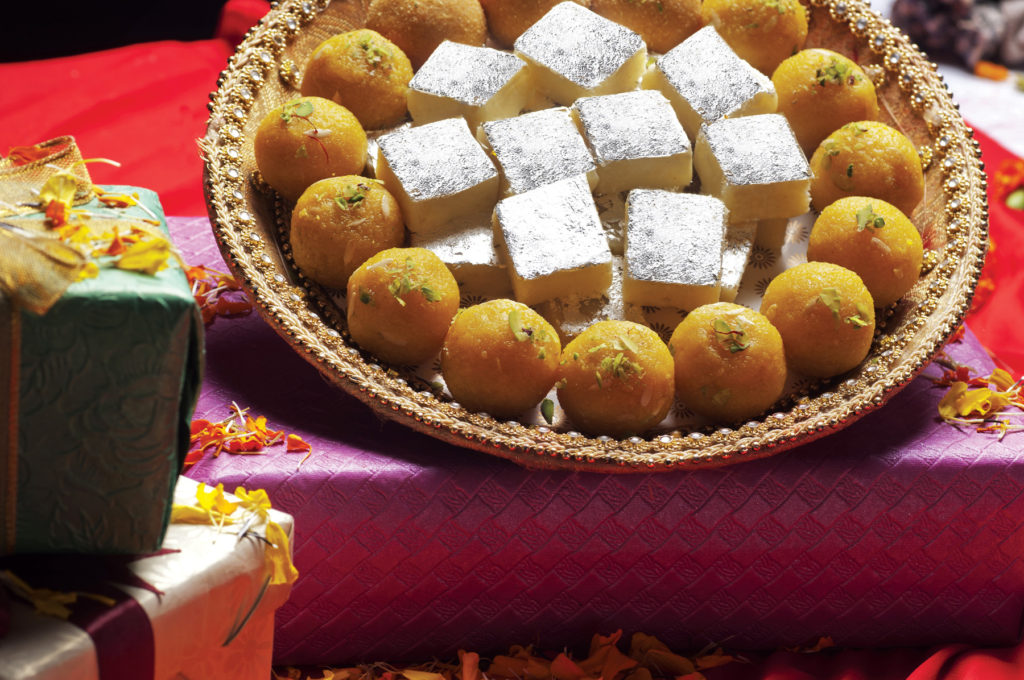 "I love the moti choor laddu for its happy yellow colour but even more for its evocative silky texture so aptly captured in its poetic name – crumbled pearls," says Soniah Kamal, US-based author of the award-winning novel "An Isolated Incident". "As an immigrant child, my returning to Lahore for summer holidays will forever be associated with looking forward to rows of fat golden laddus nestled in bright red boxes with silver ribbons. Joy." While every main city in Pakistan has continued to see the rise of a number of fast food joints and restaurants catering to non-desi cuisine, good old desi fare and its desserts aren't going to be passed up anytime soon.
Bored of fancy restaurant and café hopping, one is consistently lured back in to the magic of desi spices and sweet concoctions. That one long drive down Mall Road in Lahore, in search of that one particular shop that offers the best gulab jamun or kulfi in all of Pakistan, tucked away amidst pre-partition trees and post-colonial architecture, that one bite, that one morsel – and the connection to culture is sealed.