A romance that encompasses five cities is what has brought Aurélie Salvaire to Pakistan back again this year. This Frenchwoman seems to have fallen head over heels in love with the Land of the Pure. Here she describes the sights and sounds that have captured her senses and her heart as she weaves her way across the urban labyrinth
of our national landscape.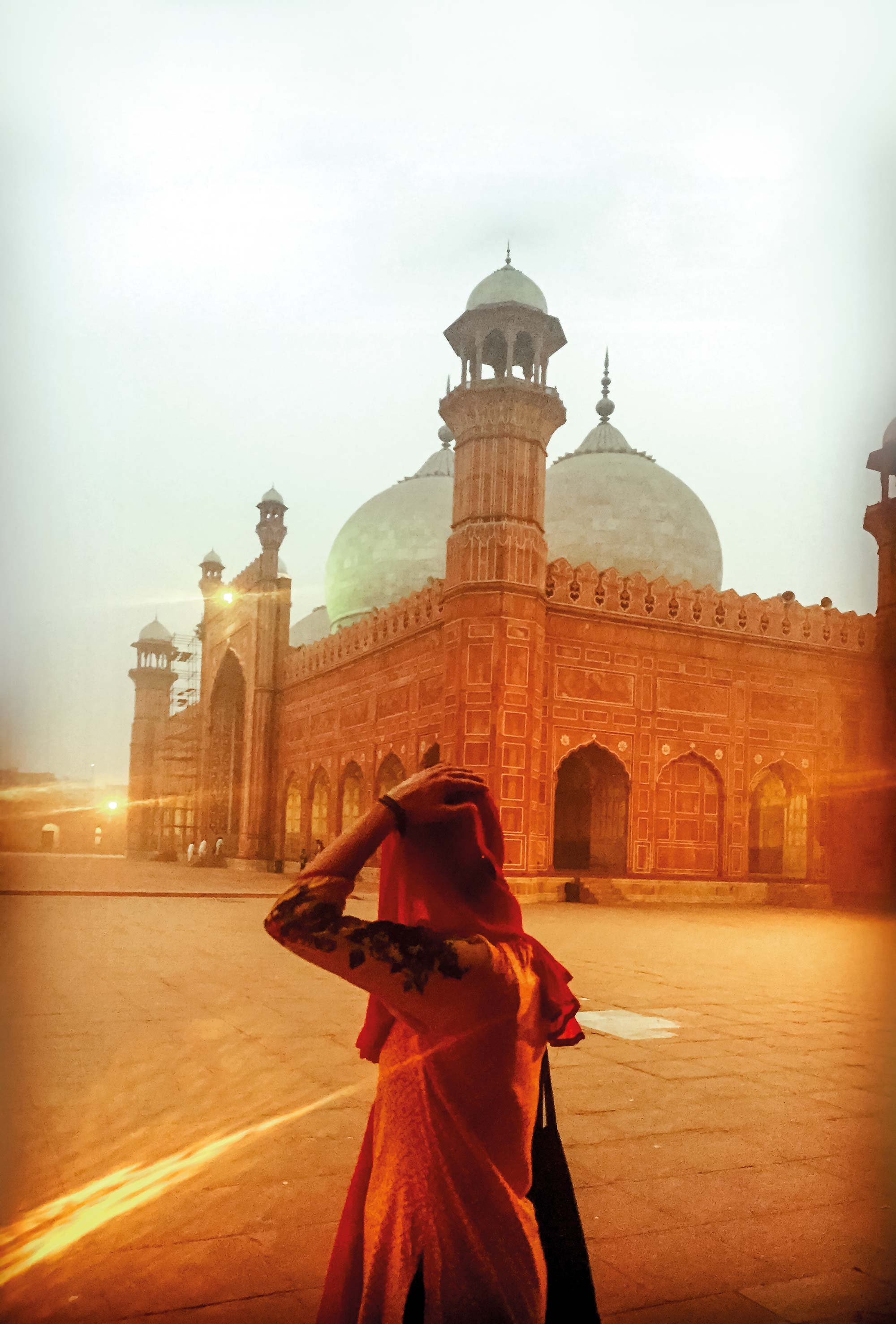 In the beginning there was light. The beaming light when the plane's wheels touched down the earth at 6 o'clock in the morning. The diffused light from the rising sun on a misty and dusty Lahore. Red bricks welcomed me like those in my hometown Toulouse, nicknamed the Pink City. The fog was spreading its thick and somehow, romantic layer on the streets while crows were circling the sky.
They came to pick me up. As so many would in the weeks and months to come. At 5am or at midnight, waiting for hours that I pass through security, to make me feel at home. And we went to Jade to grab the first of our many coffees to come.
That's how I met Lahore and that's how I discovered Pakistan.
It's been a progressive love story – from the first instinctive and probably unreasonable crush, all the way to the frustrations and sometimes violent discussions of marriage.
It's been the endless conversations in so many cafés and restaurants of Gulberg or DHA about reshaping the world. It's been the night escapade to Bahria Town to discover that Pakistan too has an Eiffel Tower and a shiny one on top of it. It's been strolling around Shalimar Gardens at dusk trying to ignore the persistent stares that inevitably come with travelling in South Asia as a white female.
It's been meandering in the exceptionally calm Old City on an early Sunday morning, shooting interviews of local wrestlers for our documentary on masculinity, getting a special peek at the narrow streets from one of the minarets of the Wazir Khan mosque, chatting with the men preparing warm lamb soup and crispy puri (fried bread).
It's been hiding way below my dupatta (chador) to sneak into Shah Jamal shrine on a late Thursday night protected by an army of friends, dancing my Sunday out in Harsukh arts residency, or learning that I was the 7th French person living in Lahore at that time and feeling privileged.
It's been sitting in the first row of an Atif Aslam concert and being mesmerized by the frenzy of the crowd reciting all the lyrics by heart. And it's been having the exceptional chance to listen to Abida Parveen sing at Faiz Festival sneaking into a fully booked venue from the speakers' entrance. An enchanting moment when the crowd is chanting Ali in trance and we can all witness how she is not belonging to this world anymore.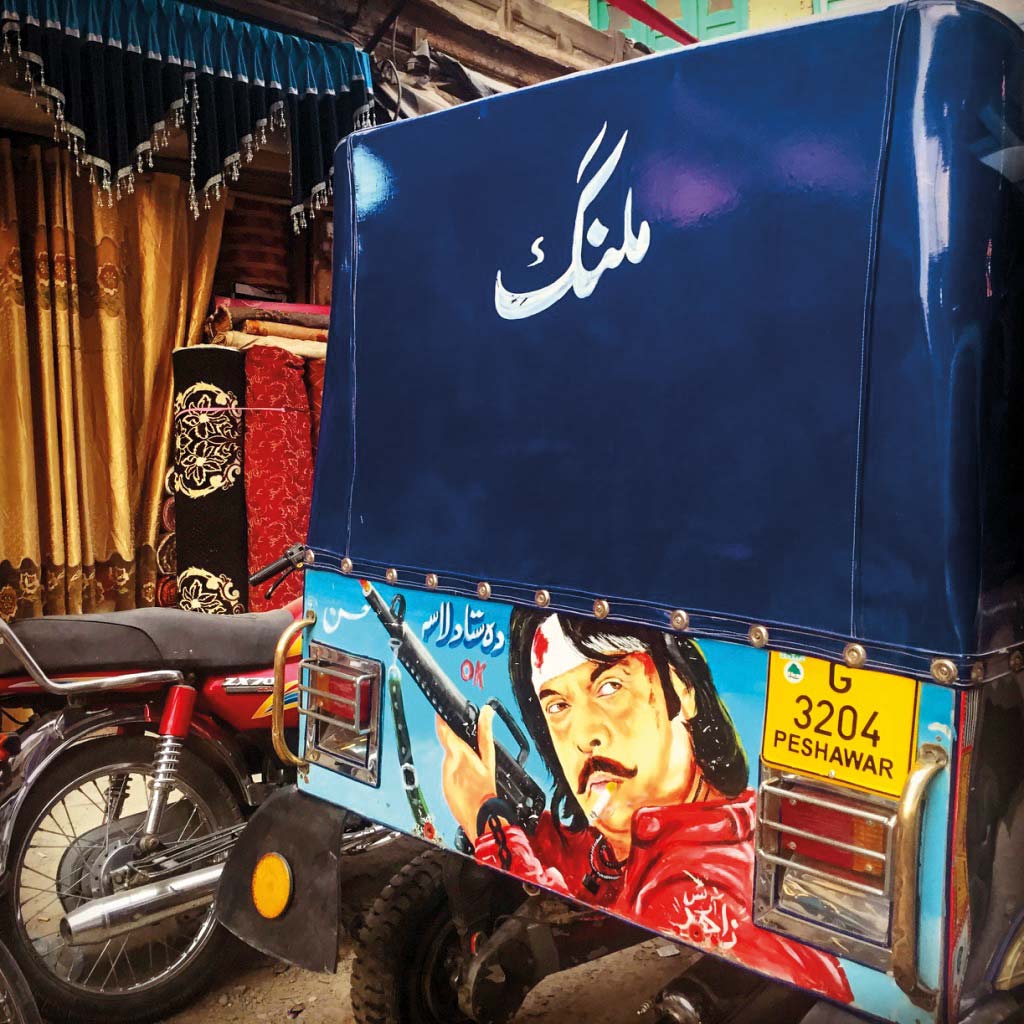 That's how it all started.
Actually, it's not exactly true. It all started on a beach in Rio years ago, when I told a fellow TEDx organizer that I would love to come to Pakistan, to get access to such a complicated and controversial place. He kept his promise and when I had almost forgotten about it, he sent me an invite to speak at the Lahore edition of School of Tomorrow. What better way to discover a country than meeting in three days some of its major artists, activists and authors all in the same place?
But since I had this opportunity, I wanted to know more, to go further…
So I went south to Karachi and this time, the women welcomed me. The murals of Sabeen Mahmoud first when I went to T2F to dance to the rhythms of Suhaee Abro's workshop. And then, Sabeen, Urooj, Amneh and many more who took me crabbing in the middle of the night while probably shocking our neighbours with pretty scandalous conversations under the moonlight.
When I got tired of loud places, I went north to Islamabad and visited my former boss, now working for the EU delegation there. Seven years he has been here and yet he says he can't leave. There is something soothing in this green city, a far cry from the visuals on Homeland.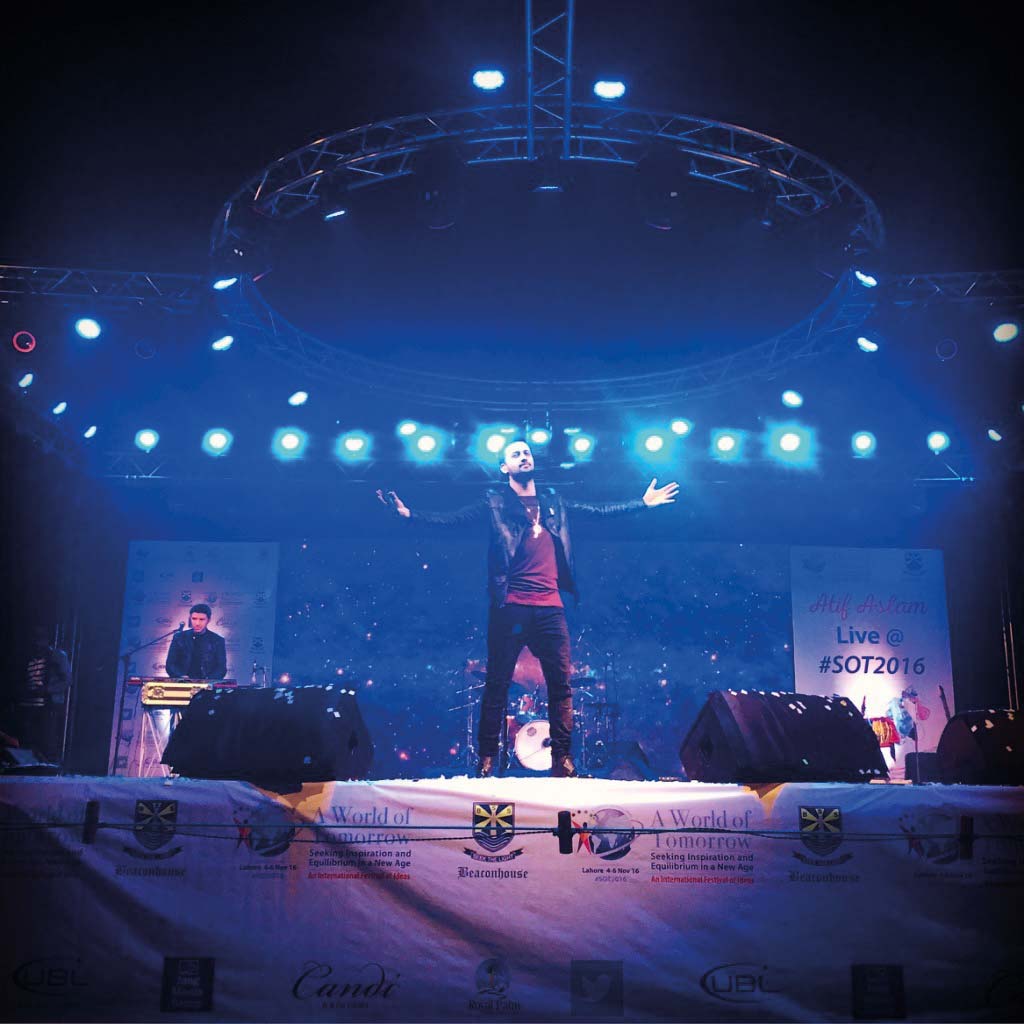 Hiking the Margalla trails and riding horses in the mountains of Nathia Gali. Waking up to the rising sun on the mountains from Gali's End. Discovering the adventures of Pakistan-On-Foot.
My excursion to the Shah Jamal shrine in Lahore piqued an interest and made me want to go back south to visit the city of all shrines. So, after a long drive, at night, I bought some bangles and wandered around Multan. I could feel the warm stones under my bare feet, the shiny blue tiles intertwined in the red bricks, the sound of prayers and the smell of candles. I experienced the soothing spirit of the night. Lying on a charpoy (a light bedstead of a web of rope or tape netting) in the shadows, the gratefulness invaded me.
But the climax of these past months has definitely been the secret escapade to Peshawar. In our western minds, Peshawar is a mythical name, both fascinating by its history and frightening by its recent events.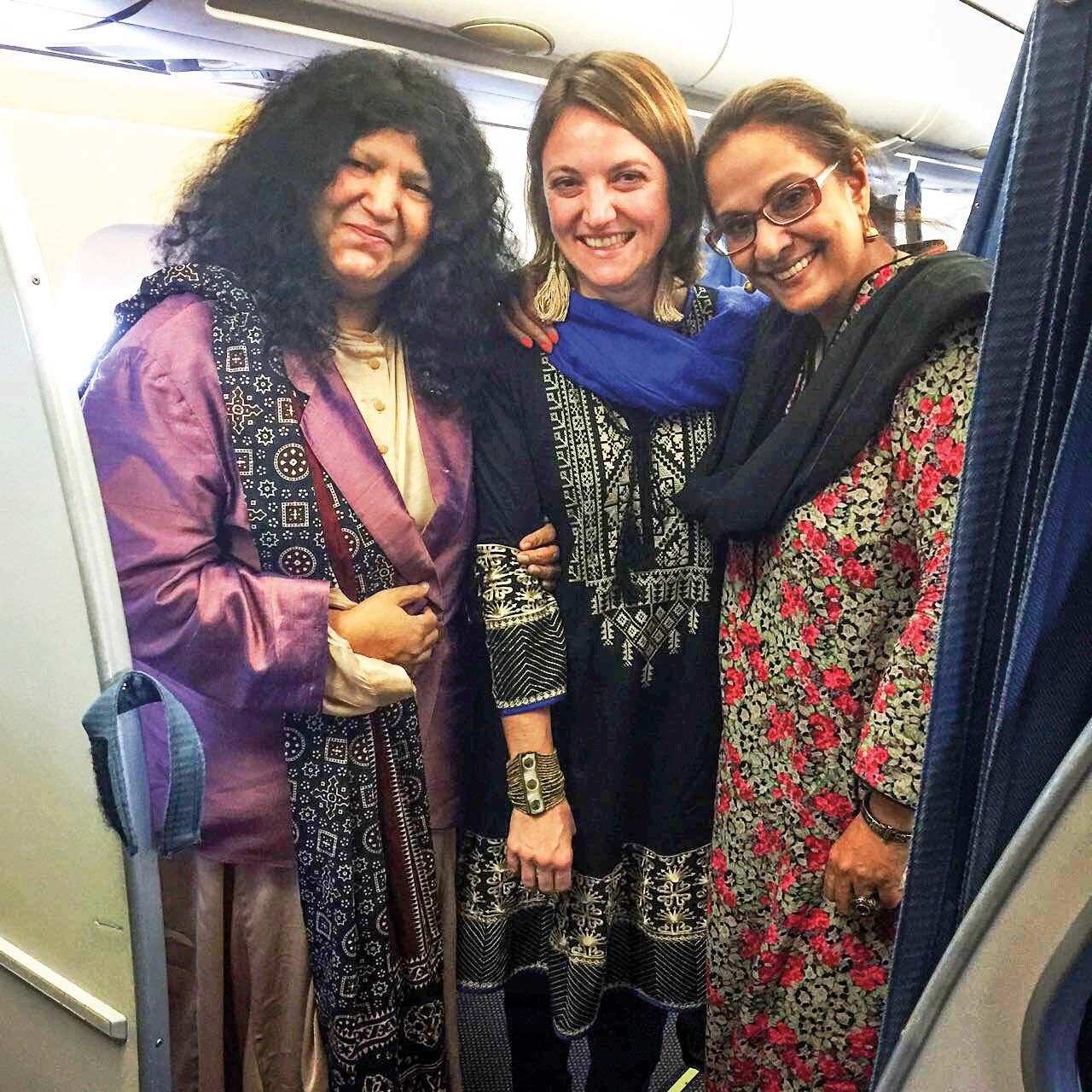 But there, I was lucky. My partner in crime had great local contacts and she made me swear not to tell anybody about our trip. We went incognito and I was so grateful, as a storyteller, to finally explore firsthand the Qissa Khwani Bazaar, to see for the first time women wandering around in their blue burka, children playing with kites on the rooftops, the sky through the moucharabieh of the old caravansaries in the old city.
I was transported elsewhere for a few hours.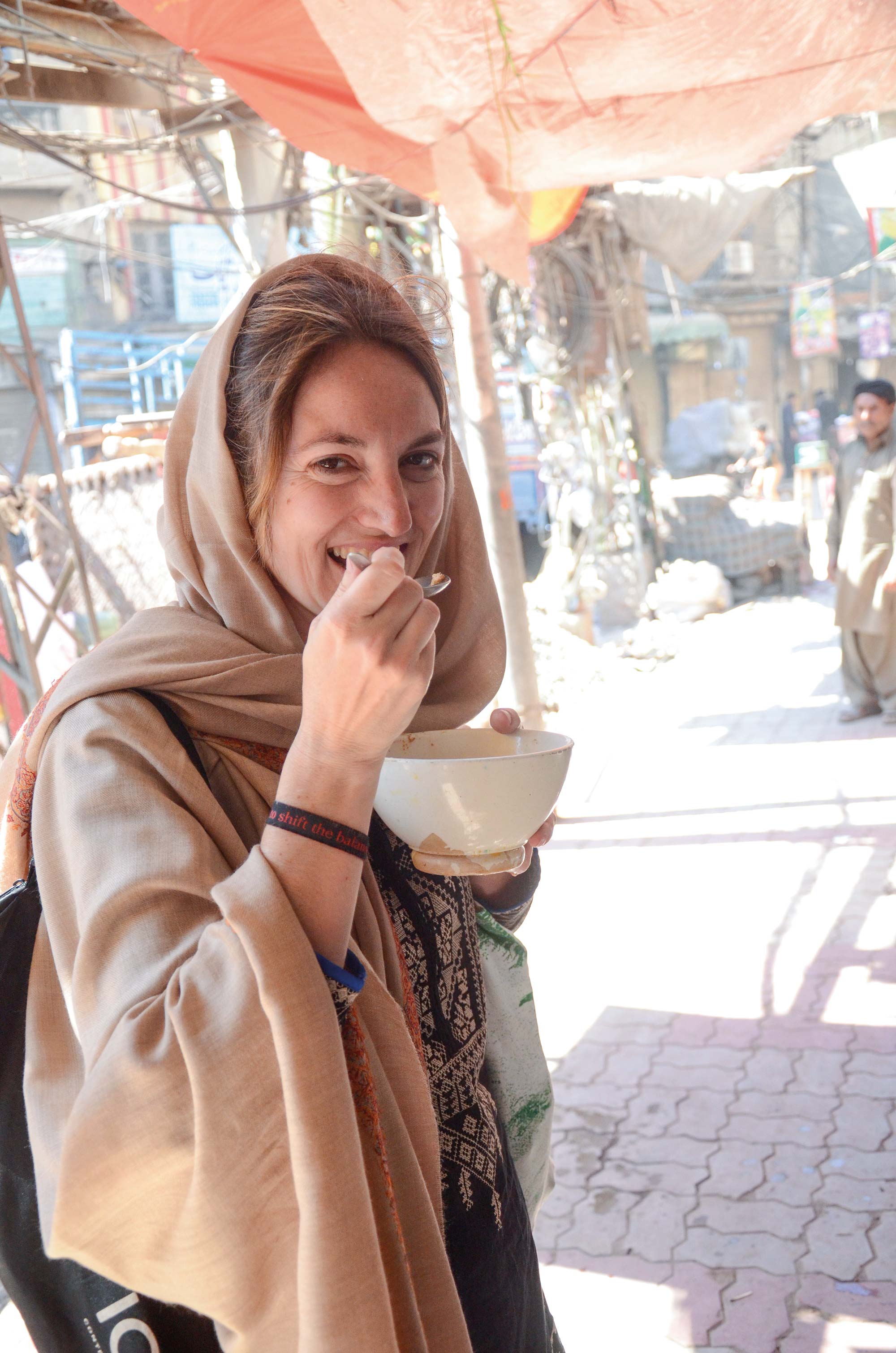 There were a few things I learnt in Pakistan. I learnt to drive on the left without harming anyone (so far). I learnt that humble Pakistani men love to brag about being amongst the sexiest on the planet. I learnt that Urdu is a very very complicated language and that I will probably stick to English for the time being.
I also learnt to sleep with six surrounding mosques and a stone's throw away from the landing runway of Allama Iqbal International Airport. I learnt to survive 47 degrees in Ramzan with 3 electricity cuts a day, I learnt that brides come out of birds cages and stop partying at 10pm.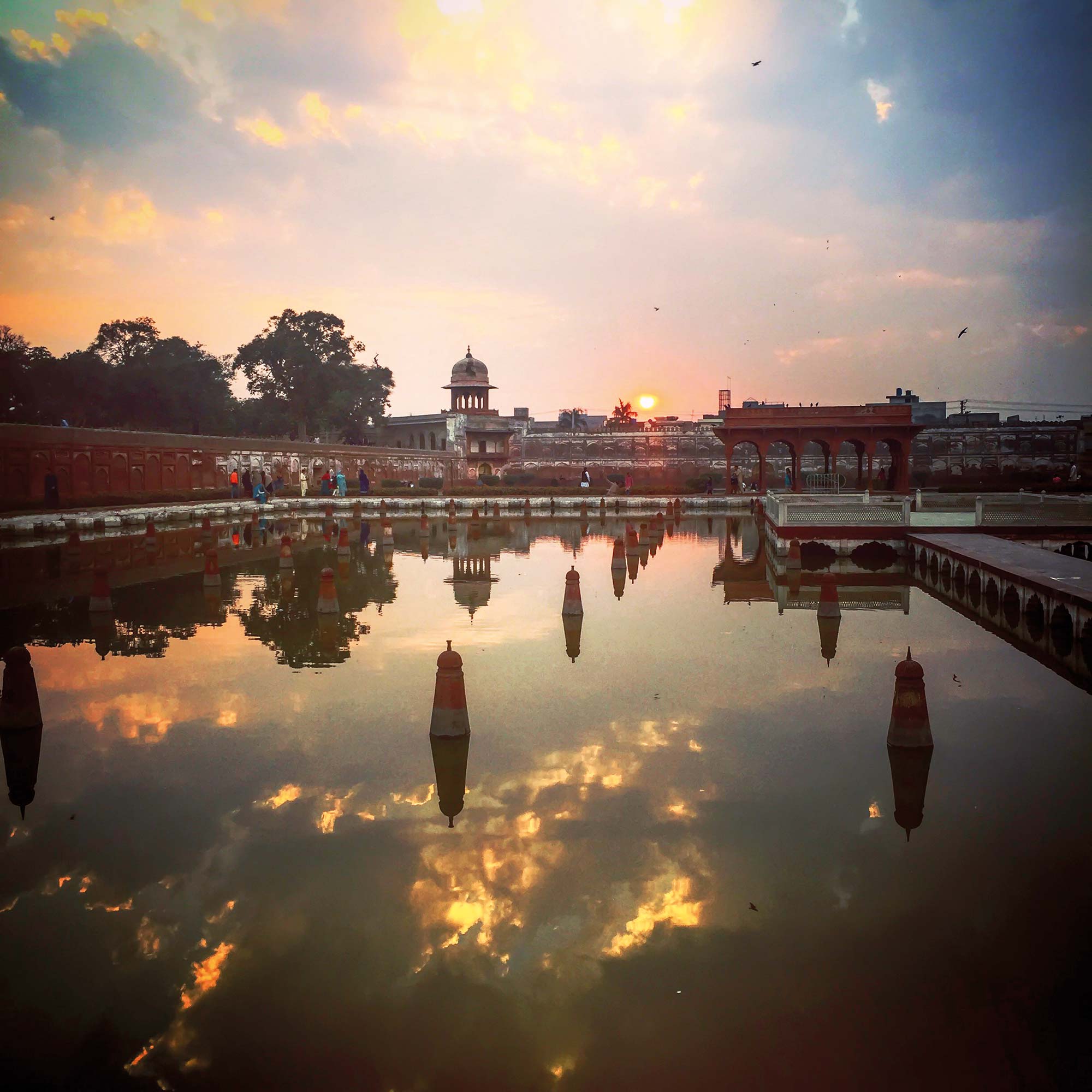 It's been quite an experience. On my way back to France, I took with me a few items – some surprising, others not so much. I took a warm blanket from Peshawar and a burka for my horrified aunt, a Pakistan-On-Foot hoodie for my brother, glittering bags from Mahin Hussain and the amazing online store Polly and Other Stories, delicate earrings and Rumi bracelets from Amna Shariff, Frida Kahlo and Sufi necklaces from Iff's Collection, a cute jacket from Shubinak, posters from Shehzil Malik and all that I could pack in my suitcase.
Each time before I head back, people ask me if I will return. My answer is that it feels like I never really leave. I've been to more than 90 countries so far and I have learnt that the places with bad reputation are usually the most addictive and the most welcoming to the crazy ones who dare to visit.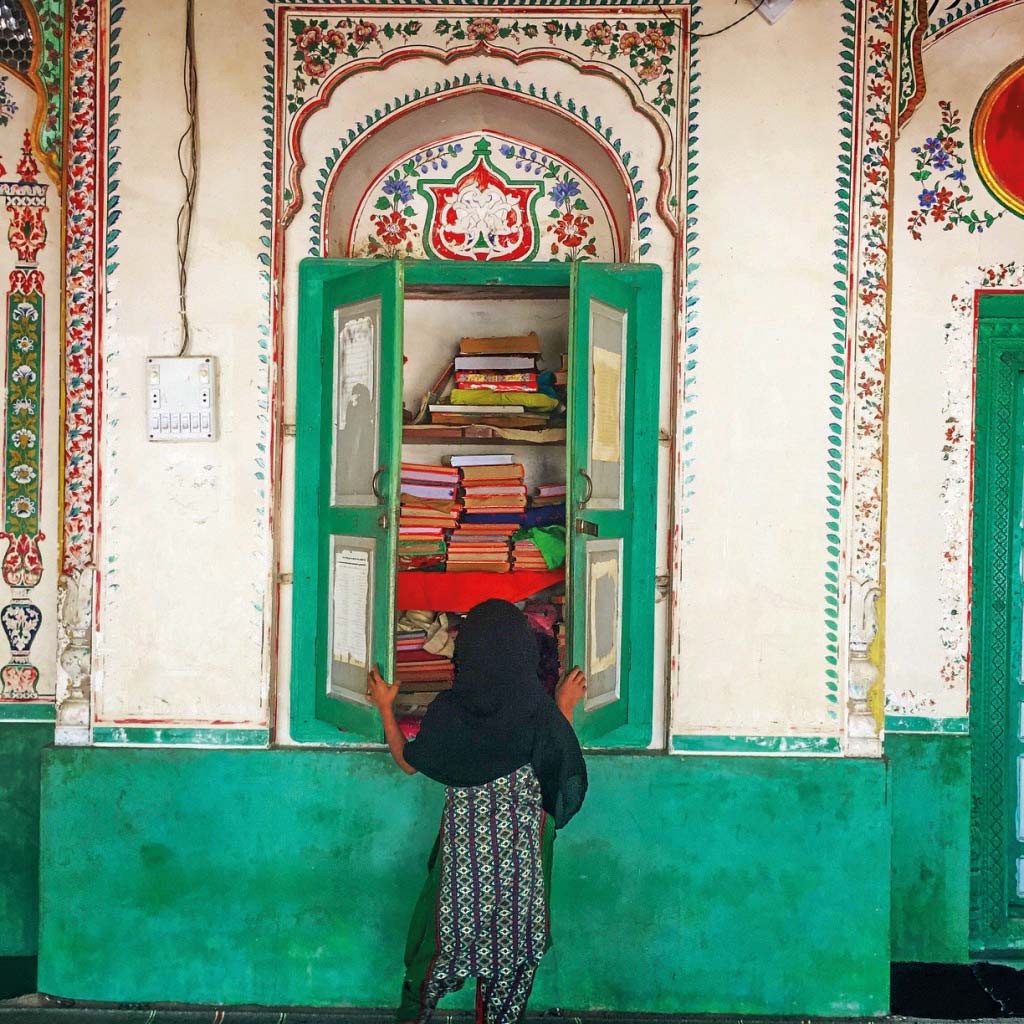 Pakistan rewarded me with love, to the moon and back, with feeling surrounded at all times, with this same crescent being present in all places. I felt extremely stimulated, even in my professional projects, with many exciting opportunities arising, books, videos, podcasts, and much more…
The first time, I came for three weeks.
The second time, I came for three months.
Now, I have a multiple entry one-year visa and a room in DHA.
Some joke saying the next step is the nationality.
I always say, we shall see, Allah knows best!