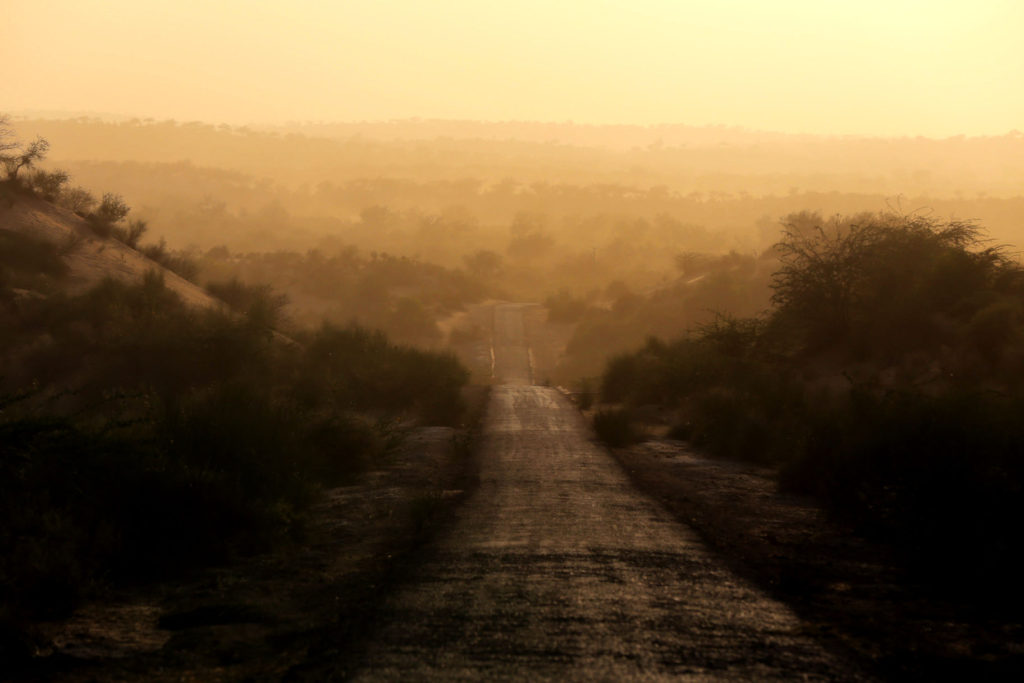 A long, five-hour road trip from cosmopolitan Karachi ends at a place steeped in the past – Umerkot. Thar has now begun to unfold. And its spell is cast on adventurers and seekers of history. Once known as Amarkot, this is the birthplace of the most majestic of Mughals, Emperor Jalaluddin Mohammad Akbar.
As a fragile 15-year-old, his mother Hamida Bano Begum gave birth to him under a tree here. The historic spot is honoured with a red brick chauburji (four-sided, arched enclosure) on a brick platform nestled in dense gardens, beside a signboard with an ode to the king's exemplary 50-year reign and conquests.
Few know that the newborn prince was sent to Kandahar from here till the time his father, Humayun, returned to Lahore in 1551.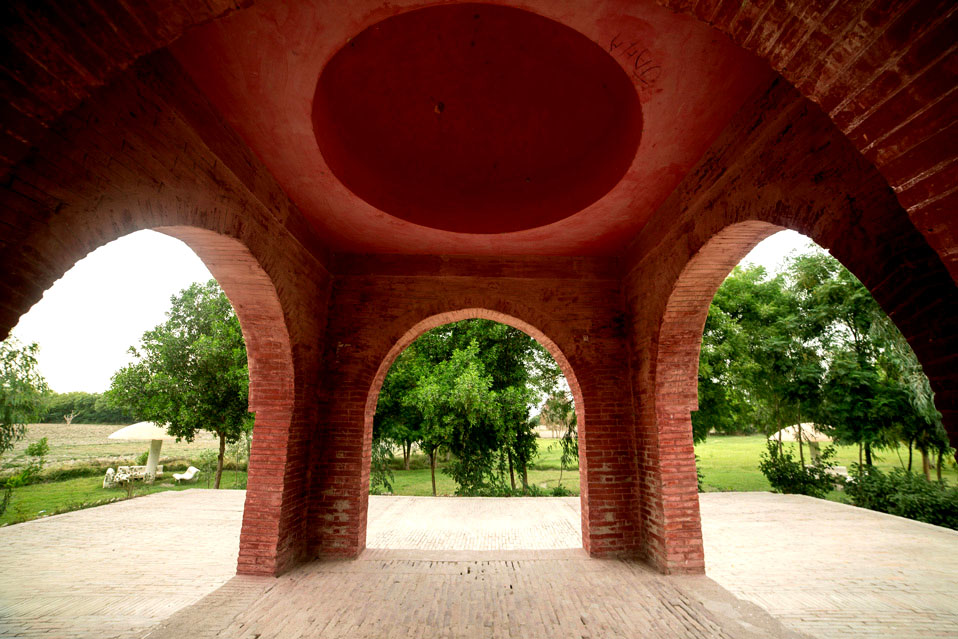 Further on, arid dunes heave as warm winds breathe into them; herds of camels and cows often block your way, the tinkle of their bells fuse with snake charmers' flutes. Thatched cone roof settlements lie among dull greens of Acacia Arabica and silver bushels that are like heaps of curling fireflies.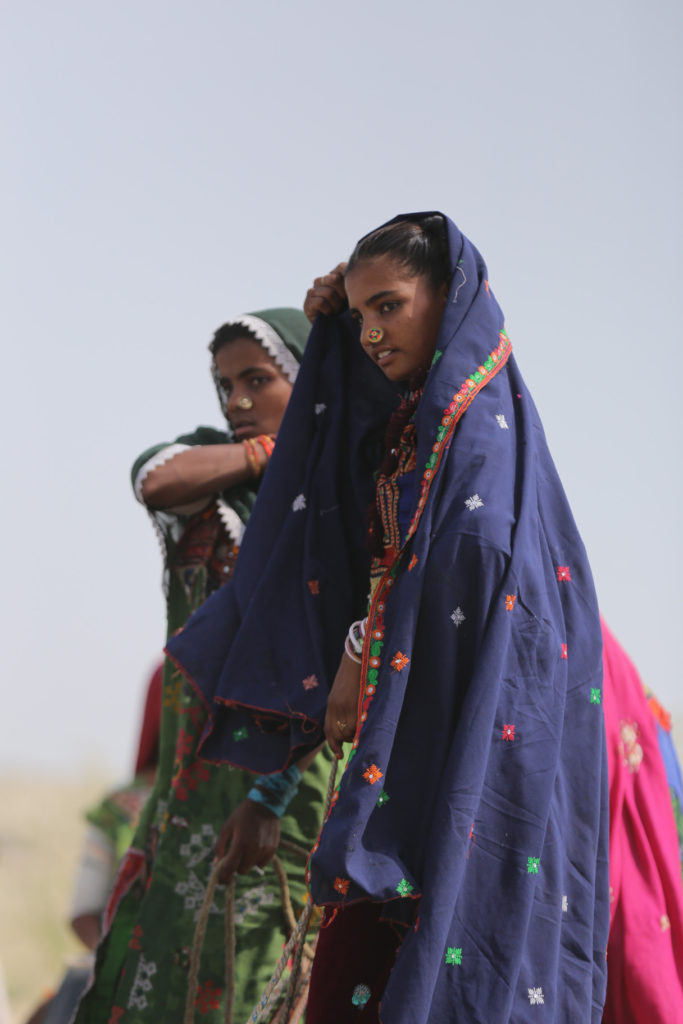 Flashing shades of temples, homes and women wrapped in radiant traditional ghagra, choli (long skirt and blouse) and sarees break the monochrome of sand; nose rings and bangles glimmer on dusky skin as they saunter with carafes of water or piles of wood. As the sun comes alive, warrens of lanes pulsate with old world energy – morning mist is tinted with colourful women sweeping paths; cows and camels heaped with hay amble along breaking the sleepy silence with chiming bells, temples and mosques surge with activity and mounds of vivid spices and dew-soaked vegetables come into view when shutters are flung open.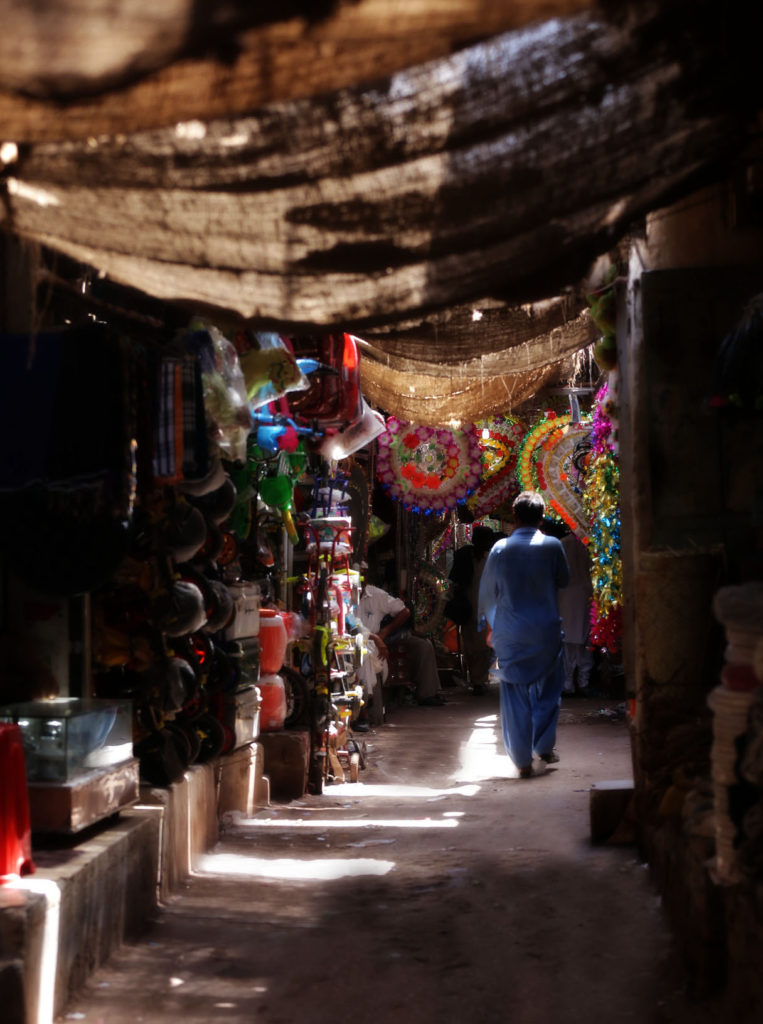 Curls of steam rise from chai khanas (teashops) – hot chickpea curry, lentils, curd, cream, eggs, parathas, halwa and pooris are staples of a delectable breakfast. Time is indeed at rest in an ancient age.
The bazaar has stirred out of slumber; some put out utensil and chisel sharpening wares as people leave for the lands. Cotton spinners sit on roadsides with spinning wheels; pristine white tufts flow out to fluff up patchwork blankets and pillows.
Colourful bandhini and chunri fabrics unfurl in shades of vermillion, orange, leaf and emerald greens, ochre and purple – a tie and dye technique unique to the region, which is exported to cities and then across the globe. Other crafts are vibrant pottery and fine embroidery, found mostly in Mitthi town, and worked unisex sandals in varied hues.
Day hours are slow as is the pace of age-old life patterns; frequent tea breaks see men and women huddled in corners cackling and some break into Indian or Sindhi songs.
At lunch, they lay out an array of vegetable dishes cooked in aromatic desert herbs and ghee (clarified butter), lentils, yoghurt, rice and bajra (grain) rotis. This is vegetarian country – the only part of Pakistan where Muslims are in small numbers and the culture is layered with diversity, to the extent that Tharis, the desert natives, converse in Hindi, Sindhi, Sanskrit or Thari but not in Urdu.
Silence returns to homes and streets for siesta hours. As Thar's remarkable warmth and hospitality will not permit a guest to wander out alone, it's an appropriate time to explore many jewels among the dunes.
The most prominent of these is the Shiv Mandir. It presides over the desert with a deluge of colour. Kirtan Peel carved on a rock directs travellers to it from the rough main road.
In Rajasthani curvilinear design with a glittering mirror-worked matki as its khalasha, Shiv Mandir stands on a mound in saffron and red. The temple grounds are laid out on 88 acres and a crimson staircase leads to the top sanctum. The central sanctum sanctorum is large, decorated in intricately patterned stone terrazzo. Burgundy and dark saffron additions on the floor are relatively new and far from garish.
On one side, in wild vegetation lie two graves of ancient priests, which have seen centuries pass. More than a decade ago, the shrine's foyer and the Shivling alcove were renovated in shiny ceramic beige and white tiles with blinding trails of mirror-work on walls and ceilings.
The stone Shivling, which priests and locals attest was present when Emperor Humayun visited, sits on a lime green platform; a brass snake is wrapped around it alongside a trishul and a nandi (Cow). Bequests of incense, milk, rose, white and lavender flowers from Golden Apple shrubs never run out.
Locals vow that the lingam is self-created; that it grew on its own and village elders recorded its growth to thwart optical illusions.
A small durga alcove resides by the gate, under a pepal canopy. The inside is saffron embellished with mosaic. A door with 'Jiye Gurudev' opens into a plot of samadhis in red and white on marble plinths; grander ones with saffron stupas belong to revered sadhus.
One of the more decorated vaults is Bhagat Vinraj's – Thar's celebrated priest who resided here with three disciples who were murdered in 1979 on the third night of Navratri.
The present cleric, Maharaj Gyan Puri, a tall man with flowing silver beard and locks, has devoted over a decade to Shiva in the desert.
"This village is called Shiv Mandir Gaon from the time when Chhorwa River surrounded this mound. Muslims come here for curative purposes and our gatekeeper is a Muslim. Children of army officers arrive in 15 or 20 vans to pay respects," he narrates. "The time of discovery of this Shivling is not verified, but legend has it that a family followed their cow here to see where she produced milk as she was dry at home. They removed the mud from her spot and the ling emerged, it continued to grow for some years,"
Puri spends Sunday nights in the shrine to prepare the communal meal for Monday, and performs aarti twice a day to the beat of nagaaras – a dramatic treat for the senses.
Since Thar had many chieftains and royal patrons, such structures were often privileged expressions of devotion or gratitude. Temples for Hindus are auspicious and bring peace, prosperity, heirs and a hallowed afterlife for devotees.
Interplay of shadows begins with the dying sun, temple bells toll and drummers make their way to the sanctum. I return to the village where the night at sundown is older than it would be elsewhere – roadside hotels are packed with diners on benches and charpoys, log fires light street corners and dim lights flicker in windows. Indian songs and radio channels set the score for a scene out of yore.
My hosts take me to the most popular food joint where a bench is cleared and a pre-ordered meal laid out – fragrant karhi, chicken qorma made to honour a guest, butter-laced haleem, lentils, assorted vegetable dishes, potato biryani, rotis and herb-infused, buttered naans. The feast is chased down with a distinctive herbal tea, and an exceptional creamy halwa redolent with ghee and jaggery served in clayware – a specialty of Thar.
At dawn, I depart in awe of the past and in celebration of nature – moonrise in an inky sky, star trails, the desert quiet, sounds of the wind, and the ever present peals of bells on animals. Thar is a land of another faith and another time, which will forever reside in my soul.