Islamabad homegirl and now a Karachi resident, Saba Tajik, thought she knew all about her hometown until she found out about the lesser-documented Shah Allah Ditta Caves. Nestled in a glen of the Margalla Hills, is a series of ancient caves and majestic banyan trees. It is here amongst these spiritual settings that she finds herself wanting to become a tea drinking mystic with a penchant for archery.
Jean michel curie (weight room / cardiotraining), audincourt (25400) – doubs leeforce 100 buy steroids for bodybuilding, buy hormone for men goalies united.
Text & Photography: Saba Tajik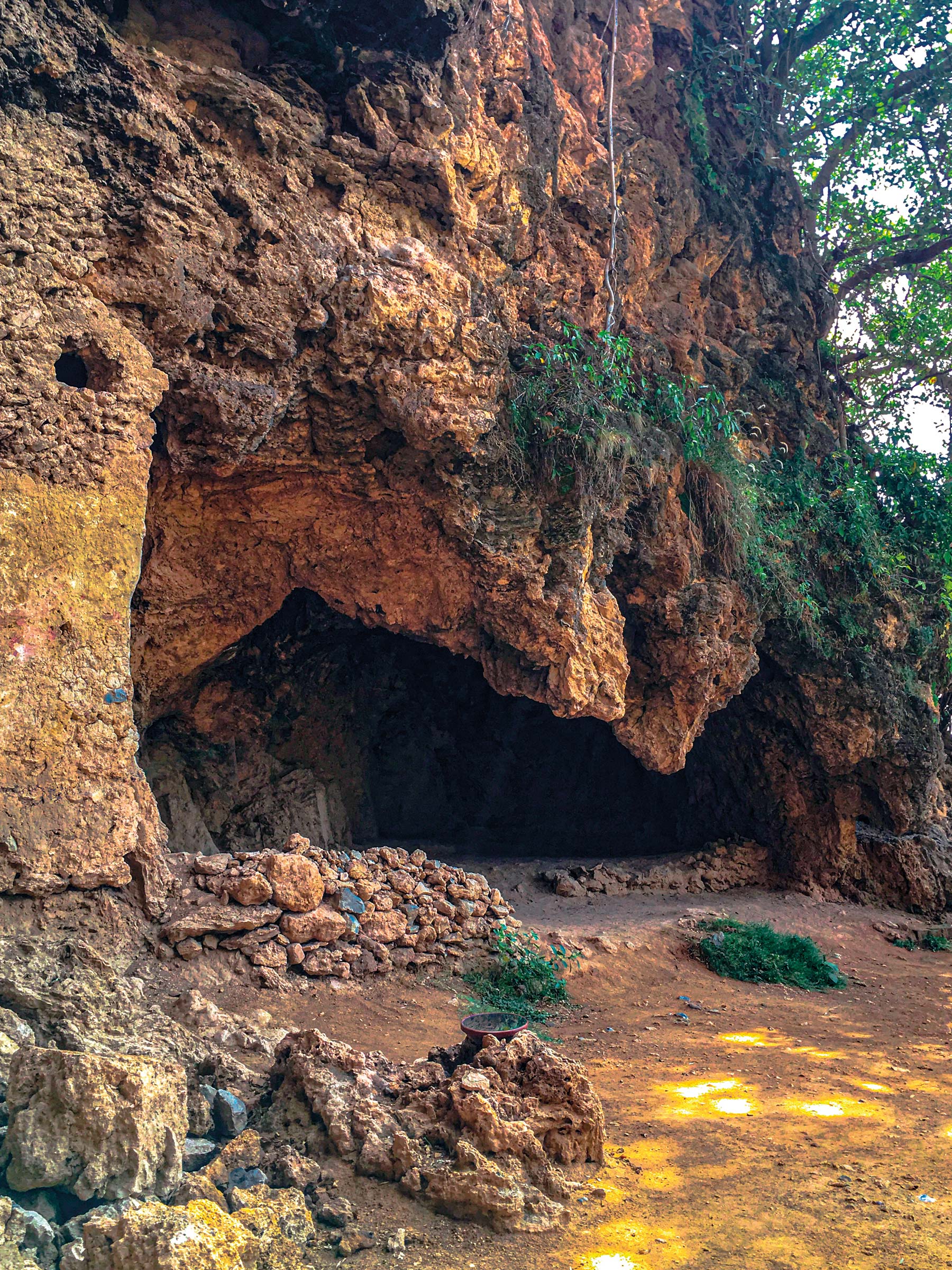 There is something about Islamabad that soothes the heart. The glorious Margalla Hills, the peaceful mellow vibe, the ridiculously rampart greenery, not to mention the majestic Faisal Mosque (not to be confused with Mumra's Black Pyramid in the Thundercats cartoon series. Seriously, Google it. 8-year-old me innocently pointed out the similarities to my mom and promptly got my ears boxed), it all comes together to create a place which is more than the sum of its parts. For any true-blue resident, we always assume that we know all that there is to know about our chosen city. But Islamabad still has a few tricks up its sleeves.
Case in point: The Shah Allah Ditta Caves.
Say what? Say who? Shah Allah what? Thank you. That's exactly what I said, when my sister casually mentioned where she had gone last weekend with her friends. So, what to do? Wikipedia, of course!
Location
Shah Allah Ditta is a peaceful little village which is a mere 15 minutes away from F-11/1, and right off the D-12 sector.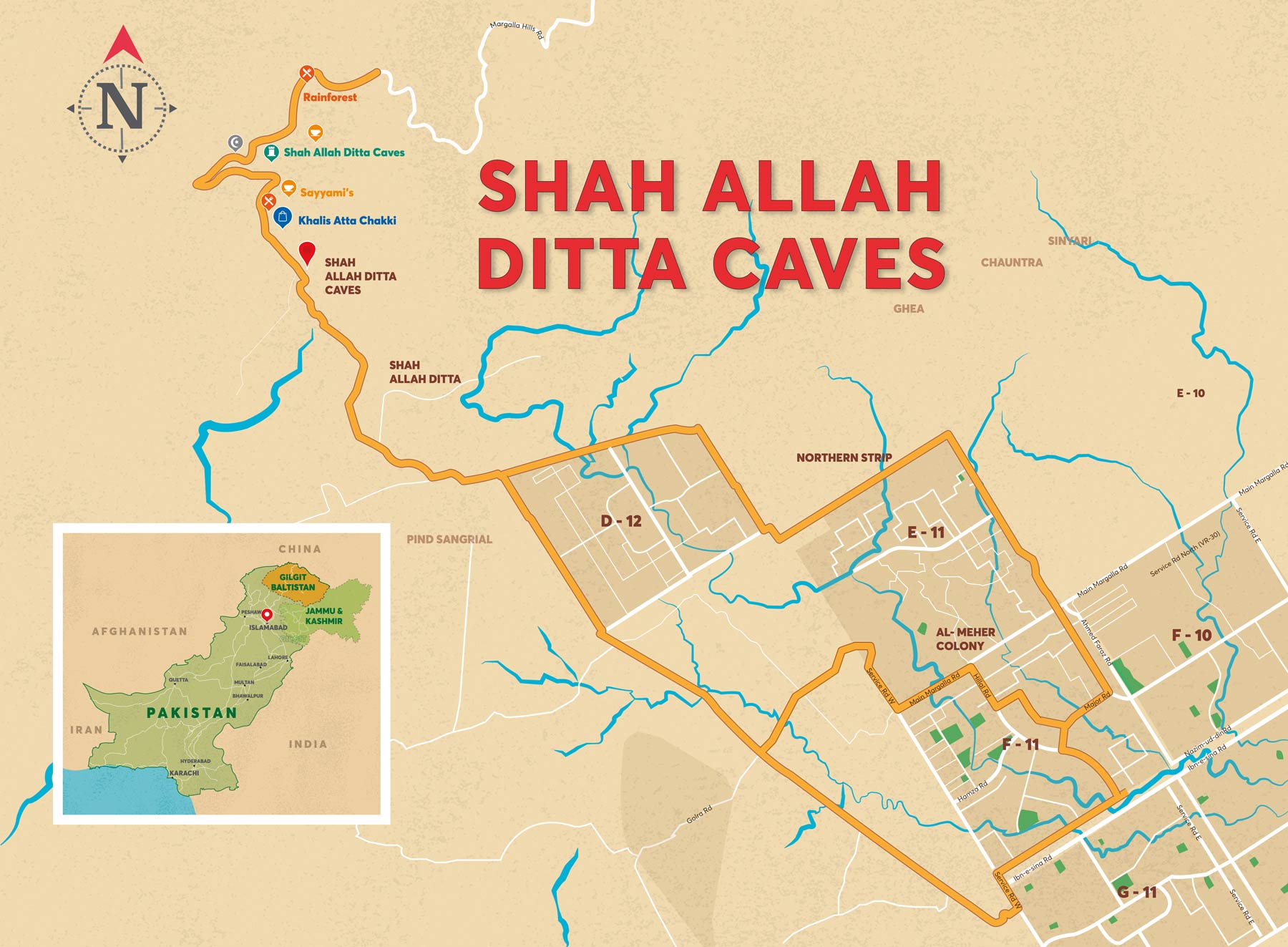 History
Nestled at the base of the Margalla Hills, this village is over 700 years old and is named after a dervish from the Mughal era, whose tomb is nearby. That in itself sounds pretty interesting but what really grabbed my attention is the fact that there are caves located near the village, caves which were home to an ancient monastic Buddhist community and date back almost 2,400 years.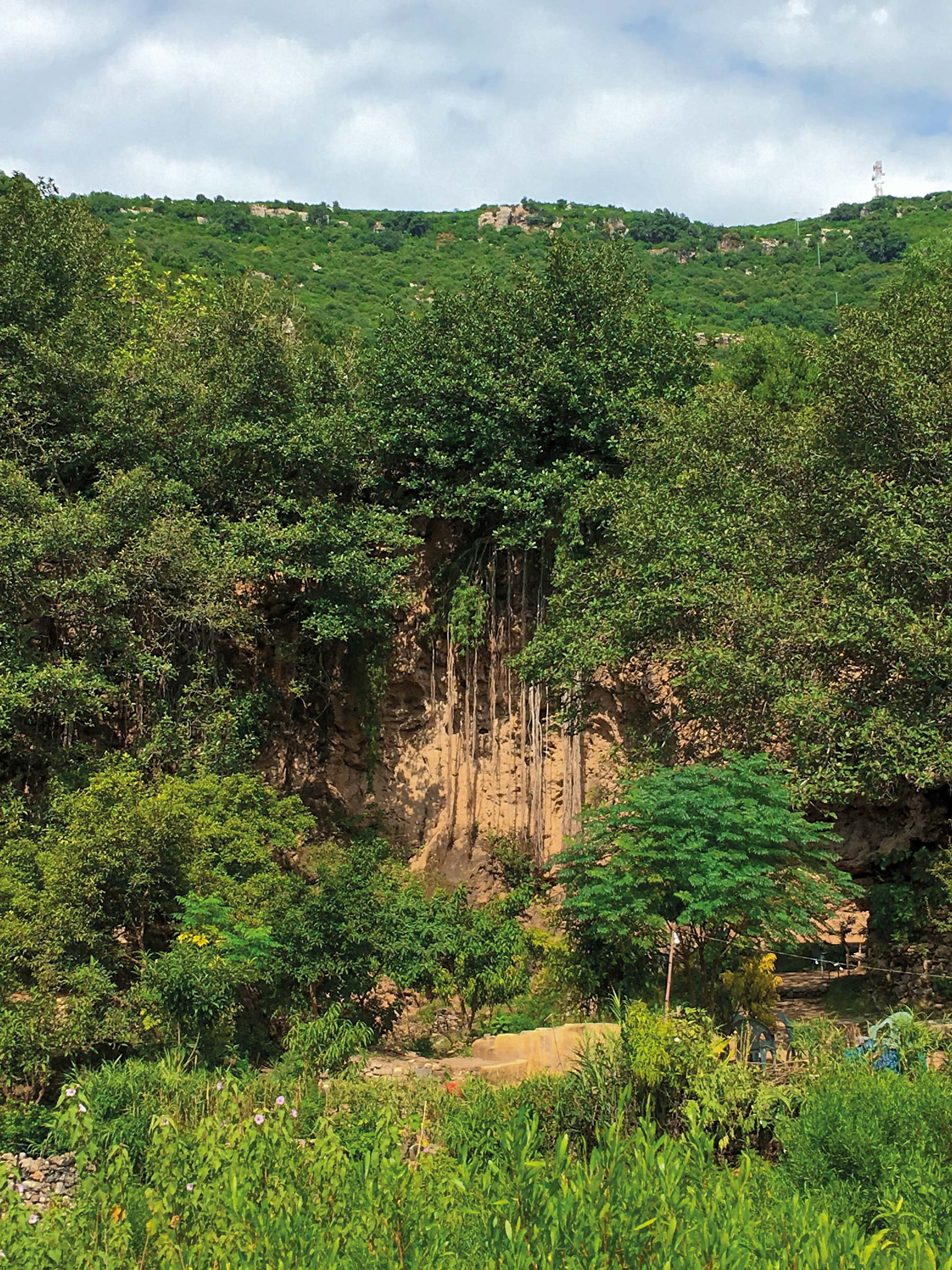 That's not all. The Buddhist monks were soon followed by Hindu mystics and then Muslim ascetics during the Mughal era, all of whom used the caves as the perfect place to put aside worldly distractions and focus on their spiritual awakening. Not only that, it is said that it was at this location that Alexander the Great was greeted by the king of Taxila, in 396 B.C.E. Hmmmm. 
Buddhist monks and Alexander the Great, no less? Nuff said, people. That was more than enough for me. A visit to Shah Allah Ditta had to be made. But before half the readership who aren't remotely interested in historical landmarks, mystical meditative locations, or charismatic Greek conquerors decide to exit stage left, fear not. There's more to Shah Allah Ditta that meets the eye.
The Journey up the hill
So, one lazy Saturday, we head down to the D-12 sector, and drive up through the village to the caves. Straight away, one can tell that Shah Allah Ditta is one of those places where time stands still. A small peaceful village, with narrow winding lanes and an inordinate number of camels, which I really can't get my head around, the village seems far more real, more solid than Islamabad itself. And why not? Islamabad is a relatively new city, a mere 60 odd years old, in comparison to the 700-year history Shah Allah Ditta village boasts of. 
The route up through the village and to the caves isn't exactly the most comfortable, with numerous potholes and lousy road conditions, but it's all worth it, when you get there. What awaits you? A glen of ancient caves and majestic banyan trees in a corner of the Margalla Hills, so beautiful that it truly has to be seen to be believed. Given that we are already in one of the prettiest cities in the country, you can imagine just how glorious it is. 
The space itself
We park our car and follow a narrow stream, populated with a charming flock of incredibly lazy ducks, which lead us to a spring, above which are the famous caves. A short series of tiny winding staircases lead us up to the caves, which are surrounded by a grove of ancient banyan and mango trees, their long tangled roots dangling over the cliff sides, and waving in the breeze.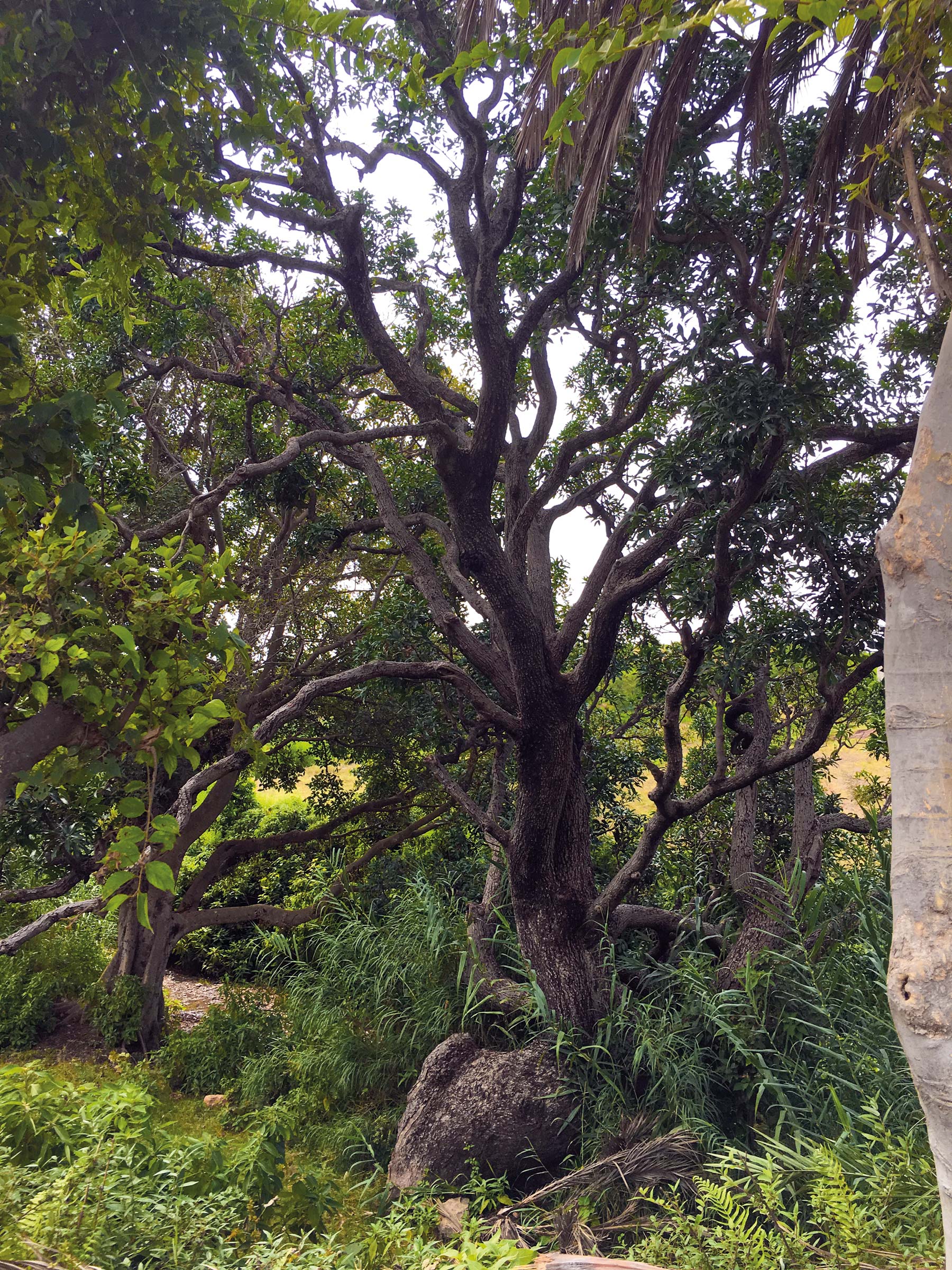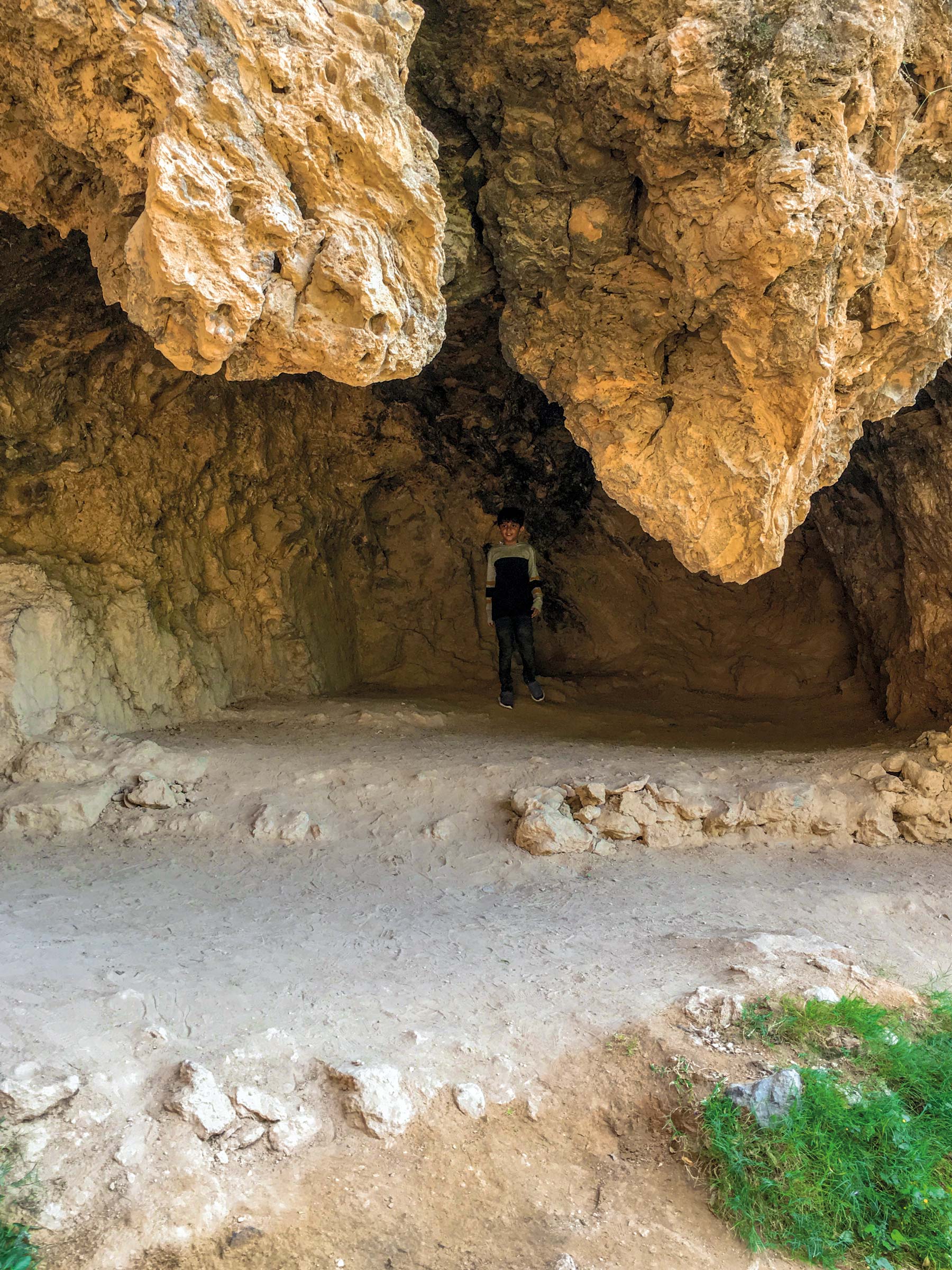 Legend has it that the banyan and mango trees are over 900 years old. I'm not an expert in dendrology, so let's just say the trees are super old and could very well be as ancient as it is claimed. Tiny staircases and trails connect a series of glens within the grove itself, each with a small seating area, or a glorious rope swing suspended from the branches of the trees. 
The caves are stunning, albeit quite eroded, as can be expected but here is where it gets dicey. There has been little to no preservation, and if one hasn't done their research like yours truly beforehand, coming and looking at them is a bit of a let-down. You can't really appreciate them without knowing of their history, which is unlikely for the majority of us. There are no tour guides, plaques, or anything there which can tell you the significance of the caves, or of the area.
Being that as it may, the view from the caves is spectacular, and one can truly understand why mystics in ages past would gravitate to this area, and seek to purify their souls and search for the divine. I'm not the most spiritual person on the planet, but standing there, looking at the sunlight trickling through those ancient trees, and listening to the whispers of the wind as it sways the roots of the banyan trees, I truly feel as if I'm standing in a place which is a step apart from the rest of the world. 
Side note
On a very amusing note, while searching for the perfect spot from where we can admire the caves, we stumble upon a group of young chaps frozen in a variety of poses, by turns pensive, meditative and melancholy, while gazing into the distance. I honestly thought I had walked into a yoga class, until I realised that there was a photo shoot taking place!  Amusing? Yes. Did I wrangle my parents into taking some photos of me in the self-same poses later on? Absolutely. Who doesn't need a new photo for their Instagram account? Hashtag #sorrynotsorry.
Sadhu's Retreat
Yet, apart from the historical aspect, the glorious banyan trees, the admittedly gorgeous location and prime spot for taking selfies for all your Facebook and Instagram needs, is there more to Shah Allah Ditta? Absolutely. A mere 100 feet or so away, step into the looking glass, and banyan trees and meditating mystics are replaced with Sadhu's Retreat, a place which offers the kind of activities and entertainment which would make Alexander himself sit up and take notice.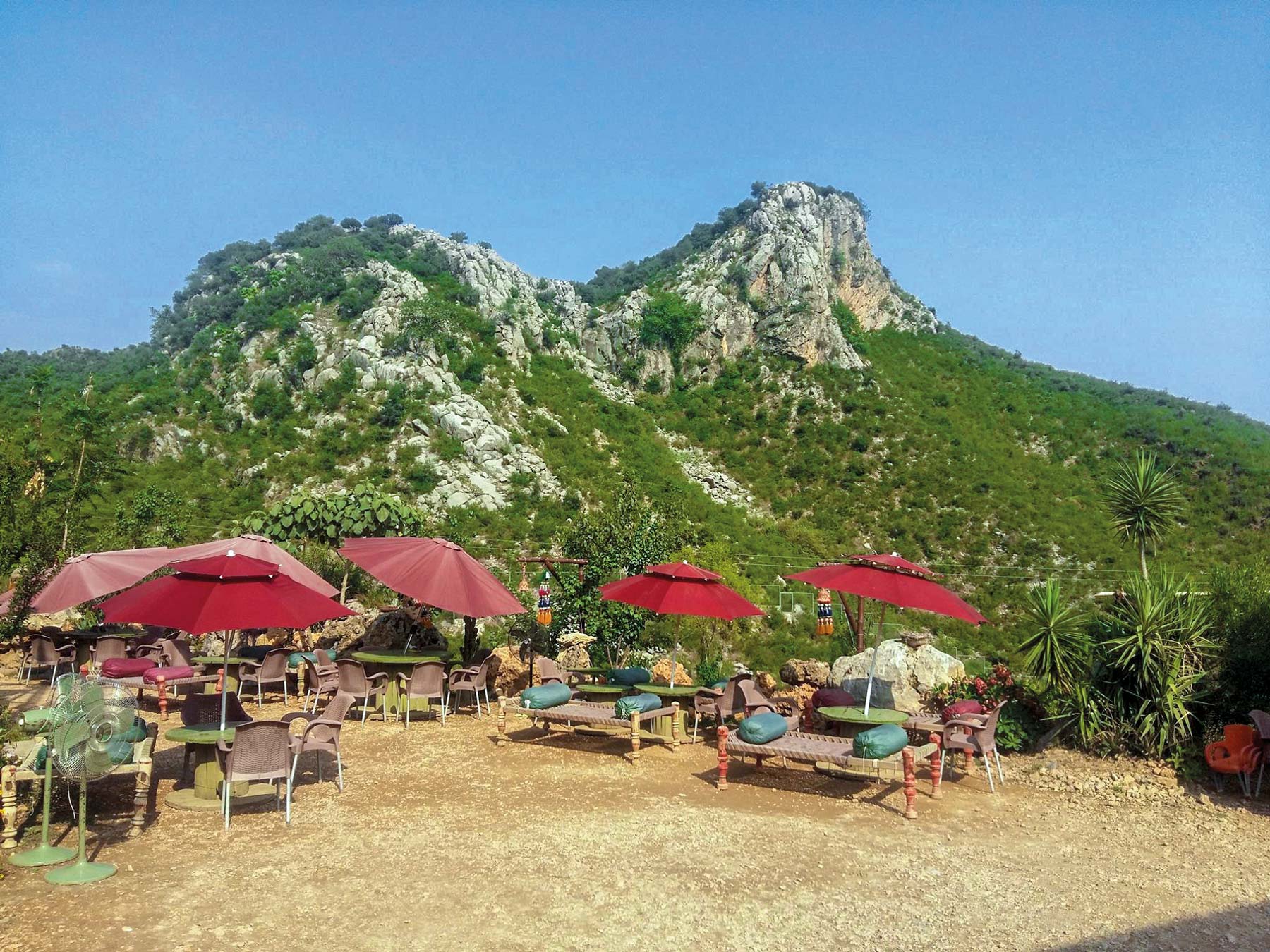 Sadhu's Retreat comprises of an open-air restaurant with gardens built into the side of the hill and hanging almost suspended over the gorge. Pretty? Yes. But what makes this place stand out is the fact that apart from all your tea-drinking and snacking needs, zip lining, paintballing, archery and target shooting are also up for grabs! 
Archery
Of course, I made a beeline straight for the archery. I mean, come on, all those Robin Hood movies had made an impression. 10 minutes later and with smarting fingertips, I have a new found appreciation for all archers the world over. Alas, my dreams of hitting an apple balanced on my son's head, ala William Tell, remain an elusive dream, while my son promptly offers thanks to all deities, be they of the Muslim, Hindu or Buddhist affiliation, that his mother didn't use him as target practise. Let's just say that my arrows showed a marked propensity to hit everything and anything except the target itself.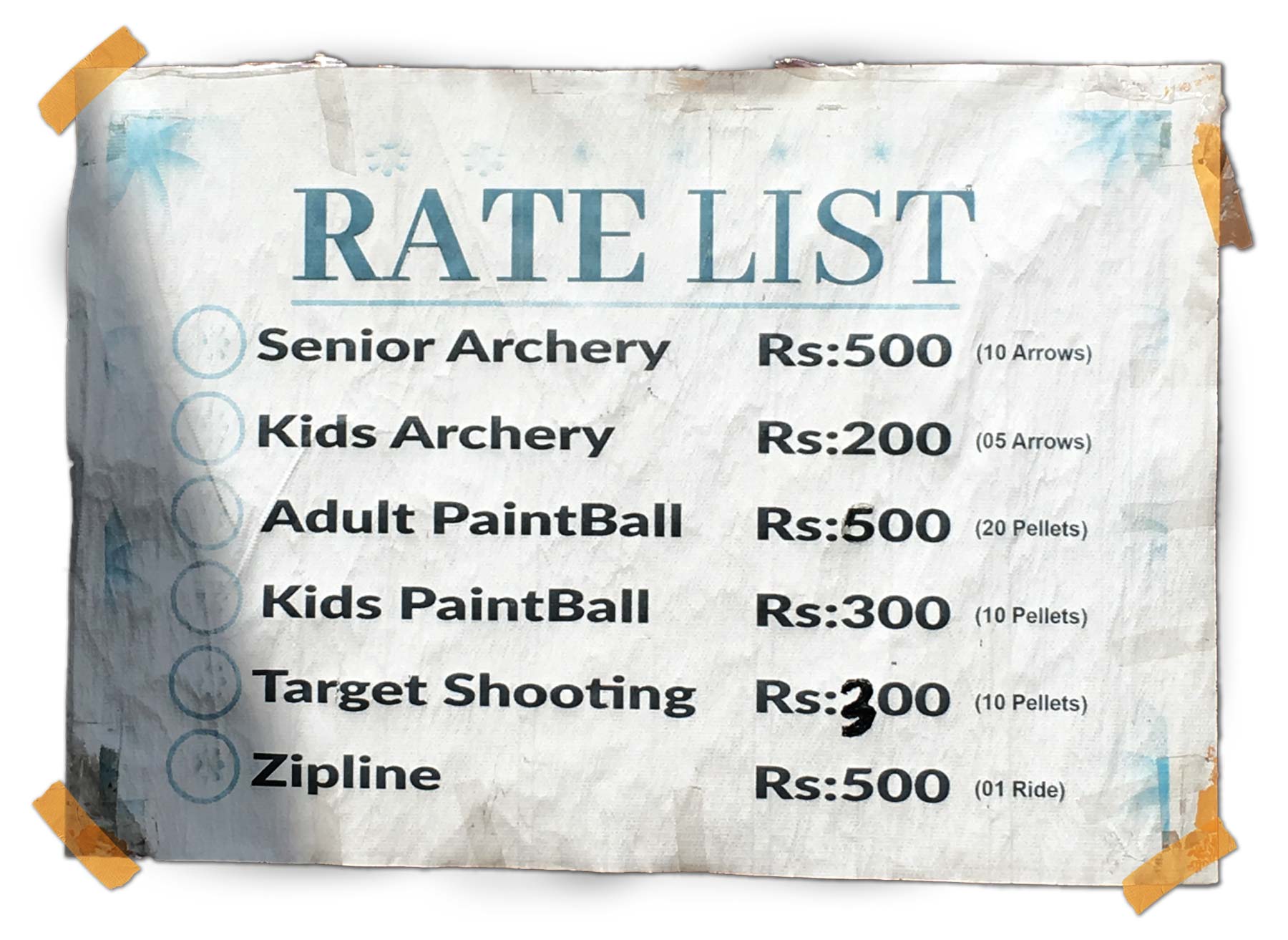 Zip lining
My sister decides to brave gravity and hops on over to the zip line set up. I kindly defer the opportunity to hang over empty air, and choose life, thank you very much. I think I may try it next time though, because the set up was very professional, the operators had a plethora of safety checks in place, and, most importantly, my sister said it was absolutely awesome. Another time, perhaps.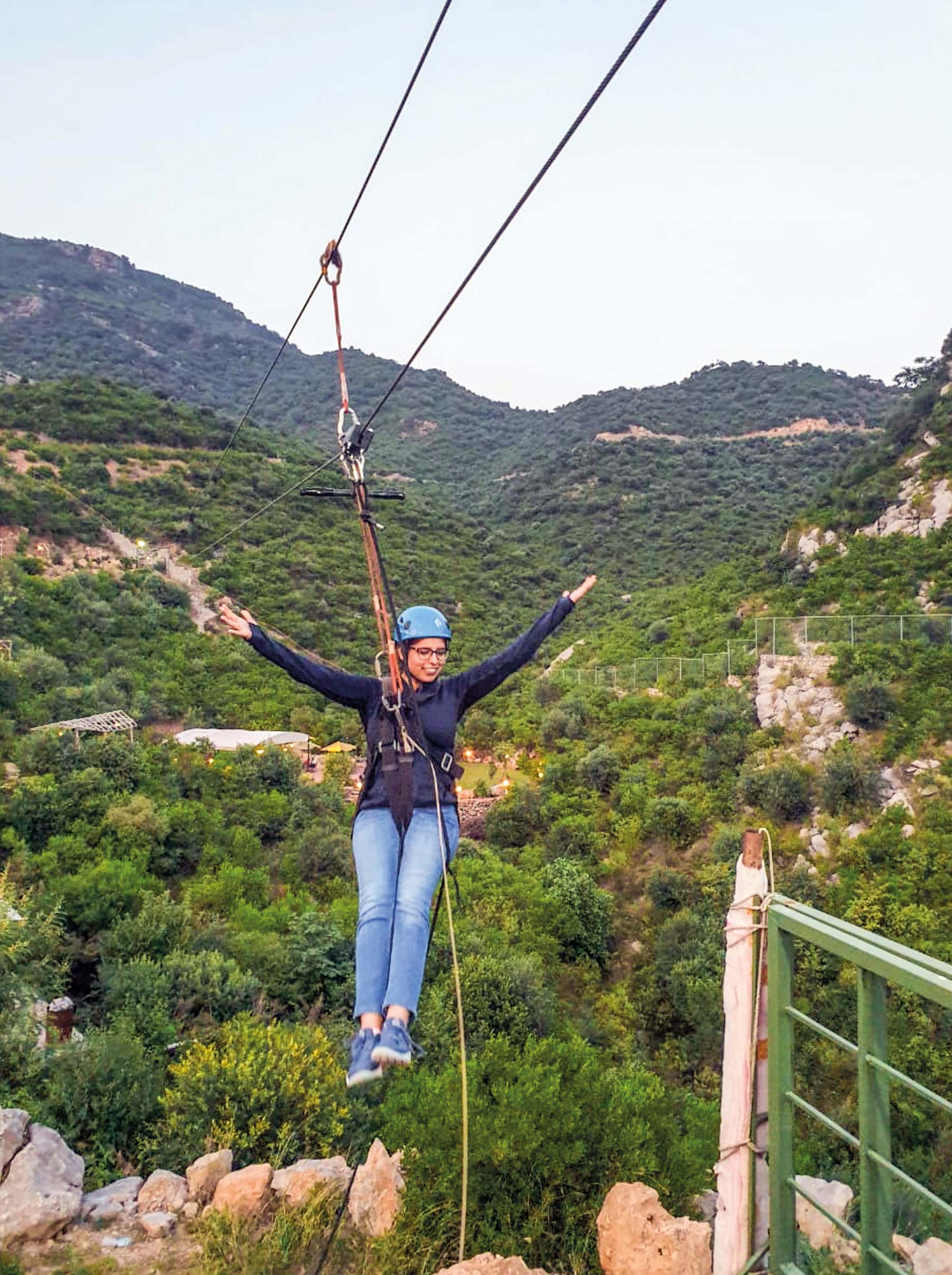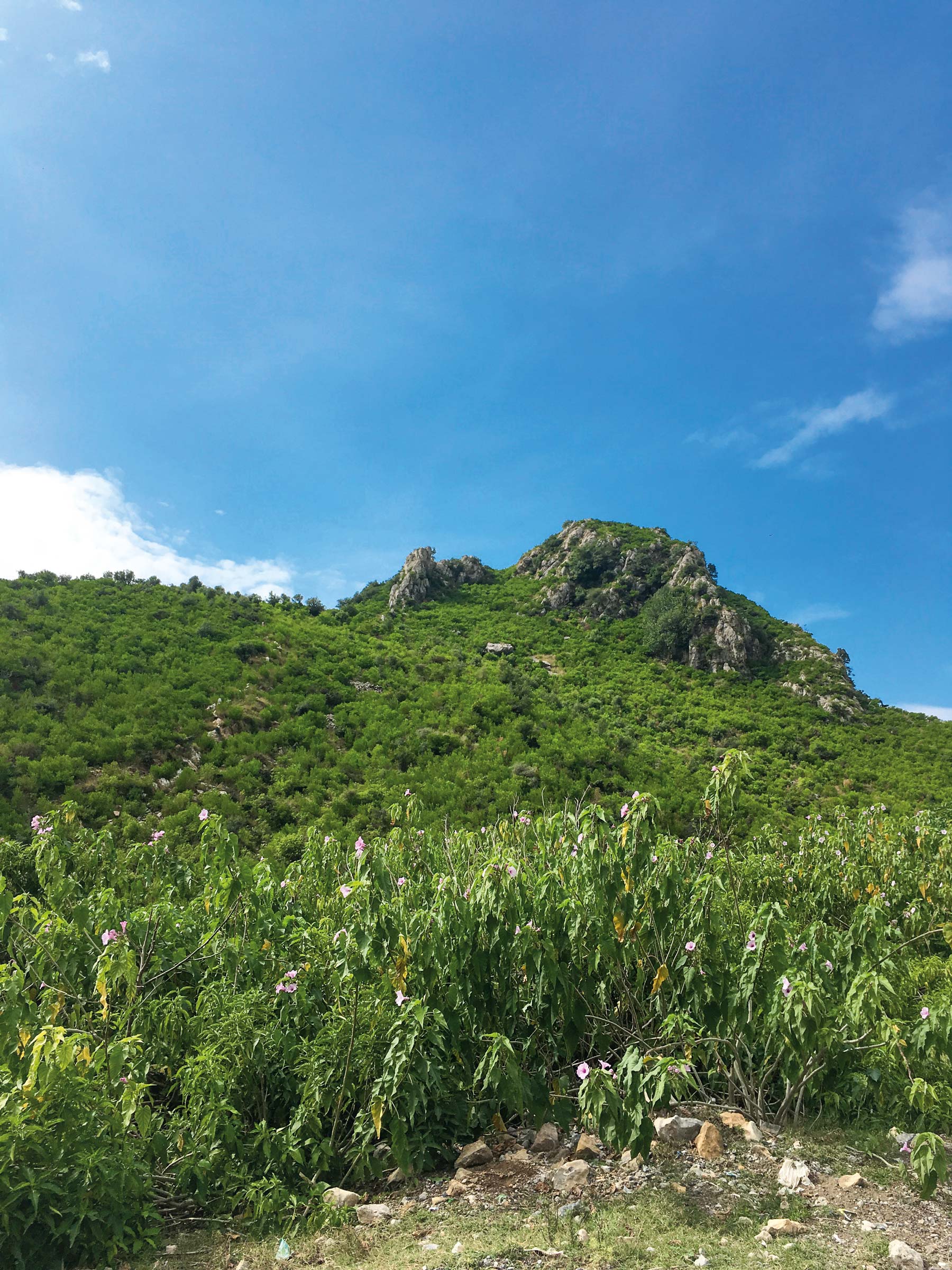 All things considered
While we explore the gardens, my parents decide to make themselves comfortable and they settle down in the outdoor seating area, promptly ordering plates of fat crunchy pakoras, alongside cups of steaming hot tea. (Note: no event, meeting, gathering, occasion up North is complete without tea. Pakoras are also mandatory in rainy weather. This is a rule which is sacrosanct). A short while later, we sit, looking at the Margallas and sipping our tea in peace. Were they the best pakoras in the world? Unlikely. Did the view more than make up for it? Absolutely.
On our way home, replete with carbs and archery, I think about Allah Shah Ditta Caves and Sadhu's Retreat. There is a strange alchemy to it, a place where ancient history and spiritual isolation meets modern entertainment. And it works, in a very unique way. Why not? If some come for the caves and some for the zip lining, so be it.
Why should we limit or label a place, so that it attracts only a certain clientele? The purpose should be to attract others, to open their eyes to what else is here in our country. Whether you come to Shah Allah for meditation, for photo ops under the banyan trees, the zip lining over the gorge, the paint balling or the pakoras, it's entirely up to you. I will be back, whether it be for those glorious trees, for another chance at my archery dreams, or just to take a look at Islamabad in a slightly different way.