Sarajevo is a city that is rebuilding on its ruins. It's a city with a rich and vibrant Roman, Ottoman and Austro-Hungarian past. Twenty years after the Yugoslavian wars, Sarajevo is ready to move on.
Sarajevo is so beautiful it breaks your heart. One is at a loss for how or why it evokes this kind of feeling from those that travel to it. Or how to express it. Many before me have tried.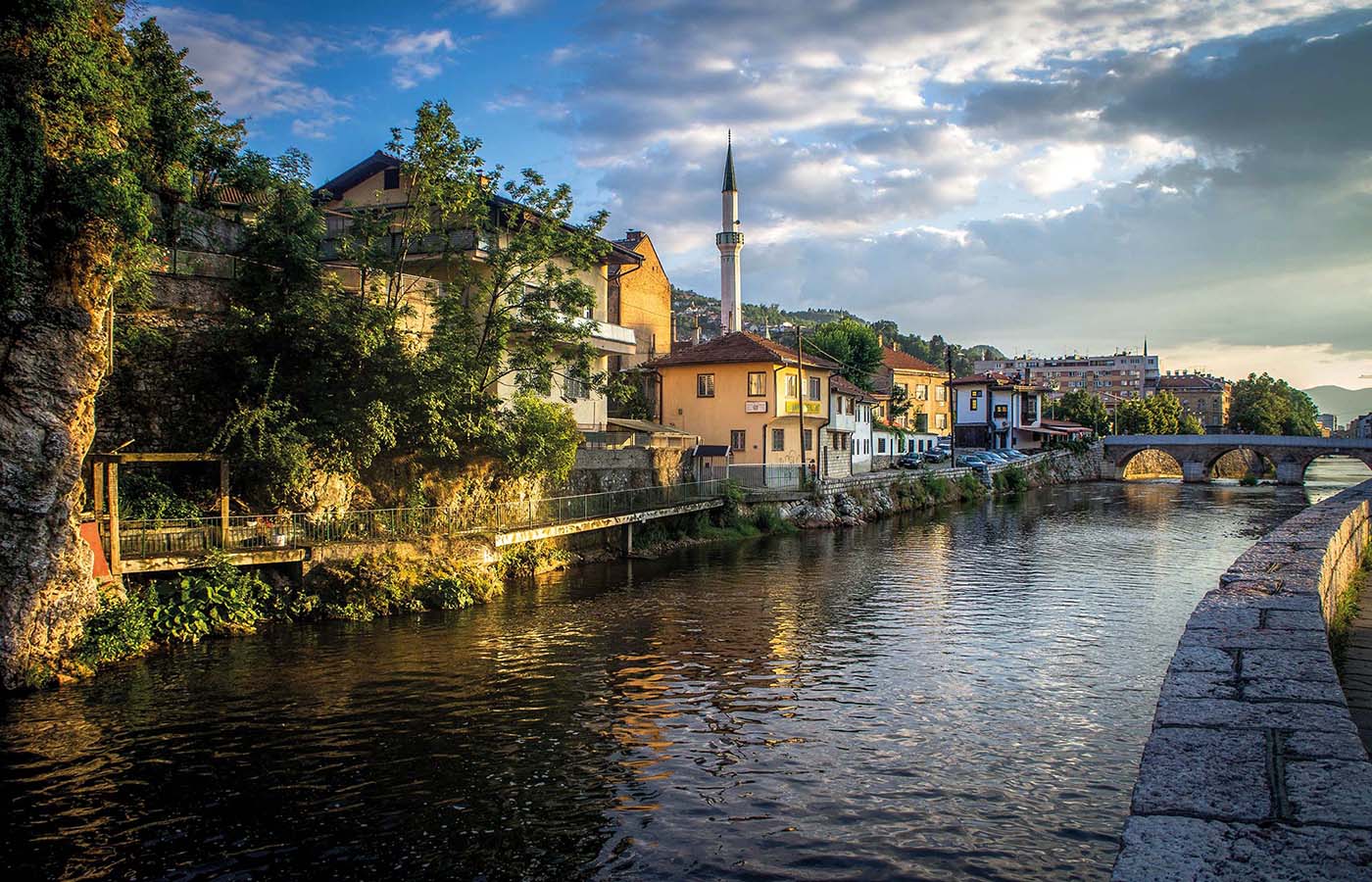 I travelled to Sarajevo, Bosnia and Herzegovina through Milan, Italy. We had stopovers in both Rome, Italy and Belgrade, Serbia – there was no direct flight and one doesn't know why. Sarajevo is a few hours' drive from Milan at most – the distances aren't that great in Europe.
From Belgrade, we boarded an ATR aircraft – the same plane we use when going to the Northern Areas in Pakistan via Islamabad. The Dinaric Alps is a mountain range that dominates from a part of Italy and extends over Slovenia, Croatia, Bosnia and Herzegovina, Serbia, Montenegro, Albania and finally Kosovo. The range was capped with snow around the time I flew over it in February. In between you could see houses and small towns, often circling water bodies. The view from either side of the plane is nothing short of stunning.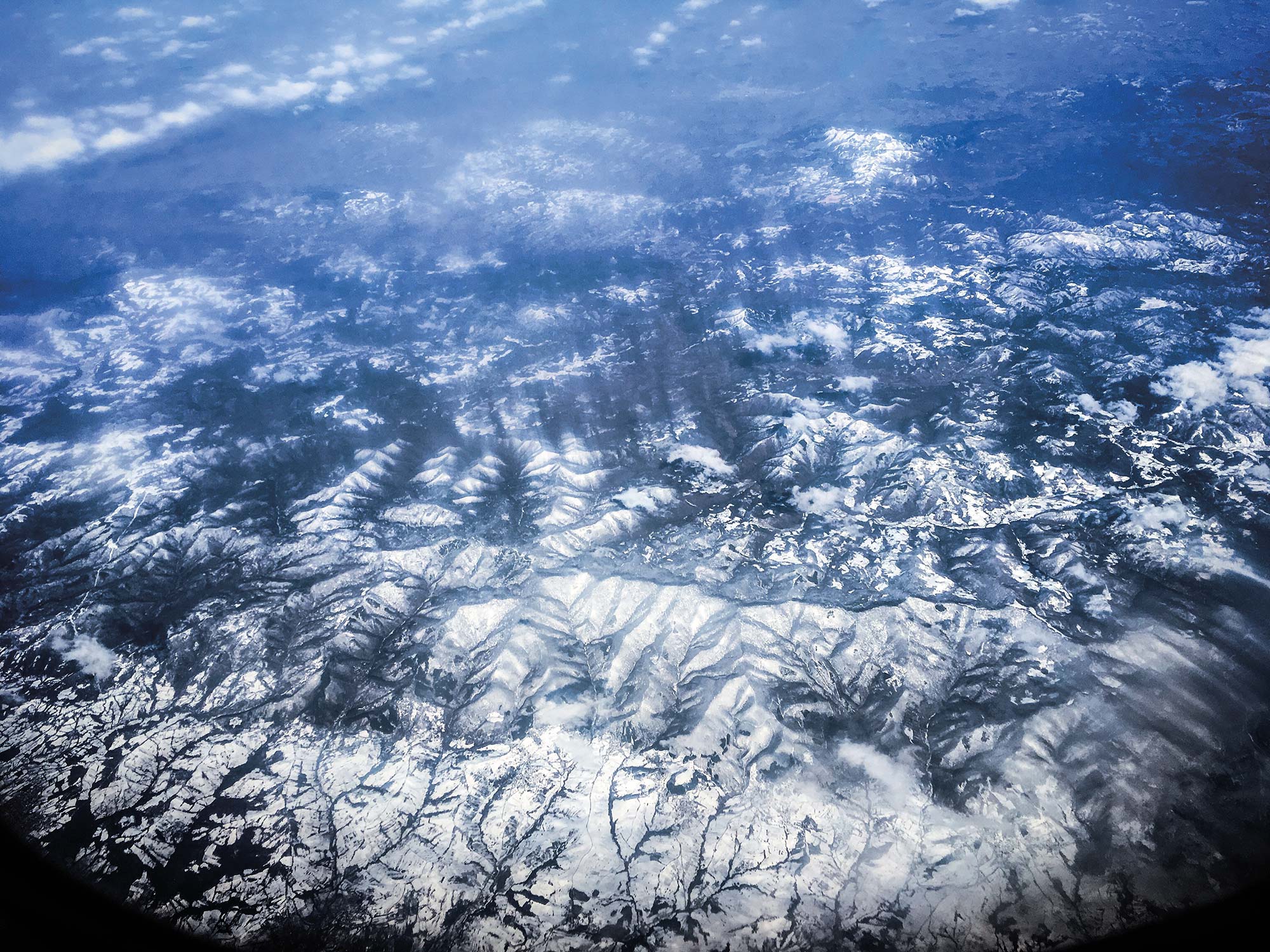 The plane ride is roughly about an hour long. Just as you are beginning your descent to Sarajevo, the Alps clear up and you can see a medium-sized city up ahead. On the outskirts I saw a white patch, which at first seemed like snow, but upon closer look I couldn't help but gasp in shock: it was a cemetery. So large that it took up the space of several neighbourhoods. It's a sobering sight and hints at the scale of the human tragedy that befell this beautiful valley in the '90s.
That's the one thing you'll notice about Sarajevo – the war is everywhere. Driving from the airport to our Air BnB close to the old city, we would see apartment buildings with blackened sections, holes simply patched over, pockmarked walls from the bullets and such. Our host, a young 20-something, was born in the last year of the war. She pointed to the hills from where the Serbian forces launched their assault on the city. It was only until last year that she finally managed to pick up the courage and walk up to the hills that haunted her – and a lot of the other residents. "People in Sarajevo don't really like talking about the war," she said, understandably so. Sarajevo is a city that is rebuilding on its ruins and trying to move on.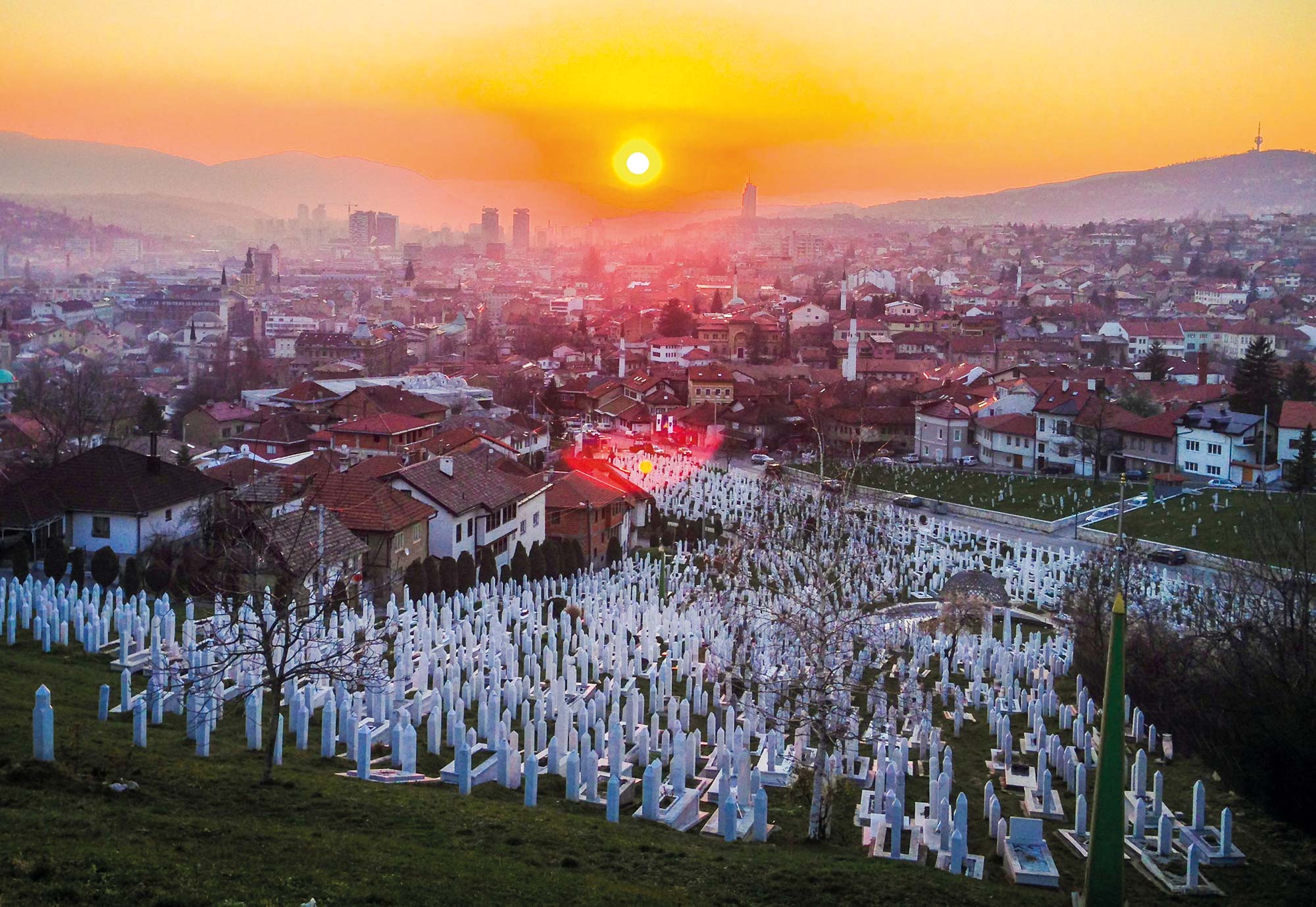 And that is where things start to look up. Sarajevo's old town, Bascarsilja, is where most travellers like to go – and also, most important of all, where you will find the best food. But we'll get to that in a bit.
Hold your hearts and control yourselves ladies, the men of Bosnia are ridiculously handsome. What's more, they're all hot and halal! So are the women. It's a bit too much at times. It's also interesting to be in a predominantly Muslim country in Europe – there are mosques everywhere, women and girls in hijabs (veil), the call to prayer and other elements. But most of the people you see are very… for lack of a better word, white. In most of the mosques, there are two porch-like platforms on either side of the entrance. One of them is for the men to pray on and the other for women. They both do so quite openly, without the women's section shrouded in any kind of purdah (seclusion). To be honest, no one seems to care really.
One of the most important sites to visit is the Gazi Husrev-bey Mosque in the middle of Bascarsilja. It's the largest Ottoman mosque in Bosnia. Next to it is a madrassa – built almost exactly like a traditional nunnery – where you can watch a small video tutorial on the mosque and its founder, the Beg himself. He was a governor of Sarajevo, born in the city to a mother who was an Ottoman princess. Built in 1532 AD the mosque was the first in the world to get electricity in 1898 under the Austro-Hungarian Empire.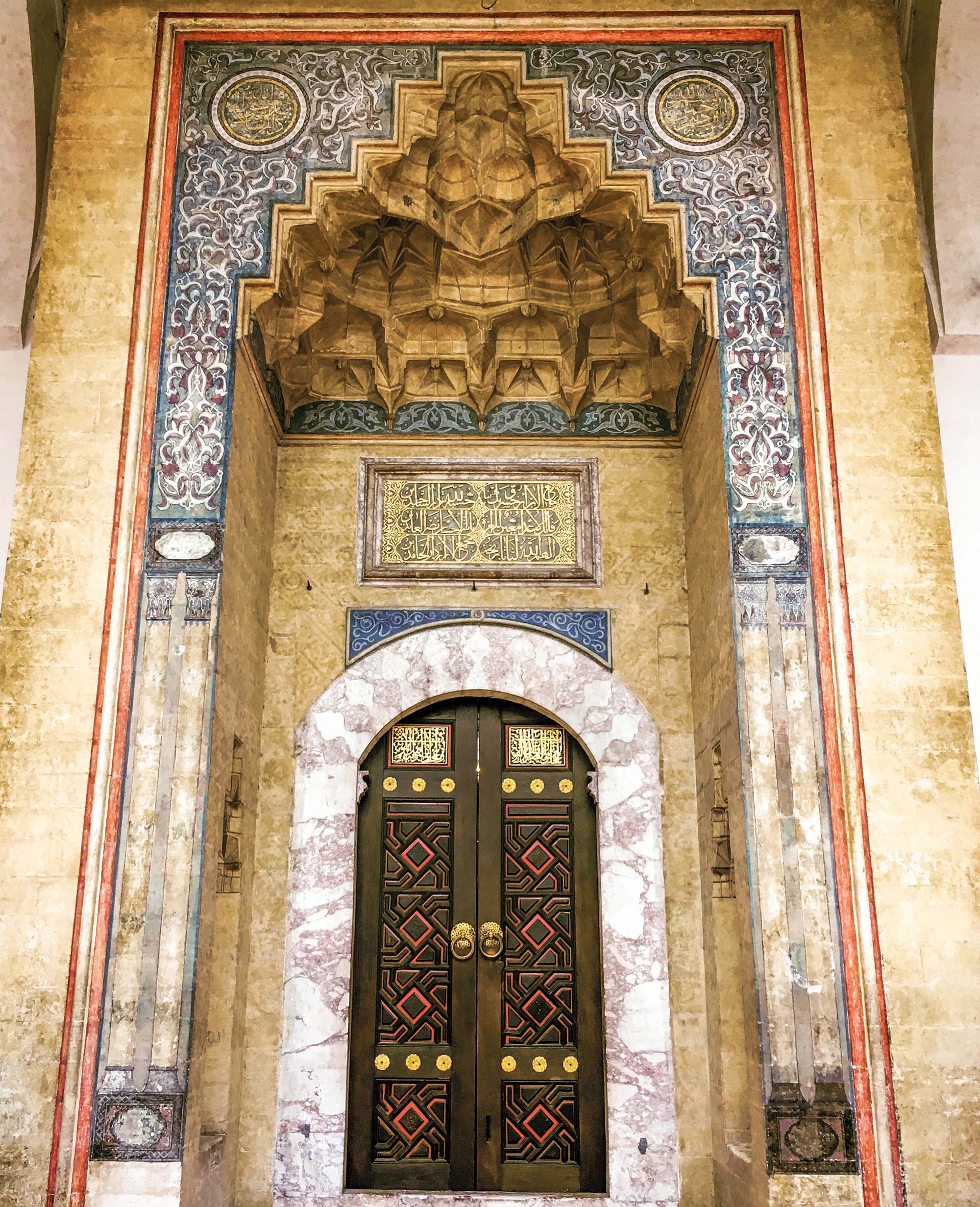 The mosque is quite simple, and nearly not as beautiful as those in Turkey or elsewhere. But what was interesting was the use of technology to display prayer timings and the high-tech equipment used to broadcast the sermons and call to prayer. Often, local Bosnian tourists can also be spotted at the mosque taking selfies.
There is a great Ottoman influence in the region and it's all the more evident in the architecture, culture and especially the food. Much like the biryani (rich cooked in hot spices) and chicken roll of Karachi or the nihari (beef stew cooked in hot spices and bone marrow) and paey (buffalo trotters) of Lahore, Sarajevo is famous for the ćevapi or ćevapčići.
The ćevapi is a meal fit for a king and a pauper and everyone in between. Almost like Bosnian fast food, the tandoor in the restaurant is kept warm, from where thick fresh naan is doled out every few minutes. That in turn is stuffed with Bosnian kebabs – a mouth-watering mix of minced beef and veal. It's non-spicy and cooked in fat making it quite soft and juicy. There is a big dollop of fresh cream, the kind that first forms when making cheese, inside the naan as well. The plate is garnished with onions. The combination is delicious and incredibly filling.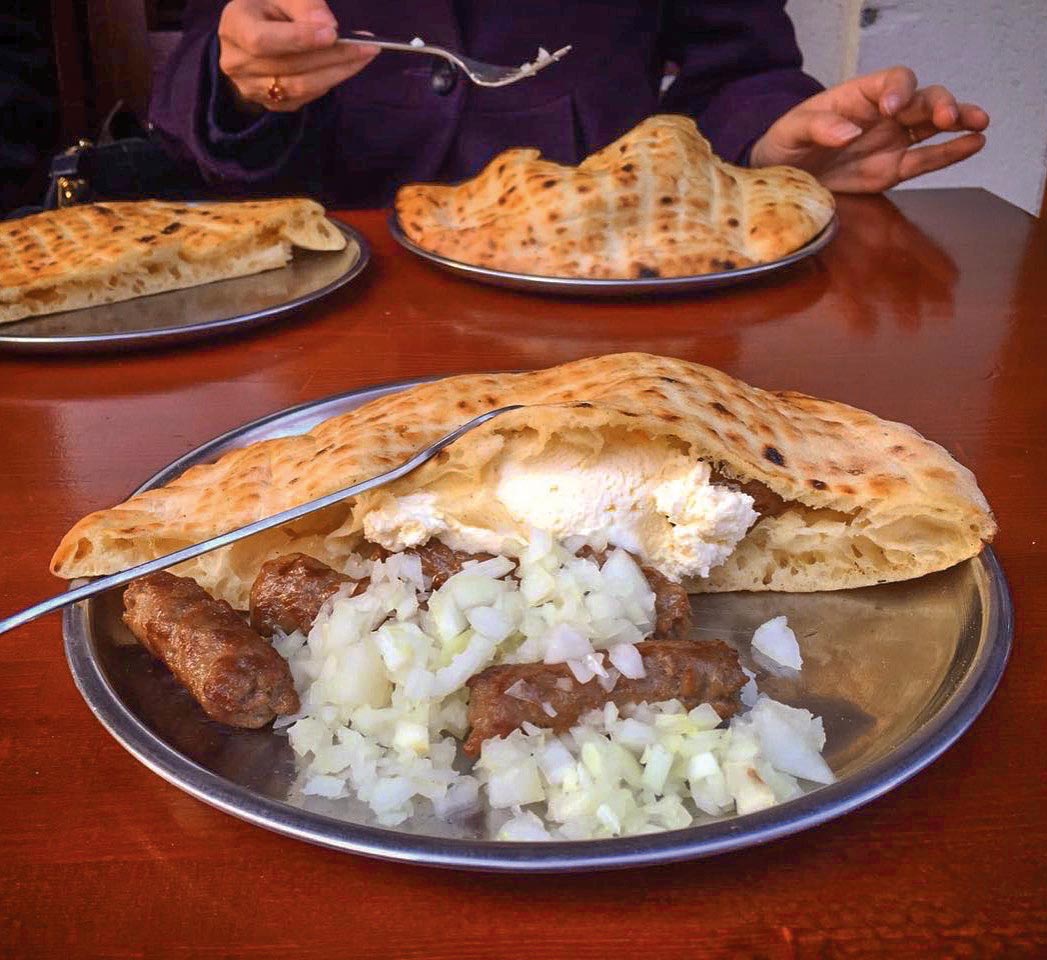 My friends and I pretty much had ćevapi for breakfast and lunch during our stay in Sarajevo. Other Balkan states will offer ćevapi in their menus but mark my words, it's nothing like the original in Sarajevo.
One other restaurant you must absolutely visit is Dveri and have their house bread, wine and steak. The bread is incredibly soft and flavourful. The steak of minced beef and veal, stuffed with their local cheese, is to die for. And according to wine aficionados, their house wine is pretty good to have as well, albeit a bit expensive – 4 euro for half a liter. It's operated by a family – the host is a towering man in an apron. The cooks are two women relatives who work out of a tiny kitchen to prepare your meal to perfection. Be warned: if going during peak dinner-time during tourist season, be sure to make a reservation. Dveri is in demand.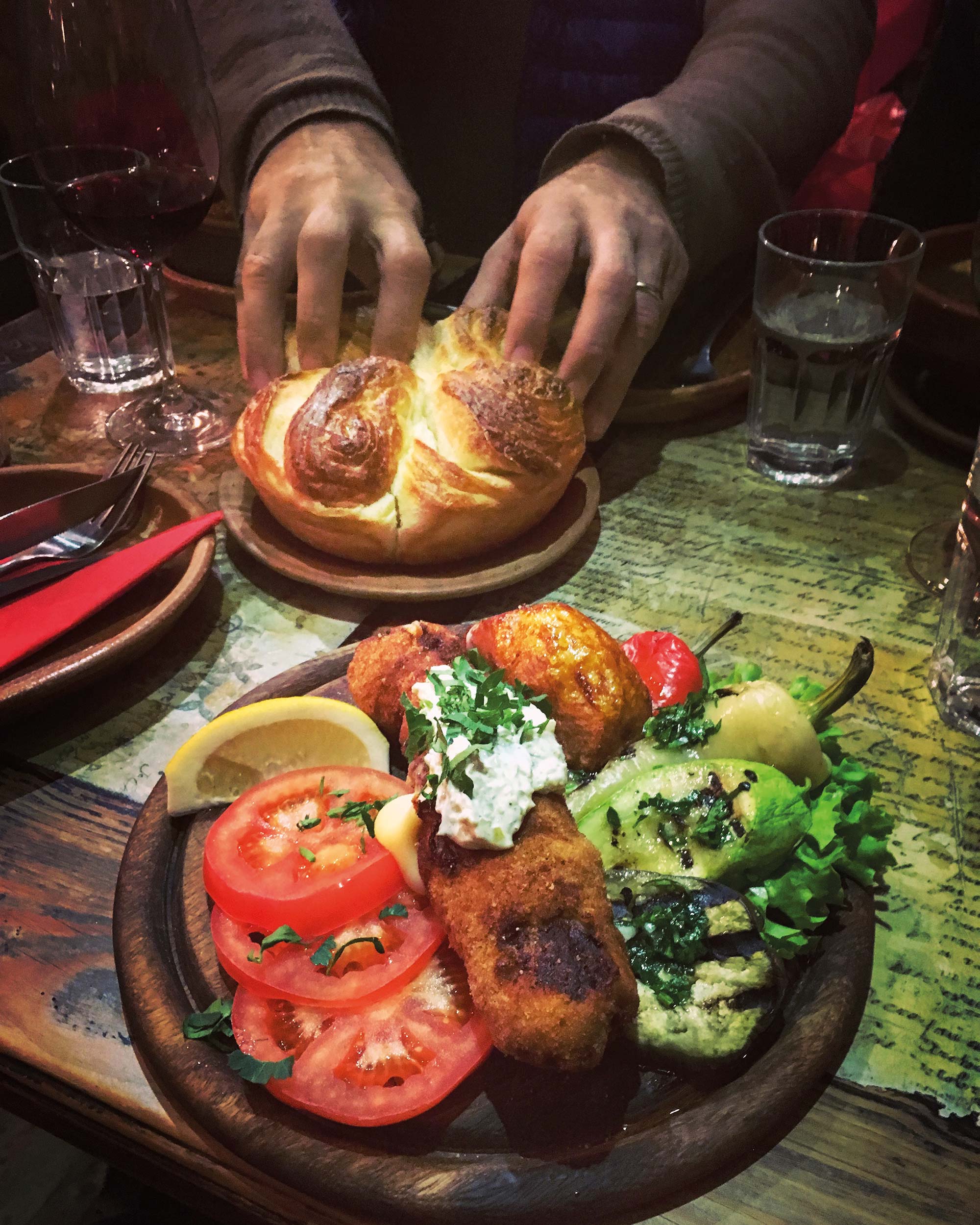 Sarajevo was the first European country in the world to get an electronic tram. They haven't updated that since then. The same trams are in use, and although shabby on the outside, they seem to be functioning quite well. There's something about the city, despite its renewal, that gives the impression that it is a place stuck in time – the 1990s. A lot of the buildings, construction and even the music played in most cafes and restaurants is somewhat reflective of that.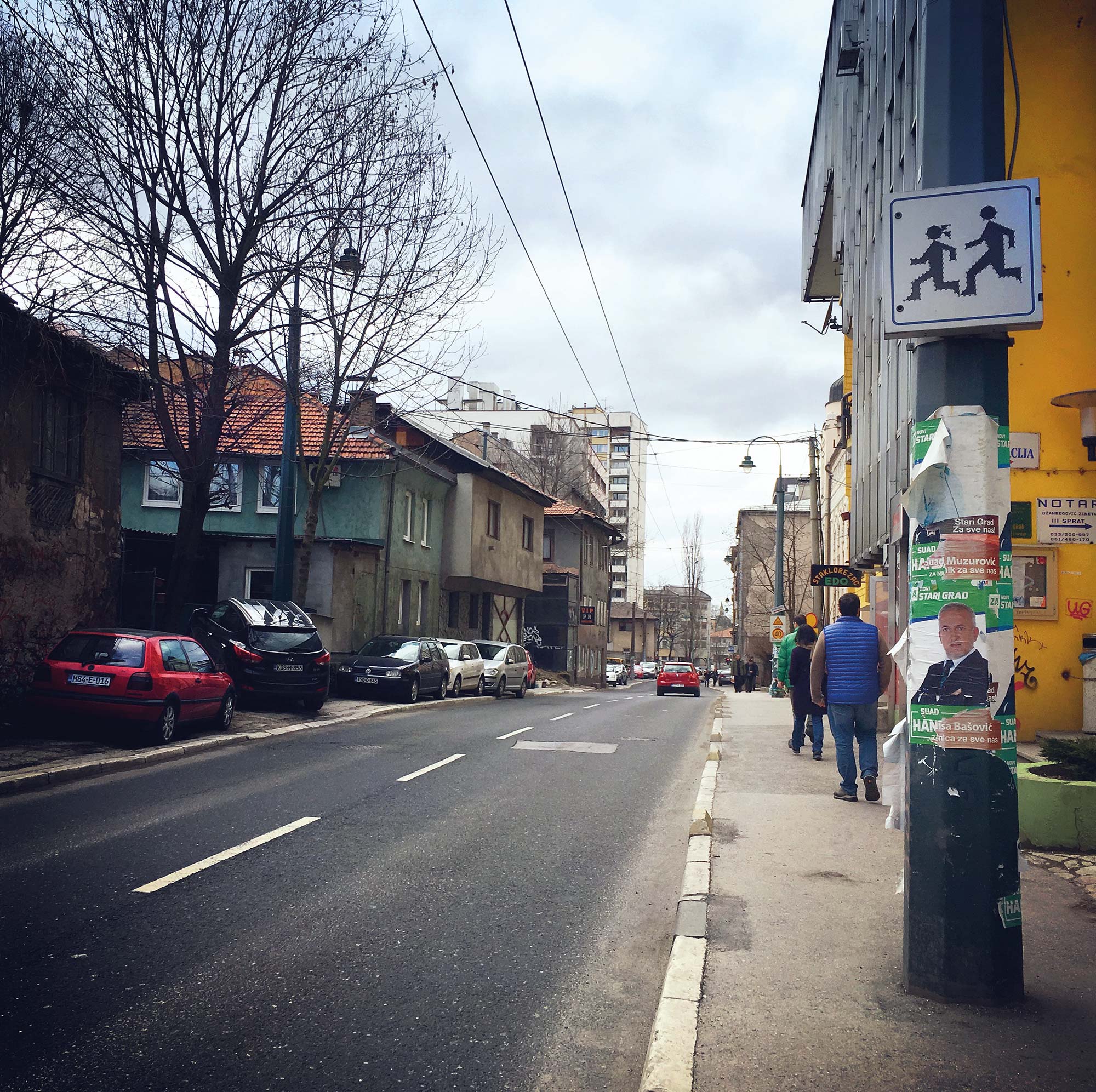 One of the more obvious places to visit in Sarajevo would be the spot where Archduke Franz Ferdinand of Austria (presumptive heir to the Astro-Hungarian empire) was shot, along with his wife Sophie, by Gavrilo Princip. It was an assassination that is widely believed to have sparked World War I. It's just a spot and something you'll cover in a short walk.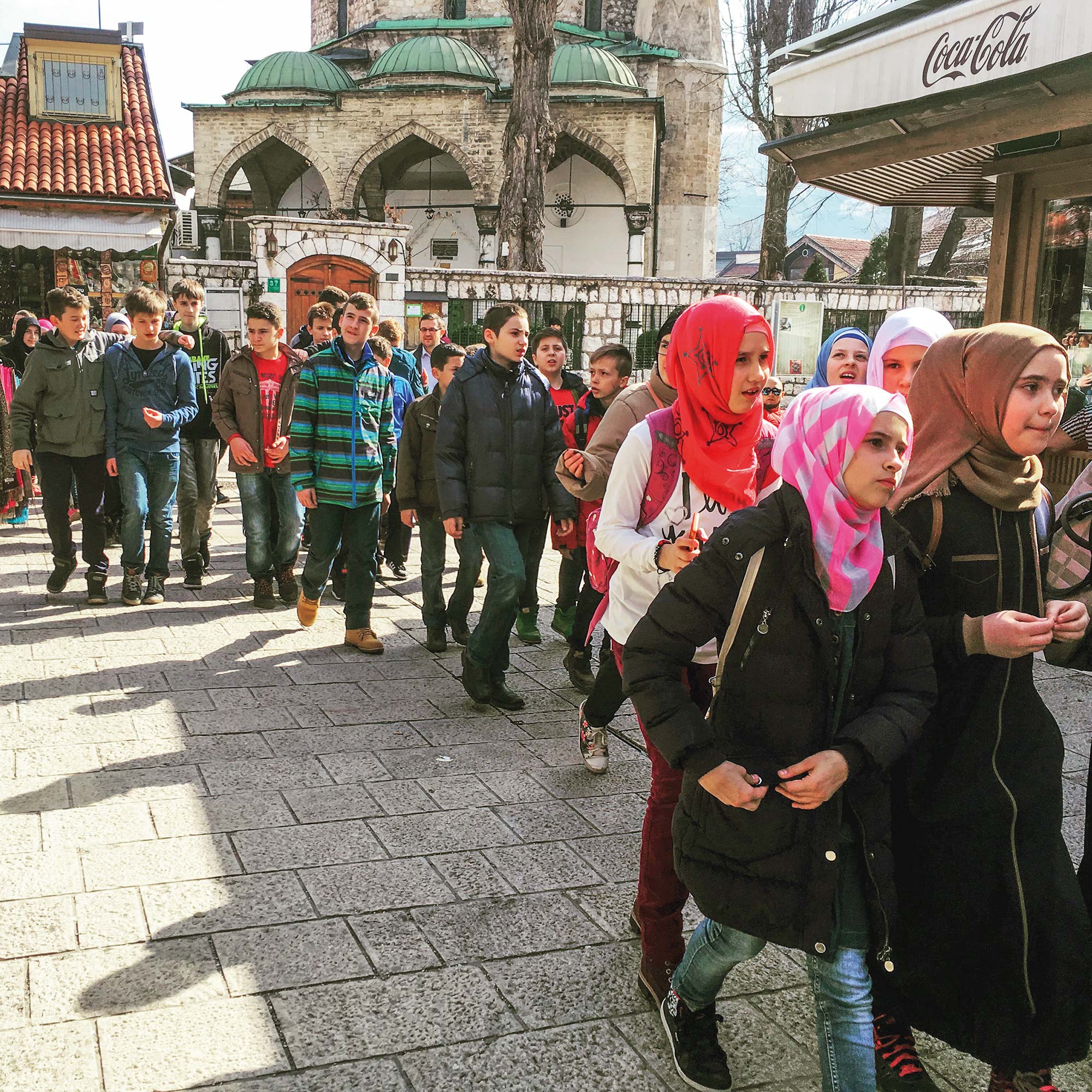 How do you leave Sarajevo without seeing the city through its very popular viewpoint? It takes about 20 minutes to huff and puff your way up there. Along the way you pass the Martyr's graveyard – a sprawling cemetery which contains the graves of soldiers from the Bosnian army as well as some from the Ottoman period.
The walk is worth it. Also known as Kamarija, the viewpoint gives you a perfect panoramic view of Sarajevo. It's worth visiting right before sunset to watch the twinkling lights of Sarajevo come to life. By the time it's night, it seems as if the stars have descended into the valley. There is a café nearby for those hoping for a quick cup of coffee, water or most importantly, a much-needed bathroom break. The point is popular with couples but even if you are single you can get lost in the sheer beauty that is Sarajevo – a city often split between the East and the West, a city that has survived much through the ages and a city that emerges from every conflict like a phoenix rising from the flames. Needless to say, Sarajevo stole my heart.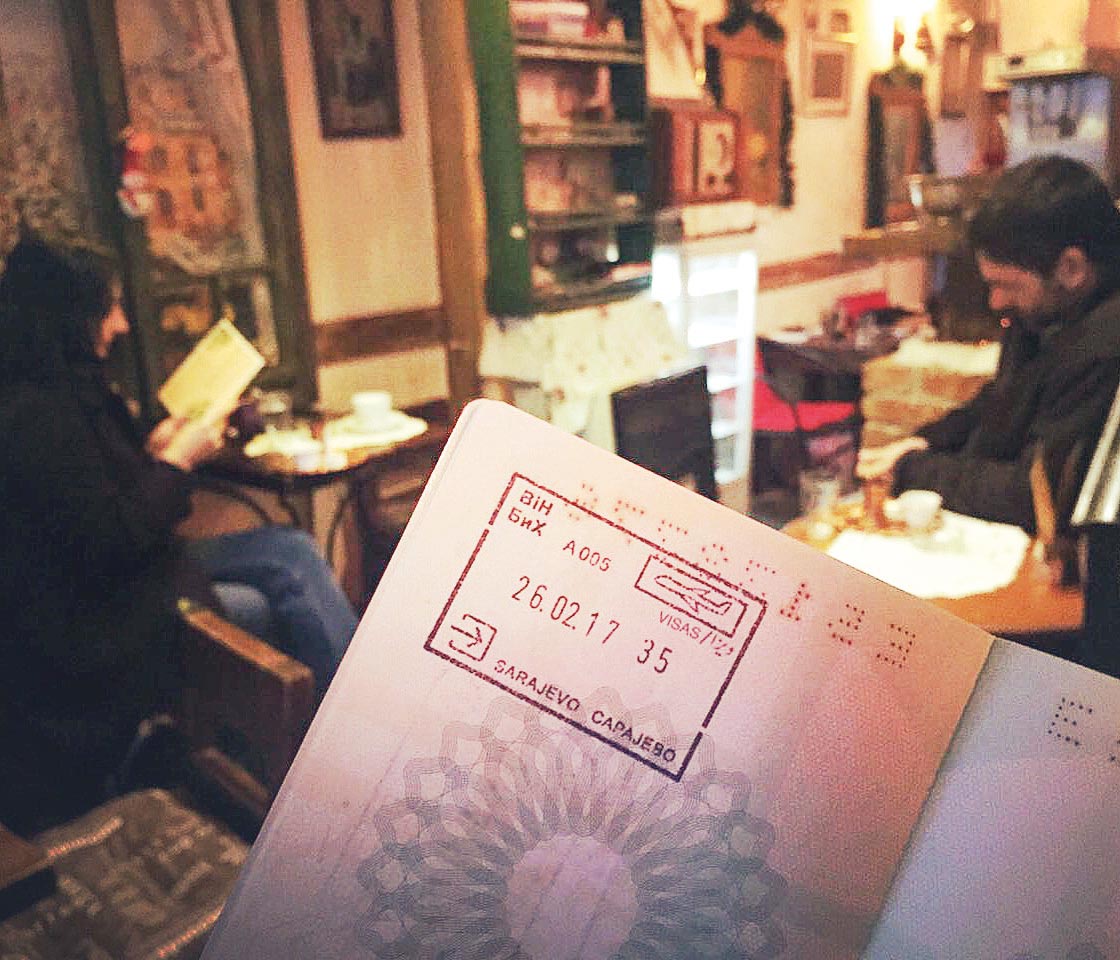 Balkans Travel Tips
Although it isn't in the Schengen zone, you can travel through the Balkan states with a multiple-entry Schengen visa.
You need to have entered the Balkan region from a Schengen country.
Instead of US dollars, it's better to carry Euros to exchange. If you don't have the local currency, businesses will accept Euros instead.
The best times to travel are between April and September. I would personally spring or autumn. Winters in the Balkans are harsh and the summers are extremely hot.
Once inside the Balkan region, you can easily travel via bus to a variety of . These countries are small. Often the only distance separating one  major city of one country from the next is 50km. Yes.