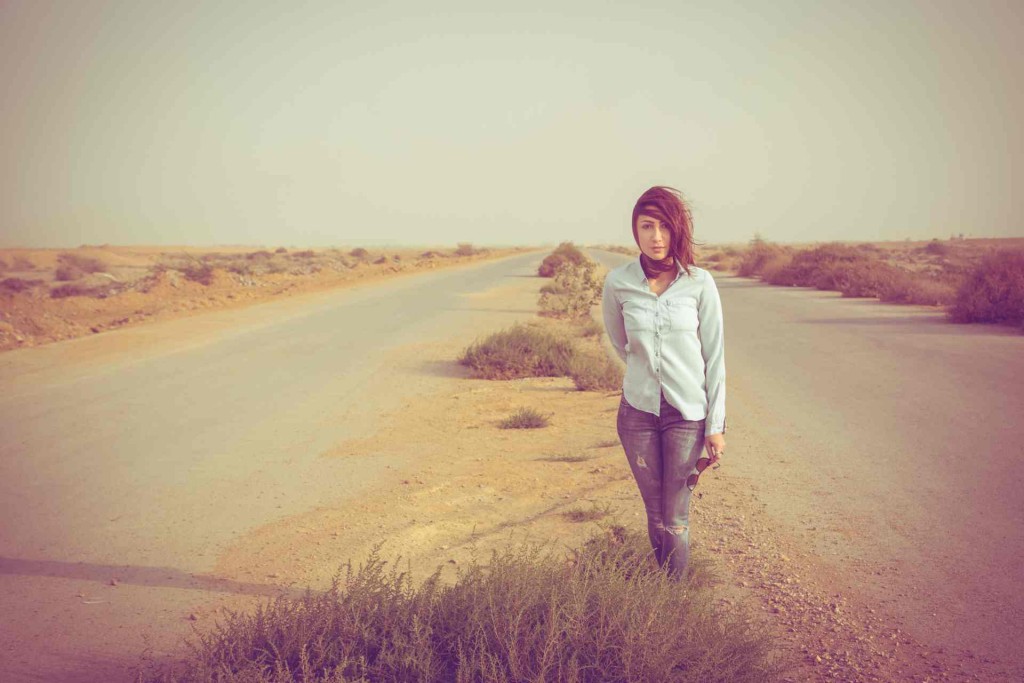 Super celebrity Anoushey Ashraf recently returned from an unforgettable trip across the Durand Line where she explored a land less travelled and experienced a country far more welcoming than she had originally imagined.
The trip to Afghanistan, with all its excitement and its wonders, inculcated in her a spirit of wanderlust and the love for being footloose and out and about.
Back in her hometown, Karachi, a city of 20 million people, our favourite adventurer loves to wander off on the road to nowhere and manages to find spaces that she can call her own.
On her wonderful journey of self discovery:
"It's true when they say that we should follow our heart and the universe will automatically open doors for us. It all started when I turned 30; I felt I was getting old and I needed a 'calling'. One evening, in pursuit of finding the ultimate passion, I spent ample time making a list of things that I loved doing most in life. By the end of this exercise, I realized a couple of things. Firstly, I would always be the person wanting to learn something new every day and that there was nothing wrong with it. Secondly, my fondness for animals, my work and most importantly my love for travel surpassed all.
Following this self-realization, I have been trying to establish myself as a 'Wandering Pakistani'. Soon after, I was approached by Integrated Media (a production house) looking for my skills to co-host an informative, brilliantly produced, high budget travel show. Our first season, on air these days, was shot not only in Pakistan but also Afghanistan.
Most people would have been apprehensive about travelling out to a country known little for anything other than war; however, my wanderlust got the better of me."
First stop Kabul
Afghanistan's capital city and also its largest.   Legendarily founded by Cain and Abel, it dates back more than 2,500 years ago. Due to its strategic location along trade routes between South and Central Asia, it has been fought over, conquered and ruled by the region's greatest and mightiest Empires and religions.
The city has seen many hard battles throughout its long story but the incredible resilience of its people has always managed to keep intact its spirit of survival.
While in Kabul…
Kabul Airport is relatively small and a rather worn-out establishment. Outside, moneychangers casually hang out on makeshift stalls dealing with the currencies of the world as if there were selling samosas in Saddar on a regular day. It was all very funny until I was told that it was 1.68 Pakistani rupees to an Afghani and that their 'money' was substantially stronger than ours. Ouch! How embarrassing!
From what I could see of the city during the car ride to our guesthouse, I could tell it was similar to the city of Peshawar. Crowded, dusty, cold but alive.
Our call time for the shoot next day was 6 am. Our first stop was the Kabul National Stadium where girls from the Afghanistan National Women's Cycling Team were preparing for an upcoming race. I was already amazed at the amount of women I'd seen early in the morning, dressed in jeans, boots, jackets and scarves taking public transport or walking across to their places of work. I somehow hadn't expected this sort of freedom in Kabul.
On the Vibe of the City:
"I spent the day cycling on the outskirts of Kabul with those fantastic women. How exhilarating it was cycling for three straight hours in the cold.
The capital is full of life during the day. One has to shop at the famous Shahr-e-Nau where you can find some awesome leather goods; local hand-knotted carpets, perfumes, beautiful Afghan jewelry as well as goods from China and Pakistan and bargain to your hearts' will."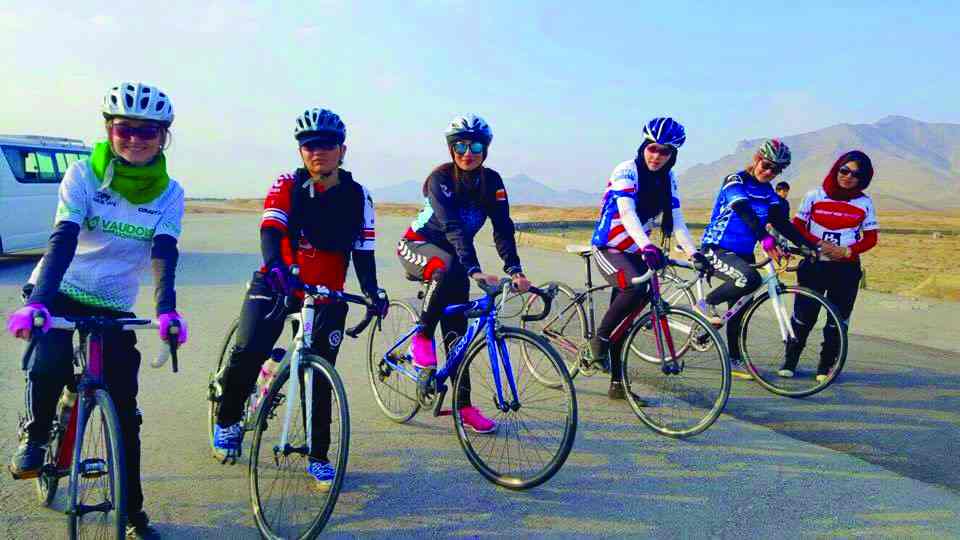 Food and Drink in Kabul:
"There is also some amazing food that is to be tasted here. The more local you go, the better the food. Their produce is rather fresh even though a tad bit heavy for me. Fat, meat, oil, rice and moti rotis with everything – not very healthy, but OH SO YUMMY! I was on vacation, and you will be too if and when you go, so make you leave your "I only have soup and avocado for lunch" self behind.  Try Ehsan Burger for a burger like no other – pita wrapped with meat, sausages, mayo, fries, cucumbers etc. Fattening but amazing! There are juice joints everywhere that are cleaner than most restaurants I've seen.
There were a few fancy restaurants too and we did eat some awesome food at one but the security checks to get into restaurants where the 'elite' hang out was just too much for me."
Kabul Women Breaking Stereotypes:
"The women's team surprised me even further. Riding bikes, living their dream of winning medals, dieting, taking selfies for Facebook, discussing makeup and the latest international trends, they were like any other group of women from across the world. What had made me think otherwise? Why was the blue burka omnipresent in our subconscious when it comes to women in Afghanistan? Not all women wore it. This is the importance of travel. It gives you an amazing understanding of the world around you. It helps you open your eyes, become aware."
A Center of Art & Culture Herat
An outpost of the Achaemenid Empire some 2,500 years ago, Herat was later defined as one of the greatest centres of medieval Islamic culture and learning. Emperor Shahrukh, second ruler of the Timurid dynasty, packed his court with scholars, poets and artists. Jami composed his greatest poems here and it was in this city that Bihzad created his refined works of miniature art that would go on to influence Indian art. The Emperor's wife, the dynamic visionary, Gowhar Shad, commissioned many fine buildings in Herat.
Once known as the "Pearl of Khorasan", it was later dubbed the "Gateway To India" and even today its pre-dominantly Persian-speaking population remains sophisticated, cultured and well educated.
Local Customs in Herat:
"Our second stop in Afghanistan was the beautiful city of Herat. I found it to be very tourist-friendly with lots to do and see. It may be hard to explain, but even though the law of the country doesn't require women to cover their head, in this town it's more of an 'understood' thing and my producer very sweetly asked me to do so. Once this issue was out of the way, my experience was amazing.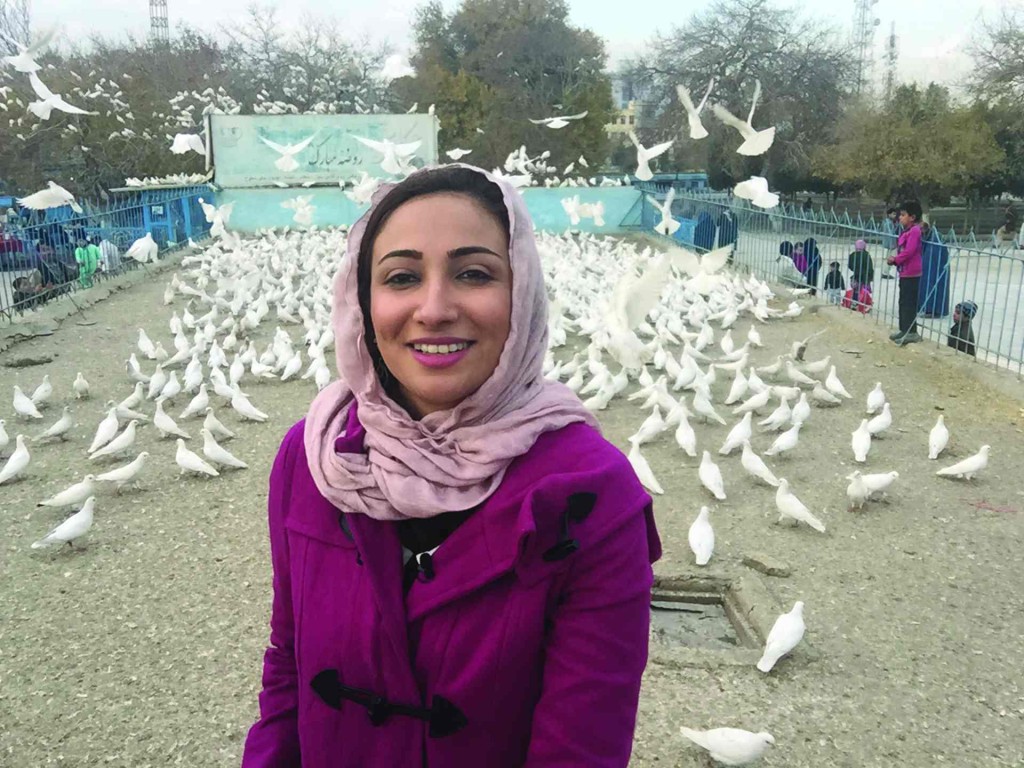 The city is nothing like Kabul. It's more like a small green town in Punjab. The people are good-looking and I was invited to more than a couple of mausiqi evenings, much to my delight.
The people here proudly hold on to traditions and even though the city has been fought over repeatedly, it has miraculously retained its historical significance and its reputation as a place of culture."
Cityscape:
"Considering the losses the city has suffered due to continuous conflicts, it's fortunate that many Islamic monuments have managed to survive, with quite a few of them getting restored. I was lucky enough to visit the Herat Glass Market where once can find some beautiful handmade blown glass that Herat is known for the world over. The Citadel is also a must visit.
One thing we all noticed was how clean the streets of Herat were. No overflowing, smelly, offensive garbage dumps. No political or religious wall markings in the city either. Remarkable. Never underestimate smaller countries. I felt safe here as well. Having to cover up can come across as very restricting to many, but after much thought and understanding, I realized that if one decides to accept the culture of a place instead of complaining about it, you'll have a relatively easy time."
How to Book a Trip to Afghanistan
"The embassy of Afghanistan is in Clifton, Karachi. If you are interested, go online and find out their operation timings, get forms, speak to the officer and get your visa issued in three working days. It's a rather simple process, contrary to what I had thought. Flying options from Pakistan to Kabul are only through Islamabad. I flew PIA but later discovered Safi Airline from Afghanistan is also a comfortable and convenient carrier.
Even though Afghanistan seems a world and a half away, the flight from Islamabad on an ATR is 55 minutes only, perhaps quicker on bigger planes."
Final Destination Mazar-e-Sharif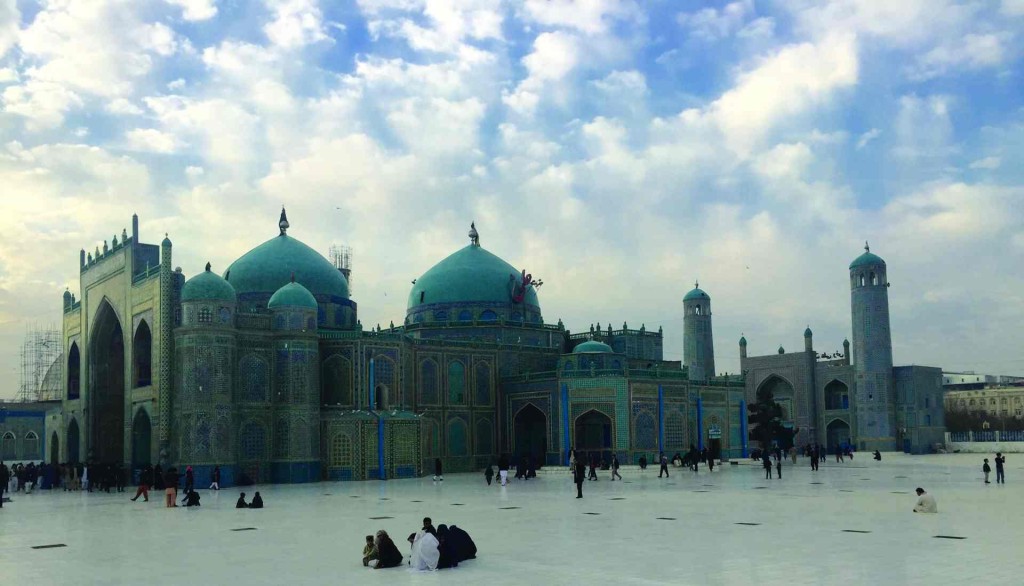 Meaning "Noble Shrine", the name of the third largest city of Afghanistan is a reference to the blue-tiled monument with twin azure domes known as the Shrine of Hazrat Ali, cousin and son-in-law of Prophet Muhammad (SAW).
A historic city in its own right, it is also believed that the famous Sufi poet and philosopher Jalal al-Din Rumi was also born in the greater region of Mazar-e-Sharif.
"A couple of days later, we flew to our last destination for our travel show, the city of Mazar-e-Sharif. There is absolutely no doubt about the fact that Mazar has international recognition because this is where the famous shrine of Imam Ali (A.S) is. Many people believe that Hazrat Ali (A.S) is actually buried here. Of course, there is a conflict on the authenticity of this fact and many have been fighting over it for decades. However, in my eyes, these are the stories that make the history of the world so fascinating. Whatever the argument is, one imam at the shrine explained it best to me. The light of Allah is everywhere, wherever you look for it, he said. For those who believe this is the shrine of one of the greatest men that ever lived, let them think so, for there is no harm in that.
The shrine itself was breathtaking. Words fail me, but my pictures might do some justice. A little before Magreb prayers, the hundreds of white pigeons that reside there make for the perfect backdrop. I relive those moments at the shrine ever so often. Prayers for Pakistan were made and many emotions were felt during the time we spent recording in the premises. Mazar is perhaps the biggest Shi-ite city of the country with a population of little over 600k consisting of a mix of ethnic Hazara, Pashtun, Tajik, Turkmen and Uzbek.  A fun fact: it was also the first city to fall to the U.S.-backed Northern Alliance after the Taliban took over Afghanistan. We spent a day here and there wasn't much else to do, but a special shout out to the people of this city for being so big hearted and hospitable."
"As I bid Afghanistan farewell, I felt emotional and heavy inside. My heart hurts for the people of that country. It saddens me to see what years of warfare has reduced them to and how desperately they want to come out of it all. Yes, it isn't entirely safe or properly developed and there were days I wanted to pull my hair out because there wasn't one damn thing to do past 4 pm when the sun went down. I also wouldn't recommend you pack your bags and book your next holiday here. But, with a little effort, a big heart and certainly the 'right' connections, it's most certainly worth the visit.
Today, I feel worldlier and more mature and have returned to Pakistan with a far better sense of this beautiful world around me. To the people of Afghanistan, a big thank you for being the best hosts in the world and letting me explore your world far beyond the well-marketed burkas and beards."