Photography: Natasha Zubair
Fashion designer, cultural enthusiast, kathak performer, yogi, artist, and a collector of objet d'art, he is all this and more. A spiritualist, a humanist, a thinker, a quiet but compelling force of nature, Rehan Bashir is a traditionalist and truly a renaissance man in the age of fast moving fashion, fast food and fast moving consumer goods. Here, for the first time, in an exclusive, deeply personal interview, Bashir explores the themes that inspire him, shape his creativity and define his outlook on life.
Grooming: N-Gents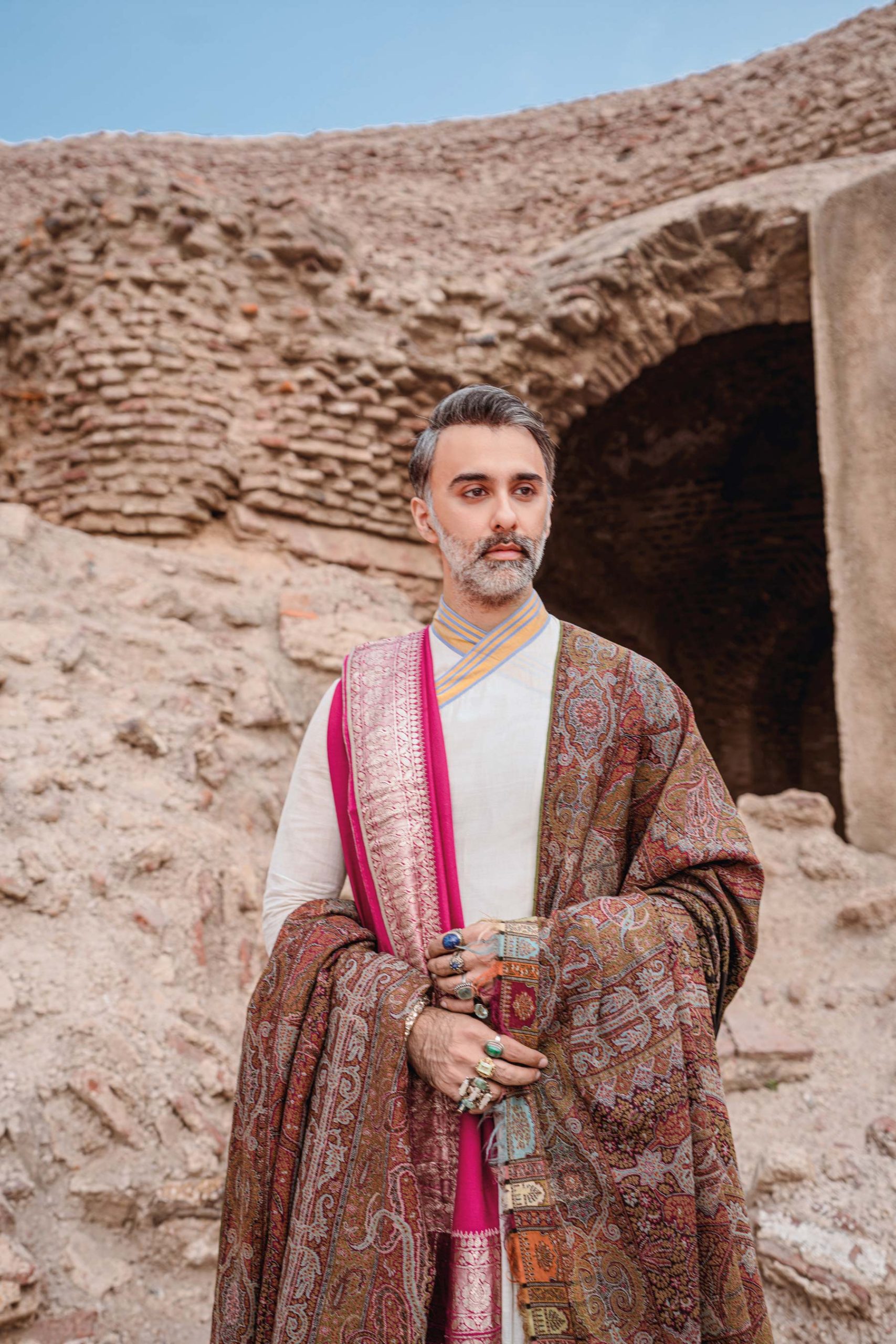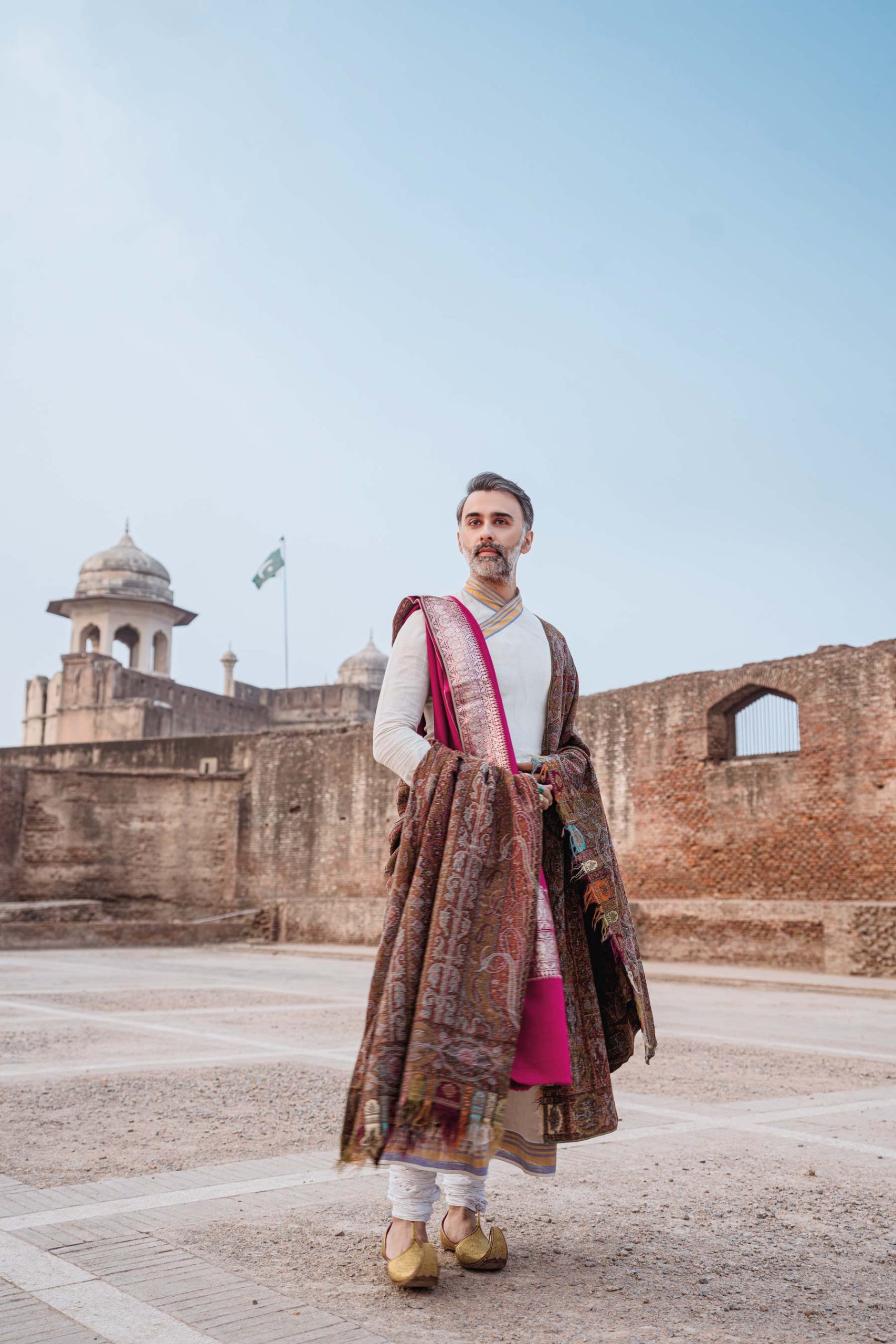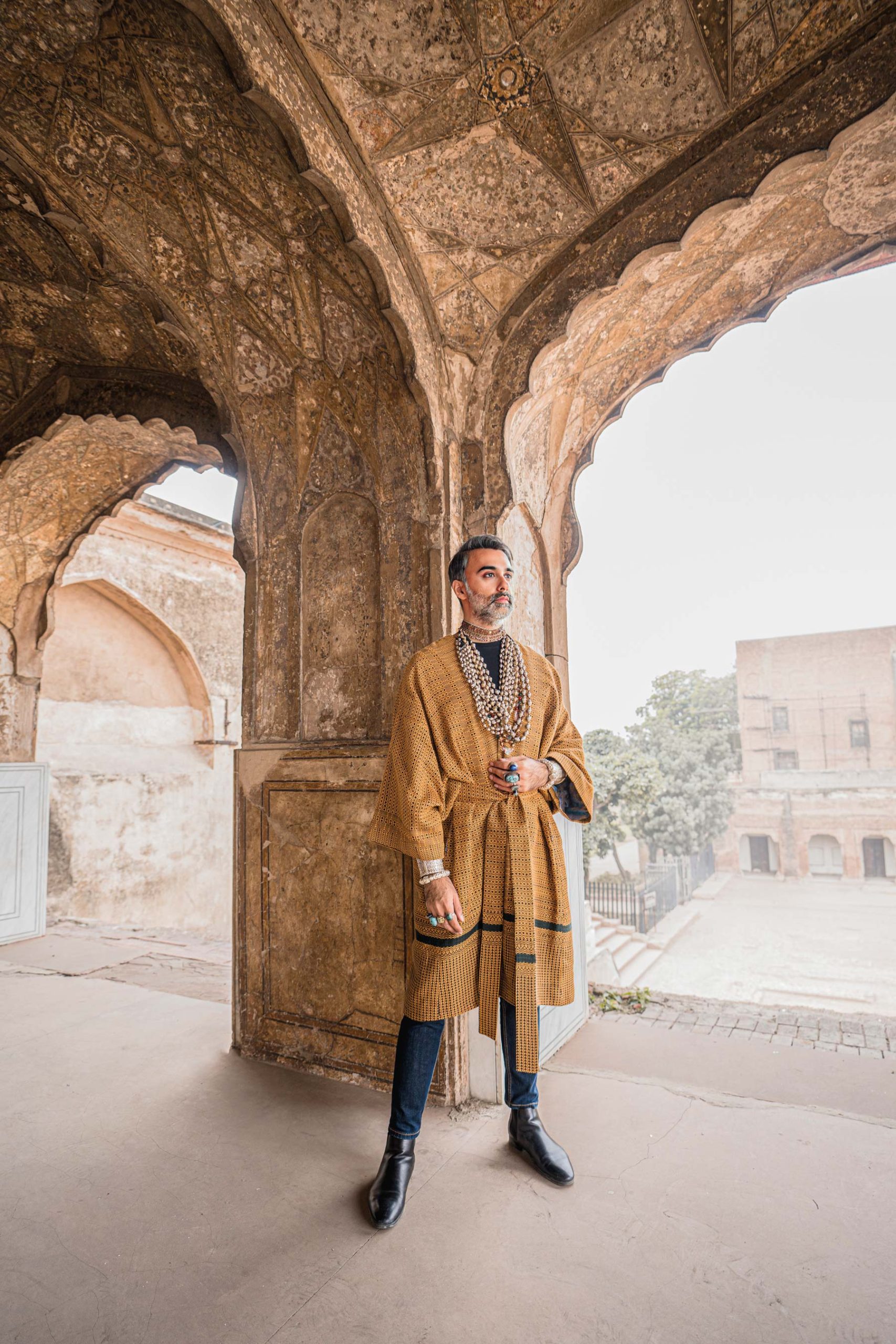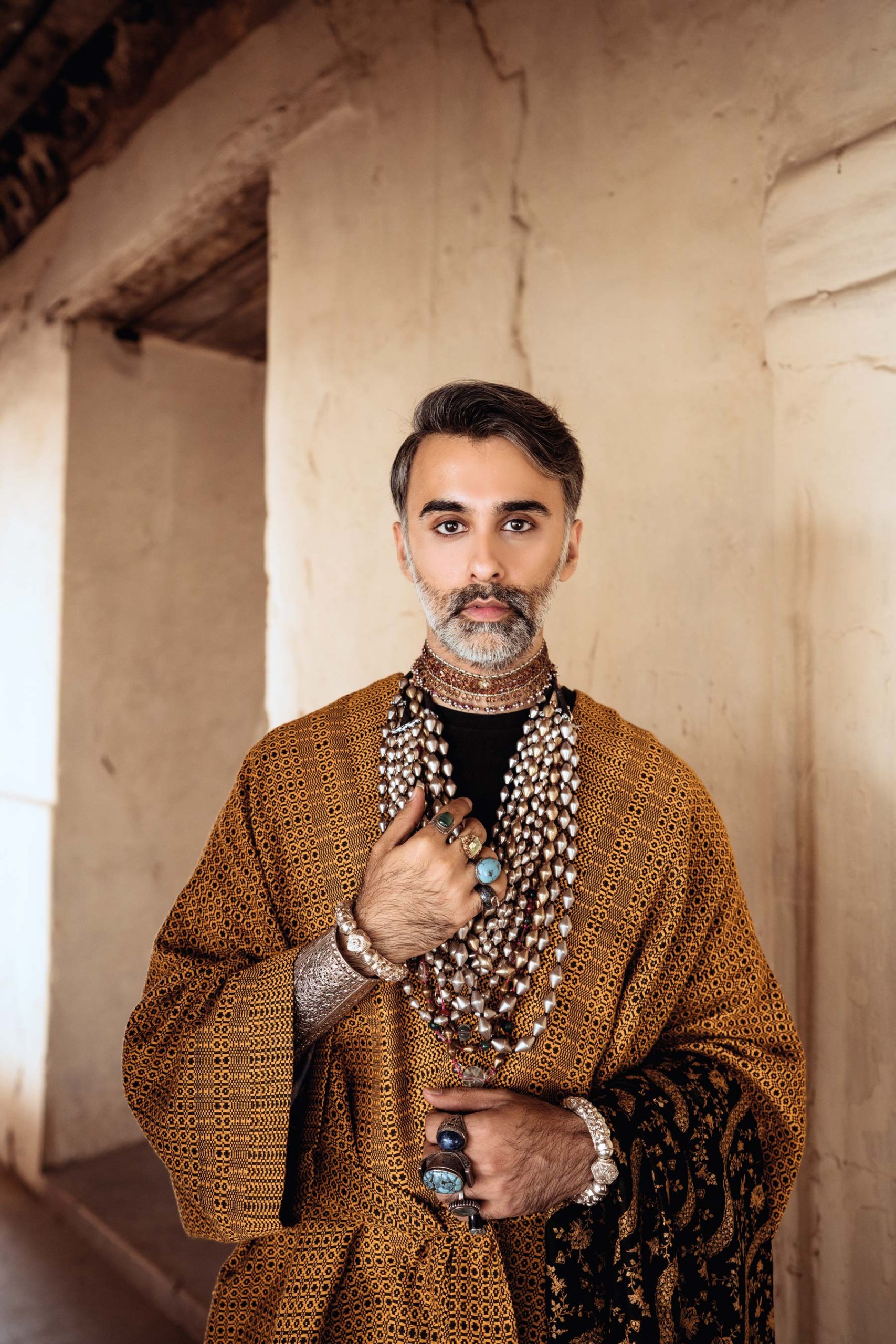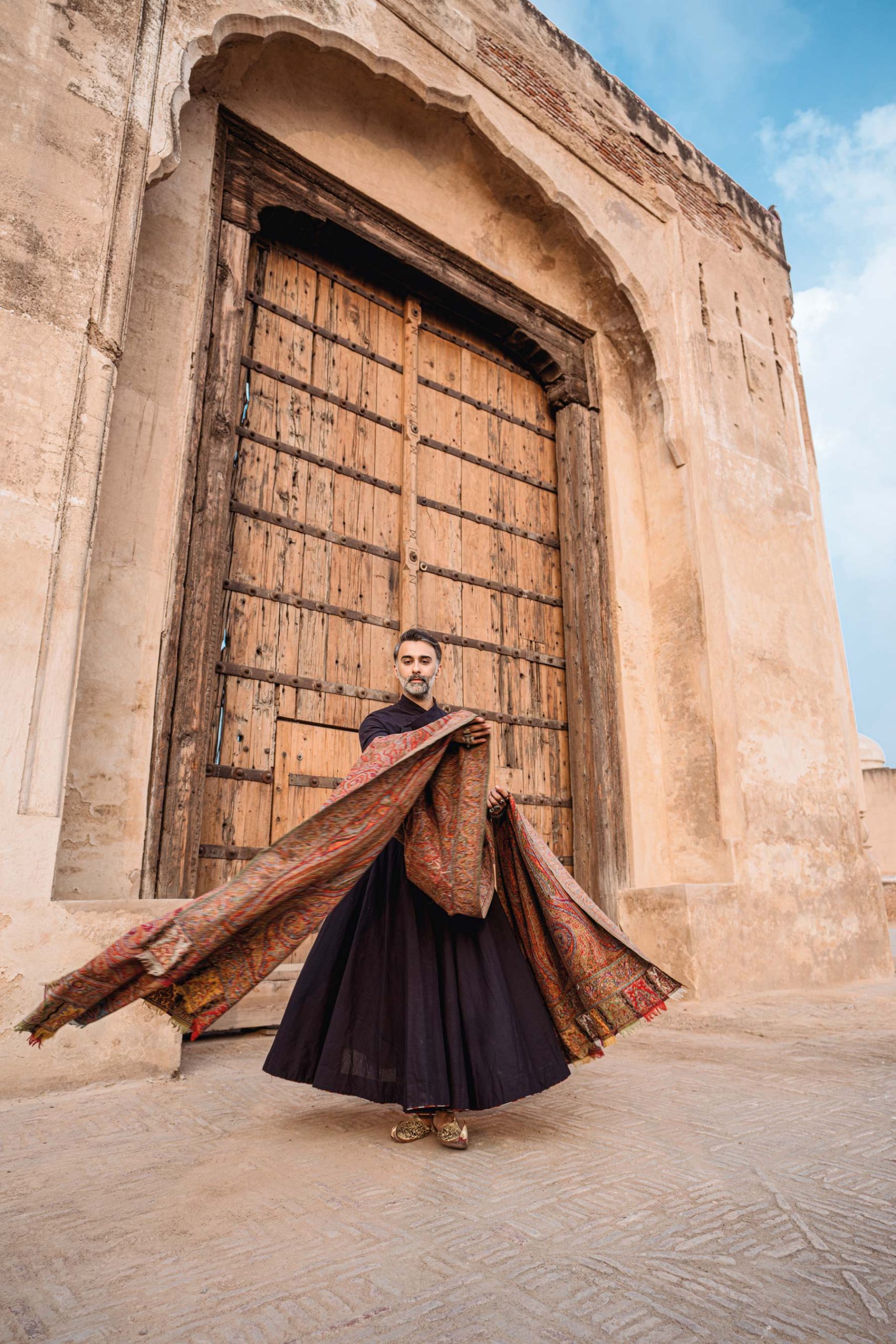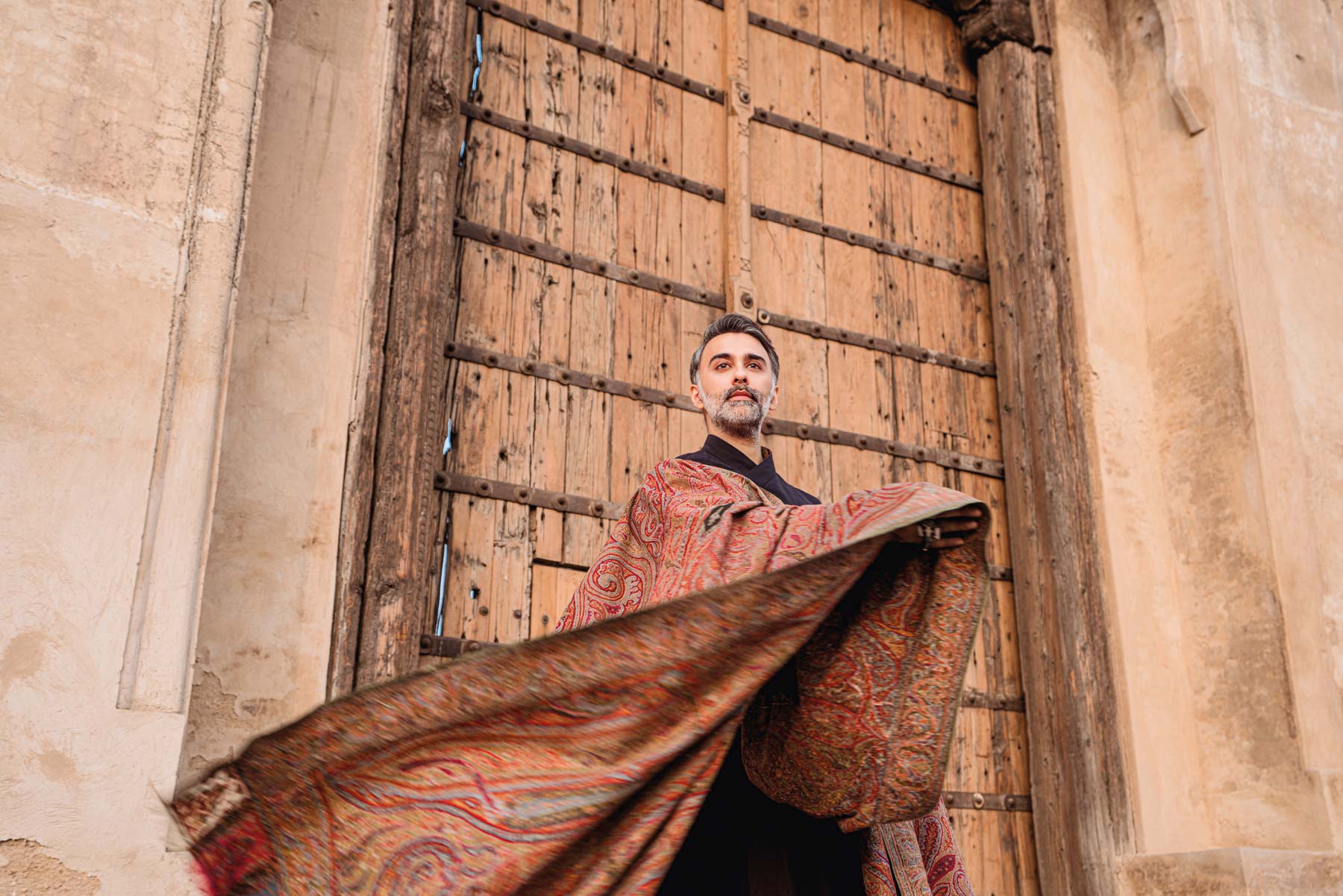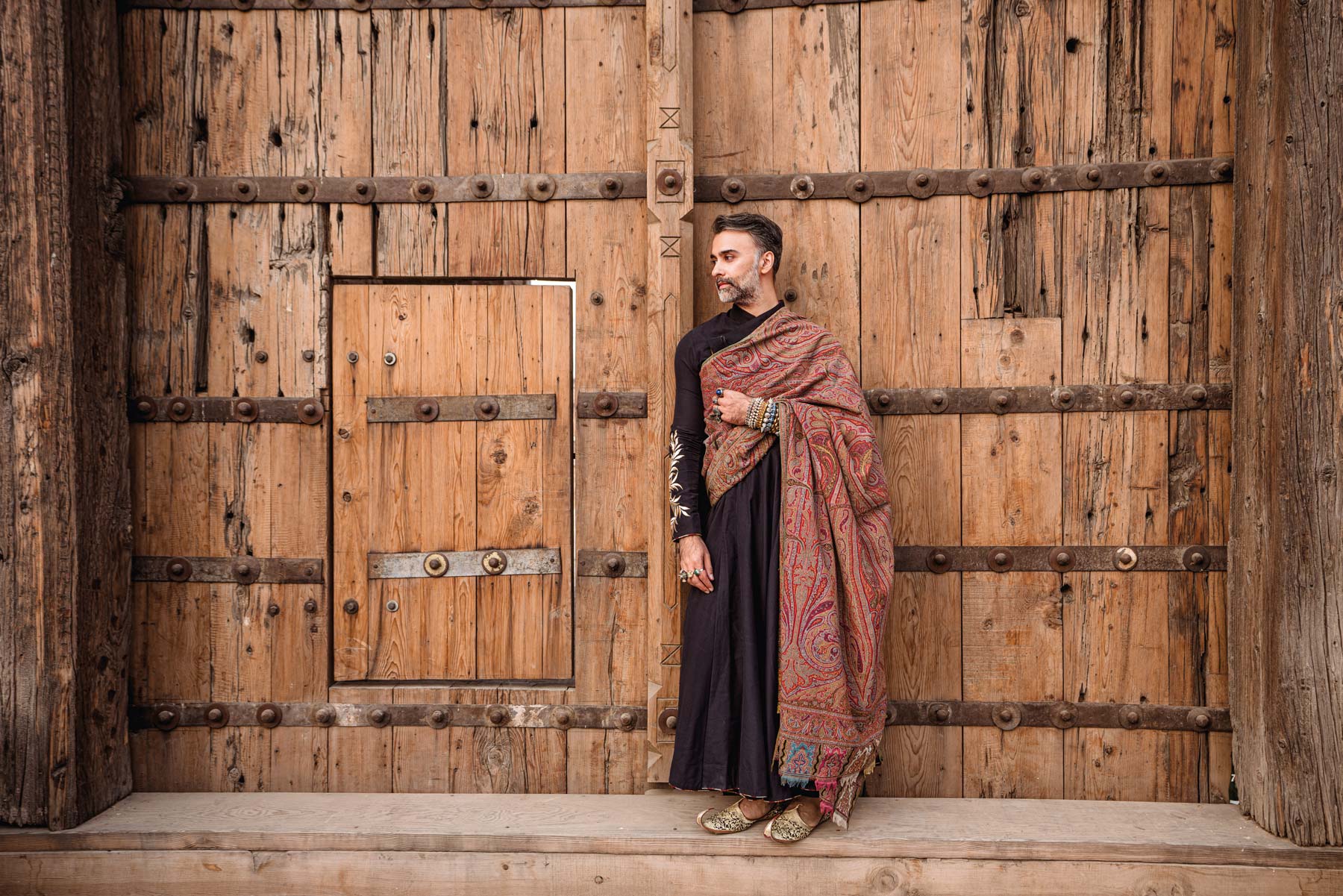 The one thing that strikes people when they meet you, get to know you or simply notice you is that you are deeply passionate about culture. Whether it's the performing or the sartorial aspect of it, this element seems to reign supreme when it comes to the choices you make in life. Tell us how it has shaped you.
What has always drawn me to Lahore is its strong cultural identity and heritage. It has undoubtedly shaped me and made me the person I am today. The journey for me began when I was an art student at NCA. Having peers who were from all over Pakistan really broadened my perspective with NCA being, perhaps one of the very few places where one is exposed to so much cultural diversity and sub cultures. It was truly a life changing experience being surrounded by and working in the midst of such social, cultural and ethnic pluralism.
It was during this time where I gathered the courage to explore my interest in classical dance. kathak, which is deeply rooted and steeped in ganga jamuni tehzeeb (traditions belonging to the central plains of Northern India) gave me a chance to immerse myself in and understand classical music and develop a much better appreciation for the culture and traditional practices of our region. The appreciation however was not limited to kathak and extended to other disciplines like textile which flourished under the syncretic culture of the subcontinent.
You graduated in Fine Arts from NCA, then completed your Masters in Fine Arts from Parsons School of Design, NYC, trained as a classic kathak performer, became a yogi before finally stepping foot in the fashion industry. Tell us about your professional journey.
I actually started working at Karma right after graduating from NCA which was in 2007. Shortly after, I joined the House of Kamiar Rokni after Kamiar Rokni parted ways with his partner and started his eponymous label. I've now been associated with fashion for 12 years. Around the same time I did a few kathak and yoga workshops with Nahid Siddiqui.
I took a 2 year break in between to study at Parsons after being awarded the Fulbright scholarship in 2009. While in New York I continued my yoga practice while pursuing my Masters degree in Fine Arts.
I returned to Lahore in 2011 and resumed dance training with Nahid Siddiqui for a few years, taught yoga at her studio, while working as a designer at the house of Kamiar Rokni. In 2017, after having worked at the house of Kamiar Rokni for 8 years, I joined Élan and have been working there since.
Amongst the many hats you wear, which interest do you identify most with? How do you strike a balance between these multiple roles? What occupation makes you feel most true to yourself?
That's a hard question to answer. It's not easy to pick a particular discipline and give it more importance over the other but I think if I were to choose one, it would be dance. I don't know if one can ever balance and juggle so many things together.
I consider myself lucky to have been able to explore so many creative avenues simultaneously. While teaching yoga, I considered myself very fortunate to be a part of a rewarding path towards healing for many people and it is something I'd like to reconnect with in the future as as well.
What role does art play in your life? Do you still paint? If yes, what do you mainly paint? If no, why not?
I haven't painted since graduating from Parsons but I definitely look towards all kinds of art for inspiration. Whenever I get a chance to travel I love visiting museums and art galleries as they greatly enrich my visual vocabulary. With dance, yoga, teaching and working in fashion my own painting practice took a back seat but who knows what lies ahead! 
As followers of your Instagram feed, we know that history and nostalgia play a key role in your life. Would you say the past inspires you? If so, how does it influence your present creativity and in developing your career?
The past most certainly inspires me. Old family photographs and images of different eras are something I keep revisiting for inspiration.
The old city of Lahore is a treasure trove and every time I walk through the narrow lanes or visit an old monument, I always discover something I've never seen before. The scale, design and proportion of how everything was designed and planned is something I find most fascinating. 
I'm sure all of this has shaped what my relationship is with the many practices that have been and continue to be a part of my trajectory. 
Where do you draw your inspiration from? Is there a person (past or present), a piece of music, a time period, a cultural icon (celebrity/ heritage architecture), legacy, culture of a particular place/region, idea/ concept, ideal (such as beauty), set of teachings that inspires you the most?
I am a traditionalist at heart. I am very inspired by our shared heritage of the sub continent which has such an abundance of diverse influences. I am also very drawn to Iran, both ancient and contemporary. The Iranians have beautiful aesthetics. 
I am passionate about classical art forms. I love vintage textile, jewellery,  classical music and dance and that's the reason I feel like my practice as an aesthete has been so trans-disciplinary. I love architecture and am constantly drawing inspiration from various art movements all throughout the ages.
In addition, I've been listening to Kishori Amonkar for almost 2 decades now. Her voice made me fall in love with South Asian classical music. Nobody performs kathak better than Nahid Siddiqui. Her work encapsulates all the beauty captured in miniature paintings by court painters of Mughal emperors. Her understanding and teaching of line, symmetry and proportion has in turn influenced how I look at design and has greatly informed my work. So yes, I draw inspiration from many different sources. 
Are you a spiritual person?
My yoga and kathak practices have instilled a keen sense of self awareness within me. I'm quite introspective and yes I'd say I am spiritual. I am also religiously inclined but I prefer to keep that very personal.
You love collecting objects d'art. With an enviable shawl collection, owning prized silver jewellery, possessing the most ornate khussas and a wardrobe of the most finely stitched clothing, you are quite the collector. How and when did you start collecting these different objects? What's your most prized possession? 
I remember buying my first silver bangle from the old bazaar behind Farid Gate in Bahawalpur. This was back during my NCA days in 2004.
Slowly and gradually along the way I've collected a few things I love. It's no grand collection but I love whatever I've found and been able to buy over the years. It is a bit challenging to choose one particular object but if I really had to narrow it down, I'd say I inherited my late maternal grandmother's pashmina shawl which has great sentimental value for me.
How would you best describe your personal sense of style? 
Elegant. I like to keep things old school but there are times when I do like to mix the old with the new.
Name a recent indulgence.
A cerise pashmina shawl appliqued with a vintage silver zari brocade border.
Is there a hidden talent that can be the big reveal via this interview?
No hidden talents but I wish I could sing. It's something I'd love to explore but have not had the chance to do so yet.
What is your idea of a good life? How do you see your future?
A good life for me would be one where I can constantly evolve and grow as a person. Learn new things. Work towards healing and helping others who seek to do the same.
I also hope and pray that I always stay healthy and that I maintain a lifestyle which keeps me in good shape.
I have never really planned for the future. Perhaps it's time that I do but I have faith that the universe will help me find my way to my true calling.