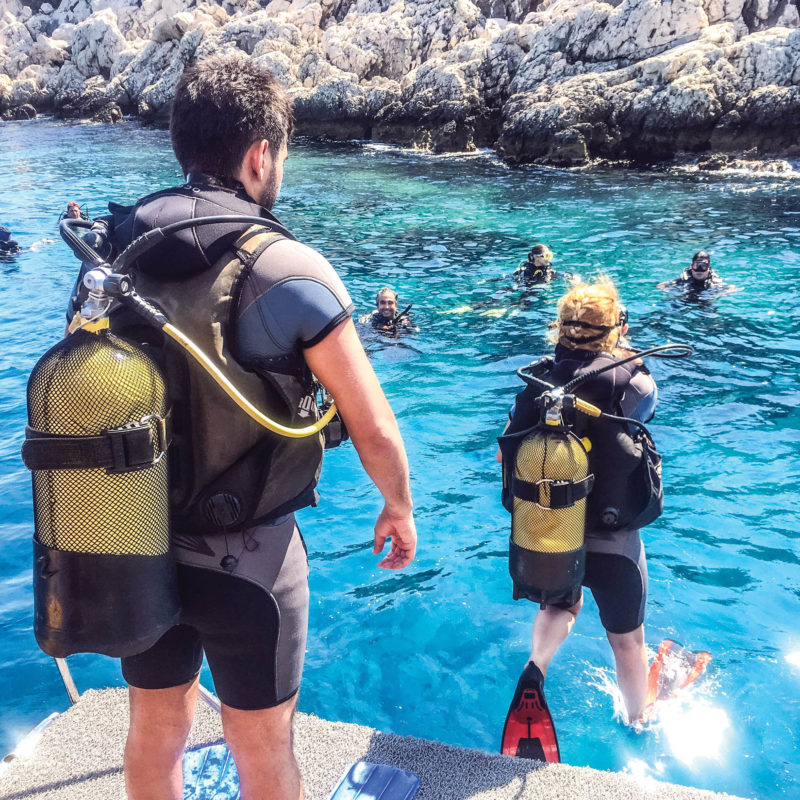 A few years ago, I hosted a Portuguese backpacker who had been to around 190 countries. Leading a nomadic life for years without the comfort of routine isn't easy. His parting words to me were: "Embrace the uncertainty."
That's what I was doing earlier this year while backpacking through Turkey.
I arrived with no plan, just a starting point: Cappadocia. From there I was told I must head to a backpackers' village called Olympos where the locals told me I should go to a 'small' but quaint fishing village with the best diving sites in the entire region: Kaş
To make a long story short: I enlisted the help of a local who coincidentally happened to know the owner of Meltem Pansion — a place that the guys in Olympos suggested I stay at. He bargained on the rates and I ended up getting my own air-conditioned double room plus bathroom plus a good breakfast for TL90 (Rs. 3,200) per night. This was great considering the 'official' rate for the same was $50.
The friendly hotel manager Mert even arranged for a guided diving trip with a local company for the next day.
Later that night I stepped out to explore this 'fishing village'. I was soon left completely surprised and a bit disoriented. Kaş is admittedly small, but it is far, far from being a 'village'.
Unlike the rest of Turkey that was hit with a tourism crisis in the wake of the recent failed coup and bomb explosions, Kaş was teeming with tourists — most of them local Turks. Bombs? Failed coup? Where did that happen again?
Most of the shops sold scuba diving equipment and suits, beachwear and hand-made silver and gold jewellery — beautiful Greek, Turkish and Egyptian designs that were to-die-for. The restaurants were full, there was an outdoor screen where people were following a televised show and if you make your way into the narrow lanes you could hear music shafting out from some of the small local clubs.
I don't understand why a lot of Pakistanis turn to Thailand for the sun, sand and sea. You have it all in Turkey, especially in the smaller towns. Not only that, the people are better looking (hot and halal!), food is great and it is far less crowded and commercial. You still get a sense of culture. And in a weird way, it's familiar.
The next morning just as I was sitting down for breakfast, Mert told me it was time to go. And now. I quickly stuffed my face with as much breakfast and coffee I could manage and followed him.
We made our way down the harbour past numerous boats until we came to the right one. There he handed me over to a striking redhead in a wetsuit who turned out to be the boss lady of the club: Melissa.
She introduced me to my first instructor Ersel. Like the monk who sold his Ferrari, Ersel had left a cushy corporate job to lead a bohemian lifestyle doing what he loved best: diving. Kaş, he told me, has over 25 diving boats and 20 diving clubs. That's amazing considering that the local population is just about 10,000 people. After explaining the basics, he led me to my first exploratory dive.
It was magical. You can breathe underwater, you go deep and can see everything clearly — the reefs, fish, and the sand at the bottom of the sea. All of your senses, other than hearing, are inhibited and it's just like those videos on National Geographic, except you're like the cameraperson.
The twenty minutes underwater ended too soon. Just as I was beginning to feel at home, I felt Erself gently nudge me towards the surface. I looked up and some of the senior divers had also surfaced; they were gently wading the fins on their feet underwater and reminded me of mermaids.
I wasn't done diving. Encouraged by Ersel, I signed up for the CMAS one-star diving certification. It had always been on my bucket list. I had time and the opportunity presented itself, so why not?
Thus began my training. It wasn't just fun and games. A big part of this was learning how to survive underwater. How does diving depth affect your body, how deep is too deep, how to save another person by sharing oxygen, what is your gear and what does it do and also, how to take off everything — mask, jacket, oxygen — underwater and wear it back on again.
One of the exercises required that I fill my mask with water, and then empty it by blowing bubbles with my nose, while breathing through the regulator on my mouth.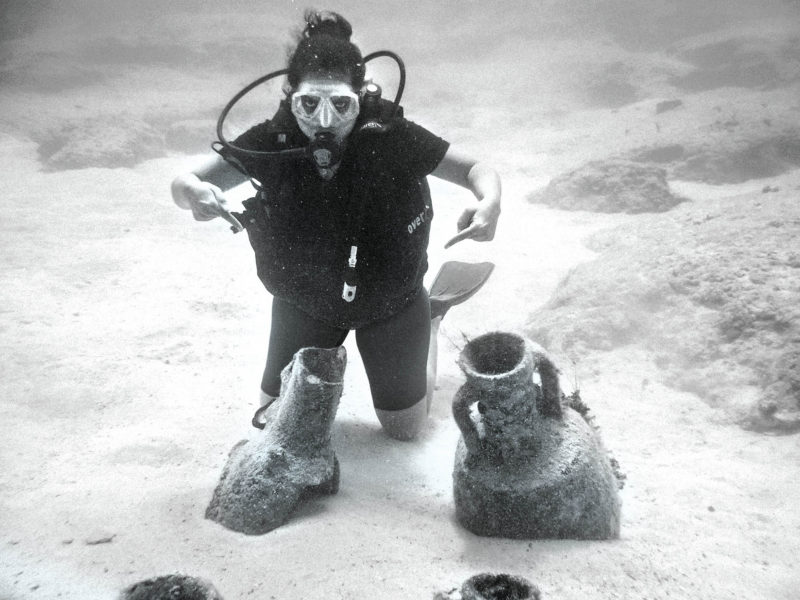 I accidentally breathed in through my nose and immediately felt seawater enter my body. I could taste it in my throat. I felt like I was drowning.
I signaled that I wanted to surface. I didn't want to go back in again. But I was made to, not to do more exercises, but just to swim around. The farther we went away from the surface, the worse I felt. Fear of drowning had set in and it just wasn't going away.
I was told that we would have to try again tomorrow.
That night, alone in my hotel room, I messaged my mum and a fellow cyclist, Sajida, back home in Karachi. I was terrified and for the first time, I hated that I was travelling alone.
"I failed at that exercise in the pool as well," said Sajida, trying to make me feel better. "We're not doing this in the pool," I told her, "We're doing this while 10m (32.8 feet) underwater kneeling on the sea-bed." "Just do your best," she said.
The next day I found out that I had a change of instructor. I was getting 'bad cop' Ali. Ali has been a diver for about two decades, conducted rescue operations and could be quite an entertainer. Turns out he had been watching me struggle the other day and decided that I needed a different approach.
We went exploring the reefs; he would remind me to balance the pressure in my ears. He picked a really nice spot on the seabed and kept me distracted through different gestures and funny sounds. We were far deeper than we were the other day, but the atmosphere was lighter and I didn't notice. At one point, a school of silvery blue fish swam past us — it was so surreal and beautiful.
Not only did I manage to fill my mask with water and empty it, I took it off entirely. I confronted my fear of drowning full on and overcame it.
We dove twice a day with a one-hour lunch break in between. On my second last day, I came out of the boat during lunch hour to find a bus waiting to take me to the top of the hills in Kaş.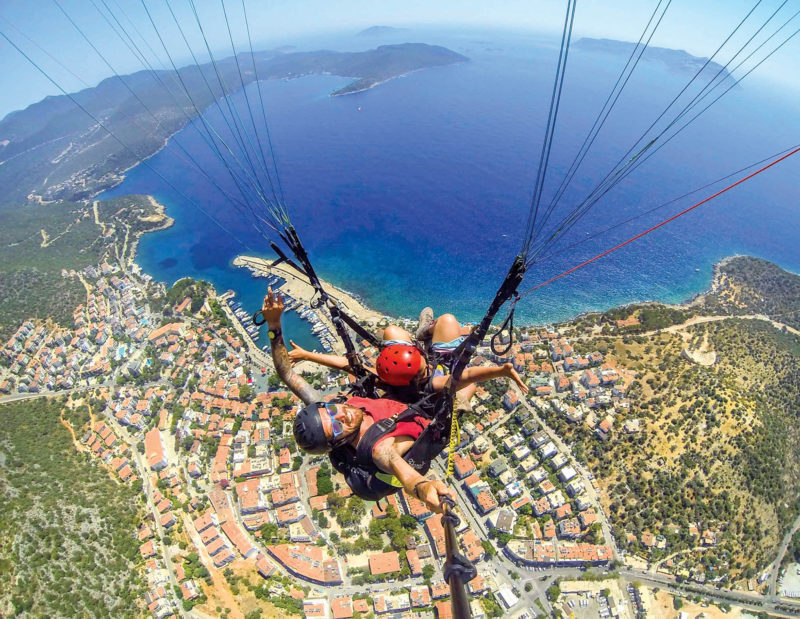 I wanted to overcome another fear: heights.
Sinan looked more like a rock-star than a pilot. He had long curly light brown hair, colourful shades and a friendly attitude. Seeing how high the drop-off point was, I lost my nerve.
"I think we should do this tomorrow," I said to him. "We should do this today," he responded, quickly strapping me up and taking off before
I had time to object!
Instinctively, I closed my eyes. It felt so calm. I slowly opened them and saw the tree line on the mountain close to us. It was just like in those paragliding videos. Turn to the other side and you see the coast and the massive drop beneath and you are terrified and awestruck at the same time.
Like all good things in life, just when you are getting used to it, it's over. We landed gently on the harbour, where the crew was waiting for me on the boat. It was time to dive again.
That day we saw two large turtles, ancient Greek vases embedded in the floor and a two hundred year old abandoned anchor.
The next day I passed my written and got registered as a certified diver. That same night I had my last proper meal in Kaş, a 'Balkan' kofta and bread, boarded a bus to the nearest airport in Dalaman (a four-hour drive) and booked my ticket to Istanbul on the way.
Where to dive
Oceanids Diving Centre. A one-star CMAS diving certification, plus six guided dives cost around $200. Individual dives are far cheaper. And the crew keeps inviting you for an extra dive now and then — on the house.
Where to fly
Fly Lycia Paragligin: Around $100 — including photos and videos. It's far cheaper without those.