Rich in heritage and local craft, Sindh is not only the land of Sufis but also of artisans. For centuries, its talented craftsmen and craftswomen have kept alive their indigenous traditions such as rilli, ajrak and block printing. Adorn Online, a social enterprise built on the principles of fair trade, is on a mission to preserve this unique craftsmanship while supporting the skilled artisans of Sindh. Najia Siddiqui, Director of Adorn, explains how the organization helps marginalized workers in remote villages across the province access ethical buyers and why the preservation of local craft is so important.
Photography: Maryam Ashraf
Tell us about Adorn's origins. When did the organization come into being and what motivated you to start it?
NS: The concept of Adorn was developed by myself and my partner, Rosie Pannell. At the time, Rosie and I were working together in an NGO in the field of literacy and non-formal education. We began to discuss the immense talent of the artisans of Pakistan and how there were no formal markets available to them that were non-exploitative and offered them good returns on their work. We decided that we would start an organization which would support the work of struggling artisans. Adorn would then help them reach international, online and local markets while following the principles of fair trade. Initially, our idea was to promote products made by NGOs. But we soon found that the quality of those products was not in line with the demands of the market. We then decided that we would be involved in the design process as well and ensure export-level quality controls in order to further these products in international markets.
Sindh is known for its variety of handicraft – be it rilli, ajrak or hand embroidery. What type of craft is Khairpur, where Adorn's rural artisans are based, famous for?
NS: Khairpur is well known for rilli crafts as well as basket weaving from date palm leaves.
Is the craft generational; have the women learnt it from their mothers and grandmothers? Do they receive any formal training for it?
NS: The craft is passed along from mother to daughter. In the household, the making of rilli is very much a part of their daily routine. The women do not consider it to be a skill, per se. Rather, it is part of the way they live. Rillis have been made for household use for generations and have been an essential feature of their interiors. The various complex patterns are learned from each other and then imprinted in their memories. It is a very informal process of training which consists of communal production processes with older women teaching the younger ones age-old techniques and tricks of the trade.
How do you ensure that the products, while retaining the traditional beauty and uniqueness that only a handcrafted item can hold, are suited to the demands of the modern-day market?
NS: Adorn is involved in the production process from start to finish to – be it product development, purchasing of raw materials, preparation of the product and its finishing – to ensure that there is a balance between craftsmanship and elements of style and simplicity.
Our artisans are given the directions for each product along with the product pre-shrunk, cut and pinned in place. So, basically, they are only involved with the actual hand finishes in the product. We also give regular feedback to the women artisans through our field manager who is a very integral part of our product creation process. Since the women live in far-flung villages outside of the city, our field manager makes field visits where she distributes and then collects the work and pays the women.
In today's world of mass consumerism, ethical businesses are slowly gaining ground as people realize the importance of sustainability over fast and disposal fashion. Has it been a struggle to set up a fair, ethical and sustainable business model whereby the artisans who produce the unique craft are compensated for it fairly? What challenges have you faced?
NS: The problem with setting up a social enterprise is the competition we face from traditional businesses. Our costs are much higher than those of a typical mass-produced, machine-made product. For example, a shirt at a leading high street brand retailing for Rs. 6000 is entirely machine-made. The cost to the brand for a minimum of 2000 shirts of one design would be barely Rs. 2000. An Adorn product, on the other hand, that retails with us for Rs. 6000 costs nearly Rs. 4000 or more. This is because our labour charges are higher than those in the market.  Adorn makes it a point to pay its workers more than the market wage in order to ensure a better livelihood for its artisans.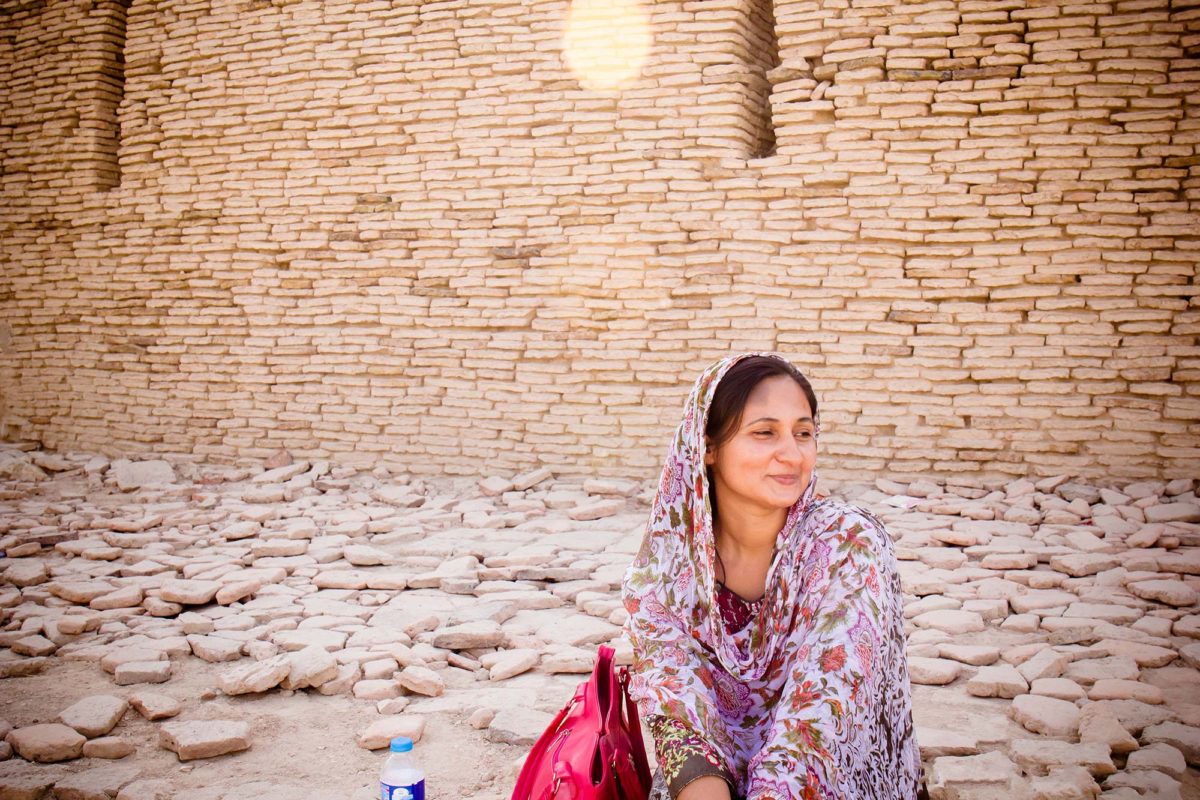 Another problem we face is that a hand-made product requires more time-intensive work, therefore we produce fewer products in the same time frame at a higher cost. It is therefore hard for us to make ends meet at times with the competition.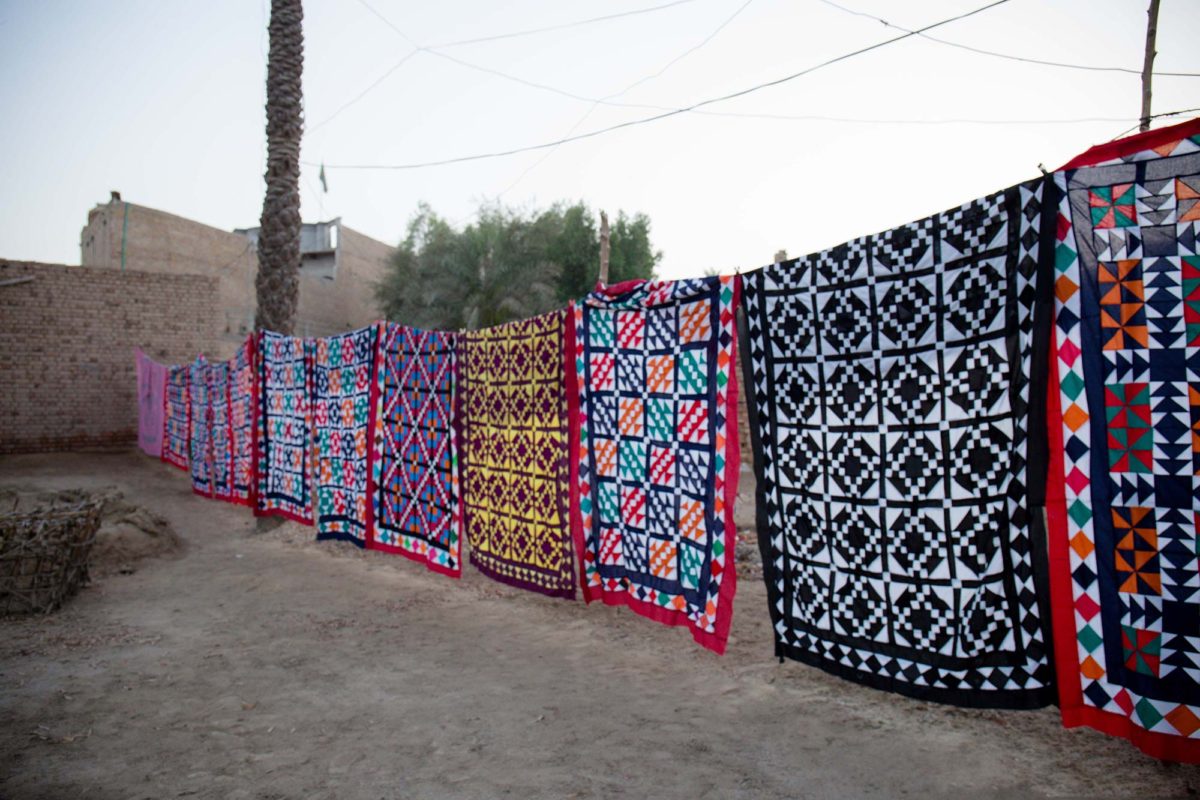 There is also limited awareness in the local market about the concept of ethical buying. Many times, customers are more interested in the bottom line, which boils down to the price of a product. But we do have a growing group of clients who support us because of the cause behind Adorn – to provide a better livelihood for our women artisans in both rural and urban areas.
Because our female artisans are home-based workers, generally we do not need to worry about exploitation and poor working conditions, as is the case in local factories in Pakistan and throughout the region where women make up a large percentage of the workforce in the garment industry.
Given that you are catering to somewhat of a niche market, what are the channels of distribution and marketing that you find most effective? What are your most popular products and what sort of response do you receive both in Pakistan and abroad?
NS: Our products are marketed throughout Pakistan via our Facebook page as well as various local exhibitions. Adorn has been participating in craft shows in Karachi for 6 years in a row and has also participated in the Daachi mela in Lahore which is held twice a year and is a wonderful gathering of artisans and crafts from all over Pakistan.
Adorn has also participated in exhibitions in London, New Jersey, Dubai and Jordan. Expats all over the world are a great source of our support network and reach out to us through Facebook and Instagram periodically.
Our most popular product both locally and abroad are our hand-made rilli shirts. Locally, we get many quilt orders as well which include patchwork quilts as well as rilli quilts. The best feature is our products are made to order so it is very convenient for our customers to tailor-make home accents according to their décor needs.
How has Adorn changed the lives of rural artisans? Please share an example.
NS: Talat* is one of our women artisans based in Khairpur. She had always taken the monthly ration on loan and lived from one month to the next on her meagre earnings. Since she began to get more work, she has been able to purchase her monthly rations and in addition to this has built an indoor bathroom in her home, quite a luxury in Khairpur. Not only this, she has even bought a generator for her home. Considering the 12-14 hours of load-shedding in these areas, this has significantly improved her standard of living.
What is the most fulfilling part of your work?
NS: The most fulfilling part of my work has been meeting with our women artisans and witnessing the change that they have experienced with increased financial freedom. It has helped elevate their status in the family, given them greater decision-making power and has allowed them more freedom to pursue employment as well as educational opportunities.  Many women help with school fees of their children with their earnings so this makes me hopeful for a brighter future.
Another important aspect of our work is the preservation and innovation in the field of crafts. I am excited when I see progress on this front since these crafts form the backbone of the heritage and traditions of Sindh. Ensuring that they do not die out is a crucial and motivating aspect of the work.
*Name changed to protect privacy