Lulusar is group of mountain peaks and a lake in the Kaghan Valley in the Khyber-Pakhtunkhwa province of Pakistan. The name Lulusar is derived from the word 'sar' meaning 'lake'. The highest peak has a height of 11,200 ft (3,410 m) above sea level. The lake is renowned for its crystal clear waters and makes an ideal picnic spot on the way to Gilgit and onwards to Hunza.
Photography: Obaid-ul-Mohsin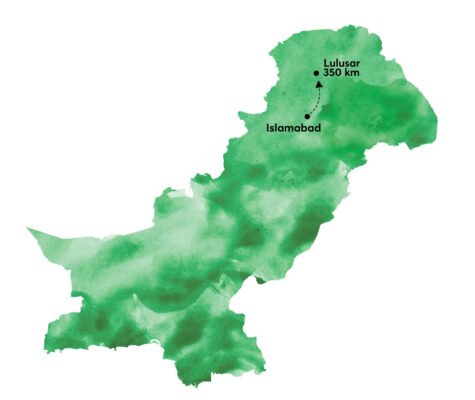 How to get there:
Lulusar Lake is 48 km from Naran Valley on the Naran-Babusar Road, one of the highest roads in the world, taking travellers through Babusar Pass and onto Gilgit. It takes a 1.5 hours' drive from Naran Bazaar to reach the lake, and it is accessible by any kind of vehicle.
Where to stay:
A pit-stop at Lulusar Lake is the ideal break on the journey to Gilgit. Expect to spend about 3 to 4 hours here. If you're staying in Naran, you can reach the lake in 1 hour and 30 minutes by road.
What to do:
Lulusar Lake is much bigger than other lakes around the valley, and is surrounded by snowcapped hills, making it a natural tourist attraction. From Gittidas, the Naran-Babusar road, one of the highest in the world, goes through the Babusar Pass to Gilgit. In the summer, when the water reflects its surroundings like a mirror, a large number of both domestic and international visitors make the lake a destination stop on their way to Gilgit.