Join us in conversation with four resident Karachiites as they speak on motherhood and the joys of parenting, bringing up their children in today's world, their love for travel and what they plan to do these holidays. Here are some of their tricks, tips and secrets. Meet Shaniera Akram, Madiha Sultan Tai, Sara Saigol Mushtaq, Maha Ahmad Hussain and their beautiful families.
Photography: Malika Abbas
Hair & Make-up: Faheem @ Rukaiya's Salon
Shaniera Akram
Her romance with the city she now calls home began some 4 years ago when, in the fall of 2013, she moved to Pakistan  after her marriage to cricketing legend Wasim Akram. Meet Shaniera Akram, the now quintessential Karachiite who, despite her fairly recent acquaintance with the city, has made it her own. "I am in love with Karachi, a passion that only keeps getting stronger. The city has the ability to make you dance with happiness and break your heart, all in one day. A relationship that doesn't have its triumphs and tragedies is not a love affair, is it?" she laughs.
Shaniera elaborates: "Karachi constantly keeps me on my toes – it challenges me every day, allowing me to discover who I really am. You have to work for the city's love and it's clearly not a relationship for the faint-hearted. Everyone who lives here would know exactly what I mean. As a foreigner, I could ignore the city's problems that I don't understand but I embrace them. Karachi can be harsh and cruel sometimes so it's up to us to breathe life and love in to it. It is my home and I will do anything I can to make it a better place."
Just as she has embraced Karachi, Shaniera has made Wasim's sons from his previous marriage her own. What began as friendship with Tahmoor and Akbar is today a bond much deeper. She explains: "I realized I couldn't raise the boys on friendship alone, so I moved into the role of a mother. I strongly believe roles have to be defined for a family to be happy eriacta canada. And when you are a mother, friendship is a given, but sometimes you have to detach yourself as a friend and stand strongly in your maternal role. Children need a mother, anyone can be their friend. Being a mother is a 24/7 job, 365 days a year for the rest of your life, it doesn't stop. No matter where you are or what you are doing, a part of your mind will always be on your children. You will think about them first thing in the morning and the last thing at night before you sleep."
"I am lucky to have such great children. Wasim's late wife, Huma, did an amazing job raising Tahmoor and Akbar. She was a strong, loving mother and the children had grown on a great foundation, which made my job pretty easy as the boys already had so much love in their hearts," adds Shaniera.
It's very different having a little girl in the house after two boys and Shaniera and Wasim's 2-year-old daughter Aiyla clearly has the entire Akram household wrapped around her little finger. "I come from an all-girls family so it's great to have a companion around. Aiyla's a tomboy who loves sports and the outdoors, water, nature and of course getting dirty in sand and mud, so she fits in well. She really is a breath of fresh air and the boys are totally besotted, which she uses to her advantage."
"Wasim is completely in love with Aiyla, she lights up his life. He regrets having missed a lot of the younger days when the boys were growing up as he was constantly travelling, so this time he's really enjoying it. To be honest I think it's made him look and feel younger," smiles Shaniera.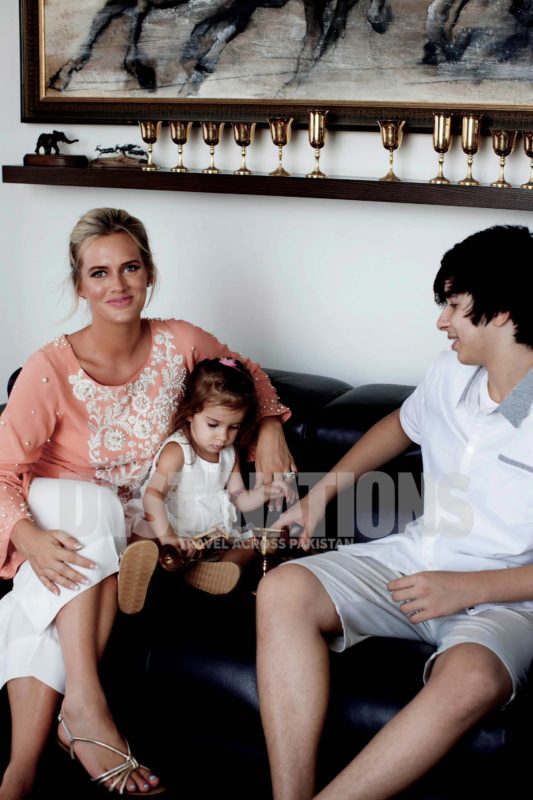 The Akrams' eldest, Tahmoor, recently left home for college. For Shaniera, Empty Nest Syndrome set in with his departure, despite having Akbar and Aiyla at home. She explains, "It was quite a change in the dynamics for our family. Tahmoor, Akbar and Aiyla are each very different. Tahmoor has become a very strong and independent young man who thrives on intellectual stimulation. He's always up for a debate and challenges us to our best. He's hilariously funny and a real moral support. For me, he was someone I could count on especially when Wasim was travelling. Tahmoor would always tell me the brutal truth but at the same time he totally had my back when I needed it. So when he left, I think a part of me went with him. To be honest it was a little lonely at the start."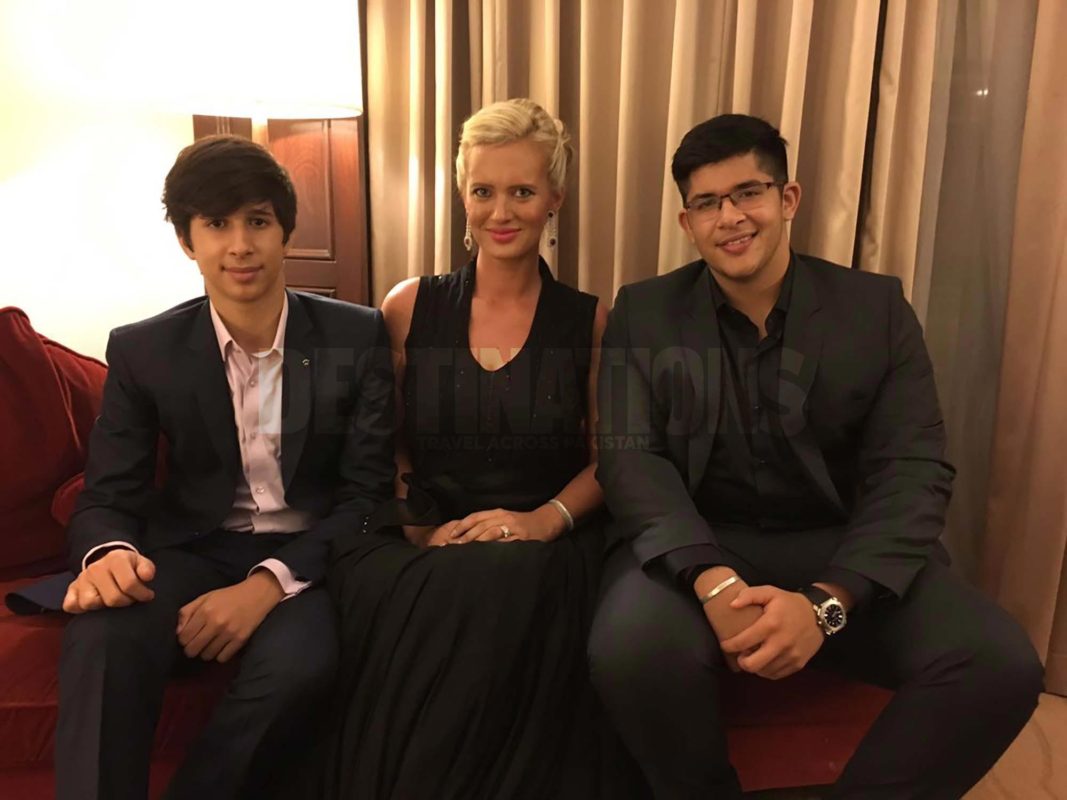 Luckily for her, she says that Akbar, who was always the baby of the family, has stepped in. "We have a special bond and always have an awesome time together so it's been great just giving him extra attention at home. We are like two peas in a pod."
Given Wasim Akram's hectic schedule and constant travelling, it's difficult for the family to get much time together in Karachi. "These days when we are all together, we are usually on holiday," says Shaniera. "Wasim hardly gets to relax because he is always busy with something work-related. But on holiday, we make it a point to eat together, especially in the evenings – that is always the focus of the day."
Shaniera recalls the family's most memorable holiday being a trip to Italy. "We still talk about it. It was such a fun vacation. We laughed the whole time, especially when Wasim got mobbed at the Colosseum – the last place we would ever have thought we would be chased by fans! Aiyla wasn't born then and we all promised we would make a point to come back with her one day."
Holidaying in her hometown in Australia is another family favourite. "The kids feel so at home there. My family is very close and love it when we all come to visit. The boys are very fond of my parents and refer to them as 'the Aussie grandparents.' One year we travelled to a lake in central Victoria and hired our own boats and sailed around the lake. We even got stuck in a wild Australian storm. It was quite the experience," she recalls.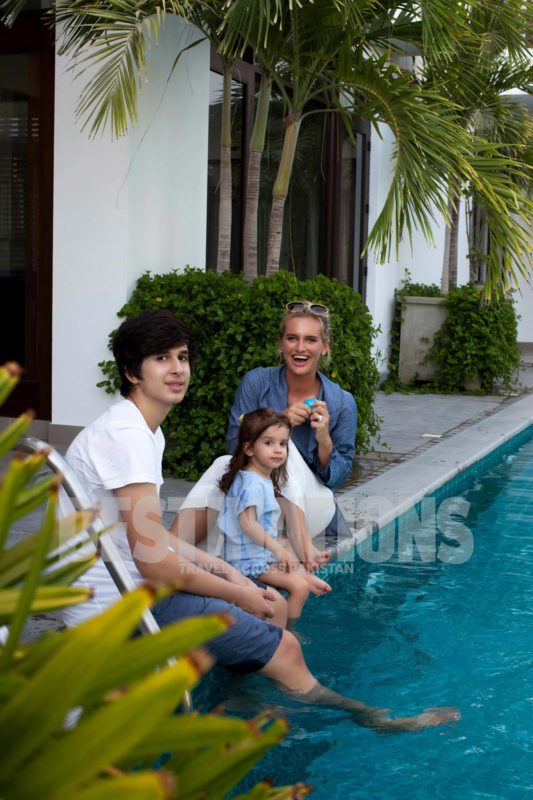 For the Akrams, a dream vacation would be a family holiday in Africa. But this year, a safari isn't on the cards as the family will spend Eid-ul-Fitr and most of the summer at home. Shaniera explains: "Wasim has just started his own television show and we'll be staying in Karachi to support him."
However, a short getaway towards the end of summer might be in the offing, as Wasim and Shaneira plan to surprise the kids with a family trip. "We have a house in the English countryside and we make a trip down every year, so maybe we will head on over there. Who knows with Wasim – life is so exciting because you never know where you are going to be next. Which is why I say, cherish every moment with your loved ones and make sure you tell them how much you love them and how important they are to your life."
Sara Saigol Mushtaq
As you walk into the Saigol Mushtaq residence, the energy is palpable. From Sara's elegant Carbon Home Accessories designs glistening bright in the warm afternoon sun to Liya's sports gear tucked deep under the stairs, from Maya running after Bugsy, the resident canine, to Rania's flamingo-shaped floats just waiting to be thrown into the pool – you know that theirs is a home lived in to the fullest. One where love thrives. Each room, a perfect marriage of old-world charm coupled beautifully with contemporary nuances, tells you a story, best brought alive in Sara's own words.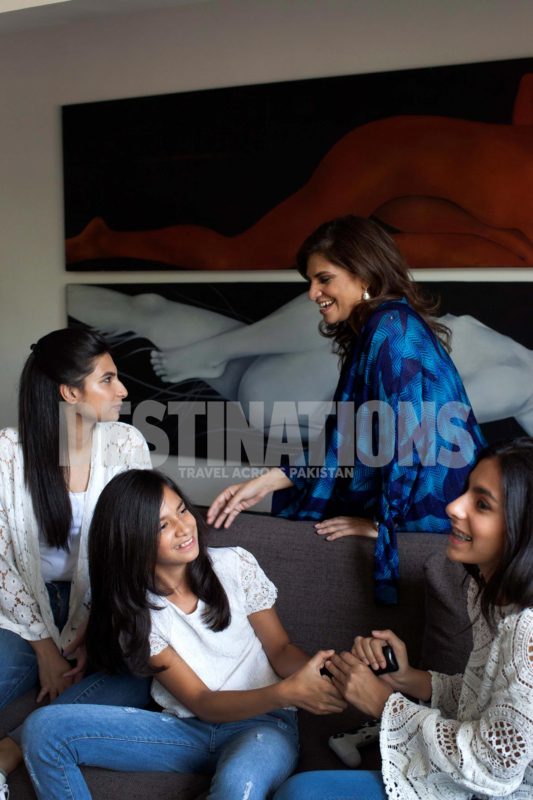 "As I hear the footsteps approach my room, synchronizing with one another, it is only expected that my three daughters, Liya, Maya and Rania, are ready to give me the daily scoop. As they rant, or smile about their day, their faces full of expression remind me of the spark that they ignite within my world. My daughters create a glow in my life that is irreplaceable.
"Whether it is teaching Rania fractions, chasing Maya to get in the shower or choosing Liya's outfits – the girls excite my 206 bones. As I follow trails of clothes of three different sizes across the wooden floor while hearing Ariana Grandé blast through the speakers, the joy of being a mother to the girls is a feeling that a million words couldn't describe.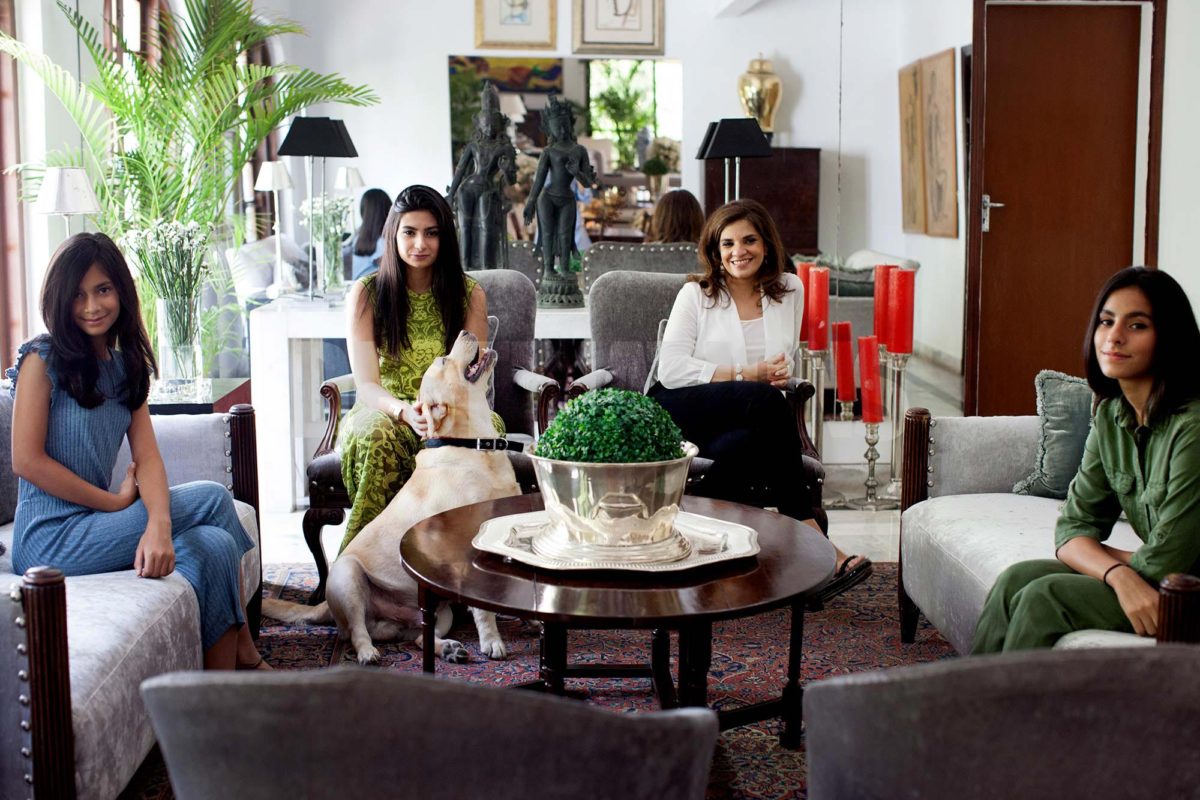 "At moments when I find myself staring at my reflection, I witness my own mother in the mirror. A mother who till today holds a huge portion of my heart and whose steps I follow both consciously and unconsciously. The woman who would wait at the bottom of the stairs to catch me in case I slipped still plays the role of an idol in my eyes. I hope to be there for my daughters in the same way."
Elaborating on her relationship with her daughters, Sara says, "My bond with Liya, Maya and Rania is one of friendship, as is their equation with each other. It is extremely important to me that my daughters see me as someone who they can share anything with. I encourage them to be open with me and they know that they can trust me – always. We talk about everything from work to school. We love spending time together as family – be it eating out, or playing chess or cards, or having heated discussions on the dining table."
Sara believes her growing years were very different from those of her daughters. "I am also one of three siblings. I have two brothers. I never had the chance to play dress up or ask my brothers for advice. Liya, Maya and Rania have that bond and a strong sense of understanding with one another."
Having spent her childhood in Lahore, Sara moved to Karachi after her wedding. She has since called the city her home. "Karachi was a different city back then. Smaller, less volatile. Times are now different. My daughters are growing up in a different world, one in which you always have to watch your back," she feels.
It's a world where the importance of family and having a support system to fall back on is paramount. In order to cherish and nurture that bond, Sara says that there is nothing she enjoys more than travelling with the girls. The Saigol Mushtaqs' most memorable holiday was a skiing trip to Courchevel in the winter. "There were lots of falls, lots of snowball fights and of course, great après-ski. In my view, an ideal vacation is simply about being together with family and loved ones. It's the small things that count."
With her eldest, Liya, soon heading off to college, Sara is dreading the Empty Nest Syndrome that will set in after. "I can't believe time has gone by so fast. We are the best of friends and Maya, Rania and I are going to miss her dearly," she says. "Before Liya flies off to the US, we have the summer all planned out. We are all set travel around Europe as a family and explore new countries."
Maha Ahmad Hussain
The sun shone bright. A sprawling expanse of manicured lawn led my way through to the big oak doors and up the stairs. We were greeted by Bella, the family Shihtzu, who scurried out to escort me in. 'Z' marked the spot. My destination had arrived. Zeyad and Zayer's rooms were abuzz with much activity. Gurgles and chuckles interspersed with bursts of laughter could be heard as bow-ties were knotted and cuffs were rolled up. It sure was a busy afternoon at the Ahmad Hussain residence.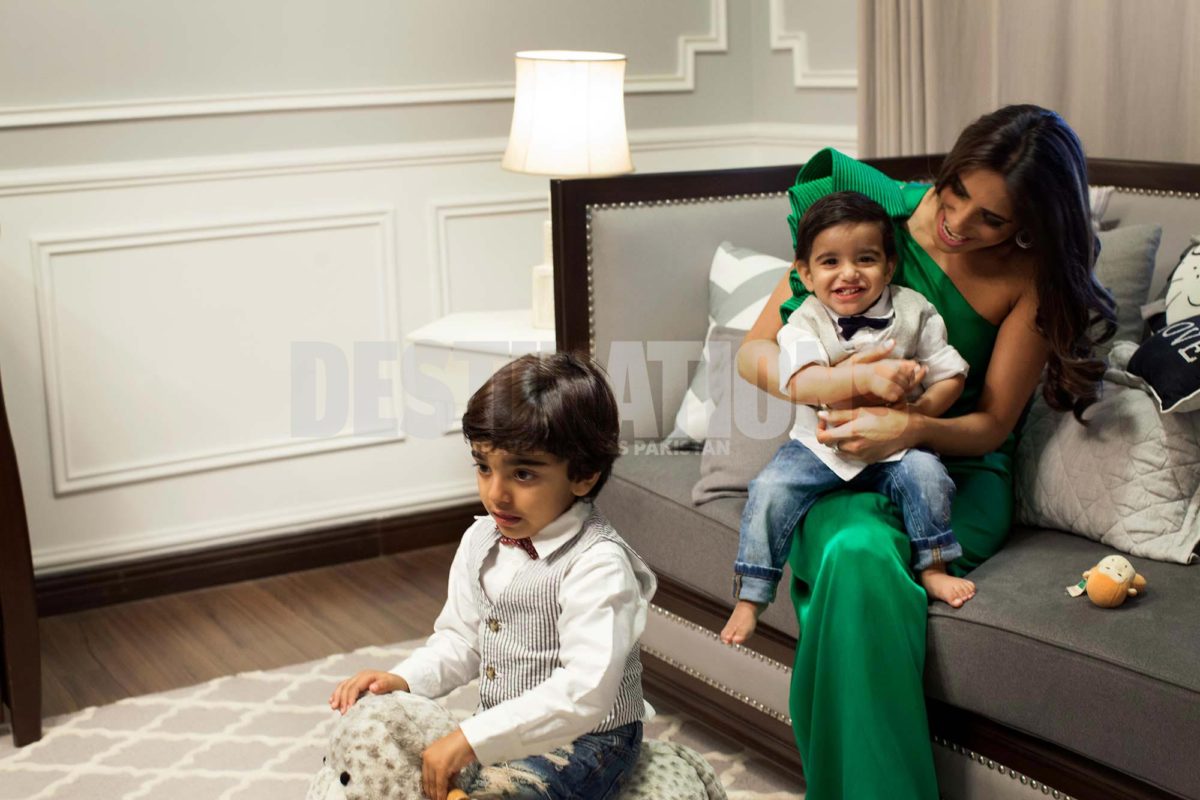 Mother of two, Maha grew up in Jeddah. Despite hailing from Karachi and always having a base in the city, it was only after her marriage to Sameer that she has called it home. "It is still difficult – the struggle to believe that this is it, this is where I'll always live, is real. But at the end of the day, this is my home. Karachi is my identity, one that has helped me grow into the person I am today," she says.
Maha believes her childhood was very different to that of her sons. "I grew up in an international community, one where I had the privilege of being exposed to different religions and many, many different cultures. It was a beautiful feeling to interact with people of various nationalities and ethnicities and to have friends who spoke a different native language to yours or looked different to you. Living in Karachi, Zeyad and Zayer won't have that kind of exposure. I find it very unfortunate that they won't get to experience the I diversity I grew up on, till much later in life," she says.
A working mother, Maha heads Fashion Merchandising at Sana Safinaz and is aware of the fine balance that her personal and professional lives demand. "The key to drawing a balance between professional responsibilities and family is prioritizing. It helps you put things in perspective and keeps one sane."
Luckily, she has the perfect role model to look up to, her own mother. "My mother and I are friends. I turn to her for any and everything possible. Without her I'm truly nothing." Maha hopes her relationship with her sons will mirror her own bond with her mother. "My kids are my greatest joy. Helping mould them into the best versions of themselves and nurturing them to become kind, patient, respectful individuals will be my greatest accomplishment, ever," she stresses.
And how does the Ahmad Hussain clan like spending time together? "To us as a family, quality time with one another simply involves hanging out. Be it travelling together, spending the day by the pool or lazing on the couch cuddled together, we love being in each other's company," says Maha.
For Maha and her young family, a dream holiday would be a trip to Thailand. "We vacationed there two years ago, but now with the little one, I'd imagine it to be even more fun and a little bit more crazy," she laughs.
"Our most memorable holiday so far has been a trip Sameer and I took to London with Zeyad. It was just the 3 of us and we had an absolute ball. It was an all-out family vacation that revolved around Zeyad and only what he wanted to do. Each morning during breakfast, we'd ask him what he fancied doing that day and he'd take a pick. Whether it was a visit to the zoo, a run through the park or a trip to the museum, we spent our day exactly like he wanted us to."
Maha is looking forward to the summer ahead. "Eid is always spent at home. We host a very big lunch for the whole family at our house. It's a late affair, everyone starts rolling in around 2:30pm. It's a very relaxed afternoon with the kids running around creating a ruckus and the adults just lounging around. Nothing like celebrating with family."
Madiha Sultan Tai
The Lals journey began over a decade ago, and for the duo behind it, there has been no looking back ever since. The brainchild of Lal Majid, after whom the business is named, and her daughter Madiha Sultan Tai, Lals Patisserie epitomizes the bond between its partners. Its success is a combination of Madiha's business acumen and her mother's creativity and passion for cooking. Together, they make a great team.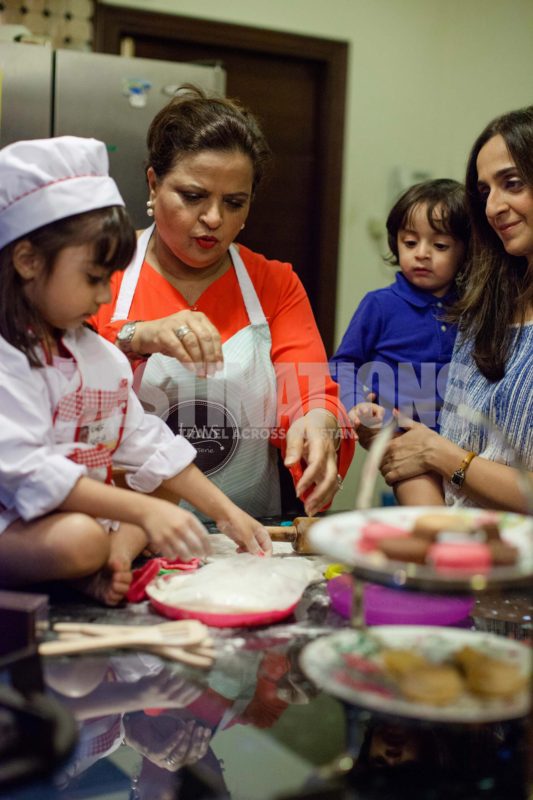 Madiha breaks it down: "I believe my mother is one of the most inspiring people I know. She always gives me sage advice. And one of the best things she has ever recommended I do, was to start our own business. I am so glad I listened because I enjoy every moment of working with her. And when I see my children, Sofia and Mikael, with their grandmother, I can tell she is already inspiring them to live their passions."
Successes, failures, triumphs and challenges; for Lal and Madiha, the last 10 years have been quite a mixed bag. "It's been relatively easy at times, especially at the start when there wasn't much at stake and we didn't know what we were getting into. However, 2017 has been exceptionally hard for us. My mother had a triple bypass quite unexpectedly and that left me in charge for a few months. And just when she recovered, we had a massive fire at one of our cafés. It cost us heavily and took us a few months to rebuild and recover," explains Madiha.
She continues, "But having witnessed really difficult periods convert into wonderful times, we've learnt to take each day as it comes. When my mother and I decided to go from solely being a chocolatier to a full-scale patisserie, we had no inkling about the magnitude of work that would be involved in making it all happen. But we had a dream. We wanted to sell freshly-made baked goods, serve hand-churned gelato and keep making chocolates – so we just kept on going, ploughing ahead, finding our bearings, figuring things out along the way. It was really tough but we had faith that everything would work out and it somehow did. We have a wonderful team who believed in us and things just worked out. And today we are all set to expand to Destination Next – Lahore," she smiles.
For Madiha, drawing a perfect balance between her career and family is a work in progress. She elaborates, "I constantly struggle with saying no to certain work-related opportunities because inside, it makes me feel like I'm losing ambition. But I do also know, work isn't my sole ambition. I love spending time with my husband Sohail and our children. At the end of the day, I am comfortable being who I am – someone who wants to expand business but at the same time take it slow, enjoy life and have free time too."
Comparing the Karachi she grew up in to the city that she is now raising her own children in, Madiha says, "I had a wonderful childhood. I grew up with lots of love, lots of family around.  We were friends with our neighbours, we played on the street. We lived with abandon. Life was great. I can only hope my children have as wonderful a childhood as I did in this crazy new world."
The Sultan Tais enjoy "lazy Sundays, just hanging around the house, doing nothing at all. We visit my in-laws for lunch, we go to my parents for tea and catch up. Sometimes we'll take the children for a swim," says Madiha. "For me personally, quality time is bonding with each one individually. Spending time with my daughter playing with Lego on a Saturday morning, or reading a book to my baby son before bed, or just sitting on the patio with Sohail once the children are asleep forcing him to listen to Atif Aslam," she laughs.
What the family cherishes the most is taking trips together. "Nothing like getting away for a bit, together. I'm a travel fiend – I'll do anything to get away. Many trips have been memorable. Vacations my husband and I took while we were still in high school will always make my top ten. Also, my trip to Budapest with a whole lot of friends to celebrate my brother's wedding. It is definitely one of my all-time favourite trips. I just got back from beautiful Lake Como where we'd been invited to attend a friend's wedding. The scenic views were simply breath-taking," recalls Madiha, a self-proclaimed travel buff.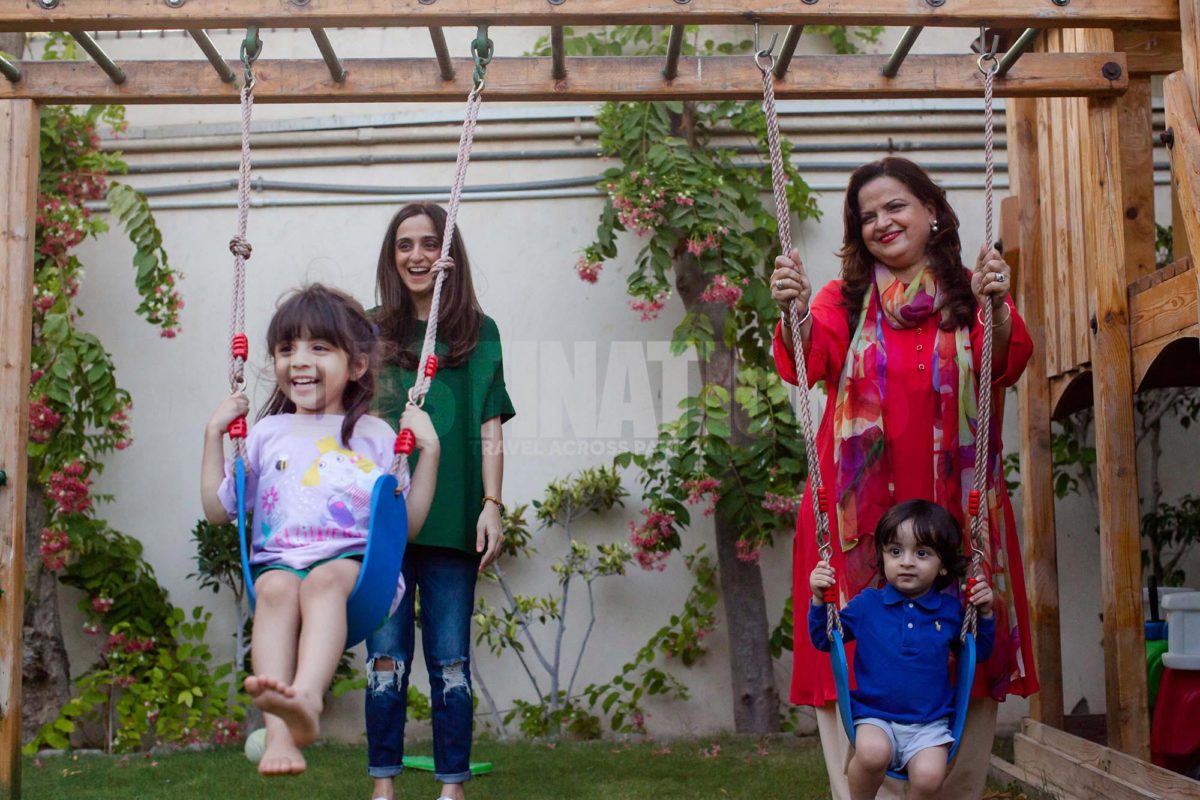 While holidaying with friends and family has its perks, Madiha also realizes the importance of taking the time out to focus on oneself. "I once went to the US for a month on a mentorship program organized by Fortune. I spent a month shadowing Kathleen Vaughan who at the time was an executive with Wells Fargo.
She took me all over the US, talking business, introducing me to other business leaders and arranging meetings for me attend. This was before I had children and could take out the time. It was truly a life-changing experience."
With her children at school and Lals keeping her busy, Madiha is trying to find the time to plan her summer. "Our plans for this Eid and the summer are totally up in the air. I'm really excited because for the very first time, we are working our vacation plans around Sofia and Mikael's school schedules. It should be fun travelling with a 3-year-old and an almost 2-year-old! We will probably travel to some place beachy, maybe in Europe, for two weeks. I currently have an excel sheet up with names of resorts and the criteria that they are being rated for. My goal is to find a somewhat exotic resort with white sand and great diving facilities nearby. Entertainment at the hotel and a kids-club on premises are also imperative. And all this should not cost me an arm and a leg. Tall order I know, but fingers crossed!"