The setting is magical: Pretty, pastel-coloured houses line the bay; the heady smell of citrus, courtesy of the lemon groves that are found in every corner, fills the air; and a stroll along the narrow, sun-bleached alleyways uncovers architectural and cultural gems from an era bygone. This is Procida, a tiny island in the Bay of Naples, Italy, that remains one of its best-kept secrets.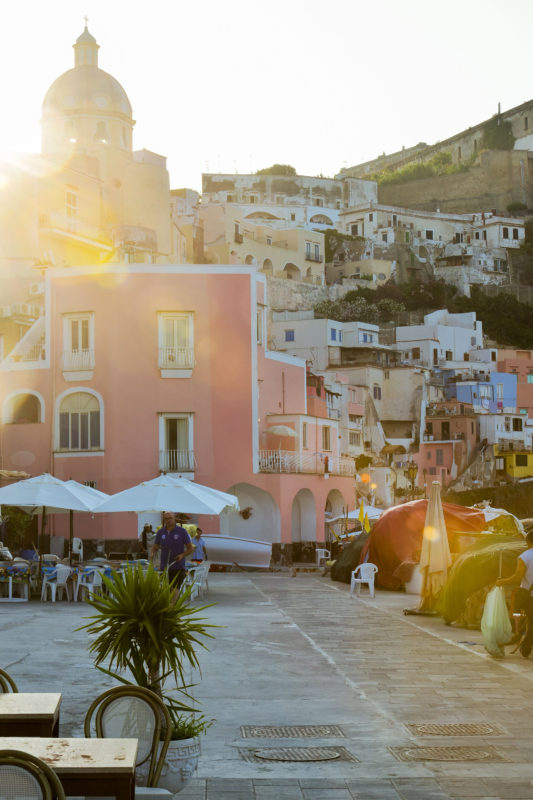 While the bigger neighbouring island of Capri receives large amounts of visitors, Procida has remained off the beaten track for the average traveller, lending the island an authentic, almost rural, Italian feel that is missing from its better known counterparts. Filmmakers discovered the charm of the island long ago, with classics such as Il Postino (1994) and The Talented Mr. Ripley (1999) having been filmed on its beaches and in its congested streets.
This summer, ace fashion photographer Khawar Riaz left his hometown Lahore in search of unusual locations to use in his upcoming work. "I'm always looking for destinations that are undiscovered; where no one from our part of the world has gone before. There's nothing like travel to unleash one's creativity," says Riaz.
Discovering Procida almost by accident during a 12-day trip to Italy, Riaz found its stunning coastline, sun-dappled waters and colourful houses to be the perfect setting for Amir Adnan's line of breezy linen trousers and cotton shirts. Read on as he shares his experience of shooting in this charming Italian setting: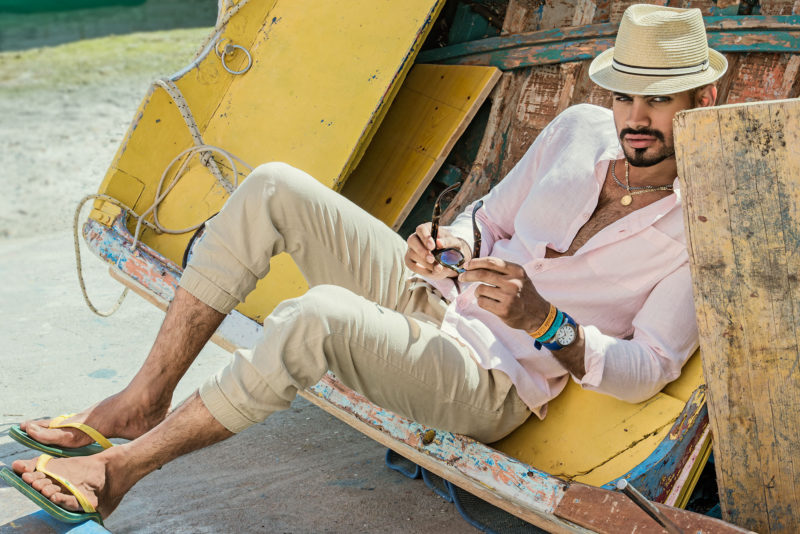 Procida doesn't usually feature on tourist travel itineraries. How did you discover this tiny island?
There's an interesting story behind the discovery actually. I've always been fascinated by Italian and Spanish culture and architecture; in fact, after I remodelled my house in Lahore people used to tell me it had a Tuscan vibe. Having never been to that region, I decided to visit Tuscany this summer and see it for myself. During the trip, I chanced upon a stunning shot of Procida and it just spoke to my soul. I knew I had to go there.
What's the best way to reach the island?
It's very close to Naples. You just need to get on a boat and it's about an hour away. I had a car because I had been driving through Italy with a friend who was based there. We drove from Tuscany to Naples and then took a ferry to Procida, shipping the car along with us.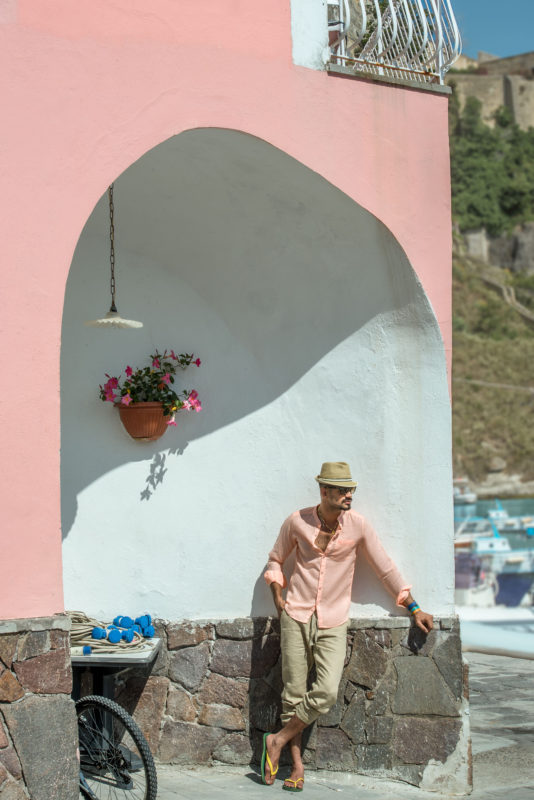 Where did you stay?
Since Procida is not a very touristy area, there are not that many hotels. I rented a small apartment, which was a lovely little place. I did not feel like a guest there, it was like living in my own home.
What were the people of the area like?
Italians are really friendly. In many ways they are like us Pakistanis – they like vibrant things, good food and they respect traditions. I always saw families hanging out together in large numbers; Italians believe in a joint family structure like us. Also, even in a small town like Procida, locals were very fashionable. I felt that I had been transported to the 50s, when women wore proper dresses and tied their hair in elegant buns.
How was the food on the island?
It's a coastal area so seafood is widely available and its just spectacular. I had the best seafood of my life in Procida. There are many beachfront cafés where one can enjoy a good meal and some great views. Food was probably the most expensive thing on the island; but it's still cheaper than it is in Italy's more popular destinations.
Tell us about the photoshoot.
I had been told that the colours of the painted houses come alive at 10.30am because of way the sunlight falls on them. So we rented a boat early in the morning and went out to the bay to make sure I captured the perfect shot. It was just me and the model Salman– I was the stylist, makeup artist and photographer. Italians love fashion; so when the locals saw a fashion shoot happening they were very excited. At first, they thought that the model was Italian but when they discovered we were from Pakistan, they were intrigued! They hadn't met any tourists from our part of the world before and they were eager to ask questions.
What are some of the attractions that a visitor to Procida should look out for?
I just loved getting lost in the narrow streets that crisscrossed the cluster of villages on the island. The most beautiful village is called Marina Corricella; it is built into the side of a cliff jutting into the sea and the houses are linked by stairway streets knows as 'scalatinelli'. The Terra Murata is the highest point on the island. It has fortified walls that were built in the 16th century to protect against invaders. The island has numerous churches that speak of a rich cultural and architectural past, such as the Abbazia di San Michele. Then of course, there are the beaches that are perfect for lazing around on.
What memories have you brought back from your time in Procida?
I feel like I've left a part of me behind; it is such a magical place and I can't wait to go back. We're used to living in cities that are concrete jungles; visiting a place like Procida shows you a simpler, more beautiful, way of living. I feel honoured that I'm the first Pakistani to have done a fashion shoot there. The locals told me that the only other photo-shoot they remembered seeing was a Dolce & Gabbana campaign. That's a very special thing for me.