A trained architect and fashion/travel photographer, Mohsin Khawar loves to explore the world and meet new people. Recently he made a trip to Kalam Valley, Swat district, Pakistan where he couldn't help but feel inspired. In this DESTINATIONS exclusive, he shares his photo and text documentation of spellbinding sceneries, highlighting key features from the journey, sharing useful information and in short, becoming the guiding light for all those who want to follow suit.
HOW TO GET THERE:

From Lahore, we traveled on the newly constructed Swat Expressway expressway from Bahrain to Kalam. It helped reduce travel time and made the ride a smooth one.
From Lahore, I went to Islamabad, where I stayed the night. The next morning I left for Kalam. I took the Islamabad Peshawar motorway (travel time: one hour) and then turned onto the Swat Expressway (travel time: one and a half hour) until I reached Swat for lunch.
The roads are perfectly fine all the way to Kalam. However, you may encounter three to four overheads under construction that may delay you by two to three mins per bridge. 
If needed, you can also break your journey in Mingora. It is a small town with all the amenities of a big city. Interestingly, Mingora dates its history back to the Indus Valley Civilization.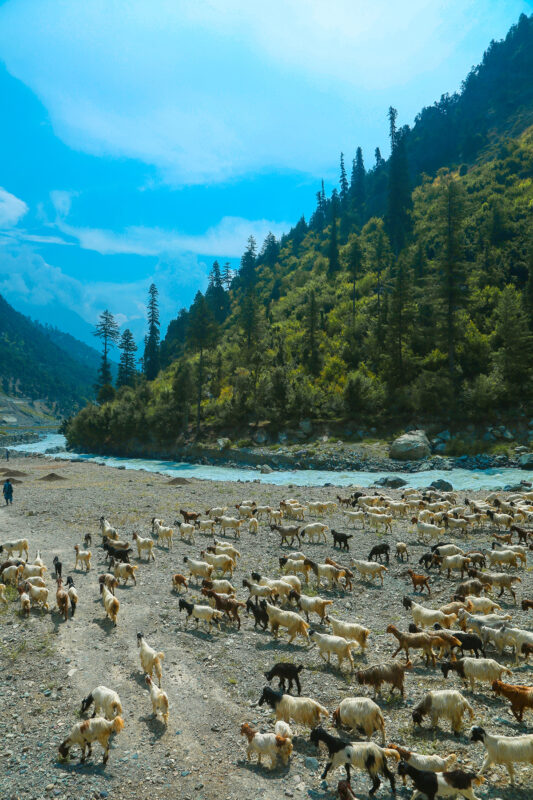 WHERE TO STAY: 
The CoVid pandemic and subsequent lockdowns were nothing but a slight headache for the wandering spirits of Pakistanis. Post-lockdown, tourism continues its journey on the upward trend scale. 
This means you will find quality B&Bs, motels, hotels dotted across the land. I found fine lodging in both Mingora, which is the capital of Swat and in Kalam.
In Kalam, I stayed at the newly constructed Sakuf Resort. It was a pleasant stay however, be warned, they don't have WiFi. And not all telecom networks work in Kalam. Especially on day trips around the area, you may lose all signal bars- down to the very last one. Therefore, it's best to arm yourself with your own Zong 4G device.
In Swat, I booked myself into Serena Hotel and loved every second of it.
I would advise against taking your own vehicle (even if it's a SUV). Rent a 4WD from Kalam with a local driver.

The tracks are rocky but the region is so beautiful, it totally justifies the effort.
Insider's tip:
Swat's handicrafts (Suvastu) are exquisite. It's a great place to buy gifts for loved ones back home.

Hire any local to guide you around. Many times people let their jeep drivers function  as a guide who tells the visiors where to go. Research some basic information like important places and make sure to download Google Maps on your phone.
WHO WILL YOU MEET:

The people of this area are super friendly and hospitable. They will offer you tea, food and even free stay. They are also very helpful in guiding tourists and are even willing to halt their vehicles to extend help to visitors.
WHAT TO DO:

Create a home base in Kalam and then take jeep tours to places like Shahi Bagh and Kumrat. 
I don't think booking a tour is required because all the information is available online. Your hotel will also suggest you places for a day trip plus there are several jeeps available with which one can make a deal for the day.
When in Kalam, people mostly like to visit Mahodand Lake for its fabled charm. I journeyed from Kalam to Shahi Bagh instead and what an unforgettable experience that turned out to be. On my way, I witnessed picturesque landscapes, potato and turnip farms, and plenty of sheep grazing in the pastures. It was like living a dream. 
I didn't go to Kumrat Valley this time but with all the amazing reviews streaming in, that's next on the agenda.
Insider's tip:

I would advise against taking your own vehicle (even if it's a SUV). Rent a 4WD from Kalam with a local driver.
The tracks are rocky but the region is so beautiful, it totally justifies the effort.
WHY THIS WILL BE AN UNFORGETTABLE TRIP:
RIVERSIDE CHAI:

When in Swat, do not (and I repeat, do not) miss stopping by those fascinating river side restaurants for fresh water trout or chai (tea).

BREATHTAKING VISTAS

:

Kalam is a treat for the senses.
DOs and DONTs
:
DO NOT GO ON A WEEKEND: Avoid the crowds
DO NOT GO ON PUBLIC HOLIDAYS: Avoid the crowds. 
DO NOT LITTER: Requesting the KP government to install more trash cans. Requesting city folk not to litter. Also, you can request the restaurant owners not to trash their rivers.
CARRY CASH: So yeah, it's true! There is no ATM in Kalam. The last ATM you'll see is at Madyen.
RELAX: Easy Paisa and Jazz Cash options are available in Kalam.
CARRY YOUR OWN INTERNET: Get yourself a Zong 4G device for the trip.
CARRY A WARM JACKET & A WALKING STICK: If you plan to go camping/hiking in Ushu Forest or Shahi Bagh.
DO NOT TAKE YOUR OWN VEHICLE ALL THE WAY: The roads are rocky but the views make it well worth the effort. Rent a 4WD in Kalam!
DOWNLOAD GOOGLE MAPS APP: On track is the new black.
So before the season is out, I would say, stay calm and see Kalam.