Aisha Khalid and Imran Qureshi are the power couple of the art world. Internationally renowned for their thought-provoking works of art, these contemporary artists talk to us about inspiration, the importance of space, their new home, their love for Pakistan and a recent trip to Hunza Valley.
On a crisp winter afternoon, the kind of day when the sky is a hazy grey and the sun is a blurry yellow shielded by thick cloud cover, we make our way towards the house of Aisha Khalid and Imran Qureshi. It is rush hour as school traffic blocks off most of the roads leading to their area. As our car weaves through side roads and navigates through short-cuts lesser known, we soon find ourselves on a leafy street in a peaceful neighbourhood. Branching off the main avenue, this dreamy lane is an anomaly as its quiet aura belies its central location, remaining unaffected by the city noise of our rapidly-expanding metropolis, Lahore.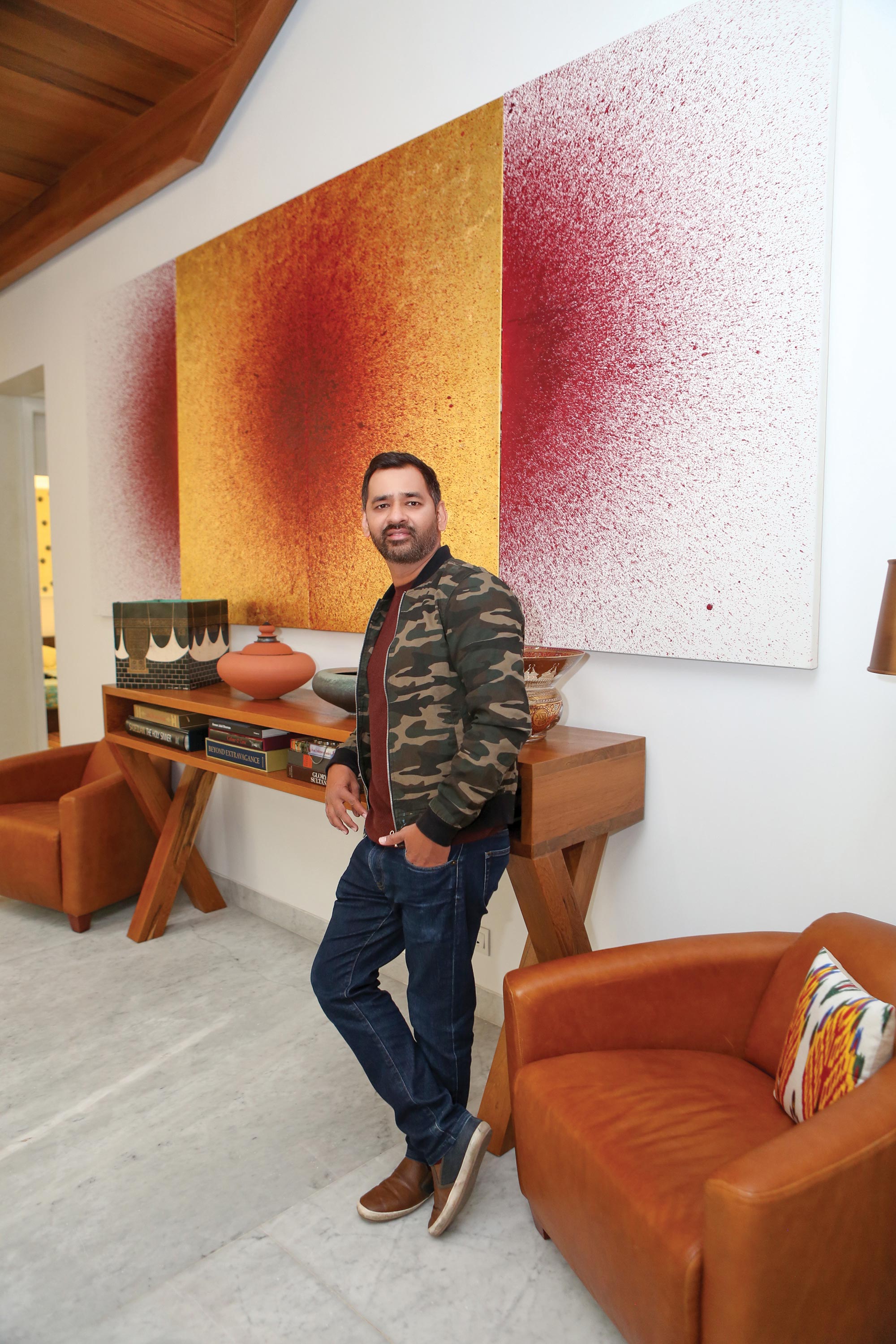 As the gates slide open, we find ourselves facing a stark white Santorini-inspired modern Greek structure defined mainly its large Swedish-styled wooden door. A bright coloured Vespa strategically parked outside hints at the life we are to find inside in contrast to its minimalistic exterior. The aforementioned symbolic door swings open and we are warmly greeted by the lady of the house, Aisha Khalid. One of Pakistan's leading contemporary artists, Khalid's work falls under the umbrella of the "Neo Miniature" art form and through the use of intricate and repetitive geometric patterns and floral motifs, she explores Pakistan through reflections on its social and political issues, cultural stereotypes, and focuses on the complex relationship between East and West.
The creative impact of her art has earned her great renown both at home and abroad and her works have been displayed in celebrated exhibitions across the world and are also part of the permanent collections of M+ Museum (Hong Kong), Victoria and Albert Museum (London, UK), Fukuoka Asian Art Museum (Japan), World Bank (Washington DC, USA) and the Aga Khan Museum (Toronto)
amongst others.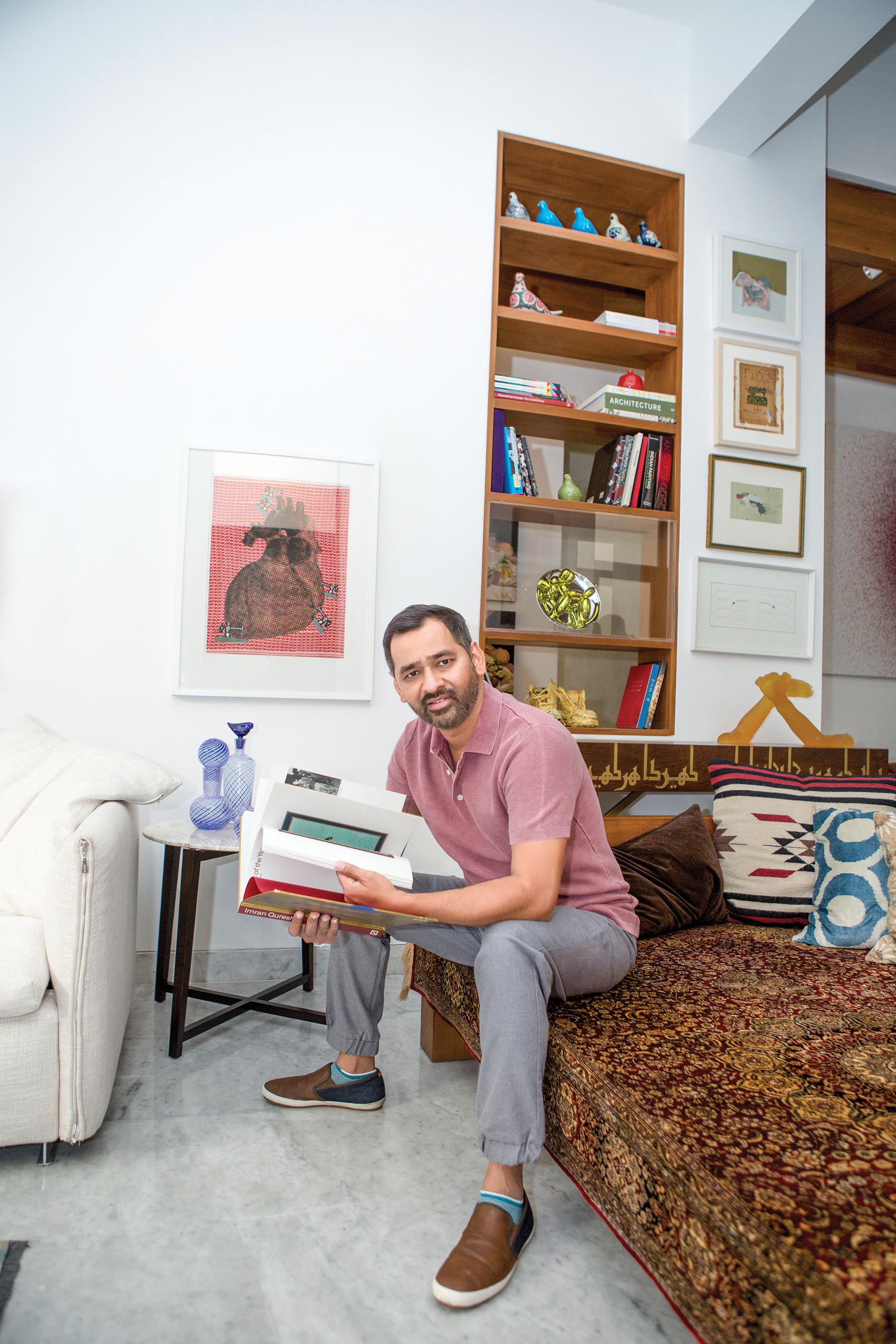 As one enters the house, we meet the master of the house, Imran Qureshi. An award-winning contemporary miniature artist, Qureshi's work juxtaposes seemingly serene compositions with grave imagery. While frequently using the floral design discipline, he uses his brush to reflect on the troubled past and certain disturbing events of a present-day Pakistan.
His work has been displayed in solo exhibitions at Corvi-Mora (London), Pao Gallery, Hong Kong Art Center (Hong Kong), Galerie Thaddaeus Ropac (Paris) and is represented as part of permanent collections at major institutions including The Metropolitan Museum of Art, New York and the Victoria & Albert Museum, London.
While the works of this power couple of the art world are most original in approach, subject matter, technique and rendition, there are certain elements that seem to inspire both husband and wife. Both are part of the Neo Miniature Art Movement. Both use repetition as a style of artistic expression and both seem to employ the floral design discipline from time to time. And the most common factor between the two is that the underlying theme of the works of both artists remains Pakistan.
A sense of peace and calm pervades the house as one walks inside. There are no fat couches and no big screen TV substituting conversation in the living room. It has instead been replaced by rare books on art, priceless art work adorning the walls, artifacts from around the world, customized furniture requiring only prompt seating and an open space kitchen that joins the living room, hence enabling an environment that allows the free flow of ideas and discussion; in total, there's much to inspire the ordinary mind.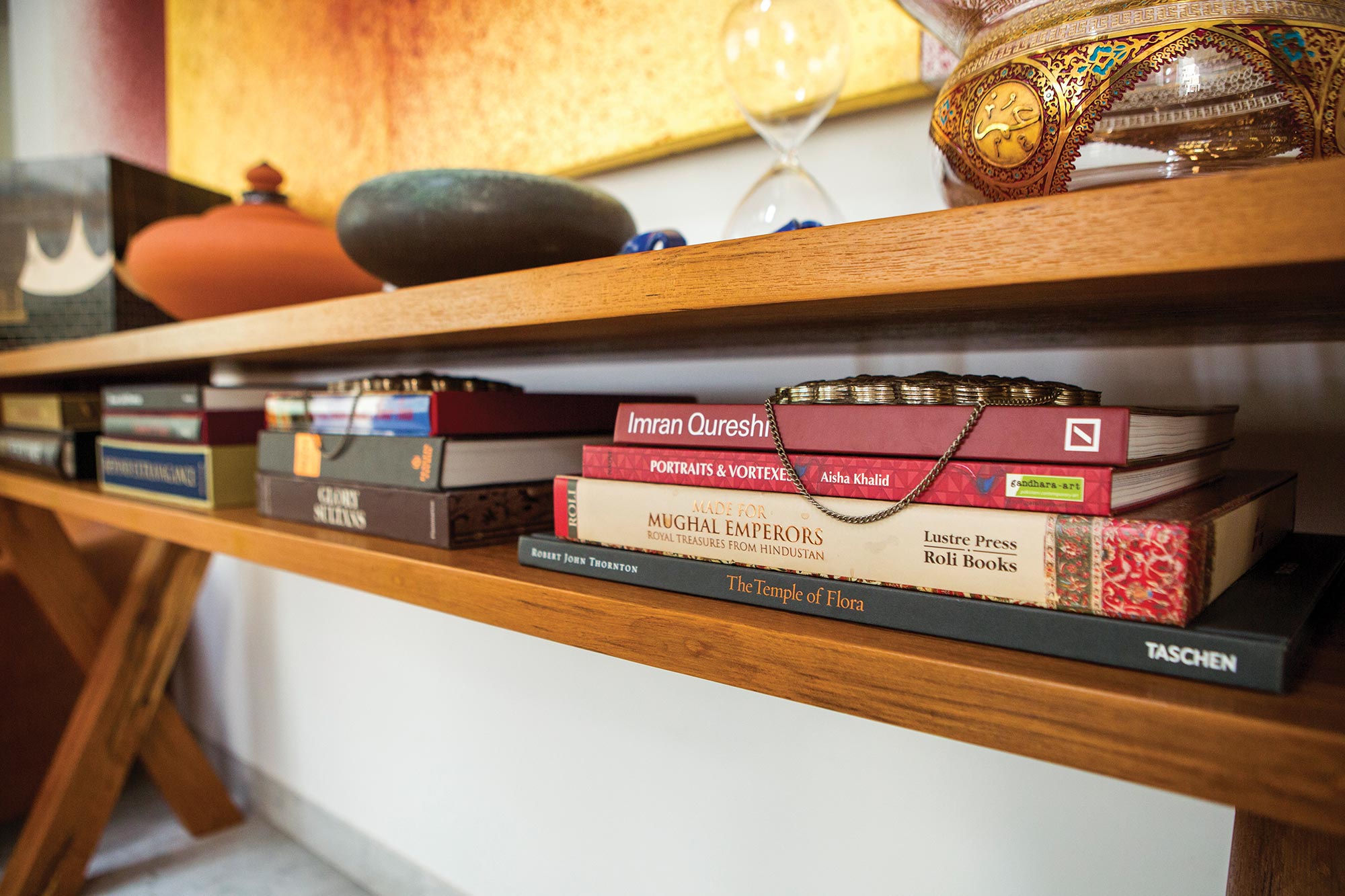 We sit and talk to them about inspiration, the importance of space, their new home, their collective love for Pakistan and a recent trip to the Hunza Valley. A magical place famed not only for its scenic landscapes but also the warm hospitality of its people, it is located in the fabled northern areas of Pakistan and peopled with a population that is widely educated, very progressive and habitually unprejudiced.
Congratulations on your new home! It's lovely. Who were the chief constructive and design forces behind this project?
AK: Thank you! Well, Raza Ali Dada was the chief design architect and then being artists ourselves, we had our design input too.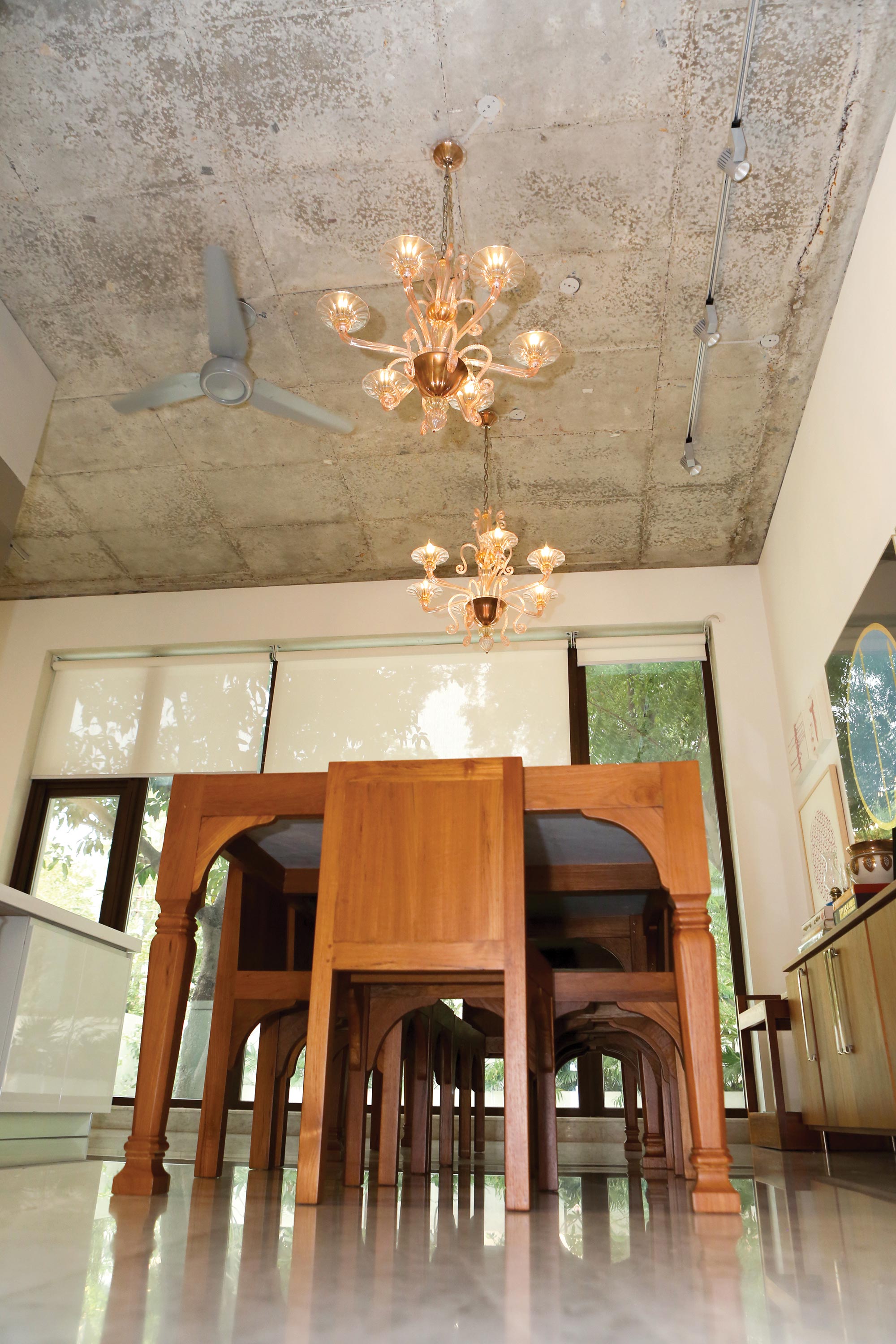 From the exterior to the interiors, it seems to have all been planned out beautifully and methodically, in clean symmetrical lines. Everything from the art work to the colour palette, to the furniture and the layout of the house is in perfect sync with each other. Tell us about the creative process that led to the construction and decoration of this house. And how would you describe your design aesthetic?
AK: To begin with, we had a few initial ideas that we discussed with Dada. We wanted our home to have a minimalistic design aesthetic but be homey and warm at the same time. The kitchen also holds great significance for us as we always like to invite people over and serve them food. Imran and I along with our children all like to cook. Therefore, we felt the kitchen should be part of our house, not a separate entity existing in isolation. In fact, our main home window is through the kitchen.
Our key concern was that no part of the house should be shut off to any of us. It is thus that our living room, drawing room space is common, and interestingly the kitchen is also part of it. The furniture, designed by us, is tailor-made to suit this house.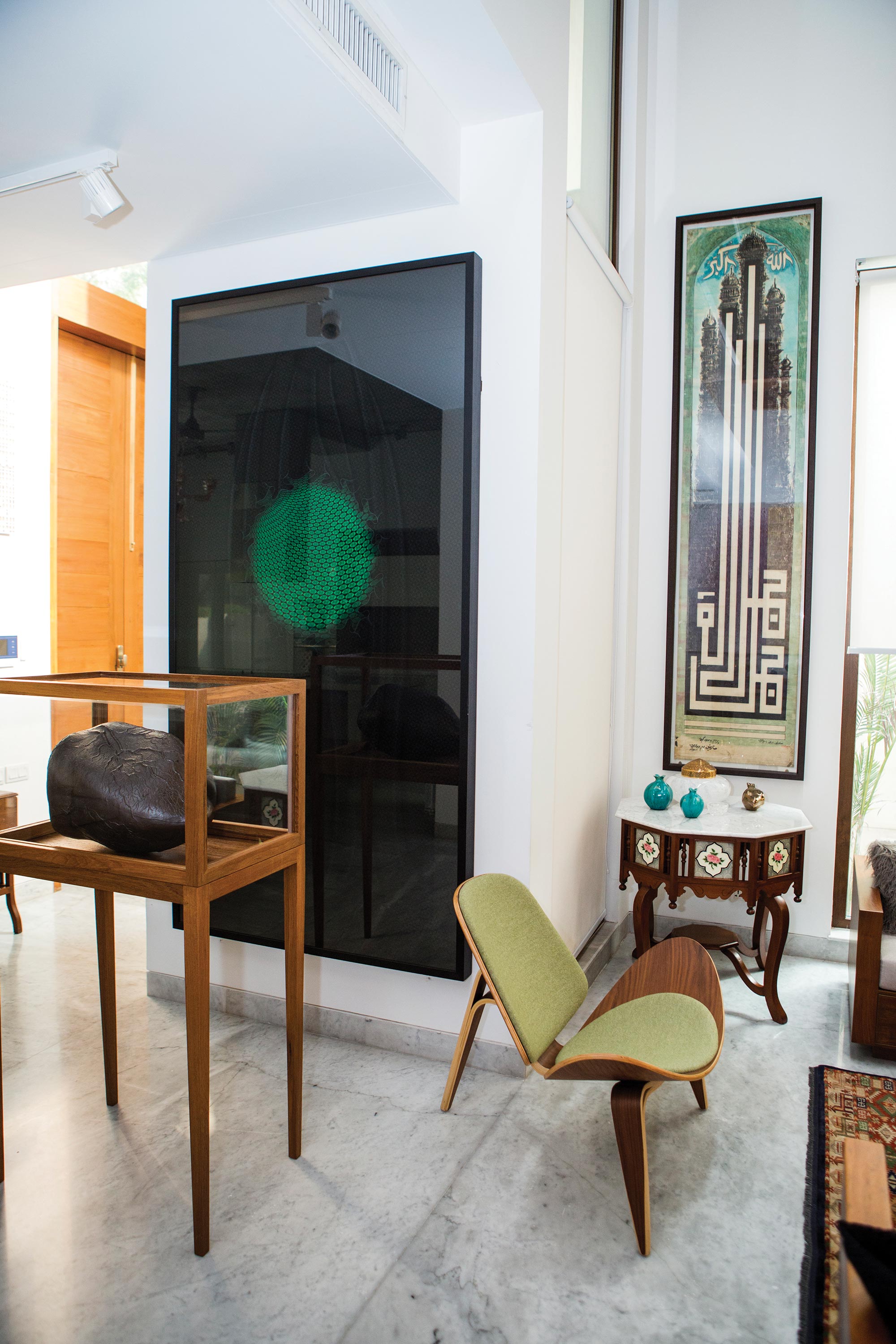 IQ: Designing and putting this house all together was an organic rather than a deliberate process. Since we have spent much time in our lives traveling and collecting things, we felt that our new home should welcome all those things so in a way it also serves as a museum curating all our travels and special moments.
Architecturally speaking, it is an open plan house with no extra walls and no unnecessary barriers within. Large windows make sure we have abundant natural light during the day.
What role do surroundings and space play in the life of an artist?
AK: Surroundings are a defining element in the work of an artist. Space matters. You know if I look at my earlier works, I realize that when I used to sit and draw in the corner of my old bedroom, I was painting small-scale miniatures. With time, as my space has grown, so has the size of my canvas. So I would say it matters a great deal where you're working and where you're living.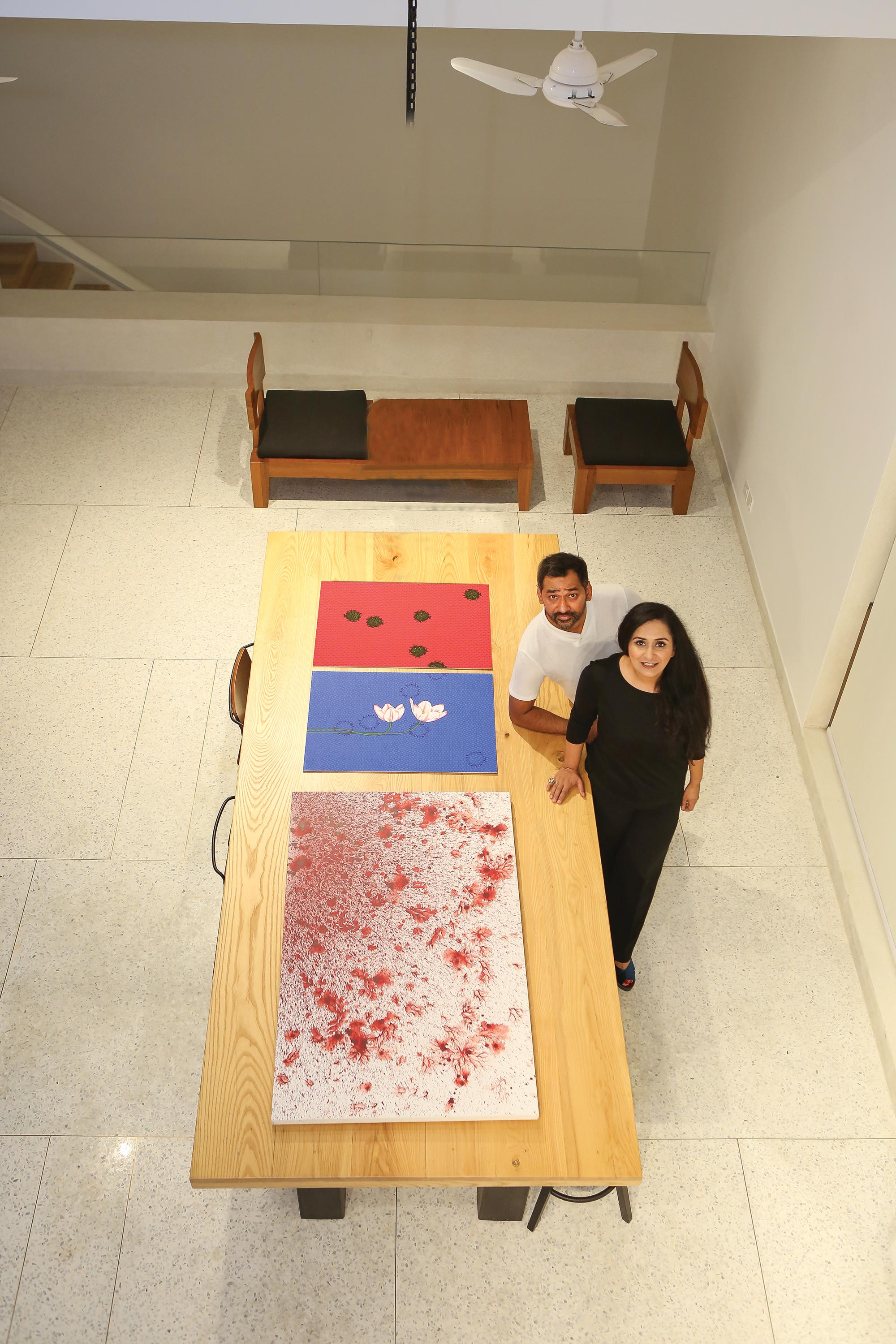 What are the primary sources of your inspiration?
AK: I would say the best part about travelling is it fills you with inspiration and motivates you to begin new work. I always have my sketchbook with me when I travel. I use it to doodle, take notes and write down impressions. But on a recent trip to Hunza, I experimented with new mediums of expression. I met and interacted with so many people whom I photographed and made short videos of.
IQ: Travel. It gives the mind the space to think of new thoughts.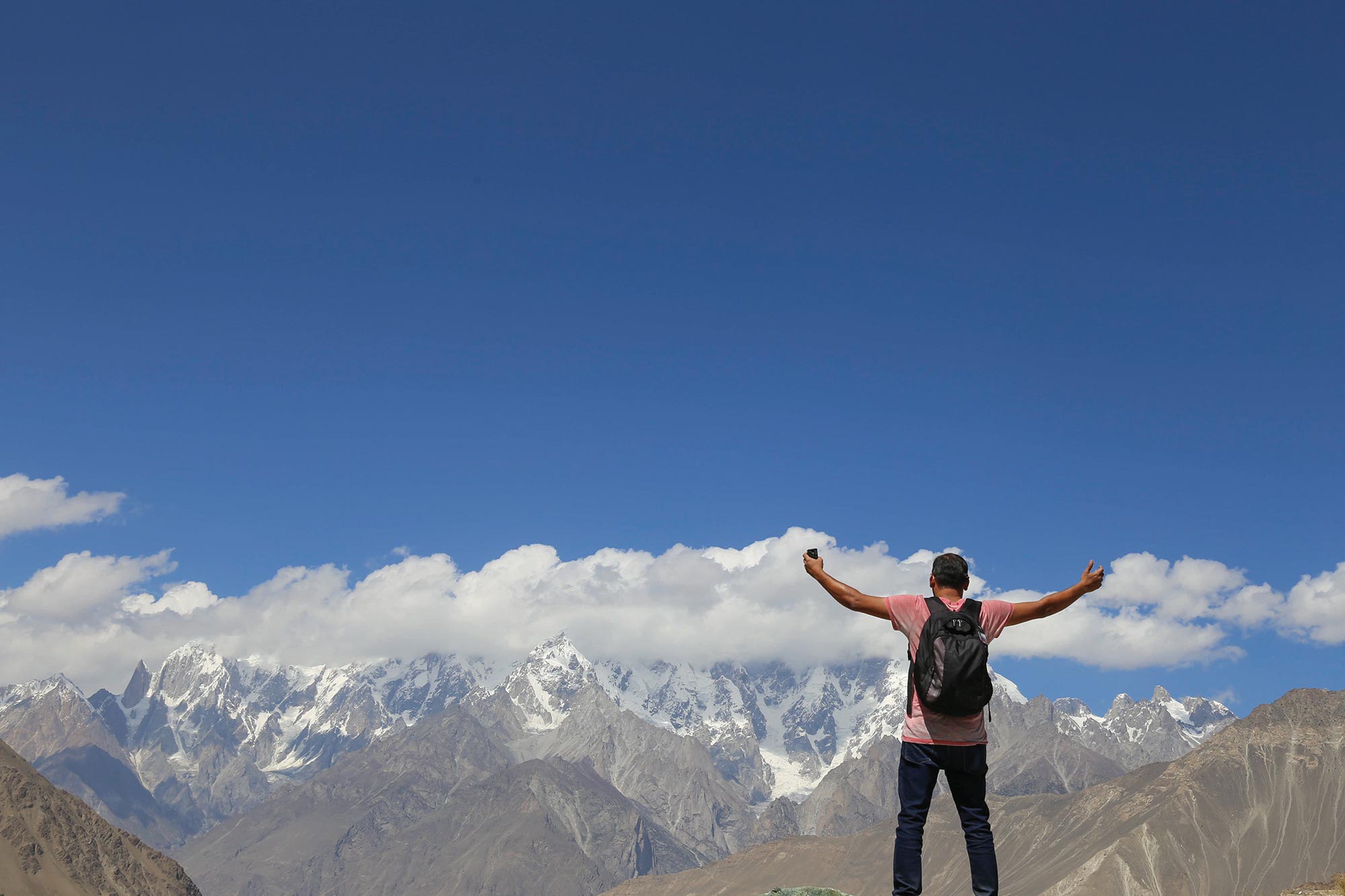 You recently made a trip to Hunza, Gilgit Baltistan. Was this your first time up north? How would you describe your initial impression?
AK: Technically, it is not my first time up north, rather the third or the fourth. I've been to Kalam, Kaghan, Naran and Swat in previous trips. But it was my first time in Hunza, Gilgit Baltistan. Although Imran had travelled here before, I had not. And I am so glad I finally did. The skies are so clear, the air so crisp and the rolling hills so green. The mountains, they were not only high but huge in size. The whole experience has left me in great awe. I had never seen apple trees before. To see them hung low with ripe fruit, gosh! The whole scene felt like it was heaven.
And just when you think you've seen it all, you come across the marvel that is the Attabad Lake. As we were driving from Hunza towards the Khunjerab Pass, we crossed a 17 km long tunnel and came out on the other side to see the bluest lake one could ever see that held a clear mirror reflection of the skies above. It was all so surreal, like fantasy! No matter how high-tech the camera lens, it simply cannot capture the beauty of this place. The sky was so clear and the mountains, they were not brown or any other colour but the most unprecedented shade of ochre one could ever come across, and the water! The water was the most sparkling turquoise ever.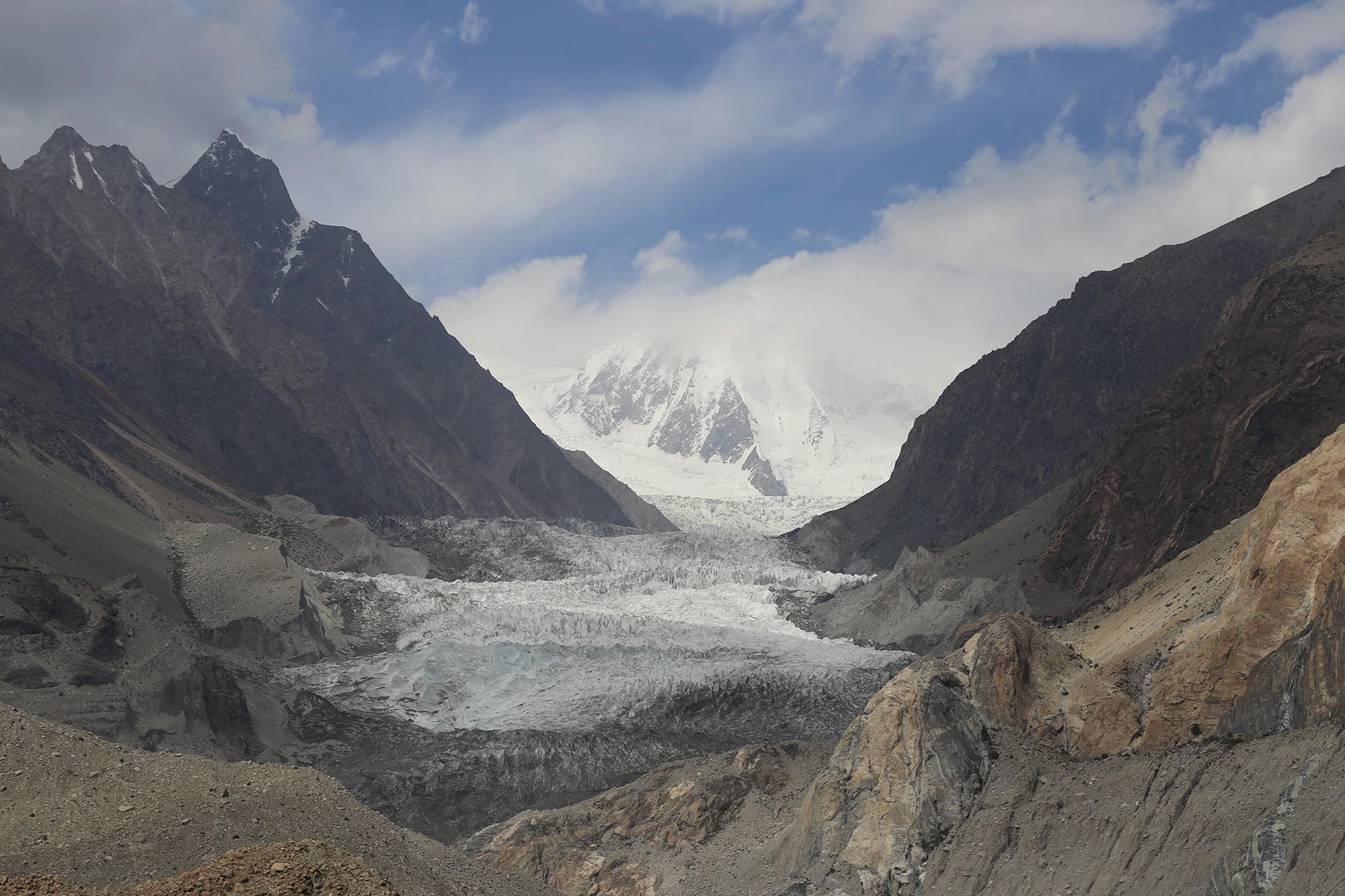 How did you get there? Was it an arduous journey?
AK: Not at all. We flew from Islamabad to Gilgit and then we drove up to Hunza and from there, another two and a half hours to the Khunjerab Pass. It was a smooth drive on the carpeted road leading all the way to the Pak-China border. In fact at 16000 ft, it is the highest paved road in the world.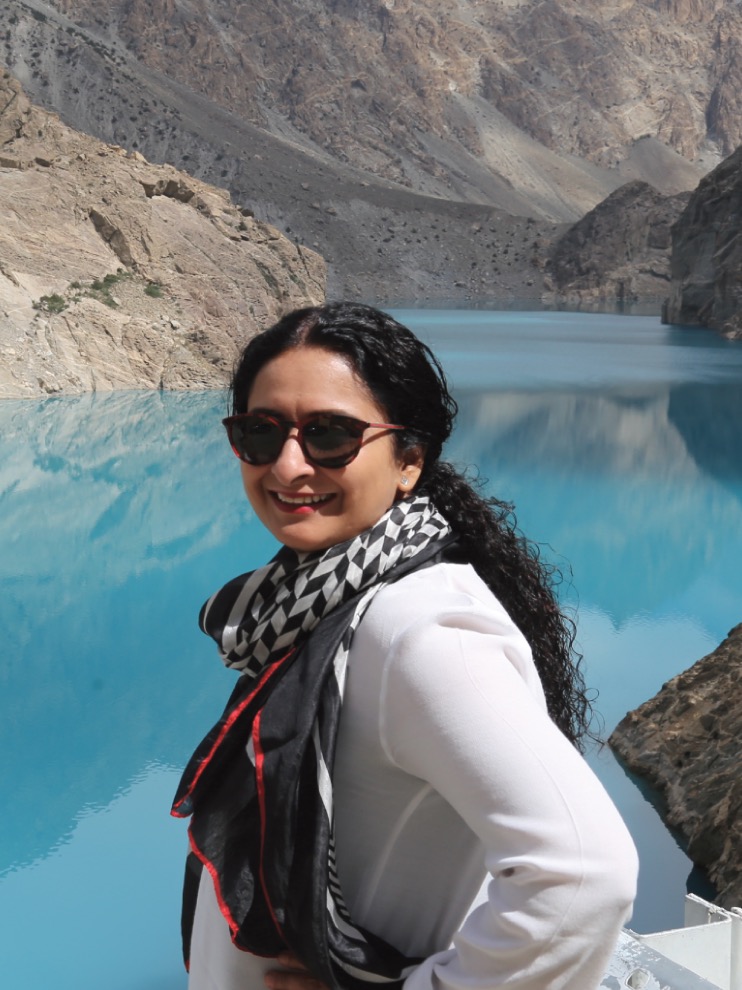 Aisha, your work features a significant number of social and cultural stereotypes revolving around women. How do you feel about the people in Northern Pakistan and their attitude towards women?
AK: The people of Hunza strongly believe in empowering their women through education and work. We ate at a local dhaba (food joint) run by two women. It is a small place where they serve freshly cooked food. It's lovely. They prepare the food in front of you and serve it fresh off the stove. It feels like home.
We started conversing with Chand Bibi, one of the owners (since the other was away) and were inspired by what we learnt. Both the women support their families and fund their children's higher education. Bibi's daughter is a student of Masters in Information Technology and her son is doing his Masters in Business Administration. The people of Hunza are strongly determined about educating their children. These two, like countless others from the region, work very hard to ensure their children are able to complete their education. In fact sometimes they end up working even at odd hours but feel perfectly safe going home late and returning back to work early.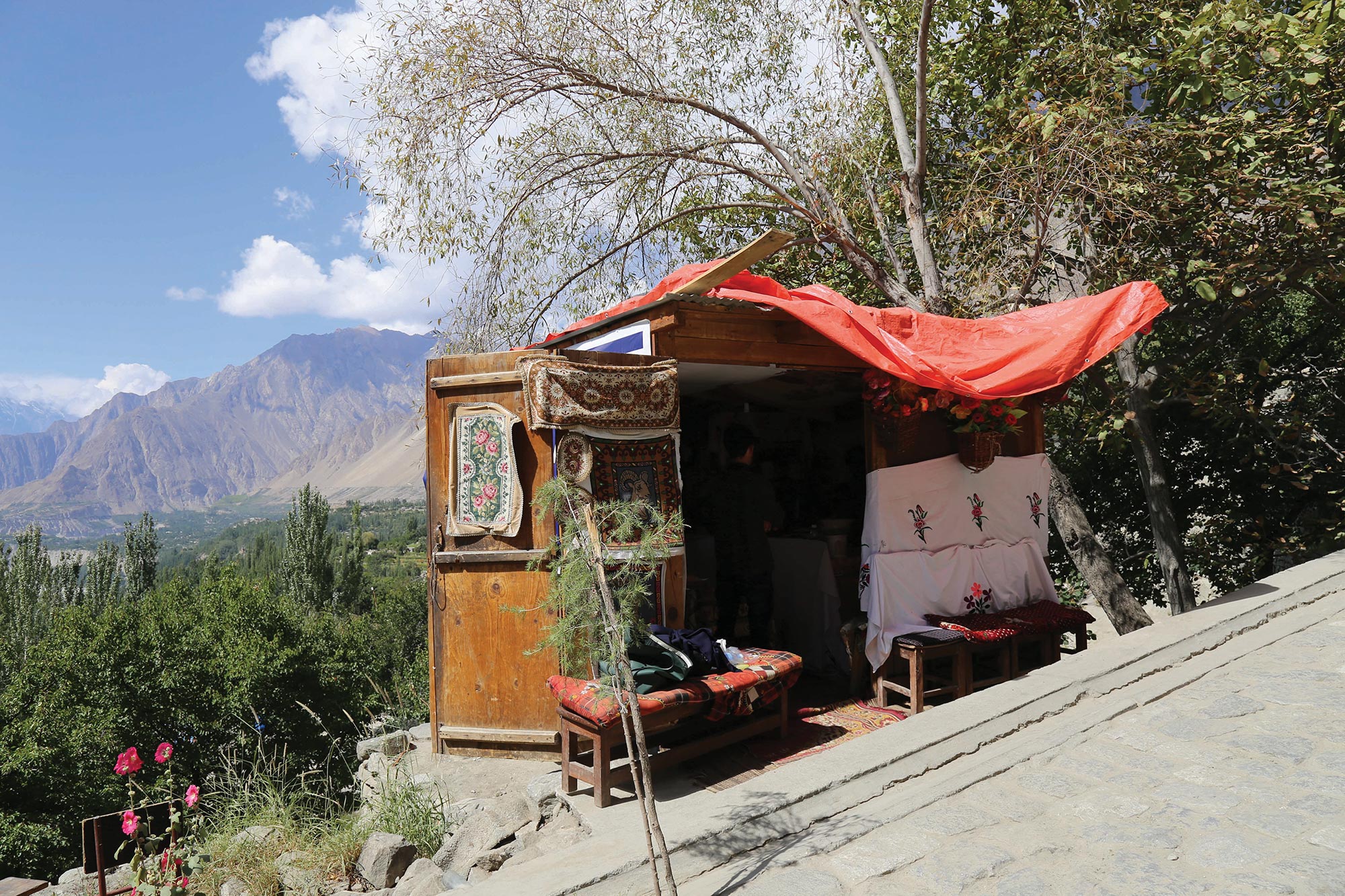 Sounds amazing. Tell us more about the local hospitality, culture, people and food.
IQ: The people of Hunza are a sophisticated and hospitable lot. This year, 1.3 million tourists visited Hunza. The hotels ran short of space and the locals extended their homes to the visitors. The people of Hunza are also quite particular about principles such as cleanliness and regard for their elders and guests.
We were invited to the valley for a dinner by one of my students who belongs to the area. He then took us to a local wedding. We were glad to be part of such a wholesome atmosphere. There was no segregation. The men and women interacted freely as one unit.
AK: The wedding was a lovely affair. The old women sat around sporting their traditional cap and cheering on the men who were dancing in the centre of the room where the bride and groom were. It was truly joyful watching these people live their lives to the fullest. They live well and eat well.
In Hunza, apricots are in abundance. I remember a breakfast we had at Cafe de Hunza which serves excellent food including, dry apricot juice, fiti – a local bread to be eaten with plenty of butter, dawdoo soup, hand made noodles and chapshoro – a pizza style bread with chicken filling.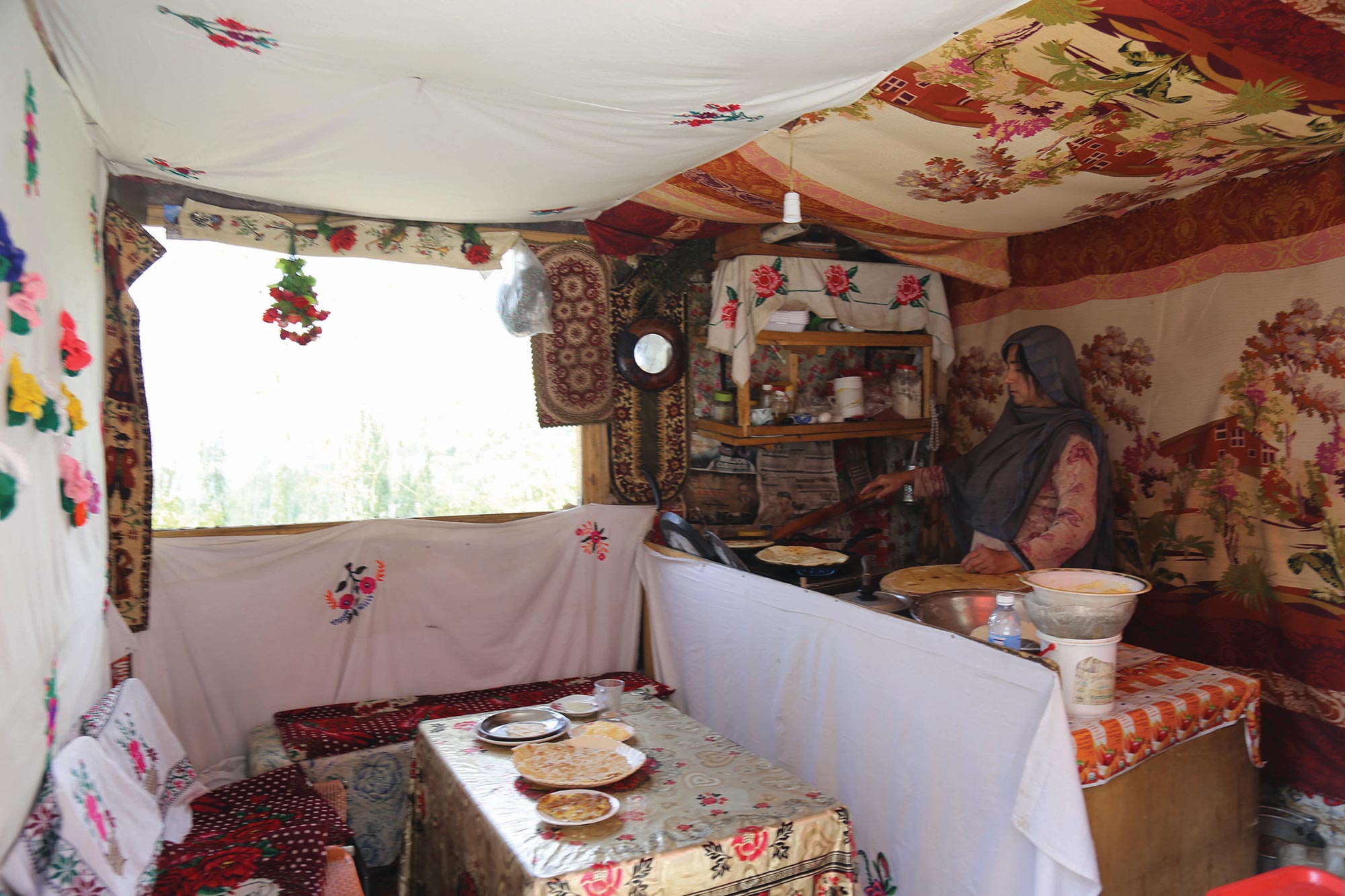 The hospitality is also unmatched. Chand Bibi, who runs the dhaba (food joint), confirmed our booking for breakfast the next morning and made sure she was there early the next day to serve us our promised meal despite her previous late-night shift. She served us like a host, not like a restaurateur. There were no fixed servings. She insisted we have more and wondered if we had liked her food or not, since we couldn't eat more. There was excellent yak-meat and hand made noodles all for only PKR. 100/ per person, and even that she felt shy charging us.
Breakfast included some of the best pancakes in the world, fresh omelettes, home-made butter, pure honey and apricot jam. We ordered some goat milk tea. The quality of food, the atmosphere, her warm hospitality, it was the perfect morning.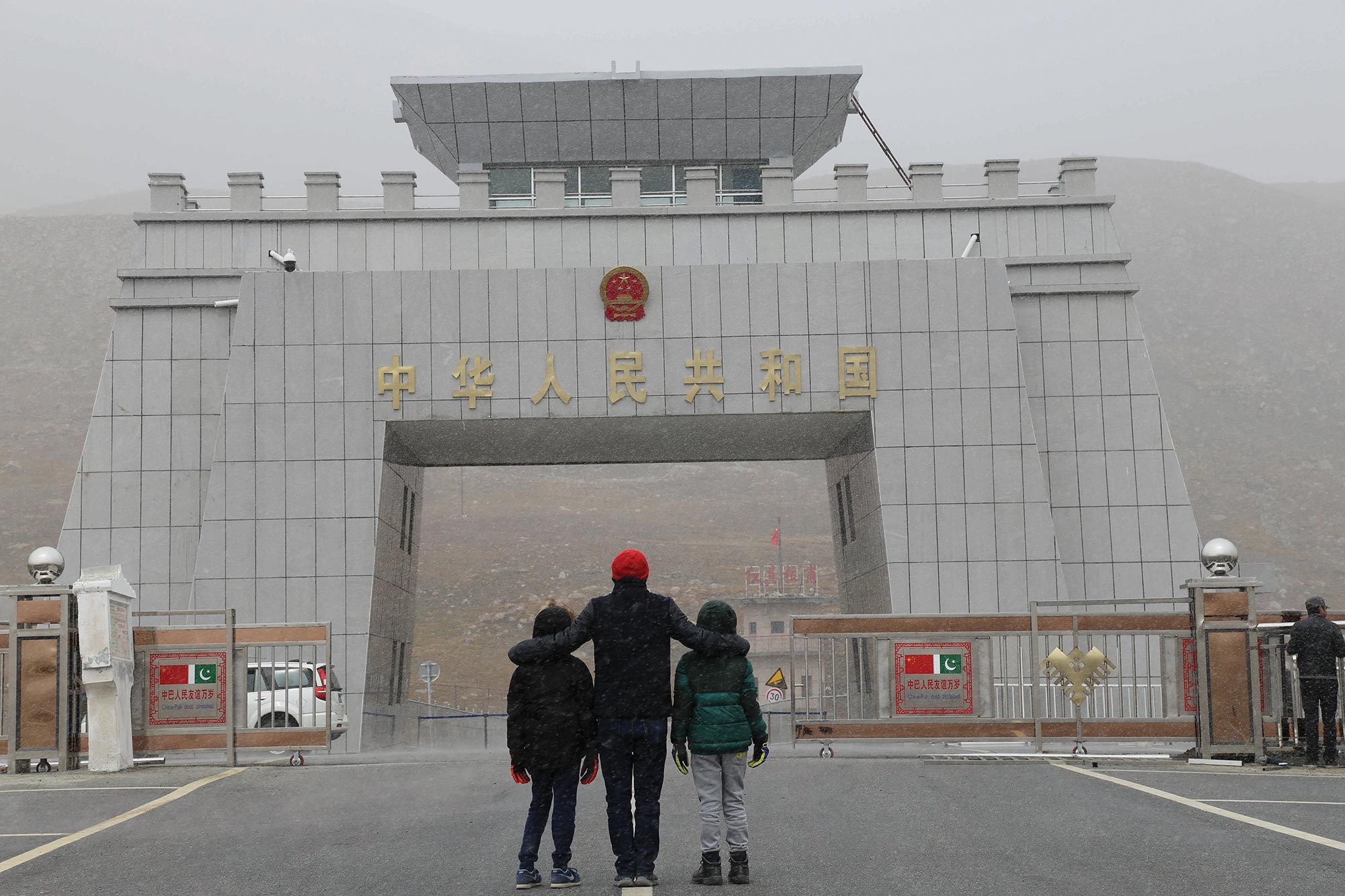 What impression has this trip made on you all as a family unit?
AK: It's been one of the best trips of our lives. Our children are at the perfect age to travel along with us. We hiked together, walked around, enjoyed the sites, learnt fascinating facts and details about the two historical forts we visited, Altit and Baltit. Imran and I travel a lot together for work but traveling as a family always brings us closer. As we share new sights and new information, we grow together and that is a beautiful thing. Next year we plan to explore more of northern Pakistan and hope to go see Skardu. Fingers crossed!