Photography: Malika Abbas
Sarah Najmi Bilgrami is an architect, a designer and a mother of three. One of the four key pillars at the Najmi Bilgrami Collaborative, a prestigious architecture and design house based in Karachi, she is also a travel enthusiast and a bona fide art connoisseur. Here, she takes us on a tour of her beautiful home and talks about her work, travels, curated treasures and what inspires her design aesthetic.
Meet Sarah Najmi Bilgrami — architect, designer and mother of three. A graduate of the Rhode Island School of Design, Sarah began her professional career in Boston and has since come a long, long way. Today she constitutes one-fourth of the Najmi Bilgrami Collaborative, a merger that boasts the legacy of two stalwart architectural design houses, Misbah Najmi and Associates and Bilgrami & Faruque, and the Creative Director at its sister concern, Yoca.
Within a decade of its inception, the Najmi Bilgrami Collaborative found itself a listing on the Architectural Digest 50 — the 50 most influential names in Architecture and Design in 2015. With their work continuing to find acknowledgement internationally, last year, Sarah, her husband Zayd, brother Ahsan and their team at NBCL won the Golden A' Design Award for the interior design of the Gul Ahmed office in Karachi, while Yoca was awarded the Silver A' Design Award for the Unity Coffee Table. Previously in 2017, Yoca had also been awarded a Silver A' Design Award for their infamous Amoeba Table.
Sarah's own home in Karachi not only bears testament to her and her husband Zayd's design sensibilities but is also defined by their collective creative aesthetic and the needs of their young children. On a warm afternoon, we catch up with Sarah over tumblers of chilled orange Tang to discuss all things style.
You hail from a family of architects. What prompted you personally to take up architecture as a profession?
From a very young age, I knew I wanted to pursue a career in design and architecture – the only fields I ever saw myself in. It is also the very reason why I went on to pursue two degrees at RISD – a Bachelors of Architecture, and a Bachelors in Fine Arts. I would say genetics, my passion for design and my academic training collectively and cohesively enabled me take on my passion.
At the Najmi Bilgrami Collaborative, your partners include your brother, husband and father-in-law – tell us about the work dynamic.
I'm one of those fortunate people who happens to be working with family. I consider it a privilege to be able to discuss ideas with like-minded individuals. But at the same time, none of us molly coddle each other professionally – as a team, we are very progressive when it comes to design and put it first and foremost. With abandon, we are able to tell each other what works and what doesn't and play off each other's strengths. I'm generally the one who's behind the desk while Zayd and my brother Ahsan take on the field work. I think each one of us has their own strengths and that is what makes the dynamic work. That and mutual respect goes a long, long way.
With regard to design, how would you define your style?
I don't personally go for stark minimalism. For me, minimalism is style that is extremely curated – it just doesn't happen. There's a lot of editing that minimalists need to do so that it can be done right. I also believe that you need to have the right climate and backdrop for a minimalist aesthetic. It's beautiful when it's done surrounded by plush gardens, or near a water body, or even a simple skyline, then it lends itself to the environment. But when you're in a dense urban network, minimalism loses its charm. Unless you go out of your way to curate that look by pushing its boundaries, and that's when it works. I personally am a huge fan of rich luxurious materials, marbles, silks and high end metals. So, I love the luxurious aesthetic and that is what I recommend. Also, quality is timeless, there is no replacement for it.
How in your view have your design sensibilities evolved over the years?
Design sensibilities constantly evolve. While the fundamentals remain constant, design sensibilities keep changing and maturing with the passage of time, when you travel and depending on who it caters to. At NBCL, we as designers, as architects like to keep on challenging ourselves with every project we take on.
As an architect and designer, what inspires you or where do you seek inspiration?
My design inspiration is fluid and always has been. It can come from meeting someone interesting, or a piece of jewellery that I absolutely love, or something in nature or even a colour. A painting, a song and even my babies! I also travel extensively so that always inspires me.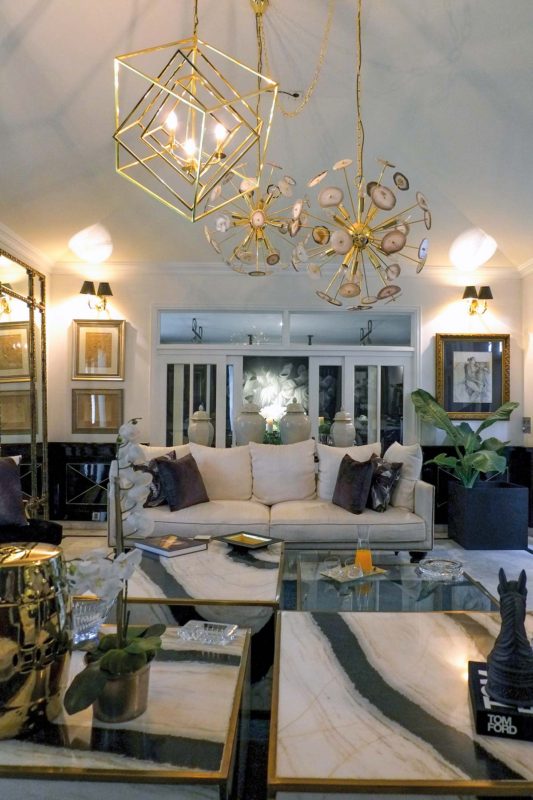 Who is your role model when it comes to architecture?
I don't have one role model per se. I am a fan of the great masters – Le Corbusier, Santiago Calatrava, Raphael, Frank Lloyd Wright, but then again, who isn't? Closer to home, I love the work of my father, Misbah Najmi, my father-in- law, Akeel Bilgrami and Habib Fida Ali. But my ultimate favourite, a design sensibility that I aspire to come close to is that of the Japanese. I think they just rule the world when it comes to aesthetic. Albeit when it comes to old school architecture, Europeans lead the way.
With regard to interior spaces and architecture, how do you feel Pakistan as a market has changed since you began practicing?
I think people are a lot more aware now, and very open to spending on their homes. They're very house proud and excited about where new design trends are taking them. I also feel a little sad seeing people doing replications, or settling for mediocrity. So, it's always a Catch-22 situation. I believe the market has definitely become larger and more saturated, which isn't always a good thing.
Which is your favourite piece/pieces in your living space and why?
Any piece that is designed well, my home is filled with them.
Apart from your own designs, a number of pieces that find place in your home have been collected on your many travels – do you enjoy shopping for your home on trips abroad?
Other than our own designs and the heirlooms we have inherited from our family, our home is made up of a number of pieces we have collected on our travels. I've picked up pieces from the Marche in Paris, I've shopped at this quaint little shop in Florence, in the US, you name it – I've bought back up pieces from almost everywhere
I have ever visited.
Which trip/s would you say has/have been your favourite with regard to shopping for your own home?
For me, Paris is an emotion! No matter where in the city I go, I feel free … I feel happy. The sheer joy of taking in the architecture, of taking in the sights – I love it.
When it comes to buying pieces for your home, which place in the world is on your wish list to visit?
Japan!
When designing interiors for others, is it easy or difficult to personalize their space? How do you combine the best of their wish list and your design aesthetic?
It has always been a curated process. Anyone who comes to us has to have some research done since we deliver spaces that we would imagine being comfortable in. This way, the relationship of working with someone on their space is removed from the client vs designer friction. It's more of a dialogue and we work on projects where we know the people are going to understand the language and trust us with their spaces.
Who would you have entrusted with the responsibility of designing your home if you had not done it?
I don't think I would have given the mandate to anyone else. I know what I want – this is who I am as a designer. I would do it myself.
You are asked to identify one piece or a number of pieces in your home that personifies you, what might that be?
I think each piece that constitutes our home personifies a little bit of me – everything in some manner signifies who I am, who we are. Everything in my house is about us as a family, and I identify with each piece, individually.
My children's rooms, which I love. My dining table, too is very special. Also, I love my art acquisitions; to see them bring alive our walls make me so happy. But if there is one piece I absolutely love, I would have to say it would be the Amoeba Table. I am delighted that it's found a home in my room.
Your art collection, part inherited and part acquired, brings alive the walls of your home – which piece/pieces do you hold closest to your heart and why?
Undoubtedly, my Jamil Naqshs – it's an instant emotional connect. I've grown up seeing them adorn the walls of my parent's home and I consider myself very lucky to have inherited them. I also have a very beautiful autographed signature sketch by Bashir Mirza, which is inscribed by the artist to read: "For My Friend, Misbah". Having as part of my own collection, a piece of art that bears my father's name, warms my heart.
Among my own acquisitions are the works of a number of contemporary artists. Among them the works of Adeel-uz- Zafar and Irfan Hasan, to me are mind blowing.
I also have some amazing paintings which have been made by my children for me which I really love. Zayd and I just love collecting art – classic, contemporary, quirky, you name it. We have this huge one flanking the window of our dining room which has now become a signature item at the Najmi Bilgrami residence – everyone who comes to visit, first meets the horse and then meets us. It's quite funny.
What is your most memorable trip?
I've had a number of memorable trips but the most memorable thus far would have to be my birthday celebrations in Barcelona. The trip was immaculately thought out by my husband Zayd who had rounded up all my friends and loved ones. He went way beyond what I could have ever imagined to make sure my likes and dislikes were taken care of and I was thoroughly indulged. The memories we made, and the way everything was planned to perfection is what makes it the most memorable for me. He went into so much detail to make sure everyone was taken care of and had a good time. It was a really fun, fun trip.
Other than that, my childhood trips with my family. When I had just started college, my parents came to visit me and I showed them around – it was one of the most beautiful moments that I cherish because you could see the pride and happiness in their eyes.
Given a chance, who would you like to design a living or work space for?
I think the Obamas. I'm a huge fan of their rapport with each other, and I think they're just a very cool couple who despite sitting on a seat of leadership seem to be very fun and approachable – I think it would be a really fun project to work on. Also, I would absolutely love to design for Ellen DeGeneres, because I would get to hang out with her – I think she's super cool.
Leyl, Eliyah, Zaire – in your view, which of your three children do you see as part of NBCL in the future?
Currently, none of my children are thinking of joining the field. They're very happy doing gymnastics, and being little rock stars. I'm hoping that one day they will have a change of heart and find interest in their mother, father, uncle and grandfathers' love for architecture. But I am happy with whatever they wish to do as long as they excel in it, so I'm not pushing anyone of them for anything.