"Hanami is a long-standing Japanese tradition of welcoming spring. Also known as the "cherry blossom festival," this annual celebration is about appreciating the temporal beauty of nature. People gather under blooming cherry blossoms for food, drink, songs, companionship and the beauty of sakura (cherry blossoms)." – samovartea
In between the frozen nights of winter and the scorching days of summer, there lies a magical realm that comes alive with the ephemeral sakura. From the mystical shores of Japan to the wide banks flanking the Potomac, the arrival of this pink wonder leads to festivals around the world celebrating spring. Little, however, is known of the valleys in Northern Pakistan that also turn pink, as they play host to this temporary spectacle.
The valley of Hunza has charmed visitors from Pakistan and abroad with its picturesque vistas and the warm hospitality of its people. Although the beauty of Hunza is perennial, it is specially elevated when cherry blossoms come to life. We set out on a journey to travel to this land of enchanted stories of princes and fairies.
Travelogue By Zainab Altaf
Photography By Maryam Altaf
During the months of March and April, the valleys of
Gilgit-Baltistan are covered in a blanket of white, pink and green as the fabled cherry blossoms that herald the end of winter bloom. Journalist Zainab Altaf recently travelled to Hunza to chronicle this magical spectacle of nature. Here, she shares excerpts from her daily journal…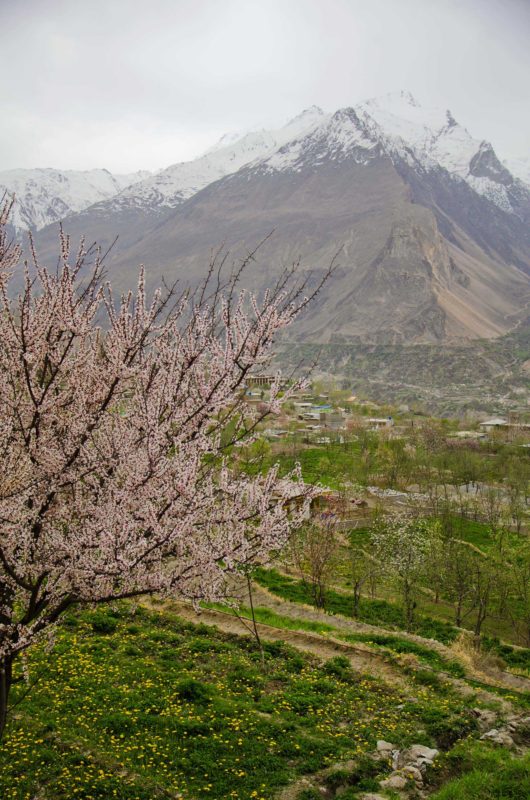 Day 1
4 am: Frequent visitors to Hunza tell us that a journey by road will take a minimum of 16 hours from Islamabad. Our Hunzai driver is confident he will get us to Karimabad, Hunza's tourism capital, in 12. As we wait for him to pick us for the long drive, twelve is the number that sounds most appealing.
7 am: Plans of catching some shuteye on the road were definitely over-ambitious. Sitting in Deedar Karim's vehicle makes one feel like a participant in a Formula One race. He insists speeding over potholes was necessary to beat the early morning traffic of Manshera. Our bones hope the rest of the ride is smoother…
Deedar is friendly and full of information; and adept at boosting his passengers' excitement about visiting Hunza. His upbeat chatter cancels out the sad love songs on his playlist that we have politely been listening to since the car left Islamabad.
9 am: Breakfast at a roadside restaurant in Chattar where Mr. Karim introduces us to the Hunzai way of drinking tea: Mixed, with a pinch of pepper and salt, no sugar please!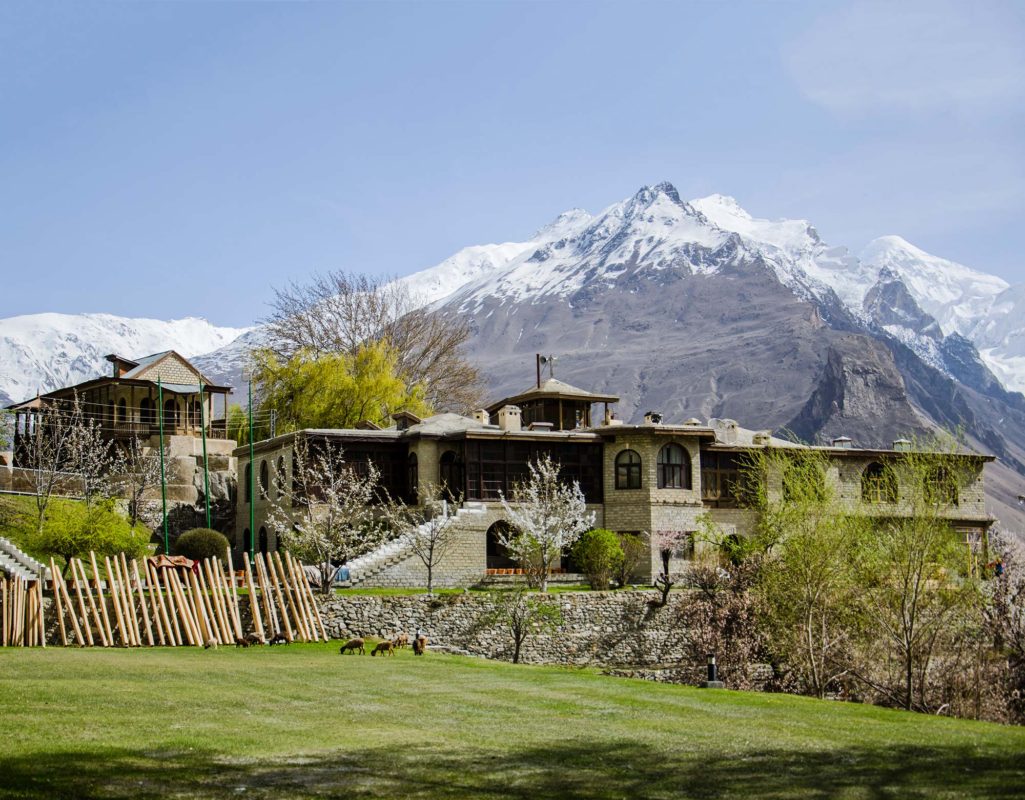 10 am: Green hills and gushing streams of water become our constant companions as the road begins to curve more and more. We wonder aloud about the tin-and-steel makeshift lifts that connect villages across the mountains. Our city souls challenged by Deedar Karim, we board the next such garari, hoping the steel rope and the improvised lift can bear the weight of the eight adults crammed into the tiny space! Men from the nearby villages hold their groceries as we ooh and ahh at flying over terraced green fields.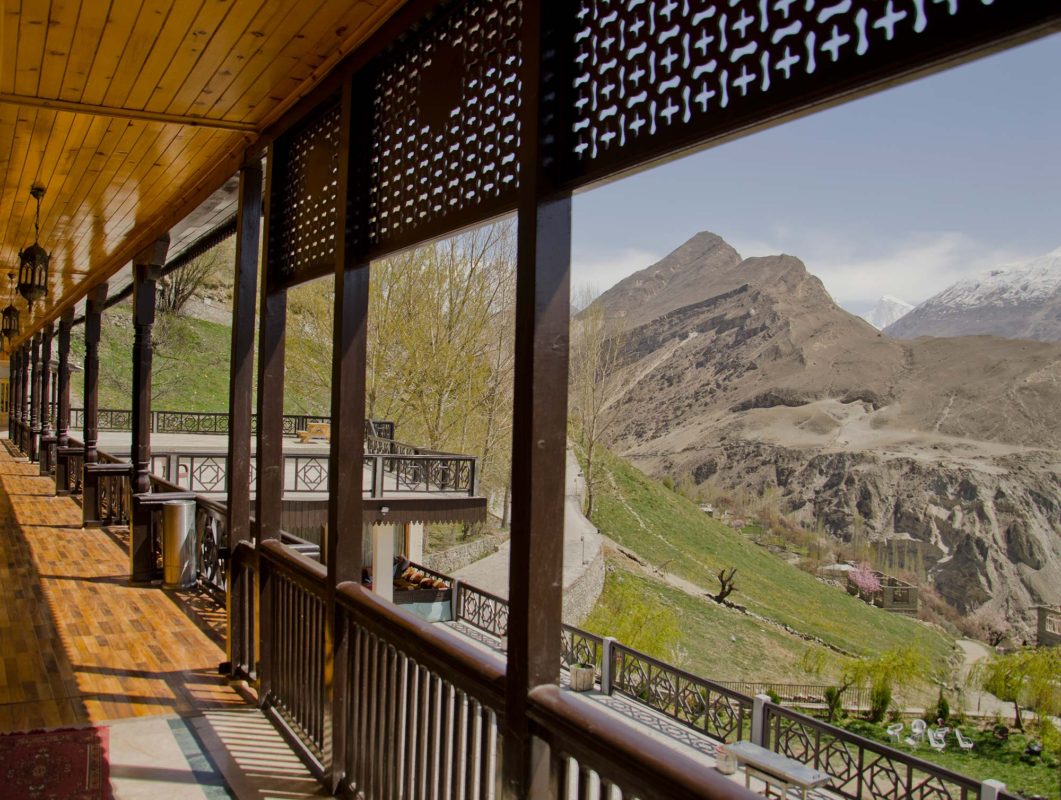 11 am: Schoolboys clad in lavender coloured shalwar kameez signal our entry into Besham. Bright colours seem to be trending for school uniforms in Kohistan. Groups of boys wearing green, orange, and blue stand chattering at road corners. We see no girls on the roads or in the bazaars that we pass through.
2 pm: Lunch at a roadside dhaba besides the rapid waters of Sumar Nala is a much-needed break. Charpais (string beds) are the seats and a concrete tub filled with the cold spring water is the drinks cooler at this restaurant.
4 pm: The greenery has gradually disappeared from view. And judging from the bumpy ride, so has most of the road. Even Deedar can't joke away the bone-jarring driving conditions. The promised 12 hours are up, and we are still a good five hours away from Hunza…
5 pm: Graffiti over the ancient rock carvings along the KKH near Chilas is a sad sight. Even the mountain goats being herded to cattle markets in the area seem forlorn. Or maybe it is just the effect of the barren brown rocks and the endlessly pot-holed road.
7 pm: Gilgit city. The viewpoint of Nanga Parbat at Thailchi tells us that Hunza is finally within reach. Deedar's playlist has also moved on to happier tunes. And the road couldn't be smoother! As we reach Nagar district, Deedar shows us how to spot tiny rubies hiding amongst the pebbles besides the road. All is well with the world again.
9 pm: A taste of chapsuro, traditional Hunza bread stuffed with meat, for dinner at a dhaba and we are soon in the central town of Karimabad. After a five-hour drive from Lahore to Islamabad and a straight seventeen hours on the road from Islamabad to Hunza, we have reached our destination. Phew!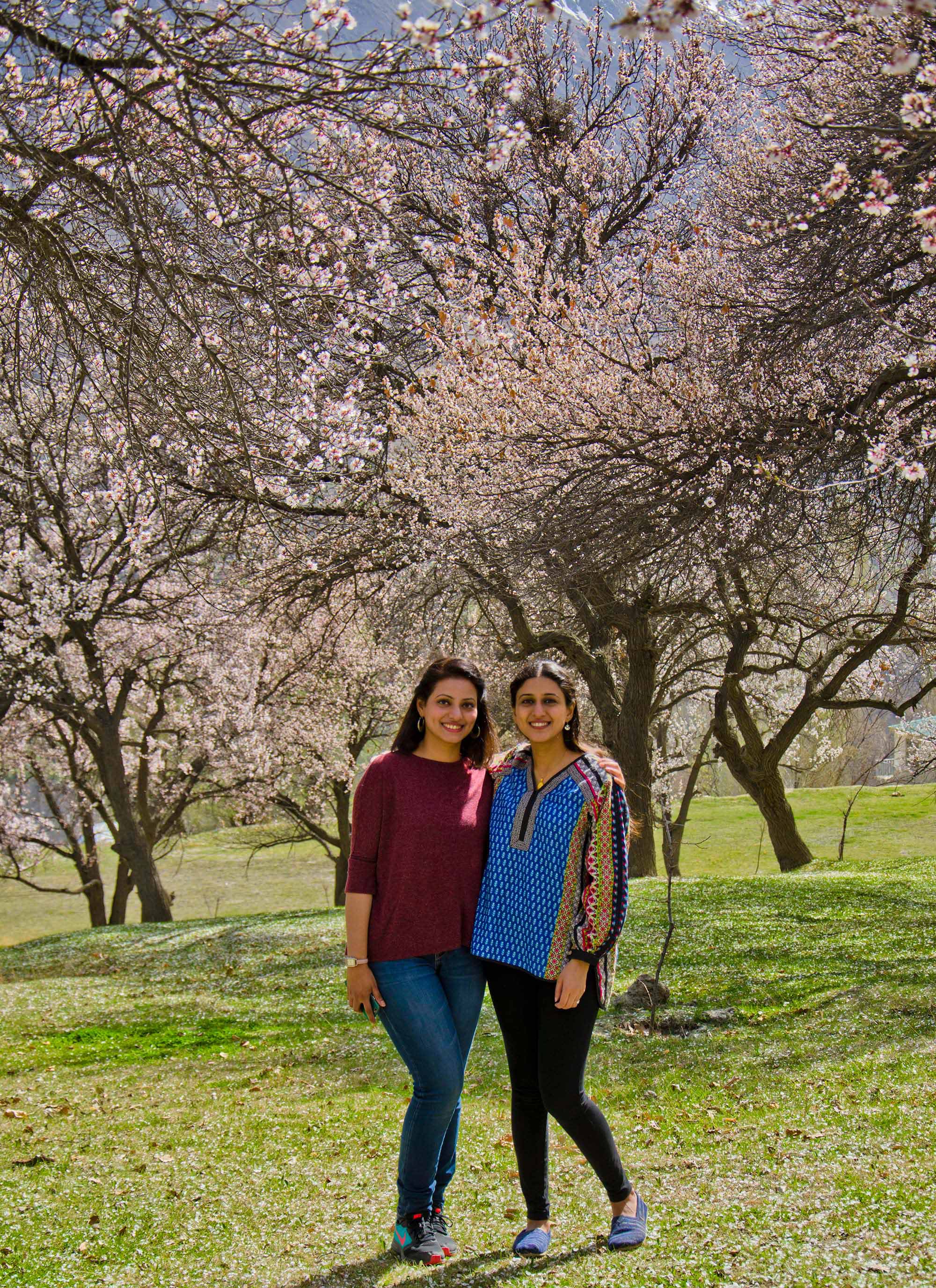 Day 2
9 am: We share our plans for the next few days with the staff at the hotel. They listen to our jabber politely, pointing out with kind smiles that the trees in bloom are mostly apricot and almond; cherry blossoms are almost finished, and apple has barely started. I feel like such an uninformed tourist in my own country.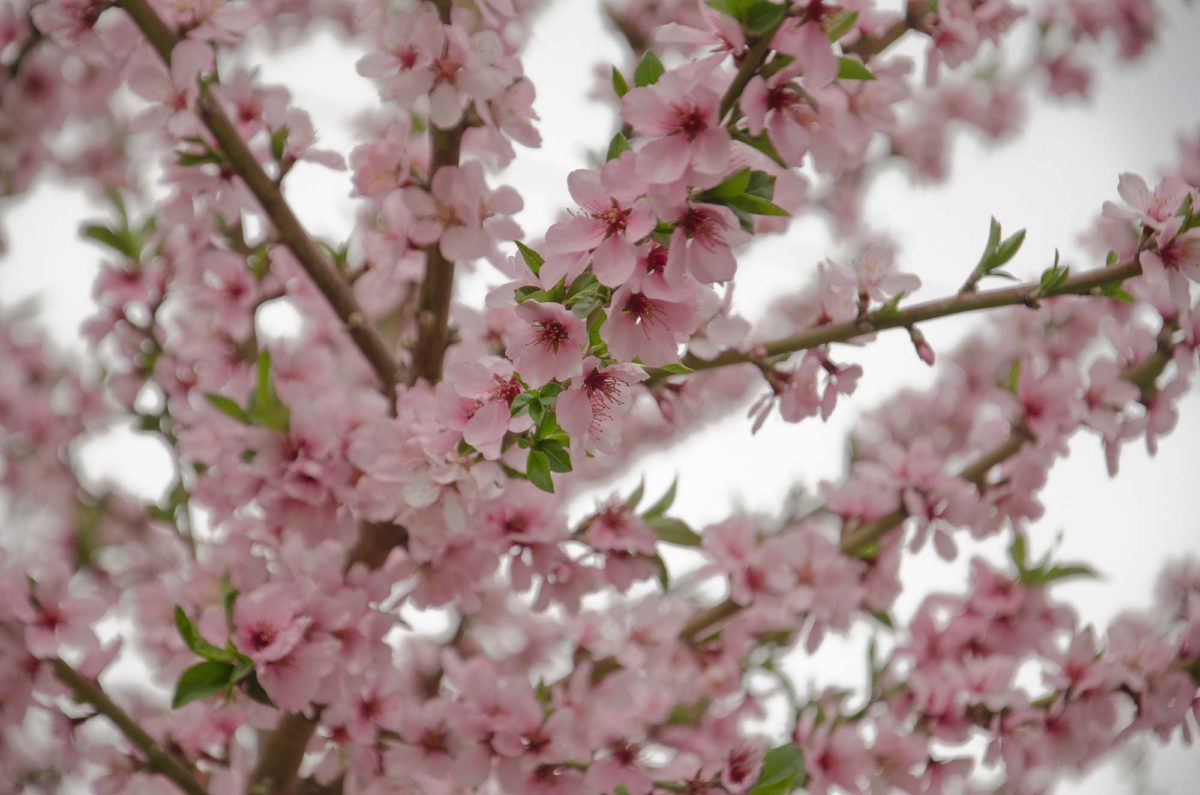 10 am: Looking at the fierce sunlight outdoors, the manager at Hunza Embassy offers us a ride to the main street in one of the hotel's 'adventure' jeeps. We clamber in excitedly. The ride lasts a total of one minute before the jeep stalls… awkward! The people of Hunza take hospitality seriously, and we are soon in another vehicle.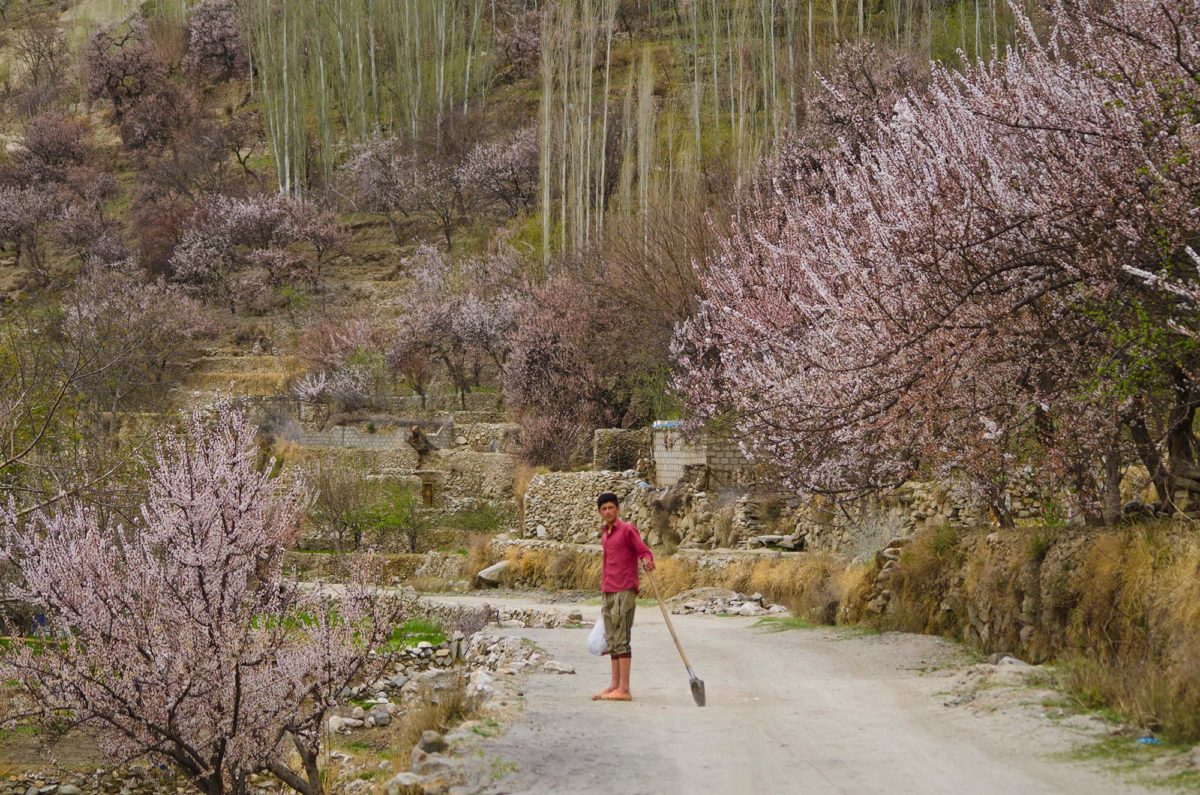 12 pm: We are told that the valley is swarming with local and international tourists, all attracted by the blossom season. But the sun is harsh and the main bazaar is empty at 11 am. A Hunzai friend takes us to the Royal Gardens where row upon row of trees in bloom form a continuous canopy over our head. Tiny white petals float down in the breeze. The gardens are right beside the road but the only sound to be heard is the soft rustle of the wind. These trees are as majestic as the ancient Mir's palace that rises behind them. The valley and snow-capped mountains, visible through the lattice of the branches, are no match today for the flowers that weigh down the boughs like thick round snowballs. A zen garden in the truest sense.
3 pm: Our hearts full of the ethereal beauty of the blossoms, we walk through dirt paths that lead to clusters of houses around Karimabad. The houses present a town in transition; traditional structures standing next to more modern exteriors of brick and cement. The fruit trees are everywhere though, with glimpses of pink and white blossoms peaking over courtyard walls.
4 pm – 7 pm: The beauty of the blossoms is matched by the welcoming and friendly nature of the Hunzakuts. Offers of namkeen chai (salted tea) and home-cooked food sweeten our day.
Our new friends extoll the health benefits of their sugar-free tea, but caution against simply sprinkling salt on top. It has to be added while the tea is brewing, otherwise hello, high blood pressure!
Everyone in Hunza knows everyone else from Hunza, and a greeting at one house soon turns into an invitation to visit ten others. We meet musicians, engineers, development consultants, and Fulbright scholars – all in the course of one short day, all of them lured back by the calm that pervades their valley. We also come across children filling buckets of water from streams to water small patches of family land. There is no self-pity or discontent: only a palpable feeling of pride for their hardworking and compassionate community.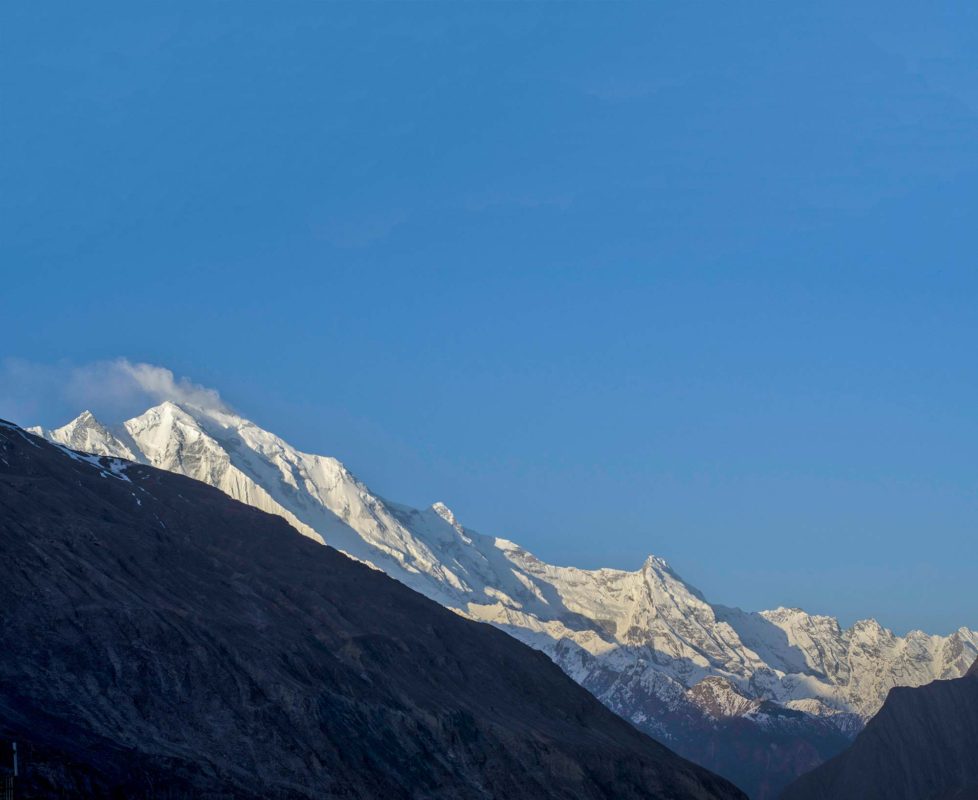 Day 3
8 am: An early wakeup call to catch the sun rising along the Karakoram has us all set for a visit to the upper Hunza hamlets of Gulmit and Passu. Our car zooms through the carpet-smooth Pak-China Friendship tunnels to reach Gulmit in half an hour. At discovering our enthusiasm for trying indigenous cuisine, the manager of Gulmit Inn presents us with pithi (home-baked traditional bread), home-churned butter, and homemade apple jam for breakfast. Namkeen chai is a given. The fact that every restaurant only serves the standard Pakistani fare of parathas and omelettes for breakfast as a nod to tourist demand makes us appreciate such gestures all the more.
12 pm: Our guide in Gulmit takes this hospitality one step further and after a trek through terraced fields for the perfect view of the famous Attabad Lake, invites us to his family home. It turns out that our expression of interest in seeing traditional architecture has already led to his family laying out a lunch of local delicacies for us. The young children are at school and we are kept company by the older women as we sit on colourful red floor mats. Smoke mingles with sunbeams entering through the pentagon-shaped chimney that is a distinct feature of every kitchen in Hunza. We have baath (a mixture of milk, water, home-ground wheat flour, butter… and salt) with giyaling (wheat crepes brushed with apricot oil). With sugar and loads of fattening oil, it could possibly transform into suji ka halwa and puris…
2 pm: We would not have thought there could be a more mesmerizing bunch of blossoming trees than the ones at the Royal Garden in central Hunza. Were we wrong! There is a village in Gulmit called Gul-e-Gulmit for good reason. As the narrow dirt roads climb higher and higher, the blossoms appear to take on a more majestic aspect, at par with the Passu Cones that form the backdrop.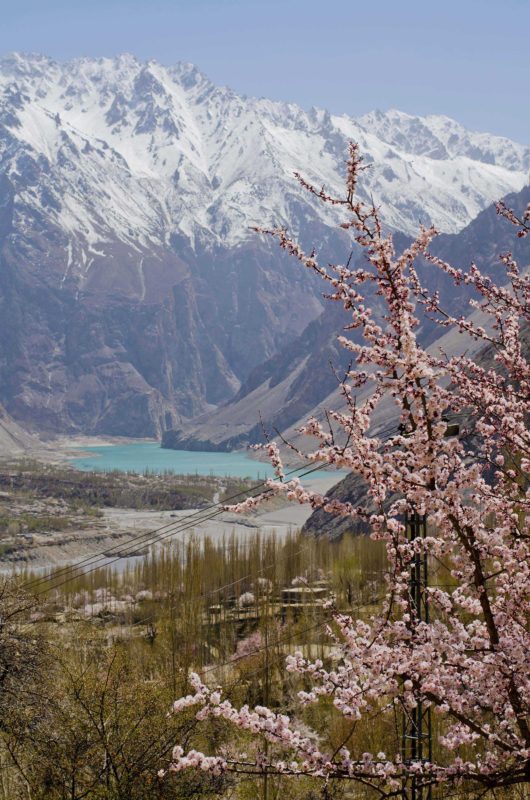 4 pm: We are amazed at the variety of blossoming trees in Hunza. Our guide informs us that there are seven different types of apricot trees alone! I am afraid we failed his pop quizzes on differentiating between the blossoms of an almond tree from a cherry tree, and an apricot one from an apple tree quite a few times.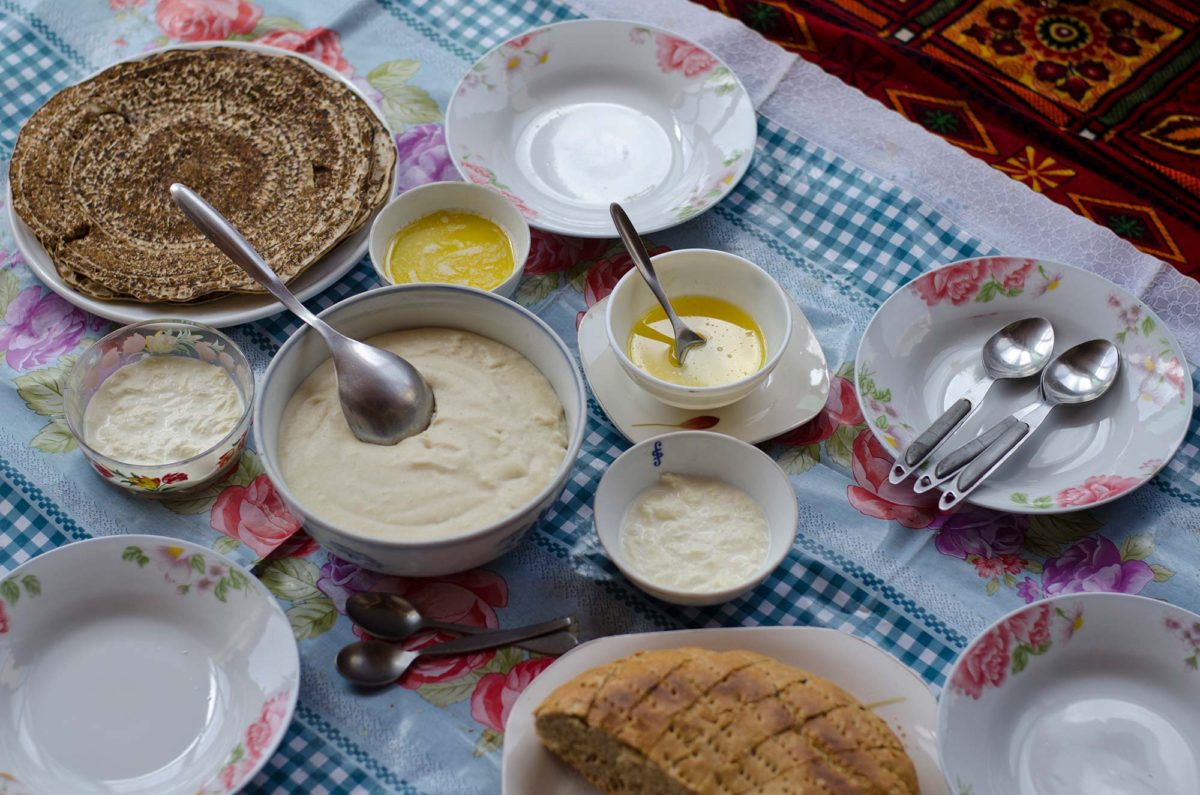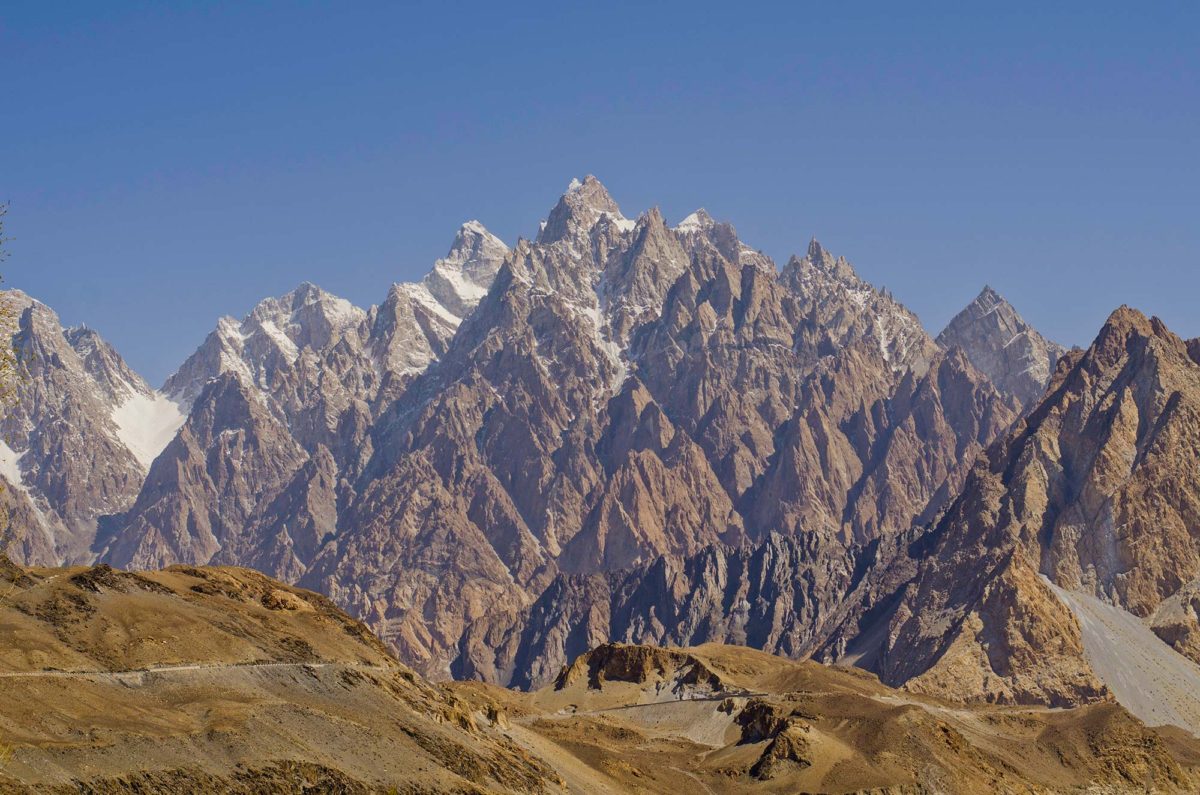 Day 4
10 am: We arrive back in Karimabad and are guided to Baltit Fort through a 'short cut' that includes an uphill hike through green fields dotted with yellow wildflowers. We had assumed that the fruit blossoms were the heralders of spring in the valley. The villagers working in the fields tell us that the unassuming yellow flowers are in fact considered to be the first sign of spring by the Hunzakuts. Made perfect sense to Lahorites who love basant…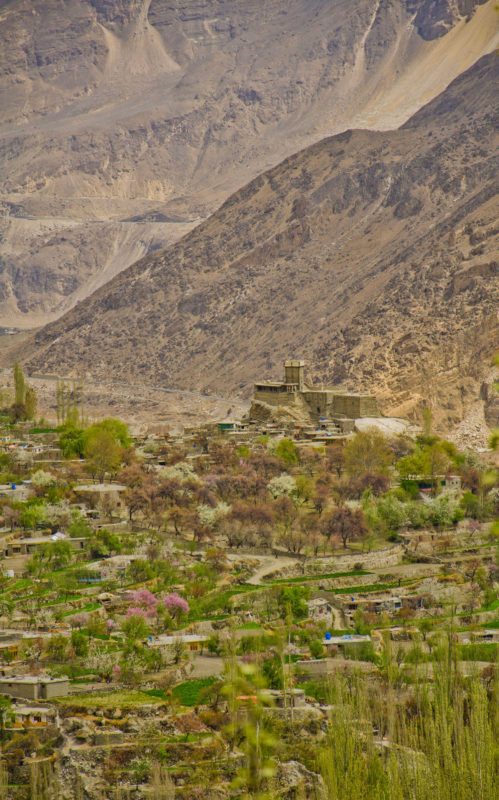 2 pm – 5 pm: The 800-year-old fort is as imposing as ever, its Tibetan architecture visible from the valley below. We come back through the alleys of the ancient fort city preserved by the Aga Khan Foundation, stepping through cobbled lanes only wide enough for one person. Wooden ladders stand outside the interconnected single-room houses where the favourite cable channels are K-2 TV and Zee TV. A flute player hanging out at his friend's handicrafts store gives us an impromptu performance within the shop as we stuff ourselves with mamtos (traditional minced meat dumplings). From scorching sunshine to stormy rain clouds, the weather has changed dramatically during the day, and we are glad for the warmth of the green tea brewed from mountain herbs.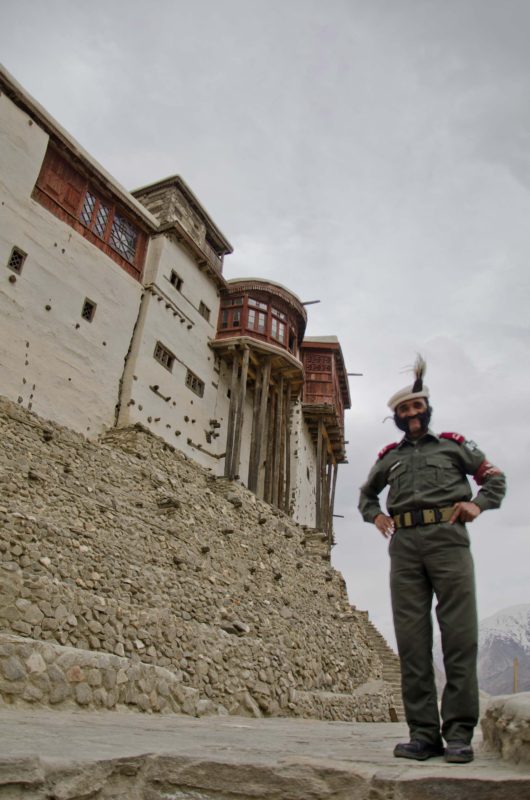 8 pm: As we say goodbye to all the wonderful people who befriended us in Hunza, we muse about the strange feeling of homesickness for a valley that has only been our home for a few days. We had come to Hunza expecting to be wowed by the sight of flowering trees against a backdrop of snow-capped peaks. We were leaving just as impressed by its smiling and peace-loving inhabitants.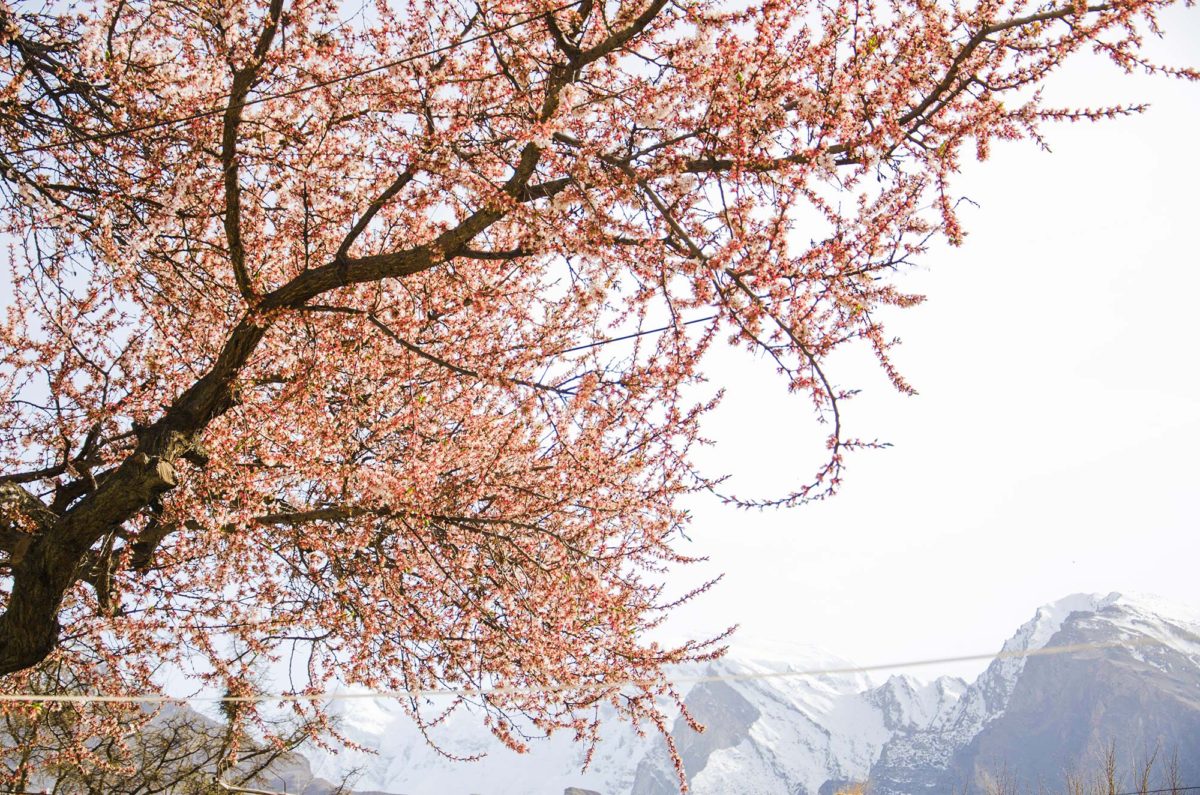 BLOSSOMS IN HUNZA 
Why go:
The mountains
The food
The extremely hospitable people
The rich culture
Also, it so safe and crime-free that women can walk around the bazaars without any worries.
What to take along:
Lots of sunscreen (the sun is pretty strong at 2500 meters)
Your favourite music (it takes a minimum of 16 hours via road from Islamabad)
Lots of good cheer (long drive…)
Must-do List:
Visit Baltit Fort, Altit Fort and the preserved ancient village of Ganesh. See Haldeikish rock carvings on your way to upper Hunza.
Stop for a boat ride on Attabad Lake.
Take a day hike around Karimabad along the water channel paths. The 2 paths offer different, but equally mesmerizing, views of the valley.
Up the adventure ante of your vacation and take a walk along the rickety wooden suspension bridge of Hussaini!
Where to stay:
In Karimabad:
Serena's expensive 'luxury tents'
Don't be fooled by the term tents- those are probably nice, spacious, and well designed rooms masquerading as tents with fabric draped over walls…I mean, a dressing table and LCD in a tent with a queen sized bed and an attached bath? Waiting for the day that the Serena brand takes makes these 'tents' available at the basecamps of Pakistan's 8000 footer mountains…
The actual rooms are comme ci, comme ça and a bit on the expensive side going by local standards.
In Gulmit:
Gulmit Continental Hotel
Gulmit Inn
In Passu:
In Sost:
What and where to eat:
Mamtos: Khan Café on the lane to Altit Fort Chapsuro: the roadside in Thole
Chammus: Hunza food pavilion on the street leading to Baltit fort
Burututz Berikutz: Hidden Paradise Café in Karimabad bazaar
Walnut cake and Rosti: Café de Hunza, Karimabad
Apricot cake: Glacier Breeze Restaurant, Passu