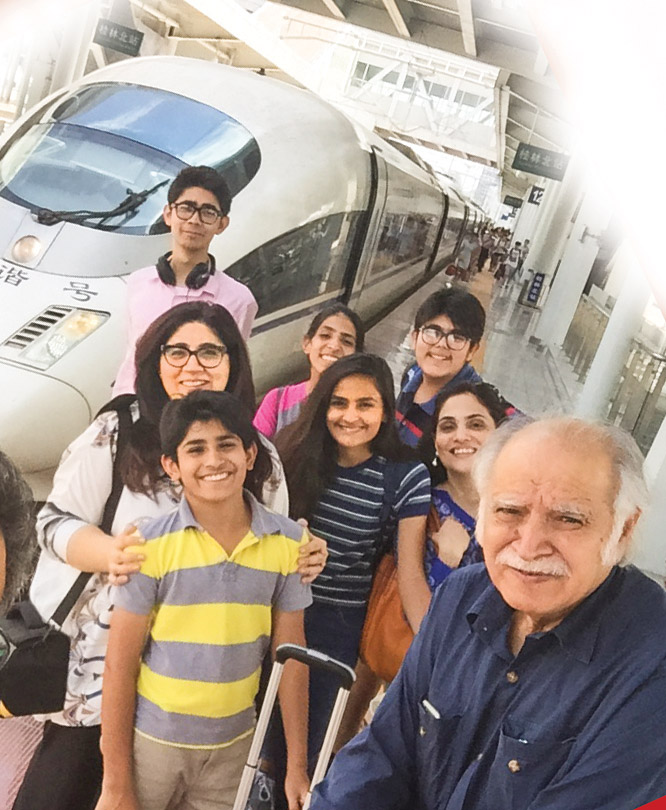 China is one of the most fascinating places I've ever travelled to. The culture, resting upon thousands of years of ancient tradition, is a yin-yang between history and futurism. When you're in China, you can be observing the feng-shui of wooden temples one moment and the splendour of glistening, cloud-kissing skyscrapers the very next. Between Beijing and Shanghai you literally get to see everything you'll ever need to.
Stationed in Shenzhen, where my brother and his family have been living for almost six years, we decided to take a trip to Guilin this summer. Guilin is around 600km north of Shenzhen and is known for its natural landscape, but more on that later. To get there we booked tickets on the High Speed Train, which moves at an average speed of 300km/hr and reduces travel time from 7 hours to 3 hours. Our train was scheduled to leave at 11:47 – yes, that precise time is not a typo – and sure enough, at exactly 11:47 it took off. It's quite an adventure because you have a window of around 10 minutes to find your platform, cabin and board before the doors close. The system is incredibly smooth, considering thousands of people travel between these stations everyday.
Fun Fact: Countries can be identified for their food choices. While you'd get chai and samosa on a train in Pakistan and bread and sandwiches in France, in China it's soup and noodles galore. Our train had a hot water bar, where you could buy your choice of Ramen noodles and fill them up for lunch. Sure enough, there wasn't a single passenger who wasn't slurping away.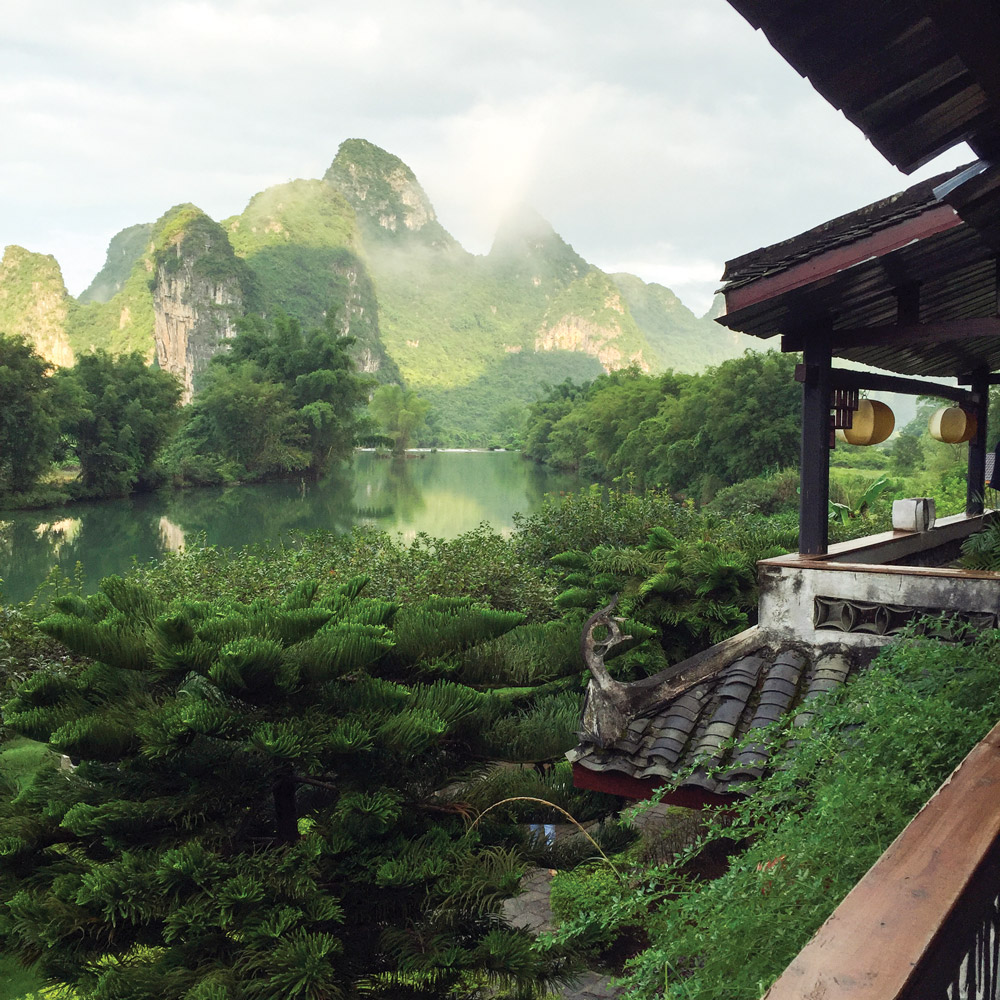 The landscape started changing two hours into our journey and the infamous mountains of Guilin, those rounded hills that rise from the earth like sacred mounds, began dotting the scenery. It was like seeing something out of a fantasy film. These hills, also known as Guilin's Karst Mountains, are exceptionally unique; some 40,000 of them developed from limestone formations and erosions over millions of years. At a glance they may appear like an image from a water colour painting and the shapes are so unique that the locals have named a majority of the prominent ones. The Moon Cave Mountain is a tourist destination and as our guide informed us, it generates enough revenue to feed the whole village.
A two-hour bus ride took us from Guilin's train station to our resort in Yangshuo, which is one of district's counties and the most popular tourist destination in Guilin. The breathtaking landscape welcomed us with outstretched clouds and bursts of fragrant rain. The sun continued to shine through the clouds, creating a perfect arch of a rainbow. Sometimes fact is stranger than fiction.
Before we proceed on this magical journey, let me tell you something about China: no one speaks English. When I say no one, I mean taxi drivers, restaurant waiters and servers, domestic staff…no one. The first thing you need to do is download a translation app unless you want to end up eating fish eyeballs or monkey testicles in your soup. Communication gets worse as you move away from cities like Beijing, Shanghai or even Shenzhen that have a sizeable foreign population. You can forget speaking to anyone in Guilin. And this is where the Yangshuo Retreat came in handy; it had an English speaking staff and a menu of services that were designed to cater to foreign guests.
Fun Fact:If you go to China thinking you'll get Paki-style Chinese food everywhere then you've got a rude awakening coming. The food you'll get is weirdly just weird in the sense that most times you won't know what you're eating. So extra caution has to be exercised. We walked into a restaurant that boasted the best beer fish in Yangshuo (it's a specialty) and I was stupid enough to expect a crispy beer batter fish. What we got was a whole catfish, literally bubbling away in beer and spices. No wonder it's also called the drunken fish or the boozy fish!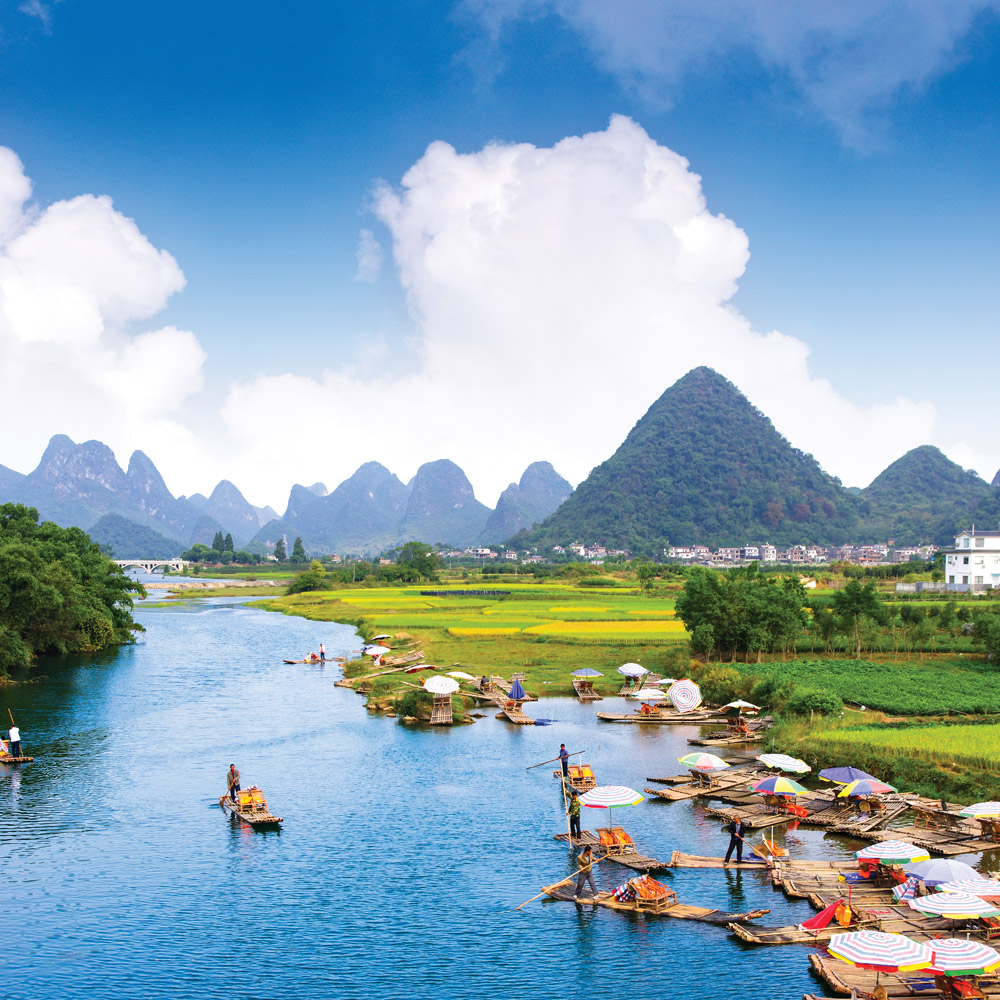 Back to the retreat, the image of a lazy Yulong River snaking its way around the mountains was a view to kill for. It gently passed by the resort gardens (where we'd have breakfast or coffee) and we'd be treated to sights and sounds of happy rafters under their vibrant umbrellas.
Bamboo rafting is one of the 'must-do' activities when you're in Guilin. Each raft is rented to two people and it carries you along the Yulong river; the rafts are operated by men who won't know a word of what you're saying but will get you to the other end without letting you drown. The journey is very slow and calm until you get to a dip and your raft rushes down a mini waterfall. No need to worry; it's just a bit of adrenalin not the Niagra Falls! You'll find many foreigners swimming or merely bobbing around in the shallow water though I don't think any of us wanted to trust the unknown waters that were surely inhabited by snakes.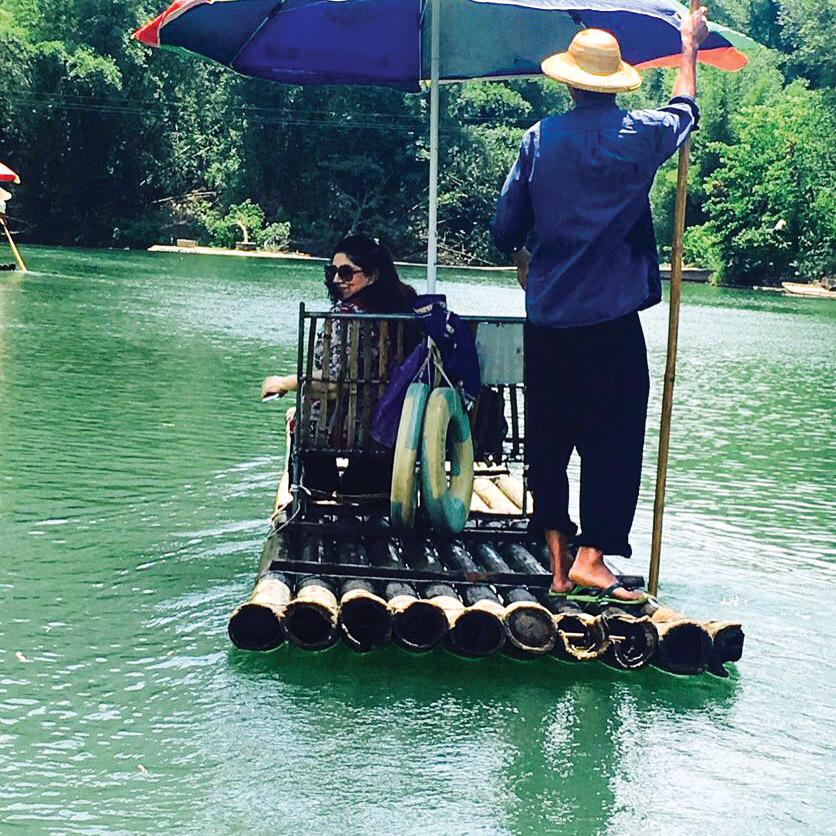 Fun Fact: Hidden cameras photograph you through the trip and appointed cameramen take your group pictures when you pull into the bank to disembark. There are little stalls where you can choose a size and get your picture printed and laminated right there and then. It's quick and efficient marketing which you'll experience at every tourist spot; the cable cars even made a key chain with your picture on it!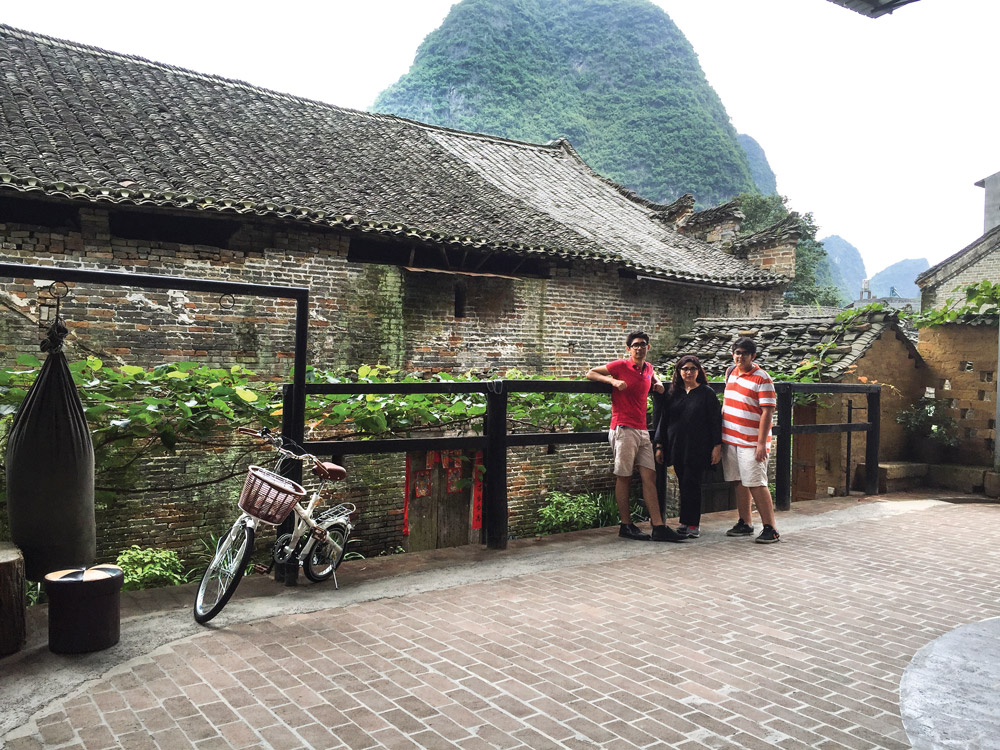 I had earmarked Tai Chi classes as one of the most eagerly anticipated parts of this holiday; I was determined to take back some form of wisdom on staying calm and maintaining a balance when things got impossibly frantic (that is life in general in Karachi). And the Yangshuo Traditional Tai Chi School, an ancient institute that doubled as a hostel for foreigners who wished to spend time here, was just the place to be! There was unbelievable serenity to the place, a silence broken only by the talking mynah birds that cooed us a welcome "nee hao" in Chinese. The sound of water that flowed around the school was mesmerizing; it was water that was speckled with colourful carp. Tai Chi is commonly translated to 'meditation in motion' and just being there was lesson one in how man and nature had thepower to coexist in perfect harmony.
There were seven of us, standing in the school verandah, with an enormous yin-yang symbol painted on the floor. The Chinese characters for Tai Chi Chuan can be translated as the 'Supreme Ultimate Force' and the notion of 'supreme ultimate' is often associated with the Chinese concept of yin-yang, the notion that one can see a dynamic duality (male/female, active/passive, dark/light, forceful/yielding, etc.) in all things. It's that force that one sets out to achieve in Tai Chi. A few lessons, needless to say, were not enough but they sufficed in putting our minds on the track to peace and calm. An evening massage on the riverbank sealed the feeling and we spent the next few days in a state of nirvana.
The yin-yang of China, like I said earlier, can be found in everything and it is a place of contradictions. So to counter the peaceful disposition of the mountains was the Western Market, a hyper-bazar that had been established in Guilin City and was as noisy as the Tai Chi School had been quiet! An ocean of people walked through the cobbled roads, snacking on chilled watermelon, grilled squid and octopus on sticks, fresh juices and all kinds of roasted nuts and goodies. We were happily digging into a bag of salted crisps until we realized they were dried (and seemingly fossilized) eels. Point: when in China never eat anything you're unfamiliar with. We also indulged a group of cute Chinese girls selling popsicles. Dressed in Commi uniforms (Mao caps and all) we thought they were protesting something until we realized they were just selling ice creams. So we bought the ice creams (it was pretty stuffy and hot) and then hurriedly looked for dustbins when the 'bean' flavoured frozen delights turned out to be not so delightful. They tasted like sweetened and frozen lobia ki chaat on a stick.
Fun Fact: The cable chairs take you up and then you can choose to come down on a slide board on a chute. It's pretty steep and is advisable for daredevils only!
There was an entire schedule of activities we had drafted, some successfully executed and some we had to give up due to time limitation. We passed on the boat ride and opted for bamboo rafting. We didn't enjoy the painting village so much as our painting class, by the riverside. We could not visit the rice terraces but we did take the cable chairs for a spectacular aerial view of the district.
We returned from Guilin almost a week later, having exhausted our sense of adventure but strangely having rested our inner selves. It certainly was a place of contradictions; an oxymoron I would say. Definitely a place everyone should mark down as one to visit before you die.