Architect and interior designer Zain Mustafa finds himself drawn to the mountains of Northern Pakistan as he attends the Shandur Polo Festival on the world's highest polo field. The vibe, the atmosphere, the journey and the game lend a welcome break from the hectic city life and help him channel inner peace through the physical, emotional and spiritual experience of it all.
Destiny had decided that the time had come. I had decided that this was the year it was going to happen. There was no force in the world that was going to stop me. No human force. The Universe was on my side. It knew I was ready. I knew I was ready. Physically, mentally, emotionally, one has to be ready for the Polo Festival at Shandur. The mountain call had a rhythm, it gained momentum, grew louder, the heartbeat faster, the draw stronger as months turned to weeks and then into days. Intuitively I accepted this magnetic pull – to the roof of the world. The once-upon-a-time dream was about to turn into a tangible reality. But, in actuality, I had no idea what I was heading into or what challenges to expect; what inner demons I was to face en route.
I had to surrender. The journey had begun. With two female friends, one with three pre-teen sons, and two drivers from Hunza, we packed ourselves in two boxy old-school Landcruisers as we drove off from a hot and humid Islamabad. Luckily for us, respite from urban infrastructure did not take long to set in as we gradually made our way up north. Life in technicolour followed as soon as we turned corners and left behind the ever-devolving filigree of modernity's soulless noise and visual pollution. Our eyes started seeing colour and objects in sharper contrast, what the computer geeks would call 'higher resolution.' Everything seemed crisper, clearer and brighter. A cleaner air searched for spaces on our skin in between pores clogged with city-life soot. Even the Khaleeji reggae lilt of the Pashtu radio station seemed to flow in from the raw terrain through the car AC vents and into that empty armchair within our archival room of an auditory comfort zone.
Having sat back to witness this enigmatic rollercoaster ride through a new kind of Puccian opera score, the notes of a symphony that revealed themselves through a slowness from district to district, town to town, village to village, face to face, our first port of call was through Malakand, the Swat Serena. A warm and professional welcome received us within the sensitively renovated colonial buildings, a sweet memory of our imperial past. The perfect pseudo-urban pit-stop, laden with creature comforts to break journey and rest up before the challenge ahead.
Satiated with breakfast fit for royalty, we left the idyllic Swat Serena compound. Winding our way through the romantic, narrow, organically, whimsically unplanned, overflowing, quaint markets of Swat, into the vast openness of the understated, yet most dramatic Khyber Pakhtunkhwa landscape, humbled by the sheer scale of the distant surrounding peaks and their pinched horizons.
A few hours into the drive northwest, skirting the boundary of the Wakhan Corridor on our side of Afghanistan, the terrain begins to get more austere, less flat, rocky, more animated and dynamic. The curtains seemed to be drawn as we began our ascent up the 10,900ft of the Lowari Pass to its top, through rugged, narrow, backbreaking 24 tight, U-shaped switchbacks. This was the stage. The performers were signature gauche-art-adorned, colourful, heavy, cargo-laden, trucks. One sees them all over our cities but never imagines how nimble they might be, until one sees them on this steep winding uphill dirt track. All four wheels moving separately in response to the mountain earth underneath them. Crude chassis' now almost gliding these mammoth giants gently and effortlessly past each other. An unbelievable, delicately poised vertical performance, sliding flashes of richly painted machines, up and down the pass, as colourful as any opera set, as majestic and as hair-raising as any too. I was transported to another world, by these mass transporters. Their choreography and conversation with each other, driver to driver, felt only through the sounds of the revving engines negotiating the unrelenting climbs, the horns and the music that would stream out of the cabins every so often, wafting across the valley below into silence.
Albeit not an experience for the weak of heart, or weak of spine (that fine bone structure will be rattled in all directions) leaving one almost unable to stand or walk after getting to the base of the other side, received graciously by the only dhaaba in 10 hours; dark, dingy, no restrooms or straws for bottled drinks, charpoys carrying a hundred years of stories from the tired traveller whispering into their weaves, the much-needed rest stop for a slow, wood-fire cooked mutton stew, melting off the bones and dissolving into the mouth – perfectly aromatic, gently spiced. A hush fell over the place as we walked in. Truckers' heads turned to see this motley city slicker crew standing out like a sore and very tired thumb. I was even cordially invited into the kitchen to taste the food, approve it, before they made men move around the dhaaba to make space for my 'family'. A scene out of a book.
After the forty-eight switchbacks and ten hours of the most intense, magical and humbling experience ever, we checked in to the beautiful Hindukush Heights Hotel in Chitral. Owned by a very special soul, one of a kind, of which no more are made, a grounded, no-airs member of the Chitrali royal family, Siraj Ulmulk; it felt like a homecoming, to a family I've always known, complete with Polando, the mild-mannered, handsome, chestnut Rhodesian Ridgeback as their mascot. With a page out of a fairy tale design, character-infused corners of the warmly terraced interior, scented local woodwork, singing, dancing to live music, world-class cuisine and perfectly professional service, this oasis was the culmination of good things at the end of the arduous journey rainbow; it also marked the beginning of the final crescendo.
Having rested, showered, fed and pampered we then set off to Mastuj. This 4-hour drive through the upper mid-section of the mighty mountain ranges revealed extraordinary colours from natural mineral deposits in each peak. The terracotta earth and the ochre slopes were my favourite through this series of corridors, where a gasp-inducing vista awaited us at every turn. Continuing our climb, hugging rugged mountainsides for protection from the torrential rapids below, we reached the grassy opening where time stopped, again. This time for Alice in Wonderland, through the looking glass we too had slipped. This is where we spent the night, in cosy, charming wooden chalets. An unexpected comfort, style, décor and service at par with any international luxury resort. Lilac in the air, fireflies and crackling bonfire included.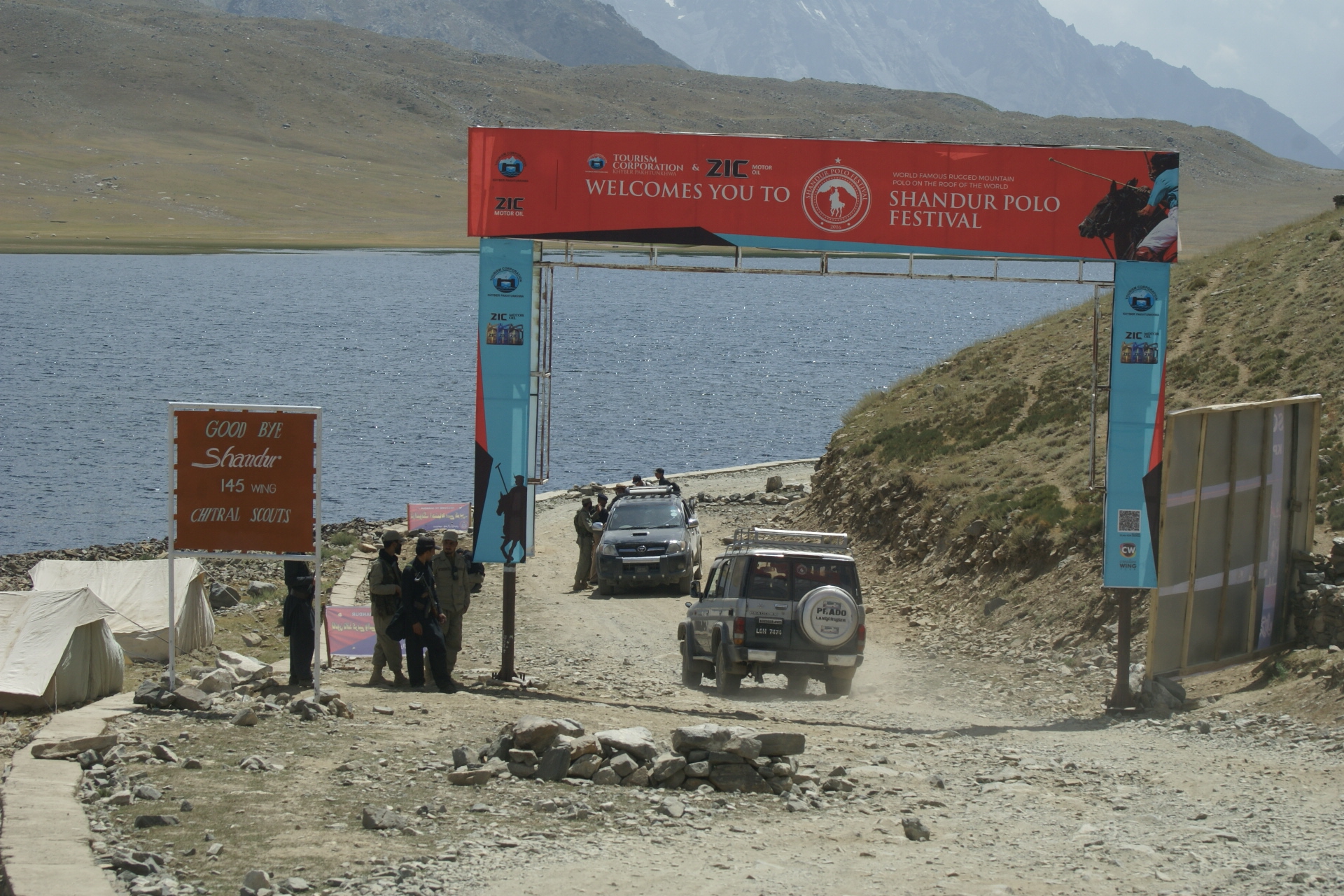 With anticipation building up, the last leg of our challenging journey brought us to the top of the world, the plateau of the Shandur Pass. The air was thin, oxygen low, light angelic, temperature dropping as the day faded, clouds started rolling in, and rain fell in sleets all around us. We drove past the polo field, the players' tents and stables, past a practice game by the lake and found our stream at a distant higher location to set up camp, pitch our tents and prepare ourselves emotionally for how far back in time we were going to be taken the following day.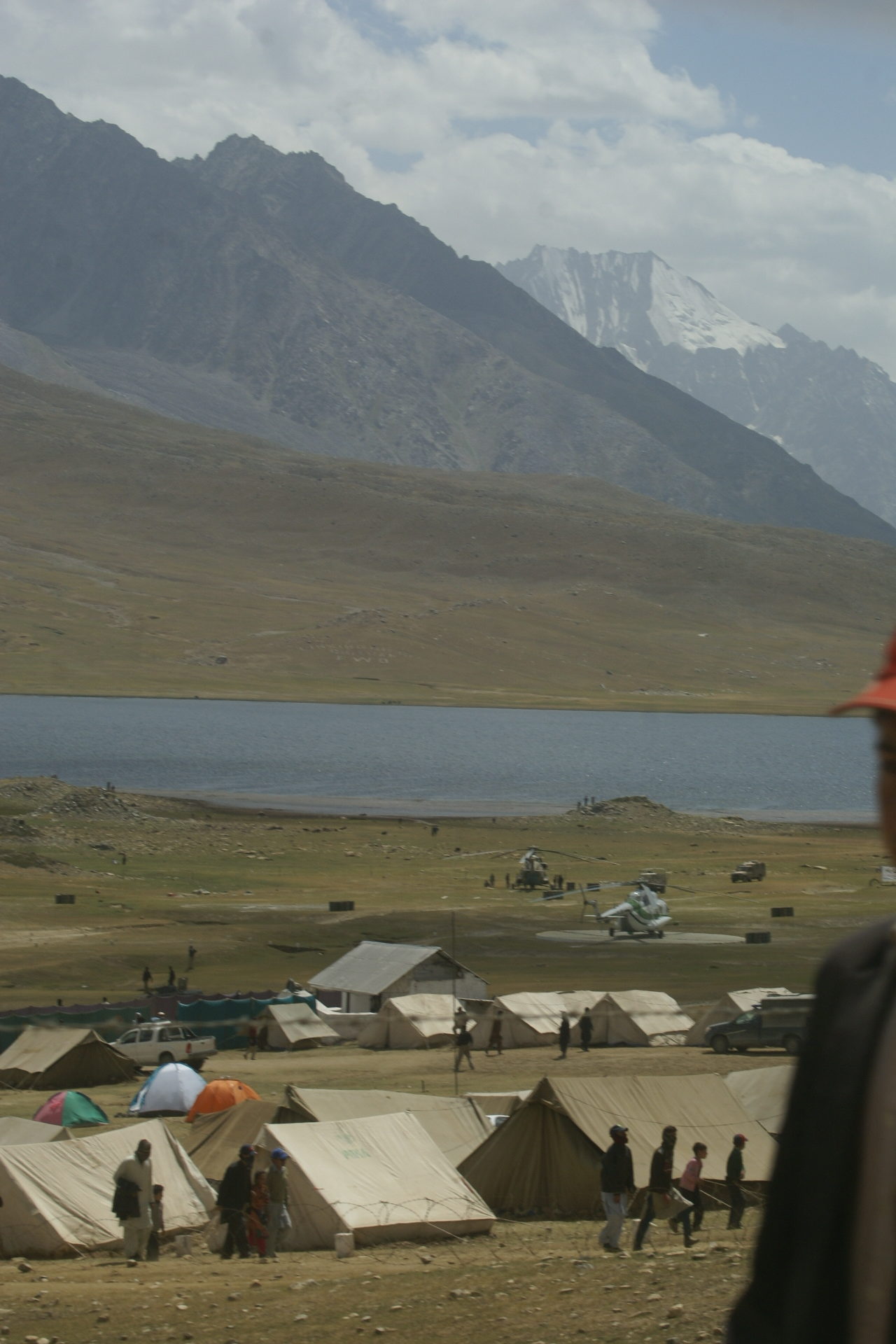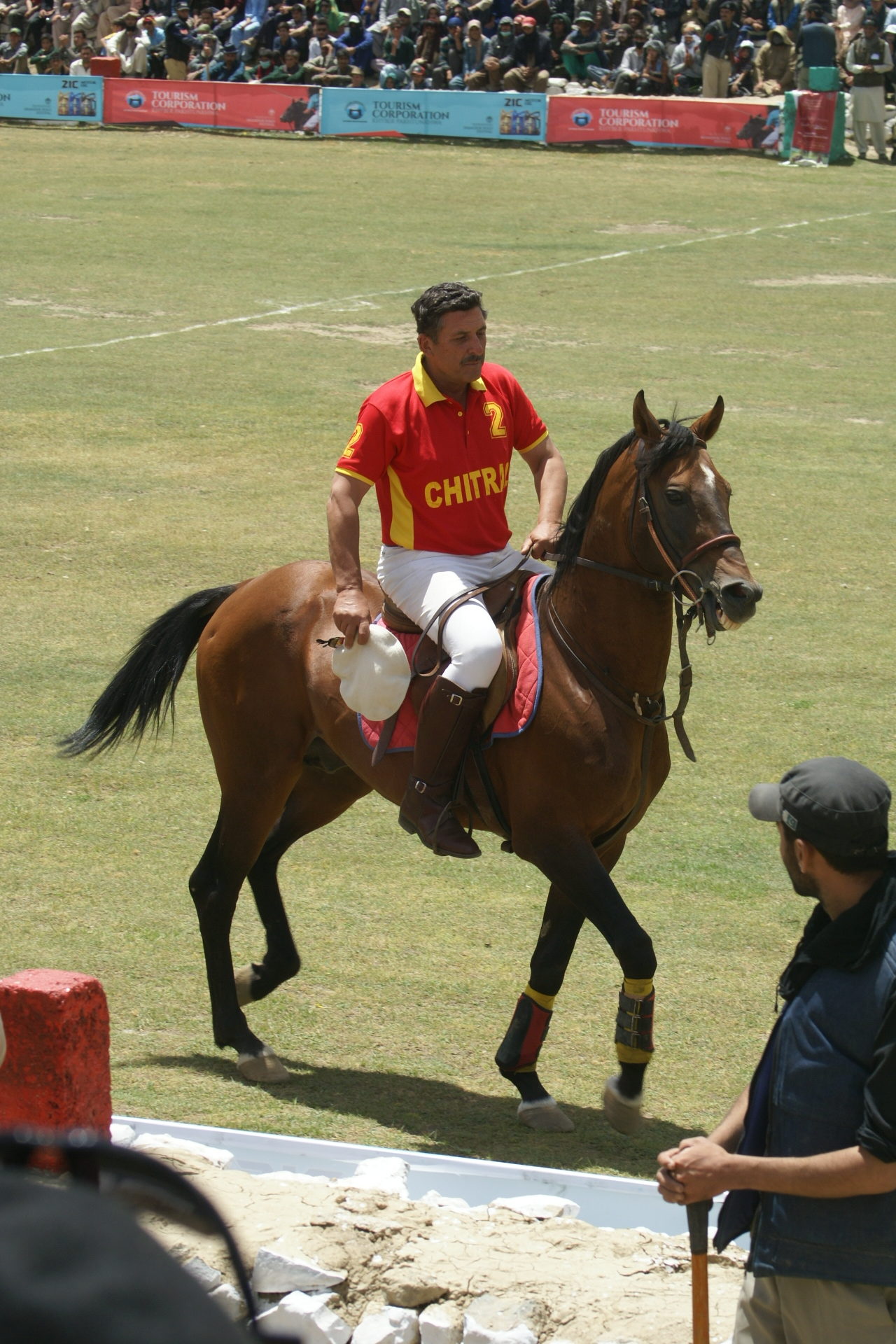 Chaperoned by Chitral Team A polo captain Shahzad, we were escorted through the stables, the players' tents, met with both teams, had a cup of tea and then sat in the best seats possible to watch this historic game. The mountains looking down at the polo field, cradled in Zeus' chalice, many a game won and lost, many a horse and a player suffered, stories, myths, legends of heroism in battles, tribal issues resolved, for centuries. We were in a film. Like a set from National Geographic's History Channel. A hint of Lawrence of Arabia and Dr Zhivago set amidst the Lord of the Rings. Hair-raising moments. I was so moved by an overwhelming sense of awe, witnessing something truly extraordinary, out of this world.
The game began; on the highest polo field in the world. As if watching a Merchant Ivory film in 3D with the world's best Dolby surround sound, hooves raking up clouds of dust, layered with belts of adrenalin, charging and chasing the ball through the mythically sculpted muscular horses, a fervour, shared not only between the competing players and horses but also between them and the audience; there was a buzzing energy in the air that I've never felt before. Or since. An excitement only this sport could inspire, at this location, in God's country.
Chitrali supporters on one side, Gilgiti supporters on the other, facing each other as the tribes have always done. The ensuing game between them has helped resolve any issues that had no other way of coming to a resolution but now it's a purely friendly sport. Every so often, as I try to take it in, my thoughts are interrupted by audience members standing to applaud, holler supportive anthems for their teams. I look and I see some horses collide; the ones that fall are immediately tended to by a vet; a player is hurt, he is taken off the field. And the fast-paced game continues. A flutter of energy, colour, thumping hooves and glistening horses, left to right and back. Free form. Goalpost to goalpost, the matches are quick and exhaustion levels at this altitude high. But the momentum stays.
An overwhelming experience by any stretch of the imagination. No photo does it any justice. No video captures its essence. The purest form of a bird that cannot be captured. It can only be felt, seen, touched, in this form, without blinking. But easily lost in the blink of an eye.
I will return, this year, to find that song, that bird, again. To find myself again.