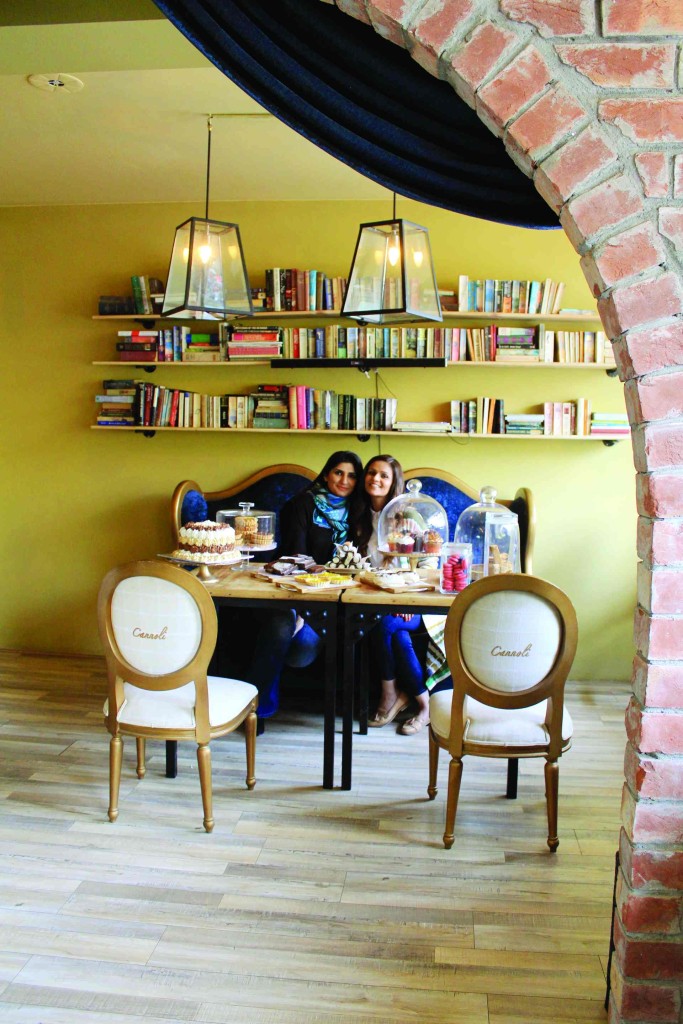 Entering the premises, one's gaze is directed towards a welcoming counter filled with delicacies such as quiche, tarts and macaroons labeled with quaint placards amid the enticing aroma of freshly brewed coffee. The intimacy of the ambience is heightened by a whimsical blue velvet sofa beneath a shelf filled with well-worn books against a warm brick wall. Eclectic music fills the air amid chatter from tables and stools.
Cannoli's name comes from the Sicilian dessert, filled here with the choice of custard or Nutella and whipped cream. "Cannoli is one dessert which we both love and that no one else seems to do in Pakistan," reveals Dia about their signature offering.
The duo is passionate about dessert but does not always see eye to eye on healthier offerings; Uzma is keen to introduce quinoa to their menu, a prospect that fills Dia with comical disgust. "I feed people what I like eating myself," she explains. However, Uzma is getting her way and quinoa and other guilt-free options are to be included in the menu starting late spring.
It is evident that Uzma and Dia share a playful, yet very professional relationship. Before launching Cannoli, they partnered at Soul at Lush (the restaurant component of a local boutique hotel) and have been working together for five years. The two first met through Dia's elder sister, also a close friend of Uzma's. "When Uzma moved to Islamabad, she insisted that I meet her," shares Dia. "They say you shouldn't work with friends but we became friends after we started working together!"
Adds Uzma, "When I moved, her family told me that Dia's been baking since she was a kid and how great she was. I begged her to join me (in a business venture) and eventually she did!
Their recipe for success?
Uzma is the ying to Dia's yang.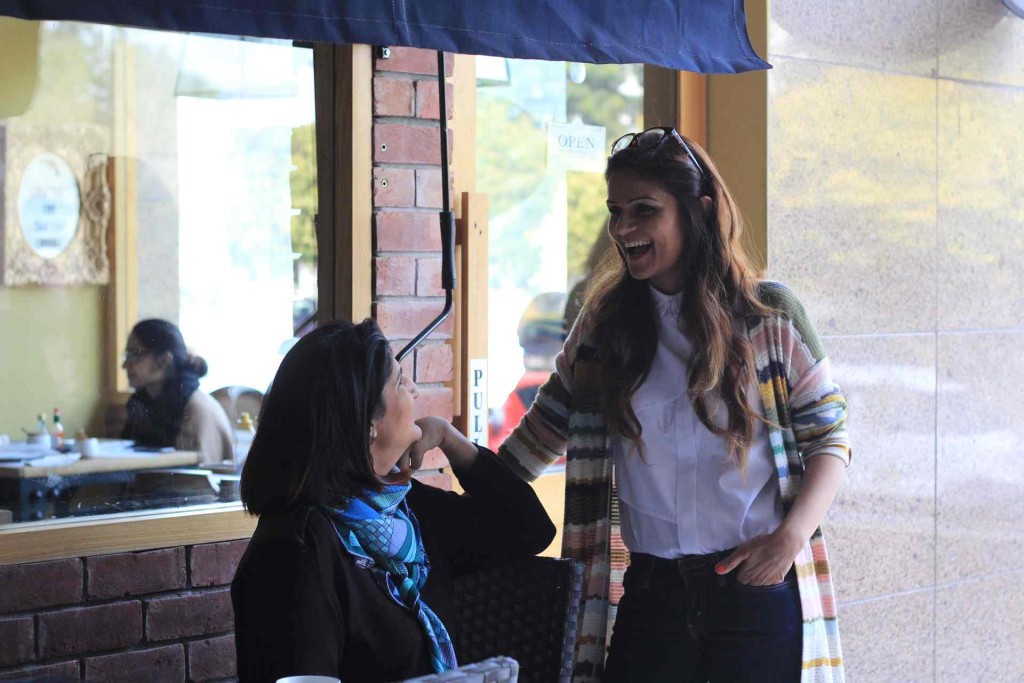 "The best part is that we each have our own compartments at Soul," declares Uzma. "The fact that our personalities and specialties are so different only enhances our partnership. We are exact opposites and have very different roles here. Dia is not much of a people's person and I'm not much of a cook but I love to help out and garnish for her. We do discuss menus together but I'm more involved with the hospitality part and interiors."
"Uzma is our PR person," reveals Dia. "I'm more reserved. Strangers walk in and leave as Uzma's best friends."
Dia was born and raised in Dhahran, Saudi Arabia, later attending the Islamabad College for Girls. She is what one would call an instinctive foodie. She hasn't received professional training but has years of love and preparation behind her. "I don't like calling myself a chef because I haven't received professional training," she explains. "But I love eating and feeding people. I'd always wanted to open a restaurant but never got around to it until I met Uzma."
Uzma is naturally sunny, and her strength lies in management. She grew up in Geneva, moving to Pakistan as a teenager before graduating from high school in Bangkok. She returned to Switzerland for university, studying hotel management at Les Roches International School of Hotel Management in Crans-Montana. This led to a waitressing internship in Zurich where Swiss café culture left a significant impact. She managed Avari Hotel Lahore's club lounge before launching the first Café Soul on the premises of Shapes Gym in Lahore in 2002. "That's when my dream started," she says.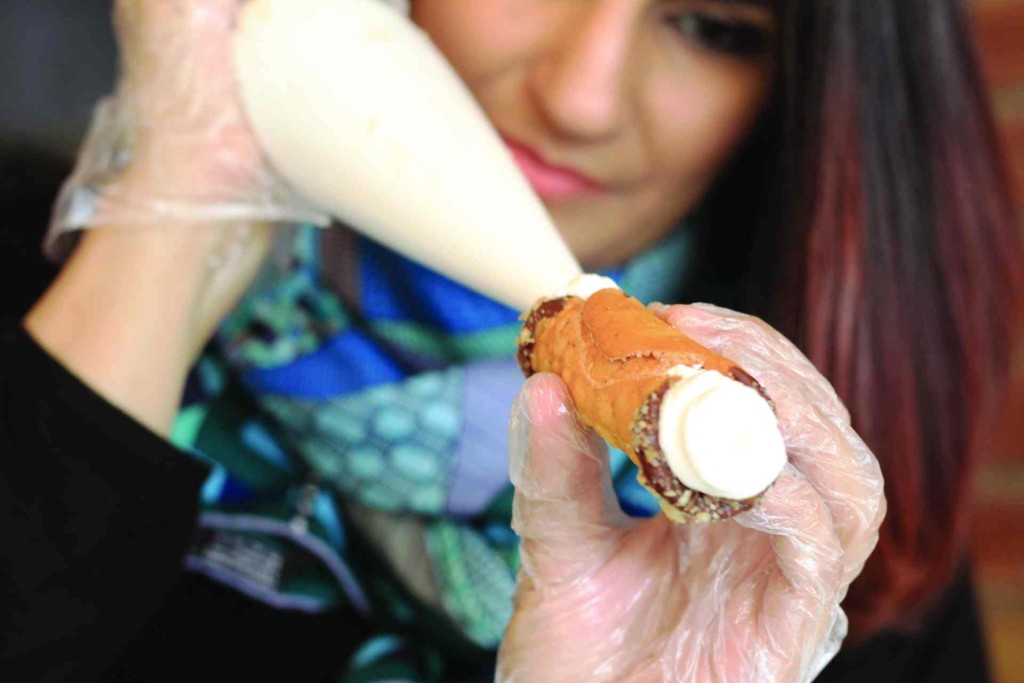 As Dia puts it, Cannoli's menu consists of items that she and her family grew up eating and continue to enjoy, including an assortment of café snacks, dessert, salads, pasta and hamburgers along with various egg concoctions in their current breakfast menu. "We've always felt like an extension of Soul but are trying to keep the essence and constantly trying to reinvent ourselves," she says.
The café has recently been expanded to include a new adjoining room and a delivery service in now on the cards. The duo also plans to rent out Banafsha Cottage in Bhurban as "a deluxe getaway stocked with Cannoli goodies."
DESTINATIONS caught up with the café entrepreneurs to learn more about their vision, experiences and tips.
What's your opinion of the café culture in Islamabad?
UZMA: I think the café culture is still very new but people are getting into it and want more in Islamabad. That's why we wanted to tap into this market. I really wanted to bring to Pakistan the Geneva experience that I miss.
Are there any regional or international chefs or kitchens that inspire you?
DIA: I love Gordon Ramsay and Nigella Lawson. But no one can cook better than my mother!
Please share a kitchen tip—whether at home or a restaurant.

UZMA: Keep it simple!
What do you normally snack on at Cannoli yourself?
DIA: I'm always trying to diet, but I love desserts so everyday I have something different.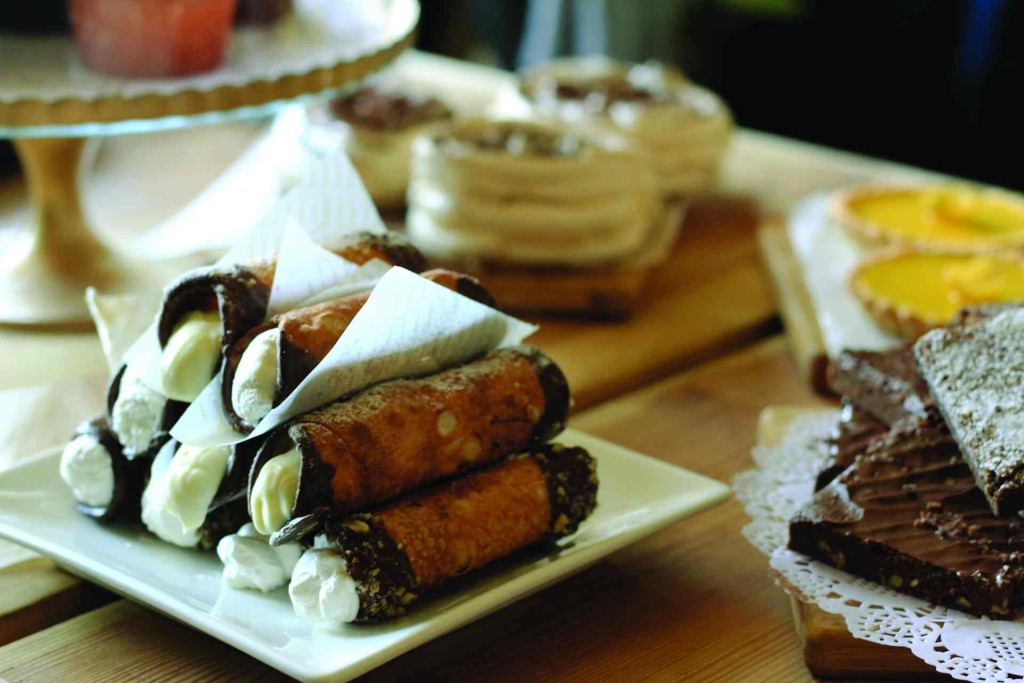 Describe a memorable home-cooked meal that you prepared.

UZMA: I cooked a Thai dinner for my husband's birthday once. It wasn't very good, hence was very memorable! The year after, Dia promised to cook for me!
DIA: My father loved to eat, and I used to cook for him a lot when he was living with me. He didn't like the food that our cook (at home) prepared. He was always happy when he was fed good food. So I guess every meal I ever made for him was memorable…
How and where do you source your ingredients? What's your methodology?
UZMA: We try and keep it seasonal so it's fresh but some ingredients have to be imported.
DIA: We have vendors that provide us with all our ingredients. It's amazing how we can get almost everything in Pakistan now.
What's the one thing that's a must for a good chef?
DIA: To cook from the heart. There's no other secret.
Name an essential ingredient that must be always be in your kitchen.

UZMA: My weakness is for fresh whipped cream!
DIA: I don't like baking without the best vanilla extract. I try my best never to have to use the essence. I believe it completely changes the taste of the dessert.
What would you advise that is impressive and can be cooked in a hurry?
UZMA: Seasonal salads. They are fresh and you can be as creative as you want, healthy or not.
DIA: Pastas, they're quick to do and look very impressive!
What's the best kind of training a chef can undergo?
UZMA: Looking at Dia at work, I truly believe it's a natural instinct. After that, experience and training just polishes you.
DIA: Since I haven't gone through any training I can't really say, but like I said before, if you love what you do and cook from the heart you won't go wrong.
How does one master the restaurant business?
UZMA: We will let you know when we have mastered it!
DIA: We're still learning. I can't give advice on how to master the restaurant business because I haven't mastered it myself.
Have you received any interesting feedback from customers?
UZMA: We've realized that everyone's a 'Master Chef' now (in terms of critiquing)! But seriously, our clients' input always counts. I think that's what makes us different from the rest. Cannoli is like a decadent extension of one's own kitchen. It's a home away from home with soul food. We want our clients to be happy!
DIA: I have realized that you can't please everyone! One customer can hate the same dish another loves.
If you weren't in the Food & Beverages business, what would you be doing?
UZMA: I really cannot imagine being in anything other than the hospitality industry but I do dabble in interiors as I think it's an extension of my work.
DIA: I'd always wanted to own a cafe, God has been kind and I do what I'd always wanted to do. If I hadn't started the café, I would probably be teaching, that's what I was doing before this.
Any favourite cookbooks or cooking shows?
UZMA: I love Nigella Lawson's books and shows and I love to watch Ramsay's Kitchen Nightmares. It keeps me on my toes.
DIA: Hell's Kitchen. I have lots of cool books but I hardly ever use any recipe. So I can't say I have a favourite. But I do like buying them.
What's the biggest mistake that Islamabad cafes and/or Pakistani restaurants make?
DIA: We all make mistakes. Since we've opened up our own café, I've become so much more understanding (eating out) when my food is late or when they get the order wrong. I guess I have much more empathy now!