Feroze Khan just wants to live the dream and then live to tell the tale. DESTINATIONS talks to the enigma who has risen like a phoenix but remains as mythical as the unicorn. How he got here, where is he headed next and why there's no stopping him, here he sets the record straight on all matters of fame, family and faith.
PhotographY: Umair Bin Nisar
Styling: Ehtesham Ansari
GROOMING: N-GENTS
Transportation: Daewoo Cab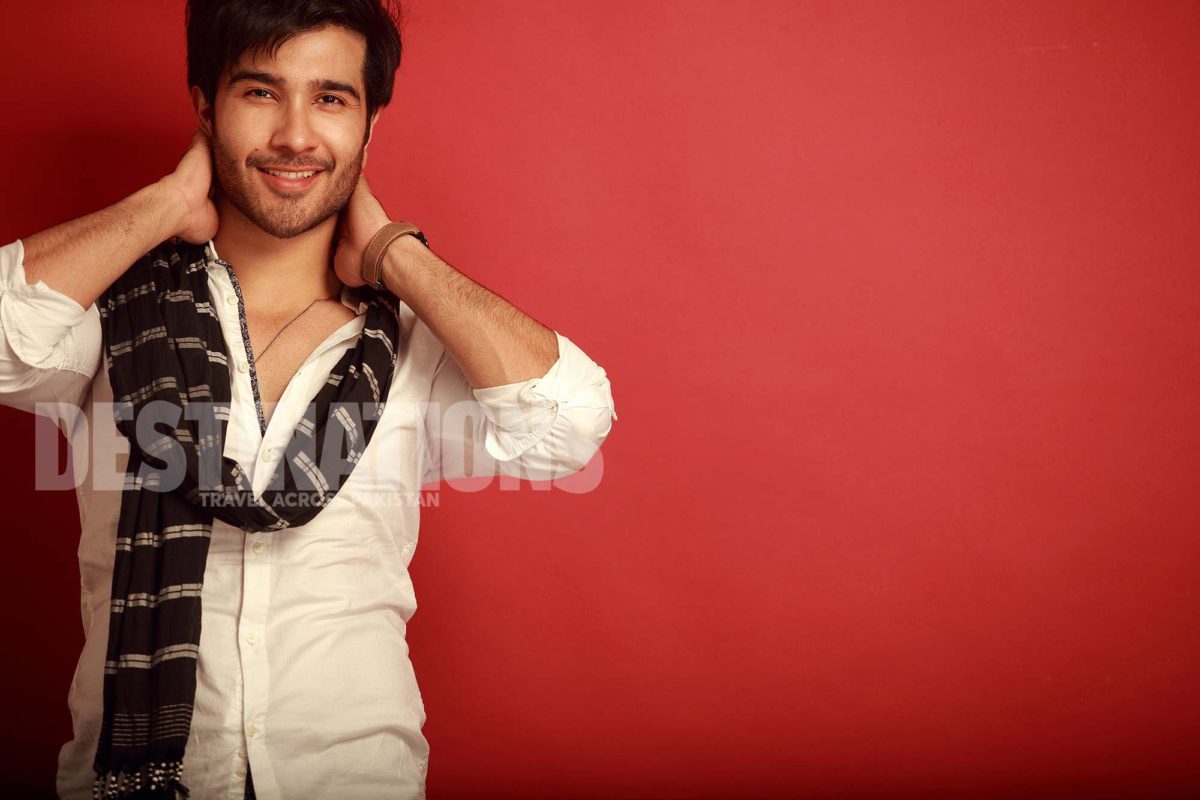 As he steps into the studio, the vibe changes – energy levels shoot up, the lights come on, the music gets louder and on a balmy Karachi spring afternoon, the bright sun blazes stronger than it ever has before.
Feroze breezes in wearing a lightweight jacket, something that James Dean would have rocked on a cool Cali evening. The moment we have been waiting for arrives: the camera lens zooms out, Feroze strikes a pose, quite a few in fact, and we see magic in the making.
As age appropriate as it is, this 26-year-old's style is rooted in athletic luxe but he takes to high fashion with natural ease. It is hard to imagine this super-fit star was once a bulky teenager but it seems Feroze Khan is not one to shy away from hard work. The result is a toned physique and the confidence that comes with it. "Yes, I am a very focused person constantly working towards my goals but at the same time, I firmly believe in destiny. I consider myself extremely lucky to be where I am today and to have achieved what I have so far. It feels like I was 'chosen' for it."
For someone as young as Feroze, this deep resonance with faith is certainly not commonplace. "My family and I have been through some rough times. Therefore, every single day we are thankful for what we have." It is no surprise then that while other TV/film actors and anchors queued up for hosting Ramzan shows, Feroze with his mother and his sister, film star Humaima Malick made a trip to Mecca to perform Umrah (a pilgrimage of gratitude).
Like his past Ramzan itinerary, Feroze Khan himself is equally unexpected. Despite his good looks and natural spot amid the celebrity-sibling hierarchy, he does not take things for granted. "I actually started from the very start. I began my career as a video jockey for a music channel and since then have worked my way up." While many others may attribute their rise to sheer hard work and dedication, Feroze hits another tangent. "In the Sufi strain, the concept of being 'given' is key; that is why it holds great significance in my life. Everything I am, everything I have today – fame, fortune, family – has been 'given' to me. There is no science for success and no formula for stardom. We, human beings, can only do so much. We cannot plan our tomorrow. We cannot plan our today. We are what we get. And we get what we deserve."
It seems God has been kind to the Malick-Khan clan. While both the siblings are fairly successful actors and models in their own rights, Feroze gives credit to his sister for watching over him, lighting the way and leading him in his early days.
"There's no free lunch in this world and over time I have become aware of that. There are no unconditional favours except when it is for family. Blood is thicker than water. So I would say that my sister Humaima is a gift from God. She has been my protector, my friend, my guide. She has steered me away from things I needed to be pulled away from, has helped bring focus back to my life and taken me places of which I could only dream of. She is amazing in the strength that she provides me, in the amazing people she has introduced me to, in the amazing experiences she has shared with me. Today the confidence that I have is because of Humaima."
In between shots, we hear whispers of things getting a little out of hand on social media. There are murmurs relating tales of aggression and smack-downs. "See, opinion matters to me. Stardom comes in a package – there's lights, camera, action, fans, social media likes, brands, money and then, opinions. So when I read things about myself which are not true, sometimes, just sometimes, it affects me and I react." However, his social media fan base has only continued to grow. Feroze's Facebook page remains updated with all his news and current happenings and he has a verified Instagram account with almost five hundred thousand organic followers – a crucial metric in the heartthrob sweepstakes.
There's no denying that Feroze is a handsome man. What is brilliant is (apart from the obvious gender difference) his uncanny resemblance with his sister, also a very good-looking person. One look at him and you cannot help but notice the same chiselled jawline, pointy chin, sharp features and the now-famous thick eyebrow. But family association, a piercing gaze and a charming smile do not make a career. There needs to be more to set him aside from the sea of hunks washing along the teeming shores of TV. The pivot takes the form of Zain, a struggling filmmaker in Zindagi Kitni Haseen Hay. At such an early stage in his professional life, it has established Feroze Khan as the dynamic hero who can lead a film independently.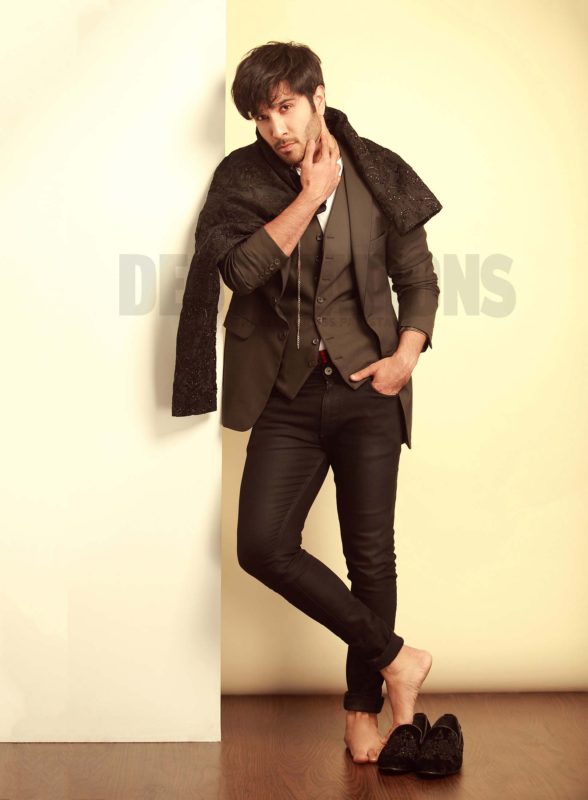 "These past two years, I've seen miracles happen for me everyday. This is the best time of my life. I believe in the power of One and that's all I believe in." Faith is Feroze's primary support. Faith and then family. "You can't decide if you want to be the best actor or not. Like I said before, if you are 'given', then there's no stopping the win!" However, this believer lives under no illusions of permanence. "It's all about the time. Right now is my time but I know change is the only constant in life. Fame is transient and I know it will not stay forever. But before it goes, I want to live up to every second of it."
A primal instinct of survival stirs up in him that raw machismo, that grit, the fight. "In Spanish, my name means fierce and in Persian, it means victorious. In little time, there's so much I have seen and lived through that I consider myself triumphant for many different reasons; to have been given my own place under the sun which I can mark it as my territory; Feroze Khan's territory; to have seen Karachi's dark underbelly and escape unscathed from situations that could be, putting it mildly, dangerous, to say the least."
It seems this young Khan has a knack for making odds work in his favour. "There was a time when my mother had a bad accident and was fighting for dear life. At that point, two things happened: 1) I understood the value of family and how important they are; 2) I resolved to make my family and my country proud of my work." Since then there has been no looking back.
The experience seemed to have left him wiser beyond his years: "I've understood the value of life and family in time. That is the best thing I have achieved so far. I don't hesitate hugging my mother, or my father anymore. I don't fear telling anyone how good or bad I feel on any given day. That is what I have achieved. Material things don't matter to me at all; it's the emotion, the values, the feelings that are important."
This isn't the story of some frat boy living the good life. He is doing everything he possibly can to make it happen as he goes along. "Spirituality is the axis which my world spins on and it keeps me going.
I have high hopes for the future. The next five years are going to be an exciting time in my life." The eternal optimist may be doing something right for all the positive vibes he's sending out into the world seem to be reciprocating with equal measure.
"Considering where I am today in life and what I do, I would say I am living my dream! There is much that I am grateful for – each morning that I am able to wake up, get off the bed and stand on my own feet, for the work that I have, the respect that I receive, for having healthy parents and being able to greet them each day; I would say I truly feel blessed.
The interview time is almost over and the photographer beckons the young star to get back to the shoot floor. I ask him one last question before the lights come on and transport him away to the distant reel life. It's the kind of pre-packaged question you ask everyone just to see if the response matches your expectations. What inspires you?
Feroze pauses before he answers, "Nature! Good weather, mountains, lakes, all sorts of different people, cultures, anything and everything…but at this moment in time, it's music!" As if on cue, Chumba Wumba's Tubthumping gets louder, the camera zooms back into life and Feroze pulls his collar up and gazes straight into the lens.
I get knocked down
But I get up again
You're never gonna keep me down.
Outside, the sun has waned and given way to a velvet sky full of stars. Amidst the constellations, I spot the North Star shining bright as ever with a purpose of its own. I wish Feroze the very best before walking off. May the music never stop for you.