I am sitting with Faiza Butt whose mellifluous artistic hand has beguiled and intrigued me for more than a decade. She has used it to seduce me into the landscape of her work, to confront her questions and forced me to ask my own questions of the world and consider her place within it as one of the most responsive thinkers of our time, an artist, a woman and a mother.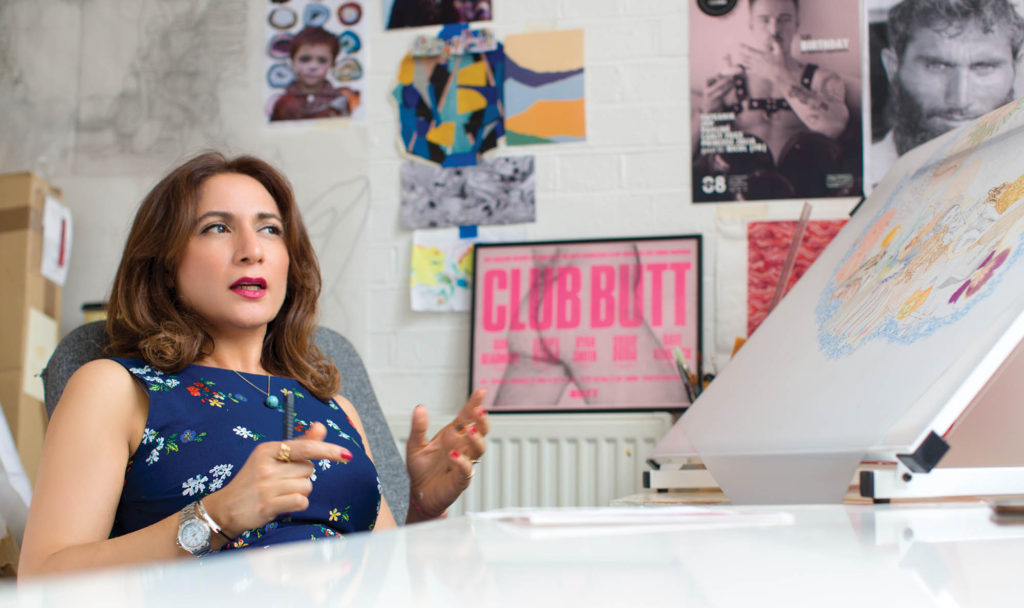 Pakistani artist Faiza Butt's ancestors came from Amritsar in Northwest India, city of the magnificent Golden Temple. In 1947, when the British left India after two hundred years of colonial rule, the country was partitioned. People who had lived together for centuries were now divided along religious lines. Sikhs and Hindus poured south into what became the Republic of India and Muslims left for a new country called Pakistan. More than 10 million people shifted as the arbitrary border created new regimes and refashioned identities upon people who had lived as one for hundreds of years.
Faiza Butt's family never really forgot about that tragic event. Butt grew up in Lahore under the shadow of that history, among stories retold in family gatherings. The seeds of being an artist were probably sown then, as the young girl absorbed the many tales recited from memory, embellished just as our grandmothers' tales often are as a way to manage the recollection of pain.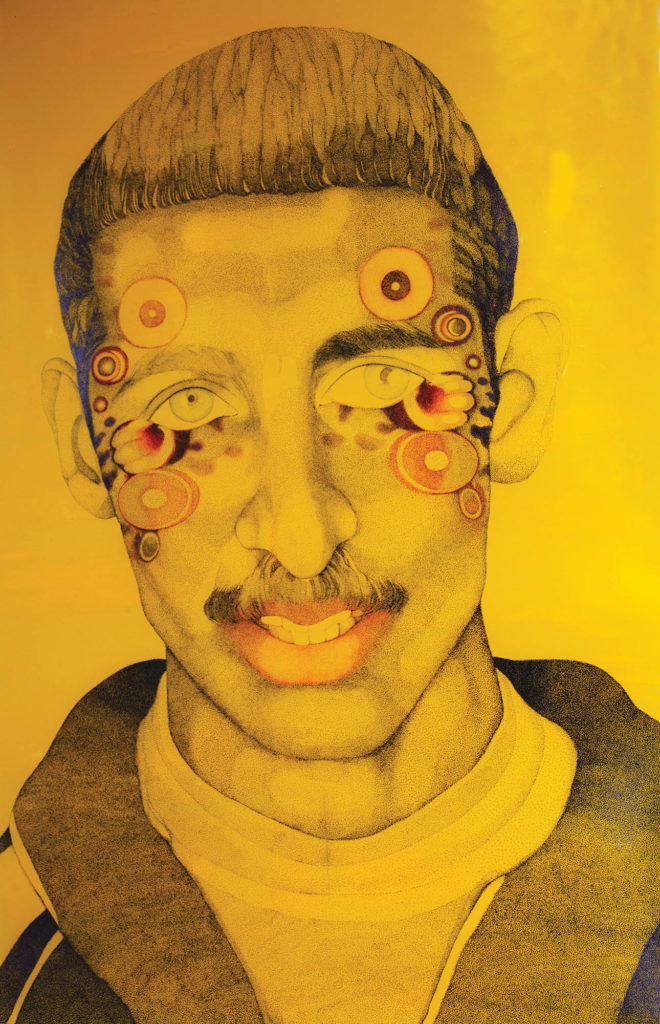 After graduating from the National College of Arts in Lahore, Butt continued the migrating tradition of her family and came to Britain, making a kind of full circle. She smiles and says she likes to remind people that the story of colonised India is also the story of Britain, even though today it is largely invisible in the school curriculum of both countries. There is so much erasure and it is this that the artist attempts to disclose.
She draws us in with intricacy; with the minutiae of hand-made dots beautifully arranged like some glistening jewel that we feel we just must move closer towards. Once we are there, up close, held captive by the detail, Butt holds our attention to ask bigger questions. She is troubled by the vast geo-political drama of our times, of her distance and nearness to her homeland Pakistan and her simultaneous distance and nearness to her second home, London.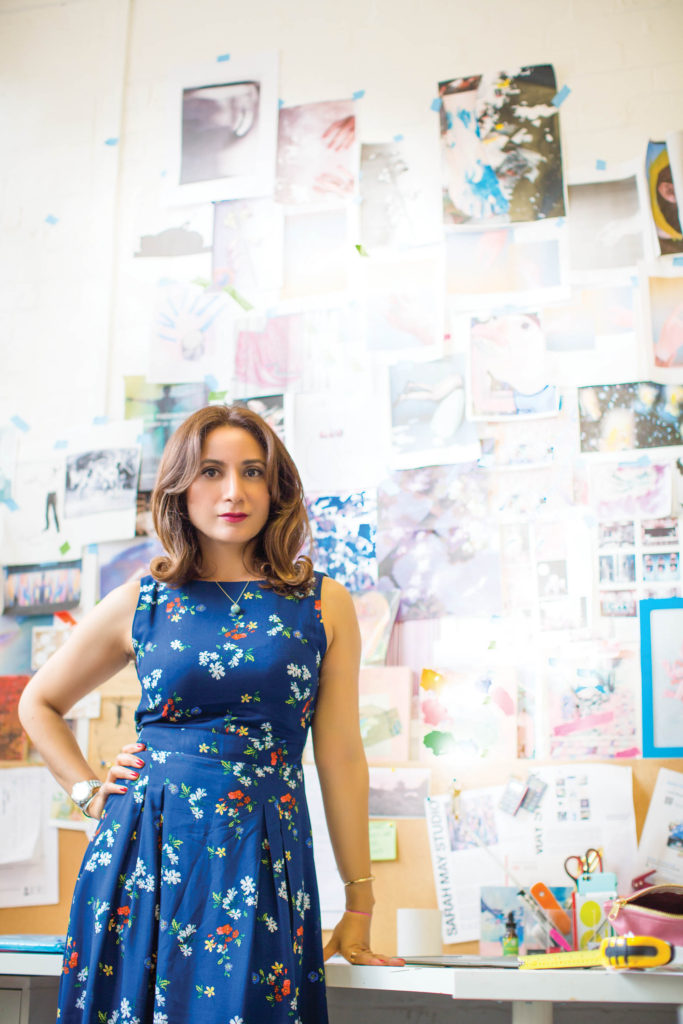 Faiza Butt's laboriously painted surfaces seduce in their beauty. In her training she would have sat crossed-legged on the floor working with water-based pigments. After coming to the prestigious Slade School of Art in London to continue her studies, Butt relinquished painting because her experience of it in London was that it was too masculine, too macho. Now she uses the very intimate landscape of the human face as a map to tell stories, stories of people's lives travelling across space in search of new meanings and different encounters.
Butt is based in East London where she lives and works. "I don't think there is a better place in London, as East London is packed with people from a range of ethnic heritage and identities, living side by side køb viagra. It's a rich environment for an artist where the observation pool is vast, and the material it provides endless. In a single day, I could chat with a Hasidic Jewish lady while waiting to buy bread, hear about troubles in Turkey from my Kurdish cab driver, become embroiled in news about the Polish economy and get to know of African migrations from my Kenyan studio assistant." She laughs and gesticulates in that wonderfully desi way and adds, "Really… I don't listen to the news… I talk to people."
Butt's practice riffs off this urban encounter which she constantly feels grateful for. Set against a global city like London, reflections on her homeland, Pakistan, have been thrown into sharp relief. The physical, mental and emotional journeying between the two, between the then and now, east and west and the apparent impossibility to reconcile the two forms the major emotional motivation of Butt's practice. These great journeys of the mind and heart – the incredible loops from east to west and tempered with the multiple arcs of London, its corridors of power intersected with the arrival and dispersal of people from everywhere, provide the spine of the artist's narratives. Butt has always felt the need to make purposeful work. I'm not sure all artists would share her sense of social responsibility and justice though it remains deep and abiding, characteristic of Faiza Butt the woman and the artist.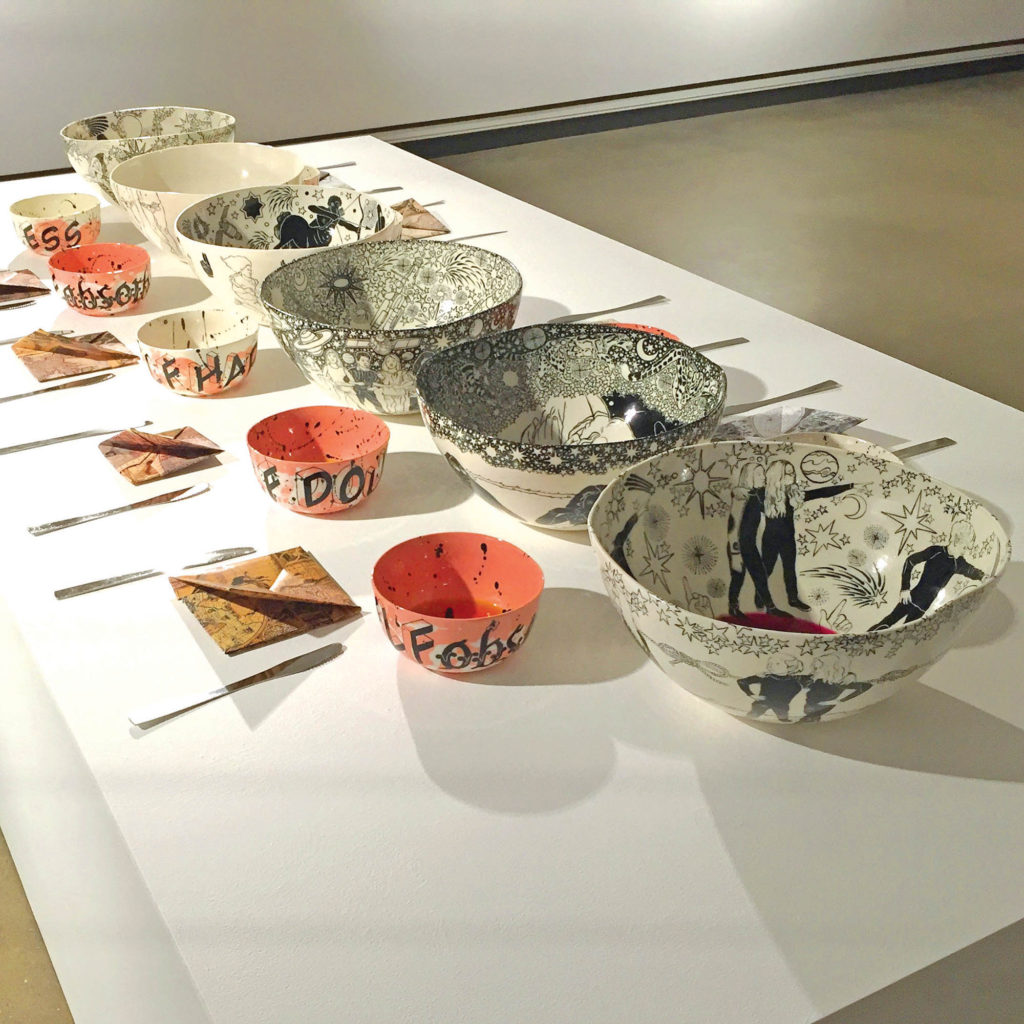 Her upcoming mid-career retrospective at the Attenbourough Centre in Leicester is opening soon. It is a befitting location as Leicester is the first city in the UK where the immigrant population has outnumbered the indigenous population. Butt has now taken her practice in a new direction, moving from drawing elaborately to working on porcelain. An installation called The Dinner stages the pressures of motherhood.
The artist says she cannot help but notice how invisible are our everyday struggles as parents who also work – like the great modern taboo. Finding this unacceptable, she hopes to make some noise about it through the notion of 'dinner' as the idealisation of an exemplary family moment.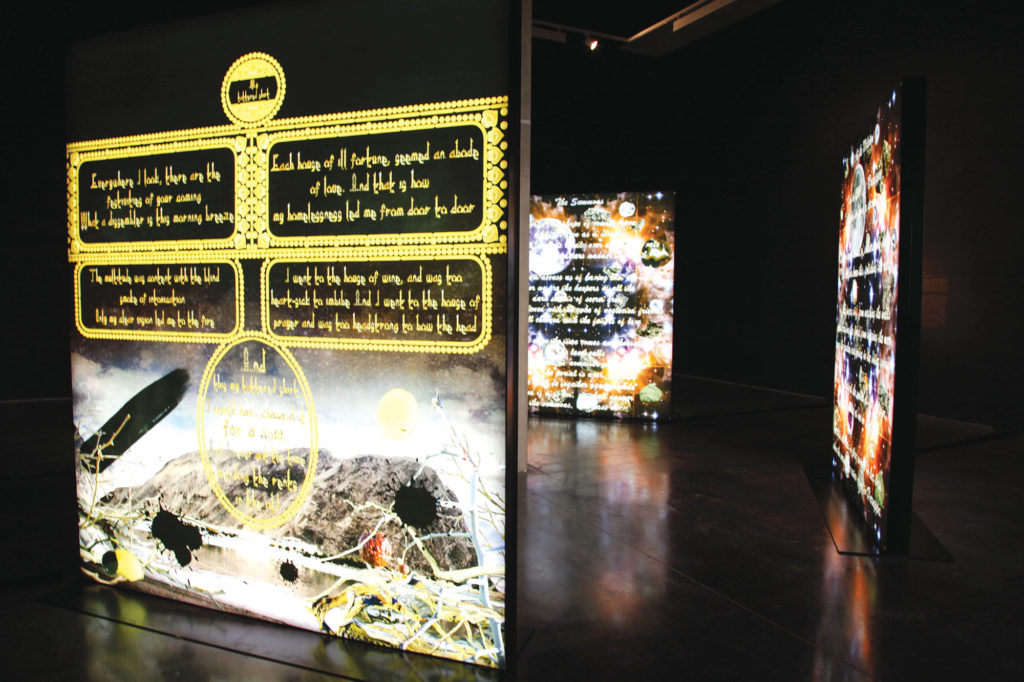 Butt's work is largely figurative although it does not celebrate body or figure in classical terms. Butt features people – faces and situations. Alluding to the power of representation and the use of photographic frames as tools of persuasion, she scavenges images from journalistic sources questioning how these infiltrate our day-to-day thinking and penetrate our deeper selves. And she remarks on how this incredibly expanded and extended global world of high speed internet and social media has also shrunk the world, not always in a positive way.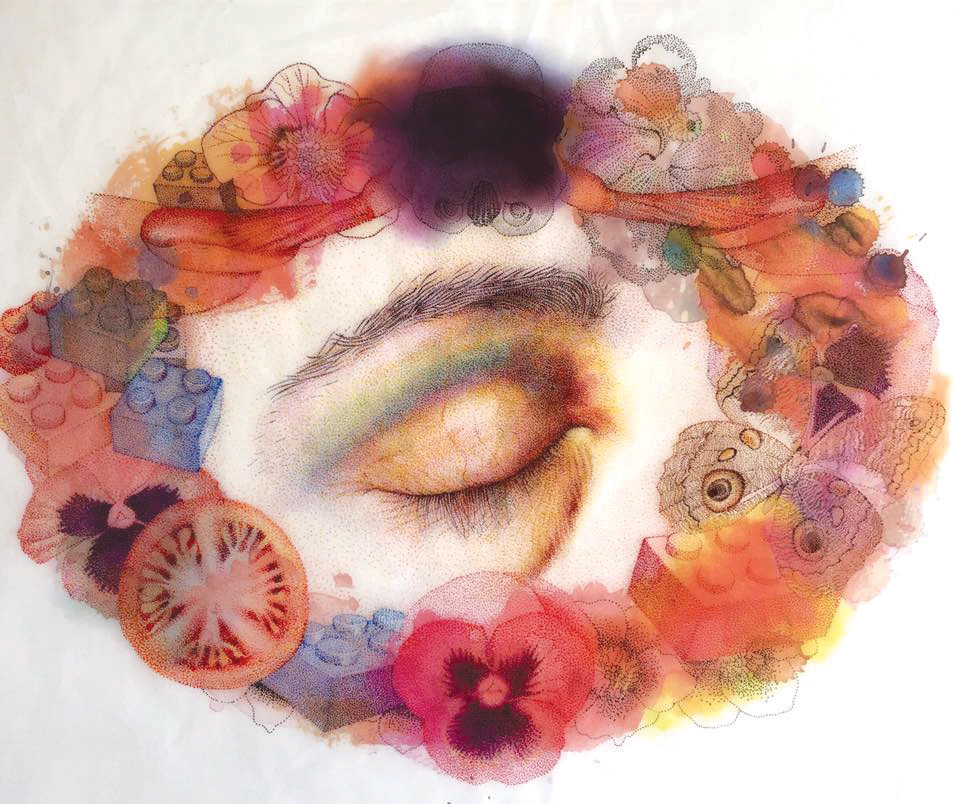 This expanding globe creates a new kind of tribalism which has dangerous consequences. Butt's work stages threat, unfolds it and lays in bare. These are the prejudices and fears we all hold or that hover around us and Butt asks us to question their veracity and understand their ability to control our emotional landscape. I suppose she asks us to take control of our own emotional landscape. This is the real gift of her work.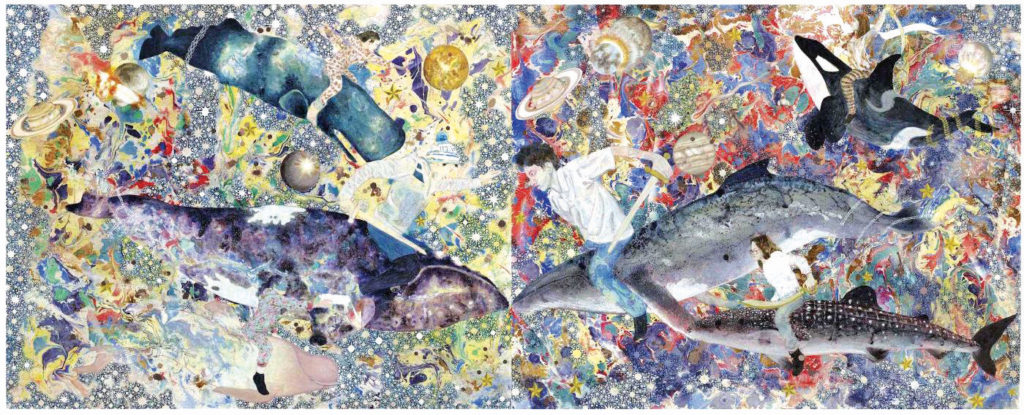 ---