By Fifi Haroon
Fahad Mustafa is not big on giving interviews. Inarguably the biggest star on the Pakistani TV landscape, the man with the Midas touch likes to keep to himself and let his work do the talking. Here he makes an exception as he talks his heart out with leading journalist and media producer Fifi Haroon over an informal brunch conversation on a variety of topics including love, life, work and his upcoming films.
Photography: Abdullah Haris
Good Morning," says the wake-up whatsapp text. "Meet you at 11," says the second reminder.
On the other end is perhaps the most beloved star in the country. Punctuality is not quite what you expect of a man this famous, and one who reportedly doesn't travel on film shoots without his entourage in tow. But when we meet up for this interview Fahad Mustafa is astonishingly 5 minutes early and waiting for me in a quiet corner of the café he suggested for brunch.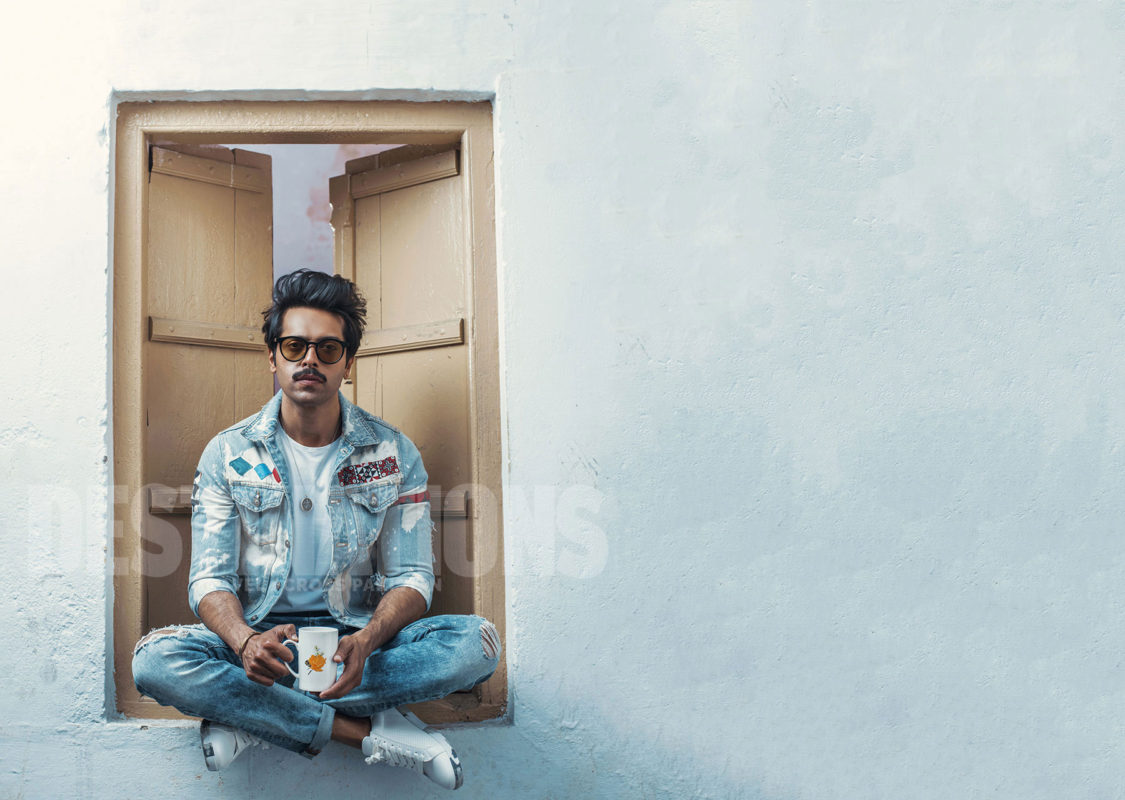 At 34, Fahad Mustafa's popularity has gone through the roof. The girls may swoon longer over Fawad Khan, Mahira Khan may be the fashionista's dream queen but "Fadi" as he is more affectionately called by his massive fan following on Instagram and Twitter is the ordinary man's favourite.
Or "phat-phatti" hero as I like to call him. Motorbikes are his thing. He gives them away in dozens on the highly rated game show, Jeeto Pakistan, and rides in on them, hair flying back in the breeze, for most of his films, from Na Maloom Afraad to Actor in Law. More recently he has been seen speeding around dirt tracks in Clifton on a Harley with actors Mohib Mirza, Faysal Qureishi and a motley crew of bikers. Perfect Instagram material, except Mustafa is not quite as social media friendly as his Jawani Phir Nahi Aani 2 co-star Mawra Hocane, a veritable Insta princess. "I try my best. I'm at the petrol pump and on Twitter at the same time. But to be honest sometimes I can get pretty fed up of the whole thing."
"But I like being called a phat-phatti hero," Mustafa counters, laughing. "I am happier on a motorbike than in some fancy car. And when it comes to a four-wheel drive I don't have a chauffeur or anything. I drive my own Jeep." For now it is parked outside the café in Karachi's new culinary hotspot, Khayaban-e-Bukhari. Inside, the interview is an excuse for him to break his often-rigid diet regime for a generous helping of French toast and a strong cup of black coffee. He salvages his guilty conscience by ordering the same for me.
You can see that the diet works. There isn't an extra ounce on what looks to be a naturally lean body, though Mustafa famously worked out several hours a day with his personal trainer while filming JPNA 2 in Istanbul to keep it that way. But the actor insists that at heart and in stomach he is in reality a food junkie. "I am a fat man on the inside," he confesses guiltily. If I could eat everything I want I would be gigantic."
A media Goliath nonetheless (his television production house Big Bang Productions has produced over 50 drama serials in the last four years) Mustafa looms large on the Pakistani entertainment landscape. Later this year, he will feature in both the mega-films to be released on Eid-ul-Azha: Nadeem Baig's crowded multi-starrer JPNA 2 and Nabeel Qureishi and Fizza Meerza's ingeniously titled Load Wedding, where he has been recast with his "favourite" heroine Mehwish Hayat. Their previous film Actor in Law (2016), also directed by Qureishi, was a blockbuster so the dream team has a lot to live up to.
Equally, with Punjab Nahin Jaungi (2017) becoming the first Pakistani film to make it to the Rs.100 crore club, director Nadeem Baig now needs to do one even better. He's replaced the troublesome Hamza Ali Abbasi with the biggest hitter in he business; the man who is to Pakistani films what Shahid Afridi was to Pakistani cricket in his heyday. Except – a lot more consistent. With three successful films under his belt (all three with Nabeel Qureishi at the helm) Mustafa is a cinematic Midas. Come September, we will have the opportunity to gauge whether everything he touches still turns into gold.
And yet, films for Fahad Mustafa are more play than work. He does them because he "enjoys" the process. "Films is my shauq. Ask Fizza and Nabeel. Till today I've never talked money to them because frankly films is not how I make my money."  Mustafa comes from acting stock: father Salahuddin Tunio earned respect and awards working in Sindhi and Urdu plays but of course never picked up the massive advertising campaigns and endorsement deals from Pepsi to Harpic that his son has aplenty.
These days Mustafa is trying to get to know his own two-year-old son Moosa better. "I've been doing back-to-back projects and feel I'm missing out on his growing years," he admits woefully. Though his directors praise his work ethic, Mustafa calls himself lazy and says he would sleep all day if he could. On another level he is a family man who likes to travel with his wife Sana and kids, Fatima and Moosa; cute pictures of these excursions dot the internet and are avidly lapped up by his massive fan following.
Mustafa remains sceptical about social media and suspicious of journalists. "I'm never quite sure of what they really want from me," he says warily. Yet we have unpredictably struck up a friendship consisting largely of Twitter banter and discursive interviews over the last two years. And so our brunch lasts over two hours even though he is shooting for Jeeto Pakistan that day and interviews on Thursdays are usually a no-no.
It's a nightmare edit. Mustafa is opinionated and cuttingly honest. What does one leave out? Maybe I'll throw what's left on the editing floor into my memoirs. For now, here is a glimpse into what Fahad Mustafa loves – and hates…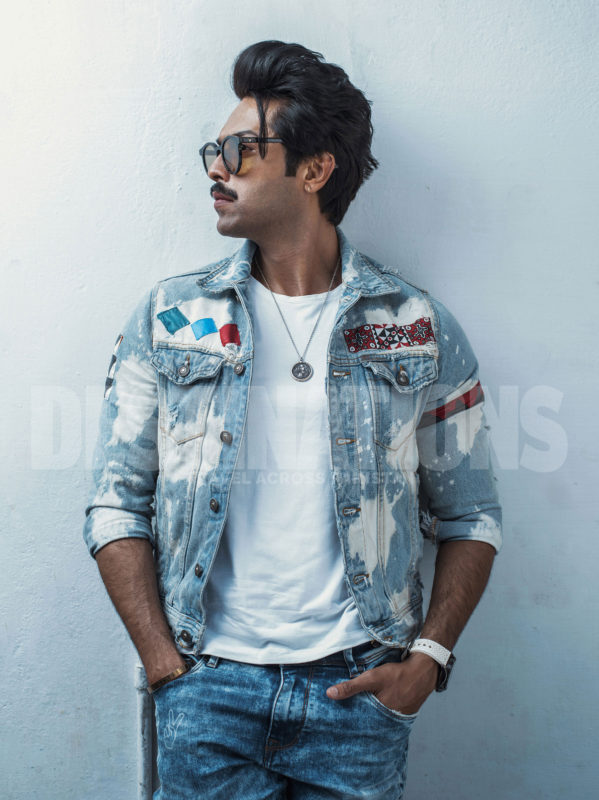 You've just finished work on two very big films. What next Fahad?
Chutti! (Much laughter). I'm tired. I want to retire. I was nineteen when I started my career. It's been a long stretch.
Come on Fahad, you're far too young to retire. Plus you look younger than most of your heroines.
That's another story! I work with people who take all the tension for me. So that's how I can look a few years less than I actually am.
Be it the fake lawyer in Actor in Law or even the scheming out-of-work Farhan in the two Na Maloom Afraad films, the heroes you play retain a certain innocence. Circumstances may make them do certain things that are illegal or on the face of it, unethical but essentially they are very likeable.
We wanted the characters to be relatable to the common man. So while the men I play make mistakes, they are not evil. They are essentially good guys who are living in tough times and have to hustle a bit to get by. Even in Na Maloom Afraad 2, which some people said is not a family film, you could see that the characters were never "do numberi" types. The audience sees the characters I play as one of them. An average guy just doing his best. Like them, my character messes up sometimes or takes a slightly dodgy route to success but he has a heart of gold.
You're forgetting Mah-e-Meer though. That was a huge departure. And now Jawani Phir Nahin Aani 2 isn't following that pattern either. To be honest Fifi, these are the kind of issues you and I sit and discuss when we're talking about craft. The common man will never bring it up. He just wants to see a good film.
But he too must have noticed you always play the quintessential Karachi guy. It's not like we ever see you dancing around in the fields.
Actually in Load Wedding that's exactly what we do – there's a song and dance in a khaeth!
What? Now I'm thinking of that naughty Madhuri Dixit song "Chanay ke Khaeth May." Actually since we're talking about it, who would you take to a khaeth?
I've already taken Mehwish Hayat there many times now! When you're shooting in the middle of nowhere for a 40-day stretch you need the khaeth for more practical things.
Who are you friends with amongst your heroines?
Definitely Mehwish. I'm very good friends with Mawra too. We had done a play together before JPNA 2 so we've known each other a while. What I really like about Mehwish in particular is she's not in any race. I don't like those co-stars who are always competing.
Yet there was this whole controversy recently concerning Mehwish and Mahira when the latter won the Lux Style award for Best Actress.
I think it was a travesty she didn't get the award. Punjab Nahin Jaoungi was the biggest hit in the country and Mehwish was amazing. Actually she was brilliant in Actor in Law too. She is a very intelligent actor; knows when to hold back in a scene and when to let go. She gives such balanced performances. Mehwish is the whole package.
What's it like romancing Mehwish Hayat in films?
There's this ease working with her. Though there wasn't that much romance in Actor in Law. Load Wedding is full of romance – it will surprise people.
What about real-life romance?
My romance is funny. I can't do that very deep romantic stuff.
Yet showbiz is full of temptations. How do you keep on the straight and narrow path – or should I ask if you do?
I do. But if you're asking if I will or not, how can I predict that? This much I know, that I'm not the kind to have affairs. In fact I'm the type who would marry the woman instead.
I'm not sure your wife would be too happy with that answer! Let's move on to your last film. I remember watching NMA2 with you at the London première. I didn't leave the theatre with Fahad Mustafa in my head. It wasn't your film. Did you know that was going to happen?
I knew it. But see when you're part of a franchise you go with it. I didn't want anyone to say that oh Fahad got someone's role cut to make his part more prominent. Not once did I go on the set and say to Nabeel that look this isn't fair or I'm not really being given the chance to shine.
So you never said, 'Nabeel you haven't done me justice.'
I didn't have to – other people said it to him. In fact even in the second half of Actor in Law it became Om Puri's story. But see you don't take an actor of Om Puri's calibre and then not let him lead at some point. It was meant to be.
Big stars like to control films. I've heard that Shahrukh Khan controls everything from the film's soundtrack to what his heroine should wear.
Well then maybe that's why his films aren't what they used to be. When stars want to do everything it doesn't work. Shaan bhai made Arth, which was just his film, his creation. You've seen how that turned out. You can no longer work without input and advice. You have to listen to others. If you take my directors away from me I wouldn't be who I am today. I present the biggest show in the country, Jeeto Pakistan, but if you take my team away I won't be able to do it. 
What kind of films work in Pakistan?
First we have to figure out who we make films for. Who is this person who buys tickets to go see a film in our cinemas? If you don't have the answer to that, your film will flop. People may have gone to the cinemas in the early days of the revival to support Pakistani cinema but now they have said enough – the film has to be worth it. Look what happened with a few big films at the end of the year which supposedly had superstars in the cast. If they are such big superstars their films should at least have a good opening. But they didn't because they were on their own trip. If they weren't even able to make 6 to 8 crore then us television actors are better because at least people come to watch our films. So yeah, first figure out what makes people come to the cinema and spend their money.
Take PNJ for instance. What was that unique about it? It was a simple story well told and that's why people enjoyed it. But no, people are hell bent on making issue-oriented films. Television has already cornered that market. Every issue in Pakistan is explored in our drama serials and people are seeing it for free on our channels. If a man is able to afford just one film ticket per month he is not going to see a depressive film. He is not even going to see the superstar. He will go see a film like Bajrangi Bhaijaan.
People didn't rush to see Salman Khan in Tubelight but they love him in thrillers like Tiger Zinda Hai. Maybe people want to see Shaan in action movies rather than Arth.
Pakistanis place a lot of importance on how people speak. So when someone goes Fawad doesn't know how to act, Mahira shouldn't have done that film, I will teach Saba how to act, Mawra shouldn't have taken on that role, Sajal shouldn't go there, Fawad has the face, Fahad has glasses – clearly, he has enough free time on his hands to notice my glasses. People are put off by that. I know I am. And I was a fan of Shaan's.
How come you don't do war films – pretty much every actor in Pakistan seems to have done one of those.
I love my country but I don't have to do patriotic films to prove it.
You've said more than one that you are one of the few Pakistani actors who has made it to superstar status without having gone to India. Your success is totally rooted in Pakistani TV and cinema.
I have nothing against India. But I am interested in developing Pakistani talent. You can't progress unless you identify your own talent. I became a star in Pakistan because of TV not films. I was working on TV for ten years but no one was watching. Then Jeeto Pakistan catapulted me into the big time.
Why is it that so many television dramas preach a middle-class morality to our audiences? Why are career women portrayed as maneaters and psychologically disturbed, hell bent on stealing someone else's man?
These women don't exist in my experience or home. They don't even exist in my village. I've been all over interior Sindh and Punjab and I didn't see them there either. The women I know are empowered women who run their businesses and who run their homes too. But that doesn't mean that women are the same everywhere. There are women who may not think that deeply, who may not have ambitions. So should I kill off that woman because the women I know are different? Why? That woman watches my dramas too. See, it's a business. We have to cater to her too. She is part of my audience.
Isn't that being a hypocrite though Fahad?
Oh totally. I think we would be lying if we said we weren't.
Don't you think we should stop being hypocrites then?
Even when you look at the most talented actors in this country, we aren't able to do what we really want to. Half the time we are worried, what will Fifi say, what will some other critic say? What will the people I socialize with say? And with all this worry we forget why we became actors. We chose this profession because it's what we liked doing. It started off as a choice.  And that's what it always should be about.
So who makes the choices now in your career?
Let me tell you what it's now become. And I know what I am about to say will sound strange. The poor actress who lives in the buffer zone will come on the set and say to me that four people she met last night told her what the ending of the serial should be. And even though she knows that will severely limit the scope of her role and leave her little margin for acting, she feels maybe that's what people want.
You've also said to me before that television drama is a woman's medium in Pakistan. That male stars have a very limited role to play.
Of course. If you stop oppressing women, there will be no drama serials in Pakistan.
But you have a huge production company, why don't you make drama serials that tell a different story?
First of all, the majority of our viewing audience for films is the complete opposite of that for TV dramas. More men go to the movies, the TV audience is largely women. My television audience is the whole of Pakistan, and only an iota of that audience watches films. Growing up on Bollywood we think that film is the biggest medium. That's simply not true for Pakistan. Sonya Hussain's film Ghazi is going to be released soon. But ask her – she did a drama serial recently called Aisi Hai Tanhai. For two years before that she was sitting at home but the minute she did that serial everyone was talking just about Sonya. Ghazi will come and go and no one will even remember it.
What do you think your initial draw is? How saleable are you at the box office?
I can't say whether I had any real pull before. But now yes. People come to see a film for me. When the first NMA came out, it wasn't a success because of me. At that time there was this pro-Pakistan sentiment that let's support this Pakistani film. And it looked good so it was a win-win. Now I want to tell people to see my film only if it is a good film. Don't see if it because of any patriotic sentiment. And if it's not a good film please for God's sake don't buy that ticket. I am not a beggar and I'm not saying please support me, I'm a Pakistani actor or I need the money and my kids are crying so please watch my film. I've often heard directors say look at how much we go through to make a film in Pakistan. Arrey bhai then don't make it. Films should be about passion and shauq. If it's not there, don't do it!
Those people whose work is their passion are very lucky. Thousands go to work every day because they have to, doing work they hate.
Fifi I have always done what I want and people have always warned me not to do it. Be it modelling, or drama serials or whatever. When I did a morning show everyone said oh your career will be ruined. The opposite happened. When I did commercials they said oh just do Coke or Pepsi but don't do Harpic. Arrey, why not? If people are willing to have me on board for their brand why should I say no? Why should I stop at Pepsi? Does my father have shares in it? Then with Jeeto Pakistan they sneered and said you're going to do a game show? How down market. Funny how that turned out. Now I'm doing a film with my own company's competition – Humayun and Six Sigma's film Jawani Phir Nahin Aani 2. So people are saying oh you will be the second lead in JPNA 2. Look, whether I am second lead or fifth lead they are spending money to bring me on board, aren't they? So they will make sure my role is worth the spend.
Does Fahad Mustafa pay heed to what anyone says?
To be honest, no. I don't listen to anyone. I just roll with it. I do what I want and it works. Today I have so much love from people even though I've done everything my way. Agar mera dimaag kharab hona hota na there is no time better than this for it. What I've seen and experienced as an entertainer doesn't happen that often in Pakistan. But luckily I've got people like Sheikh sahab (Javed Sheikh) as role models so I know better than to get big-headed. Every kid in Pakistan knows him but he is the humblest man I've met.
And yet he's been placed plum in the middle of that Lux Style Award controversy about trying to kiss Mahira Khan.
Unbelievable isn't it? Some journalists have nothing else to do with their time except churn out useless stories. Fahad Mustafa woke up on the this side of the bed today – time to post a story. If Shekih sahab loves me it's for a reason – we are like-minded people. I know he misses me when we don't meet for a long time. Work is what motivates both of us. We shut up and get on with it.
You've said yourself to me in the past that you're a badtameez person but when it comes to senior actors in the industry you're really respectful. How come?
I guess it depends on who you're dealing with. Trust me, it's the seniors who are so down to earth and cooperative. I have a massive production house with so many senior artists working with us. There's never an issue with any of them. They will always be the most punctual people on set. But then there are these new actors who will arrive on set and the first thing they will do is speak in English to a poor spot boy who's never even been to school. One drama old and they will pretend they don't recognise me. That too on MY production's set. I'm the one signing your cheques for God's sake!
If there is one thing you want for your daughter what would it be?
I want her to be real. I don't want her to feel she's a star's daughter. I don't want her to get used to luxury. Today we have the money, tomorrow if we don't, I don't want her to miss it. So we don't have guards, I drive my own car. I try to keep it real.
What do you spend on for fun? What's our weakness?
I buy a lot of property.
Fahad, that's not fun that's investment.
Money is important because it gives me time. I go late to office or bunk it altogether. I just roam around aimlessly.
What about your Harley? That must have cost.
That – and I bought a Porsche.
Ok – there you go. So you DO spend money on fun stuff!
But my home is simple. Me and my wife don't like the whole starry lifestyle.
Tell me do you have big pictures of yourself all over your home? Stars like to do that.
Haha no I don't. Fifi I'm not in this field for that. I'm not here because I like being a celebrity, I'm here because I actually love the work. This is why I won't model for all these fashion shows for example where people put their make up for what they call a charitable cause. For some people the activity of being a celebrity is what has become their actual profession.
I've been seeing a lot of pictures of you recently on Instagram on mean looking Harleys. I think Mohib Mirza was also in these pictures. You are all Harley owners. What's all this male bonding about?
It's just a group of guys who have gotten together to ride bikes. I've been working really hard of late with two films and Jeeto Pakistan. So riding my bike is my escape, it's shugal. It's not like Mohib and I are really close or anything, we just ride together all of us – Faysal Qureshi, Aijazz Aslam and also Shehzad Sheikh who is a really good friend of mine. The longest ride I've been on is about 200 km. We go to places like Hyderabad and Nawabshah. The eventual plan is to travel all over Pakistan but I don't know how I am going to manage to get that much time off.
I know that you are Sindhi yourself, so when you go for these excursions do you connect again with the land?
It's not the same any more; it's not the land I grew up in. Now when we travel into Sindh there is nothing there but sadness. The culture, the music, it's just in the hand of a few channels. But there's nothing left to show any more. So what they are peddling as culture is all a lie.
So you remember Sindh differently?
We are very literary as a people. Sindhis used to be intellectual and well-read. When I go to the Punjab I see children studying in good schools, I see a focus on education. I've visited those schools – they are so well maintained. But in Sindh now there is such a dearth of schools. When children don't even have water to drink, how can life be anything but depressing?
I won't ask you if you would make a film because that's too standard a question but would you ever make a documentary?
Yes I would. And it would be about the people of Sindh.
It's incredibly sad what you are saying. Let's move on – what makes you smile?
My kids. We are keeping my son away from social media. With my daughter it's too late. We posted so much about her that now everyone feels she is a part of their family. (Shows me a picture of his son, who is two and a half)
Oh my God, he's going to grow up and break hearts!
Yeah he's a looker!
Talking about looks, you are on this perpetual high protein diet and fitness regime and I know because you tweet about it! There was a time when actors like Dilip Kumar carried their weight with pride, but now it seems every hero has to have a six-pack.
(Sighs) That was such a good time. You could have a stomach and cover it with bulky sweaters.
But you can't do that because nowadays you have to take your shirt off Salman Khan style in films!
See this is the problem. If I am playing the role of a poet who is starving, how can you expect him to have perfect abs? But now every hero has to have that toned look; he isn't allowed to fit into his character. The kind of characters I play don't suddenly take their shirt off and pose for the camera. But there is this expectation that heroes look a certain way. Like I get white hair in my beard but that's considered a no-no. Would you believe that when I'm in London I actually put white streaks in my hair because I like that kind of look? I can't do that here.
If Fahad Mustafa was not in films, would he be a fat guy?
I AM a fat guy on the inside. I am starving! Allah ne paisa diya rizk cheen liya. I am a faaqa zada man who loves to eat. My wife is a great cook but I've taken that away from her because who can she cook for? My daughter eats everything I pine for. She loves nihari and all this desi food that I wish I could eat every day.
If you could eat just one thing your whole life what would it be?
Potatoes. I can eat potatoes all my life in any shape or form. Or biryani. God I can't tell you how much I love biryani!
There's this film with Matt Damon where he gets stuck on Mars and he grows potatoes and that's all he eats every day.
Yeah I'd be a very happy man on Mars.
Behind the Scenes