Beyond our humble expectations of what Pakistan's coastline offers, there's a world of marine flora, fauna, fish and mammals just waiting to be discovered.
I am a resident of Lahore, which is a landlocked city. Situated somewhere inside the upper-middle part of Punjab's geographical ribcage, my city does not share the approximately 1190 kilometers of oceanic border with Arabian Sea that laps at the edges of Sindh and Balochistan. The people of Punjab do not have beaches, explored and unexplored, and more than that, we do not have the alluring deep sea and the creatures it holds. Sure, we get to share the bounty the sea offers. Under the harsh fluorescent lights of large grocery stores, we can find crabs, prawns, squids, octopus, tuna, mackerel, eel, pomfret, croakers, snappers and more varieties of fish that have been hauled out of the sea and sent up for our consumption. But the biodiversity the sea offers goes beyond these few species, and sometimes, it isn't enough to settle for that salty, indescribable smell of the ocean that the fish bring to us. Sometimes, it is imperative to put distances aside and make way to the sea. And I always find a way to do that.
The most recent provocation came from the photos of what appeared to be dolphins, blurry because of being caught in their speedy swim, by a few friends of a friend that had got my friends excited. Her friends had arranged a private sea excursion that took them off the coast of Balochistan, and there, surrounded by the deep blue water of the sea they had experienced the thrill of having marine dolphins swim alongside their boat for a few seconds. Do we even have dolphins in the sea, off our coasts? my friend asked excitedly. With my former professional affiliation with World Wide Fund for Nature – Pakistan (WWF – Pakistan) I knew that we do, indeed, and more than one species, to further add to our collective excitement. We discussed the variety, the possibility of more complex and intriguing oceanic life forms, and how much the photos we were seeing, taken from a cell phone's camera, were delighting us. This was because they had been taken by friends, we concluded, and not coming to us as "news reports" from high-pitched and frantic employees of TV news channels who try to find the most absurdly distasteful ways of presenting anything that looks remotely different from a human being.
The photos had been shared with a muted sort of wonder, with humbled pride in having seen something so naturally magnificent at such close range. No spectacle. I told my friend about the recent increase in sightings of tiger sharks and whale sharks by fishermen, as well as the curious appearance of a mama and baby blue whale, who seemed to have been separated from their pod but were soon on their merry way, flipping their huge tails as they went. Imagine if we had ways and means to easily go and explore the ocean, sustainably, and see these beauties for ourselves, my friend, ever the optimist, mused. And by the end of this conversation, I had convinced myself to join a field expedition being organized by former colleagues at WWF – Pakistan to meet with a fishermen community in Balochistan that is working with the organization to not only adopt environment friendly and sustainable ways of fishing, but also promote their village as a tourist-friendly spot.
The journey began early on a chilly November morning, right before dawn. I had arrived in Karachi a day earlier and was soon on my way with friends from WWF – Pakistan to Miani Hor. Our destination was Damb Jetty which would lead us to the swampy lagoon of Miani Hor, a bit further away from Sonmiani beach. Geographically now a part of Lasbela District in Balochistan, it is approximately 95 kilometers from Karachi, and in the early morning haze we passed by Hub River, Gadani (home to the infamous ship-breaking yard), Winder, and Sonmiani. Many would end their trek at Sonmiani beach for a day of enjoyment by the sea, which is, of course, a noble and appropriate desire in itself, but our trip was to discover what the deep sea off the coast of Pakistan holds. I was lucky enough to be in a sturdy but small motor powered boat with my friends from WWF – Pakistan, and with our marine species expert for the day: Mr. Moazzam.
Mr. Moazzam is the technical adviser on marine fisheries to WWF – Pakistan and a man who has dedicated his life to working for the betterment of marine fisheries, flora and fauna, the lives of fishermen and the way humans interact with nature in and around oceans. He is a jolly man with kind eyes and an always-sunny disposition.  He also has an unending supply of anecdotes, facts and stories about hundreds of different species of birds, fish, oceanic mammals (whales, dolphins and porpoises), and plants. He keeps in touch with people from the areas he works in and has friends in many places, which is why as soon as we settled down in the boat, he informed me that the very same boat has been used to conduct dozens of marine species surveys. The boat, he told me, also functioned as a rescue boat when the deadly fire broke out in Gadani shipyard roughly a year ago.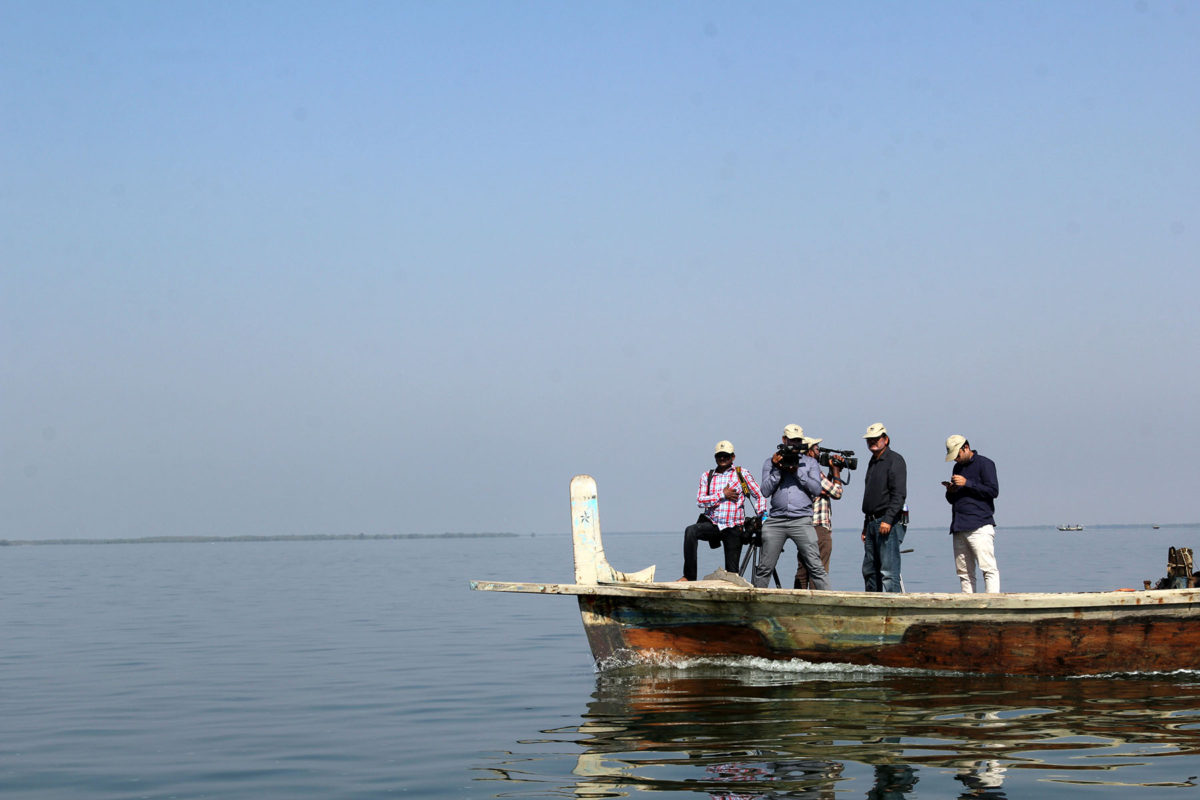 "The employees of Balochistan Fisheries Department and local fishermen tried to save as many people as they could," he added, "and even when they couldn't, they at least saved a lot of lost comrades' bodies from sinking into the ocean and brought them to the beach."
And so we started our trip out into the sea on a somber note. I was looking forward to spotting marine dolphins for the first time in my life in this part of the world. However, I was also aware of the fact that we were only a hundred kilometers away from one of the largest cities in the world, yet life in this part of Pakistan was completely different, full of natural beauty and unexplored opportunity, balancing on a knife's edge. When things go wrong, the vacuum that lack of governmental support and supervision has created becomes painfully apparent.
This lack of support and ownership was also showing in the fact that on our way to Damb Jetty, I had spotted a faded board indicating the existence of a community-based tourist organization, but upon further investigation, I was told that the venture had drifted into non-existence because of lack of local government ownership. One of the local fishermen on the boat with us informed me that while some local tourists have started venturing into exploring the coastline of Balochistan, most came with Karachi-based touring companies and did not have the kind of amenities that would make it a hassle-free experience. Amenities like clean, functioning toilets, first and foremost. He would've told me more but, all of a sudden, he exclaimed, "woh rahi dolphin!" ("there's a dolphin!") and I whipped around to look. I had missed catching a glimpse of the dolphin by a split second. I was told before the trip had started that spotting a dolphin in the area was purely based on luck since the dolphins didn't oblige visitors that easily. I couldn't believe I had travelled so far across the country only to have not seen a marine dolphin, which is, based on some people's opinions, better looking than their riverine cousins. But before I could sink further into despair, another dolphin appeared on the surface of the water. There was no filmic high jump against the sky; the majestic creature was playing coy and only made a smart, low dive not very far away from our boat.
"These are Indo-Pacific Humpback Dolphins," Mr. Moazzam informed me. "There appears to be a very active pod in this area. They are coastal cetaceans."
Cetaceans are aquatic mammals and whales, dolphins and porpoises belong to this category. A group of dolphins, composed of males, females and calves, is referred to as a pod, and knowing that one was maneuvering through the deep water underneath our boat was exhilarating. Also: intimidating. These dolphins were a deep grey colour, larger than the Indus River dolphins I had been more intimately aware of, and everything about their movement in the water around us was assured, firm, purposeful. Their musculature was evident as they crested out of water, presenting a bold front instead of a cheesy show. I was in love.
And I had to ask Mr. Moazzam, why wasn't the government interested in developing the local area as a tourist hotspot?
His answer was simple: security situation in the area and the fact that because people in the area were so generationally dependent on fishing as a primary economic source that no one had really ventured into tourism as a viable industry. Add to it apathy of authorities and there we were, looking at a  cent shaped island run over with three distinct species of mangroves (Rhizophora, Avicenna and Ceripos), which hosts hundreds of species of migratory and local birds including pelicans, peregrine falcons and flamingoes, had crabs and shrimp nurseries. We were so close to these magnificent creatures in the water, feathered, scaled, rooted, and free-swimming, knowing what we were experiencing was a privilege, because for our friends and family members, and for thousands of potential tourists, it would not be so easy to make the same journey that we had without expert guides and local contacts, and witness what we were witnessing.
While contemplating what a sustainable oceanic tourism model based on guidelines followed by many Western and Far Eastern countries would look like in Pakistan, Mr. Moazzam informed me that the sea off Pakistan's coastline also hosts blue whales, Bryde's whales, humpback whales, sperm whales, cuvier beaked whales, killer whales, bottlenose dolphins, spinner dolphins, pantropical spotted dolphins, long beaked common dolphins, Risso's dolphins, hammerhead sharks and finless porpoises. Some of these, he indicated, are vulnerable or endangered species. He mentioned the recent rise in sightings of some of these species by fishermen, and a hopeful trend of catching them, not by net, but with cell-phone cameras, and sharing footage with news channels, which was actually having a positive affect on masses, who were coming to know about these species for the first time. I learnt at this point that many fishermen in the area had received training about appropriate net use by WWF – Pakistan, and not to hurt or capture these larger sea dwellers because they are not a viable commodity. The governments of Sindh and Balochistan have also banned the capture of these species, although enforcement of the ban is another ball game.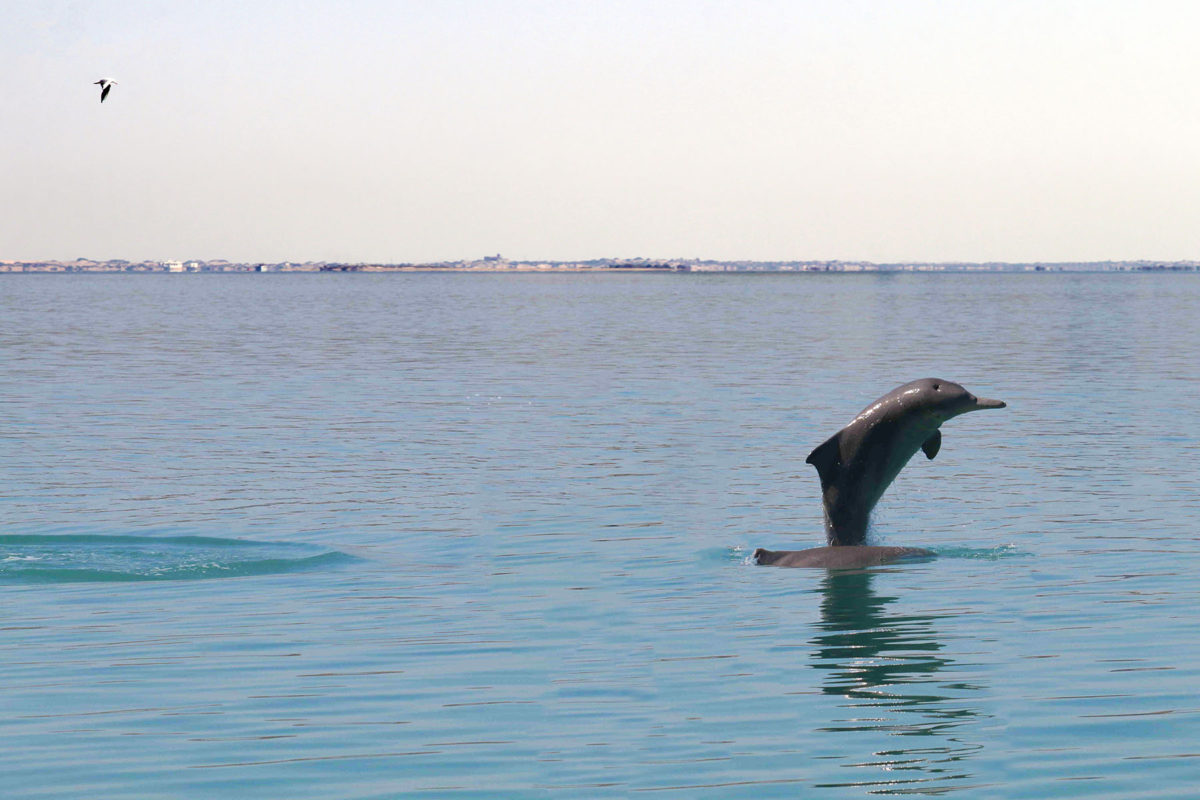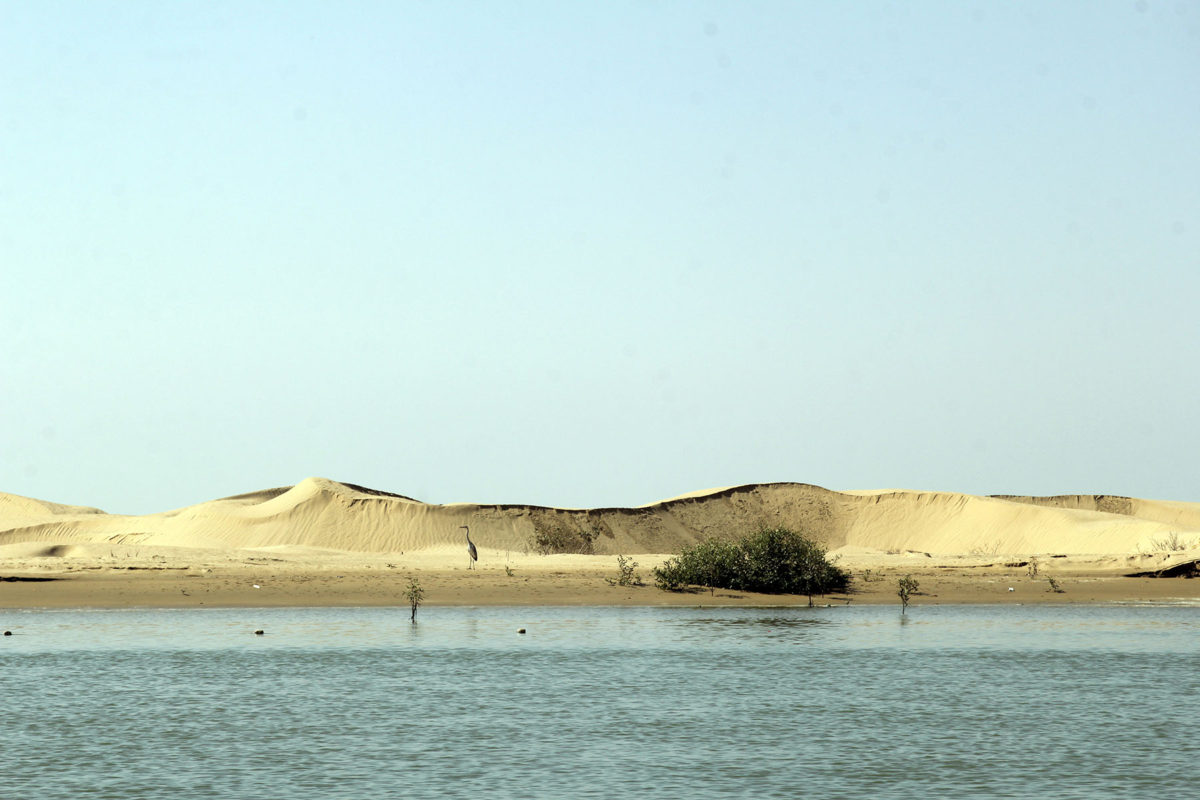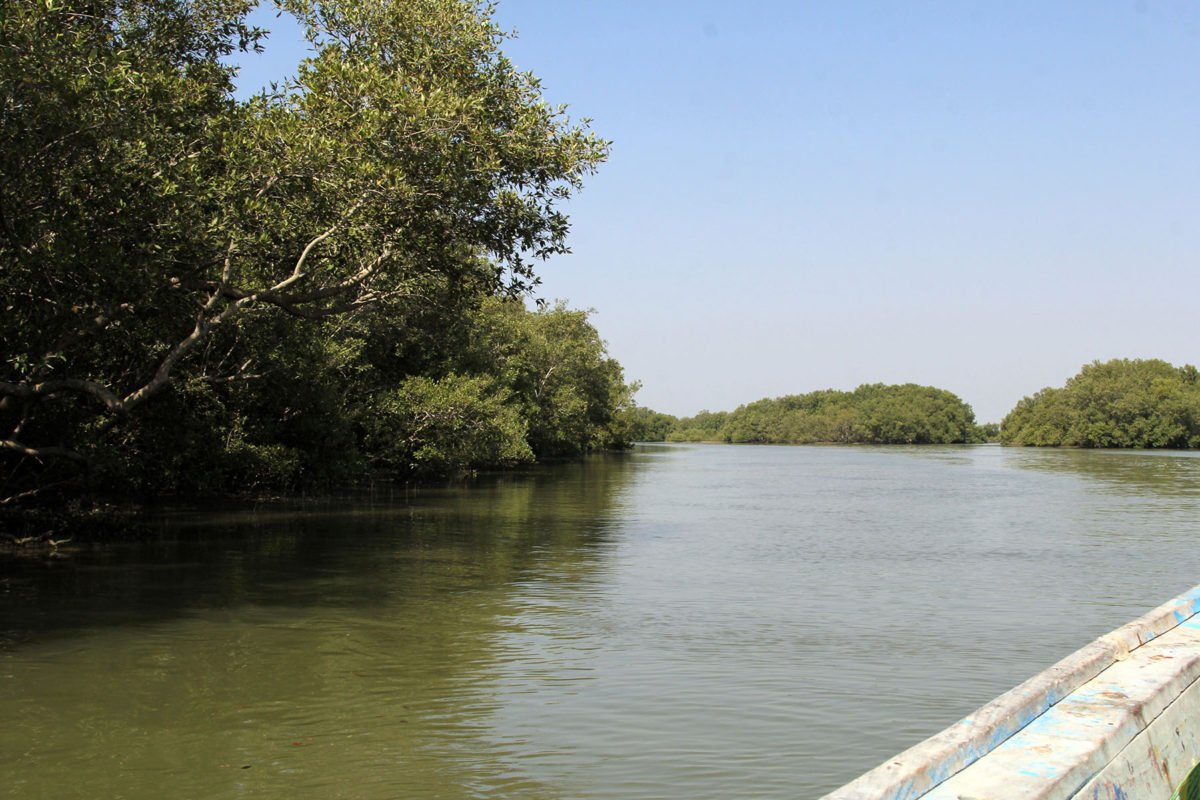 The complexity of the issue at hand was, however, once again brushed aside by the fact that within the next half hour, I spotted at least seven more dolphins in the water, and one of the fishermen who was sitting at the bow of our boat was slapped in the chest by a small but sturdy fish that suddenly jumped out of the water as if electrified, and then just as quickly flipped back in, leaving the fisherman and all of the other companions on the boat stunned and ultimately laughing. Apparently, this is more common in the area as it has approximately 84 species of fish and more than 70 species of marine birds. We had entered the arc of land that supported the mangroves and we could spot some of the bird species like the great white pelican, common cranes, great egret, white-breasted kingfisher and black drongo. The cranes, Mr. Moazzam mentioned, are often captured and smuggled to Waziristan, where, for some strange reason, they have become a symbol of wealth and status. But the good news was that some of the more conscientious fishermen were fighting back to preserve the ecological balance of the area, and while a sense of purpose prevailed among the local populace to protect their natural heritage, some were very keen on welcoming tourists to Miani Hor and the surrounding areas. They only needed to fight apathy of local government and stakeholders and rally support of the villagers.
The kindly fisherman who had been slapped in the chest by the cheeky fish informed me that when the tourists come, and he knew that they would because Mubarak Village was already seeing an influx of them, the locals would feed them such great food that the visitors would forget the fight of Karachi versus Lahore and remember only their food. An ambitious claim, I thought, but surrounded by the bounty of nature on a sea that was becoming somewhat choppy with the wind picking up, and two dolphins swerving right past our boats in quick succession, I was compelled to believe it.
I have often wondered, with a restless heart, how people who live close to the ocean reconcile with the fact that their lives run parallel to some of the planet's most complex, most mystifying species. I carry an itch in my soul to persistently ask people who can hear the waves as a background to their day-to-day lives and smell salt in the air how they feel about the fact that human beings have reached the far reaches of the galaxy through technology yet the deepest parts of the ocean still evade us. I want to badger people about their thoughts about how our government has tested a nuclear bomb in Balochistan yet we are still only speculating the existence of many of the largest or most majestic species in our ocean. I want to ask, point blank, do you not want to go see, while knowing full well that some have, some will, and some will never be bothered. But those who carry the same kind of restlessness about exploring the sea and its many mysteries like I do, will gladly take on the challenge.
The destination is right there. Those enthralled will lead the way. And I can't say about the sharks and the whales, but the dolphins? They're a bit coy, but they will be waiting.