Photography: Tapu Javeri
Styling: Ehtesham Ansari
Wardrobe: Ehsan Sehbai's Own
The CEO of Shaheen Air, Ehsan Sehbai, is a game changer in the aviation industry, a business force to reckon with and a tech-geek who can programme the brains out of a Silicon Valley savant, but at the heart of it all, he is a son of the soil who firmly believes in his country and the spectrum of opportunities and  other-worldly charm that it offers.
It's mid afternoon on a Friday at the Shaheen headquarters in Karachi when I meet Ehsan Sehbai – the man responsible for Shaheen Air's dramatic turnaround from a loss-making enterprise into the country's largest private sector airline. One of the youngest CEOs in the history of international aviation, he is now in his mid-thirties, still young by industry standards. Today, he is dressed casually in a white shirt with sleeves rolled back, a pair of chinos and hair neatly pulled back in a man-bun, the now ubiquitous successful entrepreneur's uniform.  As I sit across him, he leans back in his swivel chair with his eyes looking straight ahead. A tall wall-unit behind him carries an array of books. As I glance through the titles, I note an interesting mix of subjects ranging from English Literature to Philosophy, Quantum Physics and Islamic History.
Interrupting Beethoven's Ninth Symphony, I comment on his collection of books. "I grew up reading a lot. I was a curious child who wanted to know everything about everything and books seemed the only way to make sense of the world around me." He clasps his inked hands together.
These books help explain the world Sehbai inhabits – there's wisdom, engineering, and religion. They also reflect his persevering pursuit for perfection. "I am deeply inspired by the Samurai who used to work every day on their technique. Their whole theory was to get better each day in order to make themselves as close to perfect as possible. They were men who lived by the Bushido Code: Righteousness, Courage, Benevolence, Respect, Sincerity, Honesty, and Loyalty."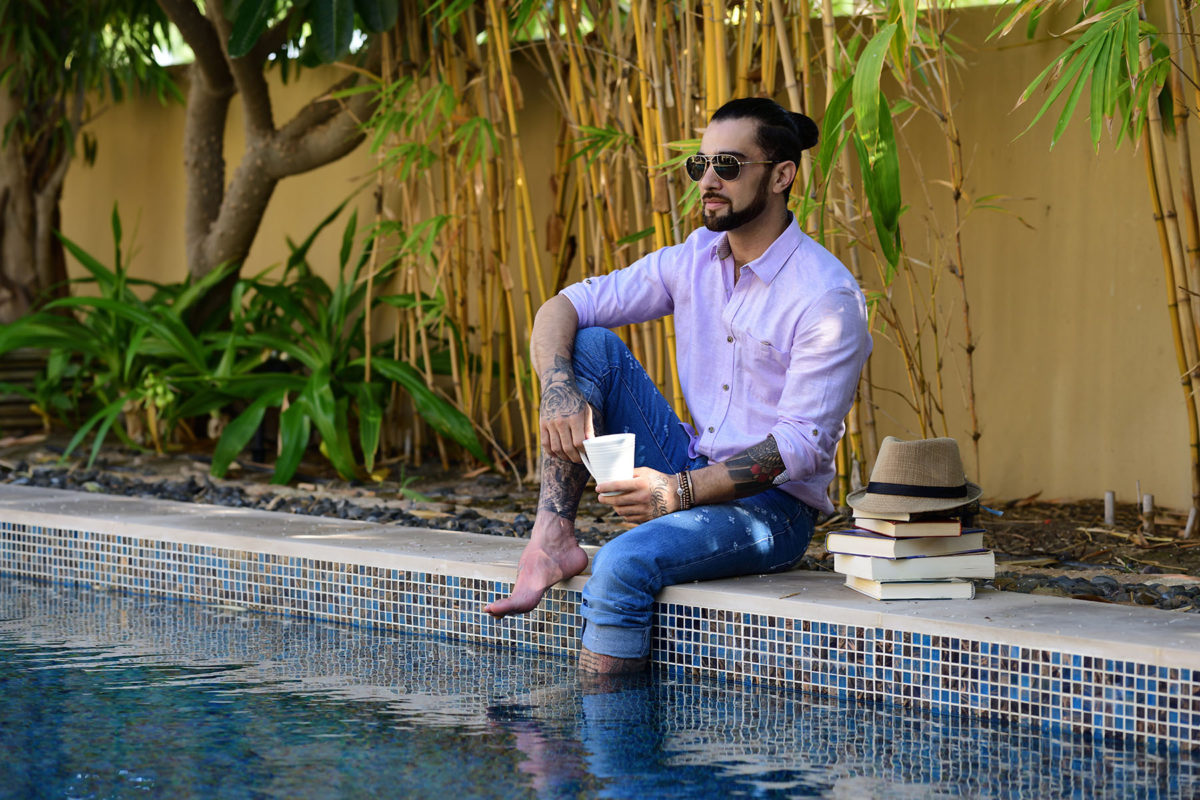 Turning the business around:
Sehbai professes to have modelled not only his life but also the business legacy he inherited from his
father on this philosophy, as the prodigy continues his meteoric rise in an industry flanked with ridiculously high barriers to entry – aviation.
What he has done in the last five years is something very few companies in this country can claim: turn the fate of the once-fledgling enterprise around with more than a 300% increase in revenue and publicly go on record with it. "We have painstakingly managed to expand this airline to a point where it will keep growing," beams a confident Sehbai. "And while it is important to plan for the future, it is equally right to look back at just how far we have come in growing the aviation market in Pakistan over the past 25 years. Give me another ten years, and I will own the skies of Pakistan."
With no prior experience in his field of work, it is hard to imagine an industry outsider achieving this unprecedented level of success. "I think the advantage my brother, Kashif (who is the Chairman of Shaheen Air) and I bring to not only aviation but to Pakistan is that we are different." Having lived most of their lives in Canada, it was only five years ago that the brothers moved back and took control of Shaheen Air after their father, Khalid Sehbai's sudden demise. "We don't think in the conventional way. Being of local origin, we understand the people, the culture, the systems but we also bring a dynamism that is different, unique and new."
"Contrary to what people believe, we were not born with a silver spoon, we don't come from a connected, high-society family – we are agriculturists from Sahiwal and when we moved to Canada, we were broke, we were on welfare, we didn't have anything in our pockets that could have paid our rent. And as a family, collectively, we have had to build it up to where we are today. I would say, it's been a long journey and definitely not an easy one."
A true patriot:
What many don't know about him is that for the first eight or so years, Sehbai lived with his family in Sahiwal and went to school there, which is why he feels so strongly about Pakistan. "At the end of the day, I am not here because I like flying. I am here so I can play a role in building this country up. No matter what the news channels tell you, it also offers great business opportunities for foreign investors to come in. This is not the scary black mark on the map that you are led to believe! And did I mention, our people are the most hospitable and intelligent people in the world."
Building one of the greatest airline companies in Pakistan is Sehbai's key goal. And he knows exactly how he wants to go about doing just that. Despite initial adversity within the trade and extreme challenges from within the setup, the brothers stuck to their professional ethics. "I will confidently say that there is no corruption in Shaheen Air. We refuse to pay bribes and stick to doing good, clean business. We are not asking for favouritism. We are not asking for anyone to bend any rules for us. All we ask for is to just let us do our work."
"I think if you were to look around Shaheen Air, it is like no other place in Pakistan to work. Our performance markers depend on employee satisfaction and maintaining horizontal and vertical integration of departments and communication between different levels. We are inspired to emulate the Googleplex culture."
Building a new work culture:
Shaheen Air is breaking new ground as far as corporate culture and company ethos is concerned. Being avid athletes themselves, the Sehbais regularly organize in-house sporting events and various tournaments. "All the teams in our football league are captained by women. By doing so, we are trying to set a precedent that women are equal in all respects. We have a zero tolerance policy against discrimination based on gender, sex, ethnicity, race, colour, or creed. So it is mandatory for the females to lead and the men must learn to take orders from their team leaders," he elaborates.
Over the course of the interview, I realize he is someone far different from what his myth suggests. Yes, he is young but also mature beyond his years. Through these sporting events, he has managed to nurture a sense of camaraderie amongst the "Shaheen family" as the employees are known. "Departments that never communicated with each other are now smacking hands and walking together through the building. It creates an environment of a family atmosphere. This synergy we have created wasn't there before," Sehbai explains it to me.
In order to celebrate their quarter century milestone and the spectacular journey of their airline, there's talk of a company-sponsored trip to Singapore with a hundred employees for an ice-hockey tournament. The North American sport is deeply woven in the fabric of Canadian culture and society, and the Sehbais are big fans of their home-team,
Edmonton Oilers.
It is easy to confuse who successful people are with what they do. We try to bracket them in black and white. Having keen business acumen does not make Sehbai into some robot whose emotional affect has been replaced by numerical matter. "What people don't know is that my brother and I have not taken a salary from Shaheen for almost a year simply because we wanted to give our employees increments, which we recently announced. We believe in giving more to our people and for this we would rather have a smaller piece of the big pie than a big piece of a small one."
Before we begin to talk about his work in detail, I mention the stray dogs – some lounging around while others I saw being fed, in various parts of the Shaheen compound. Sehbai loosens up. I can see the topic is one that is close to his heart as I later also learn he is a generous donor to animal shelters. "Having grown up in the countryside, my family and I have always had animals around us. We have been animal-lovers our whole lives." What is heart-warming is to learn that over the years the Shaheen staff has learnt not only to co-exist with the dogs but also to care for them.
Setting new standards in aviation:
The conversation gradually veers towards aviation specifics like aircraft carriers, jet plane safety, pilot training and secure flying practices. Having the good fortune of being the only private airline in Pakistan with no plane crash incidents, Shaheen is in a privileged position to explain how they manage to keep the flying experience a safe one. "What people must understand is that this is not some road vehicle, it's an aircraft. And every single time an aircraft lands or takes off, it is inspected. And if an aircraft is considered not worthy to fly, it would not go in the air. We would rather lose a million dollars than put an unsafe aircraft in the air."
Further discussion on aviation safety practices and procedures reflects that his portfolio as an airline CEO is pre-packaged with stress. I mention Oscar Munoz, the CEO of United Airlines who had a close brush with death as he suffered a massive heart-attack a month into his job as the top guy at one of America's largest airlines. "Stress depends on how you perceive things and how you learn to cope with the issue at hand," he advises. "The philosophy of the Samurai is to be mindful and to appreciate every single moment that life brings my way. "
A man of many passions:
And then his eyes light up. "You know what I love doing most? I love riding my Harley Davidson. It's the best antidote to stress. There's something about the roar of the engine that relaxes me." It may also explain the car he owns – a mean 1967 Ford Mustang.
As already mentioned, Sehbai is a sportsman and having grown up in Canada, is a professional grade ice hockey player. Not only that, he is also a mixed martial arts (MMA) pro and an avid boxer.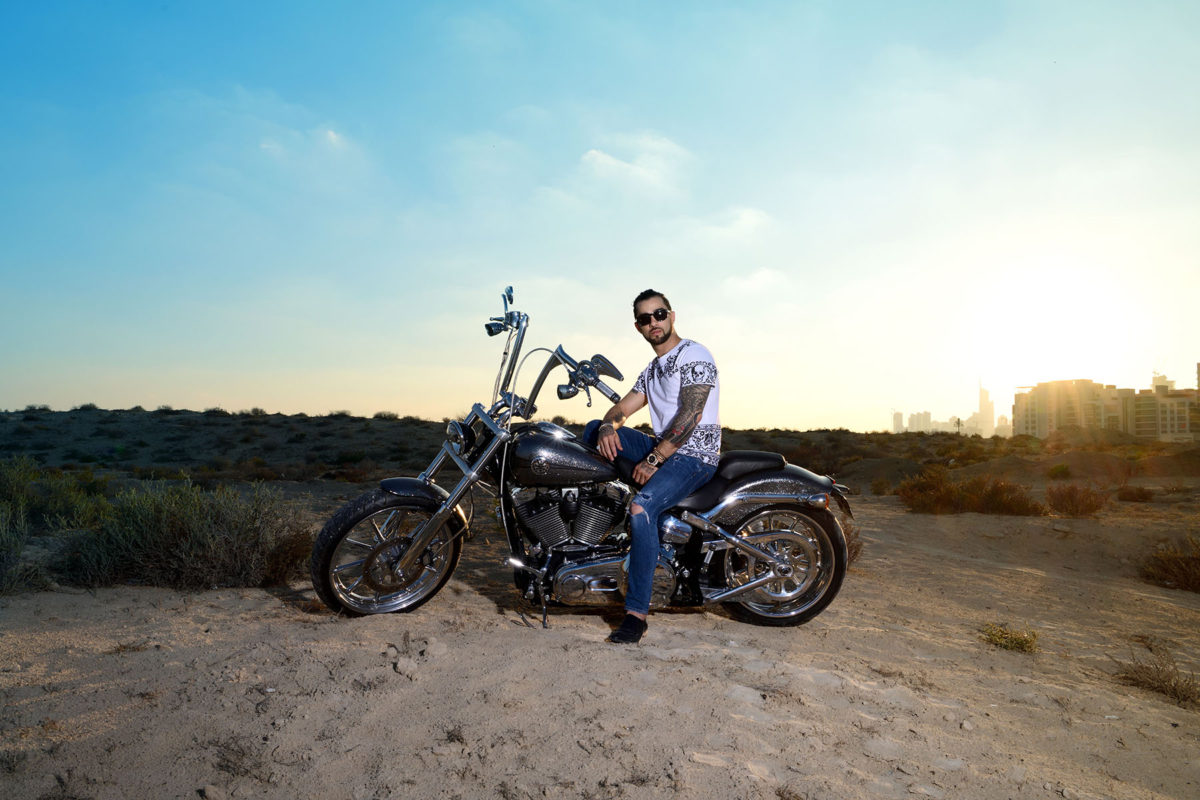 Arguably one of the most successful and important entrepreneurs on Pakistan's young corporate landscape right now, Sehbai is also a naturally gifted technologist. Amongst friends and at work, his love for computer programming, coding and working with algorithms is no secret. "When we came to Shaheen Air, everything was done on paper. There were no computer systems in this company but today we can proudly say, we have one of the best data centres in Karachi. It is well over a couple of million dollar facility."
As the meeting draws near its end, the man who answers most questions in catch-phrases with his razor sharp sense of wit that has kept the exchange engaging and entertaining unpredictably falls completely silent for longer than a moment when asked the most generic of questions, where is home? "Home is a complicated concept for an interracial person like me who was always too brown for the white people, and too white for the brown people. So you almost get into a land of isolation; you become an island unto yourself."
There's truth to what Sehbai is saying – a prodigy, a visionary, a titan in his field of work, he is also a doting father and a caring husband. The absence of a permanent sense of belonging in a geographical setting has morphed him into a strong family man. A high tide of warm affection is visible under the calm surface as he talks about his wife and children. "I would say, home for me is wherever my wife and kids are, whether I am with them in Canada, Karachi or Dubai."
Sehbai's sense of patriotism and optimism is refreshing. He leans forward and clasps his hands on the surface of the desk. He states in a tone that is matter-of-factly more than anything else. "It is difficult for anybody to come here and not fall in love. A country steeped in history, rich in culture and diverse in landscapes, there's so much to do and see here. We have been gifted with majestic mountains in the north, fascinating heritage in the central plains and sandy beaches at the southern tip. Why would anyone need to go anywhere else but here?" It is home for him.
How To Be A Modern Day Samurai
Be Great: From the moment you wake up, devote yourself to the perfection of whatever it is that you pursue.
Be Mindful: Every moment of every day, really be in and aware of that moment. Enjoy it, appreciate it, and be grateful for it.
Be Disciplined: Become committed and devout to training and improving your skills, talents, abilities, and passions.
Be Scholarly: Commit to continuously learn, educate yourself, and become a more knowledgeable person.
Be Growing: Completely devote yourself

 

to a lifestyle of continuous and never-ending self improvement.