Travel enthusiast Sidrah Haque offers a personal food guide to Chicago – including the legendary Portillo's – based on her recent three-day trip to the Windy City. As she reviews her experiences of the rich medley of tastes and flavours, she details the items that tantalized her taste buds and then those which, contrary to popular belief, did not! Read on to add and subtract from your Chi-Town bucket list.
There's nothing like an unhindered view of the Gold Coast, and a rare blizzard thrown in the mix, to put a damp towel on your Chicago plans. But come rain, sleet or snow, if you have the heart – and the appropriate gear – no weather is too bad to explore any city. Especially when it comes to a place famous for its architecture, its way of life and its food!
Three nights in Chicago gave me plenty of time to touch base with Chicago's Magnificent Mile and its surrounding hotspots, but what I want to tell you most about, is the food. Under the towering buildings and bejewelled nightscape, my first decision in Chicago involved a pizza.
GIORDANO'S
There are opinions aplenty on where you can get the best pizza in Chicago, but most Tripadvisor posts led my husband and I to Giordano's – a pizza joint that traces back to the early 1970s. Home to the city that created its very own pizza style, we entered a crowded outlet on a Friday night but were quickly shown our way to a table. Pizza here is a family affair, you could tell from the crowd. Peering through the menu, the wait staff quickly suggested we order just one small deep dish pizza instead of two. We offset this by ordering seafood appetizers instead, to while away the 45 minute wait. Servings are big in the USA, but nothing had us prepared for the thick, cheesy pizza pie delivered to us. Oh and how to describe it! Imagine your regular pizza, but growing up vertically! My husband dug into the rich, meaty pie of sauce and cheese: he loved it. Me – not so much of a fan, but I was happy to tick off a must-do from our itinerary.
Average cost for a meal for two: around $30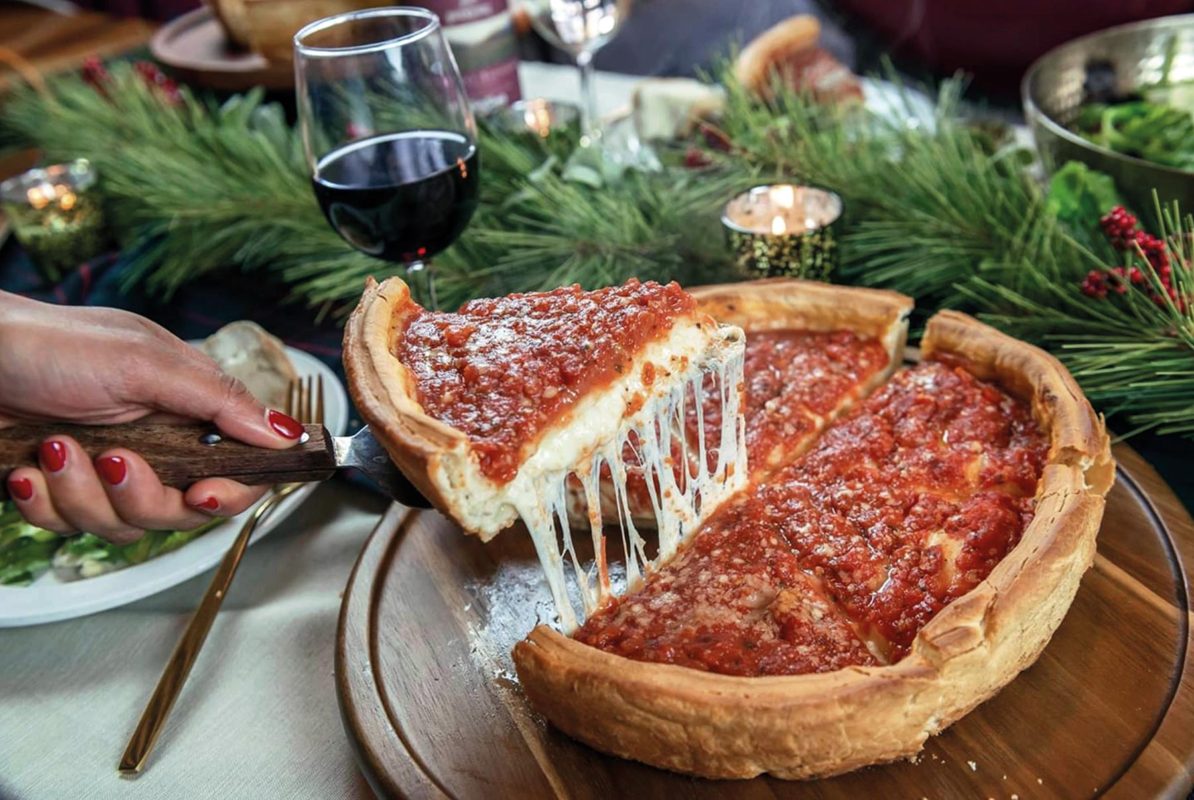 WILDBERRY
Morning in snowy Chicago had us craving hard for one thing: pancakes. And a resident friend had directed us to go no further than Wildberry. What followed after a quick Uber to the crowded hipster breakfast central was a heavenly combination of the most fluffy buttermilk pancakes I had ever tasted. The berry compote , whipped cream and the add-ons made it a heart-attack on a plate, but worth it. A veggie omelette was thrown into the mix; but we would soon get used to the huge servings that would follow us throughout our trip. We were tempted to try the specialty coffees, but after the generous portions, we hadn't much room for them and then, there was a whole city out there waiting to be discovered.
Average cost for a meal for two: around $30
PORTILLO'S
After a day of skyscrapers and exploring the Windy City, we settled on Chicago's iconic all-beef hotdogs at Portillo's.  Walking inside the establishment on West Ontario Street was a treat to both the ears and the eyes. In between the long walk from the order queue to the pickup line, there was plenty of opportunity to gaze at the fixtures of the restaurant – the red checkered tables, the retro décor, the hanging mannequins and vehicles strapped from the ceiling. Yes, you read that correctly. We picked up our plastic trays, and some rather soggy looking beefdogs, however, to be completely disappointed with the taste. It was bland, devoid of experience and lacked the kick or tanginess my desi taste buds thrive on. The beefdogs were sparse on condiments (how they are supposed to be, I know) but the bland taste was a letdown. The bun looked moist and sad, and the lone pickle had seen a better life.  Disappointed, we walked to the nearby Walgreens to pick up some ice-cream before calling it a night.
Average cost for a meal for two: under $10
CHICAGO ART INSTITUTE MUSEUM CAFÉ
The next day, with a fresh layer of snow padding Chicago overnight, we kicked off our day with a tour of the Chicago Art Institute. After perusing our way through the eras, we headed down to the lower level to the museum café. We didn't have high expectations, but in fact, the quality of the menu and the creativity of the dishes blowed us away. We grabbed our trays through the assembly line, picking up hot entrees, a sandwich and a warm bowl of sea salt and vinegar chip and squash soup.  As is with museums everywhere, the food was pricey, but we enjoyed the small break of people-watching in the stark white glossy interior of the café.
Average cost for a meal for two: around  $40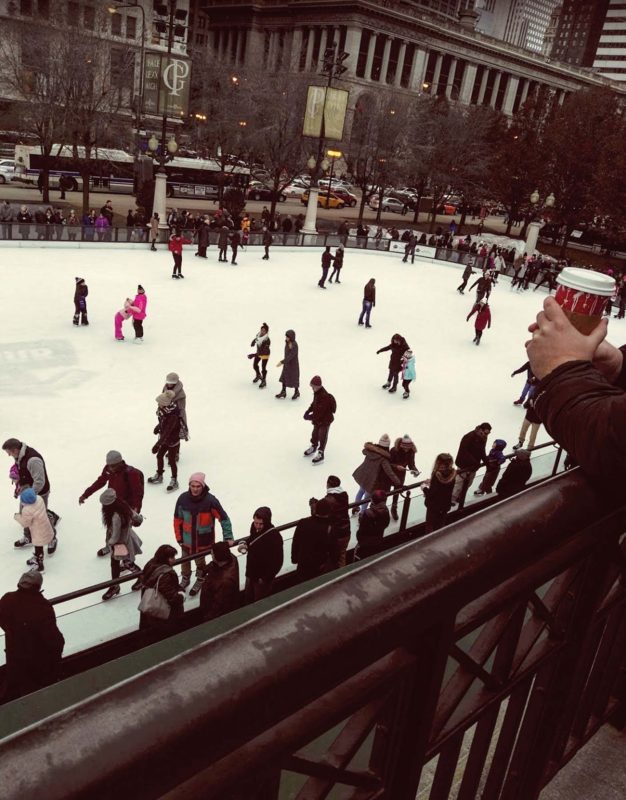 KIOSK @ McCORMICK TRIBUNE ICE SKATING RINK
No visit to Chicago is complete without paying homage to The Bean. And we were lucky to catch the McCormick Tribune Ice Skating Rink open to a throng of waiting skaters. We grabbed hot chocolate with marshmallows, and made our way to the patio to watch the skaters loop in circles and the more experienced ones spin and twirl in the center of the rink.
Average cost for hot chocolate for two: under $8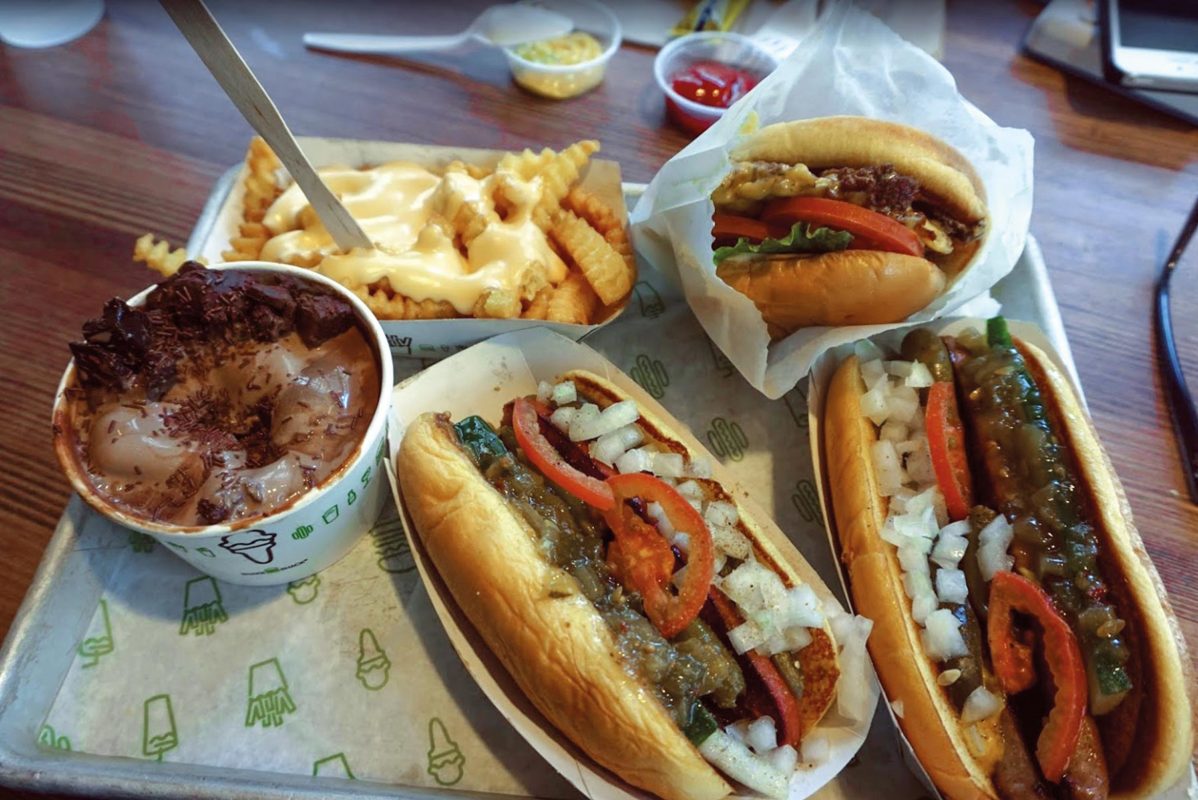 SHAKE SHACK
A further day's venturing about led us hungrily to the nearest Shake Shack on East Ohio Street. This wasn't our first time at the rodeo and we ordered our regular Single Shack burgers and Caramel Concrete. We gave the beefdog a try and though it was a bit more charred than the one at Portillo's, it added a rich edge, and was complimented by the heavily loaded condiments. The burgers at this particular Shack were just okay, but the desserts were fabulous. And the price just right. One Shack down, many more to go, said the Husband.
Average cost for a meal for two: under $30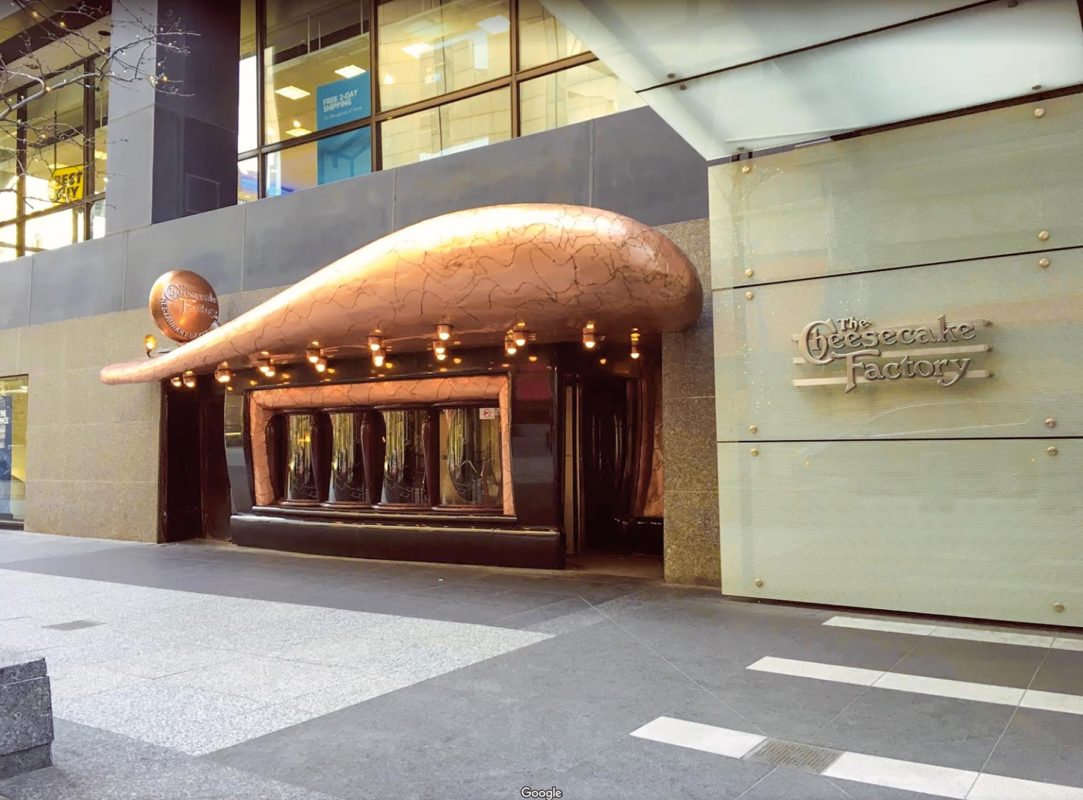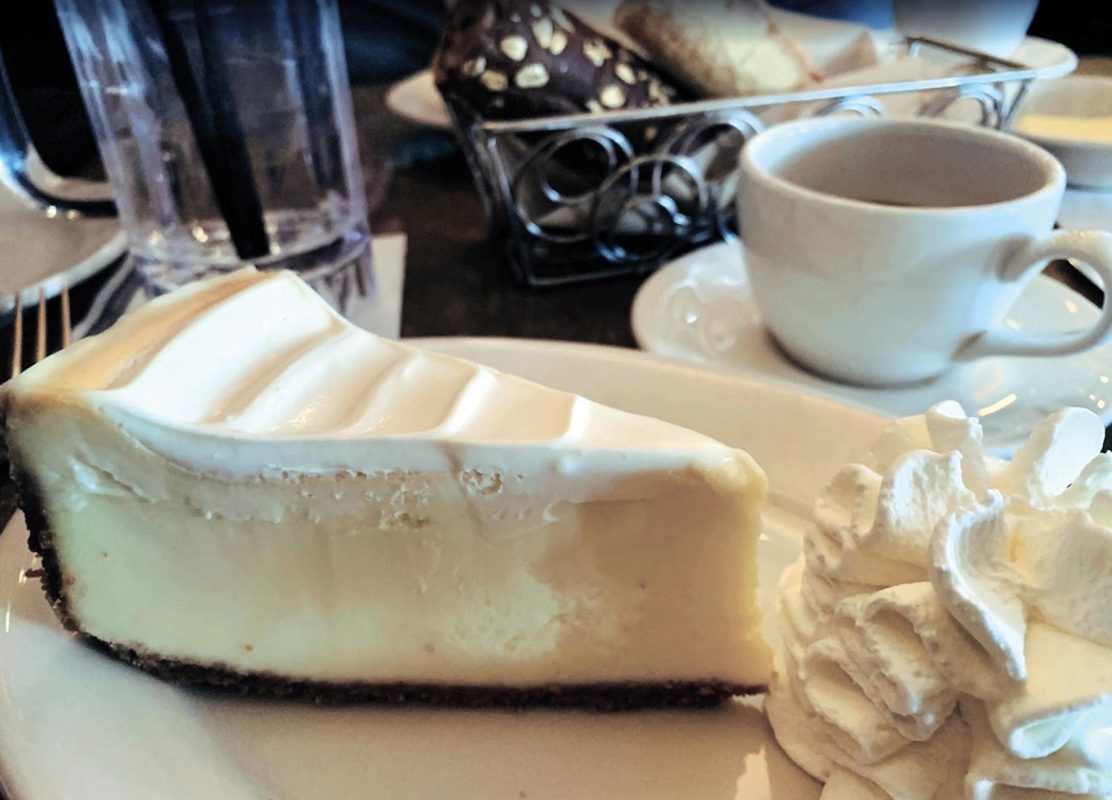 CHEESECAKE FACTORY
CHESTNUT STREET
Closing out Chicago with one last visit to Michigan Avenue, and loading up on the season sales, we were in the mood for cheesecake and headed to none other than the Cheesecake Factory. The one on Chestnut Street is huge and seemed like it was some psychedelic movie scene. And the menu a smorgasbord of delights. We added Chicken Samosas (yes!) and Beefburger Spring Rolls to our order and genuinely enjoyed the taste of both. Someone get me that cilantro dipping sauce recipe!
Average cost for a snack for two: under $15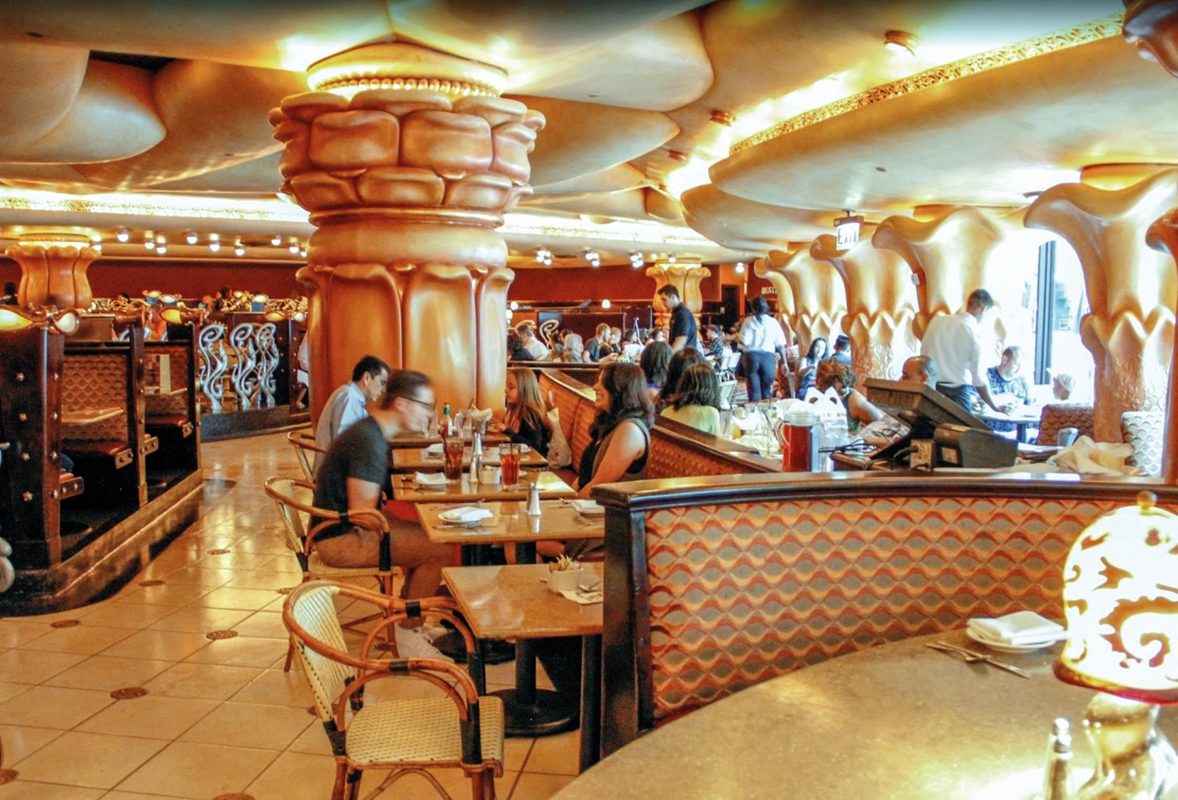 So here it was: a medley of tastes and flavours sampled in Chicago in our three nights there. Honestly, this did not even touch the surface of grimy bistros, word-of-mouth cafes and local cart food that Chicago is insanely famous for. But if you're in town to tourist, try to mark these staples and drop by in between breaks from sightseeing.