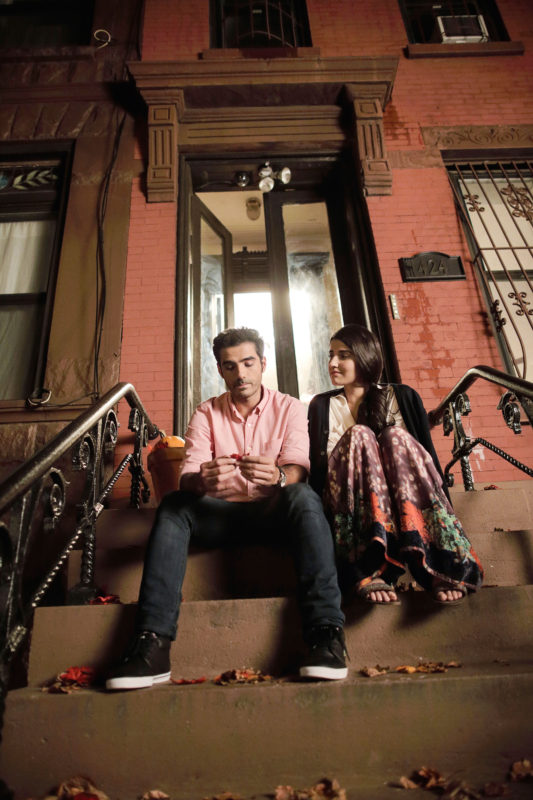 Dobara Phir Se, ARY's eagerly-anticipated romantic drama by award-winning director Mehreen Jabbar set in both Karachi and New York, shines the spotlight on the similarities, differences and unique characters that infuse the two.
Not many Pakistani films have been shot in the United States; how did it feel to be ambassadors of Pakistan in America?
Sanam Saeed: It was great to represent Pakistan abroad and exciting to see a different kind of reaction from the locals. While we were shooting in New York, people used to visit the set and ask us which foreign film was being shot there and our answer 'Pakistan' sometimes startled, sometimes amazed and sometimes confused them. They couldn't believe that such films are also made in Pakistan because I think we haven't penetrated their market as yet.
Hareem Farooq: I was shooting for Dobara Phir Se when I was on a break from my production Janaan. Believe me, I was most impressed with the locals who didn't come to us for selfies or disrupted the shooting with unnecessary interruptions. That's what happens to us here in Pakistan; here we are stars because our TV dramas are huge. We still haven't been able to make a mark internationally but hopefully, Dobara Phir Se will change that and take Pakistan to the next level.
How was the New York experience?
Sanam & Hareem: We cherished every moment of our stay in New York; in fact we went to the city 2 weeks before shooting began just to acclimatize ourselves to the environment. By the time the shooting started, we had become Pakistanis living in the States as we knew where to hang out, how to carry ourselves and above all, what the feelings were of those Pakistanis who missed their homeland. We girls lived in our own apartment in NYC and that's why we bonded well during the stay. It was sort of a fun house with like-minded girls who helped each other, worked together and got everyone ready on time.
Sanam: I would like to add that you feel a little different when you move out of your comfort zone, which in an actor's case is their city and country. I can't express how much joy we had making this film.
Seems as if the cast was selected to match the beauty of New York City; don't you agree?
Hareem: (Laughs) I wouldn't say that but yes, when you are in another country, you try to be like them and maybe that's why we look like Americans in the film.
Sanam: All the members of the cast are talented actors and I have worked with most of them before. Hareem and I shared the screen in Dayar-e-Dil while Adeel and I have been part of some projects as well. Tooba (Siddiqui) and I have done modelling together a lot but never interacted like we did in the film and believe me, this might be her first film but she is awesome. As for Ali Kazmi, well I haven't worked with him but when you meet him it's like you have always known him!
Dobara Phir Se features some of the most iconic places in NYC and seeing them on the big screen in Pakistan is sure to be a new high for local audiences…
Hareem: I am so happy to be a part of this film because not only did we get to shoot at Times Square but we also explored a lot of places we hadn't seen before. Mehreen is a wonderful director and I felt honoured to have worked with her. Trust me, this film will go on to become one of the biggest hits of the year as people would be treated to American culture in our own desi way.
Sanam: Shooting abroad has its own benefits as not only do you get to see new places but the stunning backdrops are exciting for the audience also. When NYC is shown in the backdrop, it sort of upgrades their taste. I don't think that many Pakistani films have shown the biggest city in America like that and our audience will be interested in the portrayal of Pakistanis living abroad.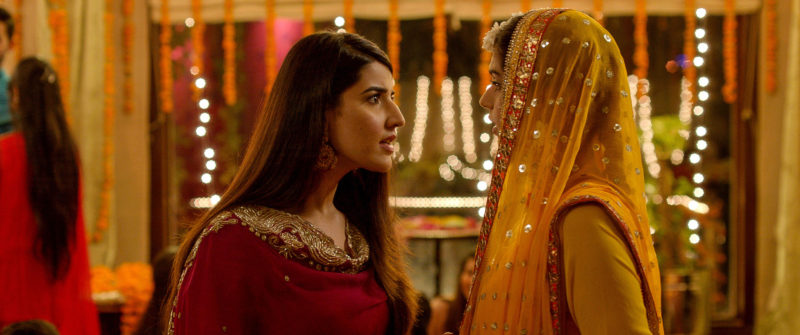 Will such an international flavour appeal to the local audience, especially those who enjoy movies of the song-and-dance variety?
Sanam: People might think that Dobara Phir Se is an English film or a Hollywood type movie since it has mostly been shot in America. Trust me, it's all about Pakistan and how Pakistanis live in the United States. The whole film is in Urdu so people will have no trouble relating to it. The backdrop of the movie is fun, the styling is innovative, and the activities are fresh with the stamp of Mehreen Jabbar.
Hareem: Well, there are both songs and dance in the films but that sequence was shot in Pakistan. I believe that the audience is intelligent enough to appreciate good work and they can distinguish between a good film and a bad one.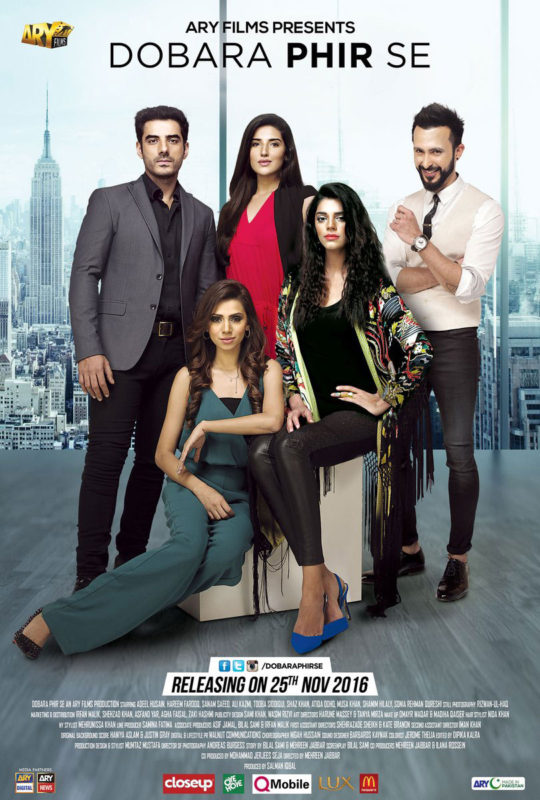 Crazy things happen when one is in an alien country – shares some stories from your time in America.
Sanam: There was a dangerous incident involving Ali Kazmi and a horse that I will not forget; luckily he came out unscathed. It so happened that we were taking riding lessons for a scene and our instructor was a horse whisperer. She to her clients by making them compatible with the horse. She believed that horses are emotionally linked to the rider and they pick up on what the rider is feeling. Ali got to ride one of the biggest and most beautiful horses but one gesture from the instructor triggered something in the horse and it started galloping badly and an unprepared Ali fell. Thankfully, Ali showed presence of mind and let go of the reins at the right time and escaped being trampled but his back was all scratched up.
Hareem: I don't know whether it qualifies but two days before we were to shoot the wedding song in Pakistan, Adeel Husain had a bike accident but thankfully he recovered in time. Those were scary moments but we didn't let them hinder our progress.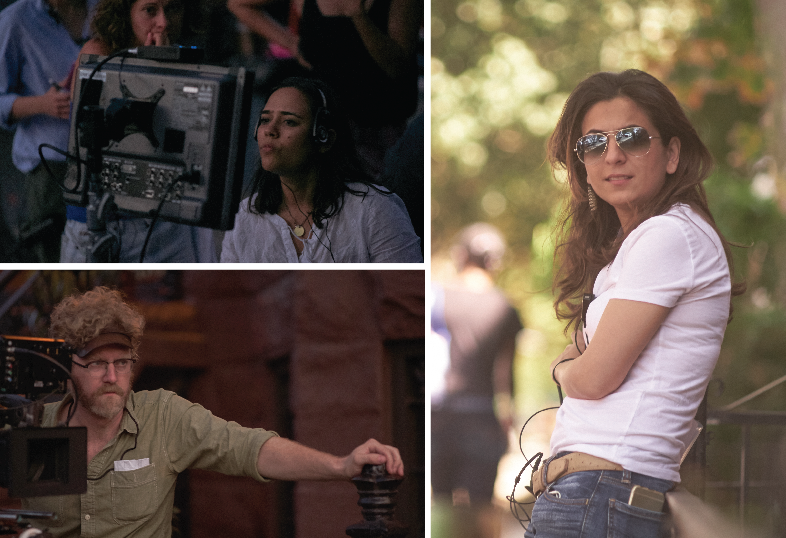 The crew stationed in NYC consisted of both Americans and Pakistanis; how was the experience of working with them?
Sanam: It was a fantastic experience because we had the majestic Mehreen leading the team (laughs). Working with her was flawless and although we don't realize the importance of efficiency when things happen on time, it means a lot to actors. You don't have to worry about anything else on the set except focus on your acting. On Mehreen's set, no problem is our problem and that's always a treat.
Hareem: Working with the American technicians was rewarding as it taught us a lot of things such as being punctual, being ready all the time, appreciating each other's work etc. They know how to use their time properly which is something that we lack. If we want to move ahead, we have to follow their approach to filmmaking. Mehreen's style of working is similar to that of Western filmmakers and we need more directors like her to take the industry forward.
Did you stay in NYC or move around as well?
Sanam: We got to see Connecticut as we drove there. We got to see NYC the way we wouldn't have seen it as tourists. I am confident that the audience will love the film when it comes out later this month.