Daewoo Express signed an important strategic alliance agreement for setting up an "Electric Vehicles Value Chain" in Pakistan with Skywell Automobile in China on August 26th, at a ceremony held in a local hotel. The event was attended by Chief Guest, Chaudhry Fawad Hussain, the Federal Minister for Science and Technology and the Ambassador of China to Pakistan, Yao Jing, amongst others.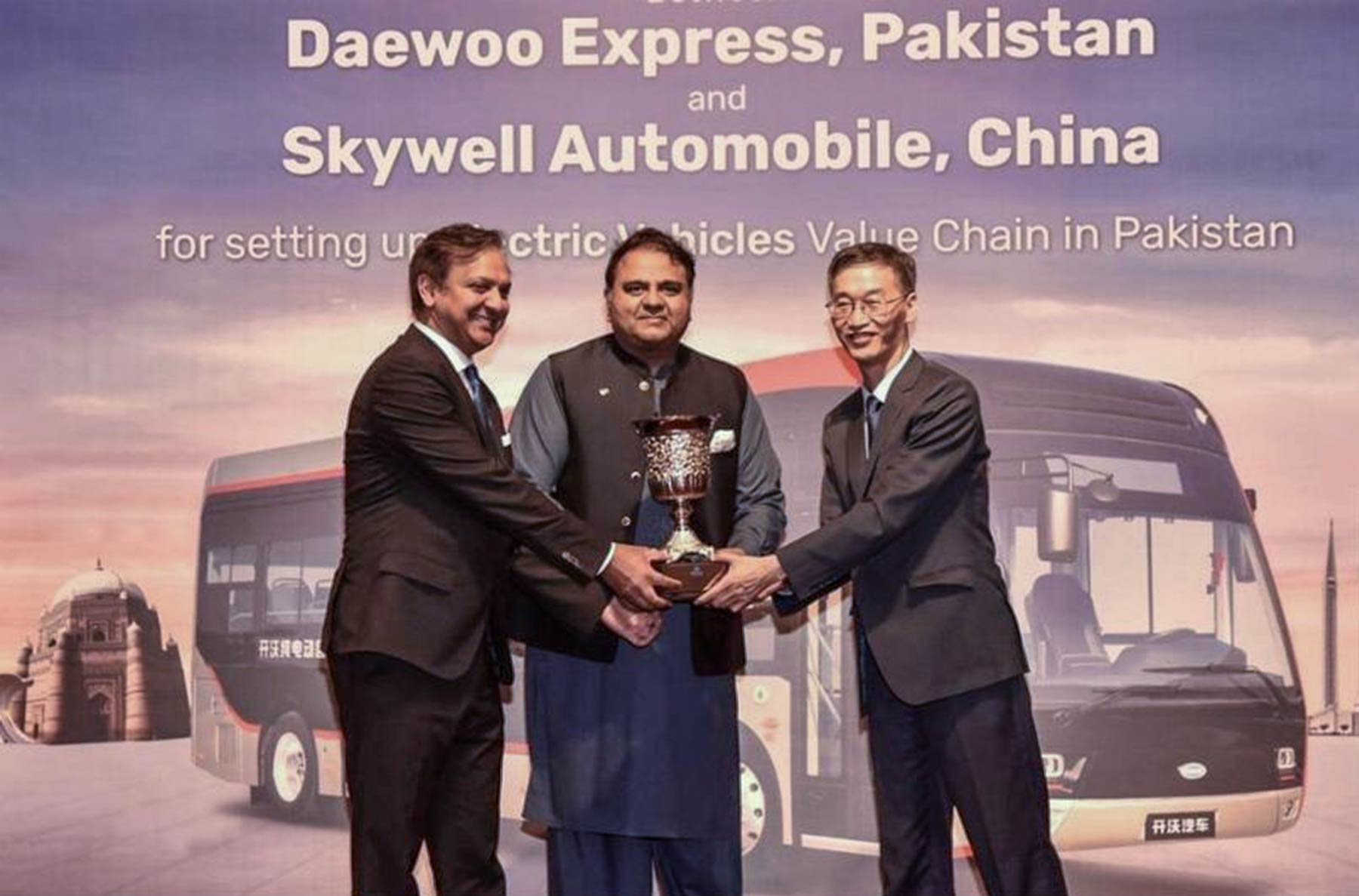 According to Faisal Siddiqui, the CEO of Daewoo Express, what this agreement means is that "we combine Skywell's state-of-the-art electric buses with Daewoo's best-in-class operations and maintenance expertise to provide customized, holistic transport solutions to local governments to alleviate the urban transport problems in our major metropolitan centers."
By pre-ordering these buses, the costs of these light electric vehicles can go down. In the long run electric buses are much more affordable to run then petrol ones and are much cleaner for the environment.
Eventually, Siddiqui said Daewoo would be setting up an "assembly plant in Pakistan for electric buses". The plant would also make electric SUVs, cars, trucks, and other vehicles for the Pakistani market. Sameer Chishty, Daewoo Board Member, described it as a joint venture with a leading Chinese company that would enable Pakistan to "leapfrog to EV technology". The CEO of Skywell Automobile, speaking through a video link, said the agreement between Pakistan and China would help build the automobile industry of Pakistan along modern lines and open new avenues for electric vehicles.
After a lengthy delay, the Government of Pakistan's ambitious electric vehicle (EV) policy was approved for implementation in June this year. It covers buses and trucks, as well as two- and three-wheel vehicles, including rickshaws and motorcycles. The new policy introduces several incentives to encourage manufacturers to start producing electric vehicles and customers to buy them. It aims to bring half a million electric motorcycles and rickshaws, along with more than 100,000 electric cars, buses and trucks, into the transportation system over the next five years. The goal is to have at least 30 percent of all vehicles running on electricity by 2030; however cars have been left out of the first phase of the policy.
"In another 45 days, the policy for electric four-wheelers (cars) will be in place" assured Chaudhry Fawad Hussain, the Federal Minister for Science and Technology at the ceremony. "In the budget we have included 1 percent duty for e-bikes, three-wheelers, buses and trucks". He pointed out that Pakistan is the fourth biggest market for two- and three-wheelers, buses and trucks so if they can convert to electricity that would help in cleaning up air pollution/smog in densely populated cities like Lahore, Islamabad and Karachi. "Pakistan could become one of the first countries in South Asia to have electric buses," he pointed out.
The Chairman of the Warm Waters consulting firm Lt General (r) Asif Yaseen, who also attended the ceremony pointed out that Pakistan is one of those countries which are most affected by climate change impacts, and forty percent of our polluting carbon emissions come from the transport sector which can be addressed with the advent of electric vehicles. He stated that "the fossil fuel days are over and change is happening around the world". His firm along with the Chinese ambassador facilitated the joint venture.
The Chinese ambassador Yao Jing said he wanted to involve the private sector in the Pak-China partnership in various sectors. He said Pakistan was welcoming investments and giving foreign investors incentives, which he termed as a good sign. He said eco-friendly vehicles would bring substantial development to the country.
General Asif agreed that there was ample opportunity for investment in Pakistan under the China Pakistan Economic Corridor and that included environment friendly investments like the agreement signed between Daewoo and Skywell. "You will see at least 120 electric buses in another two or three months on the roads of our big cities. They would have come much earlier had it not been for the delay caused by the pandemic".
In a country where large cities routinely suffer high levels of air pollution, the benefits to Pakistan's environmental health would certainly be significant once electric vehicles hit our roads. It is estimated that each electric vehicle produces 65 percent fewer pollutants than traditional petrol powered engines. According to the latest World Air Quality Report, Pakistani and Indian cities dominated the list of the most polluted cities in 2019. Much of this pollution is due to rapid motorization caused by petrol and diesel motor vehicles. All this can change rapidly, within the next decade with batteries getting smaller and more powerful. According to Fawad Chaudhry, "In ten years time we will have driverless electric cars, buses and trucks. That's the future".