Obscured from the world's gaze for decades, Cuba opens up and reveals its charm and appeal to those who are willing to embrace it with all of its complexities. In a riveting account, founder of Palanquin Travels, Zehra Wamiq takes the reader on a journey across time and space through the tumultuous history of this island nation to its present day struggle, highlighting the beauty and romance of past influences as she explores this land of rich culture, vibrant colours and inexhaustible joie de vivre.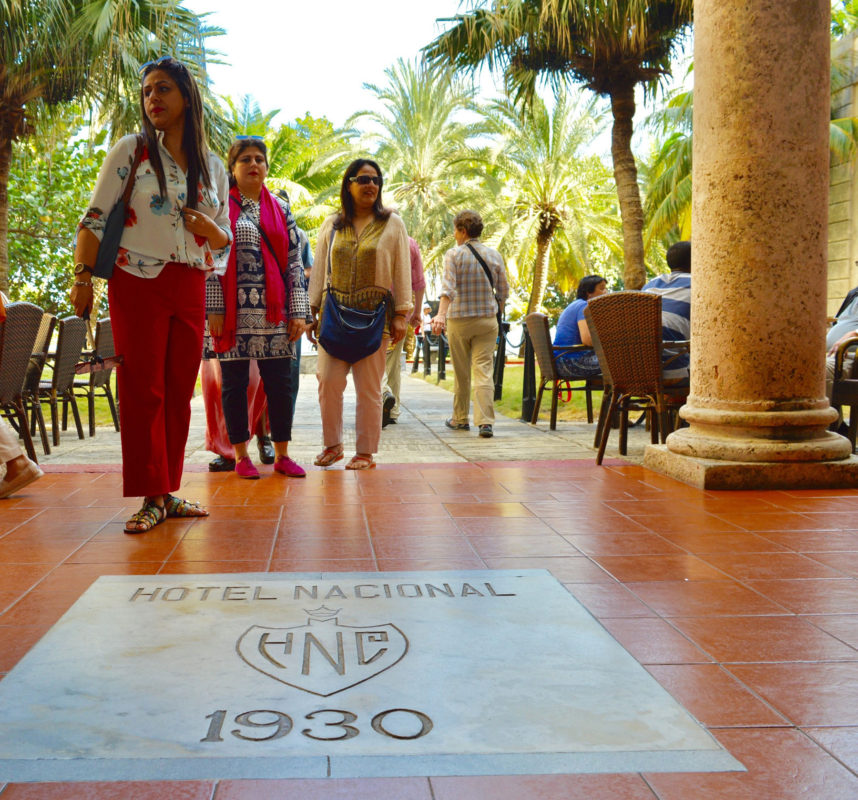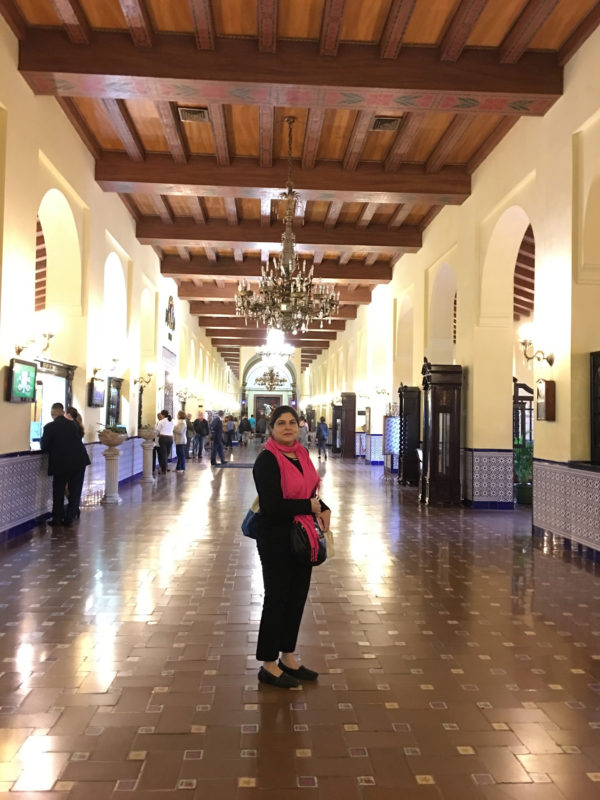 On the portico of the elegant Hotel Nacional de Cuba, a uniformed guard opened the door of my car, a silver and maroon 1959 Dodge. I climbed up the steps with my friends, finding myself in a luxury location that was an iconic landmark of Havana. It felt as if I was in a Hollywood movie of a bygone era, when John F. Kennedy was still president and the CIA was bribing the mafia to kill Castro. But Castro was dead, Trump was president, it was 2017 and I was in Cuba on my American passport!
I stepped inside the hotel and rested my bags on the floor. The lobby had a high ornate wood ceiling, arched walls with Moorish tiles, and a shining tiled floor. It wasn't the poor wasteland of communism one had been led to believe by the American media, but instead evoked the elegance and grandeur of a long-lost colonial era. Large paintings of Fidel Castro and revolutionary memorabilia adorned the walls, serving as a reminder that, yes, Castro was dead, but we were still in Castro's Cuba. The decorations, reminiscent of Andalusia, the Caribbean, various parts of Latin America, and good ol' USA, told the stories of the many lives Cuba has lived. It was incredibly difficult to put this country in a box or assume we knew anything about it.
Angelo, our guide, led us across the lobby into a large courtyard overlooking the Caribbean Sea. Fountains and gardens surrounded us, and verandas lined with high arches spanned three sides of the building. We ordered some drinks to get over the flight-fatigue and to prepare ourselves to experience this new yet somehow familiar country. I sipped my virgin Mojito and gazed into the deep azure waters of the Caribbean sea, all the while listening to Angelo speak. As he described their tumultuous history, uncertain present, and the constant resilience of the people of this land, I found myself hearing the story of Cuba from their side.
A LOOK INTO THE PAST
Without knowing the turbulent history of Cuba, it is difficult to understand its present. Like countless other countries, Cuba was razed and pillaged by colonizers. When Columbus landed there, he thought he had discovered India, a place he christened Juana and thus began a long period of the Spaniards looting and enslaving the natives. This made them wealthy and before long, Cuba became an integral part of the Spanish empire. Centuries of occupation, colonization, and slave trade resulted in an uprising, and later a War of Independence against the empire.
Jose Marti, a romantic poet who became a revolutionary, led the first Cuban War of Independence. While he did not live to see liberation, he instead became immortal in history and in the statues all around Havana and the rest of Cuba. The United States, Cuba's powerful neighbour, initially assisted the country with its struggle for liberation but soon began its burgeoning quest to colonize Latin America with the island itself, just ninety miles off the coast of Florida.
All of that changed in 1959 when Fidel Castro, aided by Che Guevara and the poor and destitute people of Cuba, fought against Batista, a military dictator supported by the US indipill.com/. Castro and Che were socialists, fighting for a free and egalitarian society in which class did not exist. Their new Cuban government enforced socialist policy and allied with the USSR.
The extensive land reforms implemented by Castro made farmers owners of the land, and caused tenants to become homeowners. Nobody was allowed to own more than one house. Home ownership along with food, education, and healthcare became the constitutional right of Cuban citizens. And it was the state which enforced and provided citizens with these rights.
In turn, the United States put up an embargo against Cuba in 1962. These sanctions punished Cuba for accepting the support of the USSR, but also for implementing rights and values, which freed mankind.
Free in their own country, the Cubans also became its prisoners in a way that they were barred from trading and engaging with the rest of the world. Thus, with the dawn of liberation began a long and hard struggle which has honed the Cubans into who they are today – highly educated, very cultured, but going by the rest of the world's corporate standards, perhaps not as wealthy. Still, I found them to be rich in experiences, resilience and self-sufficiency.
TRAVEL TO HAVANA
For the longest time, travelling to Cuba was not possible for US residents or citizens without a special license. In 2015, President Obama eased restrictions on trade and travel to Cuba, which resulted in a deluge of tourists visiting the island. A group of my friends, among whom were artists, avid travellers and writers, flew out here to explore this land of broken ties and hidden culture and to learn about its thriving contemporary art scene.
Cuba is an assault on the senses – it is a riot of colours, a cacophony of sounds where the smell of ocean and diesel mixes together to create a heady aroma. Trapped and preserved in a time long forgotten, Cuba can bring forth a wave of both nostalgia and frustration. Our group was very excited to experience the island, secretly hoping it would be some sort of a Caribbean paradise or a reprieve from the stress and workload of Northeast America. Instead, they were shocked to see the hardship – a direct result of its abandonment by the world – and the ensuing grace, polity, and resilience of its people that made us fall in love with the country.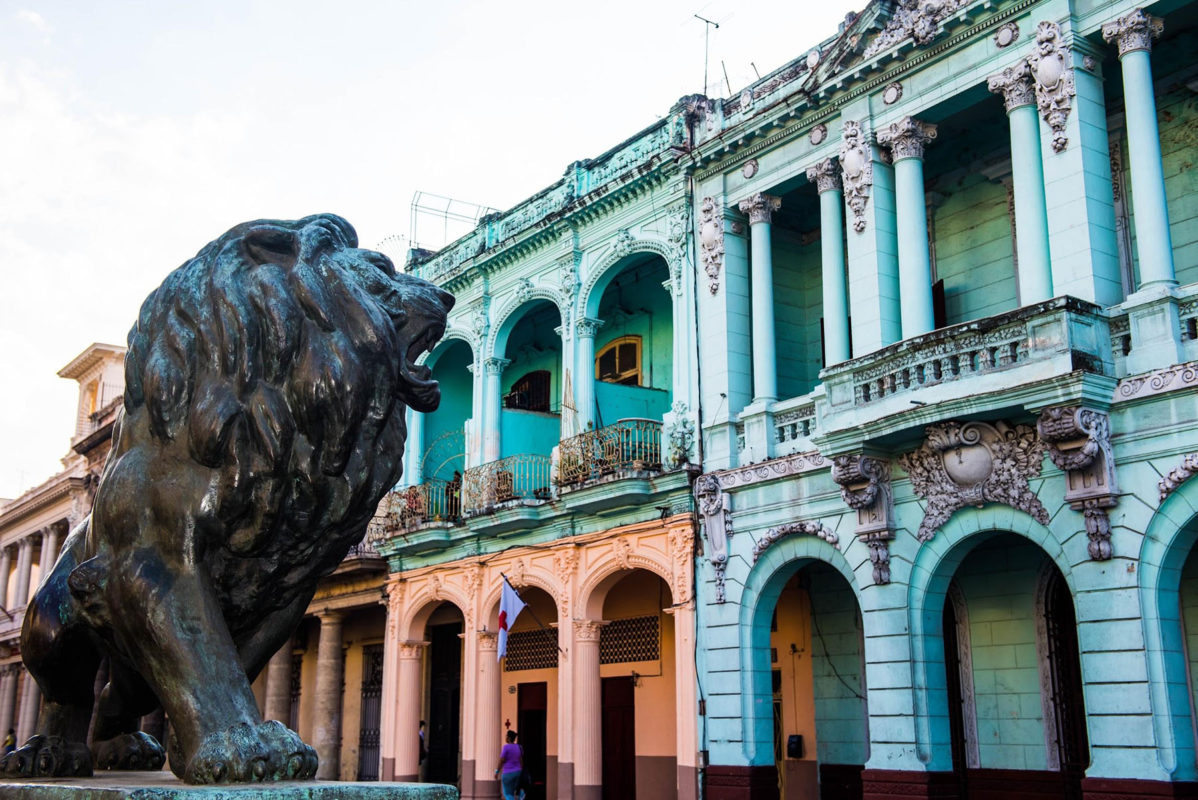 It is a place of stark contrasts – the lack of material goods juxtapose with the colour and richness of the culture. There is some remarkable Spanish architecture at display but those buildings are dilapidated and crumbling. The sheltered life and restricted global exposure of its people is offset by their immense sense of curiosity to learn more about the places they have never seen.
On a quiet stroll, I passed crowded streets, filled with diesel-guzzling cars, cycle rickshaws, crumbling buildings and broken sidewalks, only to turn a corner and enter a vast cobbled square replete with fountains and bronze sculptures, filled with DSLR-armed tourists and anchored by the remarkable Catedral de San Cristobal, a marvel of architecture that the Cuban writer Alejo Carpentier describes as "music set in stone."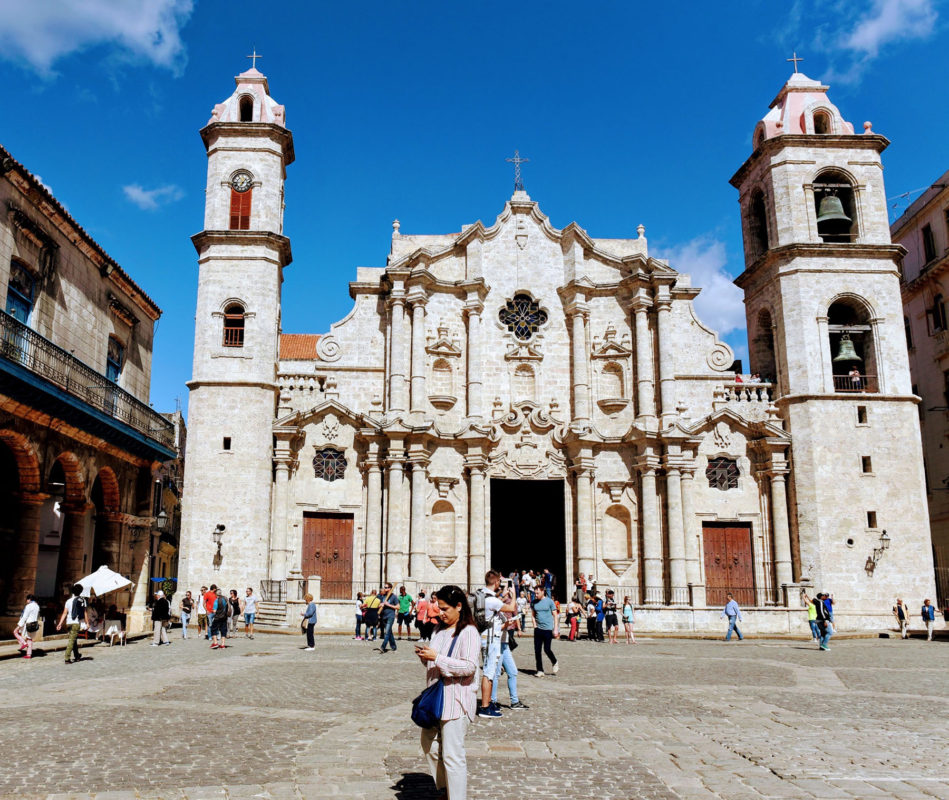 HAVANA NIGHTS & DAYS
Angelo, our English-speaking Cuban guide, was a rarity in Cuba, a mostly Spanish-speaking country. He graduated with a degree in Cultural Studies from the University of Havana. Thanks to free education, most Cubans are highly educated and benefit from a literacy rate of hundred percent. Few countries can boast of such progress.
Angelo had started his tourism company recently, a booming business in present-day Cuba. Some of the taxi drivers we met were former university professors! Angelo loved showing his city to us. After being briefed on the history at the Hotel Nacional, we drove in our vintage car to the Plaza Revolucion, famous for its iconic mural of Che Guevara displayed on one of the buildings surrounding the square. "Hasta la victoria siempre!" the mural cries. Always towards victory!
Central and Old Havana have many important landmarks such as El Capitolio, the National Capitol Building, the Museum of Fine Arts and National Theatre. Classic cars in jewel-toned colours line the avenue for travellers to hire for a ride or pose for a picture.
These cars might be vintage for the world, but in Cuba, they aren't a novelty or a collector's prized possession. Instead they serve a functional purpose for the small percentage of Cubans who are actually able to own cars in the first place. Years of sanctions and embargo have resulted in cars that have aged by seven decades, not as kitsch, but as an inevitable necessity. New cars are rarely seen on roads.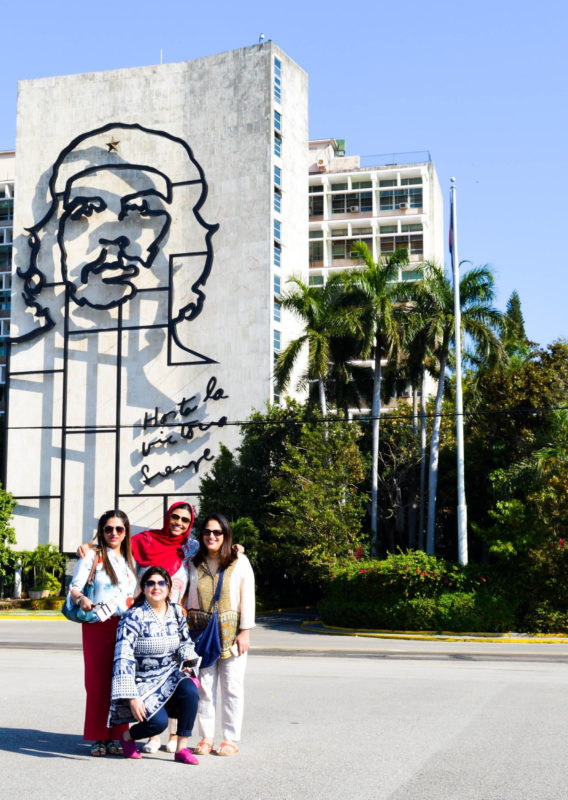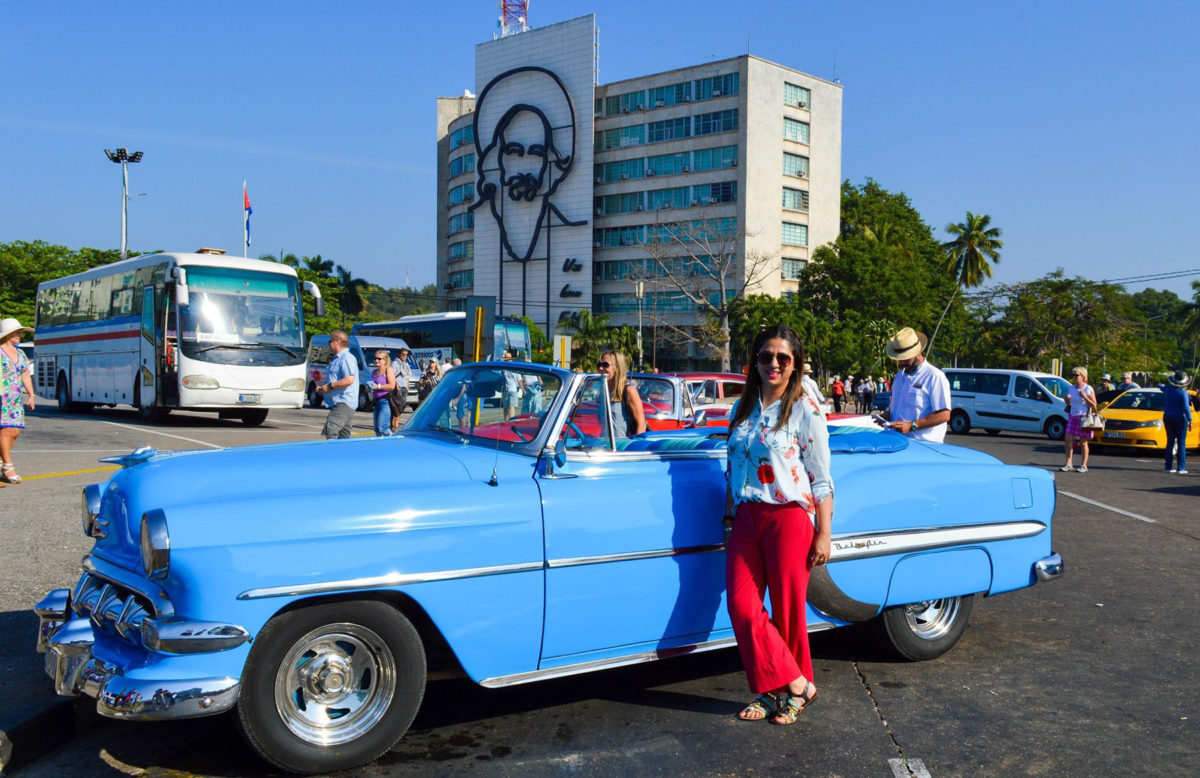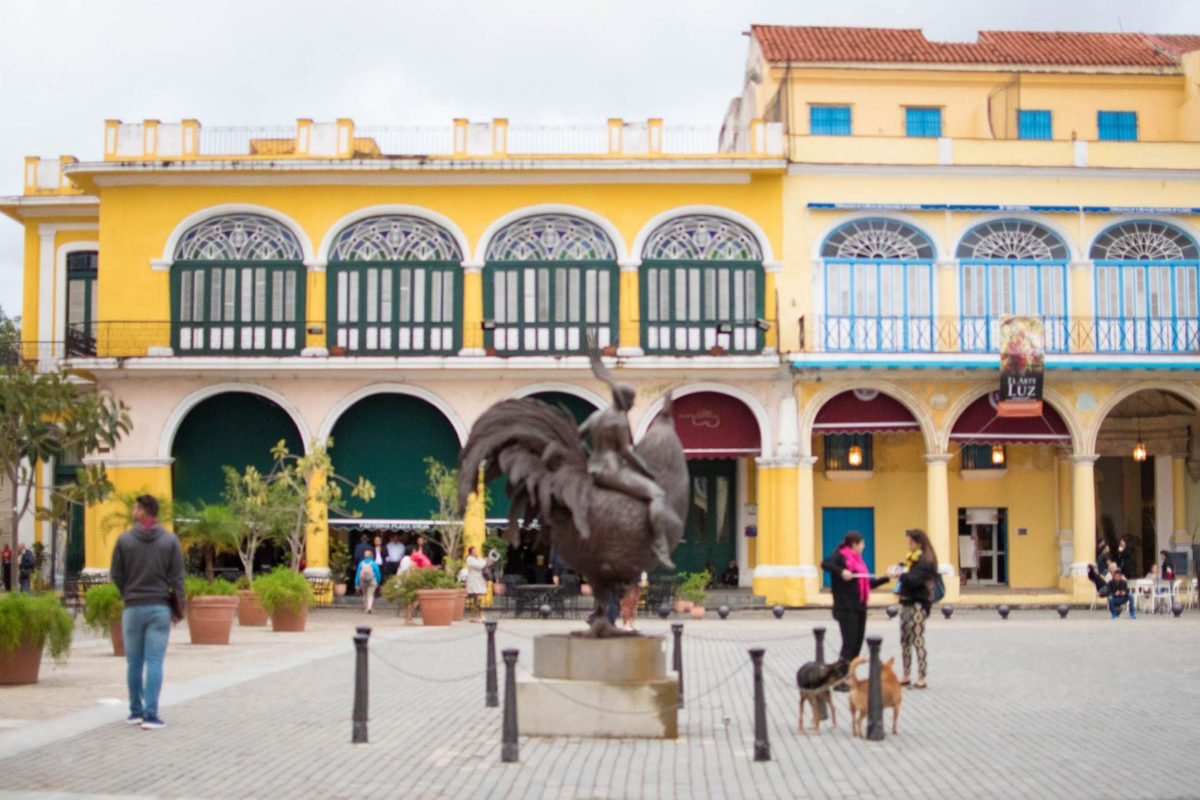 As we walked through narrow alleys, passing children in school uniforms, soaking in walls painted with murals, and crossing small dhaba-like local food joints, we entered the heart of the city, Old Havana. A place of large squares, magnificent cathedrals, colourful baroque architecture and art galleries, it is glorious. My favourite site was Plaza Veija, a vast square surrounded by an eclectic array of restored buildings with architecture styles ranging from baroque to art nouveau. The centre of the square was decorated with sculptures, and filled with people from all over the world. As the sun went down, we sat at an ornate balcony of a café, overlooking the bustling square filled with music and chatter and sipped coffee. It was a perfect moment that I wish I could have sealed in time.
WHEN IN CUBA WHAT TO EAT
When we asked Angelo to recommend a good place to eat, he brought us to a paladar located under the shadows of El Morro, a 16th century castle guarding the bay of Havana. The Paladar Canonazo was decorated with gardens, Cuban flags and a poster of Che. We gorged on paella, a Spanish seafood and rice dish, a relief after seemingly endless days of beans and rice.
Although the food variety is below average, Cuba is an adventure for coffee lovers. Cuban coffee transforms the soul. Returning to your typical cup of coffee will not be possible after drinking coffee ground from Cuban beans. I returned with a kilogram of Cuban coffee, an espresso brewer, and no desire to ever purchase a corporate coffee-chain concoction again.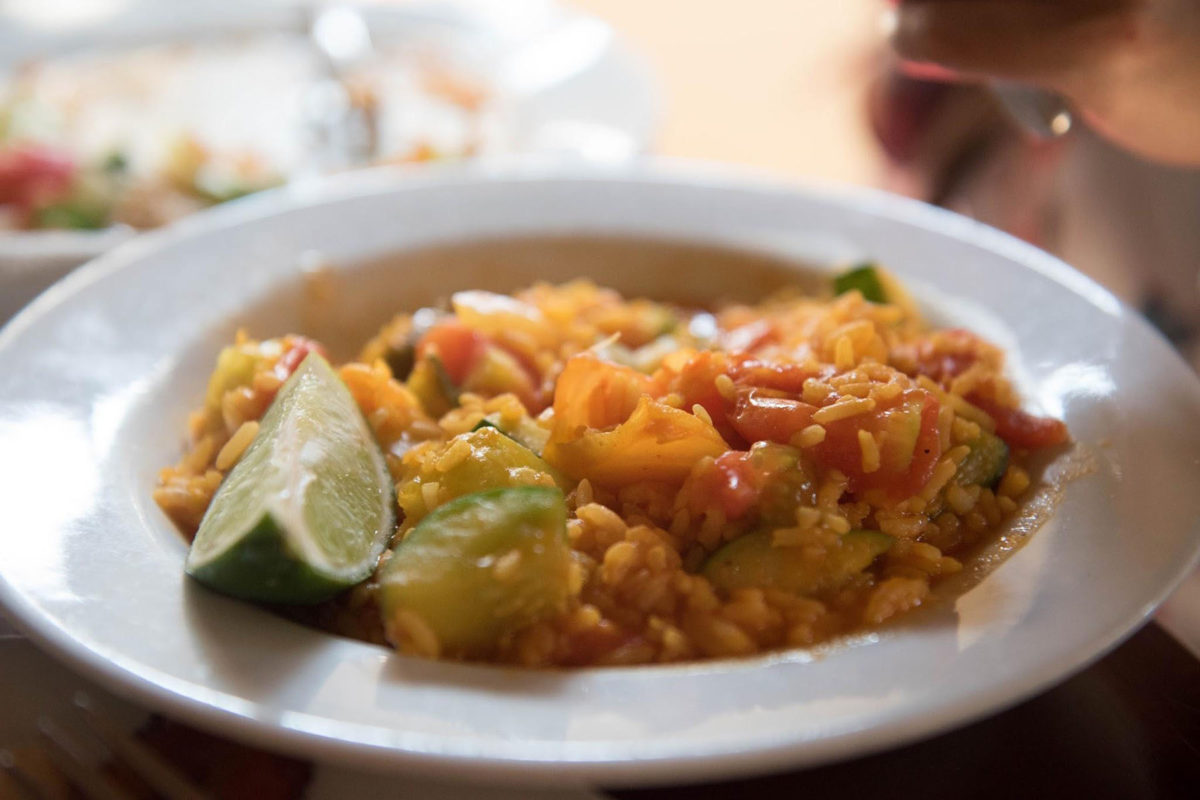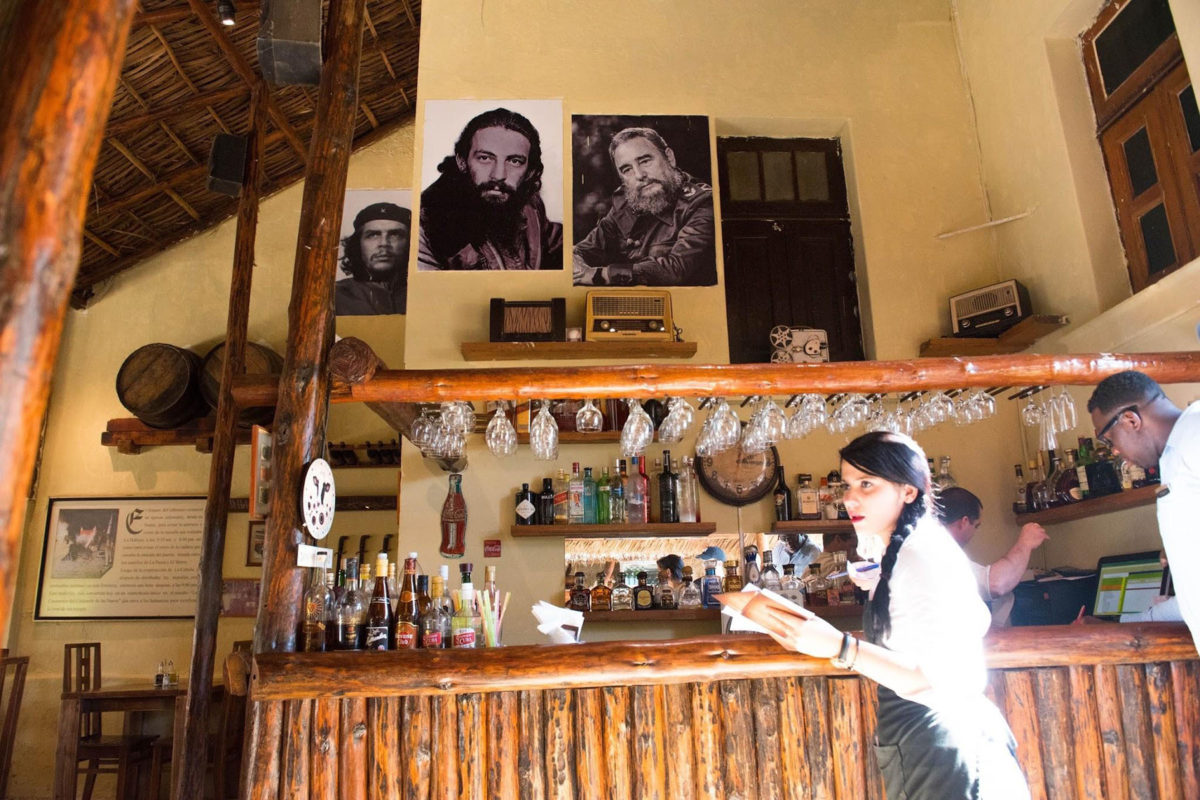 ISLAM IN CUBA
While wandering through the streets of old Havana, past vendors trying to sell small trinkets, luring tourists to a local restaurant round the corner or convincing passers-by to purchase some bargain cigars, we found ourselves standing in front of a building with green high-arched doors, decorated with the familiar motif of eight-point stars and crowned with a small golden minaret and dome, as a nod to symbolic architecture.
Angelo had brought us to the first mosque in Cuba. The only place of worship for a growing community of Muslims, this mosque had been built as recently as 2015 with the help of the Turkish government. An old car museum on Calle Officios was converted into a beautiful space for people of the Muslim faith to learn and practice their religion as a community in communist Cuba.
The simple but elegant mosque was brimming with worshippers that Friday. We were pleasantly surprised to find a spacious and wonderful women's section, exactly like the men's area, unlike in many mosques in other parts of the world where Muslim women still struggle to attain equality in sacred spaces.
Our unfamiliar presence generated curiosity where Muslim converts found it difficult to identify our ethnicity and regarded us as either Arab, 'Bollywood' or Turkish. Maybe seeing Pakistani women travelling to Cuba on their own was something unexpected for them. Islam was introduced to many recent Cuban Muslims by Pakistani medical students. After the earthquake of 2005, the Cuban government not only sent medical teams to Pakistan, but also granted scholarships and admission in medical colleges to more than a thousand Pakistani students.
Being a person of faith in a country that discouraged any form of organized religion for many decades is definitely a challenge. Muslims in Cuba learn to practice Islam from books, travellers and immigrants, but this new community is carving out an identity which is quintessentially their own.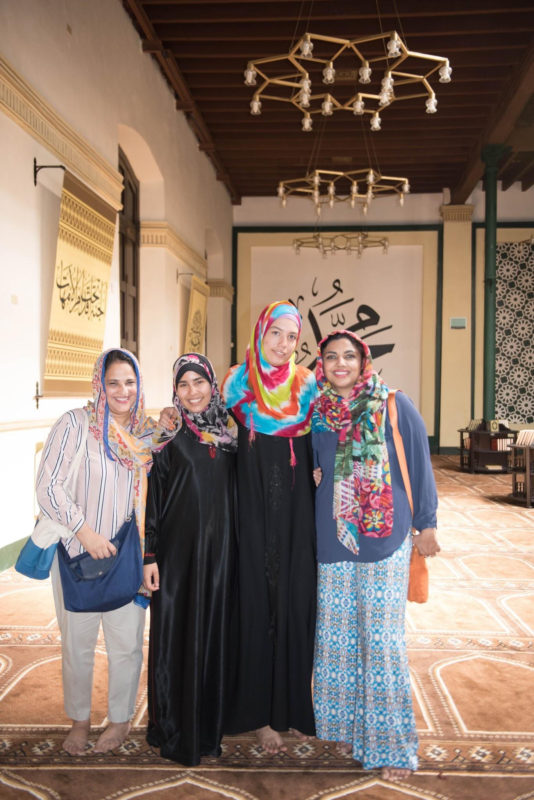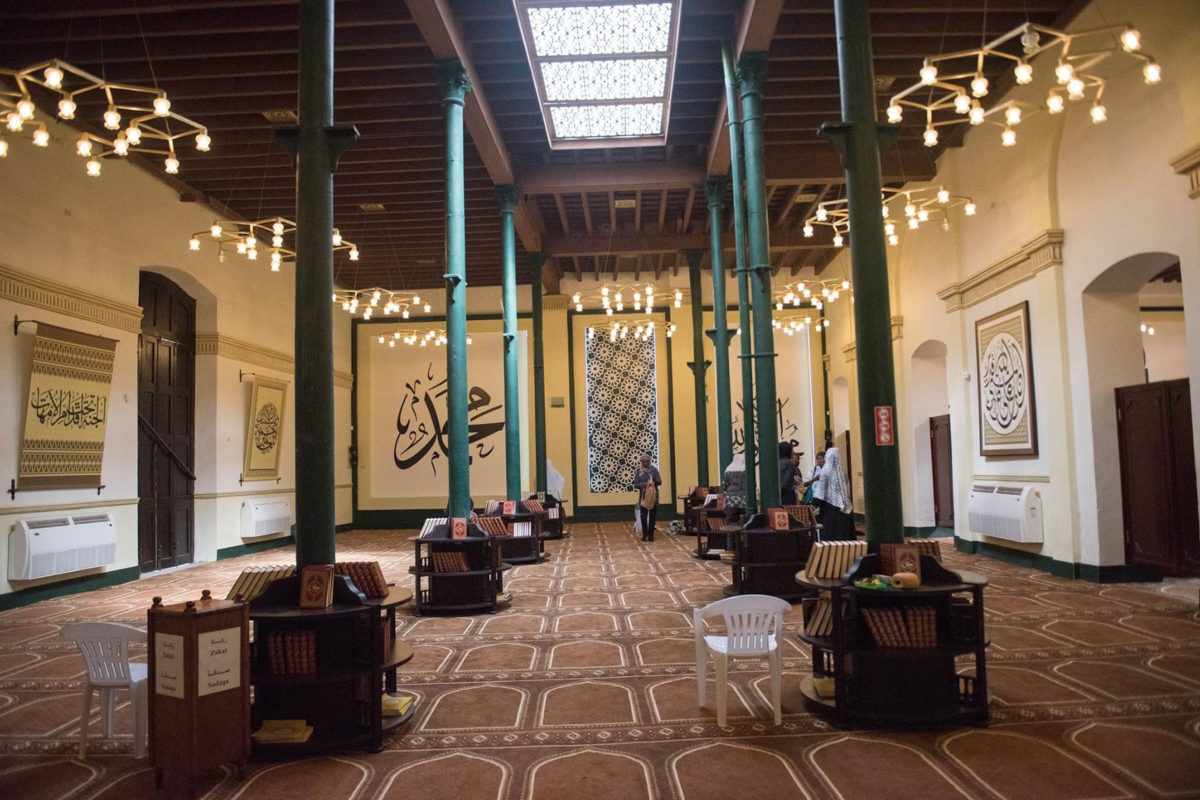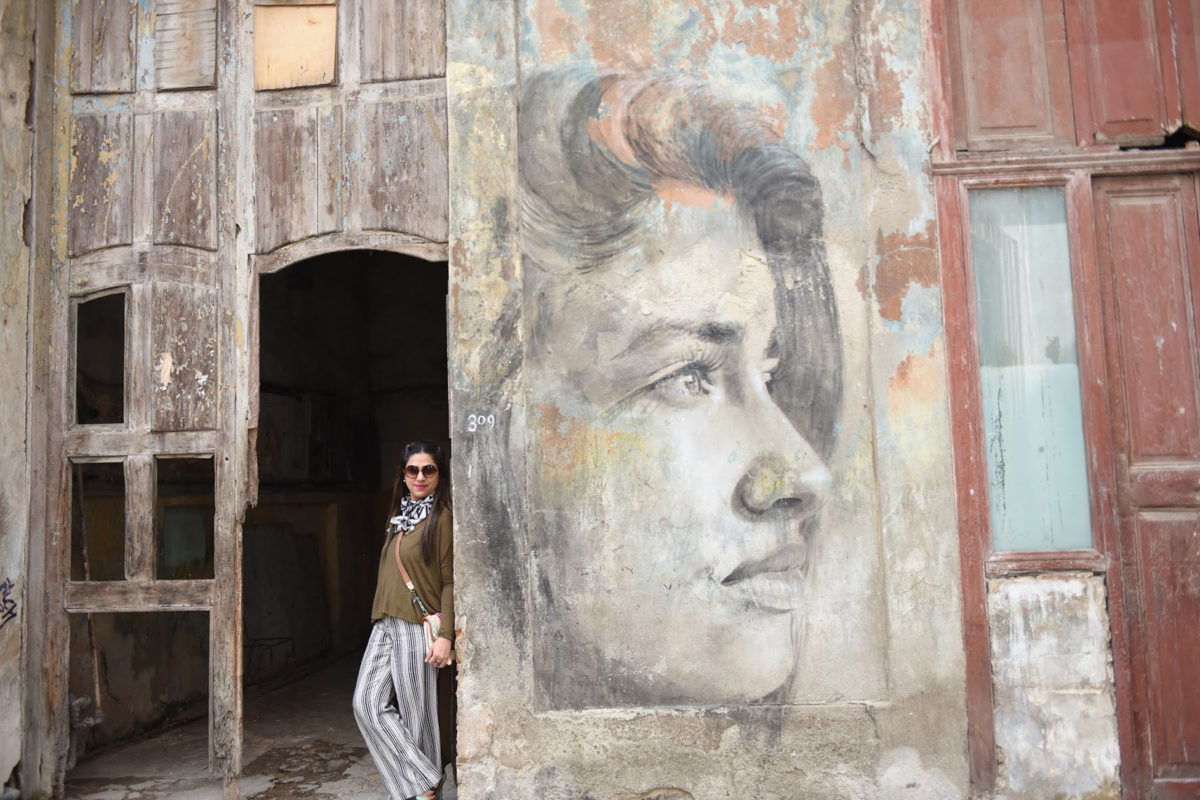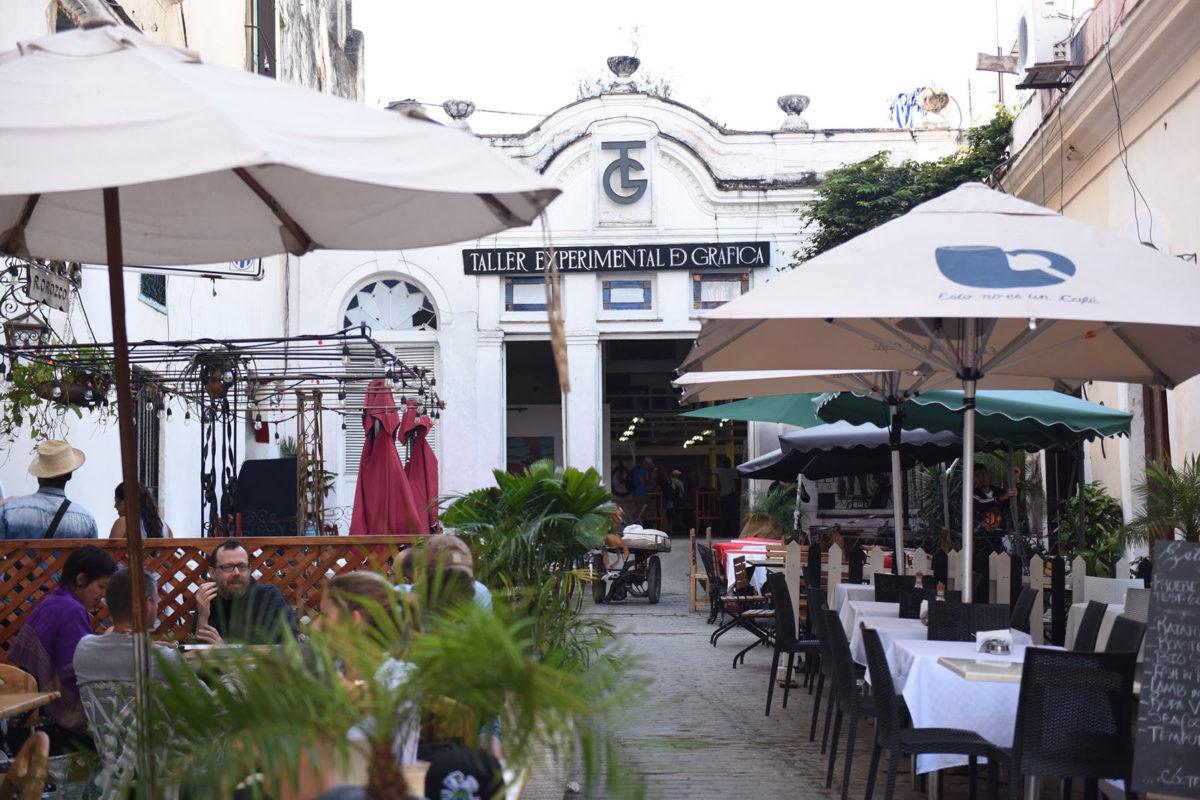 CUBAN ART
In Old Havana, right across the San Cristobal Cathedral lies one of the most important graphic arts establishments, El Taller Experimental De Grafica. The studio was founded in 1962 by the famous mural artist Orlando Suarez, with the help of Che Guevara, the minister of industries at that time. The historically significant studio has preserved some of the oldest printing techniques while producing cutting-edge work of graphic art. Today, it continues to attract many travellers, writers, visual artists and art aficionados.
Nida, the artist amongst us, was especially interested in observing and learning some etching techniques, a traditional art form for the Cubans.
Despite or perhaps because of the restrictions and economic hardships, art in Cuba survived and escaped commercialism. Even with the difficulty of acquiring paints and other materials, and a limited market to sell the production, the art scene has not only thrived but remains solely for the purpose of expression.
Revolution played a vital role in fostering Cuban art. The centuries-old struggle for freedom and liberty has transformed Cubans into dreamers, writers, poets and artists. The best place to explore the artistic expressions in Havana is the Museo Nacional de Belle Artes or the Museum of Fine Arts. The collections mirror the anxieties and struggles of Cuban society through the various stages of evolution.
Contemporary art in Cuba is remarkably sophisticated and at par with that from London, New York and Paris. In typical Cuban fashion, artists are accessible and anyone can visit the studios of world-class artists to meet them and buy their work. Several galleries in Old Havana and Central Havana showcase modern and contemporary artwork. Many young artists on the streets of Havana create amazing pieces, which they sell for only a few CUCs (currency used by tourists in Cuba).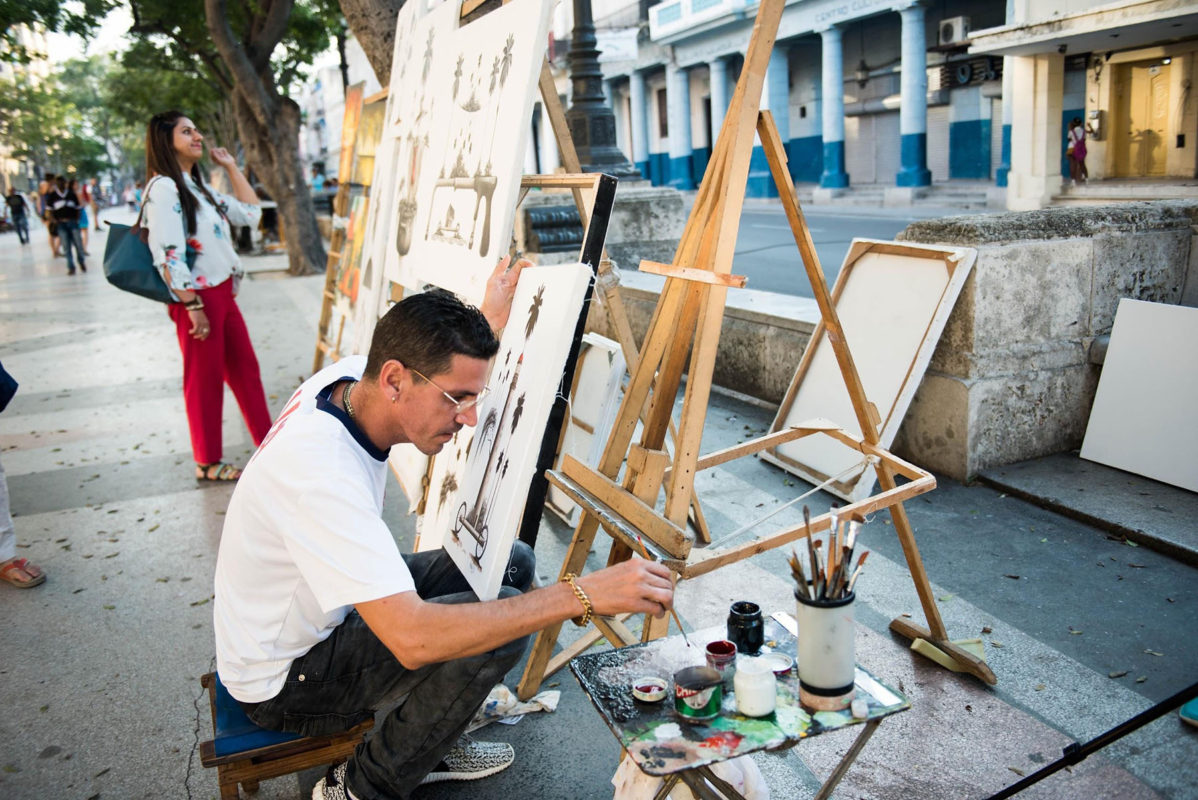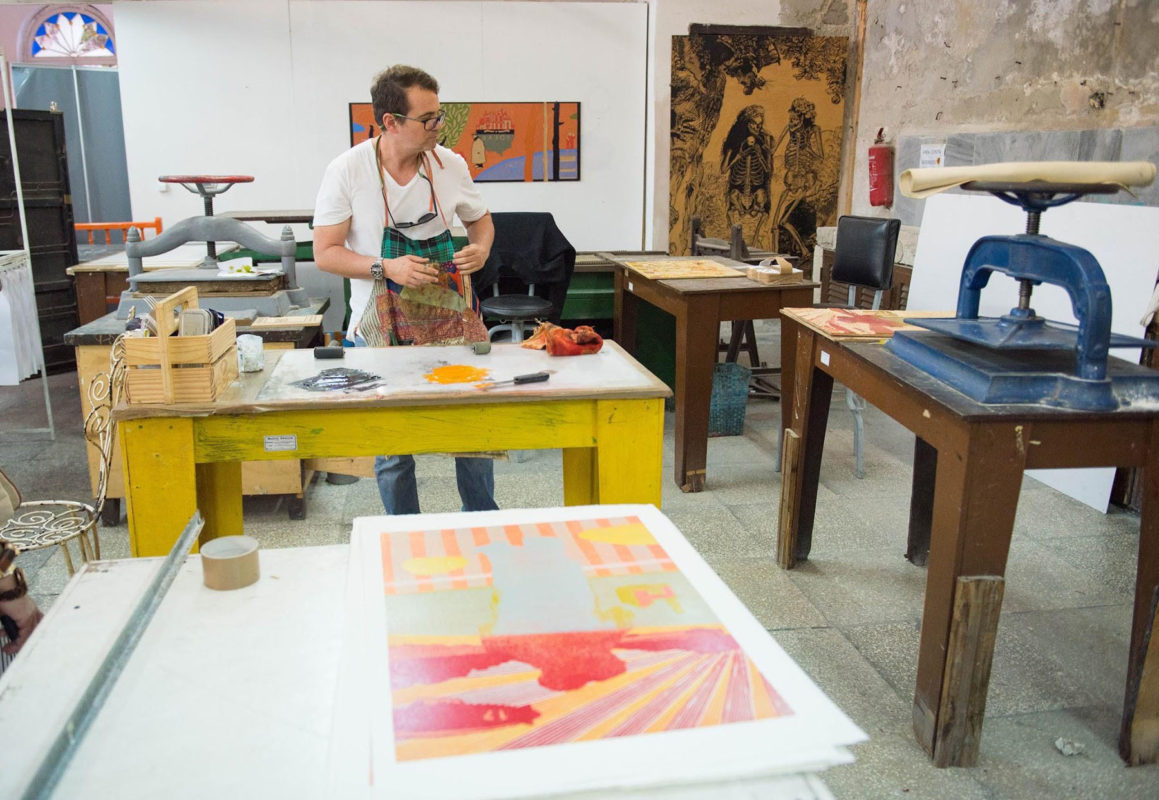 REFLECTIONS ON CUBA
After spending a few days in Cuba, we realized this country cannot be reduced to simple binaries. Its history and conflicts, the constant fight to survive and persevere with dignity, the magnificent architecture, creative art, spirited music, and spontaneous parties at public squares – in Cuba, we found a culture that embraces life to its fullest, in spite of all the odds. But what was amazing was the generosity and magnanimity of its people.
Sitting under the cool shade of an almond tree on the terrace of Hotel Nacional de Cuba, listening to Angelo talk about people's desire to bring about change, it was clear that Cuba was at a crossroads. The society will inevitably transition into a different era, but I hope the identity of this country will remain intact.
I gazed into the distance to see a woman sitting under an almond tree, writing postcards to her family back in Germany. WiFi is rare, which is precisely why I was grateful to experience this place; where time has stood still and people still write letters to stay in touch. It reminded me of the old Desi Arnaz song that is more relevant today than ever.
Not so far from here there's a very lively atmosphere,
everybody's goin' there this year and there's a reason the season never closes there love and pureness you'll find everywhere people always having fun down there, so come along
I'm on my way to Cuba, that's where I'm goin,
Cuba, that's where I'll stay…
….Why don't you plan a wonderful trip down to Havana, hop on a ship,
and I'll see you in C-U-B-A