Ahmad Altaf is a senior-year student at LUMS and a member of the LUMS Adventure Society. In his signature journal style, he pens a compelling narrative of a two-day trip that saw 25 spirited participants of this intrepid group venture out to Khyber Pakhtunkhwa to attempt waterfall rappelling at Sajikot, followed by a river rafting excursion at Garhi Habibullah.
The LUMS Adventure Society (LAS) has been my constant outlet for everything outdoors for the past 4 years – while our experience lies in trekking, our members possess a penchant for exploring other activities that might provide a source of unprecedented exhilaration.
In that vein, we decided to make river rafting a regular feature of our calendar year in 2015. Pretty soon, we began to team it up with waterfall rappelling to make it a worthwhile weekend trip. I accompanied 25 participants on a rafting trip this March, which was to be my 5th such experience with LAS.
DAY1– 1:20pm
We started off a little late – troubled by the delay in itinerary, we hurriedly ushered the rest of the students into the bus and left LUMS close to midnight on Friday. Our coaster roared to life, I put some mainstream house tunes on the stereo and the nerves began to settle. We were to travel to Sajikot which was our destination for waterfall rappelling.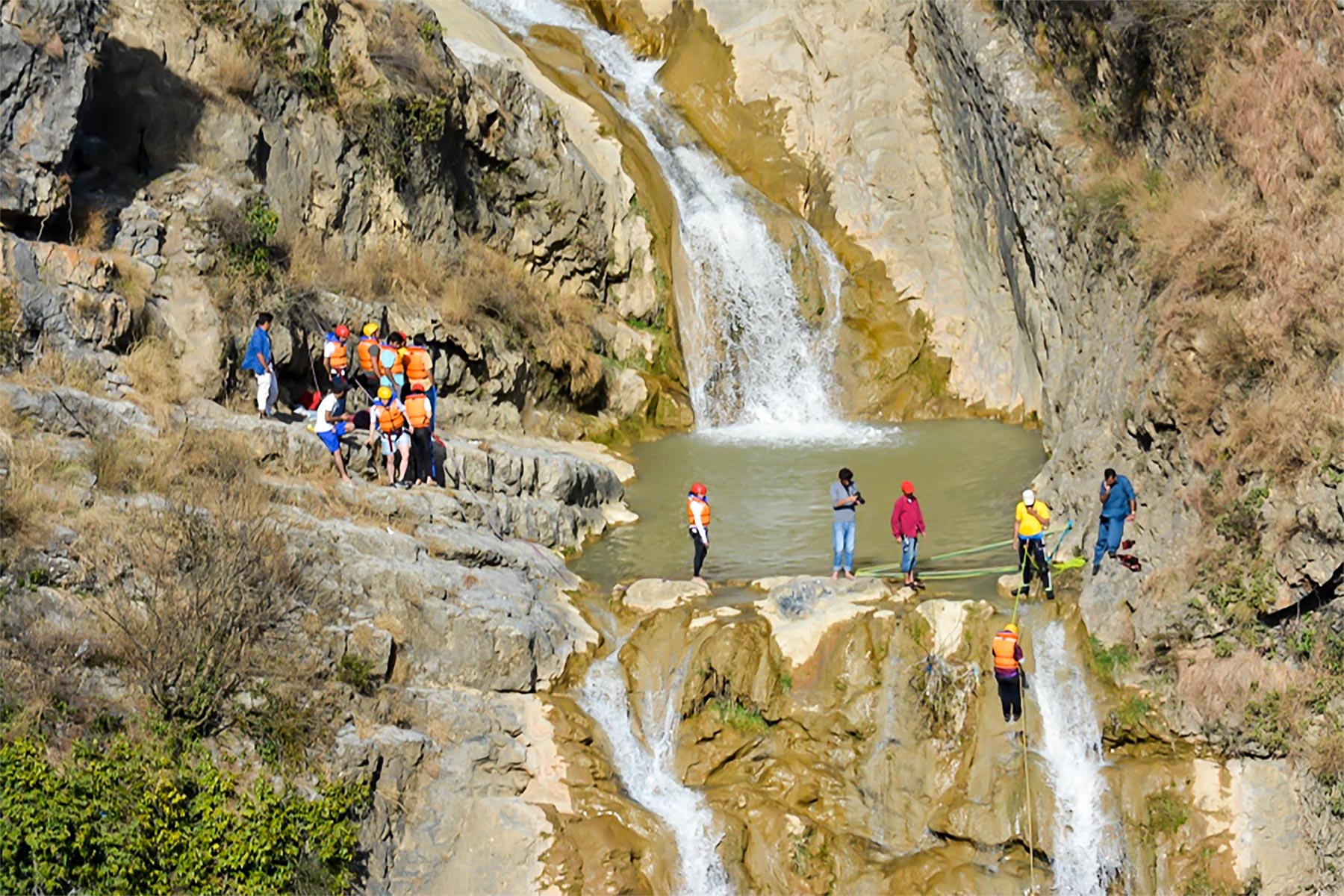 Sajikot is located near Havelian, which is situated off the G.T. Road, some thirty minutes before Abbottabad. Starting our journey in Lahore, we spent the next fourteen hours in an uncomfortable trance. Most of us were fast asleep and seldom disturbed by the jerks of the bus as it ran over the many potholes encountered on the G.T. Road.
We stopped for a quick break at Mianjee, Lala Musa, a place that serves as a mainstay for most of our trips. Nearly 5 hours later, around 7am, we stopped at yet another Mianjee restaurant, this time at Hassan Abdal, for breakfast. Groggy faces left the bus for a quick meal of omelettes, parathas (fried bread) and chai (tea).
Without wasting much time, we continued off to Sajikot. Just before Abbottabad and a little after Havelian, a road to the right leads to Sajikot. A 90-minute drive later, we stopped at a junction, supposed to lead us to the waterfall but which was blocked for construction. The bus was hence unloaded at that very point and our group of some 14 male and 11 female participants walked another ten minutes to reach an undulating countryside. Dotted with swamps and marshes, it led us to a cliff where the waterfall came to a momentary rest before plunging into a pool below.
The waterfall itself is nearly 200 feet above the ground at the highest point but we were to rappel from a step nearly 80 feet above the landing area. One of the LAS members, Mian Hamza, went first. I saw him walk gingerly to the rappelling point, receive instructions which were drowned out by the noise of the incessant plunge – a minute later, he was gone. The face of the vertical wall was such that we could not see him rappel below and this added to the uncertainty. I felt queasy; I was next.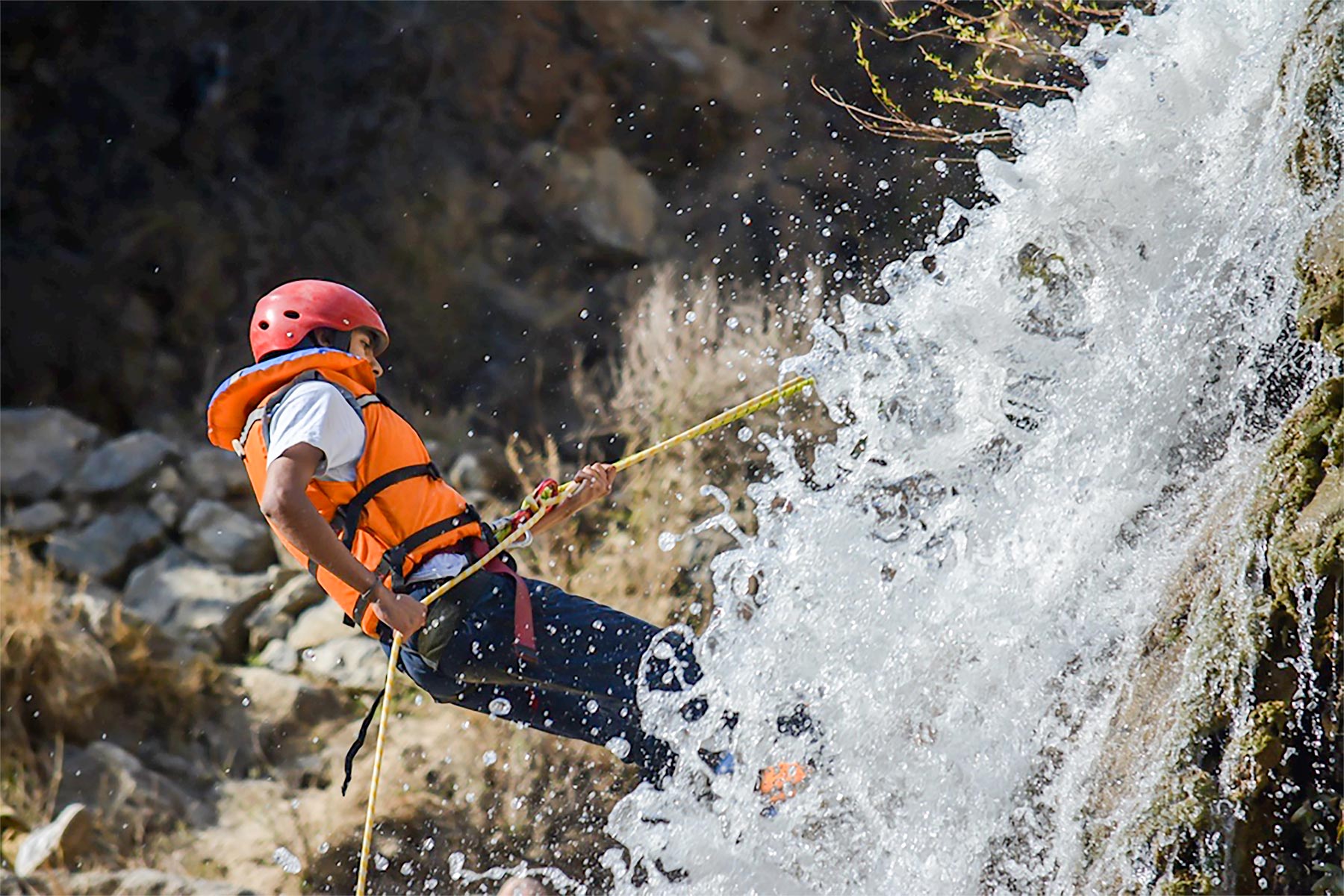 I walked up to the station, almost slipping on a wet rock, steadied myself and put on my harness. The instructor gave me an overview of rappelling – something I was familiar with already. I looked down one last time, put on my helmet and leaned back at a ninety-degree angle, cautiously loosened the hold on my rope and took a step backward.
Then another and another – I was beginning to grow in confidence when I found myself in the midst of the waterfall flow. A strong blast of cold water battered my face and helmet and took my breath away. I forced myself out of the panic, steadied my hand and got out of the line of fire, nearly jumping now to get down quickly. It took me no more than five minutes to reach the ground. Triumphant, I leapt into the pool below and swam my way across the other side. The whole process was surprisingly euphoric, albeit very short.
I am sitting atop a small cliff now, watching the other participants struggle and make their way down the rock-face. This is going to take a while…The weather is pleasant though and there is some delicious smell of biryani (rice cooked in spices) wafting through the air. I might just take a nap!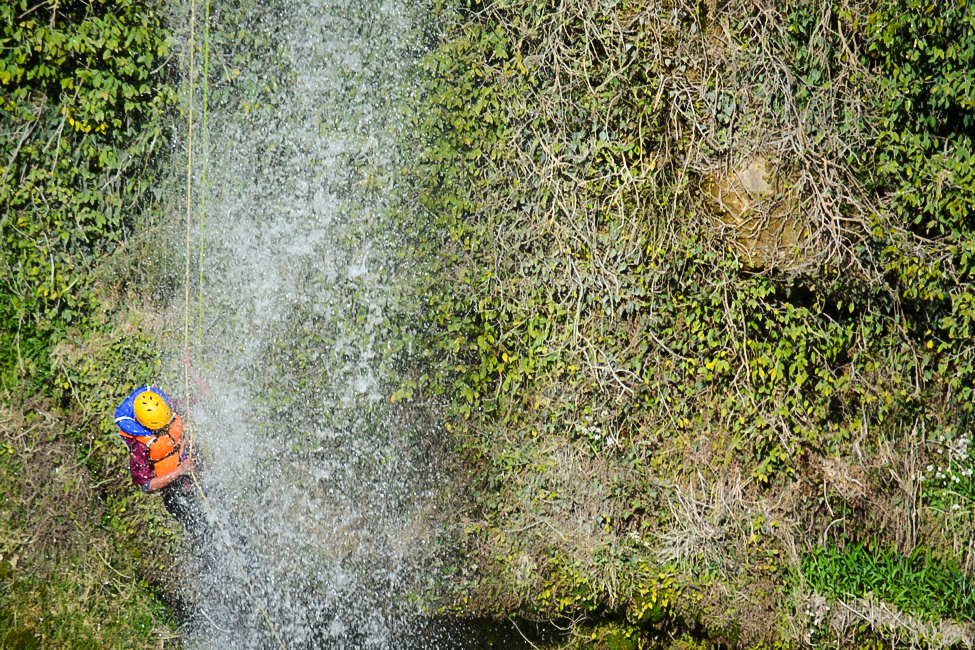 DAY 2 – 4:00pm
I am sitting at a small clearing in the vicinity of Garhi Habibullah, an area that acts as a link between Muzaffarabad and Balakot. The road to this mid-sized town runs alongside the river Kunhar, downstream from Balakot and nearly 23km away.
Our whole lot is huddled together, near a makeshift camp, gobbling up some daal chawal (lentils with rice) prepared by our tour guides. Our coaster is waiting in the distance, ready to get back to Lahore køb viagra. Unlike the previous day, we got off to a very quick start.
We had stayed up late the night before in Balakot – however, true to their word, the LAS members in-charge woke everyone up early in the morning to avoid any delays in the timeline. Groggy and confused, the participants went through their breakfast and sat in the coaster which took us to the point near the bank of the Kunhar River – the rafts were waiting for us there; and the coaster was to follow our trajectory on the road.
After a small debriefing session, we were divided into four teams and were instructed to fill our rafts with air. Having completed the task, we heaved the rafts towards the riverbank and received some final instructions regarding rafting techniques. Forward and backward movements were paramount to our rafting success; everything else was secondary at the moment, given that most of the participants were exposed to this activity for the first time.
Without further warning, we were pushed into the river – a large majority of the group failed to register their captain's commands as they struggled to come to terms with the freezing water hitting at them with surprising force. However, we soon recovered and began rowing in earnest, trying to achieve synchronization. Our rafts glided along the undulating waves, which were at this point relatively tame. The rapids are divided into levels in proper rafting terminology. We would be attempting no more than a level three rapid, given our inexperience.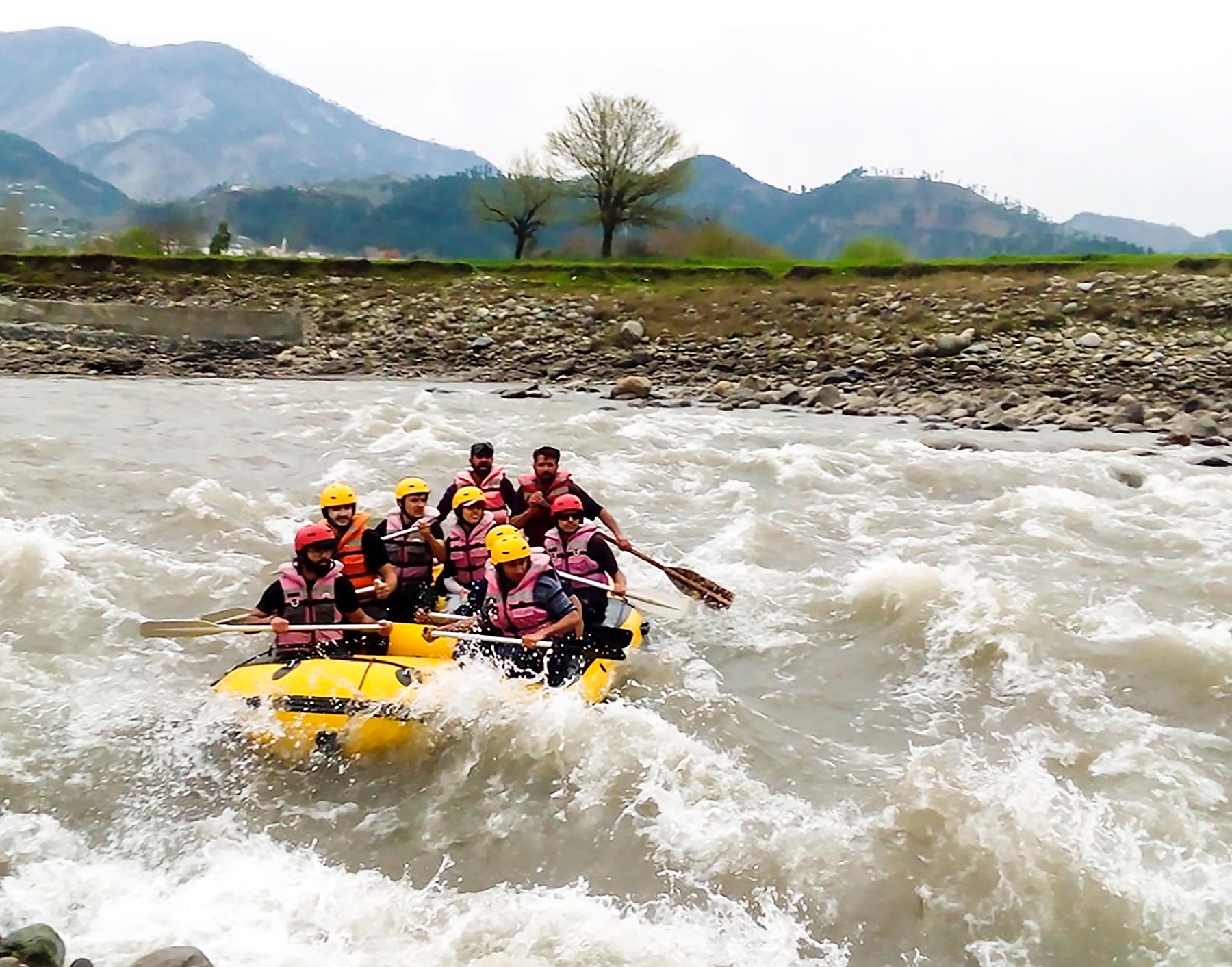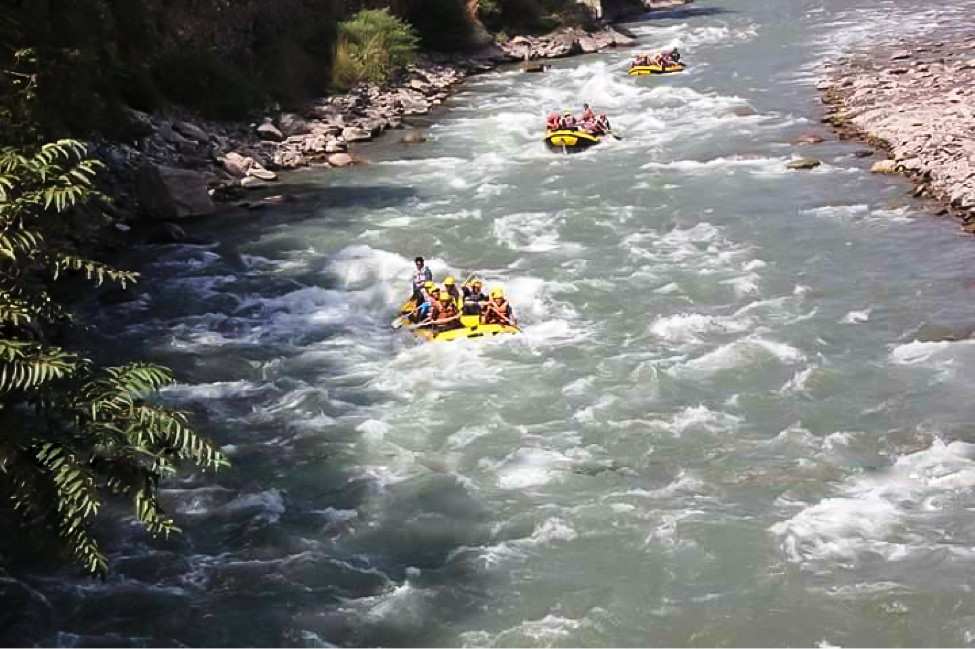 The process of going 23km downstream and battling the rapids was a unique experience. At times, the rapids surged to a level where the rafts were completely submerged in the water. The cold water sent a chill down the spine and was perhaps the most uncomfortable aspect of the whole activity. The initial lack of sunlight deprived us of some much-needed warmth. However, when it did come out, the sun was our best friend, sending soothing rays of warmth through our shivering bodies.
And so we kept on rowing – past the first pedestrian bridge after Balakot, turning almost expertly past the protruding rocks at the riverbank and watching in awe as we crossed quaint clearings and tiny rock caves. The locals watched with interest as we passed by, while some took their phones out to get footage. Nearly 16km into the journey and after a few breaks, most of us looked visibly tired. The cold had seeped into our cores and the activity was threatening to become a monotonous bore. At that point, it was nearly midday and the sun began to peep through the clouds which served to lift everyone's moods.
Past the 16km mark, we had experienced the last of the bigger rapids (level 3+) and from then on it was smooth sailing. It had already been 3 hours and it took us another half hour to get to Garhi Habibullah. Drenched but exhilarated, we stepped out of our rafts and onto the clearing, immediately rushing to change clothes and put on something warm.
And so, all is well that ends well. River rafting was an exciting adventure – for me, it had not lost its charm despite the fact that I had done it several times earlier. What amazes me is that most Pakistanis do not yet realize that there is massive potential for such sports and activities in our own backyard. I made a silent vow to publicize these activities properly as soon as I got back home to Lahore. After all, there's nothing like the great outdoors!