Founded in 1630, Boston is one of the oldest cities in the United States and home to the largest proportion of young adults of any major US city. 20 to 34 year olds make up more than a third of Boston's population, with even more in Cambridge (of Harvard and MIT universities fame – 44.5%) and Somerville (near Harvard and Tufts universities – 44%). These young Bostonians grew up here or move here for the renowned schools or for work.
In Greater Boston, there are over 50,000 Muslims including African-Americans, converts, and short and long-term immigrants from all over the world served by fifty different mosques, schools, and community organizations. The greater Boston metropolitan area is also home to more than 250,000 students including a sizable number of Muslim students. Many students, professionals and research scholars are single or transient, in town for a short period of time without their families. While the suburban Muslim immigrant families host sumptuous iftar parties at their sprawling luxury homes, free and open to the community iftars at Boston mosques, universities and interfaith groups make it a month-long entertaining event for the young and single urban Muslims and many urban families.
Thanks to Muslim Students' Associations and area mosques, Boston Muslims have a wonderful network of support to ease into for Ramadan. Most evenings, Muslim students and community members come together at one of these venues for breaking fast, praying, bonding and hanging out. All these entities host Eid parties as well.
University Islamic societies or MSAs (affiliates of the national Muslim Students' Association) at Harvard, MIT, Boston University, Northeastern, Wentworth Institute, Suffolk University, University of Massachusetts Boston, and Tufts University all offer free and open to the public iftars throughout Ramadan. Each evening, a diverse group gathers at a host venue including students from smaller colleges such as the six Colleges of the Fenway including Simmons, Emmanuel and MASSART. You run into fellow iftar hoppers all over town and end up being friends by the end of the month.
I am a recent transplant from Houston to Boston. While I visit family and friends in Houston and other cities in North America throughout the year, I prefer a quiet and low-key Ramadan and, consequently, the Eid al Fitr at home base. As a newbie in my first year here, missing immediate family and old friends, I stepped out looking to engage with my new hometown's Muslim community and to explore the mosques and stumbled upon the heart-warming and soul-stirring Ramadan social scene. The rest is history. I have to admit that in my second Ramadan last year I had but a couple of iftars at home!
Islamic Society of Boston Cultural Center (ISBCC)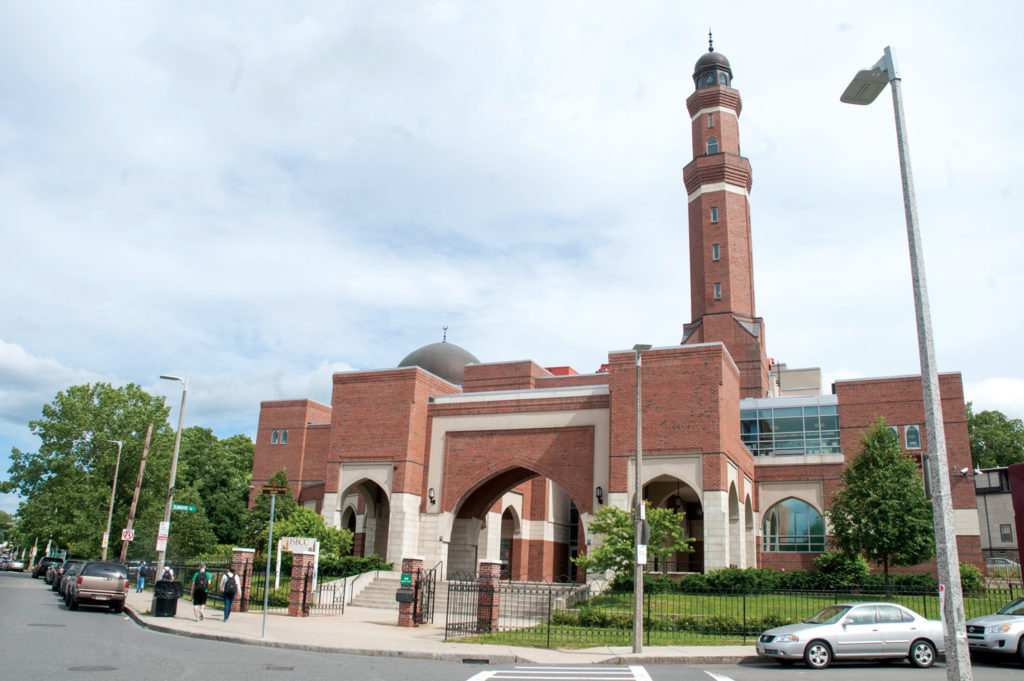 The largest mosque; the highlight of 2015 Ramadan was the most beautiful Quran recitation in taraweeh led by a young Egyptian imam flown in specially.
Yusuf Mosque in Brighton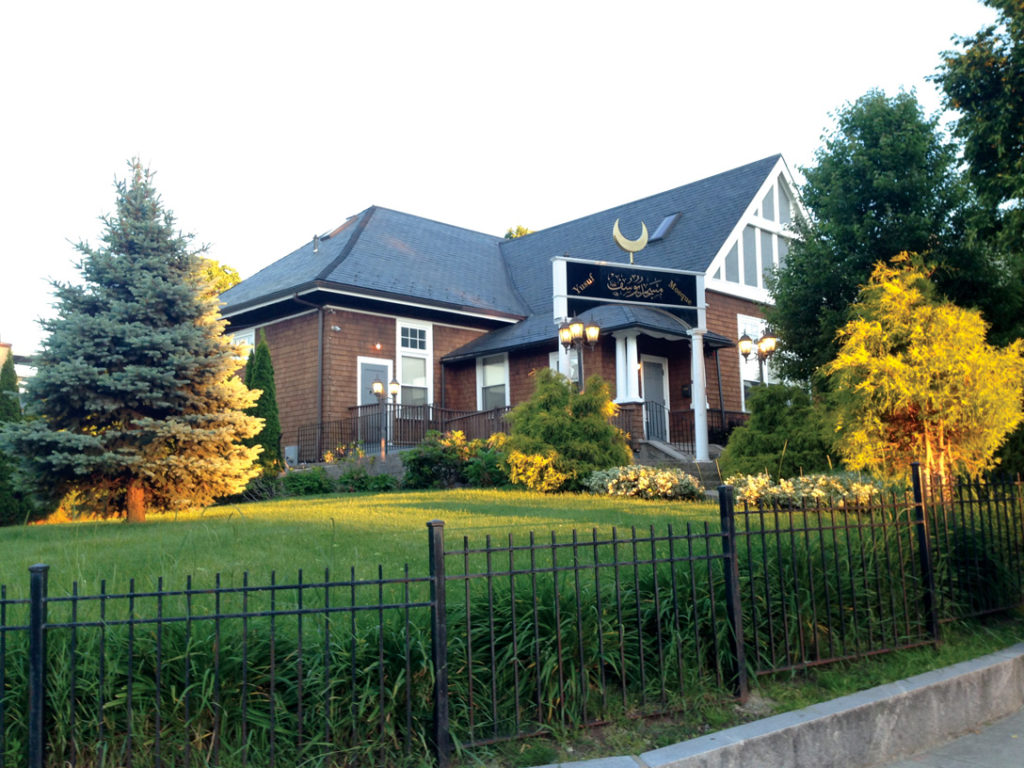 This is my area mosque where I end up most Ramadan evenings, and offer Eid prayers. I find great comfort in the small, simple and warm community and the intimate home-like setting. With beautiful calligraphy murals in the main hall, Yusuf Mosque gets the medal of distinction for volunteer dedication, organization and service during Ramadan. The founder members, key die-hard individuals and families work hard preparing and setting up food, cleaning and welcoming all Muslims and non-Muslim friends every single night. Yusuf Mosque also flew in an imam from the Middle East to lead taraweeh in 2015 with the most melodious recitation. The imam and us, the congregation, wept, praying together on the "Khatam Quran" night, the first such experience in my life. Photography: Shehla Zakaullah
Islamic Society of Boston in Cambridge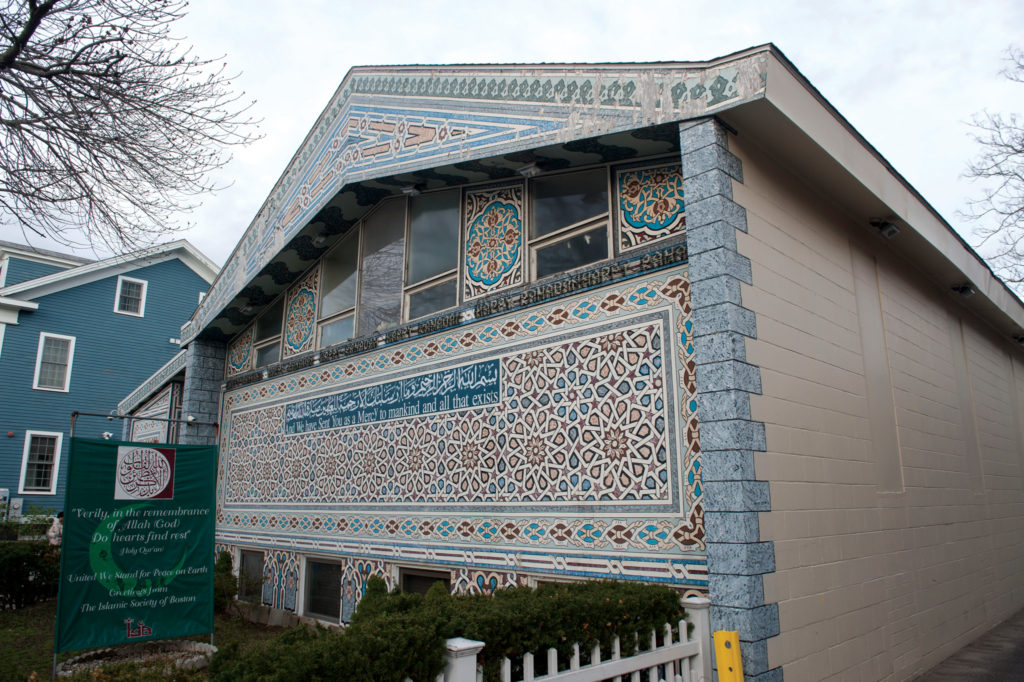 Islamic Center of Boston is located in Wayland, the beautiful suburban mosque attended by many families from as far as neighbouring states.