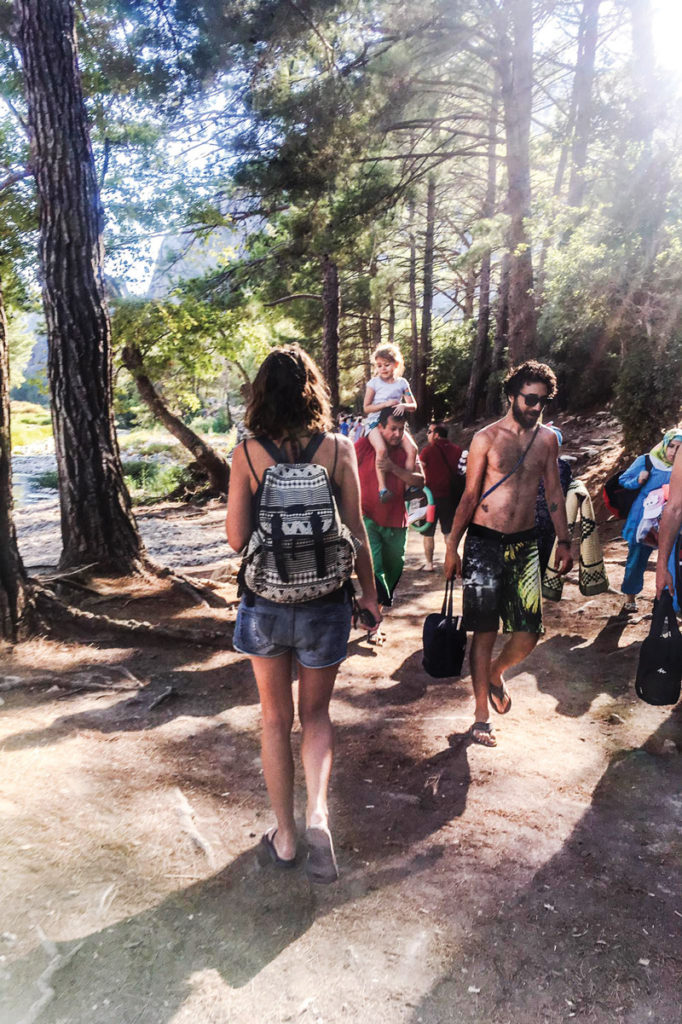 It was as if we had walked onto the set of The Beach (2000). That scene where Leonardo DiCaprio walks into the dwelling space of the people living on the secret beach his character had set out to discover.
At least Melissa and I were in this together. I met her on the bus from Cappadocia and we immediately became friends. Both of us were travelling alone through Turkey without a real plan. Just going where fate would take us.
We'd been on the road for 10 hours before we finally reached Olympos. We were tired, hungry and nearly broke.
Olympos is a small backpackers' village on the Turquoise Coast of Antalya. Until a couple of years ago, only the most ardent of travellers went here. It wasn't listed as a major destination on any map and for many years, those that ventured there knew about it purely through word-of-mouth. It borrows its name from Mt Olympos, which is roughly a 20-30min bus drive from the main backpackers' village.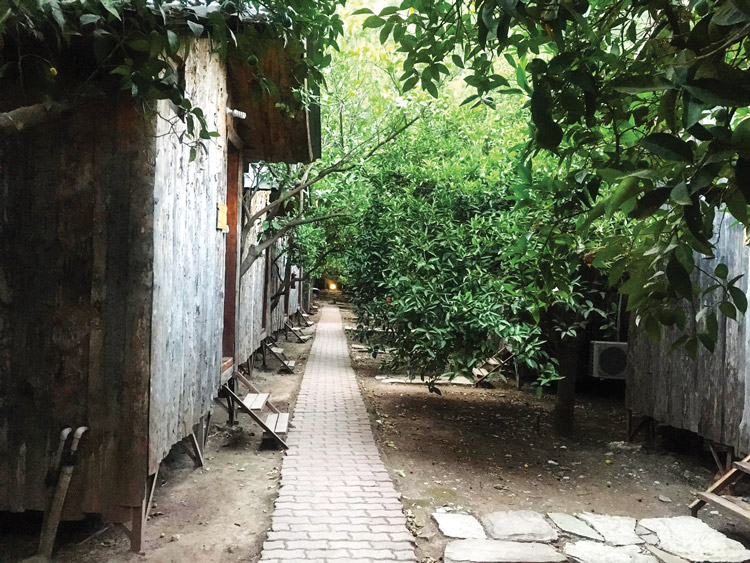 Since the region is home to ancient Lycian ruins and is considered to be an important heritage site, concrete construction isn't allowed in the area. Hostels and refuges give you the option of staying in tree cabins, outdoor shower stalls and wooden gazebos in the main living area. The place we were staying at, Bayrams Tree Houses, used solar panels for electricity and heating water. The lights were sensitive to movement so they would turn on when you approached and turn off when you had walked past. At first it was amusing, then it became downright creepy. Life here is completely off the grid (minus, perhaps, the internet).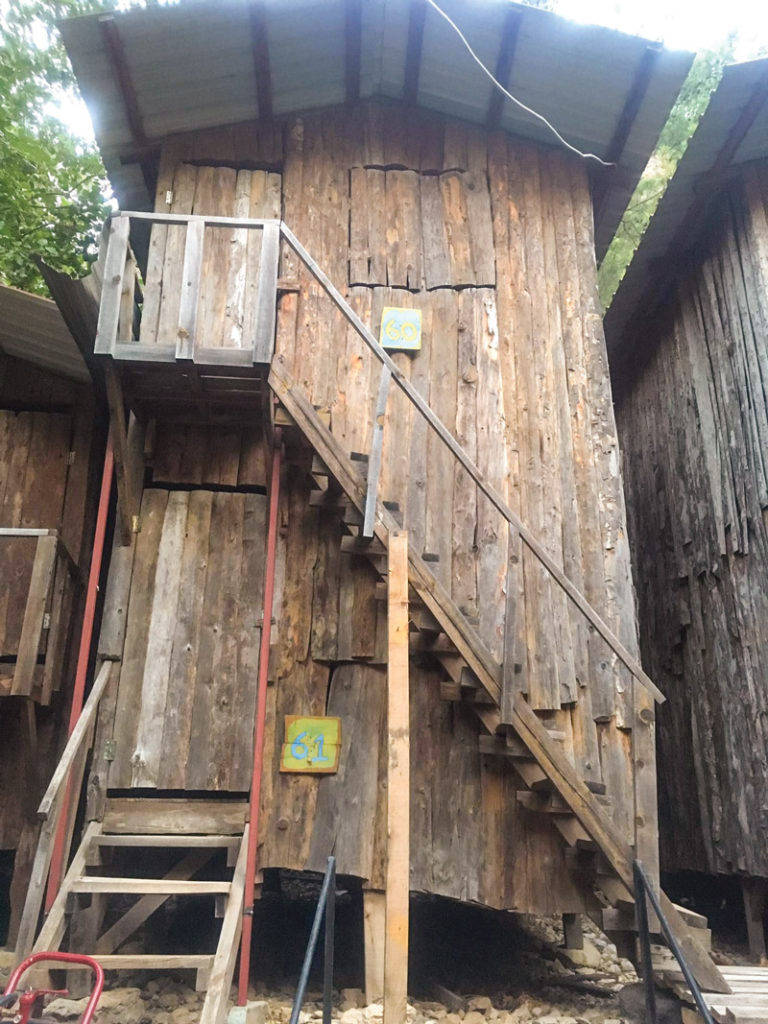 Our stay cost us roughly around $10 per night in a six-bed female dorm with air-conditioning. The rate also included a hearty breakfast and a full dinner.
The hostel owner, Yousuf, was nice enough to give us a spare card to go to the ruins and the beach. You have to pay TL5 to go the Lycian ruins and the beach lies just beyond it. The government, however, doesn't make a distinction between the beach and the ruins, so you have to buy a ticket to go to either. Another option is to buy a pass that costs TL7 and can be used for multiple people over a period of several days.
Off we went. It was an interesting experience, walking through a forested pathway to the ruins, along with a host of others, to an ancient heritage site… in our slippers, bathing suits and towels.
The ruins lie on either side of the road and on top of cliffs on the beach. They're bricks and wood pieced together, but not as impressive at the ones in Ephesus, I am told. It takes just a few minutes to see them and then you can make your way to the beach.
You have to bring your own umbrella — there are no companies operating on the beach that will rent you shade. To avoid the scorching heat of the sun, some beachgoers would spread their towels under the shade of the cliff. It seemed like a great idea until I saw signs warning people not to camp out there — there is a risk of rocks falling on top of them. But if you can't see them, then it must be okay right?
What amazed me about the Mediterranean when I first came across it is how swimmable it is. The Arabian Sea has strong waves and undercurrents and we're constantly advised not to swim — not the case here. You can go as far as you want, even up to a few 'pirate caves' under a cliff yonder. One even spotted wild ducks happily swimming at a calmer part of the beach and two very small turtles.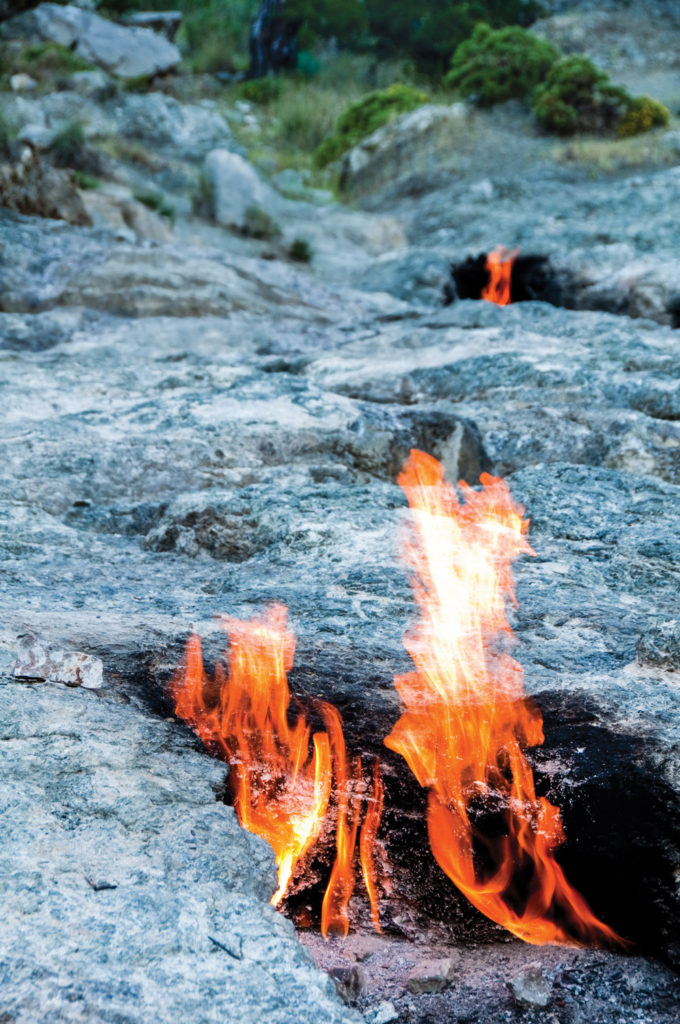 One of the things I was told I must do is climb the famous Mount Olympos . It is called Yantras in Turkish and  technically what they refer to as Mt Olympos is actually Mt Chimaera. Methane and other gases emerge from the rocks at the summit and burn. There is actual fire there. It will simply light up again even after you extinguish it.
It doesn't seem like a big deal until you realise that these flames have been burning for thousands of years. The eternal flames of Chimaera are said to be the inspiration behind the myth of the Greek monster Chimera. Of course I had to go.
A bus takes you to a drop-off point about a 30-minute drive from the backpacker's district. The best part was that it came right after dinner.
Having stuffed my face right before the bus ride, I soon slipped into food coma. The next thing I know is that I was being woken up by a driver who could barely speak English. Before I could even figure out what was going on, I was handed a torch and pushed in the direction of a dark rocky path up a mountain and told I had one hour to return.
The eternal flames of the Chimaera It was slightly underwhelming, but I was happy at finishing the journey. Little fires may not be very dramatic, but the climb gave me excellent bragging rights.
I hurried after the other people walking in the same direction; I didn't want to be left alone. I have an overactive imagination and this is exactly the kind of place — super dark, rocky and shaded with creepy trees — where werewolves, lurking in the shadows, attack you.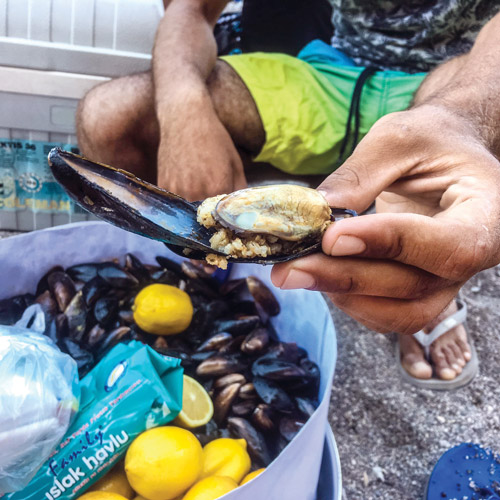 I've climbed mountains before. But never have I climbed in the dark. The climb had been 'adapted' for tourists — there were large steps with massive rocks forming them instead of a rough trail but it was still hard. The worst part was that everyone was rushing up, totally disregarding the first rule of mountain climbing: always go slow.
I felt like I was going to collapse by the time we got on to the summit: a slope with bits of fire here and there. It looked like someone had lit small bonfires and scattered them around — except they smelled of gas. There was nothing monstrous about them at all!
It was slightly underwhelming, but I was happy at finishing the journey. Little fires may not be very dramatic, but the climb gave me excellent bragging rights.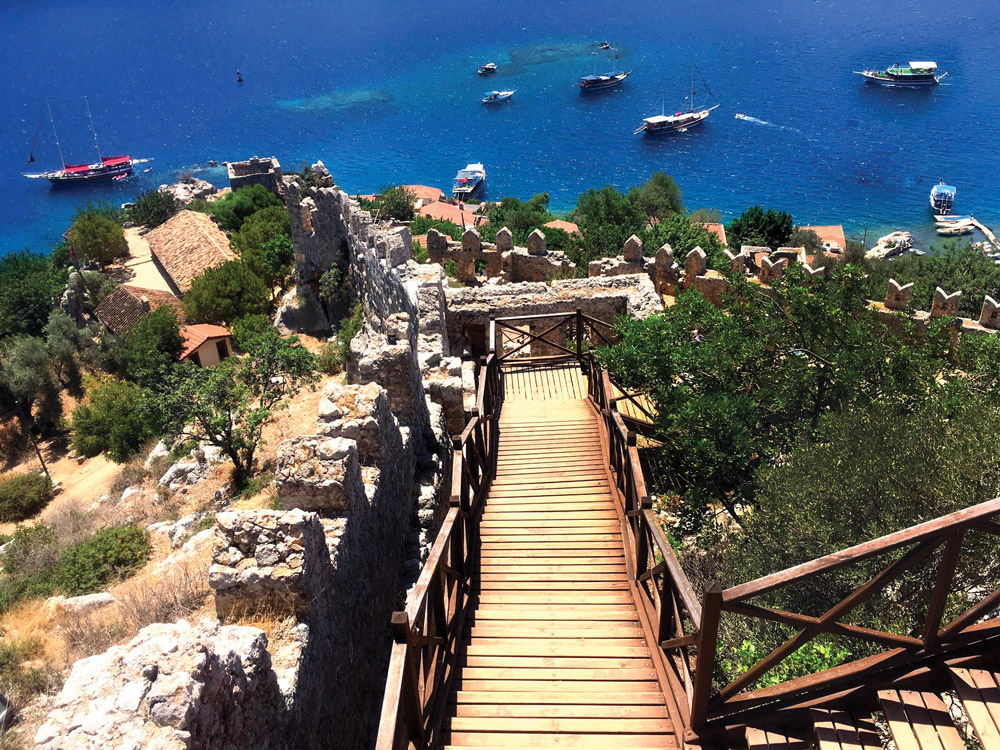 The next day, I woke up early and packed my bags, bid Melissa farewell, had breakfast and boarded a boat cruise around the Turquoise Coast — at a grand price of TL80. This included travelling to five different islands, watching a sunken city and a trip to Lycian rock tombs in (what is now known as) Dalyan in the ancient region of Myra. The fare also included a pretty decent lunch and all overland transfers from the hostel to the boat (in the next city) and back.
The coast itself is beautiful. I've never seen waters this blue. All we did throughout the day was hop on and off the boat. Climb to the top of an island, see an old castle, have ice cream and hop back on. Sometimes the boat would anchor and we would jump off for a quick dip. Bring your goggles. And dress light.
The rock tombs, which were our last stop, are a sight to behold. Access to them comes at a steep price of TL20. But I discovered that as a journalist, I could get free access to museums and heritage sites if I produced my press card.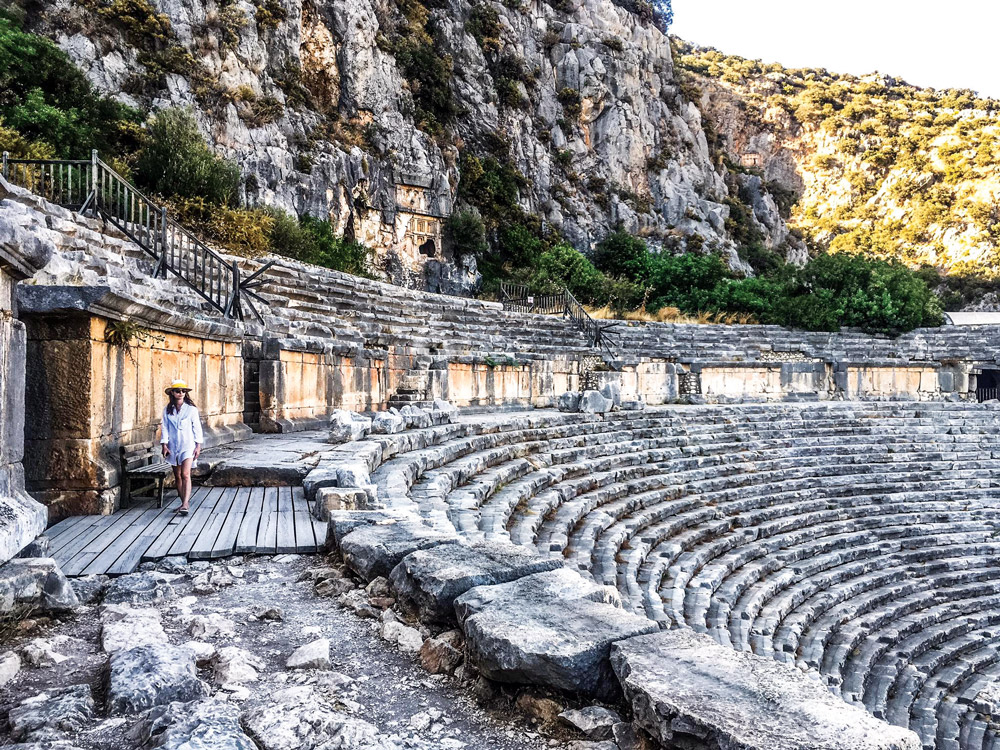 There was an amphitheatre in the area that looked like any other Greek amphitheatre — if you've seen one; you've seen them all. But it was a nice place to sit and absorb your surroundings.
Carved into a mountain, you can't go inside the rock tombs; you can only see them from outside. It's unimaginable how people in the ancient world managed to chip away the rock and stone and create them. They reminded me of the dwarf kingdoms in the Lord of the Rings.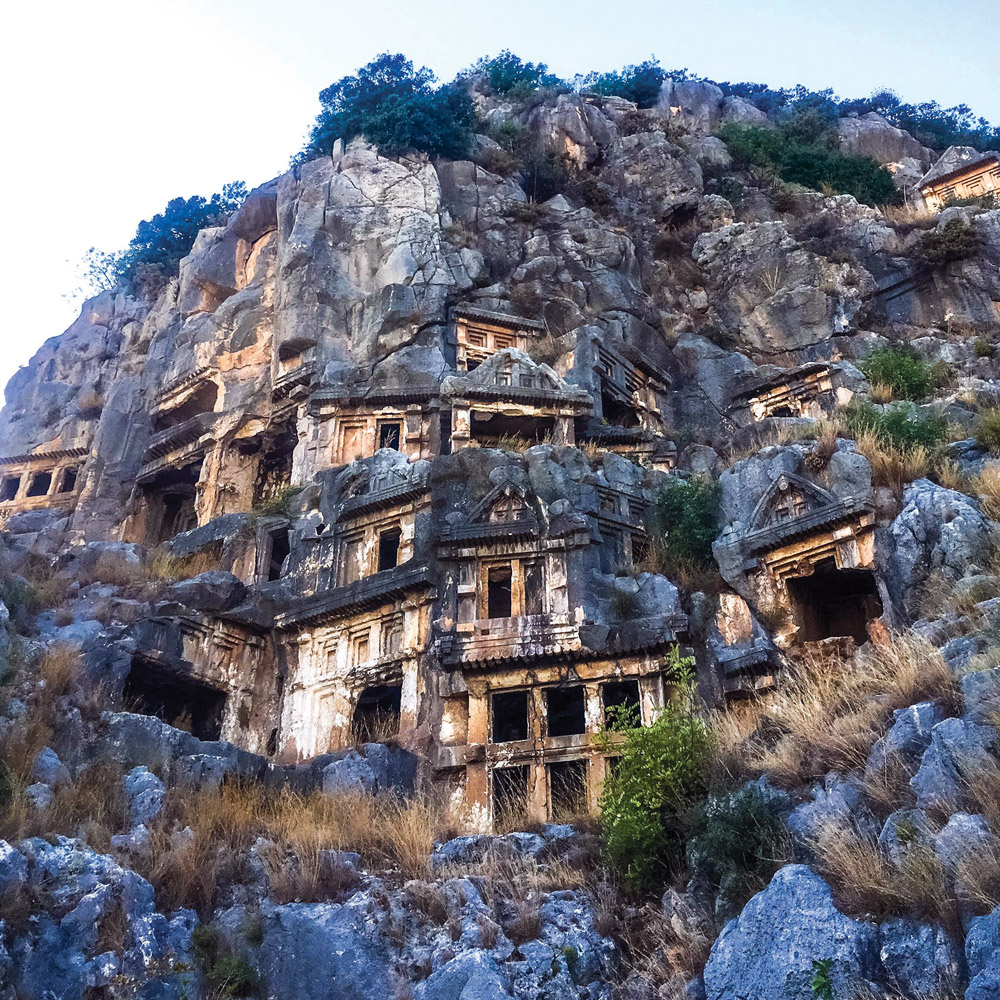 While the rest of the tour group was to head back to Olympos, I wasn't. We got to the bus station and our driver tailed a bus that was leaving and honked it to a stop.
He yelled the name of my destination to the conductor. "Yes!" came the response.
Shouting my farewell to my cruise companions, I grabbed my suitcases and ran to other bus. The fare for a three-hour journey was TL9. I was off to a place famous for having the most beautiful diving sites in all Europe: Kas.