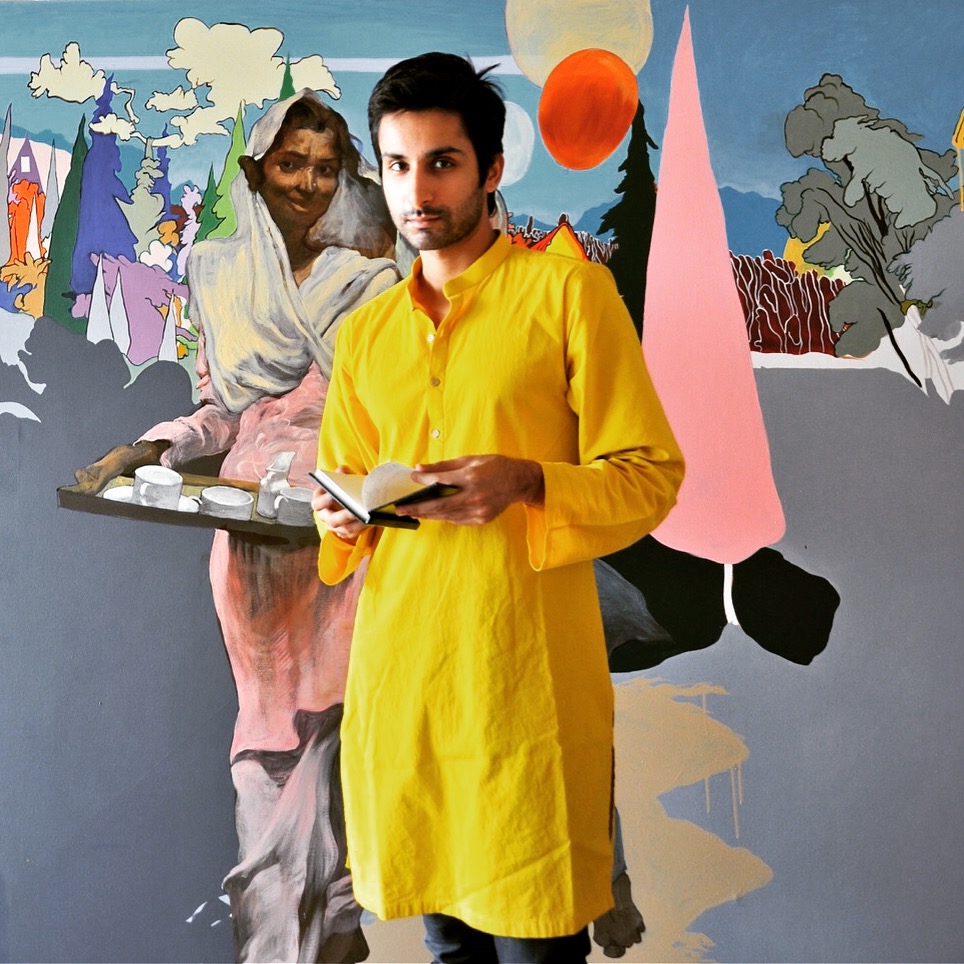 Early cave paintings reveal that the hunter-gatherers of the time were creating primitive, yet rich, depictions of their own reality – whether it was interaction with a particular landscape or a way of life. The large canvases of Turner, Monet, Delacroix and other artists from the Romantic, Realist and Impressionist eras serve as a document of their time, and its politics and concerns. Our complex history as Pakistanis has been elegantly articulated by our own artists. Renowned painter Khalid Iqbal, for example, was known for his large and romantic landscapes of Lahore that depicted the city in the context of rapid development characteristic of a new nation. It is of no surprise then, that some of our most celebrated contemporary artists have focused their practice into these histories as well.
Salman Toor, who divides his time between Lahore and New York, is one such artist. His dialogue with his practice engages not just with art history but also with location. His work draws inspiration from the large, detailed and richly decorated canvases of the Renaissance and Baroque era, but within the context of his Pakistani, and now increasingly global, reality. The idea of place has been central to Toor's work, which features an element of surreal realism and encapsulates the reality of contemporary urban life in Pakistan, and especially Lahore, the hometown of the artist. His series on Lahore is quintessential Toor – large, detailed and with a sardonic look at the realities of urban Pakistan. For example, Halloween Party, 2014, oil on canvas, is a rich portrayal of those moments when the elite celebrate and borrow upon customs that might not be considered local, all facilitated by the help and support of the domestic labour.
The work is a study in contrasts. Within the revelry, one finds images of the staff such as the cleaners or the sweepers who are integral to the existence of those very customs that might be decried as imported Western phenomena. Through his work, the artist depicts what it means to be Lahori, and this experience as it relates to different groups. Toor characterizes his work as always being urban and an amalgamation of multiple worlds that are "happening at once together." As the artist's own personal experience of his identity and space shifts, his recent body of work showcases this current dislocation of space on one shared canvas.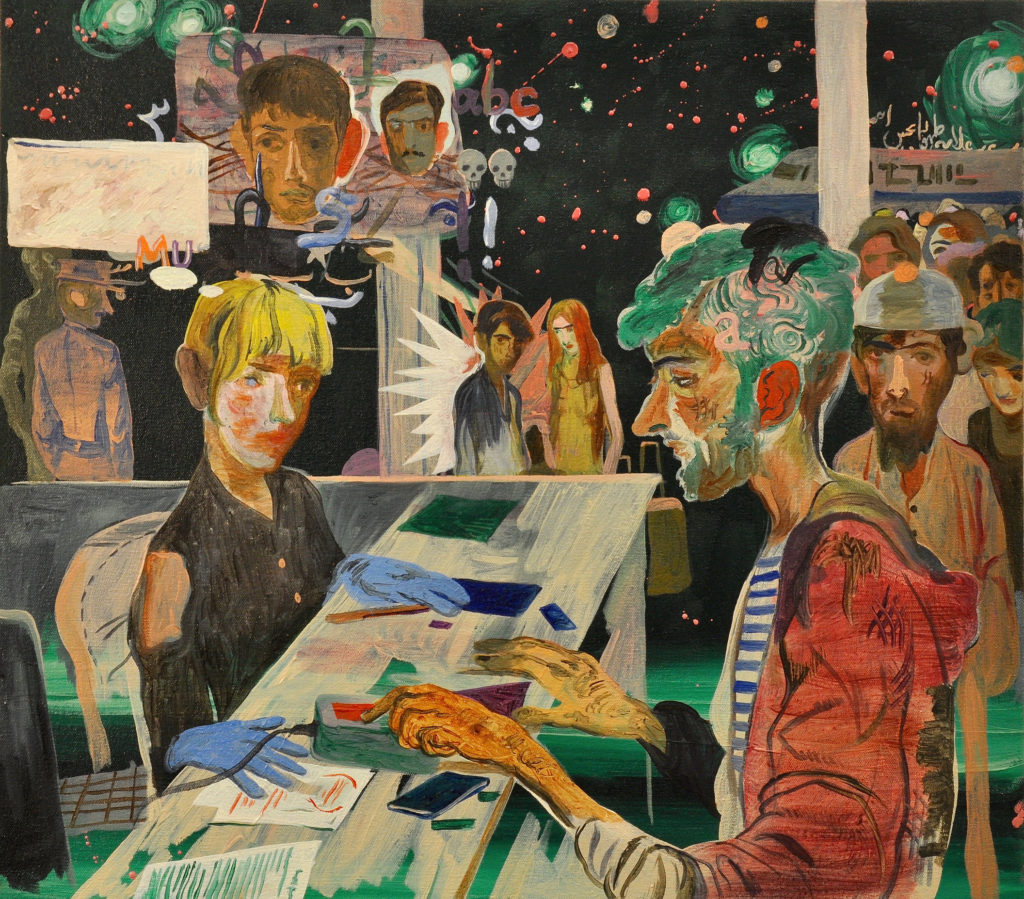 "New York entered my work when I stopped planning what I was going to do – so I wasn't setting up a stage with academic perspective, I was just going at it, with an urgency," explains Toor. As a Pakistani living in a world increasingly determined by citizenship, he says, "My experience as an artist working in Brooklyn, where there are generally white Americans working alongside me, has been a recurring theme, where I reflect on the absurdity and power of my position."
The artist cannot escape his identity as a Pakistani, as depicted through the descriptive and iconic Urdu text. The text becomes mediation, he explains, "to create space, where the text for me is place – at once intelligible and confusing." Like trees, or figures, text also has a kinship to a space – for Toor, "the drapey Urdu form seems like protest banners, which is a very urban experience." Like his other works, here again, he looks at Western art history when he refers to the Snake Charmer, an iconic Orientalist work by Jean Leon Gerome, "where there is text which is real Arabic but is so beautifully done that it tricks the eye.
" Born in Lahore, it can be safely argued that Toor represents continuous links to the city, through his education at Aitchision College and his coming of age in the city. He was always interested in painting, and enrolled at the Ohio Wesleyan University where he graduated with a BFA in Painting. The move to New York followed and marked an important shift in the artist's life and work.

"Moving to New York taught me some of the challenges awaiting artists and it was a quintessential experience of pedestrian, urban life. Brooklyn, I realized, was looking back at the Parisian Montmarte. This happens in Lahore as well, when a model in princely dress poses around the Old City or Lahore Fort. It's a romantic, edited fantasy of the past, given to us by writers who frame, turn by turn, and shed light on different parts of the story of the city or the civilization that harboured the city."
It is of no surprise that the artist is interested in ideas of city and province, historic themes that have enthralled many writers and artists. He describes Punjab as "a province created by the British, written by an alien race" – an ode to his own feelings of alienation and identity. He is particularly fascinated by the different classes that live side by side.
"One of the ways that I think about Lahore is the hustle bustle of classes, colliding with one another."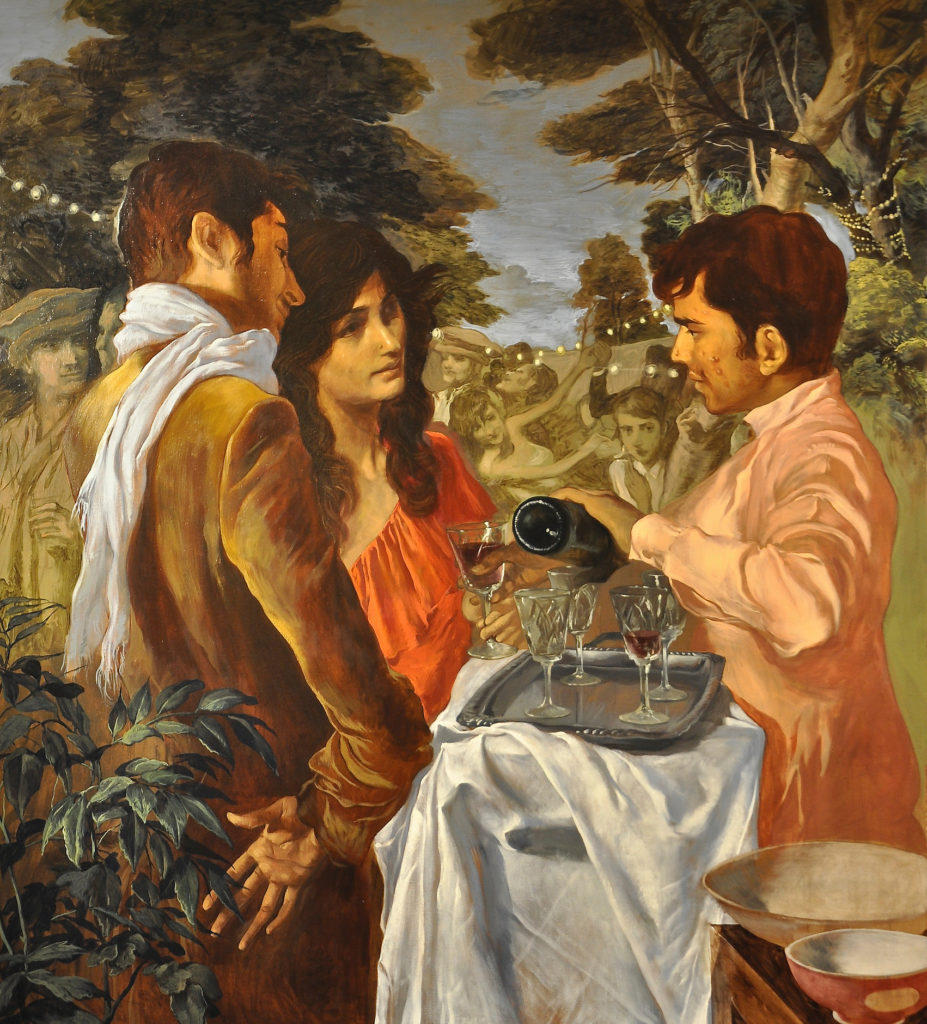 An important phase in Toor's work, as he documented these paradoxical realities of Lahore, was to represent the evocative and gorgeous landscape of the country – the trees and greenery that is so distinctive of the Punjab. This makes particular sense for a location like Lahore, which has historically been known as the City of Gardens. For inspiration, the artist says, "I used to go to parks, that was a big thing; some of the parks planted by the British have the most magnificent trees." This, then, became a way for him to relate to his city. "I turn a local setting into a painting in my head and the public space becomes a private space; through this, I created most of my intimate relationship with the city."
As citizens and inhabitants, we are always in search for our own meaning to a city, and Toor, who is able to articulate this relationship in his practice, is inspired by Lahore's historical past as well. "We have at our disposal the old city – we can see these decrepit facades that our being lost to new development all the time. We have mosques and palaces – my favourite one is Mariam Zamani Mosque, behind Wazir Khan Mosque. What is special about it is that it is a huge space but has a tiny entrance, and it is classical Mughal design." The artist evokes the reality of our present time by noting that even this work "is a tomb of a rarefied experience of a secluded upper class existence."
Toor describes his practise as "always urban by mixing up cities together and showcasing ideas of multiple spaces, happening at once." As the viewer observes the shift in the artist's work, moving from rootedness in his hometown to a more cosmopolitan location, we can perhaps await this translation of multiple realities to span not just the local, but increasingly, the global.