The ZB Foundation
Danielle and Akber Naqvi's journey into parenthood may have begun with heartbreak but the Dubai-based couple turned their personal tragedy into a beacon of hope for newborns in Pakistan. After the loss of their first daughter, the Pakistani-British couple set up The ZB Foundation, a charity in Pakistan that offers newborn screening, a test that can mean the difference between life and death for many babies.
Sehr Amjad Ismail is the Founding President of CARE Foundation Pakistan's UAE chapter and is actively involved in the Lahore School of Economics (LSE), one of the premier universities in Pakistan, which was set up by her family as a National Economics Foundation. She was recently appointed the Global Ambassador for The ZB Foundation. Here, she talks to the Naqvis about their inspirational journey.
Tell us a bit about yourselves, your backgrounds and how long both of you have been in the UAE. How did you meet and decide to get married?
Dani: I have been living in Dubai for 24 years now and run a PR company focusing on female entrepreneurs and luxury travel.
Akber: I moved to Dubai 13 years ago, arriving from New York after spending 10 years in the US for my college and early professional career.
Dani: We had mutual friends who Akber went to college with and that's how we got introduced. We developed a very close bond finding common goals in travelling and then raising a family.
Why did you want to adopt your first child?
Dani: When Akber and I got together we discussed having children and we both mentioned that we would like to adopt. I had always wanted to do this but never had a country or nationality in mind. Akber told me about the number of babies abandoned in Pakistan annually, especially girls. With him being from Pakistan, it made perfect sense.
Please share with us your adoption journey and tragedy. 
Dani: Zahra Beau Naqvi, born on October 8th, 2011, was a beautifully peaceful girl with deep, soulful black eyes, rich red lips and porcelain white skin. The beautiful exterior hid a painful secret inside as Zahra Beau, from birth, carried a disease that would come back to hurt her very badly. But that was only part of the story; ZB was from one of the poorest regions of Northern Pakistan and her birth mother, under pressure from her conservative family, was forced to abandon the baby girl at birth.
Zahra was given another chance when we adopted her and brought her to a home that offered hope, love and compassion. But that fairytale was cut short immediately, as ZB's dark secret, a metabolic disease gained at birth through the misfortune of her birth parents' genes, would come rushing back to claim her life. In just 4 short months from her birth, ZB succumbed to a disease that occurs in 1 in 250,000 babies – Glutaric Academia Type 2 – and died on February 18th, 2012, leaving behind heartbroken parents and a family and friend network deep in shock.
The ZB Foundation is a testament to your promise to your daughter that you would not let her death be in vain. Do elaborate.
Dani: Seeing our daughter die such a tragic death, not being able to hold her, so small and so vulnerable – no parent or child should have to witness this. ZB could have, may have lived and beaten her ultimate obstacle if doctors had performed just one simple 'heel-prick' test within the first 48 hours of her birth known as "newborn screening". This test would have triggered enough red flags to warrant further investigation, which most likely would have led to the discovery of the metabolic disorder. From this painful experience came the birth of The ZB Foundation, that we set up in her memory and spirit and which is designed to give other babies the chance that Zahra never got herself.
What have you achieved in the last 2-3 years that The ZB Foundation has been registered and operational?
Dani: We are extremely proud of our efforts to-date. Growing organically from what was essentially a parents' wish and vision, we now have a dedicated team of 11, located in our lab in Islamabad. We have the only newborn screening machine in the country that provides FREE screening to all. We are currently focused on Islamabad and the North and work with approximately 30 hospitals in the region, having tested over 6000 babies so far. As our expansion and collaborations with hospitals and clinics has ramped up, the number of testings goes up on a week-to-week basis. We have plans and on-going discussions to spread our wings to cover Karachi, Lahore and greater Punjab and Sindh. We are one of the few organizations in the country to officially possess accurate figures on mortality rate and birth rates in the regions we operate in and we are about to roll out a programme to encourage and educate midwives on the importance of newborn screening and how to administer the test correctly.
What are the big hurdles you have faced? In a recent press conference, one of your doctors mentioned that it took a year for the machine that Perkin Elmer had donated for free (worth US$500,000) to finally get customs clearance to come duty free to Pakistan.
Dani: So in the early stages of setting up the charity, we had issues with the import duty for the machine, which was given to us by the manufacturers. For us during our humble beginnings, any money we raised had to go towards testing a baby and not setting up the foundation's infrastructure. The ports wanted us to pay the duty on importing the machine, which was so much money. My father-in-law is an extremely patient man who believed we needed to roll this out and if that meant we went from pillar to post in order to waive the fee, we would. Can you believe it took one year in order to successfully get the machine into the country with no duty tax? I am now a believer of "everything comes to those who wait"; however at the time my frustration levels would be sky high!
An on-going hurdle for us remains the indifference and ignorance of doctors – the importance of newborn screening and its vital link towards prevention of newborn deaths and stunted growth is lost on doctors set in their ways.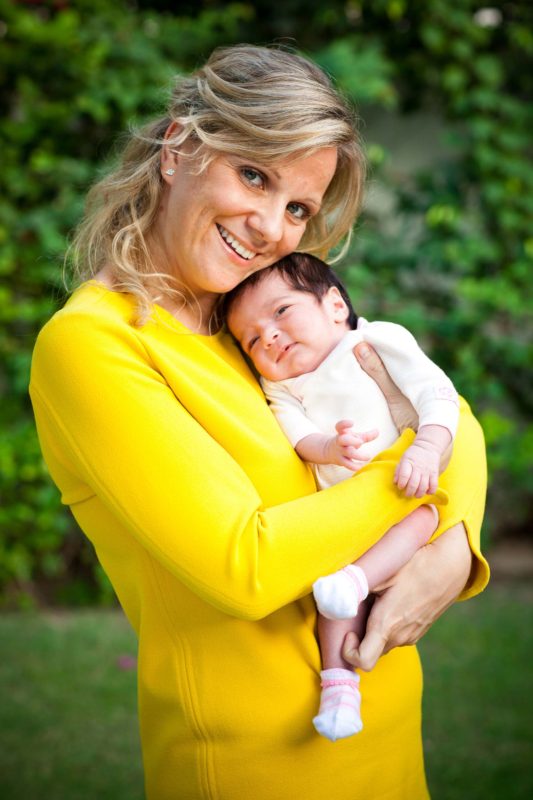 What did you hope to achieve with your first hugely successful charity fundraiser gala last month in Islamabad? What was the response like? 
Dani: We really believed that by mid-2017, having built up a database of actual figures for babies within the country, it would be the time to showcase what we are doing to the people of Pakistan. We didn't want the event to be an evening of glitz and glamour, but more to showcase who we are and our ethos by inviting the right people and partnering with the right organizations. We were extremely lucky to partner with the Hashoo Group who provided The Marriott Hotel free of charge. For sponsorship we worked with Nutricia (one of our long-term partners) and Unilever Lifebuoy. All the money we received as donations from table sales and auction items 100% went to the charity. We had 450 people attend, with many government officials, global ambassadors, United Nations representatives, DFID and World Bank.
You went on to adopt another beautiful baby girl and then have your own twins. Tell us about your young family.
Dani: After Zahra died, we adopted another baby girl and then 3 months later, I discovered I was pregnant with twins. Our three children are exactly a year and a day apart and are best friends. Amara is now 5 years old and the twins (boy and girl) Rio and Sienna are 4 years old.
What do you both do with your mini-Naqvis on the weekend around the city and outdoors?
Dani: We are certainly an out-door family. We love the beach, fresh air and exploring. We love to travel and take our minis on adventures. This summer we explored the jungles of Ubud in Bali and then we went to Sri Lanka and took the kids on a train through the country and they went to surfing school. In Dubai we love to go out on our paddle board at the local beach or a new development that has just opened, La Mer Beach, which the kids enjoy.
Dubai is an international city with such a diverse expat community and a melting pot of Eastern and Western values, cultural and religious traditions – how does your particular family fit in?
Dani: That's exactly who we are – East and West combined with so many international friends. Our children also embrace the different nationalities and cultures, taking Islamic studies at school yet living in a progressive, cosmopolitan household. Dubai is the perfect city to raise children as long as you keep your feet firmly on the ground and live life within your means.
Do your children like travelling to Pakistan? 
Our kids are still young enough that we have not had the opportunity to take them yet. Our families come to Dubai a lot but yes certainly as they get older we will start to take them on our visits to Pakistan so that they can see half of their roots and culture as well as the beautiful story and journey being taken by their eldest sister's foundation.