Internationally acclaimed artist Adeel uz Zafar is synonymous with his monochrome signature imagery of bandaged pop culture icons that not only find space on the walls of many a collector, but has also been translated into wearable art by Seoul-based fashion label, Juun.J and donned by many famous people across the globe. In conversation about his journey as an artist, his creative inspiration and his love for travel, Yusra Askari meets the maverick – Adeel uz Zafar.
Photography: Jaffer Hasan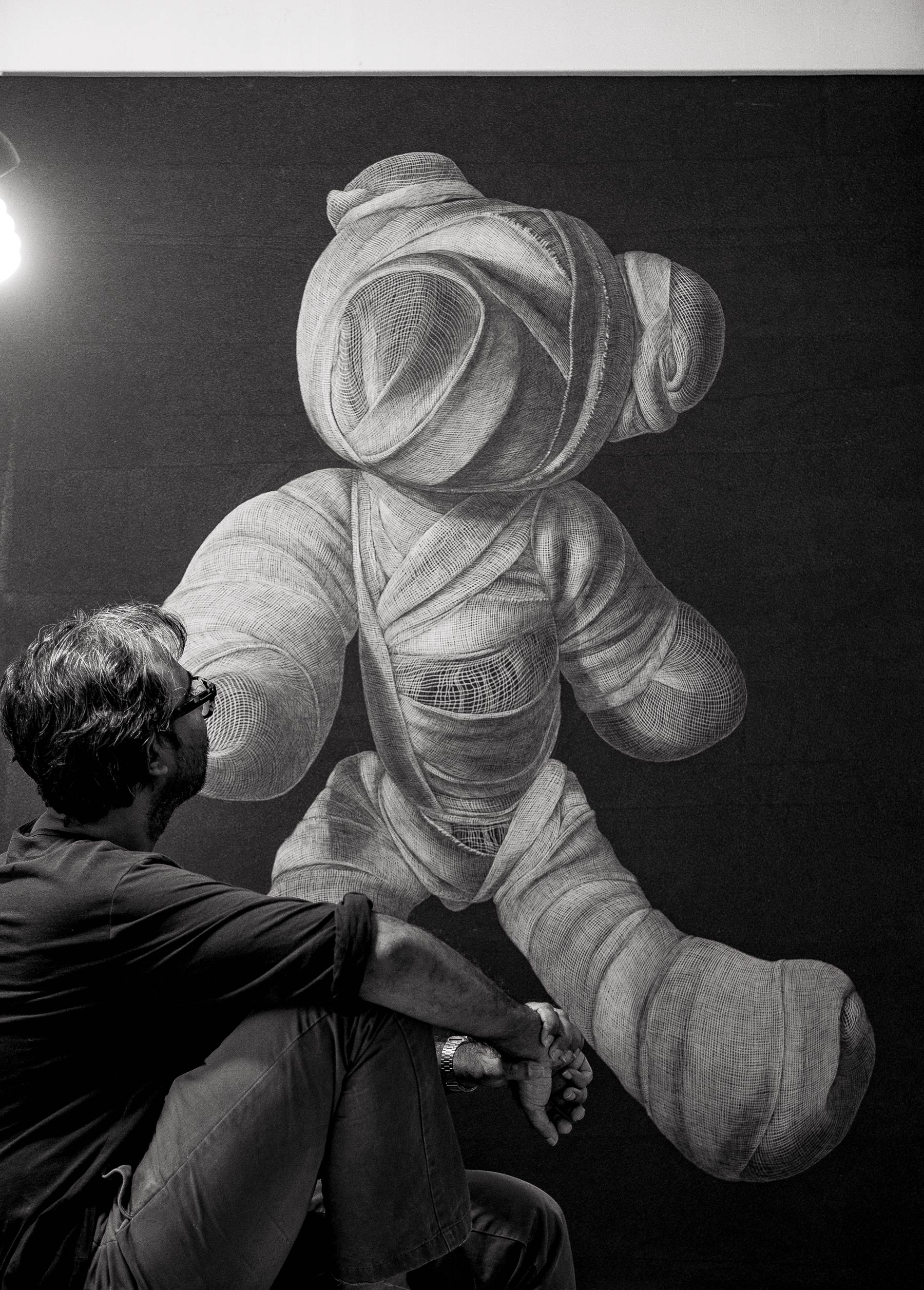 We all know the acclaimed artist, Adeel uz Zafar, but tell us about who you are as a person – your family and friends, schooling, college and the city you call home.
The eldest of 3 brothers; I was born in Karachi in 1975. Among my earliest memories, is the courtyard of my childhood home where I used to ride my bicycle. The area where we lived was very green, and at the time there weren't many houses in the vicinity.
My school was a short walk from my house and its campus was sizable with two large sports grounds. I was a shy and introverted child who spent his childhood playing sports. I didn't have too many friends, just 2 or 3 boys who lived in the neighbourhood, whom I used to play with.
When I was a child, there were no restrictions as such – we used to run around the streets and play cricket on the roads. It was a different place to what one sees now.
What made you realize your passion for the arts?
From a very young age, I was interested in the arts. My drawing skill was very good, and my parents and teachers would encourage me to take on a future in it. At the time, I was unaware that there were colleges and institutions in Pakistan where one could study art and pursue the arts as a profession. I had a flair but I had no idea how to move forward with it.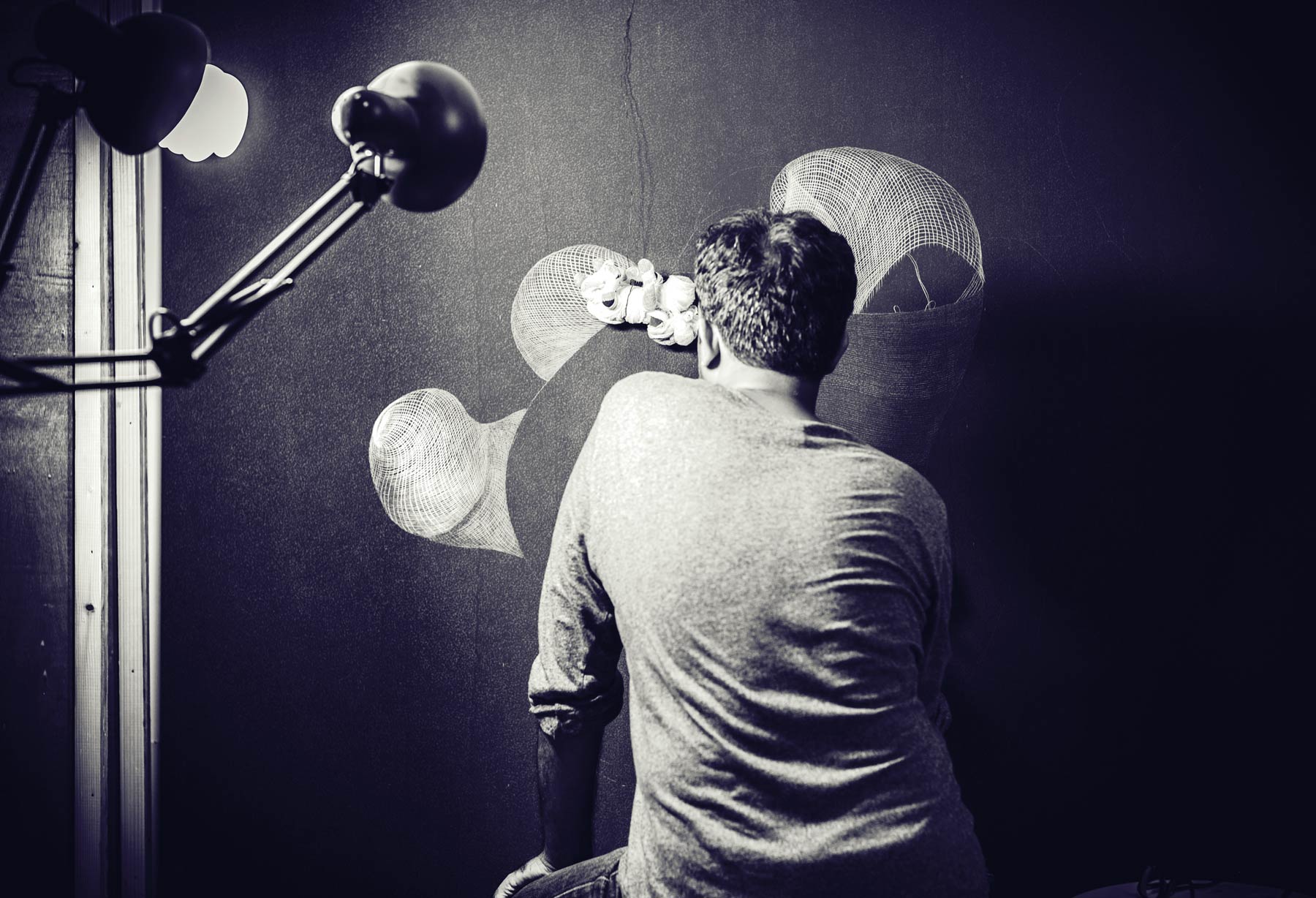 Following my FSC exams, with time at hand, I began pondering on what I should pursue academically. Fate had its own way. I spotted an advert in a newspaper one day – an institute in Karachi by the name of Mashkoor Art School was offering short courses. My father suggested I enroll in one of these courses and explore what they had to offer. I enlisted. It was here that I actually began learning drawing and painting.
It was also here that I discovered there were exhibition spaces and art galleries in Karachi, where artists could showcase their works. I started visiting these galleries – seeing the works of art on display, getting familiar with the concept of exhibitions and people appreciating art, all of it greatly fascinated me. This fired my passion for the arts even more.
During this time, I learnt about the National College of Art in Lahore where one could study art, get a degree and make a career out of it.
I decided to brave it and took the entrance exam for NCA and made the cut. I had found my calling!
Tell us about your time at the National College of the Arts studying Fine Arts.
Prior to my admission into the National College of Arts, I had never traveled outside Karachi. A completely new world had opened up to me; the freedom, excitement and above all, the sense of independence was simply unparalleled. I have great memories of my years at NCA.
The learning was immense and I am most grateful to all my teachers for sharing their craft, technique and their knowledge with us. I not only learned a lot from the curriculum itself but also from the non-academic aspect of being an art-student away from home.
There were a lot of extra-curriculars I was involved with. I became member of a puppetry group by the name of 'Puppeteers'. I performed at three international festivals in collaboration with the Rafi Peer Group.
I was also part of a mime troupe and a drama club. All these activities gave me a certain exposure and an opportunity to learn. Together, as student groups, we also made many trips to the northern areas of Pakistan during our summer break.
While in my final year at college, I made my first international trip – a visit to India. So in a way, you can say my love for traveling, began while I was at college. In my view, my time at National College of Arts really groomed my personality and enabled me to come into in my own.
There seems to be about eight years between your graduation and your first solo show – why did you wait so long?
Having graduated from NCA, I returned home to Karachi and started exploring job prospects. I wanted my parents never to doubt their decision with regard to my higher education.
At the time, the general perception was that artists never made money – which today, has thankfully changed. That pressure played on my mind and I wanted to be able to support myself independently.
I began teaching at the Karachi School of Art and also took on a few freelance projects working on illustrations for children's storybooks.
Also, at the time, there were barely a few galleries in Karachi and the art scene was still limited to a smaller percentage of art connoisseurs. Back then it was difficult for young upcoming artists to make a place in the industry and getting a chance to exhibit wasn't easy, either.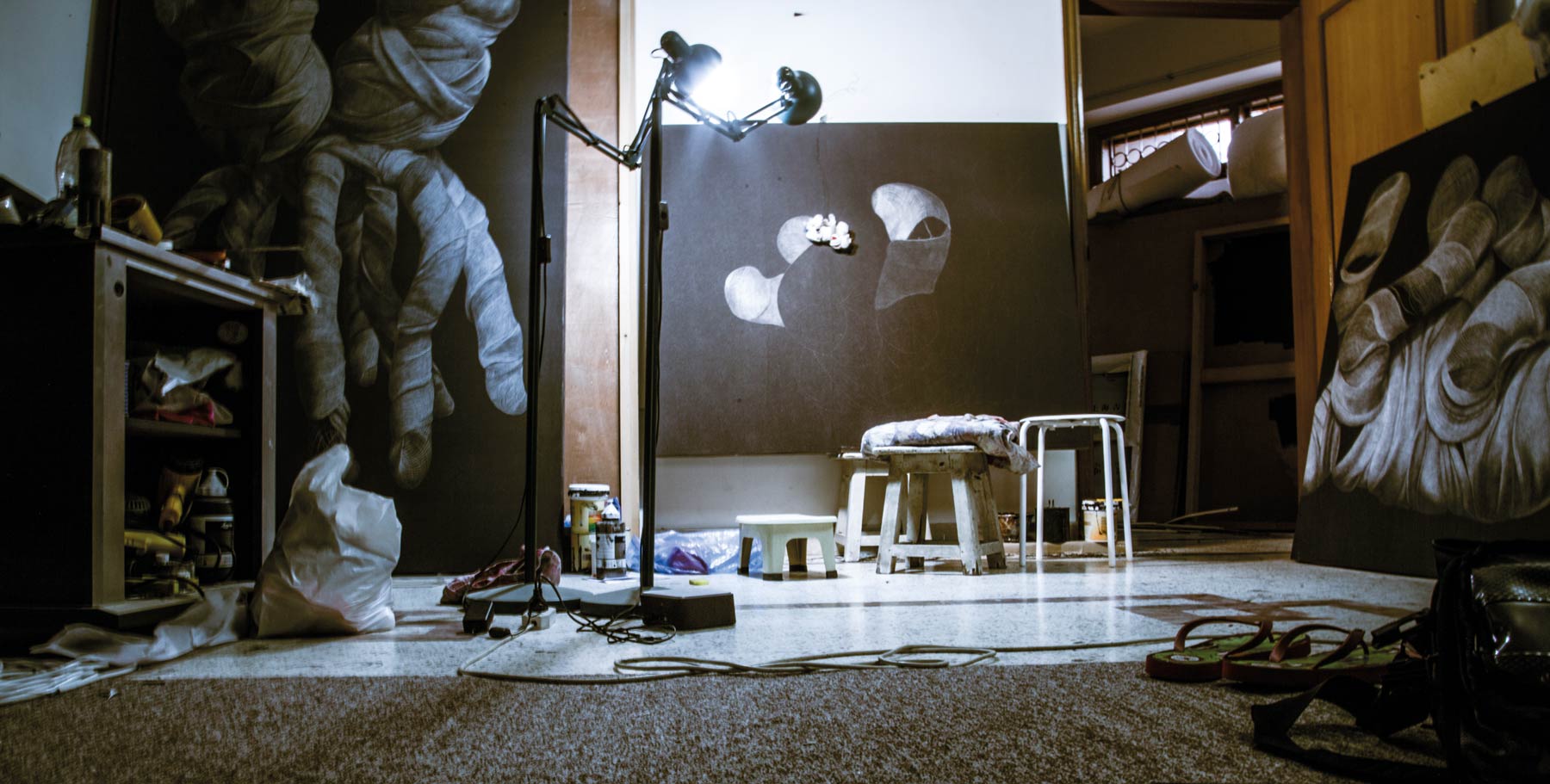 Neither was it easy to approach galleries to get a show but I would keep trying. My main concentration, however, was to establish myself as a professional. These days, gallery owners approach young emerging artists themselves to exhibit their works.
My journey is different – I wanted to first establish myself and then look at exhibiting my works. Hence it took the number of years it did between my graduation and my first show.
So you began your career creating illustrations for children's storybooks and supplementary reading materials. Tell us about that.
As a freelance illustrator, I began my career working with 'The Book Group', and then went on work with the Oxford University Press as well as several other private publishers. At the time, manual illustration was very well received in Pakistan.
However, there weren't many illustrators who could understand how to creatively visualize and interpret children's stories the way they were written. My edge was that not only could I creatively develop characters and weave them into the storyline but also make the visual narrative playful and interactive. I ended up working on many books with illustrations of various natures.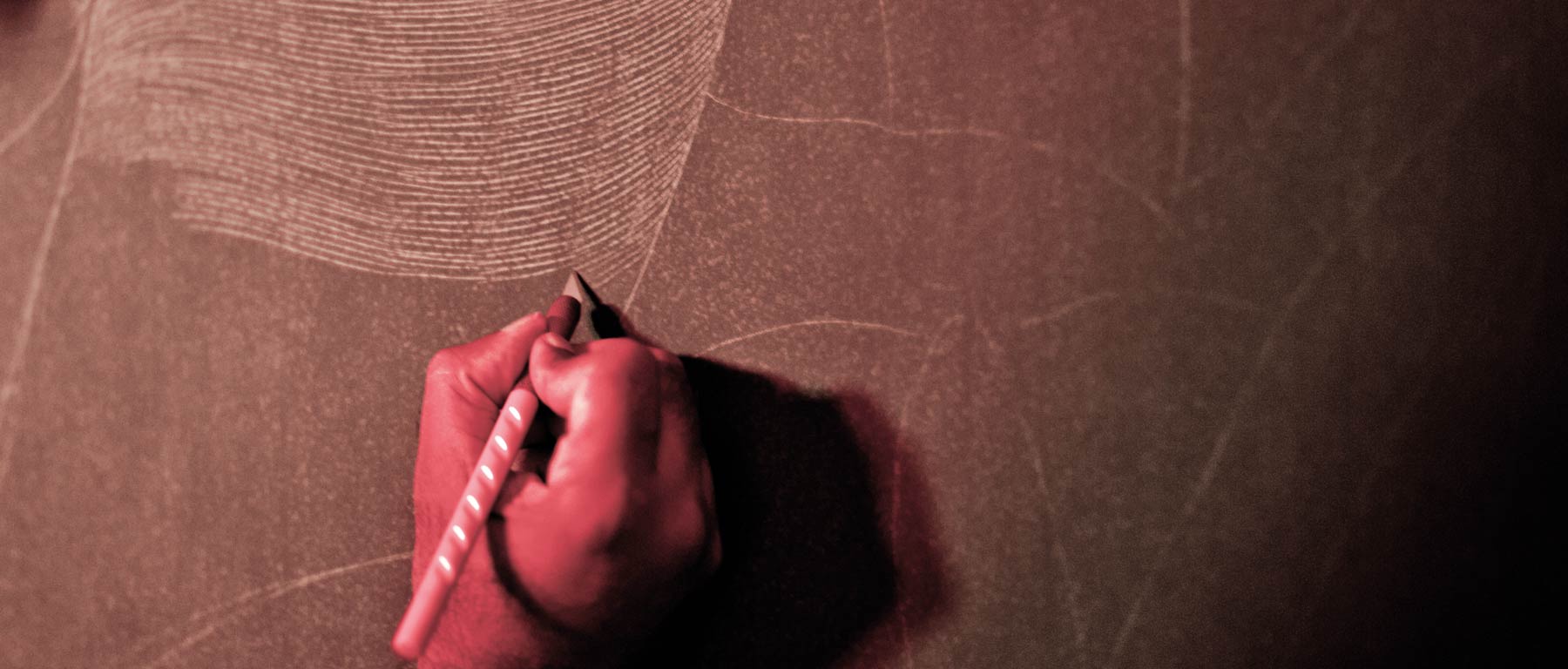 At the start of your career, you lived and worked in Gilgit – how in your view, did the experience shape you both as an individual and as an artist?
It was for a project of the British Council that I relocated to Gilgit. They wanted the team working on the project to experience the cultural context and nuances of the area, first hand. It was great because it lent an honest feel of the area, how people live, what their attire is like or even the tone of the dialects they speak.
My time here provided me with an opportunity for introspection. Life in Gilgit was simple and quiet; coupled with the solitude of living alone, it gave me a window for self-reflection and internal dialogue. I would have a lot of time to think how to move forward with my work and career.
While stationed in Gilgit, my weekends were spent exploring its adjoining areas. I enjoy visiting places off the beaten track combined with the unique cultural context of exploring this region made this an enriching experience and added great value to my creative process. I would go so far as to say it was truly a once in a lifetime opportunity.
Upon your return to Karachi, you worked in a post-production unit and learned advanced, cutting edge software for special effects and 3D modelling – how does that learning curve reflect in your work today.
Living in Gilgit, conventional mediums like oil paints and brushes were difficult to find. I had taken with me from Karachi, some supplies like sheets of old photographic paper, as well as some blades and cutters. I used what I had and experimented with it to create new techniques.
Scraping the sheets of photographic paper, I developed a very distinct liner line which excited me. I thought to myself, why not explore the idea of making drawings scraping various surfaces. My fascination with the characters of the story books I was working on translated into the imagery that I used to bring alive the depths of the ebony photo paper. I wanted to explore how the imagery would translate into whimsical elements.
Following the completion of my project in Gilgit, I returned to Karachi and joined a post-production house where I began working with a software that allowed me to create three-dimensional illusions. This was very new for me and as I started getting familiar with the technique and the multi-dimensionality of form, I knew I had reached the next level.
Initially my characters had been two-dimensional. I learnt how to bring the element of three dimensional to my own work that breathed reality into my etchings and surprise art audiences. 3D modelling has helped me a lot in the kind of work I am doing today.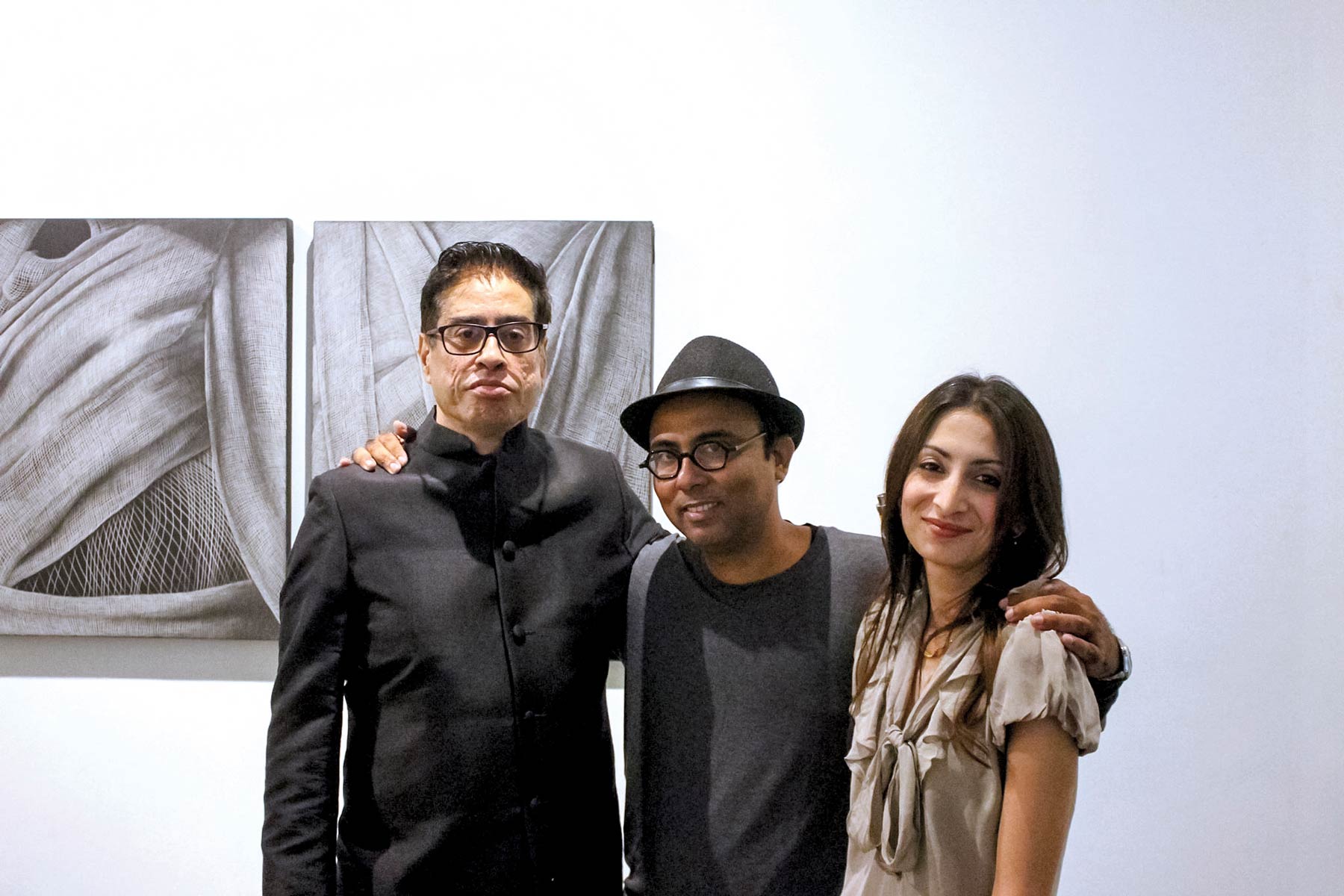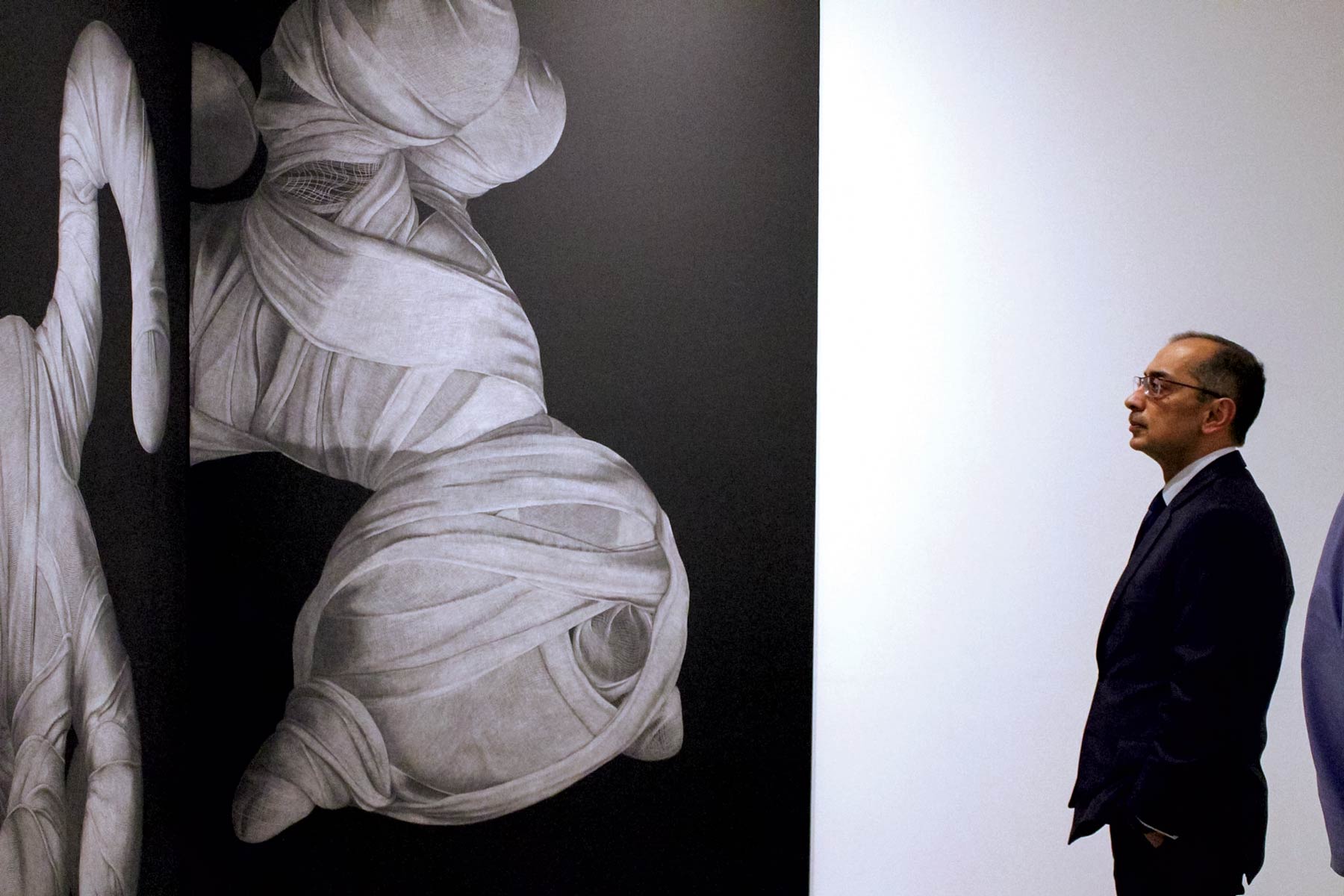 Your celebrated body of work seems to bring together the best from your personal journey as an artist, an illustrator as well your tenure in 3D modelling. How do you so seamlessly bring everything together on one canvas?
Despite having discovered what medium and the kind of images I wanted to work with, I wasn't sure what my surface of choice should be. With the photographic paper, I'd initially experimented on, there was a limitation of size and I wanted to work on a large canvas. I couldn't quite determine what surface I could use to work on the large scale I had in mind.
One fine day, it all fell into place. I was at a family friend's house in Karachi. Their flooring was being redone at the time and they were using plastic vinyl. I realized the flip side of the flooring had a certain type of texture – where the sheet was folded, a crease line was being created. It immediately clicked – I used my nail as well as a borrowed scissor to scratch the surface and it gave me an engraved line that I wanted. I had found my surface! The image, the technique and the surface finally came together and into my control.
Your work is an interesting interplay of two contrasting elements – using the laborious technique similar to miniature and then creating it on large sized canvases; how do you make these two contrasts merge in a cohesive manner this successfully?
When you look at such minute detail on large canvases, it carries an element of shock. From a distance, it gives an illusion of three-dimensionality but when people view the art-work from up close, they realize the intricacies.
Art critics often comment that my style is influenced by the technique of miniature painting. Whereas, during my term at the National College of Arts, I did take a course in miniature to learn the basics of the technique – my work more closely aligns with illustration, a medium I have a background in. My main drive stems from there.
You have showcased your works not only in Pakistan, but also on the international art circuits in India, Hong Kong, Sydney, Singapore, Cleveland and Seoul amongst many others to much acclaim. How in your view do your works strike a connection with both local and international audiences?
To create the imagery, I use toys that I purchase from flea markets as my inspiration. I then wrap them and do observational drawings. The toys that I use, are available anywhere and everywhere – therefore the imagery I work with, finds global acceptance.
Audiences find their own affiliation with it and develop their own interpretation of it. Some find a connect to their childhood, for some it is the familiarity of form that they have seen or stories they have heard – but the connect is almost always instant.
How did the ever so successful Juun.J x Adeel uz Zafar collaboration come about? What was the experience like? How did it feel to see a host of international celebrities sport your design?
A few years ago, I created a now inactive website to showcase my works. By means of this portal, a Korea based designer, Juun.J spotted and liked my work, and reached out to me with an offer to collaborate. Each year, Junn's design house works with a new artist to release a collection. Last year, I was their choice. When I saw the email, I was surprised. To me it was an interesting proposition to explore.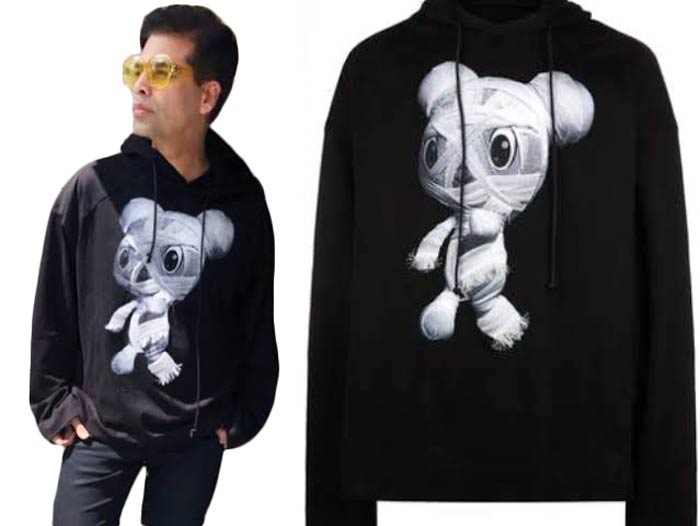 I got the FOST Gallery in Singapore, that represents me in the region, involved in the collaboration. After long exchanges and deliberations, they selected some of the works that were used for their collection. Ever since, my friends who are active on social media platforms always send me screenshots telling me which celebrities are donning my designs. It's heartening to see one's work being appreciated on an international platform.
You showcased your work at the first Karachi Biennale in 2017 – how are you involved with Karachi Biennale 19?
Like every group show, the curator has a vision and selects artists. The curator of Karachi Biennale 17, Amin Gulgee approached me to be part of the first edition.
My work for the Karachi Biennale 17 was a clear departure from my signature style, as is the case for my piece to be showcased in the upcoming edition of the biennale. I can't say anymore about it than the fact that for KB 19, I have thought outside the box.
As an artist, why have you chosen to work solely with monochrome?
In my years of experience working with publishing houses, I've illustrated countless children's books and I was playing around and experimenting with colours. As an artist, I've explored the use of colour, enjoyed it. Now that I'm producing my own work, I don't think it needs colour as the connotation that comes along with the imagery does not require it.
Where is it that you find inspiration for your works?
I find inspiration anywhere and everywhere – from my surroundings, where I live, from people around me, conversations I have, what's happening globally to what's happening locally.
Your passion for the north continues to date – tell us about your recent family vacation to Kumrat Valley and Chitral.
Whenever I get a chance to make a trip up north, I do so. It has been a decade since those time I spent living in Gilgit. I want to explore the same tracks again and find out for myself how things have changed. And in the process, make visits to areas I have never been.
My friend, the artist Munawar Ali Syed, takes his family up north every year. Last year he made a trip to Kashmir. This year he wanted to explore the scenic Kumrat Valley in Khyber Pakhtunkhwa, and suggested we take our families along.
This was due to be our first trip as a family of five – my wife, Nehdia, our daughters Anusha and Rashna and our soon to be one-year-old Nael. We were initially reluctant to travel with my little son but decided to take a chance and make a go of it. We ended up visiting Kumrat Valley, Chitral, and Kalash Valley where a great time was had by all, camping, lighting bonfires and trekking uphill and down.
Nehdia and I have many a time experienced the joys of being in the northern areas but this was a first for our children. We wanted them to spend a few days connecting with nature without access to the internet, away from social media in a remote valley where coupled with the basic necessities, the glory of nature is all you have. It was a fabulous few weeks.
How would you say your teaching experience shapes your outlook? Do you find it evolutionary?
I started teaching at the Karachi School of Art right after my graduation, following which I tutored at the Karachi Grammar School and have now recently joined the Indus Valley School of Art and Architecture.
In my view, working with the younger generation always helps keep your ideas fresh. My teaching assignments play a vital role in my own work. Also, as a teacher, you get to see young aspiring artists develop and come into their own.
What's next from Adeel uz Zafar?
I am looking forward to the Karachi Biennale 2019. I also have a few commitments to curate some shows as well as some international commitments that I can't reveal before time.