Arriving at Kamalaya Wellness Resort is akin to entering a latter-day Eden. As soon as you pass through its gates, the din and hustle of the outside world disappears. Tammy Bux takes us along on her solo trip to this wellness idyll, located on the picturesque island of Koh Samui in Thailand.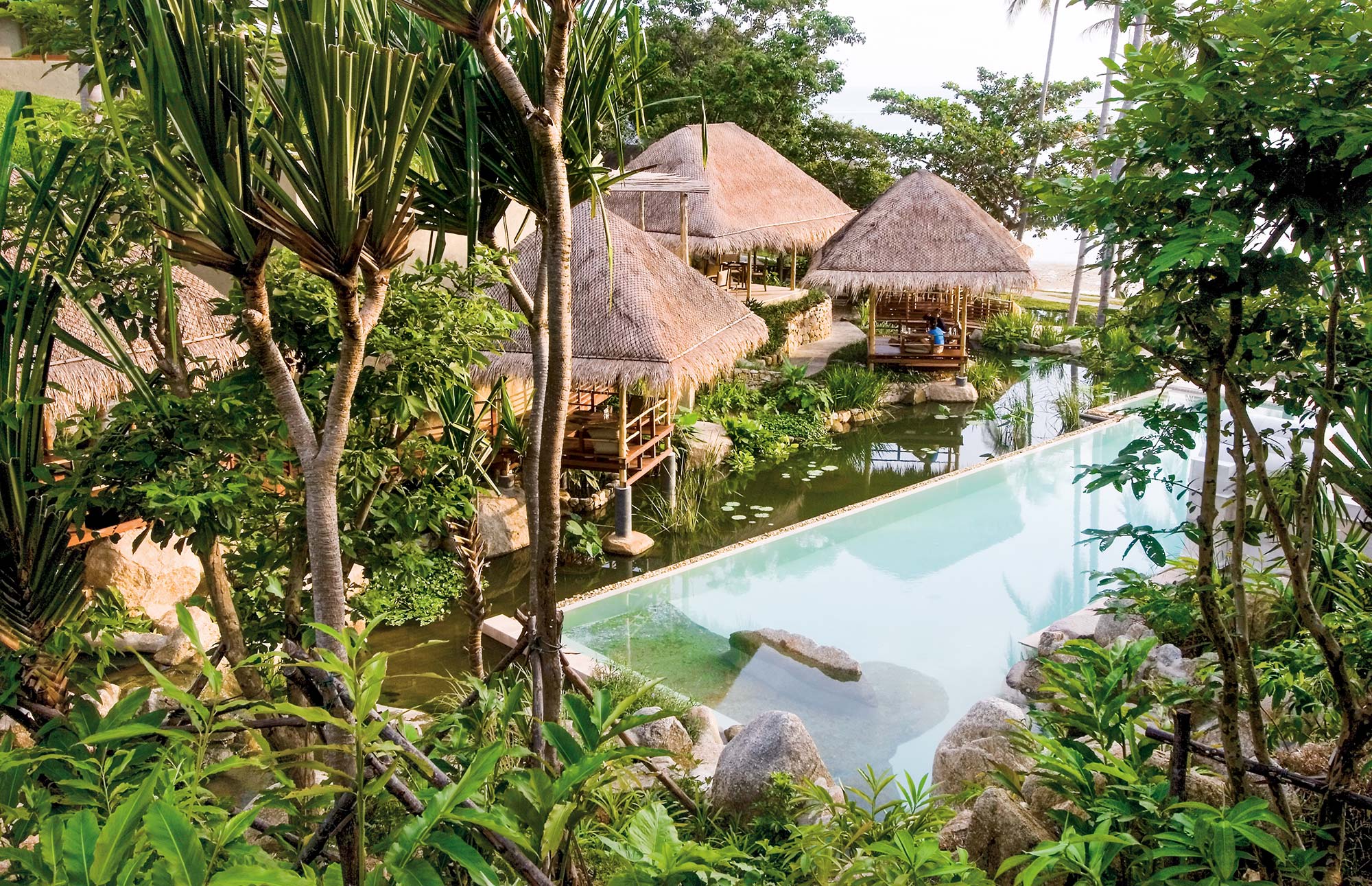 Needing a break from the 9-5 grind, I embarked upon my first solo holiday since my scholarship year in France more than 25 years ago. My husband Shahid couldn't get away from a project he was working on in Silicon Valley, so I decided to go alone. I had heard Kamalaya was one of the best places to go if you are travelling solo as there are many other lone travellers who visit for the express purpose of self-renewal and some much-needed "me time."
To say that Kamalya is a magical place is an understatement. Named 2017 Worldwide Health & Wellness Destination of the Year by World Spa & Wellness Awards, the resort is situated on a stunning coastal landscape with a pristine reef-protected beach. The ocean fades from dark turquoise on the horizon to a translucent aquamarine close to the shoreline. The hillside is forested with tropical trees, rising in a series of natural terraces to a hilltop plateau with spectacular 360-degree views of the sea and outlying islands. The hill climb from the beach up to the yoga pavilion and lap pool and down is not for the faint-hearted. I certainly got a cardio workout I hadn't anticipated. There are some very steep hills which make you work up a sweat, especially if you try to scale them in the mid-afternoon heat. If you are tired or just want to arrive fresh at your next destination, then I suggest you call a golf buggy which can transport you anywhere throughout the property.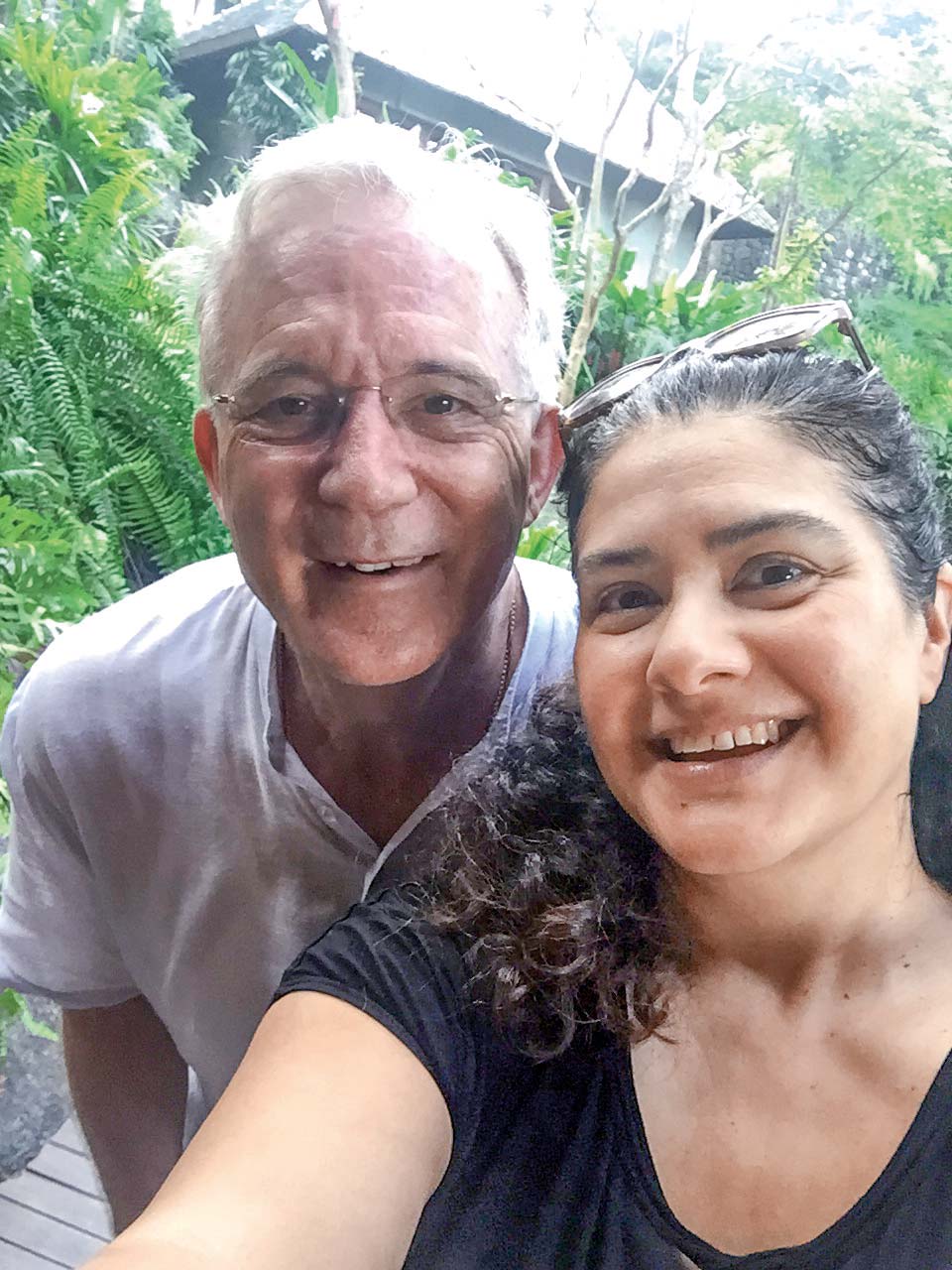 The resort has been designed by architect and artist Robert Powell. Every vista is picture perfect; from the reception terrace at the wellness centre to the colourful flora peeping through the trees as you ascend the labyrinth of stone stairways. The 75 rooms and villas are nestled amidst ancient granite boulders, streams and tropical vegetation. Nature's restorative presence is felt throughout the property with many semi-open bathrooms, outdoor terraces and balconies, expansive windows and captivating views. When I visited there were around 80 guests. But what took me by surprise was the fact that there was an unexpected intimacy about the place. The many pathways and stone staircases are for the most part unpopulated as you wind your way up and down the curved hills and dales. The property is designed in such a way to maximize privacy, and social interaction happens mainly at the dining areas, poolside or by the beach.
If you are planning a honeymoon or celebrating a special occasion you may wish to splurge on a private pool villa either on the beachfront or in the penthouse. The prices range from THB 30,800 per night for a one-bedroom villa in the low season to THB 40,700 in the high season. As an added bonus, repeat guests received one free night on all stays of four nights or more. The drier months of December to February are considered the best time to visit Koh Samui which also coincides with peak season rates.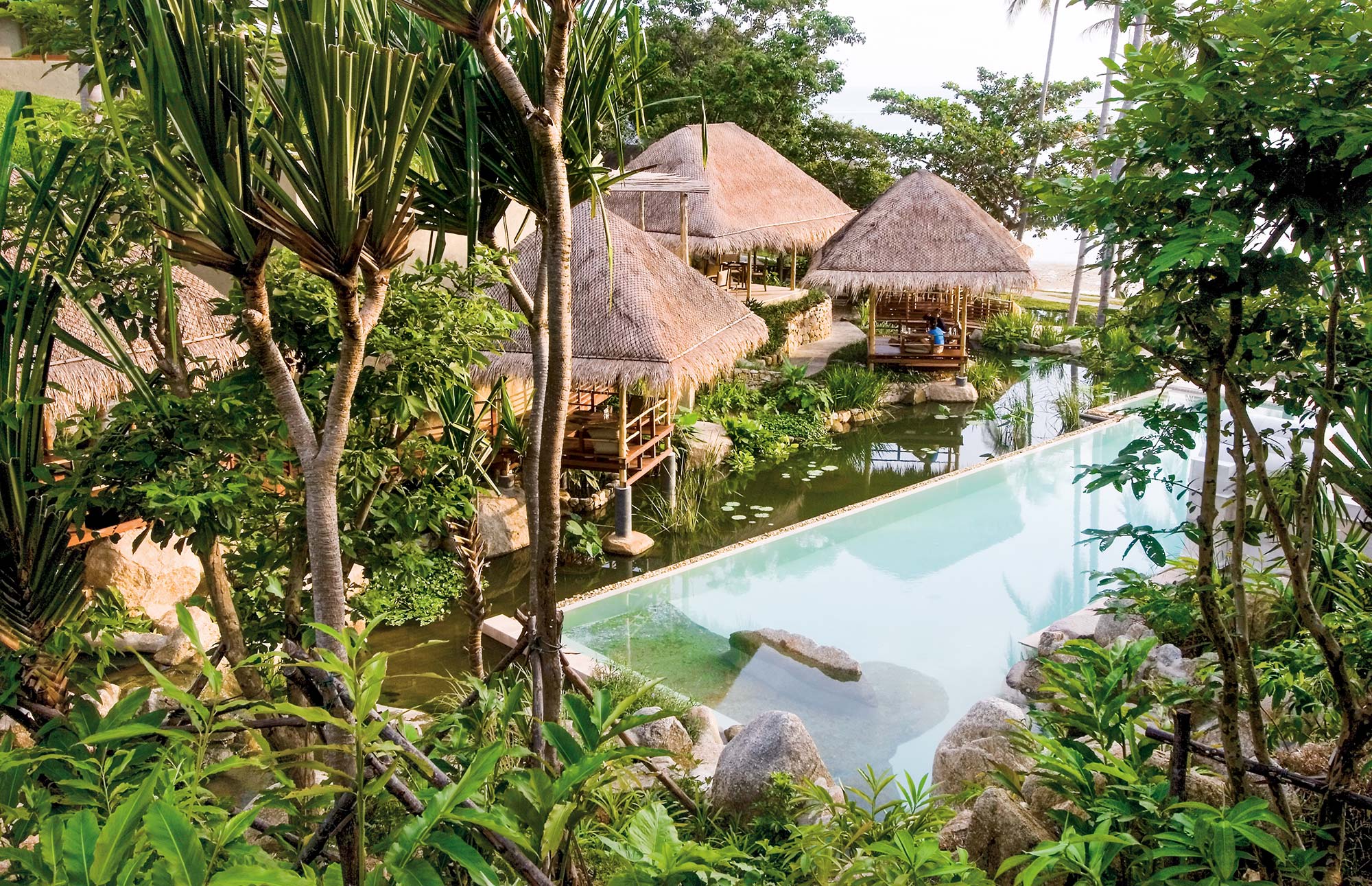 The resort exemplifies minimalist luxe on a whole other level. The founder and owner of the resort, John Stewart, calls it 'monk chic'. The rooms are decorated with Asian textiles, carefully selected art pieces and gleaming marble and wooden floors. No expense has been spared to bring an elegant eco-vibe to each and every detail of the experience. Toiletries and other amenities in the room are lovingly wrapped in hand-made recycled paper. Another special touch is the insect repellent found in every bathroom on the property which is a silky, non-toxic lotion infused with citronella oil.
Kamalaya has all the trappings of a 5-star resort including a stunning cliff top pool, Moroccan-inspired steam caverns and a wellness spa with close to a hundred treatments on the menu. All guests receive a complimentary wellness consultation on their first day. Services range from all forms of Ayurveda, Traditional Chinese Medicine (TCM), and Thai massage to organic facials from the cult West Australian skincare brand, Sodashi. In recognition of the resort's outstanding holistic health and wellness approach, it was named Best Destination Spa in the 2016 Condé Nast Traveller Spa Awards.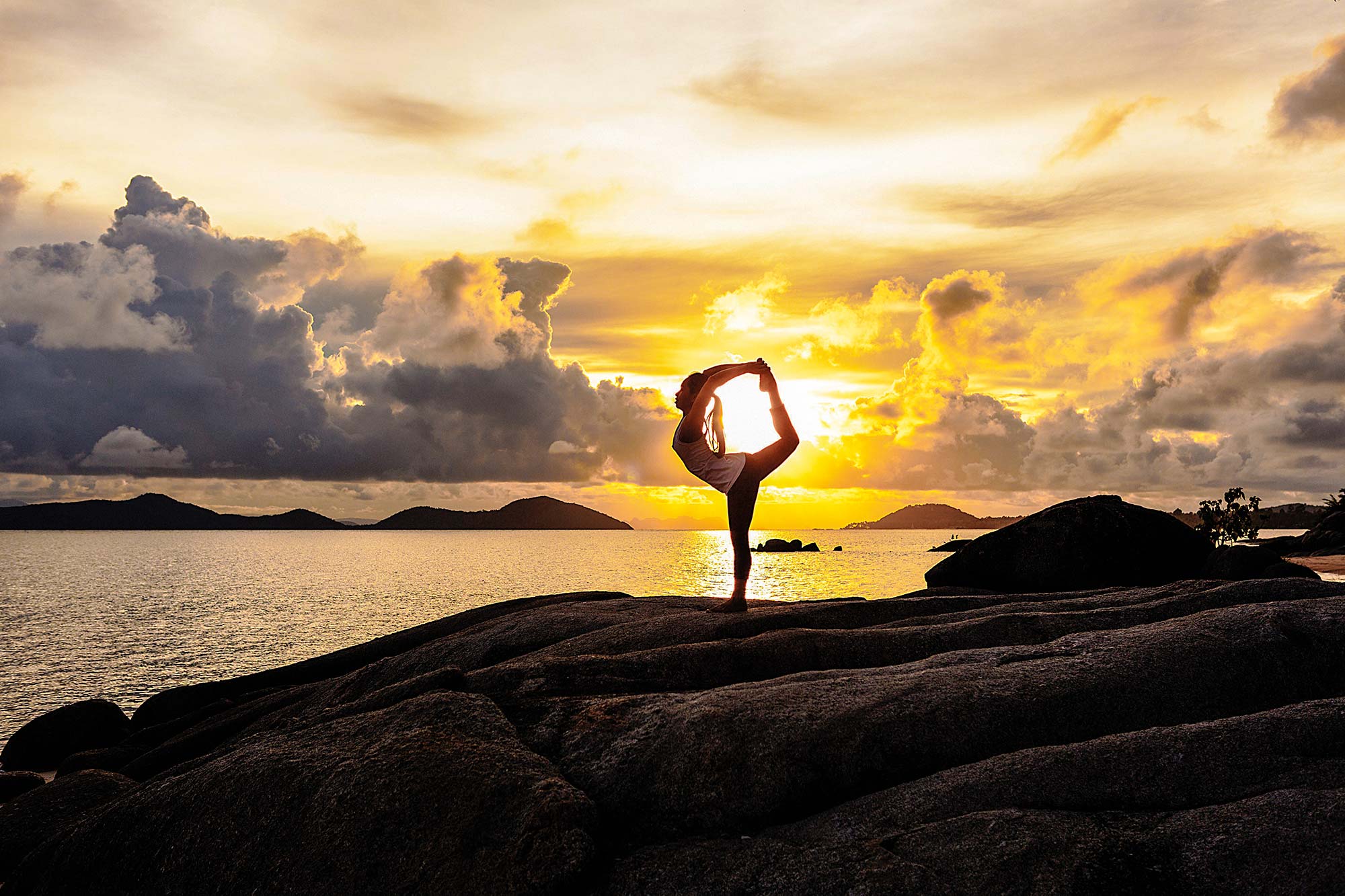 When you book your stay you can choose from one of the pre-paid programmes on offer such as detox, ideal weight, stress and burnout, yoga, emotional balance or sleep enhancement. Packages are 3, 5 and 7 nights or longer depending on what results you want to achieve. Accommodations are included and you can also add on a flexible meal plan. Prices range from THB 58,343 (single occupancy) and THB 101,986 (double occupancy) for a 3-night programme in low season to THB 218,861 (single) and 338,322 (double) for a 7-night package in high season. You can also select an individually tailored programme and purchase your treatments a la carte, which is what I chose to do.
Skilled healing practitioners from all over the world come to Kamalaya to treat a multitude of ailments via holistic therapies providing mental and emotional healing. I booked a valuable consultation with the much sought-after Dr. Song who holds a degree in Traditional Chinese Medicine (TCM) from the University of Shanghai. I underwent several sessions of acupuncture and cupping followed by a herbal healing treatment (moxa) in conjunction with massage (tuina), administered by his protégé Miss Susu, who has studied rehabilitation therapies at the same university. I can also recommend the remedial massage from Stephen Kerwin, who in just a single session, was able to release many of the knots in my neck and shoulders. After 5 days of continuous treatments, my constricted muscles really started to loosen up, benefiting from the intensive healing effects of the TCM and deep tissue massage.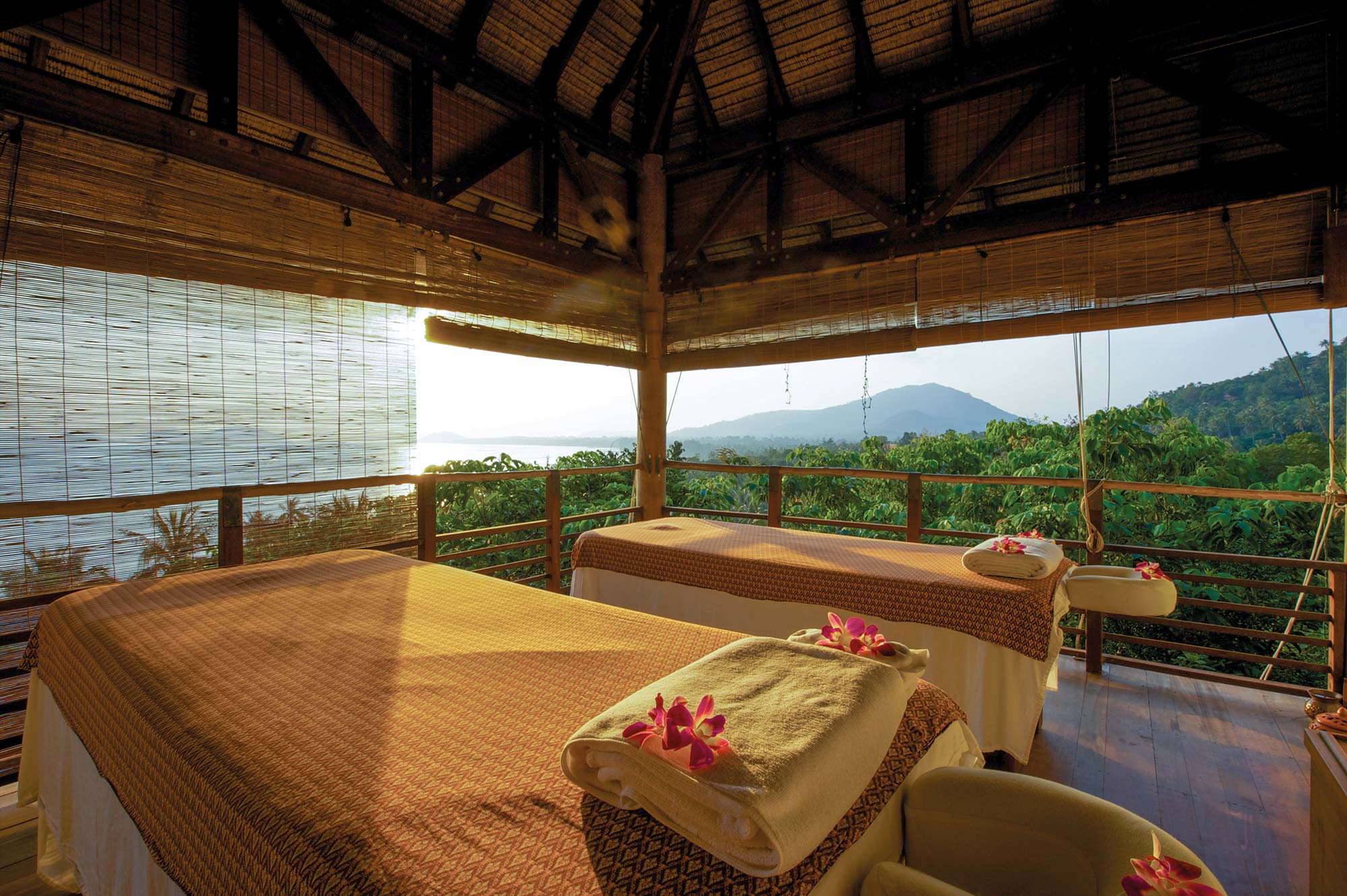 At this point I must make a particular mention of the overwhelming kindness and courteousness of all the staff throughout the resort. They were always smiling, happy and ready to oblige. It felt as though I had been invited into a family gathering where I was being spoilt and pampered.
I had the opportunity to interview John Stewart who echoed this sentiment. "My wife Karina and I built a place where we would want to live, where the staff and guest would be treated like family members in our home. Our aim is to create a sense of community and to welcome people from different cultures. Guests who have been here for a few days feel so at home that they start to act as hosts for the newcomers. There is a 35-45% return rate for guests. This is our twelfth year since we began and some guests have been here 16 times."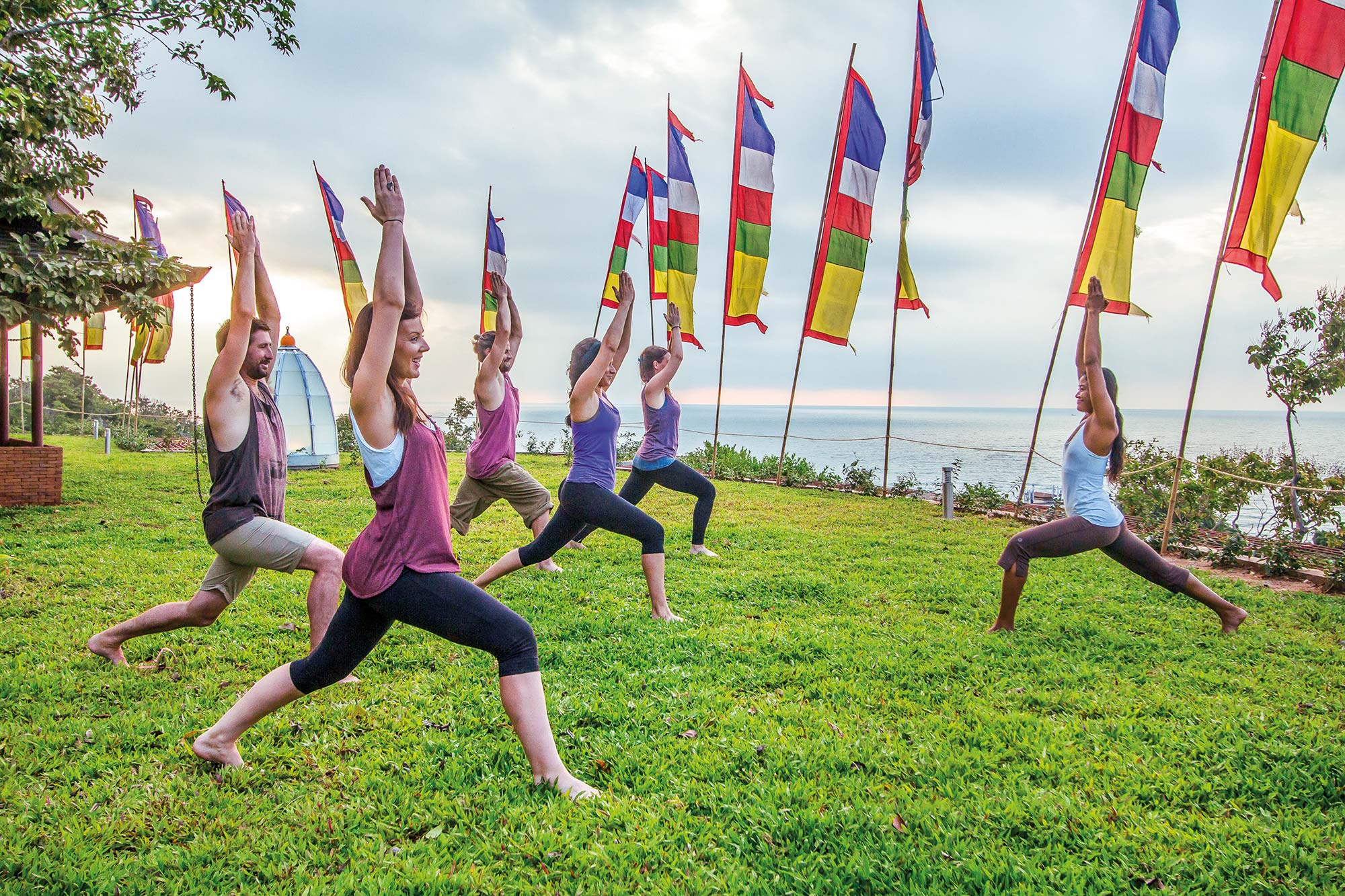 One of the more enjoyable aspects of my trip was joining the community table at dinnertime. I made friends with people from all over the world including Dagmar from Cologne, Paivi from Finland, Aline from Geneva, Richard and Karissa from Australia, Catherine from Dublin, Loretta from USA and Jo from London. We would come together at the end of the day, enjoy a sumptuous meal and then share stories and laughter late into the night. We are actually still in touch and some of us have plans to meet up in Europe over the next 12 months.
At meal times each and every one of your senses will be delighted with the aroma of lemongrass, ginger and fresh chillies emanating from the two restaurants on site. The food flavours are a mix of fresh herbs and spices. There is both a regular and a detox menu available. My favourite dinner items were the seared scallops with mint and basil puree and the slipper lobster and mango salad with wasabi dressing. A variety of chicken, fish, seafood and vegetarian meal options are available. The most surprising discovery was the coconut sorbet with fresh fruit. This dessert option was on the detox menu and it was delicious. My go-to lunchtime meal was chilled cucumber gazpacho and a superfood salad with goji berries, sunflower seeds and avocado, best eaten poolside at a leisurely pace.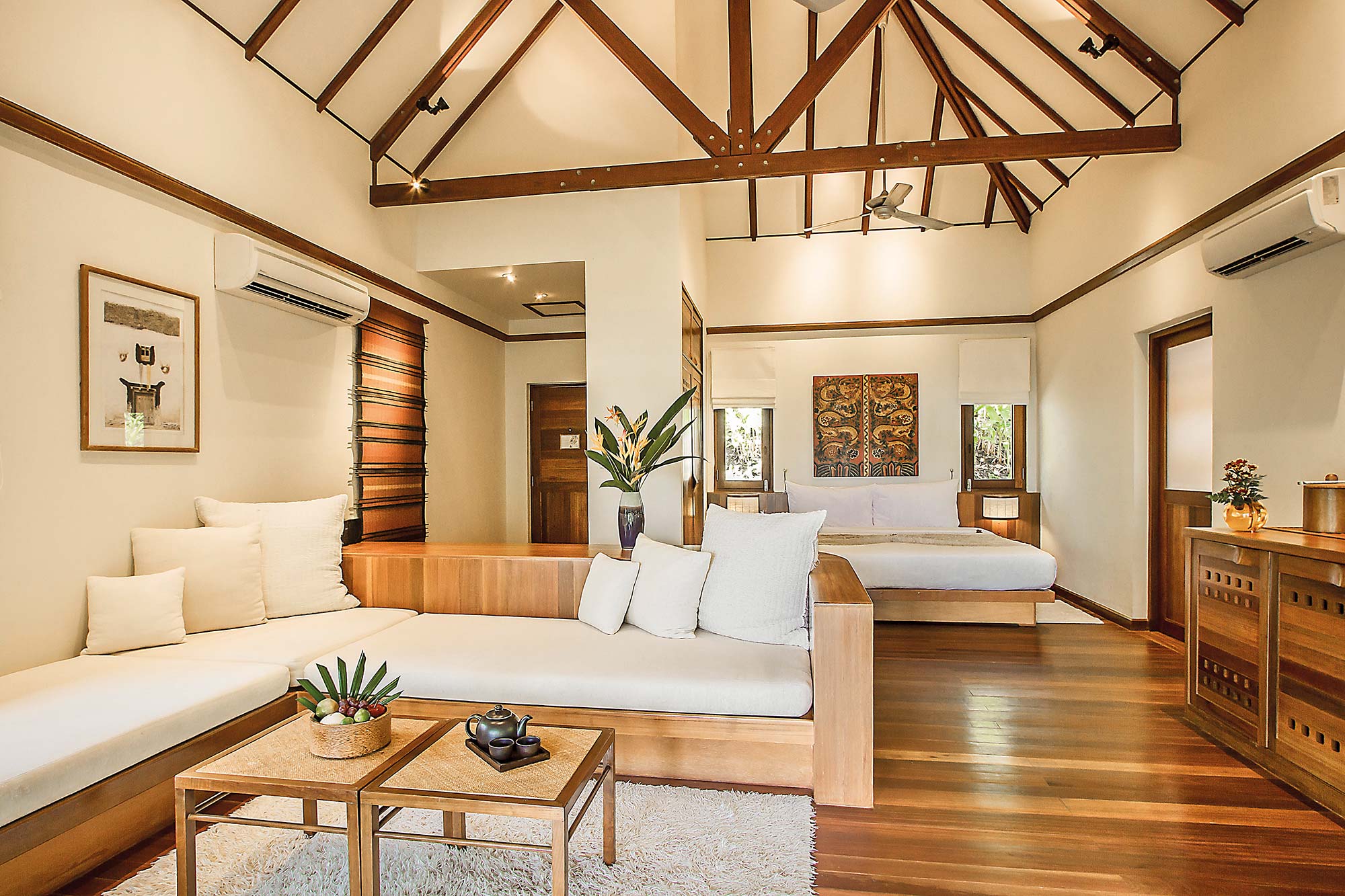 When the time came for my departure, I was reluctant to leave this nirvana on earth. As the resort limousine drove away from the property, I inhaled the many fragrances in the air for the last time. There was a whiff of frangipani blossoms followed by a waft of incense. I could hear the faint sound of a flute playing in the balmy breeze. The clouds appeared as fluffy cotton balls dotted across the cerulean sky. I was completely blissed-out and had already started counting the days until I could return to this island paradise. I know that this is just the first of many journeys I will to make to this heavenly place.
Kamalaya Essentials
30 or 50 SPF sunblock and a wide-brimmed sun hat
Flip flops, swimsuit and kaftan
Chic resort wear in natural fabrics like cotton, linen and silk chiffon
A good book to read while laying in the hammock or lounging poolside
Your favourite summertime music playlist
Inside Kamalaya
Appointments with visiting healers and wellness practitioners fill up quickly so book your sessions before you go via email or live chat on the website.
Attend one or more of the many free daily classes of yoga, meditation, pranayama, qi gong, stretching, pilates, fitball, circuit training and aqua aerobics.
Take the Thursday afternoon sunset cruise
(THB 3,750) .
Participate in the Inspiring Healthy Cuisine Cooking class (THB 2,2,50).
Minimum stay is 3 nights throughout the year and 7 nights during peak season (23 Dec to 13 Jan).